Spending time with our kids is extremely important and beneficial. It is part of our responsibility as parents to love and guide our children. Children who grow up in homes where they are loved, valued and paid attention to have healthier mental health, less behavioral problems, better communication skills and eventually become well-adjusted members of society. I see it all the time in the public school setting. Students who have uninvolved parents are attention-seeking, have low self worth and frequently act out.
As a busy working mom, I get it. Sometimes it's hard to connect one on one with your child. That's why I developed this monthly "connect with your kids" challenge. My kids want to have fun with me but I also want to have fun with them.
If I left it up to my 5 year old, we would pretend play everyday. For hours. Pretend play really isn't my thing. So I decided that I needed to think more intentionally about activities that we could do together. Activities that would teach me more about my children. Activities that would teach her about the world around her. Activities that would enrich all of our lives.
You can get August's free printable here, or you can print activities for the entire year by subscribing.
Otherwise, come back later for September's printable!
1. Have a water balloon fight
2. Have an Iron chef milkshake competition
3. Visit the library
4. Play Would You Rather?
5. Family movie night
6. Do chores together
7. Set up an obstacle course
8. Build a cardboard fort
9. Blow bubbles
10. Play a board game
11. Read a book at bedtime
12. Parent's choice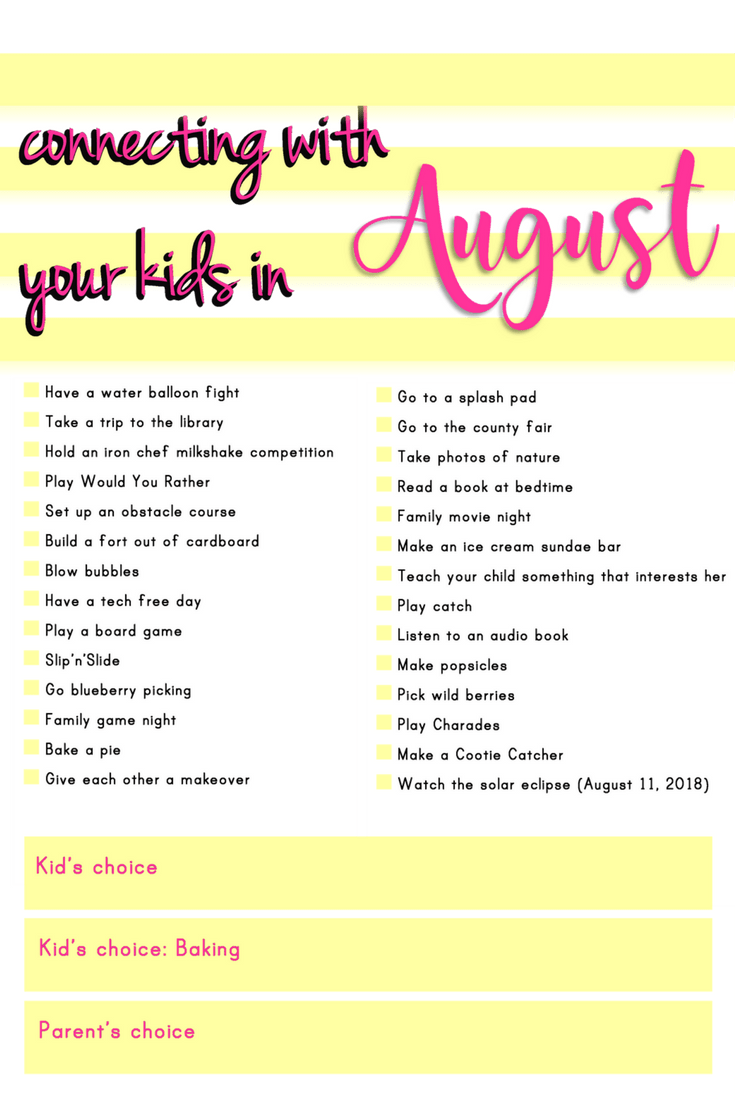 13. Set up a DIY slip and slide
14. Go blueberry picking
15. Bake a pie
16. Give each other a makeover
17. Visit a splash pad
18. Visit the county fair
19. Tech-free day
20. Take photos of nature
21. Family game night
22. Kid's pick
23. Make an ice cream sundae bar
24. Teach your child something that interests her
25. Play catch
26. Listen to an audio book
27. Make popsicles
28. Pick wild berries
29. Play Charades
30. Make a cootie catcher
31. Watch the solar eclipse (August 11, 2018)
Follow me on Instagram @paperheartfamily and let me see what you and your family are doing!
What are you most excited about doing with your kids?
If you love this post, please share it!