Inside: The best breast pump reviews that will help you to purchase the best breast pump for you and your needs.
When I was pregnant with me first child, I (stupidly) didn't research too much or read too many breast pump reviews.
I did end up purchasing a breast pump that worked and helped me to pump until both of my babies turned a year old, BUT if I had taken a little time to get to know the different pumps that are out there, I might have chosen a different pump.
The one that I chose was the Medela Pump In Style Advanced. It's a great pump with great reviews, but after reading some of the best breast pump reviews of 2019, you're going to realize that there are some other breast pumps out there that give this well known pump some stiff competition.
Do You Need To Purchase A Breast Pump?
If you are returning to work, you absolutely need a breast pump in order to continue breastfeeding. Pumping at work is not only going to provide breast milk for your baby during the day while you are away, it is also going to keep your milk supply up.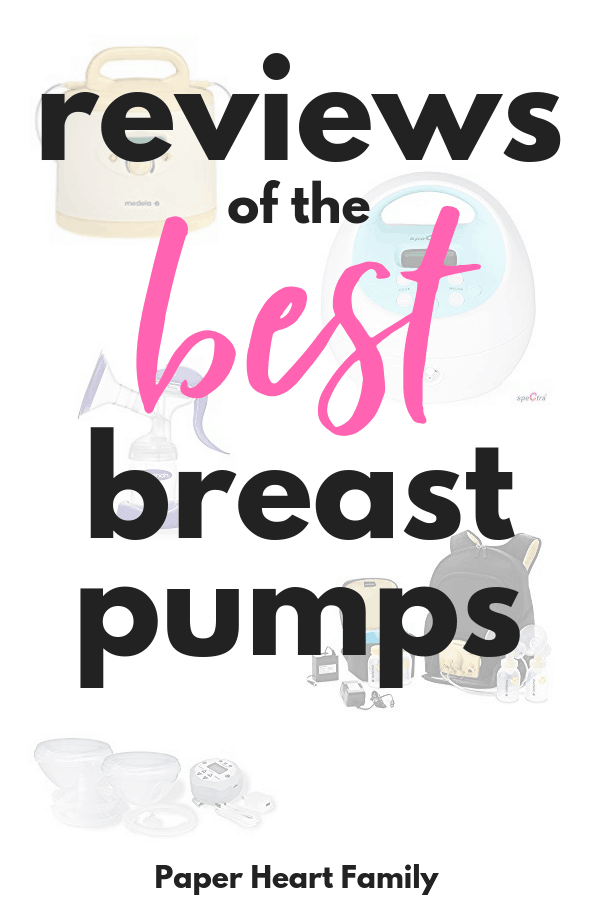 Factors To Consider When Choosing A Breast Pump
There are many factors to consider when choosing the best breast pump for you.
The most important things to consider are:
Cost

Frequency of pumping- If you will be pumping frequently, you should opt for a double electric pump. If you will be pumping occasionally, a manual pump might be sufficient.

Portability- If you plan to pump while on the go, in the car, while nursing your baby or completing household tasks, you'll want to choose a pump that has nice portability.

How long it takes to clean

Whether or not it has adjustable suction

Volume- If you are going to be pumping in close proximity to other people (such as at work), you'll likely feel more comfortable with a quieter, more discreet pump.
Why is it important to choose the right breast pump?
Depending upon your situation, some pumps will definitely work better than others. Here are some various scenarios.
You are on a budget and would like an inexpensive breast pump under $100.

You won't be returning to work and only need a breast pump for occasional use.

You are struggling with low supply and need your breast pump to help increase it.

You travel a lot and will be pumping in a variety of places and you need a pump that is going to be extremely portable.

You will be pumping without a lot of privacy at work and would like a small, quiet, discreet pump.

Your main concern is finding a bra that allows you to pump hands-free.
I've got a pump suggestion for each and every one of these scenarios. I've done hours of research so you don't have to!
Related: Best Bras For Pumping At Work
Oh, and if you are looking for a pump because you will be returning to work, I highly, HIGHLY suggest that you check out the Ultimate Back To Work Pumping Class. Pumping is NOT easy, and Stacey (a certified lactation educator) will walk you through it from start to finish. In a convenient, online, on-demand, video format. (If you're a homebody like me, you'll LOVE this feature.)
Her class teaches you step by step how to get your pump free from your insurance, how to store your milk safely and build a freezer stash, how to introduce a bottle, your legal pumping rights, how to maintain a healthy milk supply and more.
Okay, without further ado, here they are. The best breast pump reviews of 2018.
Best Breast Pump Reviews Of 2018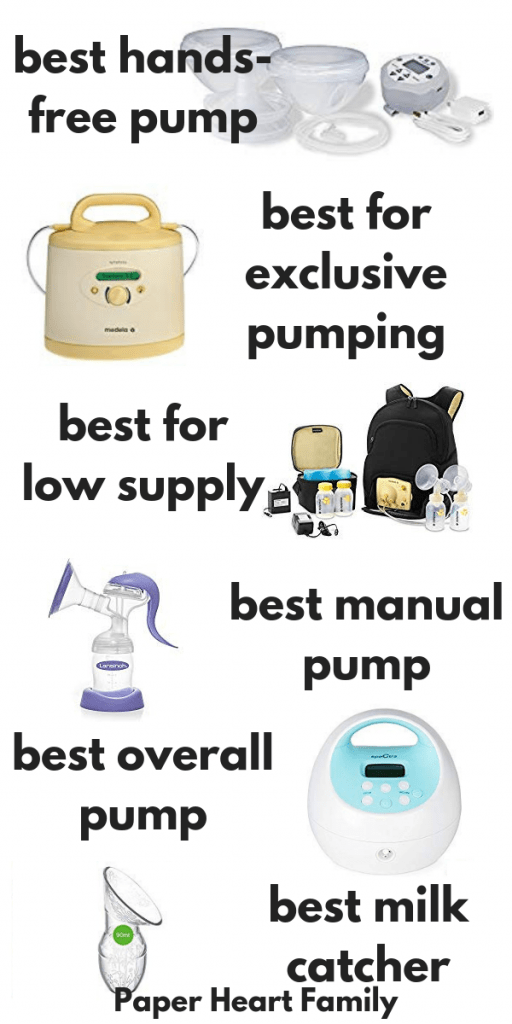 Best Breast Pump Covered By Insurance
IF your health insurance covers the cost of a breast pump for you, then you first need to figure out what your options are.
There are likely certain pumps that you can receive. Your insurance may also give you a certain amount of money to put toward a pump of your choice.
Before you do any further research, make sure that you contact your insurance company to ask them if and how you can get a free breast pump.
Best Hands Free Breast Pumps
Freemie
I did not have the Freemie system, but I did have the Freemie collection cups which were compatible with my Medela PISA. (They are also compatible with many common breast pumps on the market.)
The Freemie is a hands free pumping system. It allows you to pump with your shirt ON! Pumping takes place right inside your regular, non-nursing bra.
With the Freemie system, you can pump around other people without it being distracting.
It also makes pumping quicker, more efficient and more discreet. It can be used while taking care of baby, while driving, working, preparing food, etc. You do however, have to remain in an upright position. If you lean over while pumping with Freemie collection cups, you will risk milk spilling out. The Freemie system is also not wireless, so you have to remain close to your breast pump.
My recommendation: Get the Freemie cups and pair them with a different pump.
Amazon rating: Freemie Liberty Breast Pump- 3.3/ 5
Freemie Collection Cups- 3.7/ 5
Note: The reviews of the Freemie collection cups are not stellar (most of the negative reviews state that they were unable to extract as much milk with the Freemies. I can only say that MY personal experience with Freemies was wonderful and I would never pump without them again. FAVORITE pump accessory by far. If you're interested, I suggest reading the reviews yourself in order to make a decision.)
Best Wireless Breast Pump
Willow Breast Pump
The Willow is the newest of the best breast pump reviews of 2018.
It is a very new pump that is EXTREMELY intriguing. It works quietly inside your bra, but unlike the Freemie it is completely cordless.
The pump and literally everything fits inside your bra. No cords. No dangling bottles. Nothing!
This pump is very expensive, but my goodness it has a lot of amazing features.
It's a good choice if mobility is the most important factor to you. It also allows you to track the milk volume through an app. The app also lets you know if the bag is full or if the cup needs to be adjusted.
However, there are quite a few negatives to this breast pump. The bag inserts that you must use add a recurring cost to the product. It is also not covered by insurance at this time, you cannot massage your breast at the same time as pumping, and it can only hold 4 ounces of milk per side at a time.
The Willow Breast Pump is not sold on Amazon, it must be purchased through the Willow website– therefore you can't read real-life reviews. Reading reviews on BabyCenter would be my suggestion if you're considering this pump.
At this time, the Willow Breast Pump is the only wireless breast pump option.
However, there is a new pump soon to be released called the Elvie Pump. It appears to be similar to the Willow pump, but I don't believe you need bags to pump into. You can find more information about it here. You can also join their waitlist to be notified when it is available for purchase.
Best Breast Pump For Exclusive Pumping
The Medela Symphony is the most expensive on this list, but it is specifically designed with a high powered motor, which is great for moms who exclusively pump or who are struggling with low milk supply. It's designed to remove milk quickly and effectively and is commonly known as the best "hospital grade" breast pump. It is also a closed system, which means that it is impossible for breast milk to enter any part of the pump, causing mold and bacteria.
Remember, it's still cheaper than purchasing formula for the year, and if you can get it for free from your insurance, even better!
If you aren't an exclusive pumper or are not struggling with your supply, my suggestion would be to purchase a more inexpensive pump.
Amazon rating: 3.4/ 5 stars
Most of the negative reviews are due to some moms having trouble with this pump suddenly not working. These moms also had bad experiences with customer service, so purchase with caution.
Best Breast Pump For Occasional Use (Best Manual Breast Pump)
A manual pump is perfect for all kinds of breastfeeding moms for a variety of reasons.
Manual pumps are great for pumping just a little bit when you are engorged. They are also handy if you are not planning to return to work, and therefore don't want to buy an expensive pump but you still want to pump for occasions when you need to be away from your baby for longer than a couple hours.
The Lansinoh Manual Pump just might be the best manual pump. It'is inexpensive and is designed by Lansinoh, an extremely reputable company.
Moms praise it for its comfortable handle design which prevents your hand from cramping.
Many moms claim that they expressed more milk with this manual pump than with their electric pump, but it does take a lot more effort from you and you definitely can't get anything else done while pumping with a manual pump.
Amazon rating- 4.2/ 5 stars
Best Breast Pump For Low Supply
As I said before, this is the pump that I used for both of my children. It worked well, but I don't have anything to compare it to.
The Medela PISA features suction rate changes (higher, more frequent suction at the beginning in order to stimulate a letdown, and lower suction after). This mimics your baby's natural way of nursing and means that this pump may help you maintain a healthy supply better than other pumps.
It comes with a carrying case, which though ugly, is functional. It's also fairly loud.
The PISA offers separate larger flanges for larger-chested moms, which is a nice feature.
It also has impressive suction (keep in mind however, that a higher suction isn't always more effective)
Amazon rating: 4.0/ 5 stars
Best Breast Pump Under $100
It's rare to find a good double electric pump with a price tag less than 100 dollars. Thankfully there's the Lansinoh Signature Pro breast pump.
The Lansinoh Signature Pro has a closed system and is the most affordable double electric pump available.
It features a lighter suction that it great for sensitive nipples but may not be good if you pump frequently.
Definitely not the best pump on the market, but if you don't need something high powered, you don't mind that it lacks the bells and whistles, and you want an inexpensive double electric pump, this one might be for you.
Amazon rating: 4.0/ 5 stars
Best Milk Catcher
The Haakaa is pretty awesome if you ask me. It's not actually a pump, it's more of a "milk catcher".
It attaches to one side while you nurse from the other and effortlessly catches milk from the other side that would have gone to waste. I mean, how cool is that?!
There is no discomfort when using the Haakaa and it's extremely cheap.
I would say that it's perfect to use if you are trying to build up your freezer stash or if you're prone to engorgement and you want to catch all of that milk that just leaks out.
Amazon rating: 4.4/ 5 stars
Best Breast Pump For Everyday Use (Best Breast Pump Overall)
Spectra S1 or Spectra S2
Ending our list of the best breast pump reviews of 2018 is the Spectra. If I were to repurchase a new breast pump, this is definitely one of the top contenders. The Spectra series of breast pumps has an amazing reputation in the mom community, and it just might be the all-around best double electric breast pump.
If features a compact design, lots of power, it is SUPER quiet, and fairly portable.
It also is a closed system and a letdown mode (not automatic though, you must press a button). It has a timer (I can imagine that it would come in very handy if you only have a set amount of time to pump and a nightlight with two levels of brightness if you pump in the middle of the night.
Spectra S1 vs S2
Note: The Spectra S2 is less expensive. The difference is that the Spectra S1 has a built in battery with a 3 hour battery life. You never know when that could come in handy, and I definitely believe that it's worth the extra cost.
Moms claim that it works better at other pumps at removing milk, and is more comfortable, making it a great breast pump for working moms.
Seriously, go read the reviews, they are VERY convincing. Many say that this pump is better than the Medela PISA, which is an extremely popular pump with a great reputation.
The only complaint is that Spectra's customer service, is well, pretty bad.
4.5/5 stars on Amazon
How To Store Breast Milk
If you are pumping breast milk in order to build up your milk stash, you need to learn how to properly store breast milk.
General guidelines are as follows:
At room temperature- good for 4 hours if freshly expressed milk
Refrigerated milk- good for 3-4 days if freshly expressed
Good for 24 hours if thawed, previously frozen milk
Frozen milk- good for up to 12 months in a stand-alone freezer
Good for up to 6 months in a freezer attached to a refrigerator
For more specific information, read more about storing breast milk properly.
How To Pump Faster
There are many reasons that learning to pump faster is beneficial.
Here are some suggestions:
figure out the perfect speed/suction combo
look at photos or videos of your baby
use your pump's letdown function
massage while pumping
Get all 17 of my tricks to pumping more breast milk faster.
When To Start Pumping
If you start pumping to early, you could be confusing your body into producing more milk than necessary, which can QUICKLY result in a problematic oversupply. The ideal time to start pumping is around 4 weeks, however there are other factors that could influence the time in which you start to pump. Read more to figure out when to start pumping.
How To Bottle Feed Breast Milk Successfully
There is NOTHING worse than spending hours attached to your pump only to have your baby refuse to drink pumped milk. Take it from someone who knows. My first born was NOT having it.
There are definitely some mistakes that I made when introducing the bottle to her. Here's what you SHOULD do to increase your chances of your baby accepting the bottle:
start offering at around 4 weeks
let someone else feed your baby (and potentially leave the house yourself)
hold the baby in a position different from your typical nursing position
consistently offer the bottle to your baby
Related: More tips on successfully bottle feeding expressed milk.
Breast Pump Accessories
There are a few more items that you will need to accompany your breast pump. Having these items will ensure that you are ready to start pumping effectively.
Read more to find out more breast pump bag accessories that you didn't know you needed.
Be sure to check out my advice on creating the perfect pumping schedule at work also.
Hope you loved these best breast pump reviews of 2019! Have you decided on a pump?