If you have decided to buy a Fisher-Price Rock 'n Play, you might be wondering what in the world is the difference between all of the different models.
You might have even visited the Fisher-Price website in search of a simple and helpful comparison chart and come up empty. There's not one there, mamas.
Don't worry. I've got it covered right here. We are going to talk about the best Rock 'n Play sleepers.
This post contains affiliate links.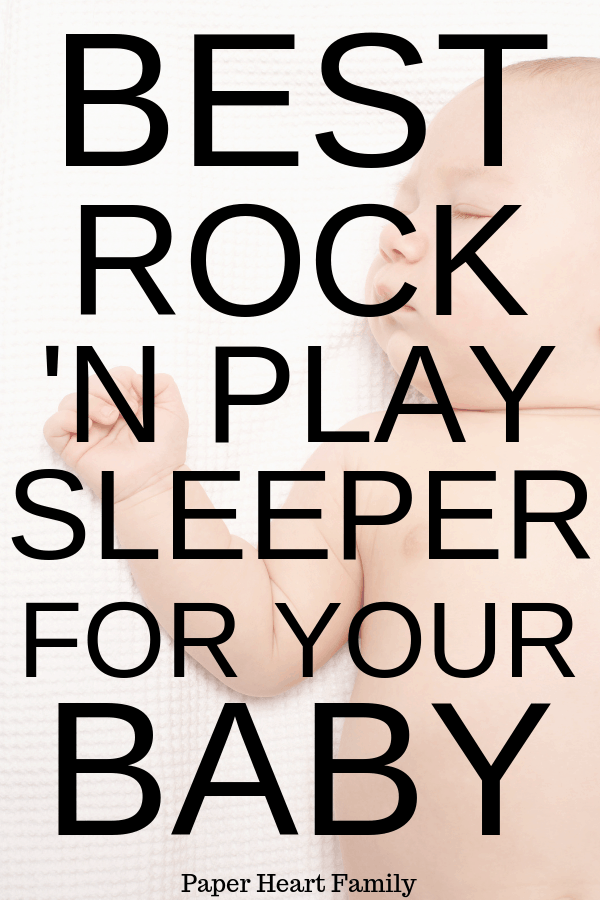 When my second child was born, she much to my surprise refused to sleep in the Arms-Reach Co-Sleeper that her older sister had loved.
I was a new second-time mom who could not sleep when the baby slept because I had another child to care for. I desperately needed sleep and I wasn't getting it at all.
Before moving to the Rock 'n Play, I was failing miserably at getting my baby to sleep in the bassinet for more than 15 minutes at a time. Having a baby who sleeps in 15 minute increments means that mom is getting NO SLEEP AT ALL.
She of course slept beautifully in my arms, and for a few weeks my husband and I split the night. He would stay up holding her until about midnight, and then we would put her in the bassinet (over and over and over) for the rest of the night. Those few hours of uninterrupted sleep were glorious at first, but it was not something that we could keep doing.
It just wasn't working.
So one night in a fit of desperation, I hopped my bleary-eyed, zombie-like self onto Amazon and ordered the Rock 'n Play. The next two days before it arrived seemed to drag on forever.
The moment that I opened the door and saw that Amazon box on my doorstep prompted angels to sing in my head.
Of course at this point, I was hopeful, but I still didn't know if it would live up to the hype. I mean, would MY baby like it?
That night, I hopefully set her in it and went to sleep myself. I believe I woke up a few times before she actually did. My body was simply in shock and unable to sleep without a constant state of disruption. That night? She slept 4 hours straight.
We soon found out that she had a milk and soy protein intolerance (MSPI) which was causing her to have major gas pains which were exacerbated by laying flat. Along the same line, many moms whose babies have reflux or GERD see a major improvement in their babies' ability to sleep as well. You might find that babies with reflux find the laying flat position to be very painful and having your baby spit up at night while laying on the back can be terrifying.
My daughter was (and still is) also a VERY cuddly baby who absolutely craves touch. I think the Rock 'n Play helped her to feel like she was being held.
Related: My Top Tips On Getting Your Newborn To Sleep Longer
I should also mention that once she started sitting unassisted and we transitioned her out of the Rock 'n Play, she handled the transition fine. This is of course, not going to be the case with every baby.
There are five different versions of the Rock 'n Play. Let's find the one that will work best for you and your baby.
Rock 'n Play Comparison Chart
[table id=3 /]
Who Is The Rock 'n Play For?
The Rock 'n Play can be an absolute miracle for sleep-deprived moms who have one of the following types of babies:
A baby who absolutely refuses to sleep flat
A baby with GERD or reflux
A baby who spits up, chokes and gags in the middle of the night
A colicky baby
A baby who wants to sleep only in someone's arms
A baby with MSPI or a dairy allergy
If your baby does not fit any of these descriptions, you might want to check out the 4 best co-sleepers instead.
Rock 'n Play Weight Limit
The weight limit for any of the Rock 'n Play models below is 25 lbs. You should also be aware that you should stop using the Rock 'n Play once your baby is able to pull up or sit unassisted.
Where To Buy The Rock 'n Play
While you can buy the Rock 'n Play virtually anywhere, buying from Amazon has some perks.
You don't have to leave your house. You have to admit, leaving the house with a newborn is HARD.
It ships free in 2 days.
Returns are free. (Double check to make sure, but at the time of writing this post, this is the case).
The price on Amazon is on average 10 dollars cheaper than other stores such as Walmart and Target.
You can read all of the Rock 'n Play reviews before you buy.
Best Rock 'n Play Sleepers
Rock 'n Play Sleeper
Let's start with the most basic model.
Each and every Rock 'n Play has the same general features. It's very lightweight and can be folded up with one hand while you're holding your baby in the other. This is perfect if you want to put it away for the day or or if you want to move it into a different room quickly and easily. Each sleeper also has a vibration setting to help soothe your baby.
This particular model does not rock automatically, but because you will likely have it very close to you while you're sleeping at night, if your baby starts to fuss, you can simply reach over and rock the sleeper for a minute.
It also has a 3-point restraint which you should use whenever your baby is in the Rock 'n Play in order to keep your baby from slumping down in it.
The slightly elevated angle helps babies who despise sleeping on their backs to get some much needed rest. The cover is also easily removed for machine washing and drying.
Some of the reviews mentioned it being rickety, but I thought it was very stable and smooth when manually rocking. Mine did however begin to squeak after some use, something that did not disturb my baby but that DID annoy me.
Best for: Moms who want a super affordable option and don't need any extra features.
2. Auto Rock 'n Play Sleeper
Most moms who have used both the Auto Rock 'n Play and the Original Rock 'n Play will tell you to pay the extra money for the auto rocking feature.
The Auto Rock 'n Play can be plugged in to a nearby outlet for hands-free rocking. There are two different rocking speeds. It can be set to rock for 30 minutes or 6 hours at a time. It also comes with 12 songs and 3 sounds effects.
Some moms find the noise of the motor a little disturbing and it might take a little getting used to.
Otherwise, the features are the same as the Original Rock 'n Play except that this version does not vibrate.
Best for: Moms who don't want to be rocking the sleeper in the middle of the night manually (it gets tiring!).
3. Deluxe Auto Rock 'n Play Sleeper
So many options, right? Okay, let's look at the Auto Rock 'n Play vs DELUXE Auto Rock 'n Play.
There are three differences:
The Deluxe is made out of a soft, minky material.
The Deluxe has a vibration feature (that turns off after 30 minutes. With the Original the vibration continues until turned off).
The Deluxe (at this time) costs 17 dollars more on Amazon.
Cons: Some have had issues with the vibration feature ceasing to function after a few weeks.
Best for: Moms who want both an auto-rocking and a vibration feature.
4. Deluxe Auto Rock 'n Play Sleeper With Smart Connect
The Deluxe Auto Rock 'n Play Sleeper With Smart Connect has the hands-free rocking feature, but you control it through your smart device. I also has the vibration feature.
You might be wondering why in the world would you need your baby's sleeper to connect to your phone. That's what I thought at first as well.
I think it could come in very handy if you use the Rock 'n Play for naps and you have an older child who you need to tend to. Remember that phase that baby's go through when they jolt themselves awake after 30 minutes, even though they ARE NOT ready to get up? This was a huge struggle for me with my second child. It was impossible for me to rock her back to sleep every 30 minutes of her nap when my 3 year old was demanding my attention. If I had this sleeper, I would have been able to remotely turn on the rocking, music or vibration feature.
This particular model seems to have quite a few issues with the motor and bluetooth connectivity, however Fisher-Price has great customer service and is great about sending out a new product if yours is faulty.
One mom received a 40 dollar voucher as well for returning the defective product.
I frequently see this model on sale for the same price as the basic model! Check the price and if it's under 70 dollars, it's a steal!
Some moms find that the motor or wireless connectivity stops working soon after purchase and some also complain that the back-lit buttons are too bright.
Best for: The tech-savvy mom who wants to be able to control the Rock 'n Play even when not in the same room.
5. Premium Auto Rock 'n Play Sleeper With Smart Connect
And finally, we come to the last Rock 'n Play option. This one has the most features and therefore is the priciest (that said, it is still MUCH cheaper than other sleeper options out there).
The Premium Auto Rock 'n Play Sleeper With Smart Connect has all of the features of the previous models. In addition, it also has a canopy (which can block out bright light), a projector (which projects onto the canopy), an infant insert and hanging toys.
Cons: Again, with this version along with the other higher tech versions, some have had problems with the buttons, motor or app. On the other hand, also remember that Fisher-Price's customer service is phenomenal.
It is also the most expensive option.
Best for: The mom who wants every possible feature that might soothe her baby.
Rock 'n Play Safety
The Rock 'n Play And Flat Head Syndrome
Flat Head Syndrome (medically known as Plagiocephaly) can occur with any baby on any sleep surface, and has become more of an issue since the "back to sleep" campaign that started in 1994. It is possible that your baby's head can become misshapen because a baby's skull bones are soft and pliable until several months after birth. (source)
One type of Plagiocephaly is congenital (occuring during fetal development).
The other is positional. While most babies experience some degree of head flattening from being on their backs so frequently, the Rock 'n Play has caused concerns about flat head syndrome more than other sleepers.
From my research, I could not find any credible source that has proven that the Rock 'n Play increases the risk of Plagiocephaly.
When using the Rock 'n Play (or any other bassinet, crib, etc), you should take some precautions:
Make sure to limit your baby's time in the Rock 'n Play sleeper. I would suggest that you use it EITHER for nighttime sleep OR naps, not both. I would also not suggest laying your baby in it during the day.
Vary and limit the amount of time that your baby spends in a seat (bouncer, car seat, swing, etc). Spend the majority of your day with your baby in your arms, in a wrap or carrier or getting accustomed to tummy time.
Alternate the direction of your baby's head. I was crazy vigilant about this and always made sure to face my baby's head to the right, then straight ahead for the next sleep, and then to the left. My baby had no issues with head flattening.
American Academy of Pediatric's Safe Sleep Guidelines
I realize that the Rock 'n Play doesn't meet the AAP's specifications for a flat sleeping surface. However, I also know as a mom who has been there, that some babies flat out refuse to sleep flat. In cases like this (which seem to be pretty common), I believe that the Rock 'n Play is the safest option there is.
Here are the AAP's Safe Sleep Guidelines:
"Place the baby on his or her back on a firm sleep surface such as a crib or bassinet with a tight-fitting sheet.
Avoid use of soft bedding, including crib bumpers, blankets, pillows and soft toys. The crib should be bare.
Share a bedroom with parents, but not the same sleeping surface, preferably until the baby turns 1 but at least for the first six months. Room-sharing decreases the risk of SIDS by as much as 50 percent.
Avoid baby's exposure to smoke, alcohol and illicit drugs."
Have you decided which is the best Rock 'n Play sleeper for you?