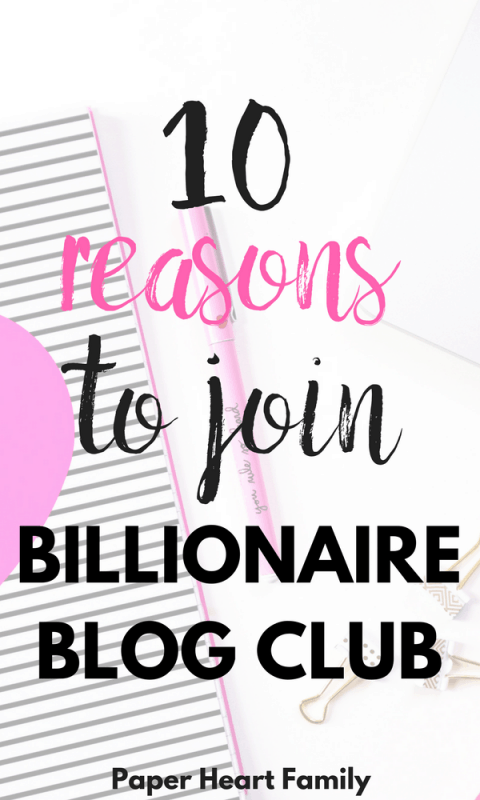 So have you heard about the Billionaire Blog Club? If you're like me, you're probably looking for a Billionaire Blog Club review.
When I purchased it, there really weren't many reviews out there. But I bought it anyway. And I can tell you that it was 100% the best decision that I made for my blog.
I'm no stranger to blogging courses and blogging education.
This post contains affiliate links.
I spent A LOT of time before "launching" my blog researching. And writing (and if I had taken Billionaire Blog Club during that time I would have realized that I was wasting my time).
Before becoming a member of the Billionaire Blog Club, I purchased 5 courses or ebooks. That might not sound like a lot to you, but the cost of these quickly adds up.
And for the most part, I was almost always left feeling a little bit (okay, maybe a lot) disappointed. When you pay for something, you expect value. Sadly, when it comes to finding the best blogging course, you don't always get value.
Plus, if you're trying to get blogging tips on Pinterest for free, it's probably not going to work out.
If you are serious about blogging, you need blogging education. And that education is going to include more than just one course or ebook.
You need a Pinterest strategy, you need to master SEO, you need to learn how to maximize your affiliate earnings, how to create your own product, and the list goes on.
So you have two options. You can either continue to throw your money into various courses that may or may not provide value, or you can get one comprehensive, amazing course that's going to be a lifetime resource and that is seriously going to help you make money blogging.
Because in the first 5 months of my blog, I spent more money on those 5 courses than I spend on Billionaire Blog Club.
Truthfully, I found one of those resources helpful (Carly from Mommy on Purpose's Manual Pinning Strategy is amazing). The others were a waste of my hard-earned money.
So what made me invest in Billionaire Blog Club, after being so discouraged by so many other courses? Let's take a look.
1- It's a Great Value
As I mentioned before, I spent less money on Billionaire Blog Club than I did on the other 5 courses that I purchased before it. And I'm no longer searching for the next course that's going to get me to the next level.
If you are serious about blogging, you need to know from start to finish, how to manage your blog like a business. That's what Billionaire Blog Club does.
It gives you all the information that you need:
Current courses:
Billionaire Blogging SEO Course
Boardbooster Masterclass
Billionaire Niche Selection
Billionaire Pinterest Blogging Course
Billionaire Affiliate Marketing Course
Intro to Email Marketing
Google Analytics
WordPress
There are also 28-day challenges on topics like getting your first 10k pageviews, earning your first 1,000, and gaining your first 1,000 subscribers.
And one of the reasons that I decided to become a member of the Billionaire Blog Club community is that Paul Scrivens (Scrivs), the founder, has made it his goal to make sure that his methods work. In ALL popular blog niches.
One of my biggest pet peeves about blogging courses is that the overwhelming majority of them are written by bloggers who blog about how to make money blogging.
Monetizing that kind of blog is completely different from monetizing a parenting blog, or a food blog, or whatever blog it is that you are writing.
2- Scrivs doesn't blog about blogging
Let's talk more about why it's important to learn from someone who doesn't blog about blogging.
There are so many times when I see an income report from a blogger (who *ahem* blogs about blogging) and is making a TON of money. How are they making their money? A lot of it comes from web hosting affiliates. Such as BlueHost. And if you have done any research on BlueHost, you will learn that lots of bloggers HATE BlueHost, but huge, popular bloggers are recommending it because it makes them lots of money.
If you have BlueHost, and you're completely frustrated, check out SiteGround. You'll thank me later.
I, on the other hand (and many other bloggers), am never going to make money by becoming a web hosting affiliate. I need to learn from someone who understands how to monetize a blog similar to mine. I needed to know how to make money with a mom blog.
As I said before Scrivs has tested out his methods in all of the popular blog niches. How?
By starting his own blogs in all of them. Although he does have a blog about making money blogging, he also has MANY other blogs in different niches. He has used the strategies that he teaches over and over again. How many times, you ask? Try 18.
These are just some of his blogs:
Obstacle (blogging)
Struggle (Personal Finance)
Thrive/Strive (Healthy Living)
Miss Fit Living (Healthy Living)
Bogoten  (Lifestyle)
Mama Paisa (Parenting)
Talented Underachiever (Personal Development)
He's the REAL DEAL. Like legit, knows what he's doing, and is teaching all of us in his community just how he has done it, time and time again.
3- Scrivs is motivating and invested in our success.
If you've ever taken a course before, maybe you liked it. Maybe you got a lot of valuable information from it.
But in a blogging world that can be kind of lonely, did you get motivation from that course creator? I know I didn't get any motivation from any of the other courses that I took. And sometimes I was left with questions that were unanswered.
Scrivs, however, my God is he motivating. Whenever I see one of his emails in my inbox (which happens every couple days), I get EXCITED. I devour his emails because they are just THAT good. His Scrivscasts (video chats) are pretty amazing too.
He motivates you to work harder than you've ever worked on your blog while at the same time encouraging you and making you feel like anyone can do it if they follow his formula.
But… he's also brutally honest. Even if he knows that you're not going to like his answer, he's going to give it to you anyway.
In his words, "while everyone else makes blogging seem like My Little Pony, I tend to be a little more real with it".
That realness is absolutely what bloggers need. We don't need more of the "Start a Blog in 30 Minutes" and "How I Made 90,000 dollars in One Month With My Blog". We need less My Little Pony for sure.
And while Scrivs will not hesitate to say that his goal is to "buy an island", he is absolutely invested in our success.
This was in one of his emails: "I don't stay up (at night) because of my blogs or money. I stay up because I'm paranoid that I'm not giving you everything that I can offer yet. I'm paranoid that BBC is failing you in some way so I need to improve it."
He's funny, he's genuine, he's involved, he's straight-forward and he's no-nonsense.
And he's not going to stop until the Billionaire Blog Club is known as THE BEST.
4- it will completely change the way that you look at your blog
This is the deciding factor that made me purchase Billionaire Blog Club.
Because there wasn't that much information out there about the Billionaire Blog Club at the time, I decided to sign up for the free Blogging Boot Camp first.
During this free blog training, one of the emails completely changed the way that I looked at my blog. I realized, through this one email, that my whole approach was wrong.
My mind was blown.
I immediately knew that I was going to become a Pro member, and that it would change my blog and put me on the path to success. (I don't want to give too much away, but you can sign up for the free Blogging Boot Camp to get a feel of Scrivs' teaching style for yourself.)
My mindset was completely changed from "oh wow, I love blogging and I can't believe I'm actually making money doing it" to "okay, now how can I make more money". Because to be honest, I never would have gotten anywhere with the first mindset. I would have failed.
How much money can you make blogging? How about a BILLION dollars. Scrivs' idea is to get 999 bloggers to (over the next couple of years) make a million dollars each. One thousand bloggers multiplied by one million dollars equals ONE BILLION.
5- it's a blogging experience and community, not a course.
6- Scrivs is present in the community ALL. THE. TIME. (I think he might never sleep.)
And he feels like a friend. Within minutes of joining his online community, I got a direct message from him, saying to feel free to direct message him at any time with questions.
Just the other day, I got an email from Scrivs about how he was going to implement "office hours" in the Slack community because he was working hard on BBC 4.0 before reopening.
I thought he would be available for maybe an hour each day. His office hours: Monday-Friday from 9-10 and 1-4. With of course the option to DM him at any time for a quick response.
I challenge you to find another blog course that gives this level of personalized attention.
It simply doesn't exist.
Let's take today for example. Today was one of Scrivs' office hour days. So today would be a day when he was (presumably) less present in his online forum.
He was online in the community from: 11:08am-11:57am, 3:03pm-7:20pm.
On days when he doesn't have office hours, he is pretty much a constant presence.
Even though Billionaire Blog Club is still relatively new (it was launched in March of 2017), BBC 4.0 is the current version.
Scrivs is constantly working to make the BBC experience better.
8. You get lifetime access.
In the blogging world, things change at a rapid pace. Updates to social media sites like Pinterest and algorithm changes occur frequently. You might take the best, most helpful Pinterest course, but what happens when Pinterest makes huge changes?
You'll be taking a new Pinterest course to learn how to maximize your exposure on Pinterest. Again.
With Billionaire Blog Club, you get LIFETIME ACCESS. You pay once, and that one little payment gets you a lifetime of the best information at your fingertips.
9- The community is full of super-helpful, motivating bloggers who are just as dedicated as you.
If you think that you can make it blogging without networking with other bloggers, you're wrong. You need support, you need guidance, and you need to talk to people who get it (because your real life friends don't).
10- It gave me confidence in my blog (and in myself as a blogger).
If you have been blogging, I am sure you are familiar with the rollercoaster of emotions that comes along with it.
One day you feel like you are on top of the world, and the next you wonder why you have been wasting so much time on a blog that isn't getting you anywhere.
Maybe the most important thing that I have gained from Billionaire Blog Club is CONFIDENCE in my ability to make this work.
Now I know what blogging tasks are a waste of time, and I know what content to write that people are actually going to want to read.
And I haven't even done Billionaire Blog Club justice here. It really is just something you have to experience for yourself.
**UPDATE: Enrollment to BBC will be opening one last time on July 27, 2018 for one week. BBC is soon going to be "replaced" by what Scrivs has dubbed MOMO. If you want to get in, NOW IS THE TIME! In order to get lifetime access to everything after this week, you will have to pay at least $1,500. For this week only, it will be $397. It's a crazy value! Enroll here!
And if I still haven't convinced you, let Scrivs do the convincing. (He's better at it than me, anyway.) Sign up for his free Blogging Boot Camp. At the end, you will know whether or not Billionaire Blog Club is right for you.
Feel free to email me with any questions you have about BBC at [email protected]