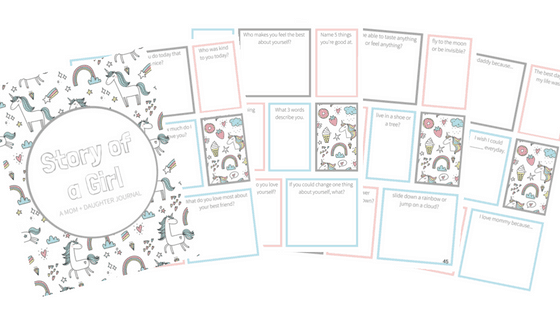 Whether you are trying to get to know your daughter a little better, you're looking for a quick way to connect with her during your busy day, or you simply want to document the little things that are big things to her at this time in her life, this journal will do that and more.
When I think of the reason that I created this journal, all of these reasons come to mind. Although I think I know my daughter pretty well, I am constantly learning new things about her as we work our way through this journal. It can be really eye-opening to see the world through her eyes and to hear how she interprets our family life.
I also created it because life does get busy, but I wanted to make sure that every single day, I stopped and gave her my full attention at some point during the day.
And finally, I love documenting my children's lives and looking back on the memories that we have made, big and small. This journal is an amazing keepsake, full of my daughter's hopes and dreams, likes and dislikes and thoughts.
It is meant to be done together. One question a day for 365 days. And then you can start all over again and compare answers from year to year. It's so much fun to see how your child's responses have changed.
What kind of questions can you expect to find in the journal?
The journal is split into 9 different categories of questions:
1. Things that your child loves
Find out more about what your child's favorite things are.
2. Questions that will build your daughter's self confidence
I hear it everyday from the female students that I teach. Girls that say that they are "ugly" and "stupid" and have no confidence in their academic abilities. Help your child to develop positive self esteem with these questions.
3. Questions that help your daughter learn perseverance
These questions will help your daughter reflect upon times when she worked really hard toward something, and was successful because of it.
4. Questions that require critical thinking
Help your daughter think outside the box with these questions.
5. Questions that promote kindness and compassion
Help your daughter to discover ways to be kind and empathetic.
6. Questions that will help your daughter recognize and manage her emotions
7. Questions that will help your child express how she sees her family life
8. Just for fun questions
9. Would you rather? questions
Recommended for ages 5-10.