When my daughter's 5th birthday came around, I knew there was no way that I was getting out of throwing her a Frozen birthday party.
Last year, she initially wanted a Frozen birthday party, but then decided to have a bunny-themed party.
I love Frozen, I do, but the thought of having a Frozen party in Spring just wasn't very appealing.
Of course, I did it anyway, just sans snowflakes.
I wanted to have a beautiful party, but I also wanted it to be inexpensive and MEMORABLE. And fairly simple.
This post contains affiliate links.
Last year I bought these tablecloths
. They're great because they're inexpensive, durable and I can use them over and over.
For the centerpieces, I found these adorable printable ice castles. They were perfect and also doubled as favor bags.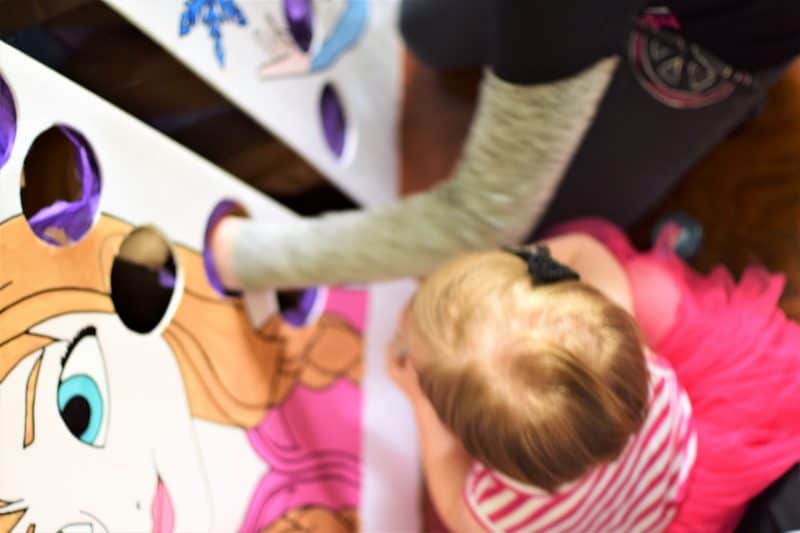 The Cake
The cake was actually made by my sister. There are so many cake inspiration ideas on Pinterest, and my friend over at Stay Awake for the Cake has amazing, do-able recipes and tutorials that can help you create an amazing cake, too.
The Games
My daughter loves playing games.
She insisted that we play musical chairs (cue the Frozen music if you can stand it!).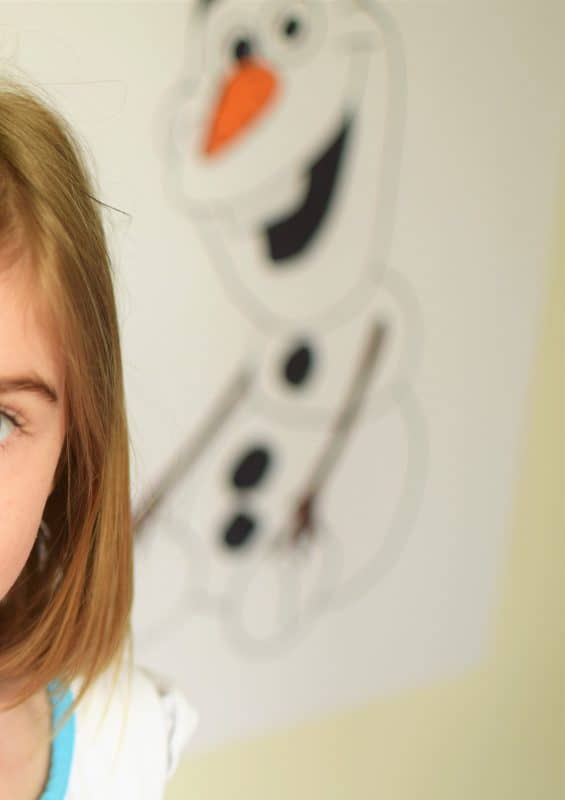 We also played Pin the Nose on Olaf. Every year, we play pin the something on something. Two years ago it was Pin the Bow on Minnie, and last year it was Pin the Tail on the Bunny.
This was super simple to make. I bought a $1 foam board from the dollar store, took it to my classroom and projected an image onto my Promethean board to trace.
You could also enlarge the image in Paint, print it out and then trace it.
I used the same process for my punch game. Then I cut holes around Anna and Elsa before my 5 year old and I painted it (only attempt if you are NOT a control freak).
Photo Backdrop
I used this tutorial. It was super cute, so cheap and easy to do.
Memorable touches
I created a guest printable so that guests could leave a handwritten note.
I also created a birthday video to share, filled with photos and memorable quotes from the last year.
And my favorite part of the party? THE PHOTO PROPS.
. They were so inexpensive and our little guests LOVED THEM. I mean look at the photo ops! They are totally a Frozen birthday party must-have.
It's bittersweet. My baby is growing up. When I told her that she needed to stop growing, she replied:
"I know you want me to stop growing but world is world. You have to get growing. If you and daddy didn't grow up then you wouldn't be a mommy and a daddy. And you wouldn't have kids. So NOW do you like world?!"
There's a life lesson from a 5 year old for you.
Are you planning a Frozen birthday party?
PS- You can get the same adorable dress that my daughter wore here!
Pin it for later!