Do you resent your husband after baby? Are you wondering how to get over it?
You may have seen them. The articles written by women stating that having a baby made them love their spouse even more. Ugh.
Or maybe, like me, it makes you (temporarily, mind you) think "I hate my husband". Despise. Envy. Loathe.
That's two of the seven deadly sins right there.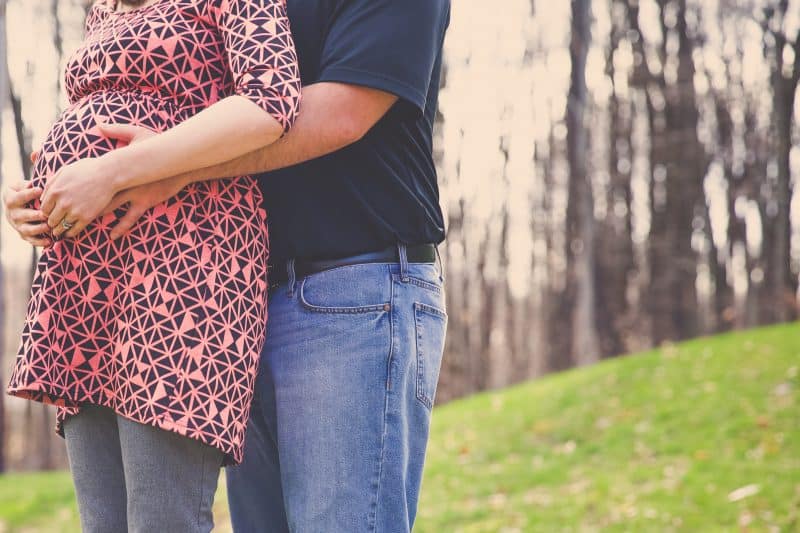 It's normal. The job of a mother is infinitely more difficult than that of a father. After the birth of both of my children, I hated my husband. I was frequently annoyed with my husband after baby.
We go through pregnancy, recovery, breastfeeding, seemingly never-ending night wakings, a baby (and toddler) who's super attached to you and always much worse when you're around, and a forever changed body. And all of that can make us a little envious, and a little loathsome. The good news? The hatred that you're feeling will go away. Eventually.
When pregnant with my second child, I knew it was coming. We'd been here before. My husband actually said to me, "So, I guess you're going to hate me again?". And I without hesitation let him know, that yes, yes I would.
He is thankfully an extremely patient and understanding man. But that's not to say that it wasn't really difficult, especially the first time around.
This post contains affiliate links.
So why exactly might you resent your husband after baby?
Nighttime nursing or feeding sessions
Are there men who help out at night? Yes. Did my husband? No. But that was my choice. I was nursing, so why in the world should two of us be awake? Does that mean that I was happy about that decision all the time? Absolutely not. I mean, come on, men have nipples. What for?
Oh to belong to the Aka Pigmy African tribe where men soothe their babies using their own nipples when mama's not around.
Breastfeeding in general is hard. Find out when breastfeeding gets easier.
Nighttime in general
Mothers (not fathers, sadly) are so in tune with their babies which means that we hear every little whimper and grunt. And newborns are extremely noisy sleepers. Even if you were previously a heavy sleeper, you will hear it all. I say, just get used to not sleeping as quickly as possible. I haven't slept in five years.
If a genie arrived at my house and granted me one wish, I would wish for the ability to never need sleep again.
Since sleep is essential, check out my tips on getting more sleep for the mom with a baby.
Babies want their mamas
And it's emotionally draining. When I am trying to accomplish something in the house, my husband (bless him) tries to entertain.
He could put on a 3-ring circus and she would still toddle over to me, whine and pull at my pant leg. The constant-ness of parenthood is something that mothers deal with.
My older child became daddy's girl
Okay, so this one is my fault, because I'm a control freak who must do everything. Ha, guess what? When you have more than one child, doing everything is impossible.
And yes, I suppose the fact that my older child now has a strong bond with her father is a good thing. But because I'm always occupied with the baby (see #3), I miss out on things with her that my husband gets to experience. I don't like missing out on things.
The worry
The amount of things that I worry about on a daily basis is outrageous. Do our husbands share in all this worry? No. Probably because they didn't just give birth, aren't sleep deprivation-induced insane, don't have sore nipples, blocked milk ducts, engorged boobs, etc.
We've got a lot going on, so naturally we throw "worry about 638 things" into the mix. But don't worry, my husband's advice every time of "don't worry" isn't at all maddening.
The freedom
Our husband's can continue on with their hobbies. They can go fishing for 10 hours at a time without feeling anxious or guilty about it. They can leave sight of the baby without the baby going into full blown separation anxiety mode. They can take a shower without having to tell you, or without planning it for nap time or in between feedings.
At times, I hated my husband for reasons that I didn't even understand, or for reasons that didn't even make sense. Just because.
Men are much more into the physical aspects of raising children (tickling, horseback rides, pillow fights) and sometimes, they just don't know what to do with babies.
You might feel like all of the new responsibilities that a baby brings are all on your shoulders. But eventually, little by little, you will both adjust to your new roles and new routines will develop, and you will start to love your husband again. For me, it happens after about a year. At that time, I am emerging from the baby fog and starting to get a little of my identity back, and a lot of love and appreciation for my husband.
So yes, it's normal to hate your husband after having a baby, but that doesn't mean that you can't do little things to strengthen your relationship.
Feeling disconnected from your husband after baby?
Though you are going through the obvious changes that come along with childbirth and raising a baby, it's important to realize that your husband is also adjusting to life with a baby.
Even though you are giving everything to your baby, you need to figure out how to nurture your relationship with your husband after baby.
Here are my simple, easy to implement tips. Let's start small, because you're probably too exhausted for anything else.
How To Strengthen Your Relationship With Your Husband After Baby
Start by taking care of yourself
If you are struggling to connect with your husband, you're probably struggling with your own self care. But here's the thing. You can't give your husband your best if you haven't had time for you. These are great tips for moms who suck at self care.
Ask for help
Let go of the control and need to do everything the "right" way and allow your husband the change to bond with your baby and help alleviate some of your responsibilities.
This will help you to see your husband in a completely new light and his new role as a father, and will also help you rejuvenate and feel like yourself a little bit.
Be present
Be conscious of what you do when it's just the two of you when baby's sleeping. Are you attached to your phone or are you talking and connecting with your husband?
Write him a love note
Writing your husband a little note or leaving a post-it with a quick message on it is a quick gesture that speaks volumes. You could also print out these adorable love notes. Or I think this is the perfect time in your relationship to start a Q & A Journal
with your husband.
Have an at-home date night
These stay-at-home date night ideas are seriously so much fun (and totally doable!).
Do you resent your husband after baby? How did the birth of a child affect your relationship with your spouse?