Inside: When having a second baby, it's a big adjustment. Should you expect sibling jealousy? When will your first child adjust? Find out how to help your toddler adjust to the new baby.
This post contains affiliate links.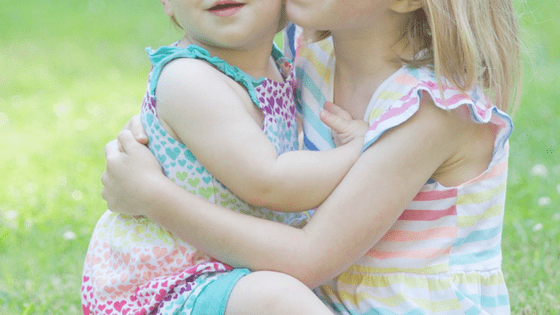 As I sat in the exam room of my 3 year old's Pediatrician, I was encouraged by his words.
"You can expect her to exhibit some sibling jealousy when the new baby arrives, but she should get over it in about 3 months."
3 months? I could totally handle that. I had handled 3 months of morning sickness. 3 months of the dreaded 3rd trimester. 3 months is nada, thought my naive self.
So I braced myself for having a second baby. I helped my daughter bond with her unborn sister as much as possible because I did not want to deal with sibling jealousy. And when my 3 year old never exhibited even the slightest tendency toward jealous rage, I thought I had won the transition to two children jackpot.
I was rocking mothering, I thought.
But every good thing must come to an end. Ever heard of the honeymoon phase? How about the baby honeymoon phase? I mean, babies basically eat and sleep (and don't forget poop, lots of poop) for the first 3 months.
What's to be jealous of in the first 3 months?
In my opinion, the biggest life-altering change when having a second baby doesn't happen at baby's birth. Oh no. It happens around the age of 3 months old. Your sweet, sleepy, milk-drunk baby goes from sweet, drowsy oblivion to I-don't-wanna-close-my-eyes-'cause-I-might-miss-something in the blink of an eye.
After 3 months, jealousy was just beginning. Thanks a lot, Doc.
Over the next 9 months (and beyond, let's be honest), jealousy reared its big, ugly head over and over and over. When I least expected it, there it was, mocking me. I'm still here, mama. We were in a constant ebb and flow of envy.
Over the next 9 months, the baby started to demand attention. She craved eye contact.
And don't forget the plethora of exciting firsts. Baby rolls over? YAY, Mommy and Daddy are elated. Baby crawls? Speaks? Takes first steps? Claps? Smiles? Everything is cause for celebration. We jump up and down, we clap and we cry tears of joy.
All while the child who was our whole world up until then is looking on.
Can we blame our older child who is probably thinking, "Wow, having a baby sister sucks"? Of course not.
In my experience, the conversion to "big" sister caused her to reconnect with her baby self.
Her favorite game became "the baby game'". She would pretend to be a baby. I would have to give her the pacifier
(which insulted her as an infant), burp her, put her down for a nap, and change her diaper
. She played in the bouncy seat
, the exersaucer
, the crib, reliving her babyhood one discarded toy at a time.
Now, after a year, each day they play more, hug more, kiss more and interact more. The sibling jealousy won't last forever. But don't be fooled when your older child is acting completely unfazed by the new baby.
It's just the baby honeymoon phase.
Tips on helping your toddler adjust to the new baby
While you're still pregnant
Encourage your toddler to talk to the baby and to feel the baby kick.
This will help your child to feel connected to the baby, and will help your toddler get used to the idea that a baby will be coming to live with them soon. However, don't over do it. If your toddler wants to talk about the baby or wants to feel your belly, great. If not, you don't have to continually bring it up.
Give your toddler a baby doll to take care of.
Even if your toddler is a boy, he can benefit from caring for a baby doll!
We love this doll because it comes with lots of accessories, has eyes that open and close and has a soft body.
Baby Stella is completely plush (perfect for younger toddlers and has a fun magnetic bottle and pacifier.
Baby Alive is a big hit in my house. With this doll, your toddler can feed and change the doll's diaper just like you do with the baby.
Read big brother and sister books for toddlers
When you are in the hospital
Realize that your toddler just spent time away from you
When your toddler first enters the hospital room, you might want baby to be in the bassinet so that you can snuggle with your toddler. Then you can introduce baby.
Give your toddler a gift "from the baby"
This small gesture can help your toddler to start associating the baby with positivity.
At home
Talk about how being a big sibling is special.
Encourage your toddler to "teach" the baby how to do the things that baby can't yet do. Have your toddler show the baby how he gets dressed, brushes his teeth, etc.
Ask your toddler for help
Your toddler might simply want to be involved in the daily routine of your baby. Your toddler can get a diaper and a wipe when it's time to change baby, can help giving baby a bottle or can pick out baby's clothes for the day. However, if your toddler wants a little distance from these tasks, don't force it.
Give lots of positive reinforcement
No matter what, this is going to be an adjustment for your child. Make sure that you are praising your child for the good things that he's doing.
Make one-on-one time for your toddler
While you aren't going to be able to give your toddler as much attention as before, try to get in some one-on-one time. This can be accomplished when baby is napping (if he will allow you to put him down). Otherwise, you can wear baby or put baby in a bouncer or sit me up chair.
Making it a point to give your toddler some extra love and attention will make the transition easier, as many toddlers will misbehave if they are not getting the attention they need.
Also be aware that some sort of regression (potty training, talking, sleeping) is likely, and that it will eventually disappear.
The most important thing is that you give your toddler a little grace during this transition. Take a deep breath, and know that you can do this, mama! When baby is old enough to play with your toddler, all of the work that you did to ensure that they have a strong bond will pay off.
Above all, be ready! This book When Baby Becomes Big Sibling, written by a mother of 4 (!) was so helpful as a new mom in knowing what to expect as I transitioned to two kids, as well as with helping me to prepare my toddler and to be prepared for the difficulties she was going to experience.
Related:
Pin it!