Looking to beat the heat with a DIY kid's sprinkler splash pad?
I don't know what to call this, but my kids loved it, and I bet your kids will too.
It's that time of the year that most of us wait for. And it's finally here!
And if you're a crazy person like me, you might be thinking why is it SO hot? Summer hasn't officially started yet, and I'm already thinking, man it's hot out here. I'm always on the lookout for new backyard water toys.
I should have jumped into the DIY splash pad with my kids. But that well water would have been cold. There's no pleasing me I guess.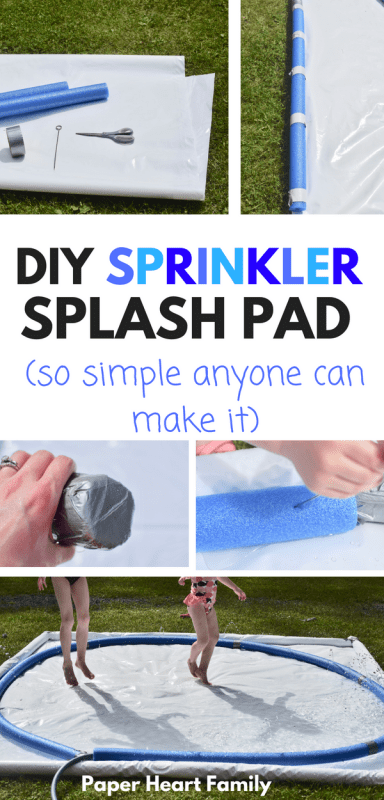 This post contains affiliate links.
The great thing about kids is that they really don't care. We made this kids sprinkler and then we even added our Little Tykes slide to it, and my kids slid over and over into that freezing cold water without a care in the world.
I guess what I'm trying to say is that tomorrow, when we pull our splash pad out again, I'm taking a cue from my kids and jumping right in with them. I think you should to.
There are many different DIY splash pad and kids sprinkler tutorials out there (I think I looked at them all). And they are awesome. But some of them are really elaborate.
I wanted to make one that required nothing special. I didn't want to be cutting PVC pipe (or buying it for that matter) or hunting down any special equipment.
I wanted to make a really cool kids sprinkler with what I already had laying around. Yeah, I could have bought one, but the best water sprinkler for kids is the one that you can totally design on your own.
Kids Sprinkler/DIY Splash Pad Materials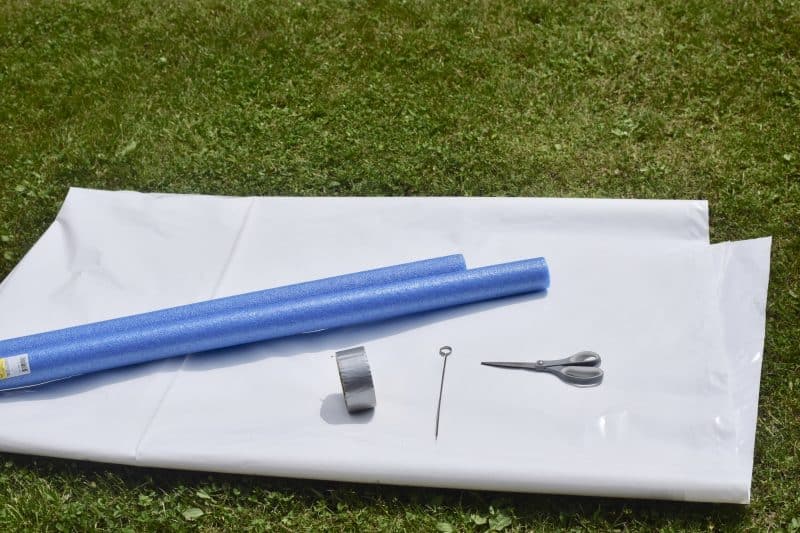 Tarp or plastic sheeting
Duct Tape
Metal Skewer
Pool noodles
Hot glue
That's it! Super simple, nothing fancy.
DIY Kids Sprinkler Tutorial
Another great thing about this project is that you can easily adapt these instructions to make your splash pad bigger or smaller.
I used plastic sheeting that I cut into a 112″x112″ square. For this size, I used 14 pool noodles from the dollar store.
Then, I wrapped 5 long pieces of duct tape (sticky side up) around each of my pool noodles. As I worked, I laid the noodles onto the edge of my plastic sheeting. I used 2 pool noodles per side. Then, I rolled the noodle so that it was all covered by the plastic and hot glued it down. (The duct tape step may have been unnecessary, but I think it made the process a little smoother.)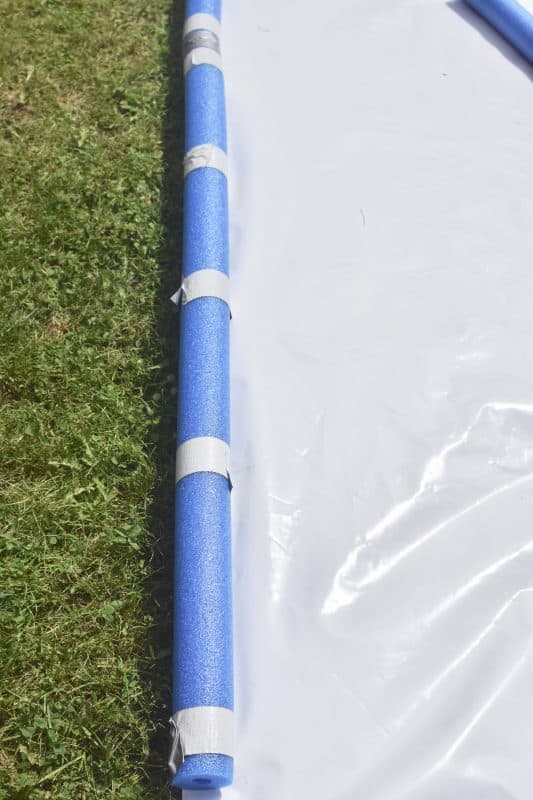 Then, I took 6 more pool noodles and duct taped the ends together to form one long pool noodle. I duct taped one end with about 4 pieces of tape to close it off.
Unfortunately, I wasn't patient enough to wait until I had some fancy colored duct tape.
Then, I put the one long pool noodle into the middle of my splash pad in a circle shape. At this point, you can use your skewer to poke holes halfway through your pool noodles.
I was making this for a toddler and a 6 year old who doesn't like getting water in her eyes so I put my holes close together so that the spray wouldn't be too high. If you would like a higher spray, just don't poke too many holes.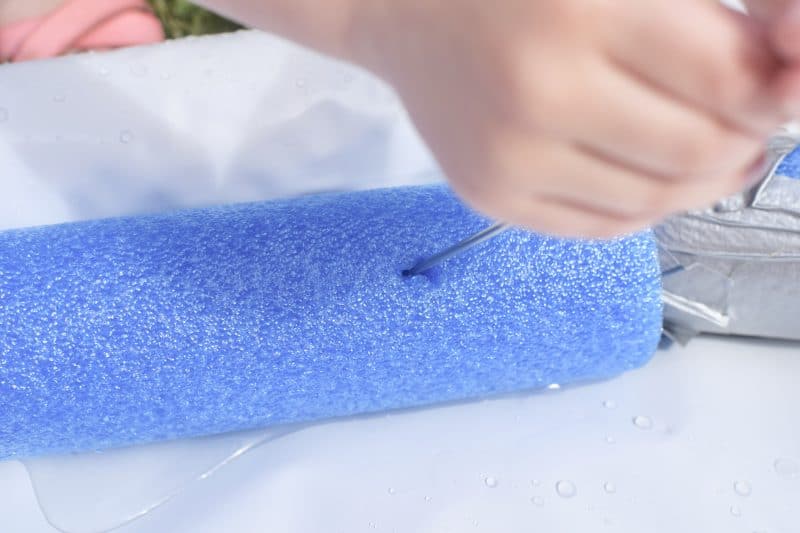 Then, simply insert your garden hose into the open end of the pool noodle.
That's it! It took me about 40 minutes to do it. But that was with me arguing with my toddler that she couldn't put the tape on, dealing with the ensuing tantrum, trying to figure out what I was actually going to do, and cooling off with the hose every 5 seconds. Oh and saving my kids from a big scary spider. You know, typical mom stuff. Hopefully you will be able to complete the project even faster, but if your kids are around, then I can't guarantee anything.
I also love that it's super easy to put away and to bring back out. There's no inflating and you can easily tuck it away when it's not in use. And I'm already thinking about how I could probably figure out a different set-up with the sprinkler section.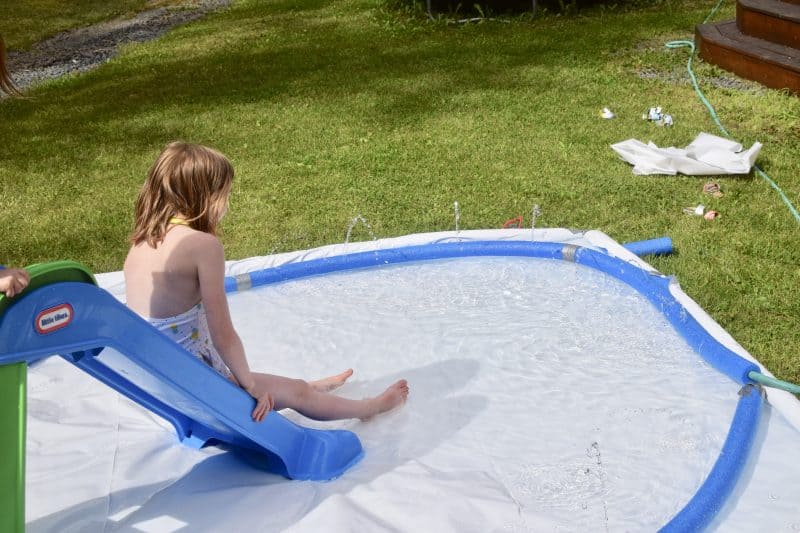 We also brought out our Little Tykes slide to add to our backyard sprinkler set-up(which by the way is the most amazing toy I've purchased. It has had YEARS of abuse and it's still like new. My 6 year old still slides on it all the time).
And although my kids repeatedly slid into the corner of the splash pad, it held together perfectly.
I would love to know if you decide to make your own DIY splash pad! Leave a message in the comments.