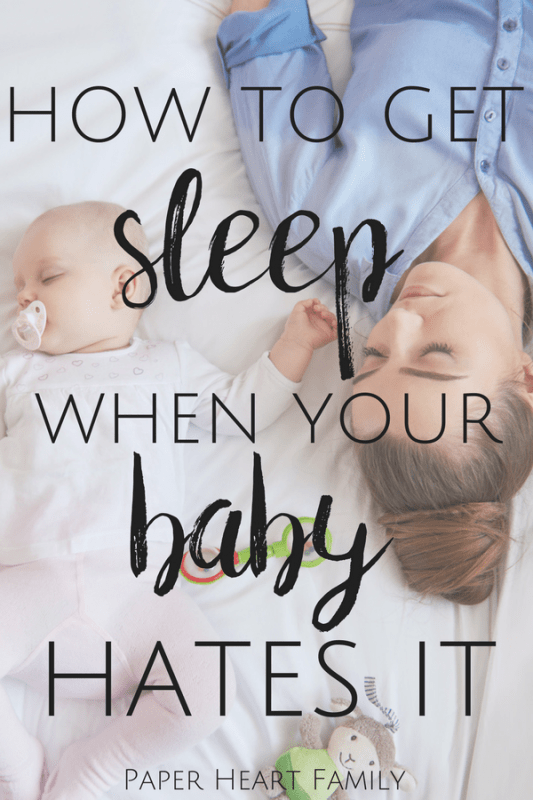 Is mom sleep doomed during the newborn phase? If your newborn's not sleeping, you probably feel like you're never going to sleep again.
I wrote a post about how to get your newborn baby (or any baby that you aren't sleeping training) to sleep longer at night. But let's talk about what YOU can do to get more sleep, because although I believe that a newborn can't be forced to sleep, we definitely need our sleep in order to function and enjoy this fleeting time in our child's life.
I've been where you are twice, and the sleep issue was my biggest fear when I was pregnant with my second child. I did NOT want to go through it again, and while breastfeeding moms can drink up to 3 cups of coffee a day (according to the American Academy of Pediatrics), the exhaustion that you're dealing with is likely worse than you've ever experienced, so coffee might not cut it.
Related: New Mom Hacks: Tips That Will Make Your Life Easier
There are some legitimate ways that you can get more mom sleep (even when your newborn's not sleeping).
This is a free step-by-step guide for the exhausted mom, and will help you teach your baby to sleep through the night and to sleep later in the morning. It's an AMAZING resource written by Jilly, who has helped hundreds of new moms in the sleep department.
She seriously knows what she's talking about. Get the Exhausted Mom's Survival Kit here.
Get over your fears
New motherhood can be so cruel. You need sleep more than you've ever needed sleep in your life, and yet when the opportunity for slumber comes along, you're afraid to sleep.
The truth is, it's physically impossible to stay awake 24/7 to watch for the gentle rise and fall of your baby's chest. The other truth is, we as moms are wired to respond to our babies when they need us.
For well into the first year of my first born's life, I consistently woke up before her. Despite the fact that it was the middle of the night, despite the fact that the only way that I could ever feel rested again was to go into hibernation, I would wake up and seconds later my baby would start crying.
If something is wrong with your baby, chances are you will know it. Even if you are sleeping. However, I still had a baby monitor to help ease my worries and get more sleep. If worrying about your baby is preventing you from sleeping, then a baby monitor is an absolute necessity.
Drink some calming tea before bed
I am a total tea drinker, and it's amazing how these Yogi bedtime teas can calm you down and get you ready for sleep. Even if you're not a tea drinker, you just might want to give it a try. I love tea, and Yogi is definitely my favorite.
Hand baby over and take a nap
I know that this is probably easier said than done, but taking care of yourself is just as important as taking care of your baby.
Related: Self Care Tips For Tired Moms Who Don't Have The Time
It will actually be good for your husband to bond with the baby while you get a little rest.
Go to sleep when the baby does
This is a tough one too. I bet there are probably a million and one things that you can think of doing hands-free.
But take it from me. The dishes can wait. The laundry, the cleaning, the "me time" can wait. If you're not rested, you're not going to enjoy this time. And while it is exhausting and stressful and difficult, before you know it your baby will be a toddler. Then a preschooler. Then a KID. You'll have time for a clean house later.
For now, take care of your baby, take care of yourself, and then clean if you have the time and energy.
Come up with a sleeping situation that works for you and your family
From co-sleeping to putting the baby in a different room, you simply have to do what's best for you.
For some moms, that means cosleeping (sleeping in the same room as the baby) or even bed sharing. If you are breastfeeding, this could mean more sleep for you.
Related: The 4 Best Co-Sleepers For Breastfeeding Moms
On the other hand, babies (specifically newborns) can be extremely noisy sleepers. You might find that you get more sleep with baby in a separate room.
Don't stress over how much sleep you're not getting
When you become a new mom, your body and mind are stressed enough. Don't add worrying about how much you should be getting into the mix.
With my first child, I used to calculate the hours of sleep that I got each day, and it made me miserable. With my second, I was more content because I wasn't constantly thinking about the fact that I was missing out on tons of beauty sleep.
Sleep when the baby sleeps?
I know, you're cringing, right?
Everyone says this, but if you can sleep when the baby does, then go for it. If you can't because you have other kids, or you really can't relax unless you clean your house, then forget I even said this one.
Avoid extra responsibilities
One of my favorite things about becoming a mom is that I learned to say no. Before baby, I was such a people pleaser. Now I'm way too busy to try to please everyone and as long as I'm happy and my family's happy, that's all I care about.
Taking care of your newborn is more than a full-time job, so feel free to say no to everything else.
If you're breastfeeding, get the baby used to the bottle.
While breastfeeding is a seriously amazing thing, it can be exhausting and disheartening to be the only one who can feel the baby. You might feel like you'll never leave the house again. I know I did.
Once baby is old enough (most experts recommend around 1 month to prevent nipple confusion or bottle preference), get that baby used to the bottle. This way, you can hand the baby over to someone else and sleep with the kind of peace that can only come from a mama who knows she's not going to be woken up in 20 minutes because the baby wants to nurse. Again.
Related: The Best Bottle Options for the Breastfed Baby
Sleep in and have your partner get up with the baby, especially if you do night time wake-ups
I breastfed both of my babies, so I never asked my husband to wake up in the middle of the night. To me, it was pointless.
However, I most definitely did have my husband get up with the baby in the morning so that I could get some extra zzzz's.
Take shifts at night
If your husband is going to sleep later than you, have him take the baby until he goes to bed. This way, you won't be abruptly woken up by baby grunts.
Knowing that someone has and is watching over your baby while you sleep will help you get some quality sleep.
Do something non-stimulating before bed.
Psh, who I am kidding. You're so exhausted that you could probably fall asleep in the middle of Times Square on New Year's Eve.
So now that you know how YOU can get more sleep, let's talk about what you can do to get your newborn to sleep longer stretches at night.