When you have a baby, there is really no way around it. You are going to be sleep deprived. It's simply part of being a new mom.
Even if your baby sleeps well, I'm guessing you probably don't. Our mother instincts take over and we feel the need to obsessively check on our sleeping babies throughout the night.
And if you're not hovering over your baby watching her chest for movement, then maybe it's the noisy sleep sounds (grunts) that baby's annoyingly unfortunately make that are keeping you up.
There are so many reasons that you are so. very. tired. There may even be times that you feel like you'll never sleep again.
This post may contain affiliate links.
I purchased all the sleep aids. The SwaddleMe
, sleep sacks
, the Woombie
, the Magic Sleepsuit
. You name it, I had it. And they were so helpful, until the 4 month sleep regression started.
You can absolutely drive yourself crazy obsessing about your baby's sleep (and your own).
I could tell you to "sleep when the baby sleeps". But I'm not. If you have more than one child, that's impossible. If you have only one, that time when your baby is sleeping and you can do whatever you want to do with 2 hands is a sanity-saver. You need a little time to just be you, so that you don't lose your entire self to new motherhood.
When my first child was born, I kept a detailed sleep log of not only her sleep, but my sleep as well. I would literally calculate down to the minute how much sleep we both got.
I was obsessed.
Thankfully with my second child I came to my senses. I stopped obsessing. I stopped calculating. Because truthfully, I was driving myself crazy.
What happens when you know that you only got X amount of sleep? You stop paying attention to how you feel and start listening to your brain tell you how tired you should feel.
In reality, most of the time I didn't feel tired. But because I knew that I should be tired, I was. I obsessed over numbers. 4, 4.5, 5. I typically felt the same whether I logged 5 hours of sleep or 8.
That's the key to rocking baby-induced sleep deprivation.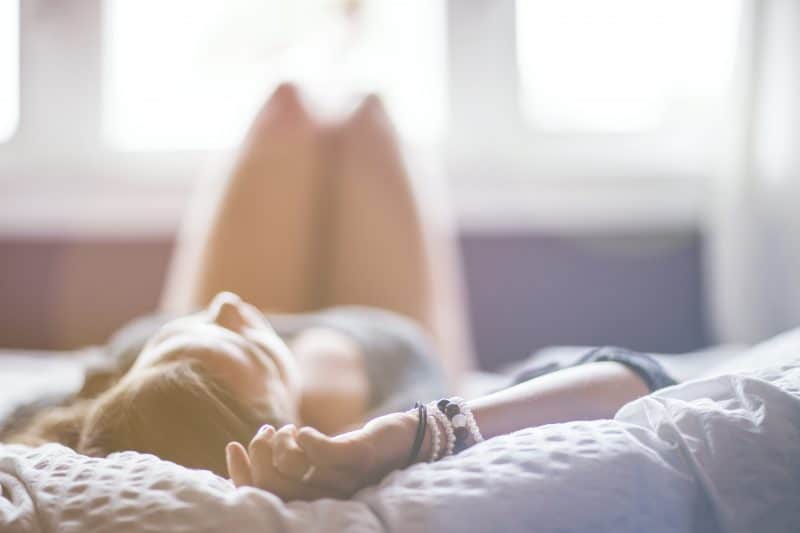 Stop listening to your mind and start listening to your body.
If you truly are tired, then do whatever it takes to get some rest. Hand the baby over to your husband, mother, sister, friend, etc.
The crazy thing is that your body will become accustomed to less sleep.
Know that this state of sleep deprivation won't last forever (but I hear it comes back in the teenage years in the form of waiting up for you child to waltz in after curfew).
Also know that I'm not telling you that sleep is suddenly unimportant. You need sufficient rest to be a good mom and you need to take care of yourself.
If you do need sleep, then hand baby over to the nearest person and take a nap. Bonus: this can help baby get used to drinking from a bottle, too!
How do you rock sleep deprivation?
Pin it for later (when you need a little encouragement!)