Inside: Are you looking for the safest baby bath products or kid's products? These are the best tried-and-true natural, non-toxic baby bath products: organic baby washes, shampoos, sunscreens and more. These amazing products are not only safe according to the EWG, but they WORK. Start feeling good about what you put on your child's skin.
This post may contain affiliate links.
Some of the ingredients that are in our kid's and baby's mainstream bath products (such as popular Johnson's baby products) are scary. We as their parents need to protect our kids from harm, and that includes what we put on their skin.
Dangerous known cancer-causing chemicals such as formaldehyde and 1,4 dioxane can be found in popular, mainstream baby products. We need to be advocates for our children. Even "natural" products aren't necessarily what they claim to be.
I rely on the Environmental Working Group when it comes to choosing non-toxic products for me and my children.
However, I get it. Sometimes the safest baby bath products aren't the best performing. It took me over three years to find a baby wash that I love (I tried many).
Here are the products that I recommend. I LOVE these products, and use them everyday. Now you can give baby a bath with confidence that the products you're using aren't only completely safe, but they are also some of the best baby bath products available.
This post contains affiliate links.
Safest Baby Bath Products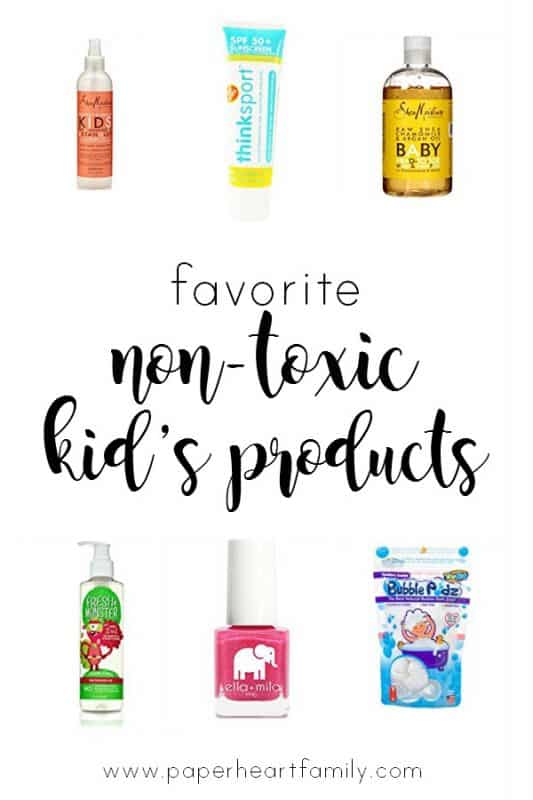 Organic Baby wash
Shea Moisture Chamomile and Argan Oil Baby Shampoo and Body Wash
EWG rating: 1
I used many organic baby washes before discovering Shea Moisture, but never really loved any of them. This wash lathers very well, is moisturizing and it smells AMAZING. It's also very safe and doesn't irritate my daughter's sensitive skin.
About the company: I love Shea Moisture's story. The company was inspired by the founder's grandmother, who in 1912 sold shea butter as a 19 year old widowed mother of four in Sierra Leone (Africa). The company is now run by her grandchildren. Their products are natural, organic , cruelty-free and sustainably produced.
Compared to Johnson's Head-To-Toe Gentle Baby Wash: EWG rating of 4
Best Natural Bubble Bath for Kids
TruKid Bubble Podz for Sensitive Skin
EWG rating: 2
You can't deprive your child of bubbles baths, right? These bubbles have only 4 ingredients and come in their own little biodegradable pod (which totally adds to the fun factor. And could prompt fights because all of your kids will want to be the ones to dissolve the pod in the water). They smell fantastic (and have an eczema version too).
About the company: TruKid was born when Jennifer, a mother of six (!) found two of her children applying her anti-wrinkle cream to their faces.
Compared to Mr. Bubble Original Bubble Bath : EWG rating of 5
Best Toxin-Free Kid's Shampoo
Fresh Monster 2-in-1 Kids Shampoo
EWG rating: 2
I am seriously in love with this shampoo. It's moisturizing, smells incredible, the packaging is adorable and it's VERY reasonable. It's a new company that I hope will be around for a long time.
About the company: Fresh Monster was founded by two moms with experience in the personal care industry. They had previously worked with big corporations such as TRESemme and Suave, and were tired of two things: overpaying for their children's hair care products and worrying about toxins in those products.
Compared to Suave Kids 2 in 1 Shampoo and Conditioner: EWG rating of 5
Best Kid's Hair Detangler
Shea Moisture Kids Coconut & Hibiscus Detangler
EWG rating: 2
I love this hair detangler because it smells amazing, and no matter how much I (or my kids) spray into their hair, it never looks greasy. It makes their hair really shiny, smooth and tangle-free.
Compared to Johnson's No More Tangles: EWG rating of 4
Best Mineral Sunscreen for Kids
I have tried many types of sunscreen also, but many are hard to apply and to rub in. I bought Hang Ten Kid's mineral sunscreen but later discovered that despite being a mineral sunscreen, it has an EWG score of 3.
I have also used Babyganics which is rated 2, and it was okay, but not great.
After looking on EWG for something readily available, I decided to try Thinksport Kid's Safe Sunscreen.
EWG rating: 1
This sunscreen smells SO good, and goes on easily, unlike many mineral sunscreens.
Compared to Banana Boat Kid's Sunscreen: EWG rating of 6.
Best Non-Toxic Kid's Nail polish
We have Piggy Paint Nail Polish (EWG score= 1) and it's great for young kids who want to peel the polish off anyway.
I also have Ella+Mila for my older daughter. (It is not yet scored by the EWG.) It does have a little bit of a nail polish smell, but I feel much better putting this on my child's nails than some popular drugstore brands. It is 7-free, vegan, cruelty-free and made in the USA. It stays on much longer than Piggy Paint, and the colors are really kid-friendly and cute.
I love using coconut oil for my kid's dry skin and hair and to make DIY Koolaid lip gloss. It's 100% safe and very inexpensive (and if my toddler eats it, no biggie!).
And if you're breastfeeding, why not make some breastmilk lotion?
What are your favorite safe baby bath products and natural kid products?
Pin it for later!