Do you remember how to play MASH?
Remember when you were in grade school and you and your friends tried to predict the future?
Where you would live, how many kids you would have, what car you would drive and who you would marry. The quintessential game of 80's and 90's childhood.
However, my slap-bracelet-Popples-Polly-Pocket-Babysitter's-Club, NKOTB loving friends, it seems that MASH has been replaced. Children no longer know about the amazingness that is MASH.
Don't worry, we're going to change that.
I asked my middle school students if they ever played MASH. They looked at me with the look of pity that they reserve for anytime that I speak about my childhood.
You mean, you used to play games with a paper and a pencil?! I'm sure that's what they were thinking.
When I showed them a picture of Quints (because they were awesome), my sweet 11-year old sixth graders cringed and screamed in horror, because I was "giving them nightmares". "They're so creepy!"
But you and I know that our childhoods were superior. And I think it is our job to make MASH live on.
Long. Live. MASH.
So one day, I decided to teach my 4 year old how to play MASH. And she loved it. And surprise surprise, I loved it, too.
We laughed until we cried, and weeks later she asked me, "Remember when I lived in a mansion, but I only ate bread with butter and slept on a mattress outside?!" That's comedic genius for a 4 year old.
It's fun, but it's also beneficial for your child.
Playing MASH will help your child with:
-categorical thinking
-counting
–reading
-vocabulary expansion
-it's also a great way to bond with your child.
I started to brainstorm, because let's face it, my preschooler isn't going to be blushing over who she's going to marry, and doesn't really have any knowledge of what a Lamborghini is (I don't think I knew back in the 90's either, but it was the cool car to get!).
So I came up with some new categories.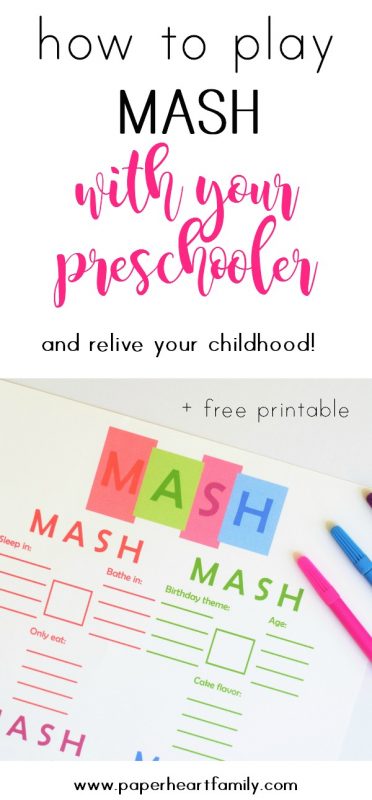 How to play MASH with your kids
Here's how it works. For each category, ask your child for three answers, and the fourth should come from you. You can pick something that your child wouldn't want to get, which will most definitely result in lots of laughter.
Possible categories:
-vacation spot
-job
-number of kids
-places to bathe (ask for things that hold water)
-places to sleep
-house color, bedroom color, favorite color, hair color, eye color (can ask for a color)
-who you live with
-your teacher
-your spouse
-What you get for Christmas/birthday (ask for things he/she sees)
-You only eat or birthday cake flavor (ask for two delicious foods and one disgusting food)
-Your age (ask for a number)
-Your pet (ask for animals)
-What you go to school in (ask for things that go)
-Birthday theme
Get your MASH printable here!
I would love to hear what you think!
If you love this post, please share it!