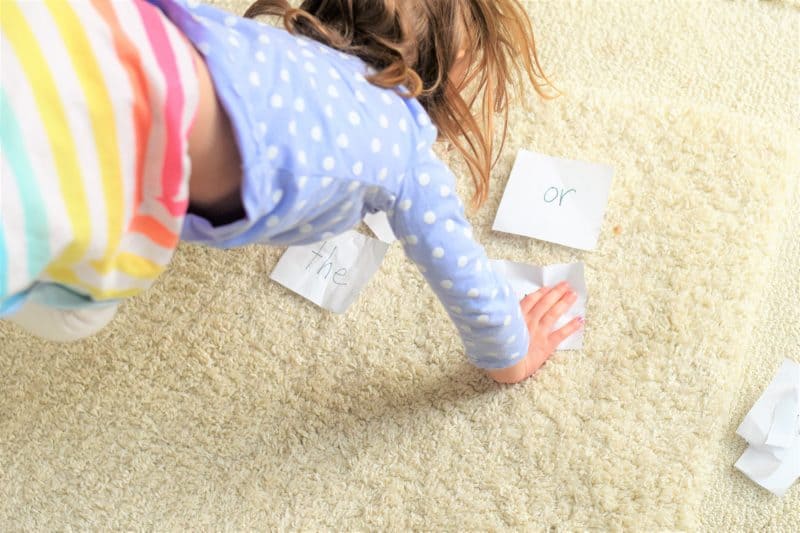 This post may contain affiliate links, which come at no cost to you.
My daughter just received her first sight word list from school. I cannot express how excited I am, and (yay!) she's excited, too.
Tonight when I asked her nightly question from my free printable journal which was "What is something that you want to learn to do?", she said she wants to learn how to read. Reading opens up a whole new world to a child, and she already loves to be read to because we've always made it a priority.
Children who are read to have less difficulties learning to read.
I knew I had to make learning sight words fun and low pressure. I didn't want her feeling frustrated over something that should be gratifying and something that should make her feel proud.
Step 1
Make sure that your child knows the sounds for each letter. Also make sure that she is able to recognize beginning and ending sounds.
A common misconception is that "sight" words are words that have to be memorized and that cannot be sounded out. This is true for some, but not all sight words.
Sight words are simply high-frequency words that need to be read quickly.
Step 2
Start with 4 words written on flashcards. Go over them with your child first.
Then, ask your child to find the word that you say. Do whatever you can to make it a little more interesting (slap it with a flyswatter, touch it with your knee, nose, toes, etc).
My daughter likes to place her hand in it while practicing her handstands.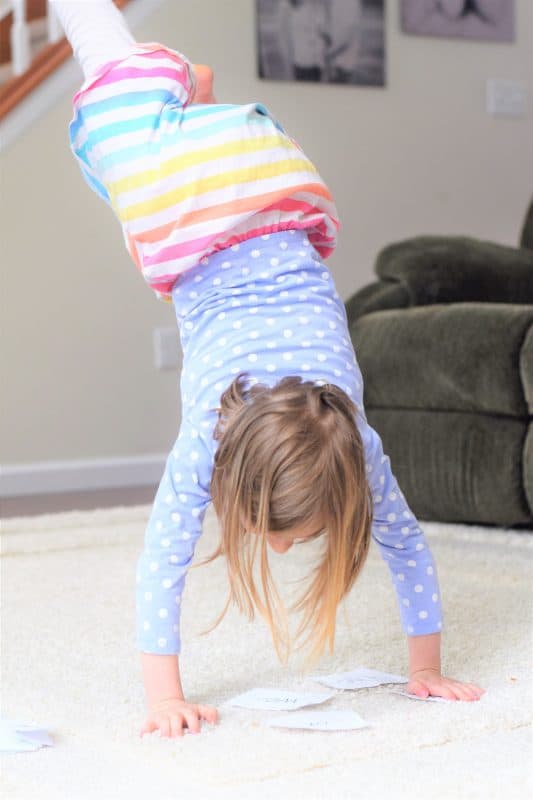 Continue shuffling the words around and calling them out until you think your child has mastered them. Then one by one, hold up the cards and have your child say what the word is.
Step 3
Continue adding to the list of words that your child can identify and practice them with any of the following activities:
Sight Word Games and Activities
Sight Word Hop
Buy a cheap plastic tablecloth from the dollar store. Write the words on with a sharpie. Or you can do what I did and use chalkboard contact paper
. This way I can reuse it and change the words up.
Then, use your imagination. You could have your child
-play a version of twister
-play hopscotch
-hop from word to word
-stand on one leg
-run to the word
-do the long jump and your child says the word that she lands on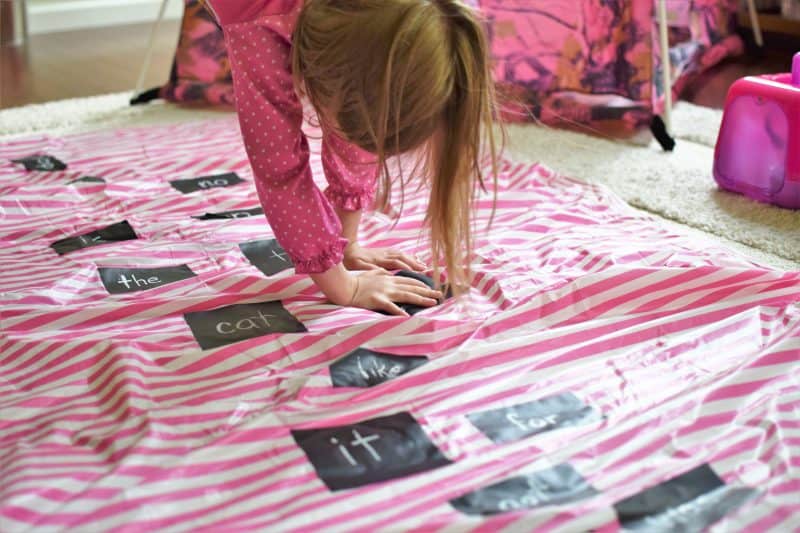 Bean Bag Toss
Tape the tablecloth onto the wall (use painters tape!) and have your child use a bean bag to hit the word.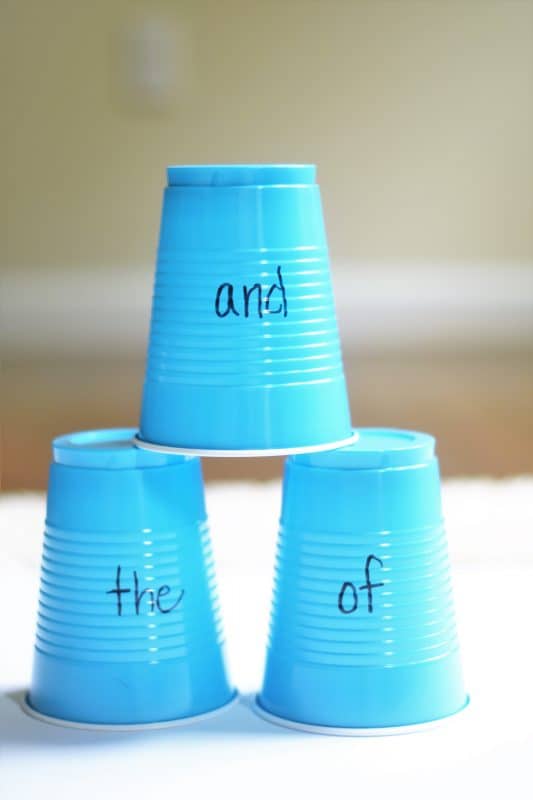 Sight Word Bowling
Buy inexpensive Dixie cups and write one word on each. Have your child build a tower with the words while naming them. When the tower is complete, give your child a "bowling ball" to knock it over.
Button Toss
Line the cups up. Say a word and then have your child throw their chip, button, etc. into the cup. Then let your child say a word so that you can play along, too. Don't forget to give your child some kind of handicap so that she has a chance at winning (I let my daughter have three throws while I had one).
Sight Word Reading
Create simple, but silly sentences for your child to read.
Write sentences (including pictures for unknown words) and have your child draw what the sentence says.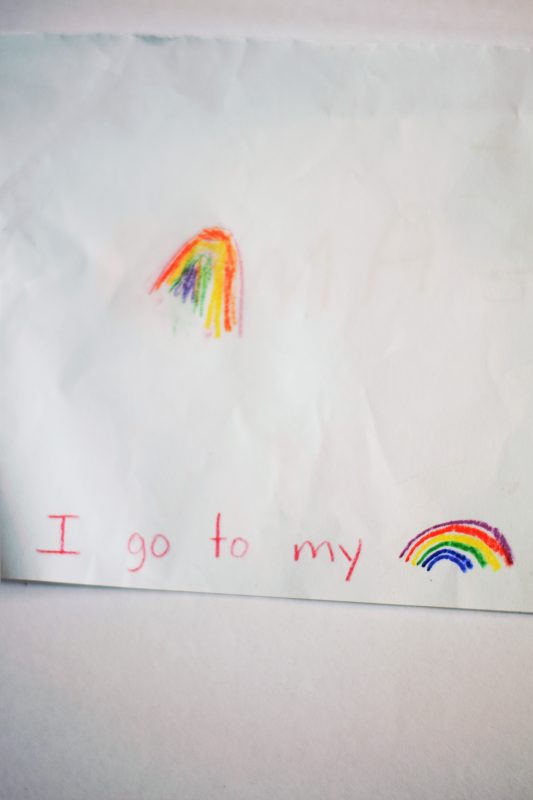 Create a quick lunch box note to add to your child's lunch that is cute, that reminds your child that you love her and that includes her sight words.
This will give your child a chance to write the words also. If you would like to play multiple rounds using the same sheet, we have and love these dry-erase pockets
.
Sight Word Shapes
Write the words on an easel, chalkboard or a simple piece of paper. Practice other things such as shapes (put a circle, square, rectangle, etc. around the word) or instruct your child to put an x over the word, to scribble it out, erase it, etc.
Whatever activities you do, remember to keep it fun and stress free. If your child's struggling with a certain word, table it and come back to it later.
I find that after my daughter sleeps (and undoubtedly processes the information), she then masters the word quickly.
Tell me, what sight word activities do your children enjoy?