If you're planning your child's first birthday party complete with a smash cake, you can easily take your own photos of this moment with these cake smash photography tips.
I was definitely on the fence. I did not do a smash cake with my first child. I feel like it wasn't even a thing back in 2012. My sister (who makes our cakes) actually kind of took it upon herself to make a smash cake for my one year old's birthday cake, and I'm so glad she did.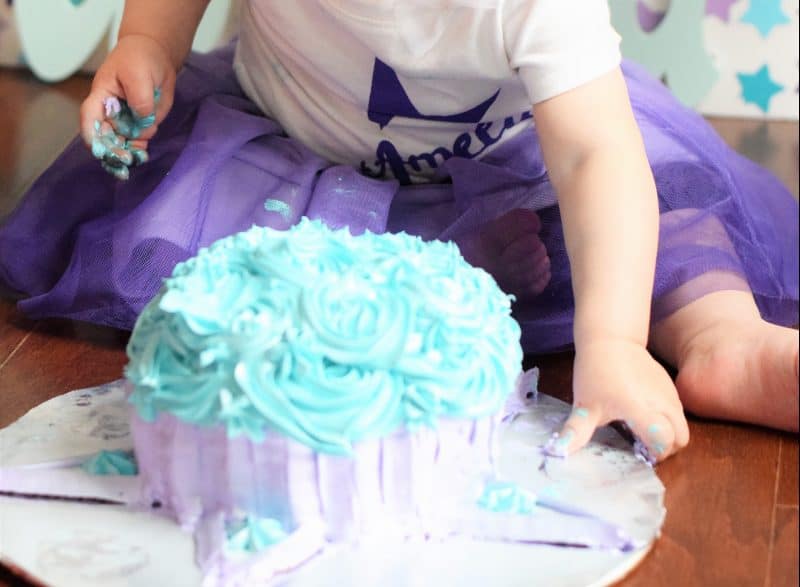 I love the pictures that I got from our DIY cake smash photography session, even though things didn't really go as planned. And when I say that, I mean they didn't go as planned for the photos. You can however believe that I was thrilled that my baby didn't want to eat the cake.
I'm insane about what my kids eat, and this made my heart happy. I mean, I am known to devour a sleeve of oreos when my kids aren't looking. But anyway.
With a little bit of preparation, you too can have your own DIY smash cake photo shoot in your own home where your one year old can feel at ease.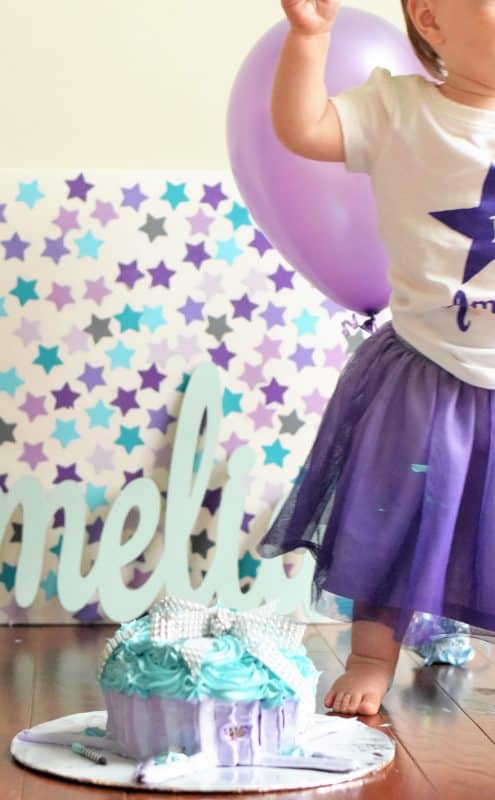 This post contains affiliate links.
Cake smash photography tips:
Set it up in a place with good natural light
Turn the flash off and snap some photos. Make sure that all interior lights are OFF. You don't want a beautiful setup, cake and baby which will just be overshadowed by a yellow cast due to artificial light. Just a few simple photography changes can really make a difference in your photos.
These photos were taken with my entry level DSLR camera
and this 50mm lens
. (If you have a DSLR, but don't have a 50mm, I highly recommend it.)
Create some beautiful but simple decor
My backdrop was super easy and very inexpensive. Consider what you already have or what you can reuse from the party. I also used the foam board back drop for the cake table, and the name sign is from the nursery.
Props that I used:
White foam board
Cardstock
Star punch
Balloons
Name sign from nursery
Other backdrop ideas:
Bulletin board paper
Wrapping paper
Flat bed sheet
Shower curtain
Hold baby's favorite toy
If your baby has a favorite small toy (bonus points if it makes noise), use it to get and maintain your child's attention. Otherwise, you will be dancing, singing, clapping, cartwheeling… doing whatever necessary to get the baby to smile, or simply look at you.
Go with the flow
It's possible that your child isn't going to do what you want. Shocking, I know. Just go with it. If your one year old runs away, you should snap away. Cries? Who doesn't love a good crying photo? Refuses to eat the cake? You can still get some great pictures.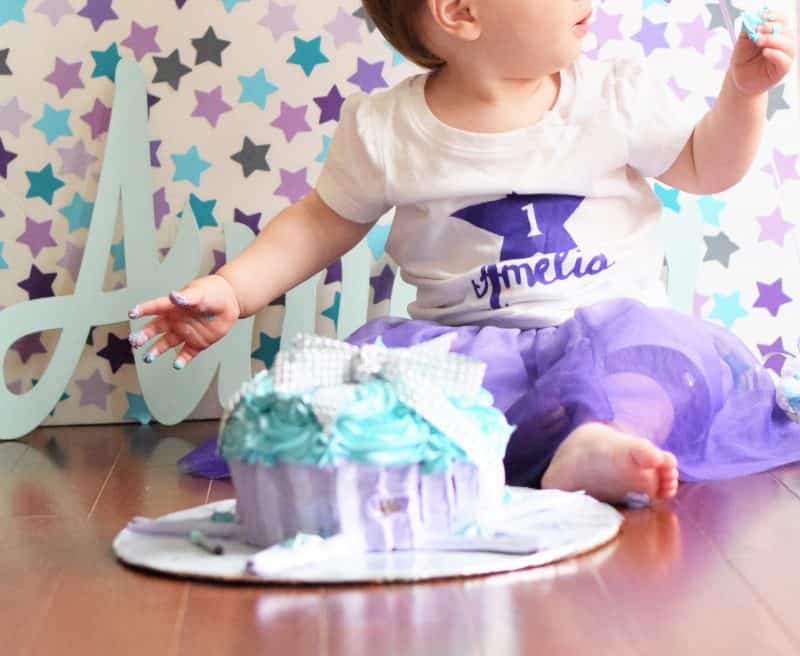 Don't be afraid to move around
For some reason, I took all of my photos from baby's level. I think because I just didn't have time for anything else. She really wasn't interested in the smash cake. Eye level photos are great, but some photos from above would be really fun, too.
Be prepared for the mess
Protect your carpet first. That is rule number one. Also, make sure you've got wipes ready and a big ole towel. Just in case. Better yet, be prepared for a bath afterward.
Make sure baby is happy
Baby should be well-rested and fed so that she's more likely to cooperate.
Consider the audience
We did our smash cake photos during my daughter's Twinkle, Twinkle, Little Star birthday party. I think it worked well that way, because it was a distraction for her. You know your child best. Maybe your child would do better without an audience.
Edit your photos
Just a little photo brightening will take your photos to the next level.
Whatever your vision, just do it. Your photography is only going to get better with practice, and what better subjects than your gorgeous kids.
Are you going to DIY your one year old's cake smash photos?