YOUR COMPLETE GUIDE TO BREASTFEEDING YOUR MSPI BABY
STOP
spending countless hours trying to find safe recipes and foods to eat.
STOP
researching every step in your MSPI journey.
START
eliminating the stress that can come with a Milk and Soy Protein Intolerance and putting your focus on your baby.
START
preparing delicious, quick meals that are safe for your baby.
GUESS WHAT?
You are not alone.
I have been in all of these situations. Tired of researching. Exhausted from baby being up countless times the previous night. Not knowing what to cook for dinner that wasn't going to hurt my baby but being SO HUNGY. Dealing with a Pediatrician who told me that I just needed to eliminate cow's milk and cheese.
I spent so much of my time researching every little question that came up and trying to find recipes. I wish I had an all-inclusive resource. Why?
Because there was so much information that I needed to learn at each stage of my baby's life.
Because I was constantly stressed out over every single fussy moment and found it hard to enjoy my baby's first year.
Because finding recipes on Pinterest that were dairy and soy free, delicious, healthy, and good for maintaining a healthy milk supply was extremely difficult.
What if I told you that for less than the cost of a dinner for two, you could save yourself months of stress and frustration?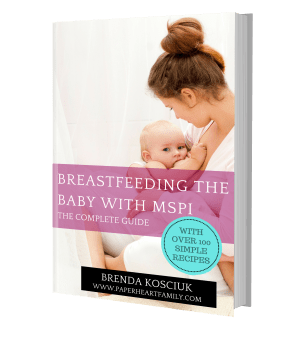 Here's what's included:
Ingredients that you need to avoid
A list of ingredients that contain hidden dairy or soy.
How to easily adapt your favorite recipes
Learn how you can take your absolute favorite recipes and tweak them slightly to make them safe for you to eat.
How to increase your supply while avoiding dairy and soy
Cutting out fatty dairy can help you to lose weight, but can also negatively affect your breast milk supply. Learn what supplements are dairy free, and what foods you can eat to help keep your supply going strong.
How to eat out
Eating out is still possible! Learn how to make it work.
what store-bought snacks and frozen meals are safe (over 100 safe snacks)
You know that breastfeeding hunger is no joke! Get this list and grab these snacks the next time you make it to the supermarket.
what to cook- over 100 meals that you can make quickly and easily (15 minute prep or less!)
These tried-and-true meals are so delicious that you won't be hearing your husband complain about the lack of cheese in his dinner.
How to introduce solids to your baby
Introducing solids to your MSPI baby can be a challenge. Learn what you should introduce first and when you should introduce it.
What you need to know about vaccinations
Did you know that dairy is found is some of the vaccinations that your baby will receive?
How to reintroduce dairy into your diet
I know your biggest question is probably, When can I eat dairy again? Find out when you should try introducing it, and how.
How to introduce dairy into your baby's diet
The last hurdle in your MSPI journey is introducing dairy directly to your baby.
What makes The Complete Guide To Breastfeeding A Baby With MSPI so special?
There is nothing else like it. It provides you with everything that you need in one place.
15 Day Money Back Guarantee
Here at Paper Heart Family, we want to help you on your MSPI journey with the best resource available. We're so sure that this guide will help you that we are offering a 15 Day Money Back Guarantee. If you are not happy with the guide, simply email us to get the entire cost refunded.