Okay, unpopular opinion. I LOVE baby shower games. Love them, and I am in it to win it.
Not because I want some generic gift, but just because I'm super competitive, even at a baby shower.
I made these scavenger hunts for a baby shower because when I went looking, I couldn't find any free options.
And I was trying to host a baby shower on a budget.
As a blogger, I love when I look for something on the Internet and can't find it.
Easy blog post idea!
So with a little creativity, I came up with a fun baby shower game that I haven't seen anywhere else. Then, I came up four more.
I have a total of five different scavenger hunts. I also came up with two different designs (and one of them has a different color option, so I guess it's technically three different designs).
I hope that you can find a design that goes with your baby shower theme (one is just very simple and plain for this very reason)!
Playing games at a baby shower is a great way to break the ice and to enjoy the time with your friends and family members and to honor the new parents. I hope these games provide lots of laughs!
If you are going to use one of my designs, make sure to:
Instead of using a plain sheet of paper, make sure to print these games on heavy card stock paper.
Print only the design that you prefer (each link contains all three designs).
Cut the paper down the middle (there are two games per page) using a paper cutter.
Only use for personal use.
Baby Shower Scavenger Hunts
Like I said, I have designed five different types of scavenger hunt. Below, you will find:
A Generic Scavenger Hunt
"Find Someone Who Said" Scavenger Hunt
Purse Scavenger Hunt
Phone Scavenger Hunt
Photo Scavenger Hunt
Generic Scavenger Hunt
For this option, guests will simply watch for the items listed as the day progresses, and will mark off the items throughout the day. It is the end of the game once the first guest has found all items on the list. There is no time limit to this version.
The items listed are:
something beautiful
something new
something old
something for the baby
something for the mom
something blue
something pink
two people hugging
the word "baby"
a unique gift
the person who got in line first for food
the last person to arrive
someone taking a selfie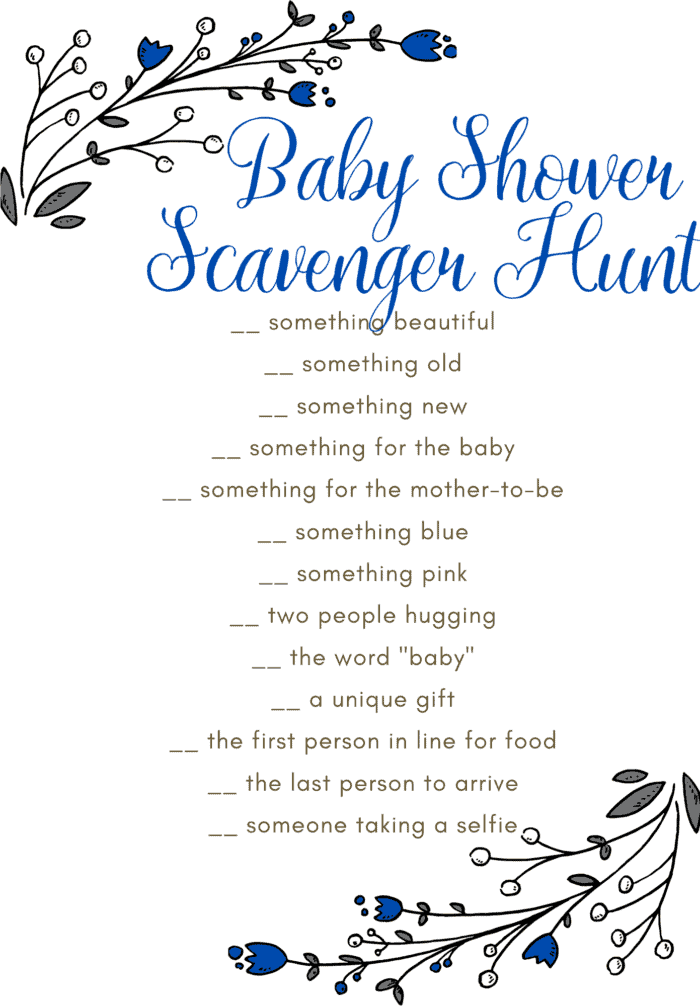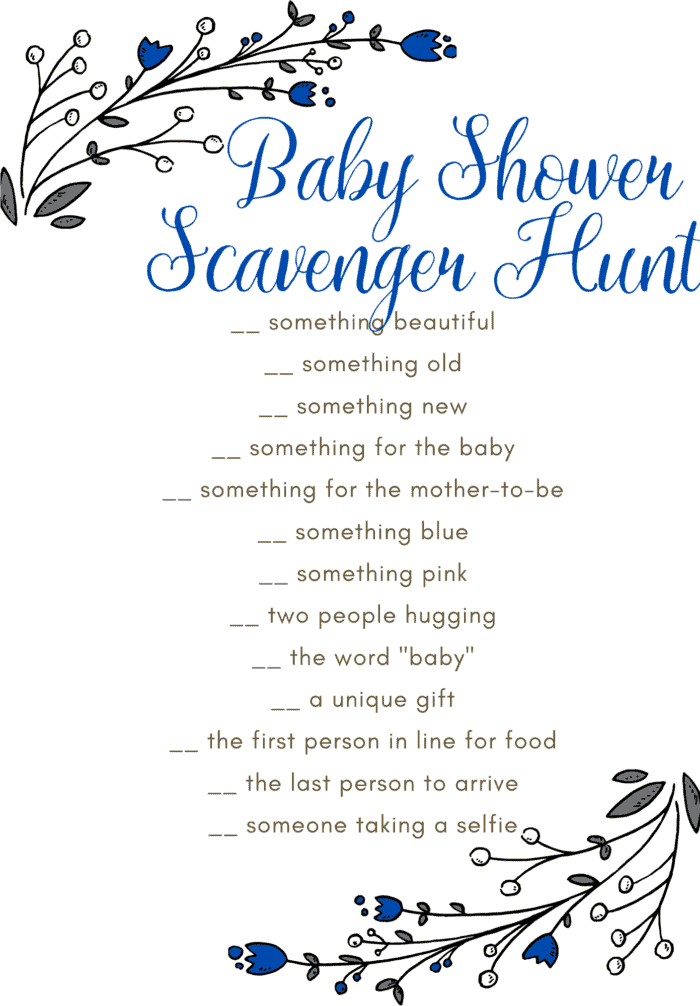 Click for your printable scavenger hunt:
"Find Someone Who Said" Scavenger Hunt
This scavenger hunt is a little more challenging than the first.
In order to play, baby shower guests would have to listen for someone to say the following common baby-related words. It is sort of a twist on the game where you aren't allowed to say the word "baby". The first person to mark all words first wins.
The words that guests will listen for are:
baby
belly
daddy
mommy
sleep
crib
bottle
cry
big
newborn
pregnant
awww
pacifier
boy
girl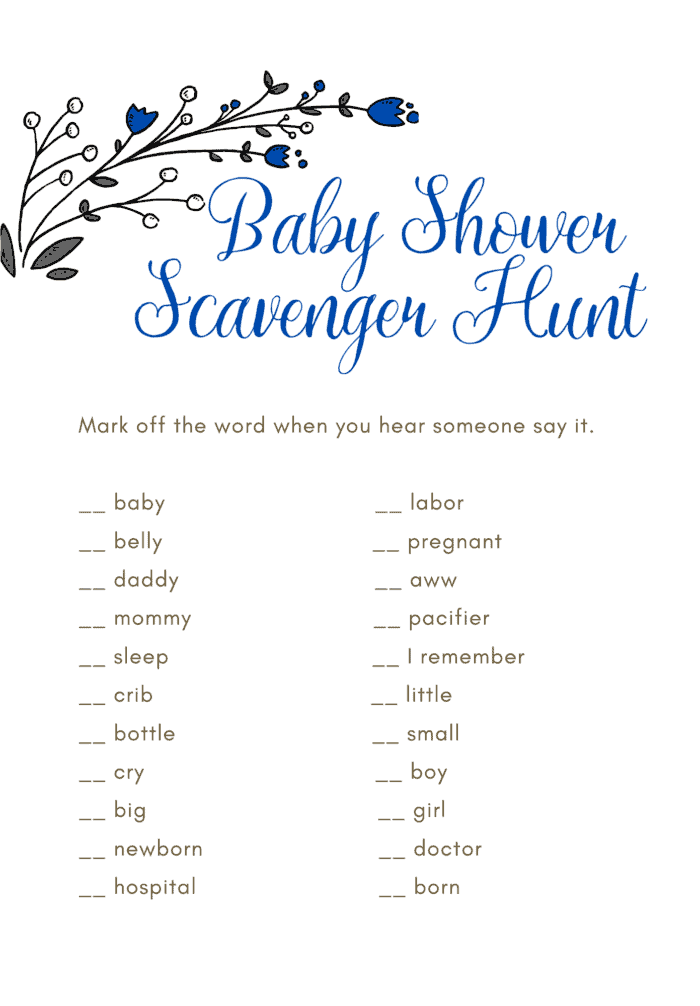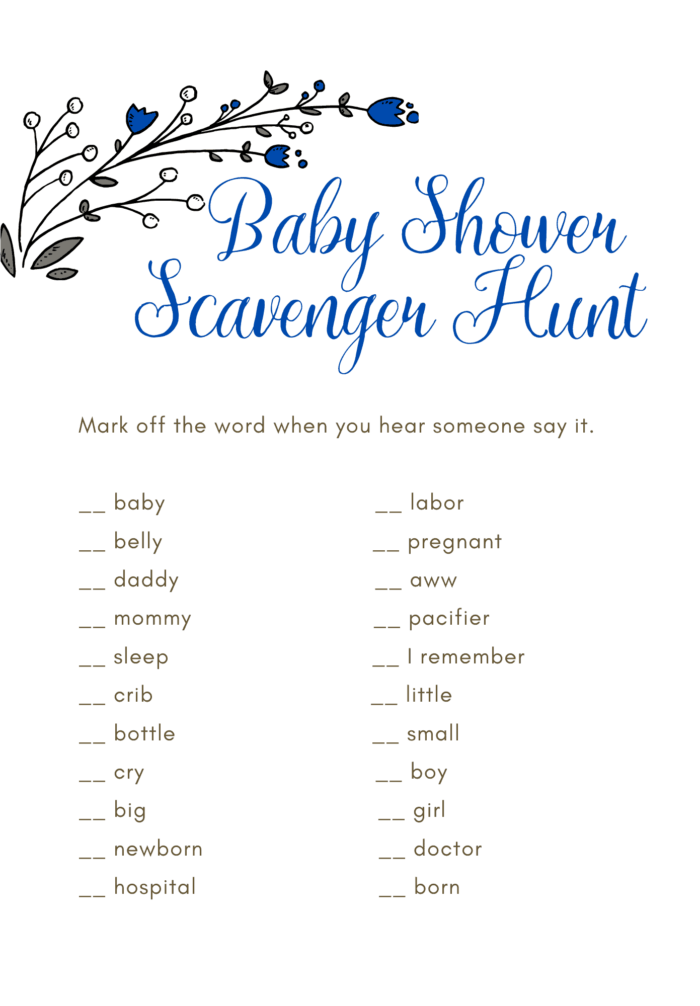 Click for your free printable game:
Baby Shower Purse Scavenger Hunt Game
This scavenger hunt option doesn't have anything to do with babies or baby showers, but it's still a super fun, entertaining game that can be played much more quickly than the first two options.
In order to play, guests will simply search through their purses for a list of items. Guests will receive 1 point for common items such as a driver's license or one dollar bill, and will receive 3 points for more strange items found in a purse such as a sock.
You could even award the person with the strangest item of all (something that is not listed) 5 bonus points.
Guests would receive one point for:
a driver's license
chapstick
a one dollar bill
lotion
a grocery list
a planner
a notepad
a pair of sunglasses
a pack of gum
breath mints
Guests would receive two points for:
an expired driver's license
tissues
a mirror
a book
a library card
a snack
a bandaid
sunscreen
a calculator
a tube of lipstick
Guests would receive three points for:
at least 5 gift cards
at least 10 receipts
a sock
a toy
a pair of tweezers
nail clippers
pepper spray
deodorant
a movie ticket stub
pain reliever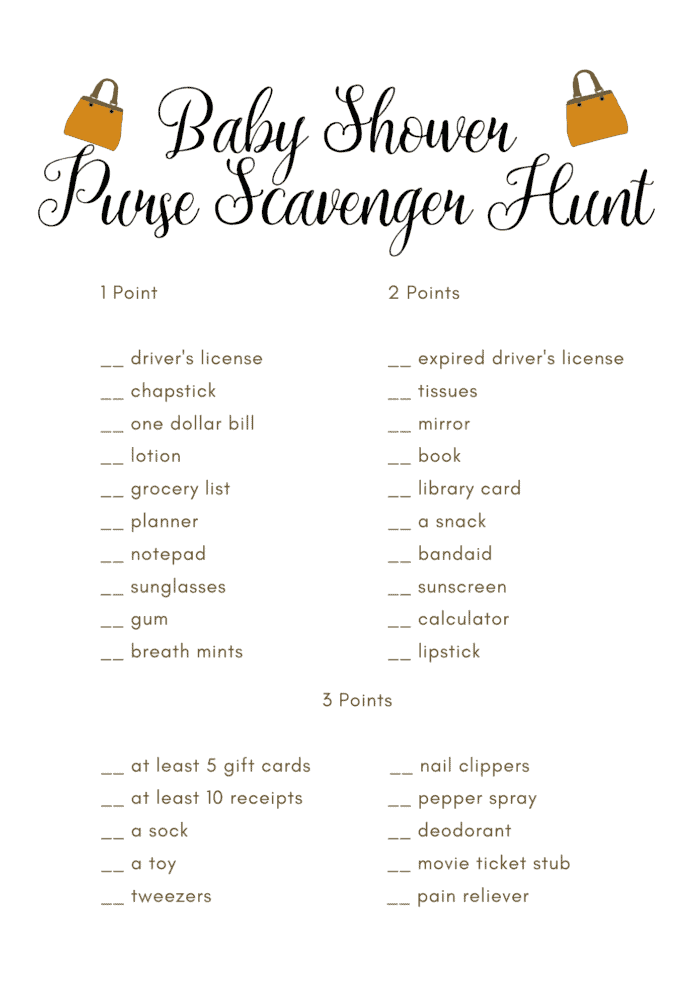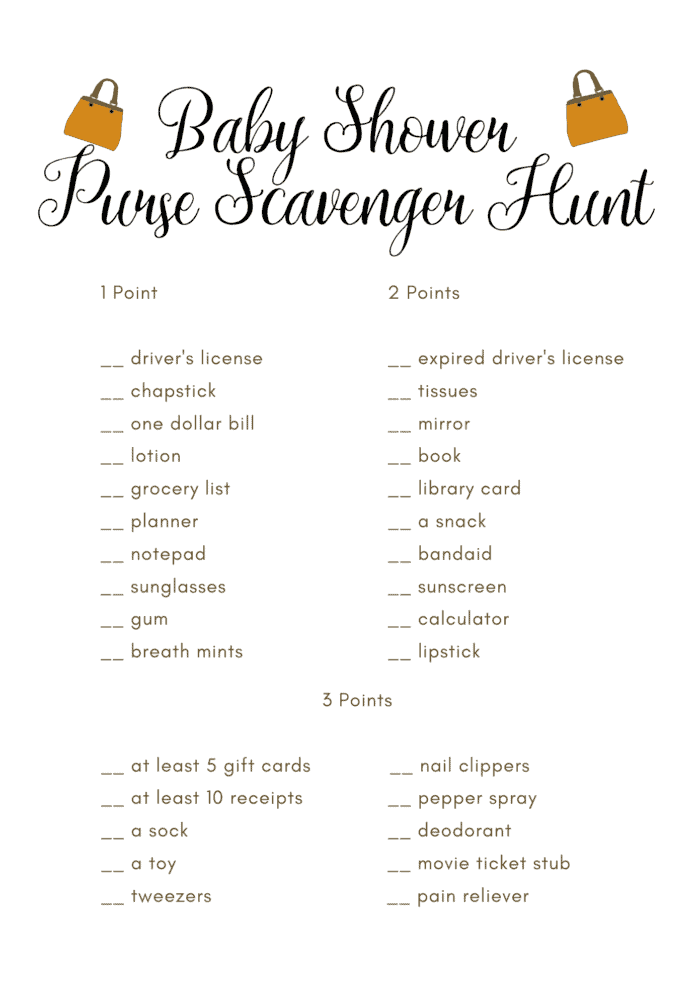 Get your scavenger hunt instant download:
Phone Scavenger Hunt
If you're sure that all of your guests will have a phone with them at the baby shower, the phone scavenger hunt is a quick, enjoyable game.
Guests would simply look through their camera roll to see what pictures and/or videos they have taken of the mother-to-be, father-to-be, grandparents-to-be, etc. Picture must have been taken before the baby shower!
Guests will look for the following (most things will be found in their camera roll):
a picture of a baby
a picture of the mom-to-be
a picture of the dad-to-be
a text you sent containing the word "baby"
a video of a baby
a video of the mom-to-be
a video of the dad-to-be
a picture of a grandparent-to-be
a screenshot of baby shower gift ideas
a screenshot of the invitation to the baby shower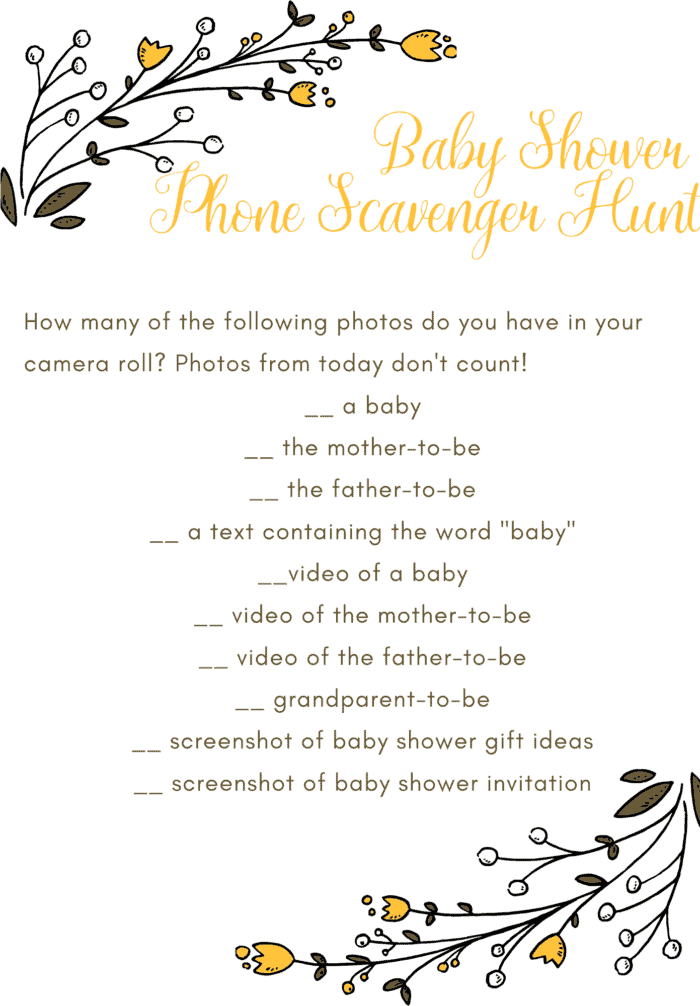 Get your PDF:
Photo Scavenger Hunt
Last but not least, we have a photo scavenger hunt. This is a clever way to get some unique and varied photos taken at your baby shower.
Guests will be prompted to take the following photos:
the mother-to-be smiling
the baby bump
a group of 3 or more people
the cake or dessert table
people laughing
the gift table
a funny selfie
an "awww" moment
the party favors
the centerpieces
a sweet moment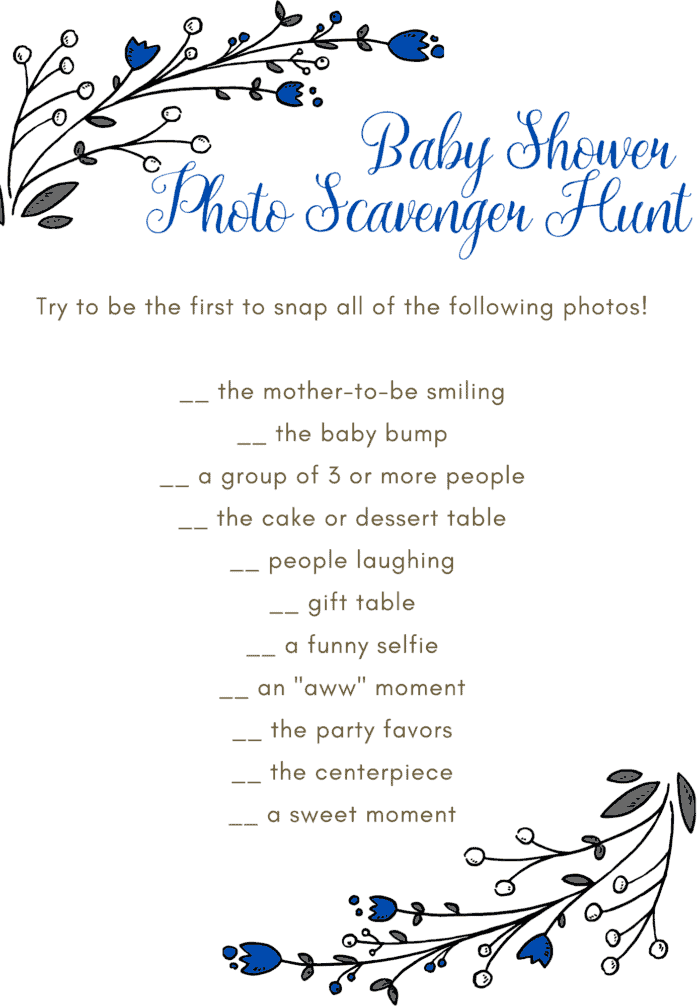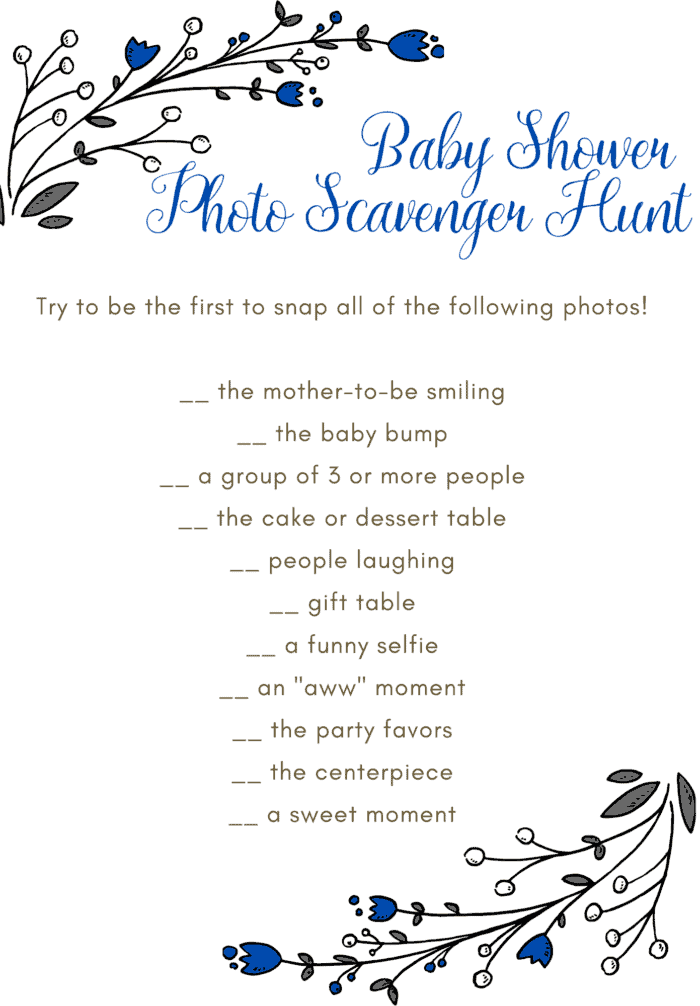 Get your PDF:
Oh, and before you leave, I have a quick question. Do you love my scavenger hunt games but not the designs? Let me know in the comments if you'd like a specific different design!
Frequently Asked Questions
How do you keep guests entertained at a baby shower?
You can keep guests at a baby shower entertained by having a photo booth with fun props, playing games and by having guests write supportive messages on diapers for those late nights to come. You could also make sure that your shower is entertaining by making it a co-ed party. These types of parties are becoming more and more popular.
How many games should you have at a baby shower?
It's important to remember that while some guests will love to play games, it's not everyone's cup of tea. You know your guests better than anyone, but it's probably a good idea to have no more than five games at a baby shower.
What are good game prizes for a baby shower?
Game prizes don't have to be elaborate. There is nothing wrong with giving out a small prize, and keeping it simple and even useful with everyday items. Some ideas are:
candles
soaps
potted plants (or faux plants)
nail polish
gift cards to Dunkin
chocolates
lip balm
coffee
coffee mug
notepad and fancy pen
sugar scrub
bath bombs
tea sampler
adult coloring book