Welcome to the land of Elf on the Shelf!
I'm guessing this might be your first experience with the Elf on the Shelf since you are searching for easy Elf on the Shelf ideas for toddlers.
I bet you didn't realize how lucky you were last year when Elf on the Shelf poses were the last thing on your mind.
Just kidding. Sort of.
You very well might LOVE the Elf on the Shelf tradition.
Maybe you've been waiting impatiently for your toddler to be old enough to appreciate some Elf on the Shelf antics.
Toddlerhood is a good time to start this fun tradition.
Don't be scared away by the moms that you've heard complaining about this Christmas tradition.
If you are prepared ahead of time this holiday season, I promise, the smile on your toddler's face each morning will make you LOVE your first year of this fun Christmas tradition.
P.S.- My Elf on the Shelf Calendar and Planner can help you to be super organized so that you can have fun with it.
Here's the deal.
The best part is that your toddler is completely oblivious and doesn't even KNOW what the Elf on the Shelf is yet.
Don't fret though, your toddler isn't too young to get the gist of the Elf on the Shelf.
Last year, my youngest was 2 and I think she actually enjoyed finding the elf each morning even more than her 5 year old sister.
And that's saying A LOT.
Back to the obliviousness. Take advantage of this, mama!
You might be tempted by Pinterest to do elaborate things with your elf.
RESIST.
You will burn yourself out, and you won't enjoy it.
Unless you're supermom, then carry on!
And frankly, your toddler isn't going to care how much time you the elf has or hasn't put into it.
Your toddler would be completely and utterly thrilled if your elf moved from shelf to shelf each night.
No elaborate scene necessary!
**Experienced Mom Tips-
You will probably see a lot of different ideas on Pinterest with elves using a training potty to do their business.
While it is indeed funny, I would definitely proceed with caution.
Especially if your child is potty trained.
Our elf left some little chocolate chips in my daughter's potty which freaked her right out.
She refused to use it for about a week.
It wasn't the reaction I was going for.
You have been warned.
2. Set an alarm!
Setting an alarm is a good idea.
No, a GREAT one.
You do NOT want to be rudely awakened in the middle of the night by your brain screaming YOU FORGOT TO MOVE THE ELF!
We've all been there, but an alarm can help you to NOT be there.
This post contains affiliate links.
Elf On The Shelf Ideas For First Arrival
If you're introducing your elf to your toddler for the first time, my Elf on the Shelf arrival letter would be the perfect start.
Here are some ideas for your elf on the shelf's first arrival to make it extra special and exciting for your toddler:
Have the elf bring a gift (Christmas pajamas or a new book are always my favorites)
Simply pose the Elf with the official Elf on the Shelf book- this way your toddler can learn about the tradition!
Remember, your toddler is easy to please.
Keep your elf's arrival and all of your elf's antics simple.
How To Get An Elf On The Shelf
Step 1- If you haven't already purchased your elf, you can do so quickly and discreetly through Amazon.
You can snag a girl elf or boy elf.
There are also TONS of accessories, pets and more.
Get Started With Elf On The Shelf- For Toddlers
Step 2- Think about what your toddler LOVES and try to incorporate some of those things.
Some ideas:
favorite game
favorite book
Tupperware
favorite toys
favorite foods
Step 3- Consider making your elf bendable so that you can easily position your elf without him falling over and being uncooperative.
Step 4- Check out my easy elf ideas for toddlers below.
Easy Elf On The Shelf Ideas For Toddlers
Cardboard Box Fun
Have your elf scribble in a cardboard box and then sit in it (because what toddler doesn't love to do that!)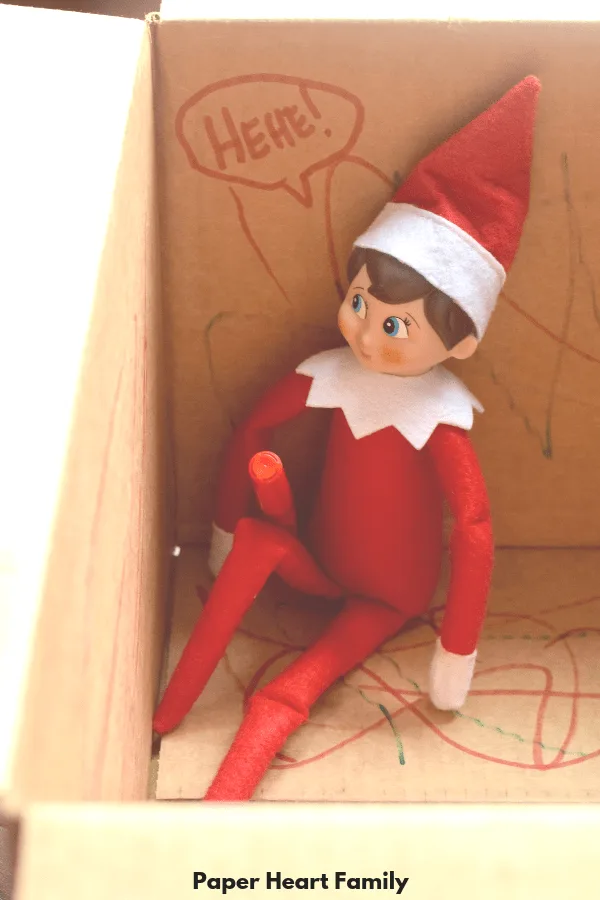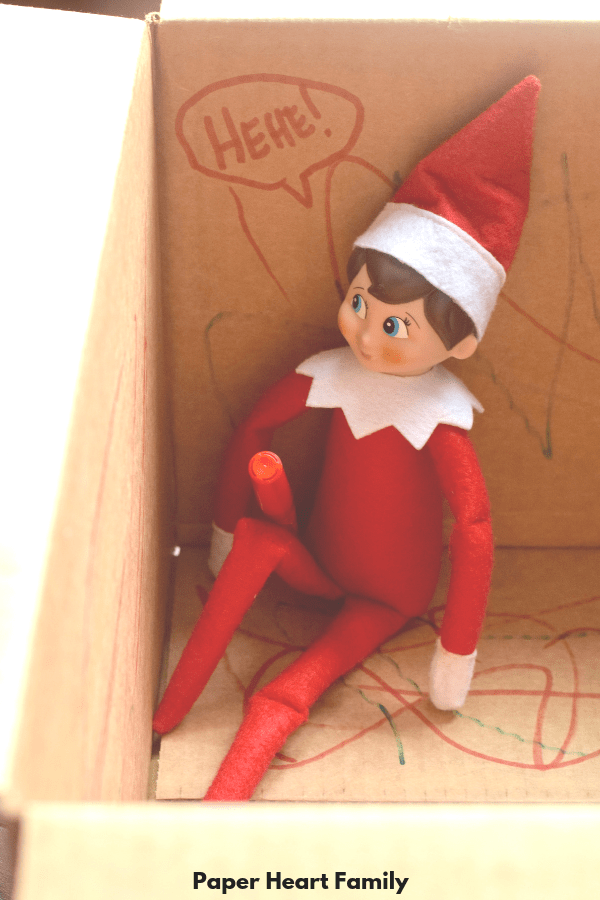 2. Go Fishing
Have your elf fish for goldfish (every toddler's favorite food!).
If you have the Fishing Game, simply grab one of the fishing poles from the game and stick it into the goldfish bag.
This one is going to have your toddler rolling on the floor and it literally will take you 2 minutes to set up.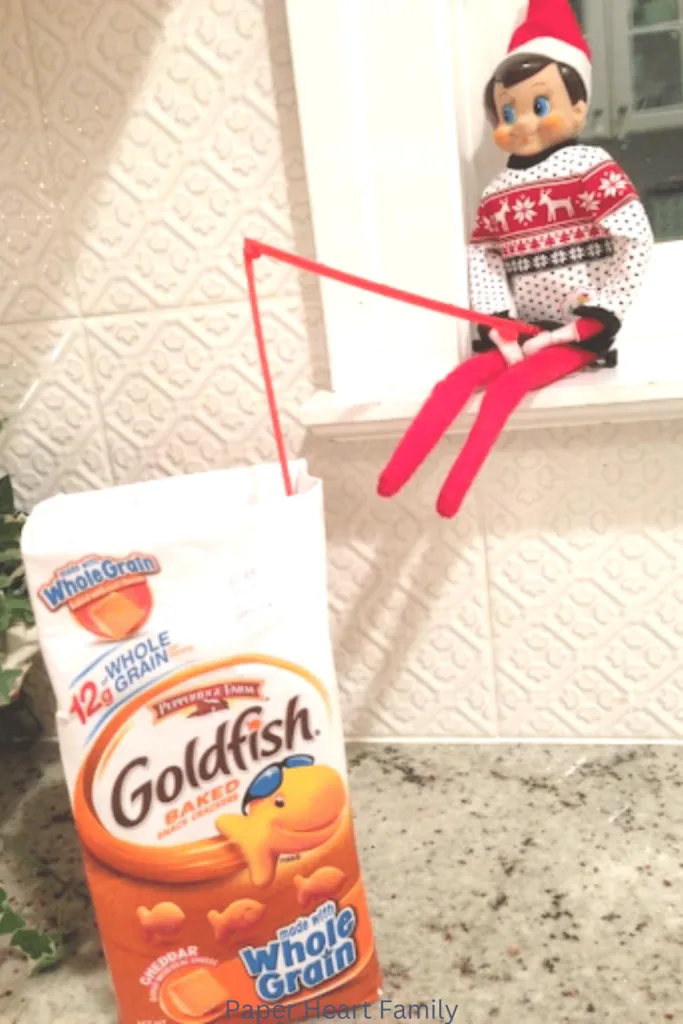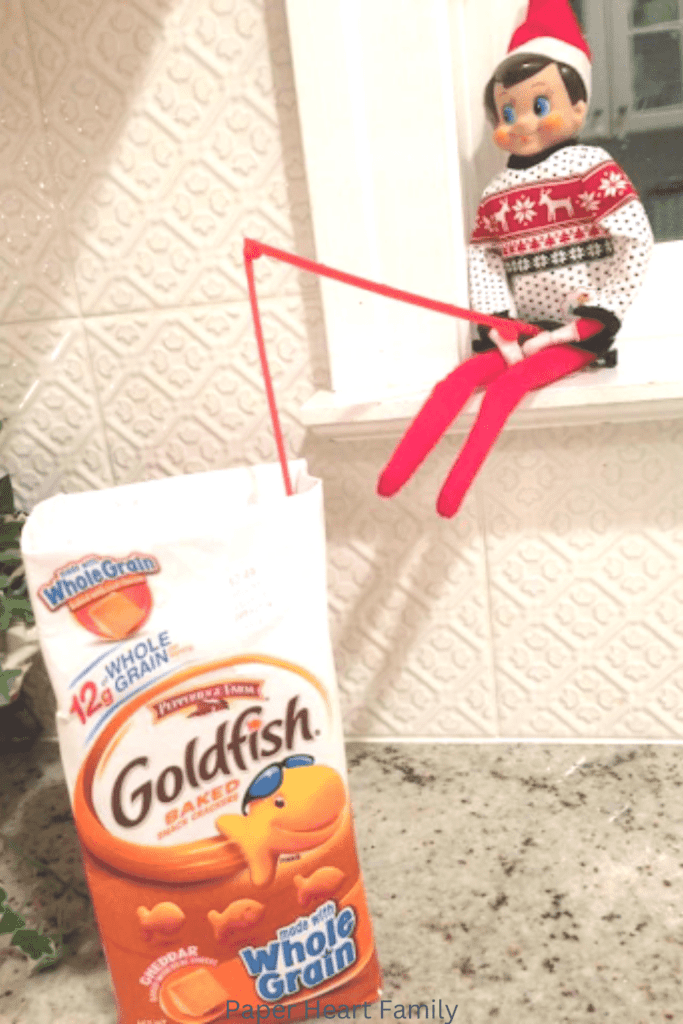 3. The Elf on the Shelf and the Three Bears
Pose your elf reenacting your toddler's favorite book (shown: Goldilocks and the Three Bears– my toddler is going to die laughing when she sees this one!)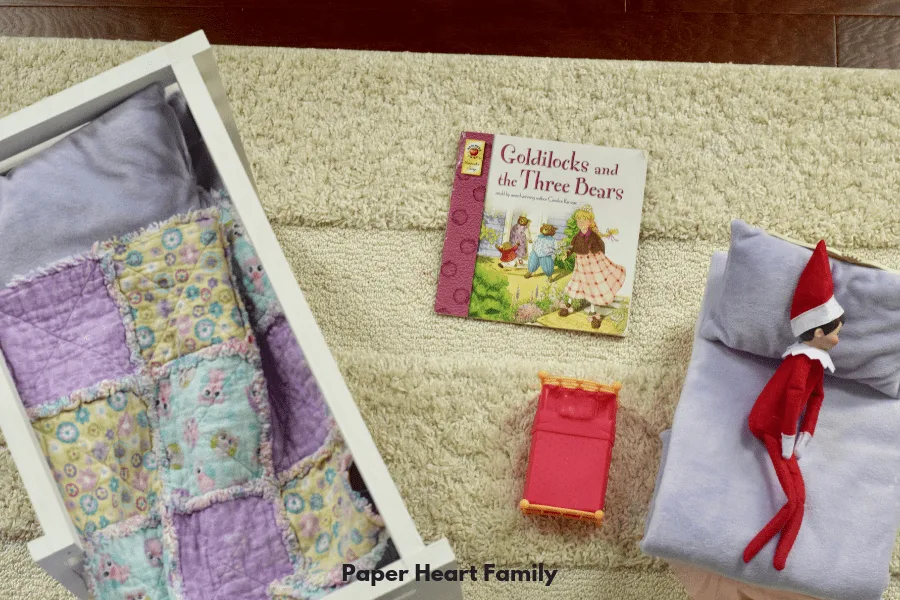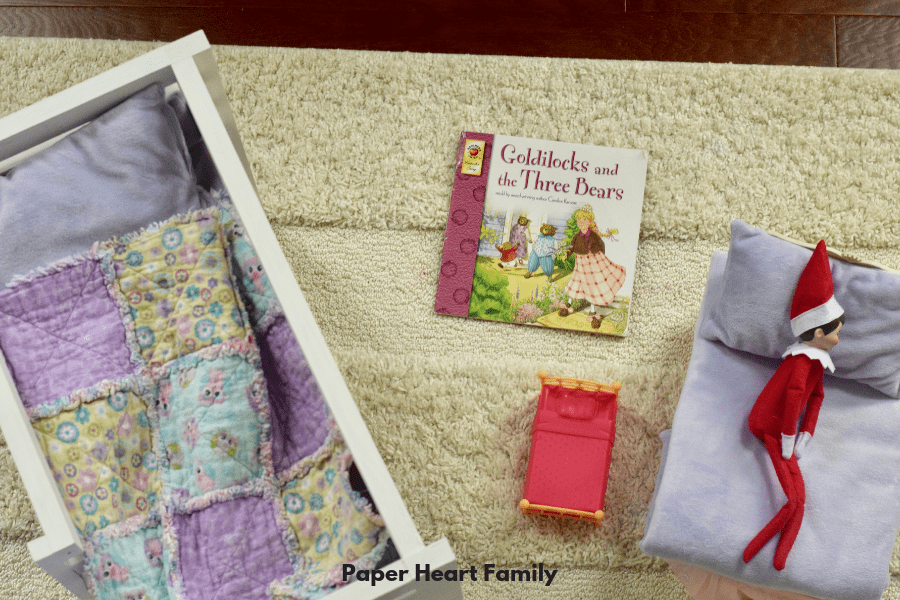 4. "Candy" Necklace
Make a "candy" necklace out of cereal for your elf to wear.
5. Whipped Cream Toothpaste
Have your elf brush his teeth with whipped cream (this is also a great, sneaky way to get in a quick little lesson on oral hygiene!)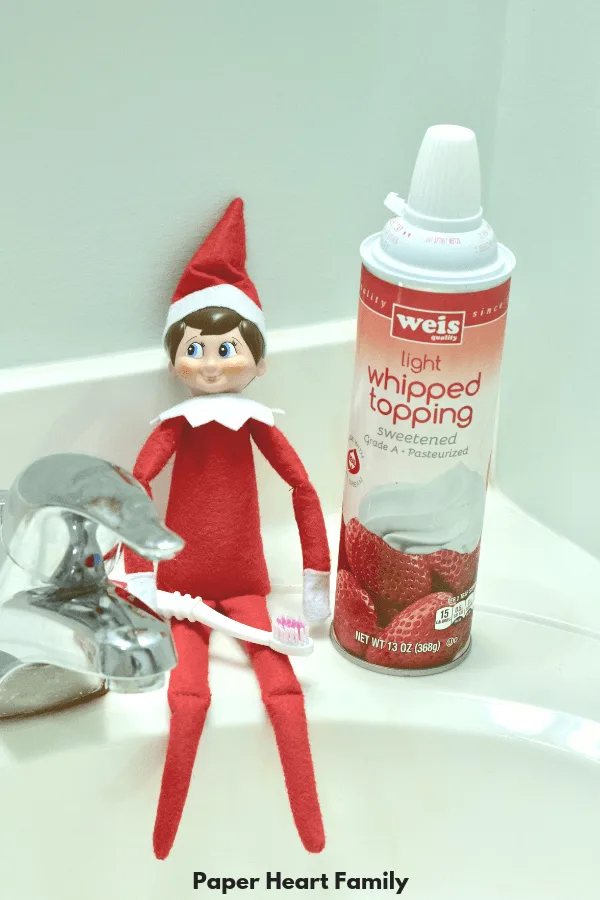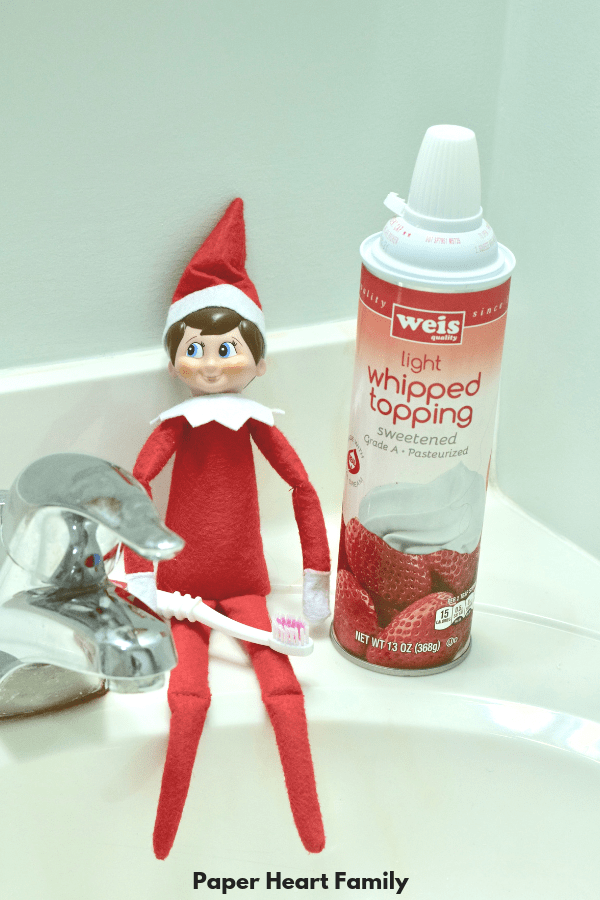 6. Sick Elf
Stick a tissue on your elf's nose and surround him with crumpled up tissues (the tissue, AKA the toddler's biggest nemesis).
7. Going Shopping
Your elf can stick out of mommy's purse- so simple but that's the beauty of it!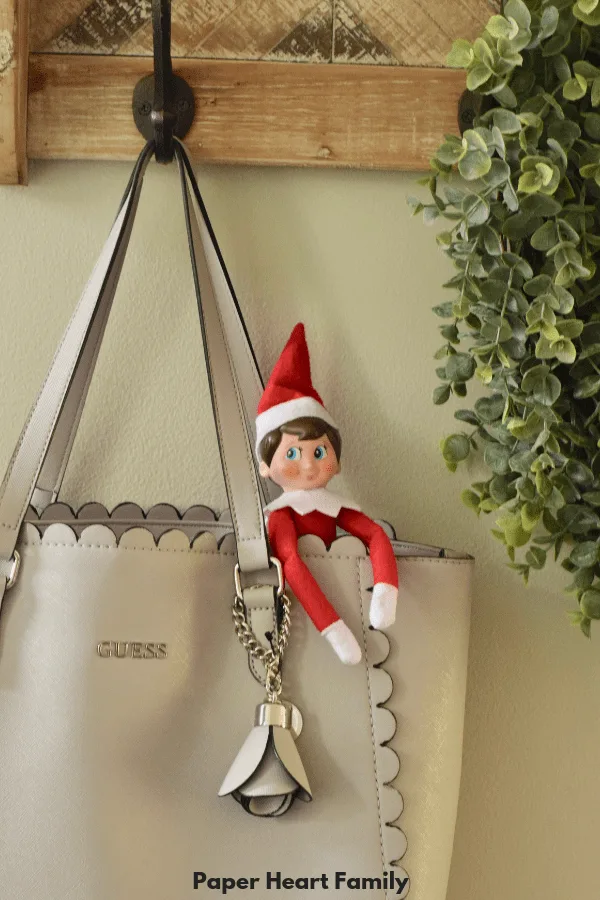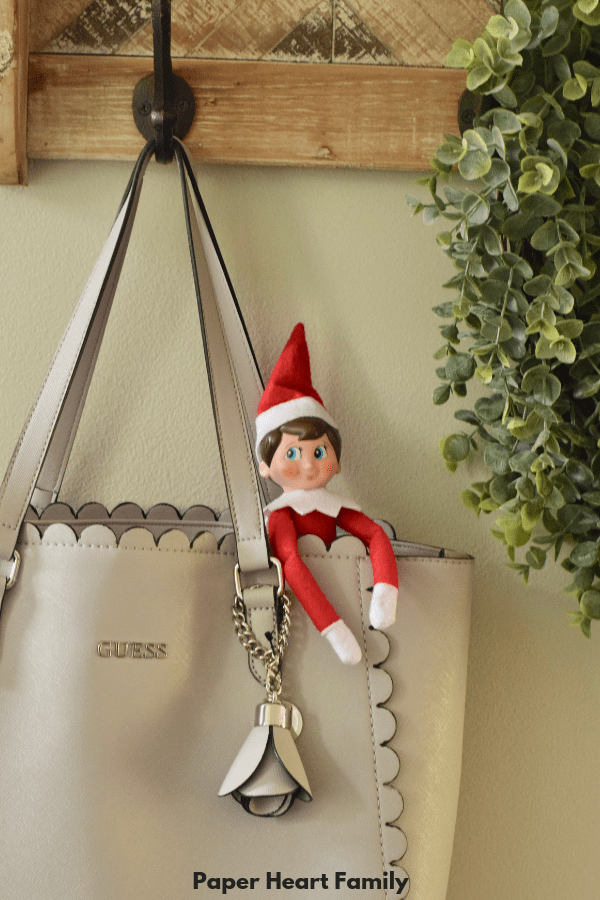 8. Story Time
The elf can read your toddler's favorite book to other toys or stuffed animals.
9. Toilet Paper Fun
Making a mess with toilet paper in the bathroom is quite possibly your toddler's favorite past time- toilet paper hammock, anyone?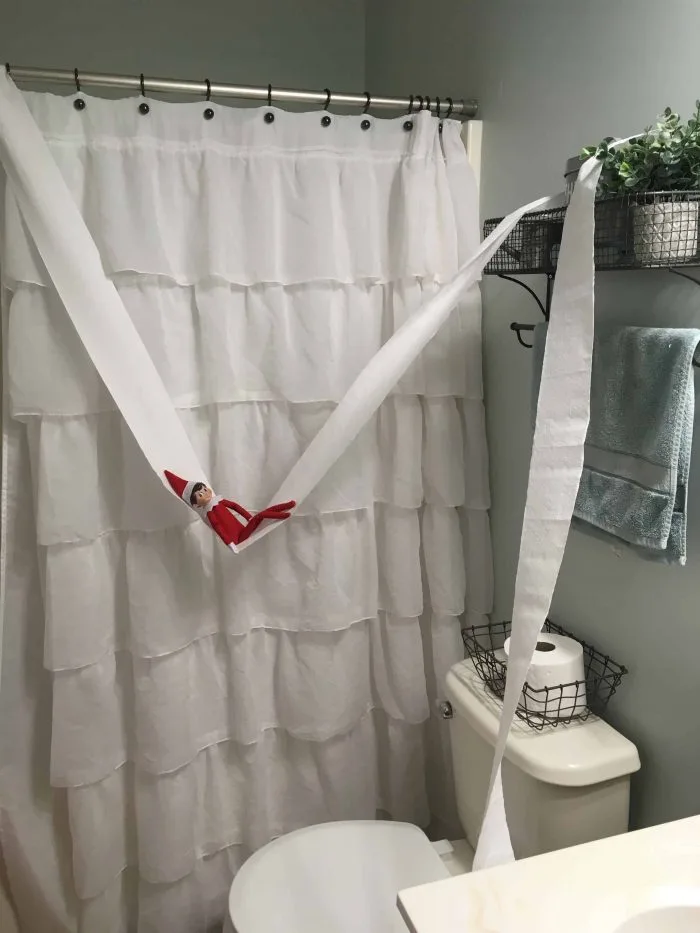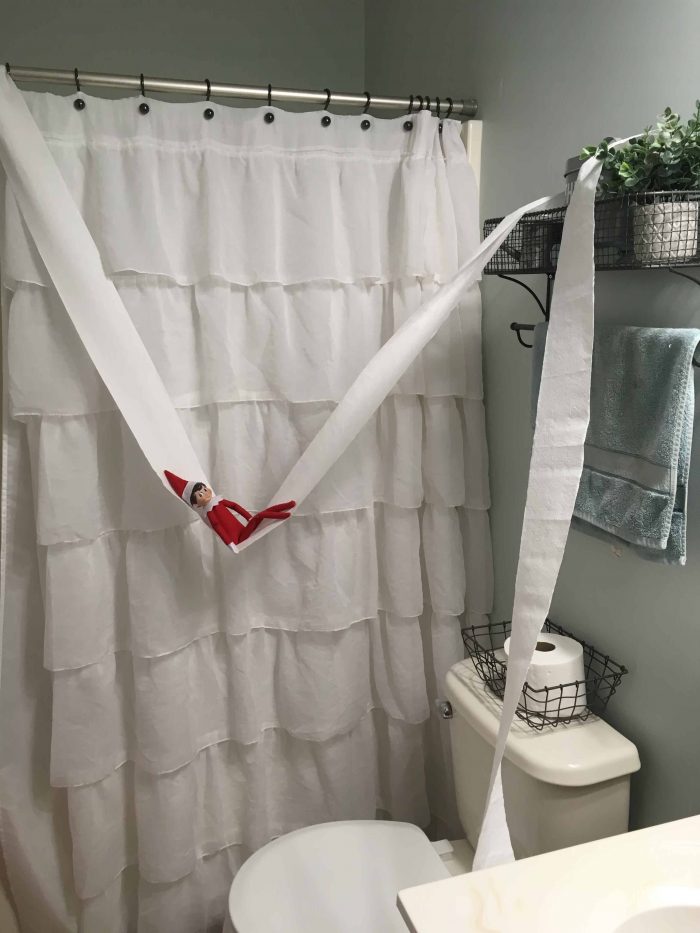 10.Let's Bake!
Pose your elf with some cookie ingredients on the day that you plan to bake Christmas cookies.
11. An Elf Photographer
Taking a picture of your toddler's stuffed animals- so cute, right?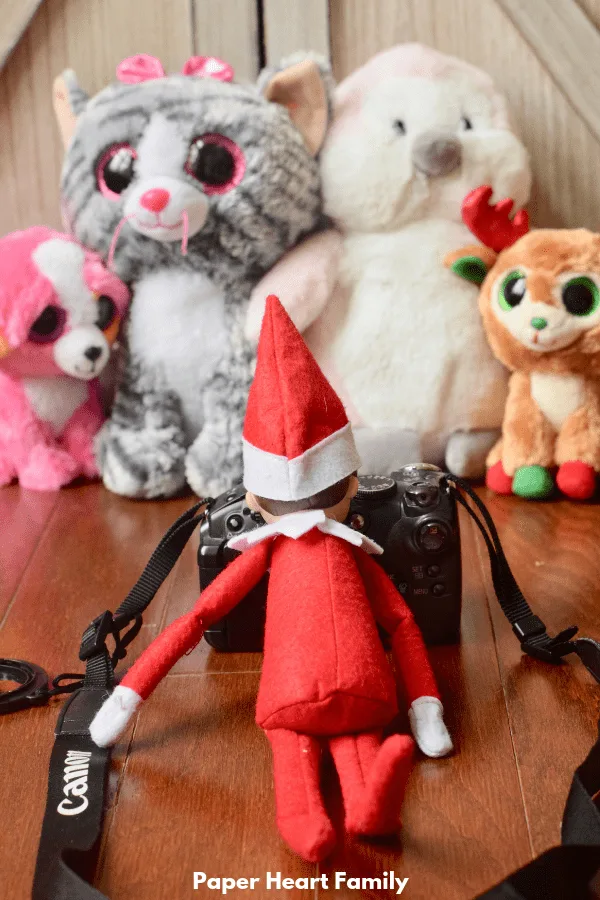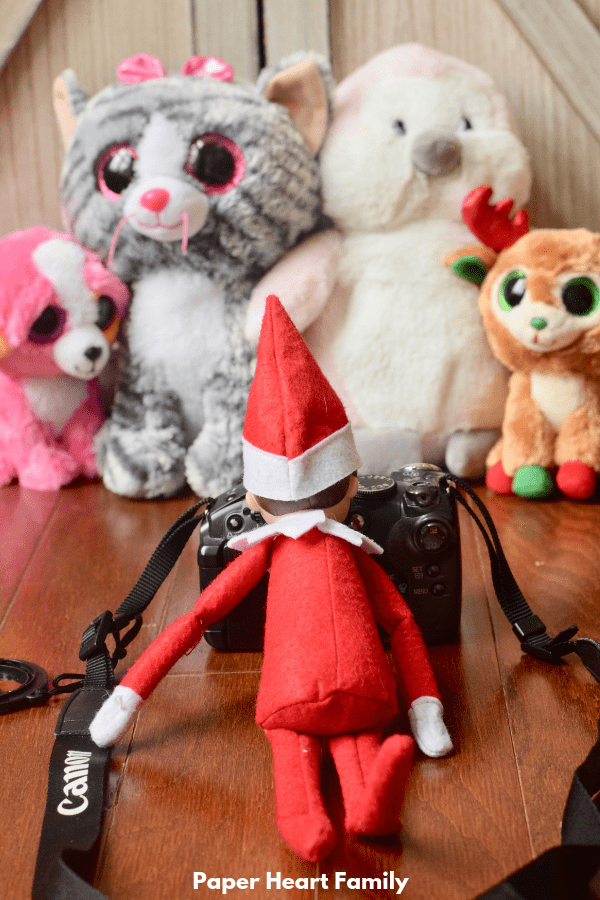 12. Doctor Elf
Your elf can play doctor with another toy- does your toddler ask you to play doctor 327 times a day?
(Asking for a friend– If your toddler doesn't yet have a doctor kit, it's a GREAT Christmas gift)
13. Tea Time
Having a tea party with some toy friends will encourage your toddler to engage in some pretend play, too!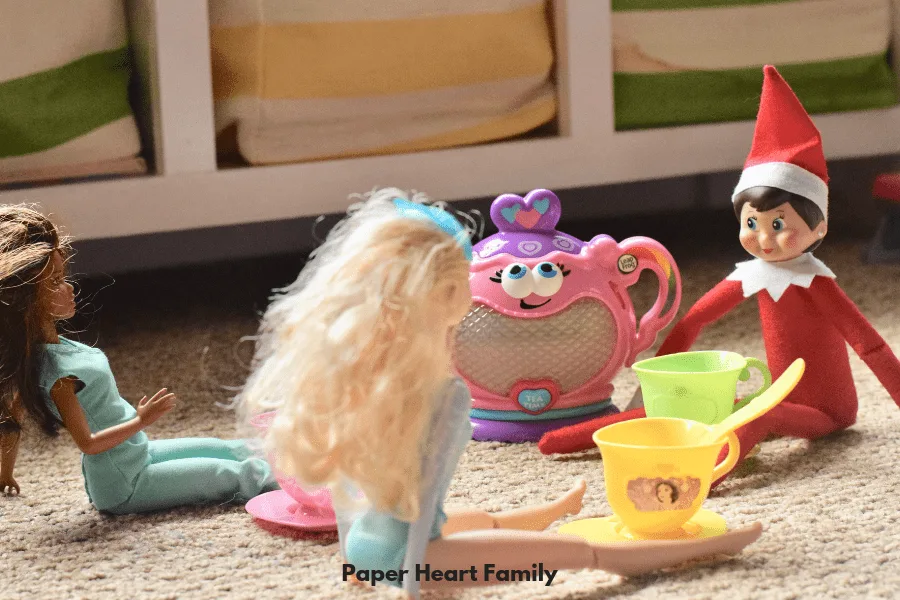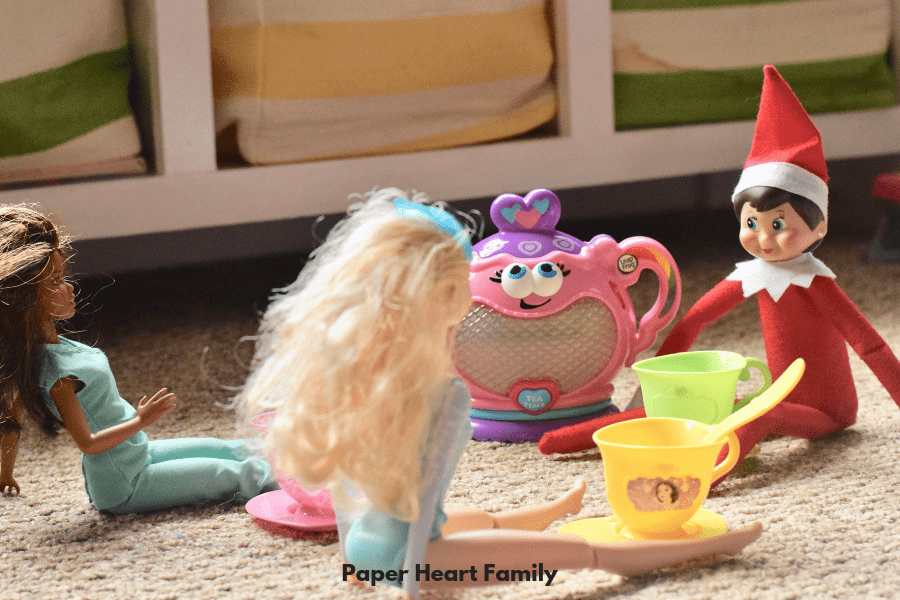 14. Legomania
Build something made of Duplos– think simple, like a square shaped building that your toddler's imagination will run wild with or a tall tower.
15. Elf Movie Night
Your elf could be holding the television remote or even holding a sign requesting to watch a favorite Christmas movie.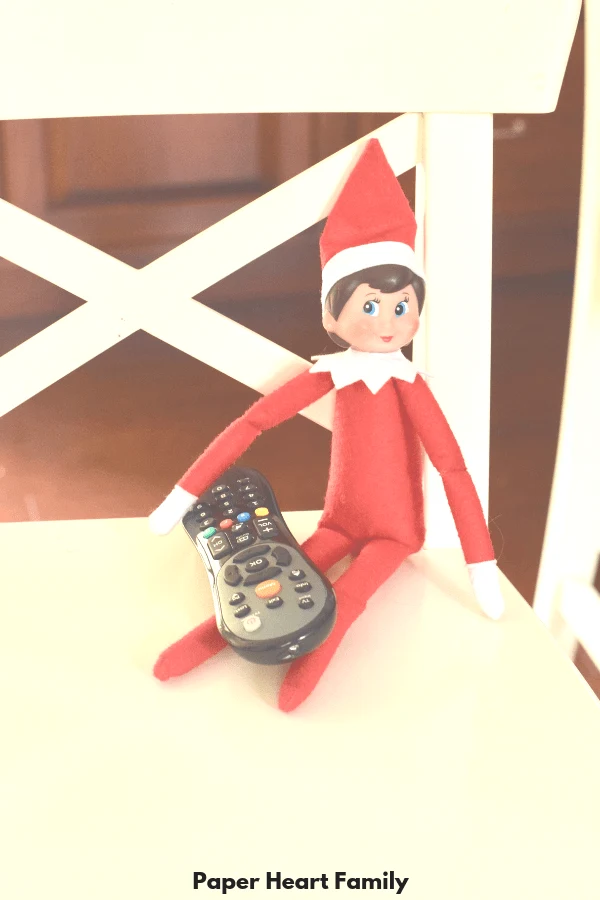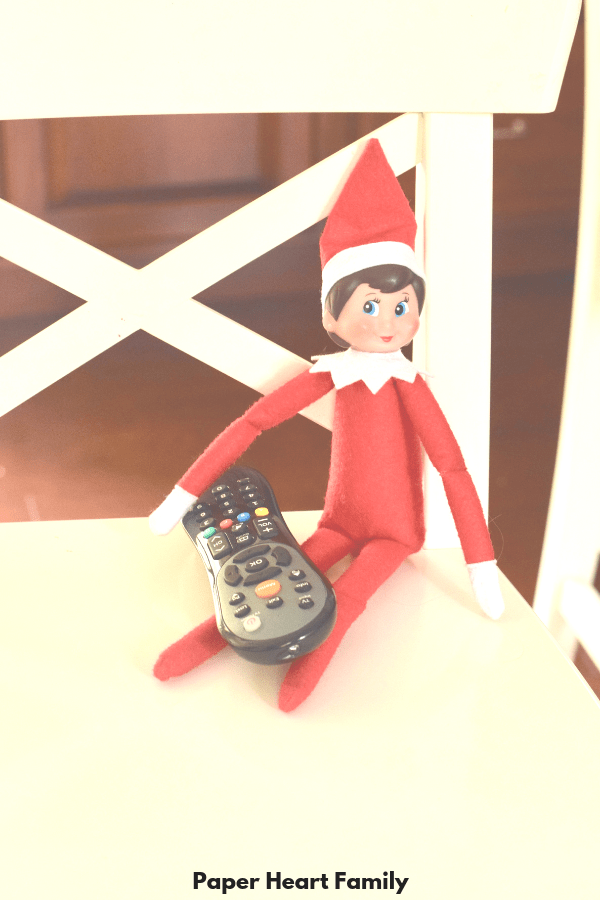 16. Peeking Out Of A Stocking
I know this one sounds overly simple, but both of my kid's thought this one was hilarious
17.Baking Mishap
Getting your elf stuck in a whisk is the easiest thing ever, but it's sure to elicit some belly laughs.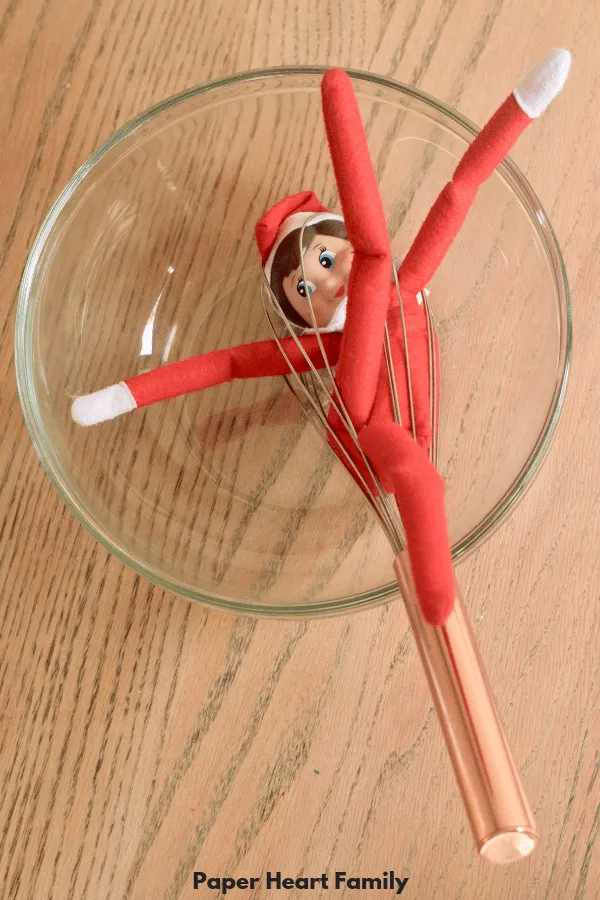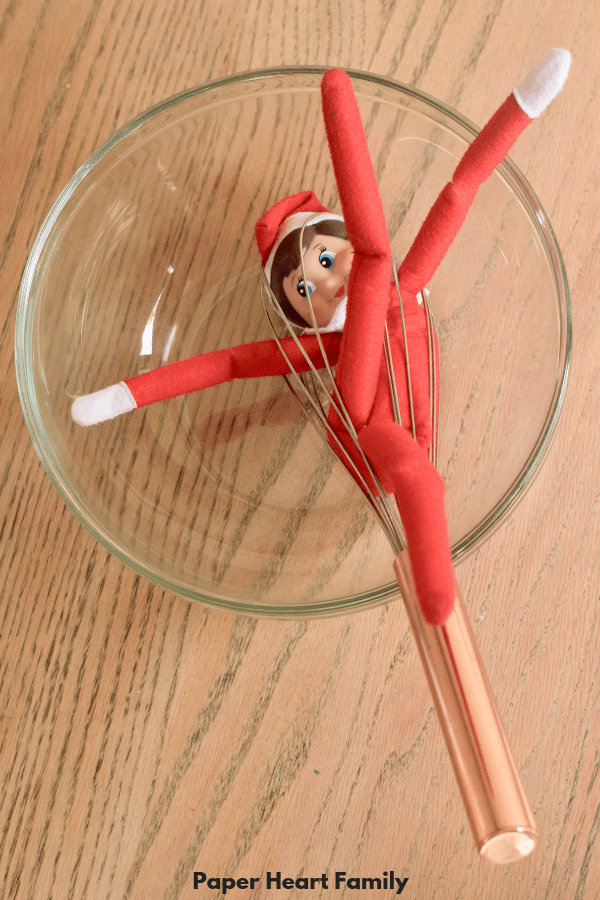 18. Wearing A Diaper
Okay, this one would be funny for anyone, not just toddlers.
19. Piggy Bank Robber
Position your elf reaching into your toddler's piggy bank- if you have a few minutes you could even make a small mask out of black felt for your elf.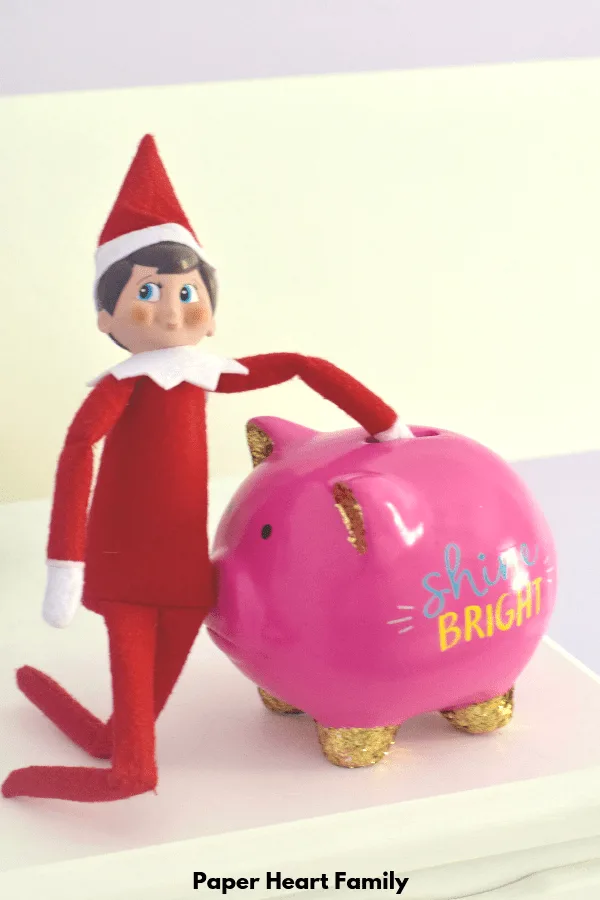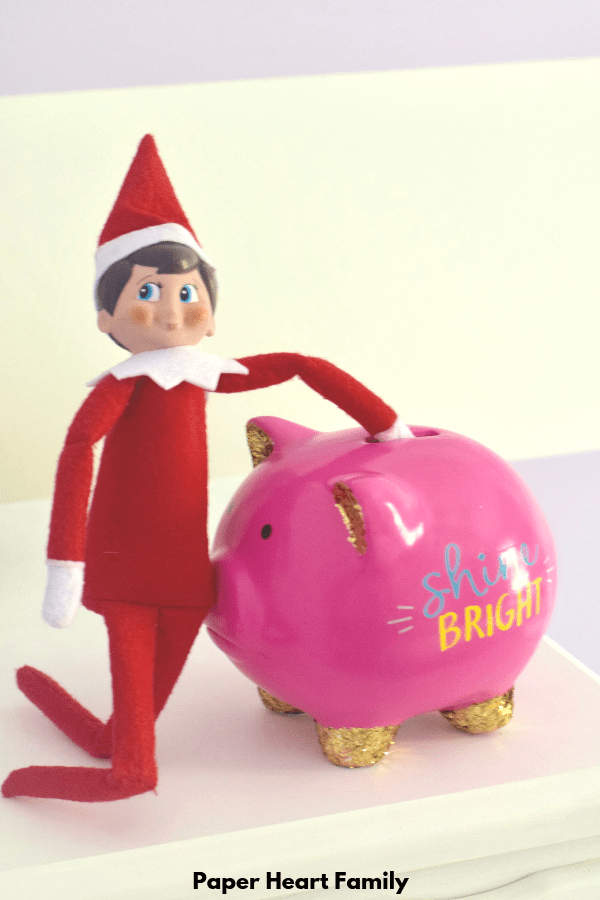 20. Playing A Board Game
Candyland or Operation would be fun, or your elf might prefer one of our favorite toddler board games, Zingo.
21.E is for Elf!
Lay out your toddler's flashcards, replacing the E with your elf: E is for Elf!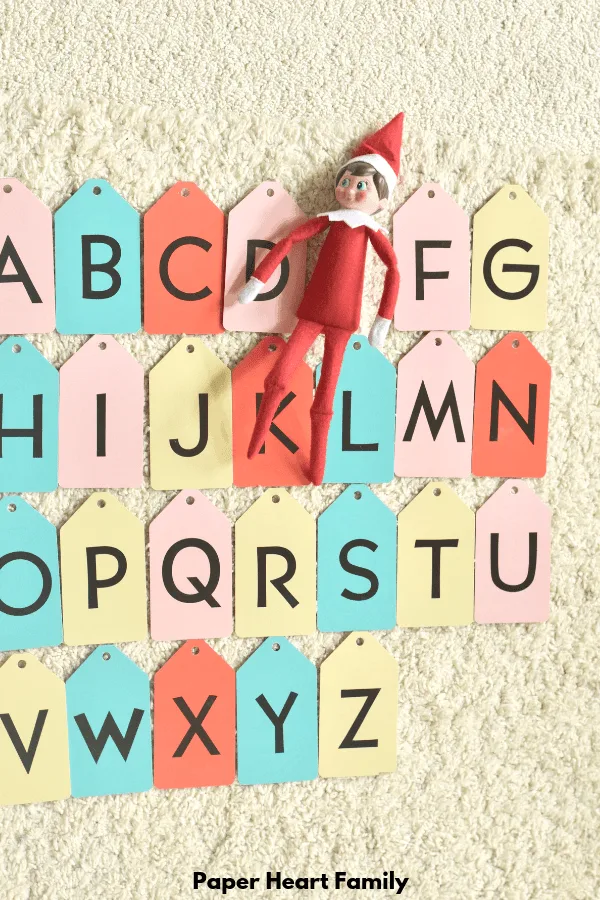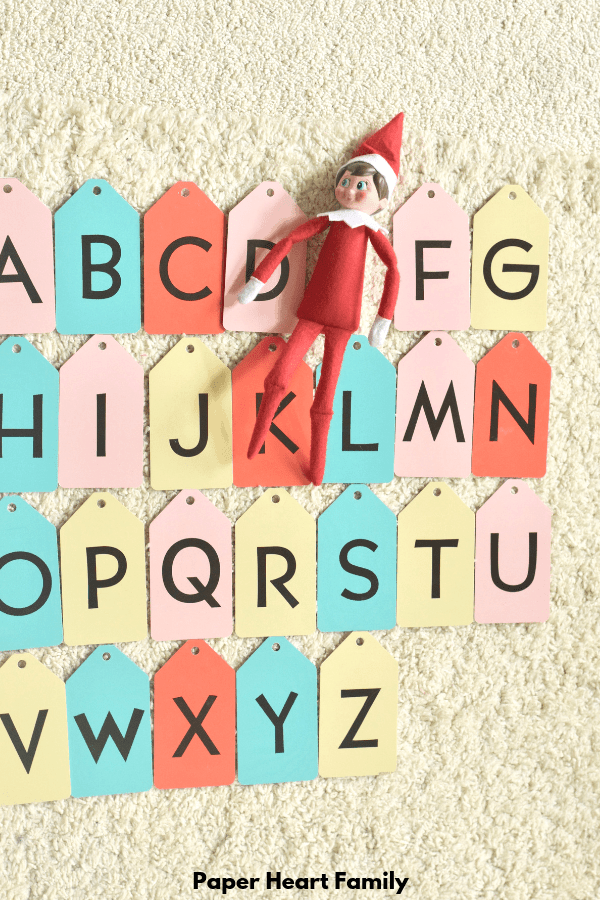 22.Fort Time!
Stick your elf in a homemade fort with a flashlight.
23. Baby It's Cold Outside
Your elf can use your toddler's snow glove as a blanket or a sleeping bag.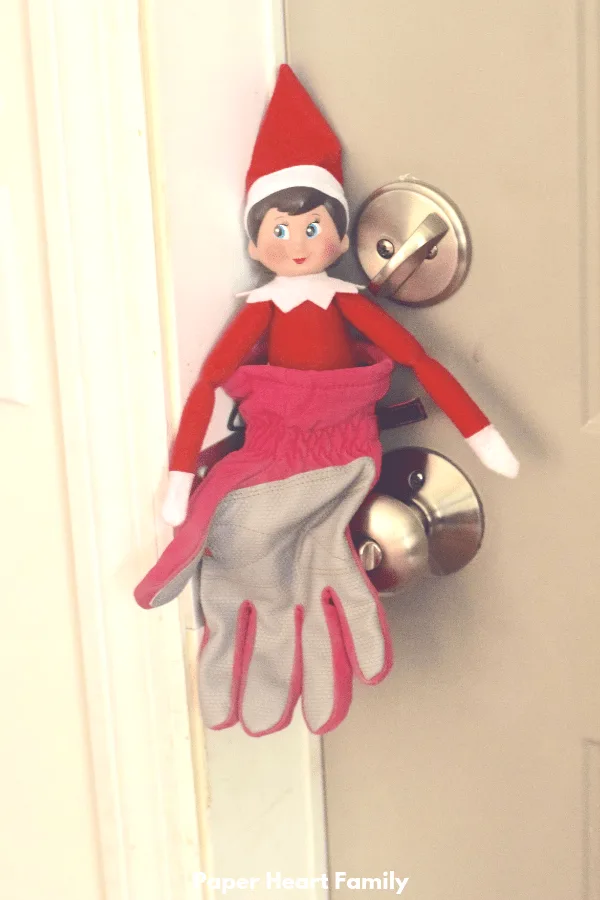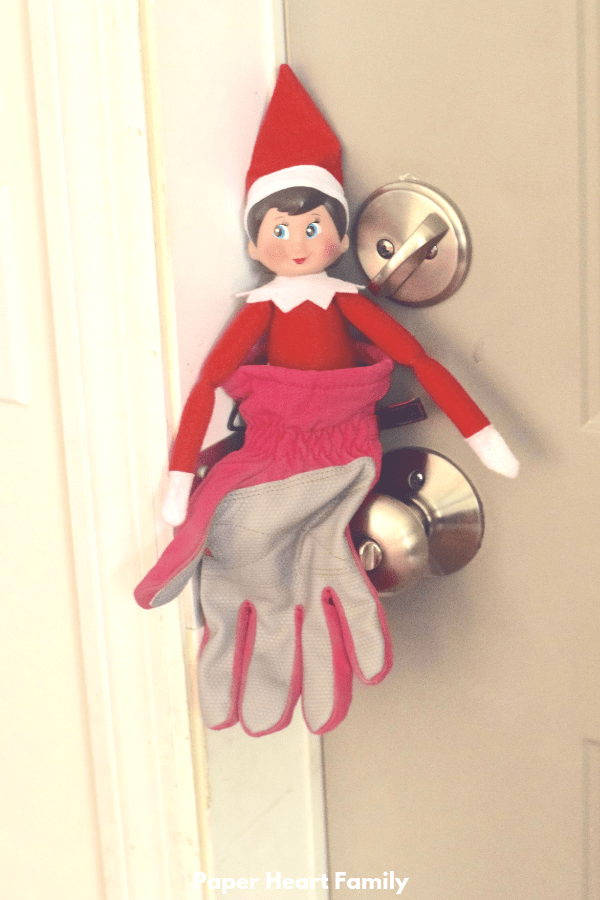 24. Elf Art
Have your elf draw a Christmas scene on your toddler's art easel.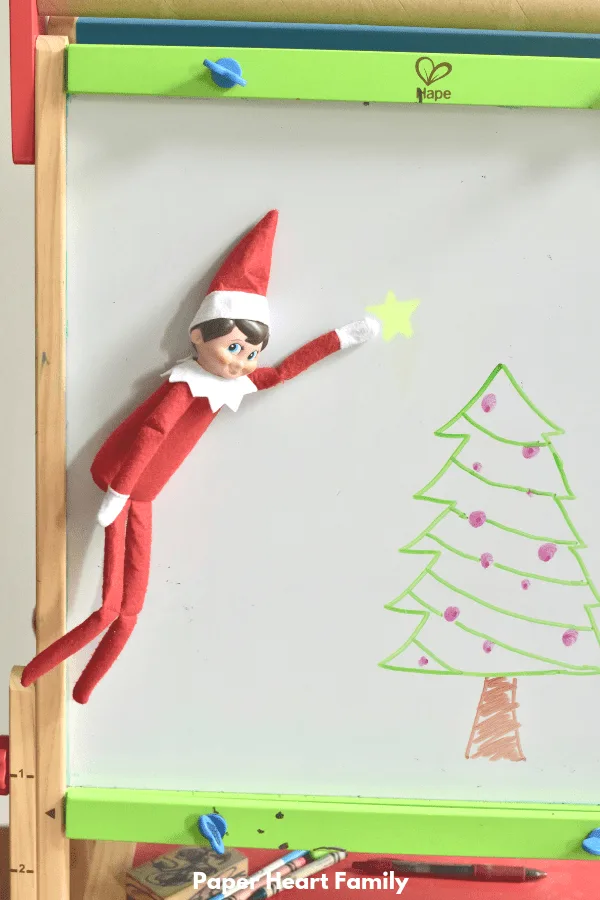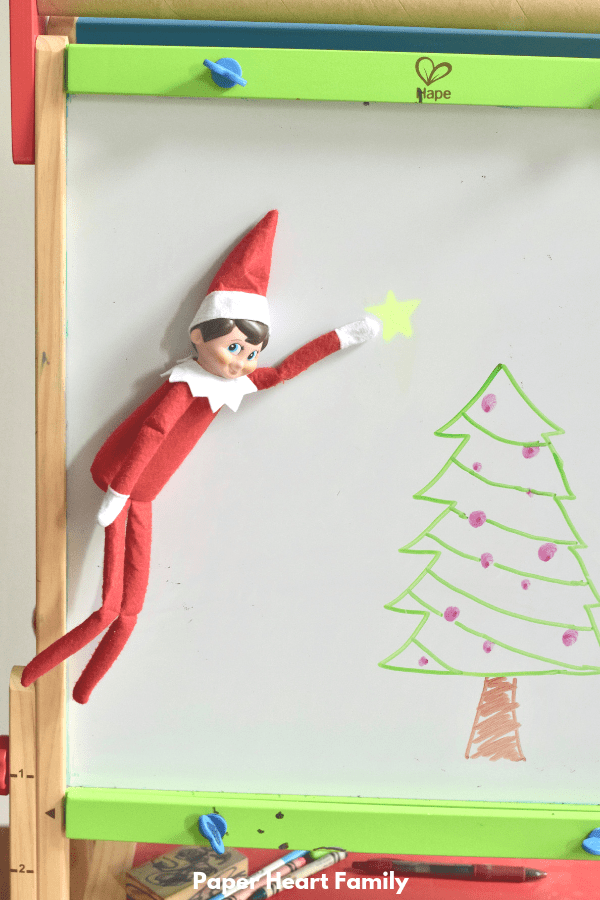 25. Would You Like Some Cereal With Your Sprinkles?
Pour a big, heaping bowl of sprinkles for your elf… with a side of cereal.
26. Taking A Snooze
Daddy's shoe is the perfect place to catch a few zzz's before flying back to the North Pole.
I quickly made the sleep mask out of some black felt (side note: my husband's not an old man, though his shoes say otherwise)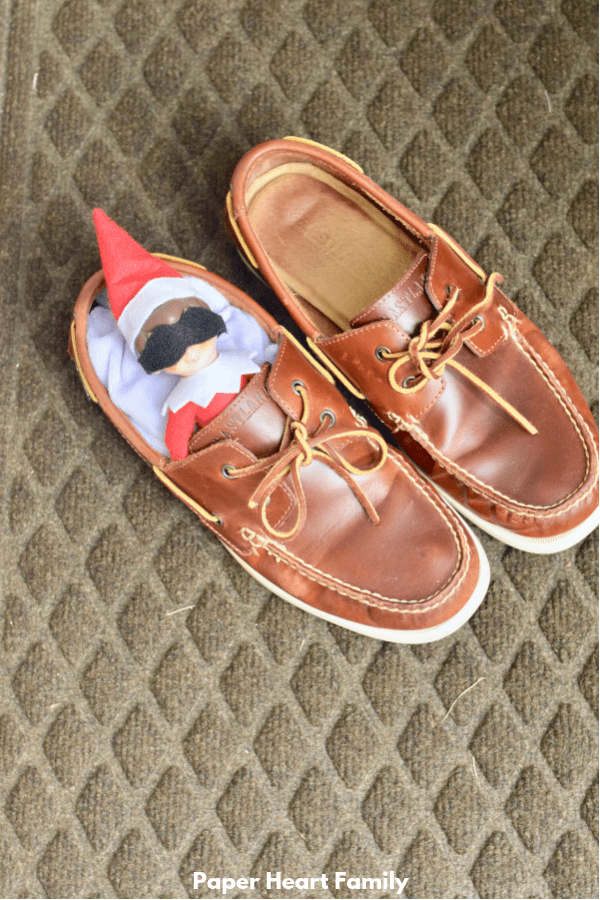 27. Elf Driver
Your elf can ride on (or in!) a truck, tractor, barbie car, etc.
I'm not sure if our elf's ever going to be the same after this one.
He's just a little bit too big for this tractor.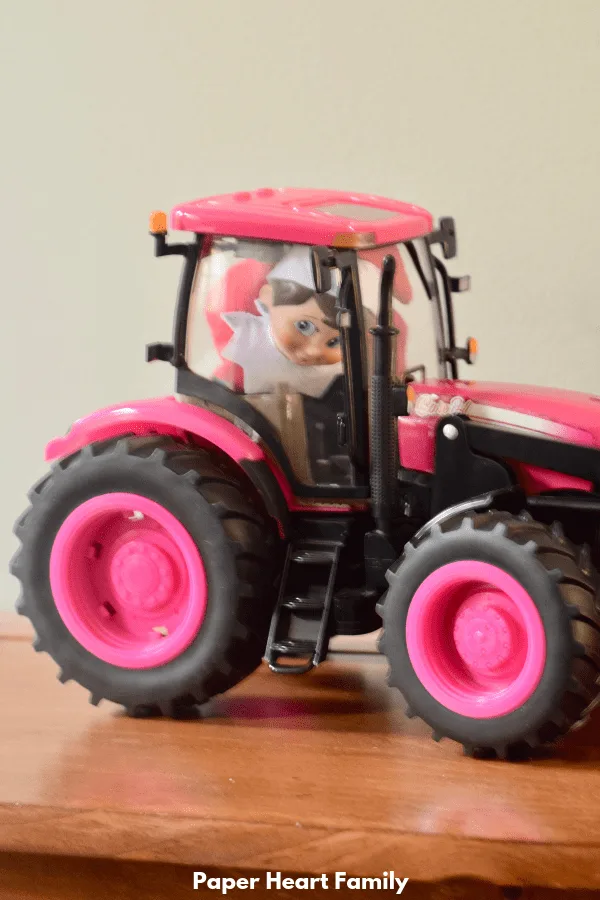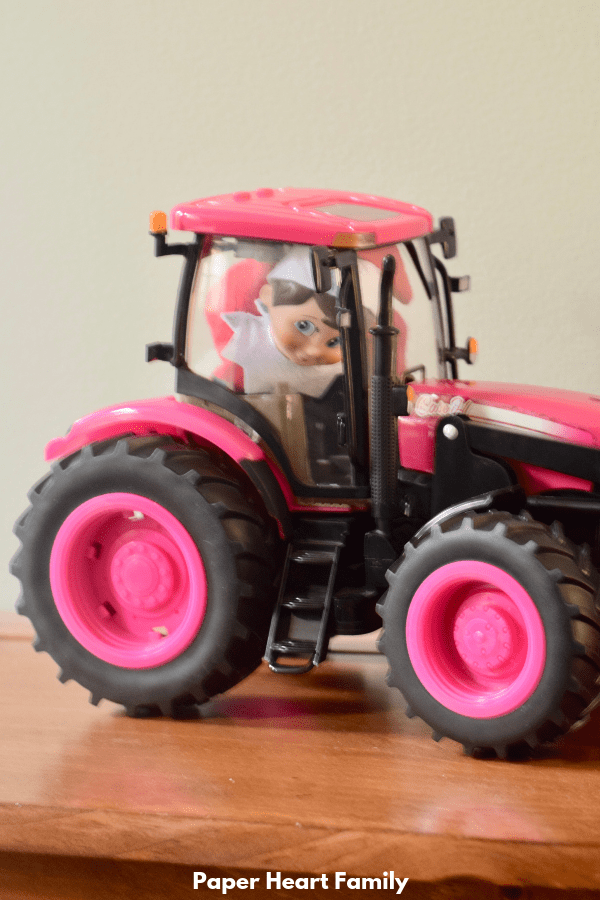 28. Play Doh Face
Using Play Doh to "dress up" a doll. This one could get really wild- think fingernails and toe nails, too!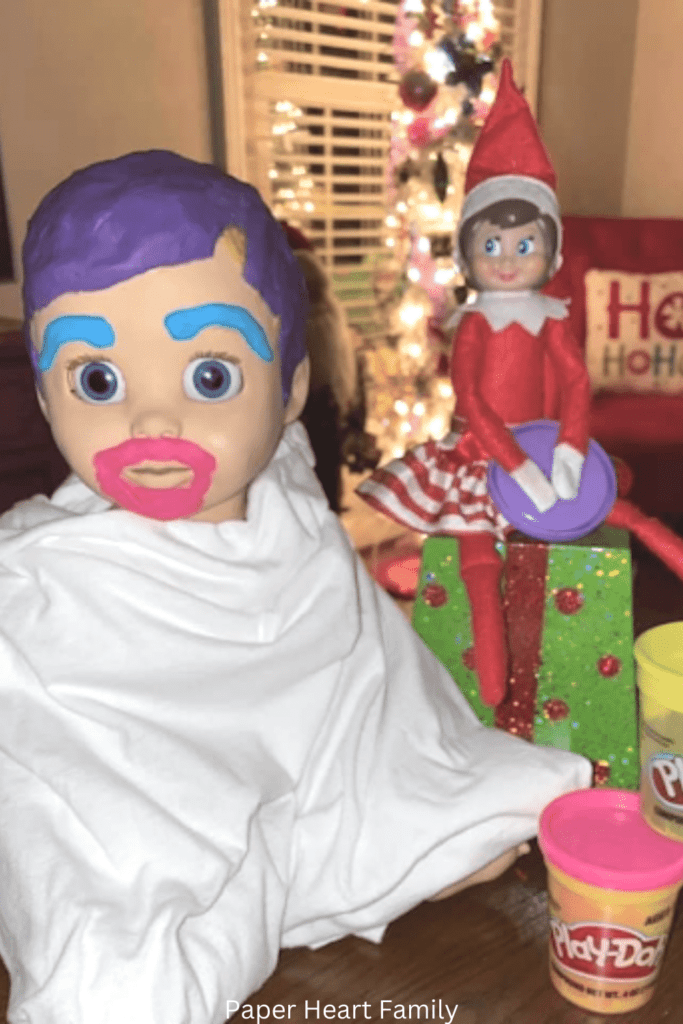 29. Shoe Bowl
Eating cereal (sans milk) out of your toddler's shoes. I mean come on, this simple idea is toddler comedic gold!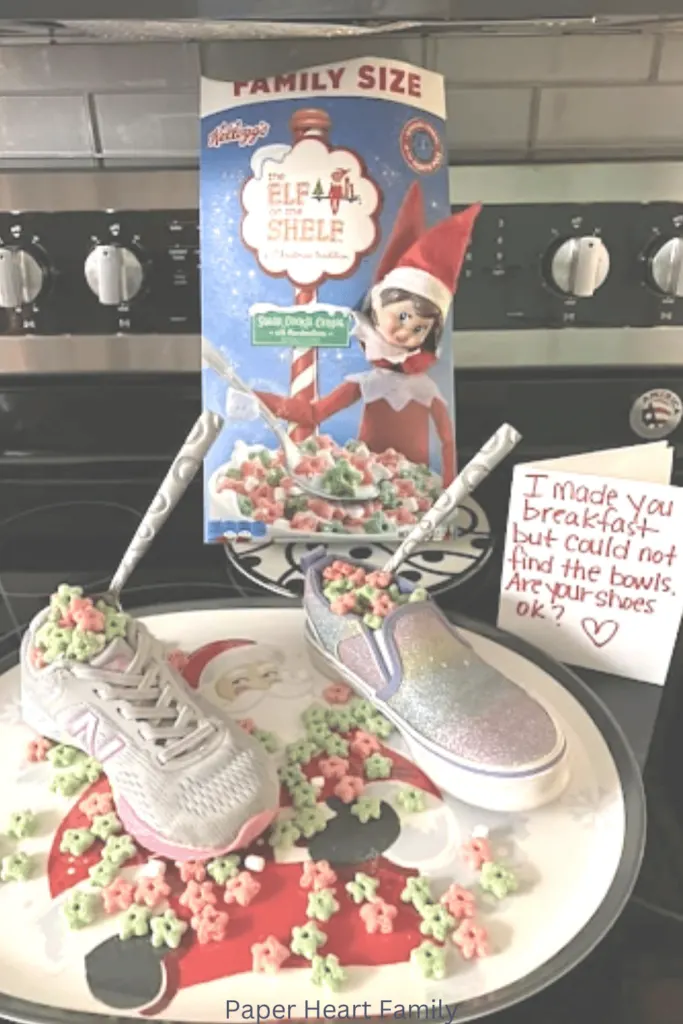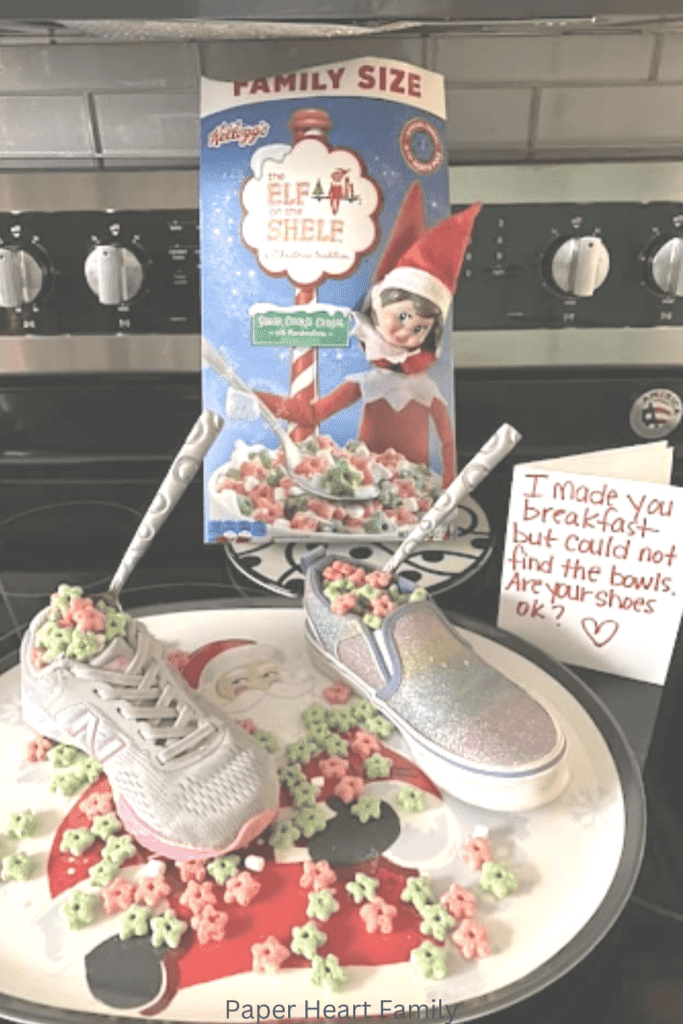 30. I Heart You
Write "I Heart You" out of some paper, Christmas lights and some painter's tape.
If your toddler can identify letters, this one is a must do.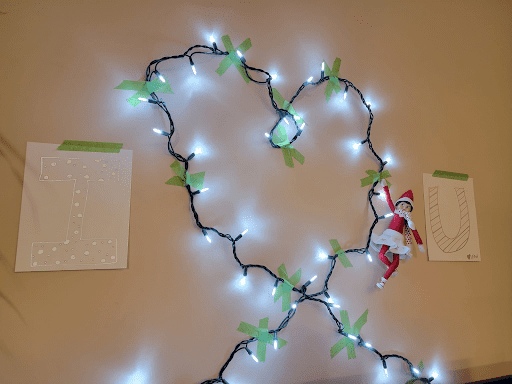 31. Do Not Feed The Dinosaurs
The elves get a little mischievous with this one.
Toddlers love a little mischief.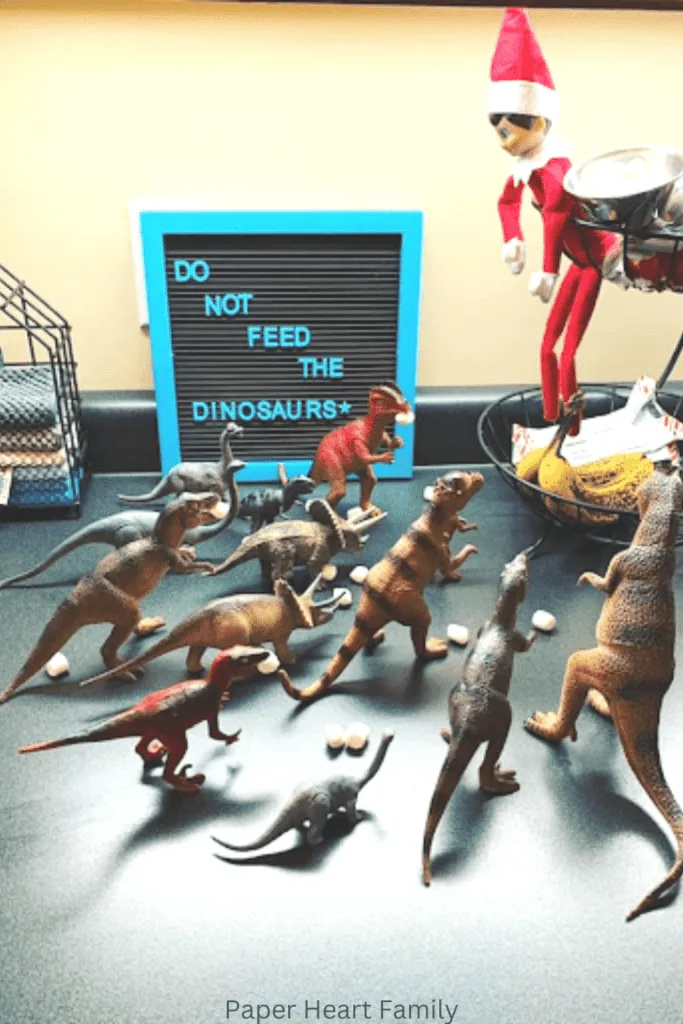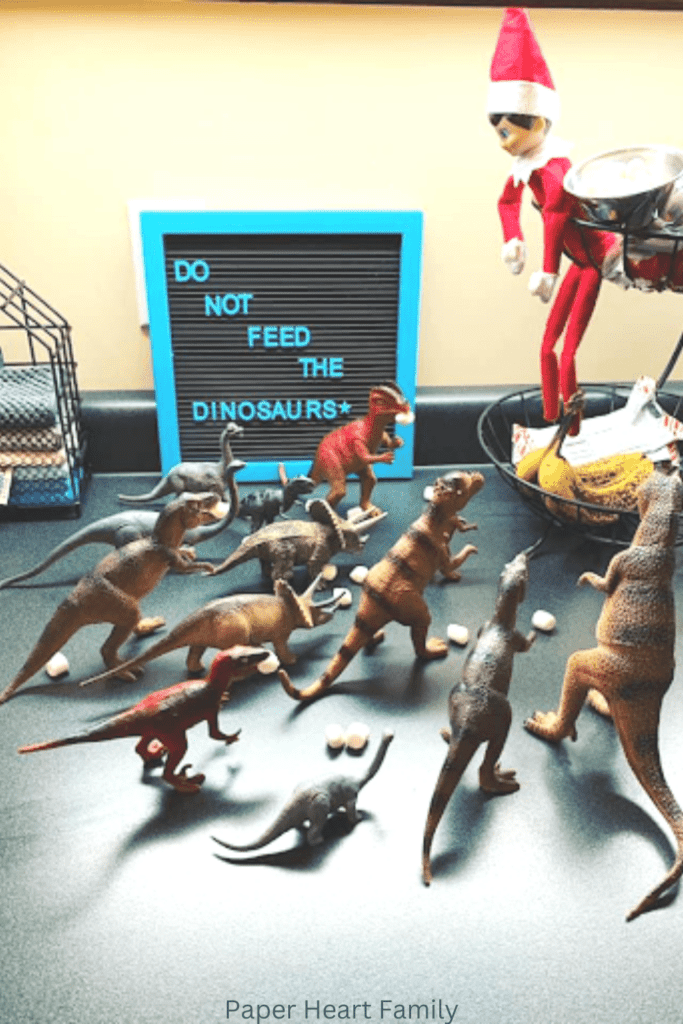 32. Christmas Trees For Sale
I would proceed with caution with this one, too.
If I would do something like this for my currently 7 year old, she would likely beg to eat the trees 4,254 times that day.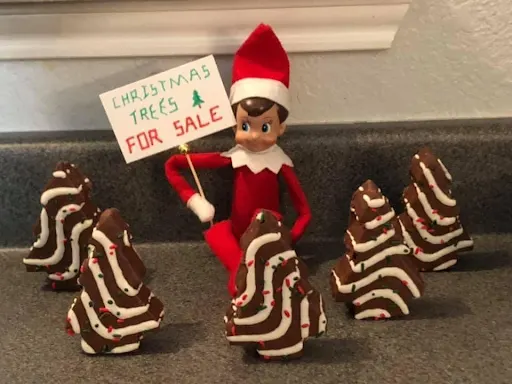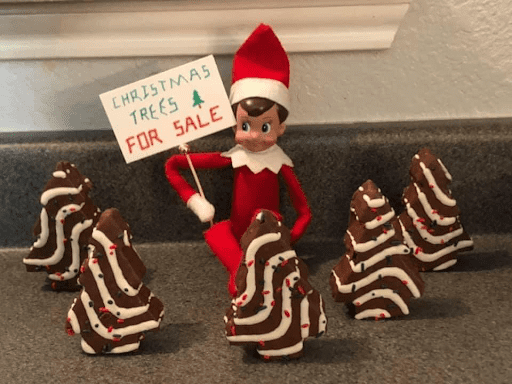 33. Stocking Underpants Swap
What toddler doesn't giggle at the mention of underwear?
The prospect of Santa filling their underwear with candy instead of stockings will be too much for your toddler to handle!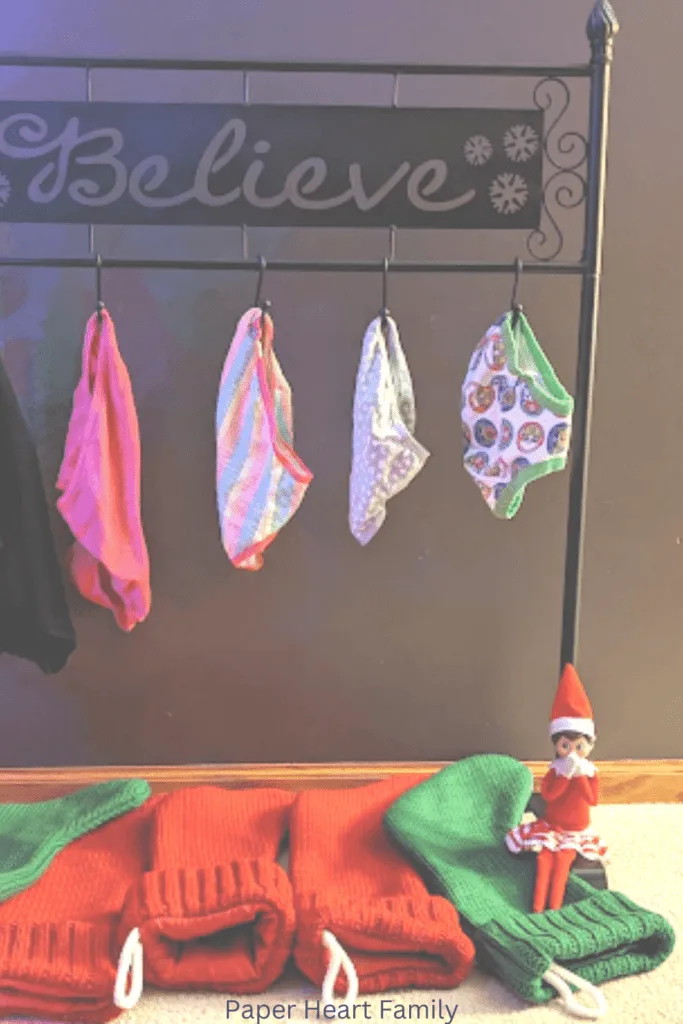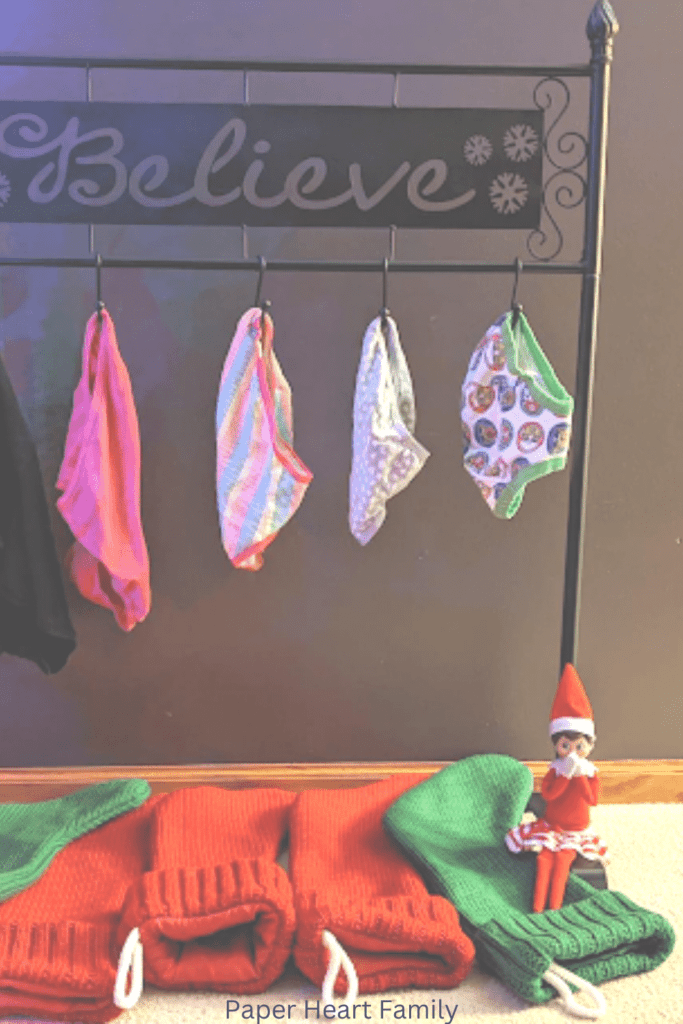 34. A Dino's Dinner
If you have a dinosaur big enough, this is a must do.
As long as your toddler isn't going to be concerned about the well-being of your elf on the shelf.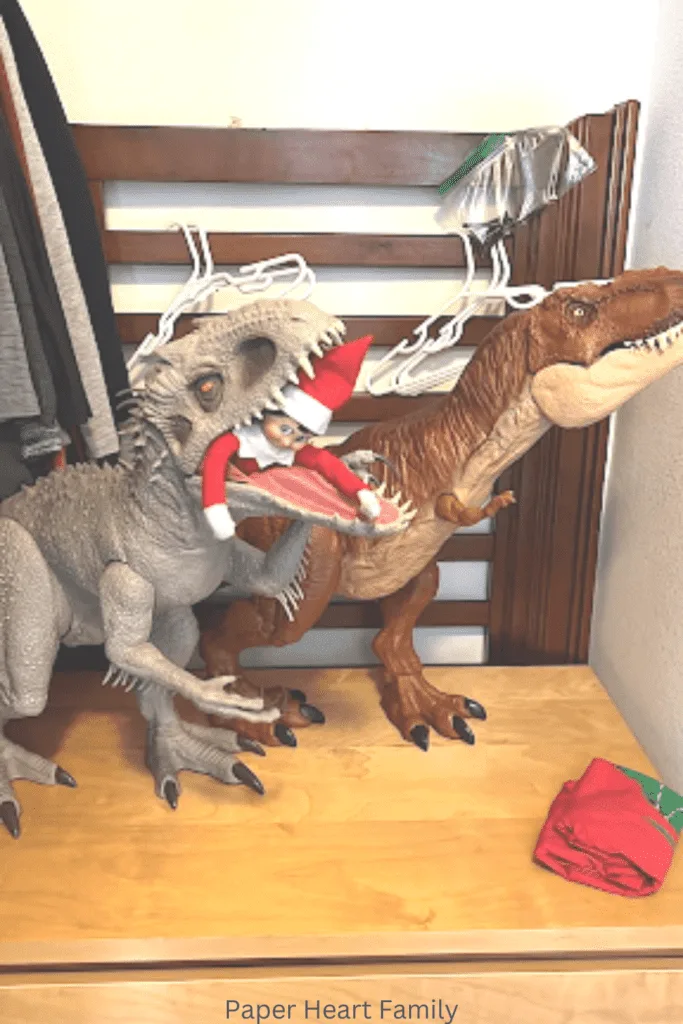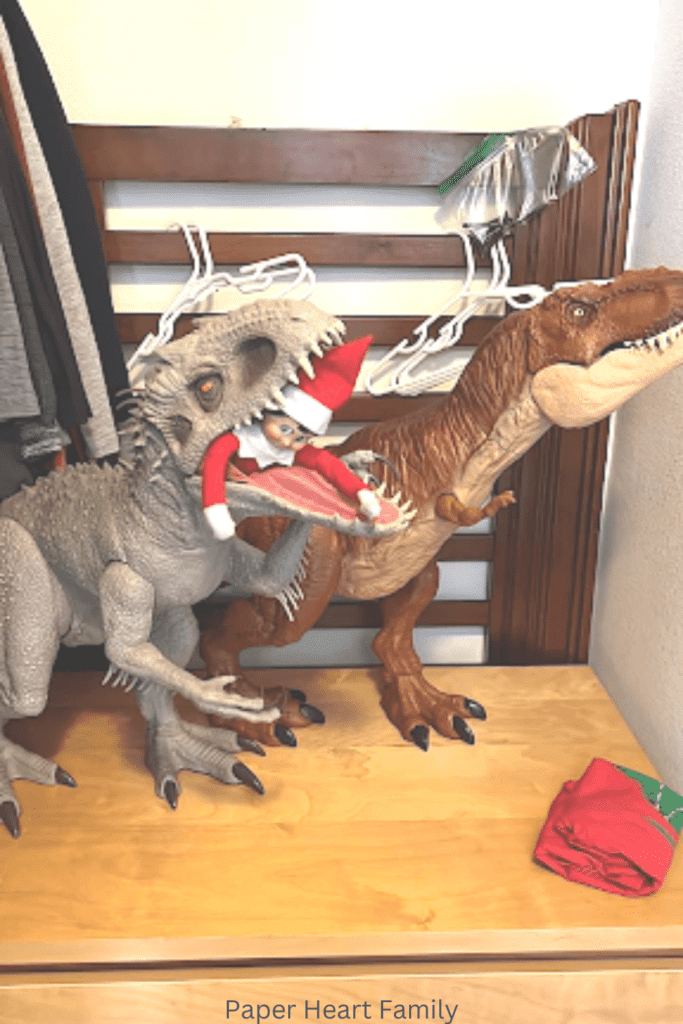 35. Candy Cane Hunt
Your elf could hide a dozen candy canes around the house for your child to find.
It will keep him occupied for a while!
36. Elf on the Shelf Scavenger Hunt
Even though your toddler can't yet read, scavenger hunts are such a cute idea.
An adult or older kids would simply have to read the clues.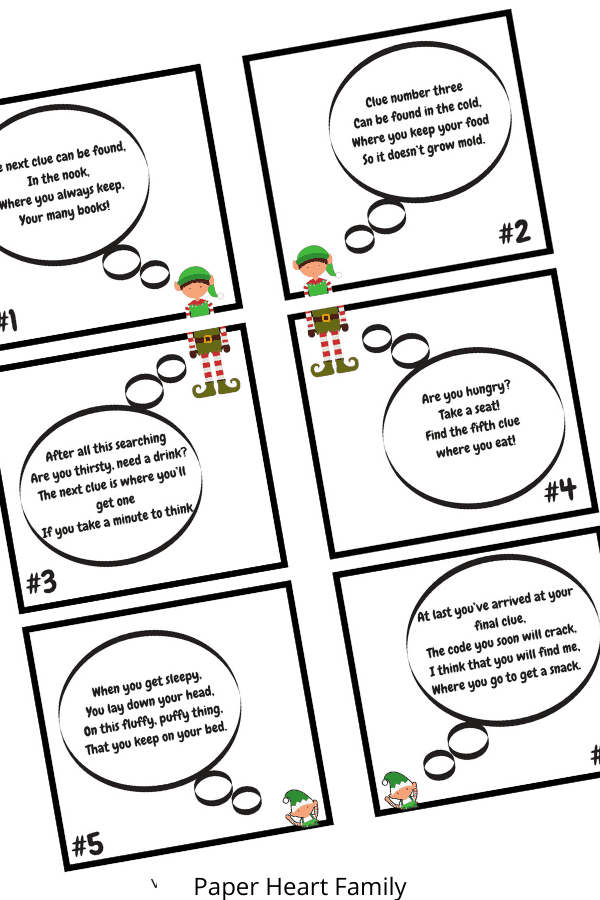 Click to get your Elf on the Shelf Scavenger Hunt.
37. Toy Parade
Setting up all of your toddler's little figurines in a toy parade with the elf at the head of it is the perfect last minute elf idea.
I hope you love these fun ideas and that they bring much joy to your home this Christmas time!
Here's to a great elf on the shelf experience!
Related Posts: