I know, I know, you're already dreading the Elf on the Shelf's arrival and it hasn't even started!
But let's be honest.
With the right attitude (and the right organization compliments of my Elf on the Shelf Printables!) the Elf on the Shelf can be… yep, I'm really gonna say it…
FUN!
I mean really.
This post is packed with holiday fun.
Who would have thought that something so little (and creepy?) would bring so much joy to our children day after day after day.
If that's not a reason to love that little elf, then I don't know what is.
Our Elf on the Shelf "Pony" arrived four years ago, and it took my THREE long years to learn that organization is key.
I spent countless nights trying to figure out what to do with our elf, and other nights waking in a complete and utter panic realizing that I didn't move her.
This also happened with the STOCKINGS.
On Christmas Eve.
I know that I'm not the only forgetful mama out there though. It's called kids.
They do something to our brains.
So last year I finally decided to come up with a plan.
I'm a busy mom and December is the busiest month of all, not including the elf.
The Elf on the Shelf makes it even busier.
Therefore, I planned out the entire month in one night, and then every other night was completely stress-free.
I printed out everything that I would need for the entire month in one sitting.
I actually ENJOYED the Elf on the Shelf last year.
And guess what? I'm going to help you enjoy it too.
I want you to have a fun Elf on the Shelf experience.
I also want you to get some new ideas and to have SO MUCH FUN.
Here are the free printables that you will find in this post:
Blank Elf on the Shelf Printable Calendar
Elf on the Shelf Planner: Toddler
Elf on the Shelf Planner: Funny
Elf on the Shelf Planner: Quick ideas)
Arrival Letter
Elf on the Shelf Names Printables
Elf on the Shelf Name Game
A letter from Santa Claus
A letter to Santa Claus
Christmas Lunch Box Jokes
Elf on the Shelf Scavenger Hunt
An Official Warning
Nice List Certificate
Santa Mail Printable Shipping Label
Elf on the Shelf Goodbye Letter
So here we go! I hope these fun ideas make your holiday season fun and stress free.
Elf on the Shelf Printables
1. Blank Elf On The Shelf Calendar
Take a few minutes (or hours!) to scroll through Pinterest (or my blog) and fill out this blank calendar printable with all of your ideas from start to finish.
This calendar will take you from December 1st to Christmas Eve!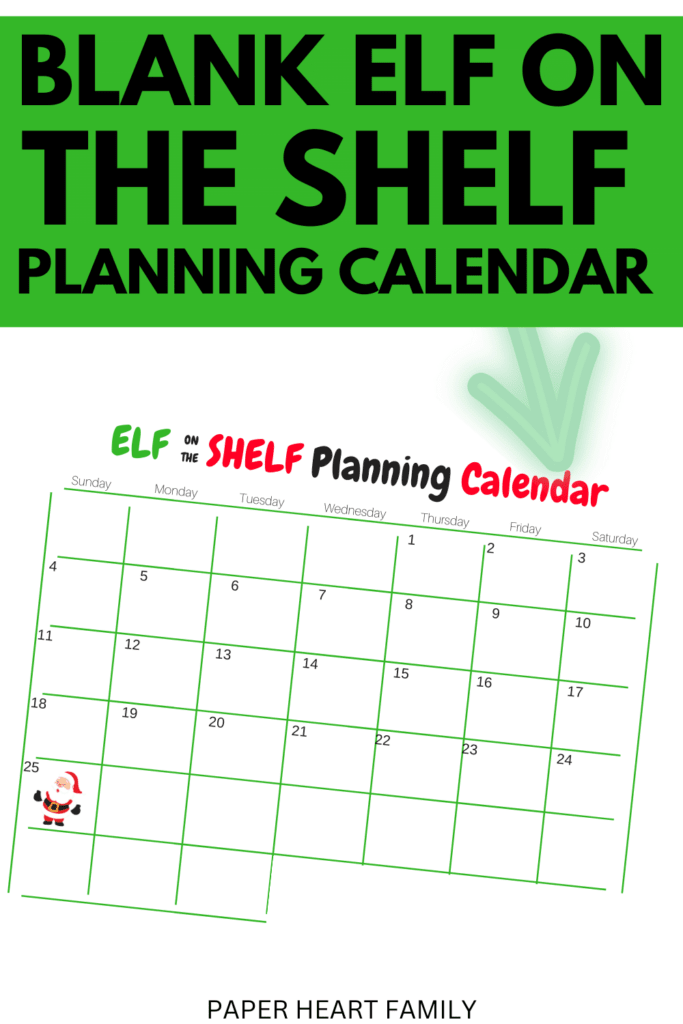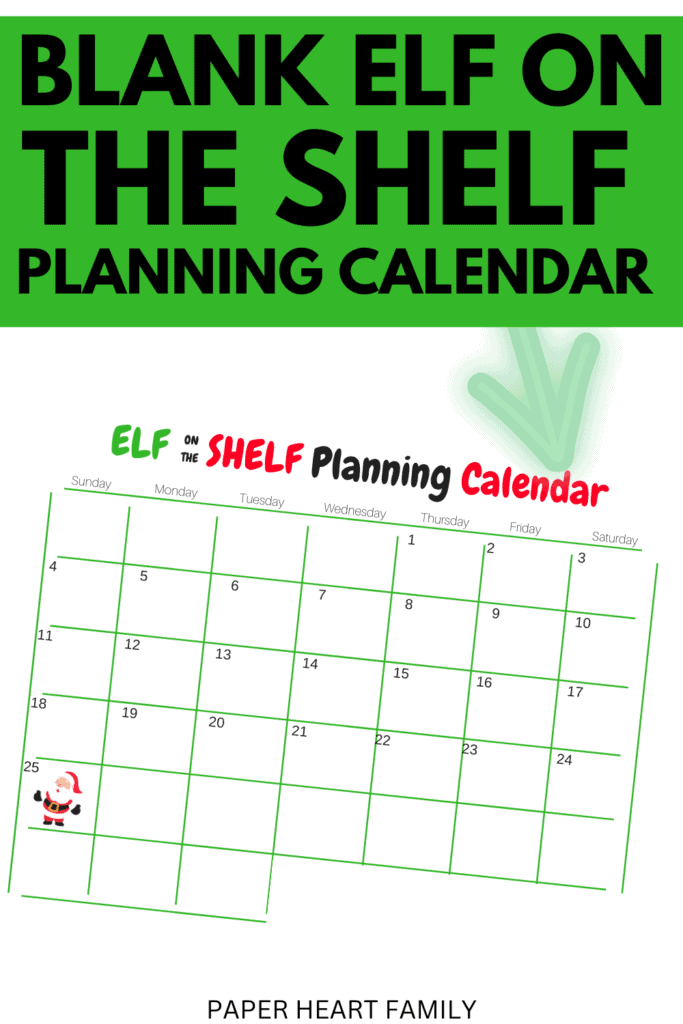 Click for your Elf on the Shelf Calendar PDFs.
Elf on the Shelf Planners
If you would like a little more direction, that's fine too!
That's why I made three different Elf on the Shelf planners.
These pre-filled calendars will provide you will all of the ideas that you need this Christmas.
2. Toddler Elf on the Shelf Planner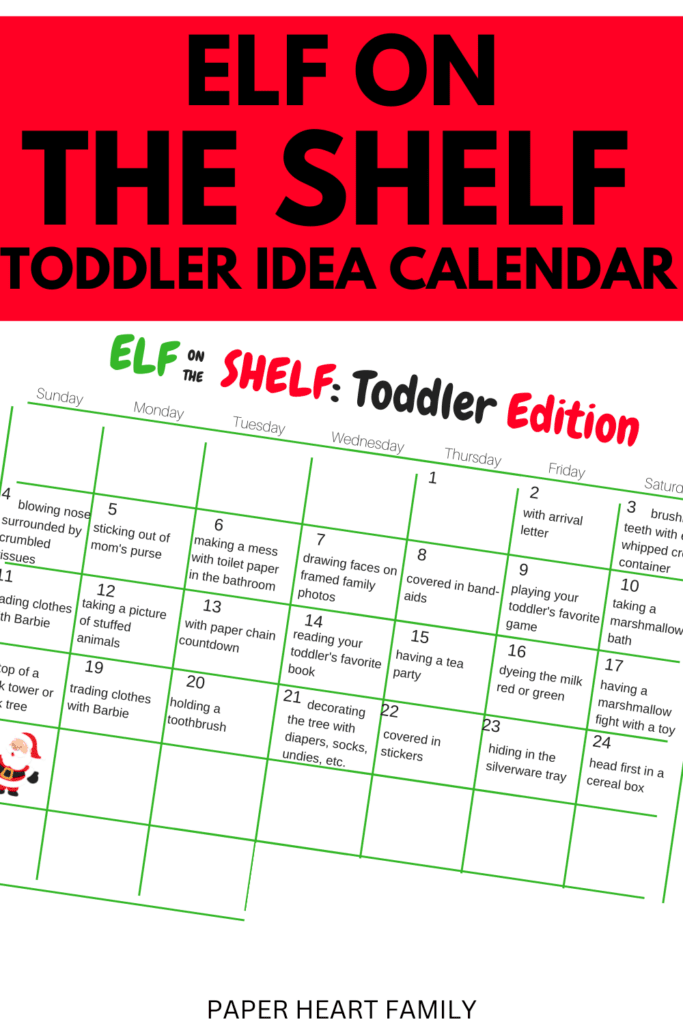 Click for your Elf on the Shelf Toddler Idea Calendar.
3. Funny Elf on the Shelf Planner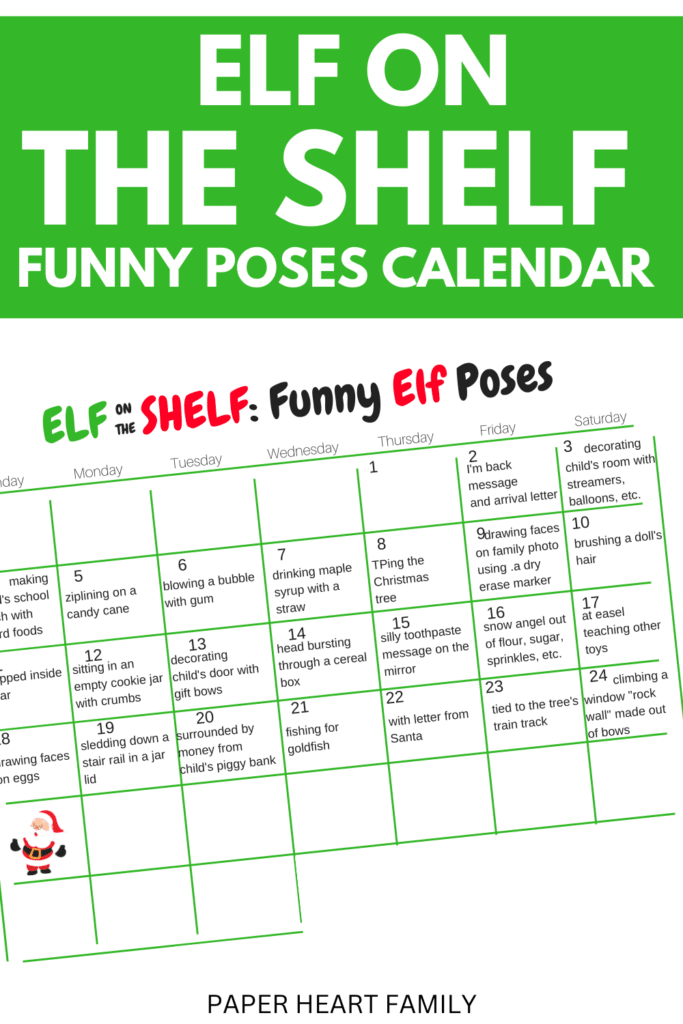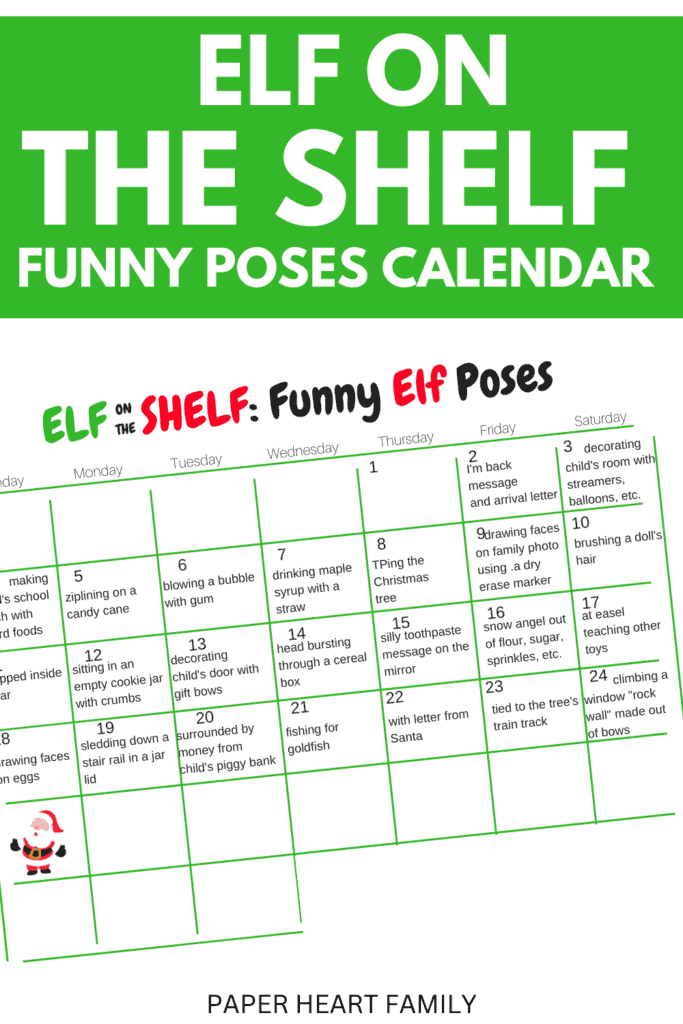 Click for your Funny Elf on the Shelf Poses Calendar.
4. Easy Elf on the Shelf Planner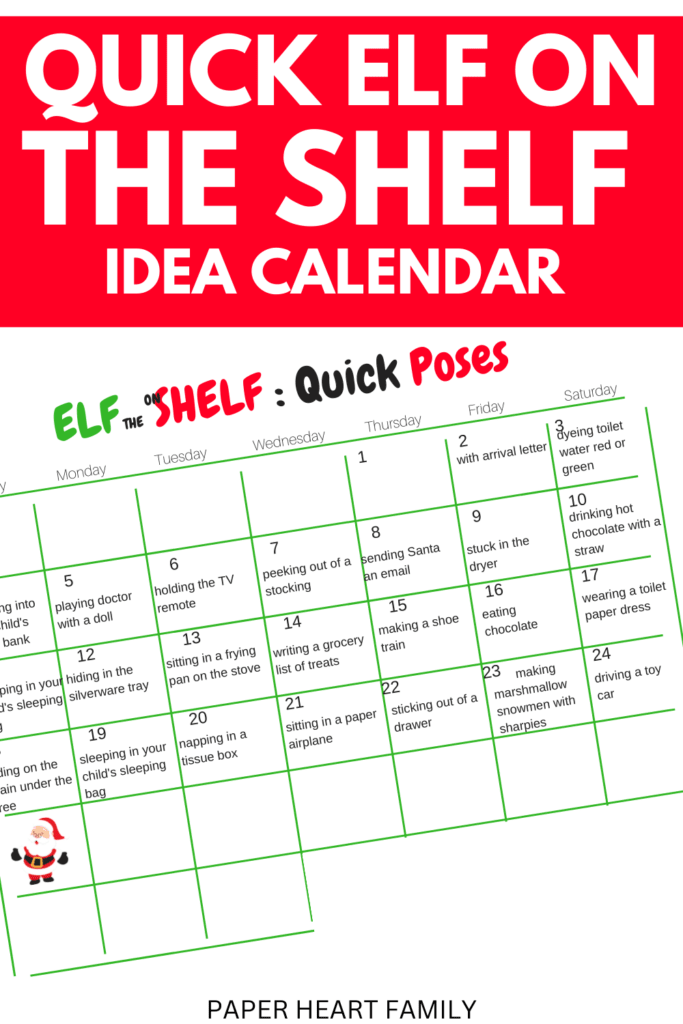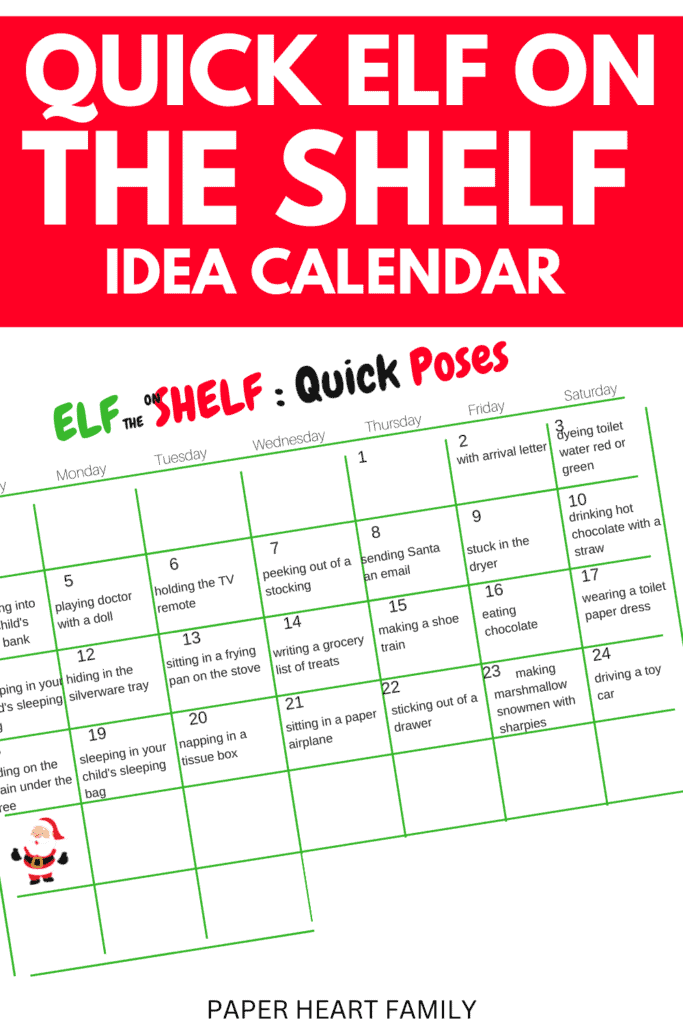 Click for your Quick Elf on the Shelf Ideas Calendar.
5. Free Elf on the Shelf Arrival Letter
I love my elf arrival letter if I must say so myself.
It's a simple idea to kick off the Christmas season.
You can also check out all of my Elf on the Shelf arrival ideas to go with it.
It's cute and it rhymes.
And most importantly, it teaches your child of the importance of being kind which is always a good idea.
ALL year long.
It says:
Dear (child's name),
Hey, I'm here! Today's the day!
Hope you didn't think I'd stay away!
Christmas is coming, hooray, hooray,
I have definitely been waiting all year for this day.
Although I'll be watching closely each day
It would be great if you are always kind, okay?
All year long, not just in December,
But in April, May, June, and even November!
What I want from you this year is not only goodness,
This year I want you to learn the meaning of kindness,
So help someone at school, or hug someone who's sad,
I know that little acts of kindness will make you feel glad.
And one more thing, I know that presents are fun,
But be thankful for everything you have, little one,
Your family that loves you, your home and your friends,
Those are the things you should treasure in the end.
Love your elf,
_______________________________
PS- If you wake up and find that I am in the same spot,
It's probably 'cause I've been traveling a lot,
I may just need a day to rest
I'm sure you understand because you're the best!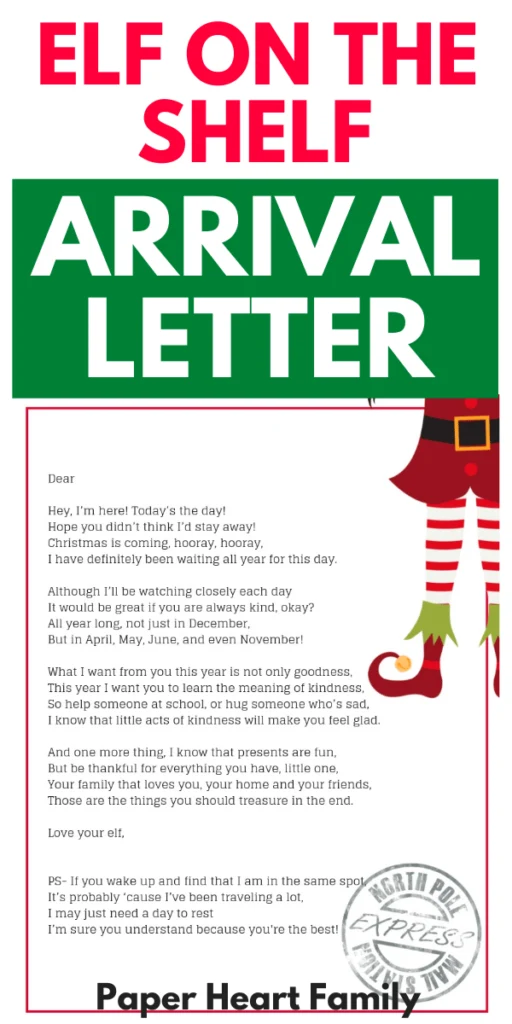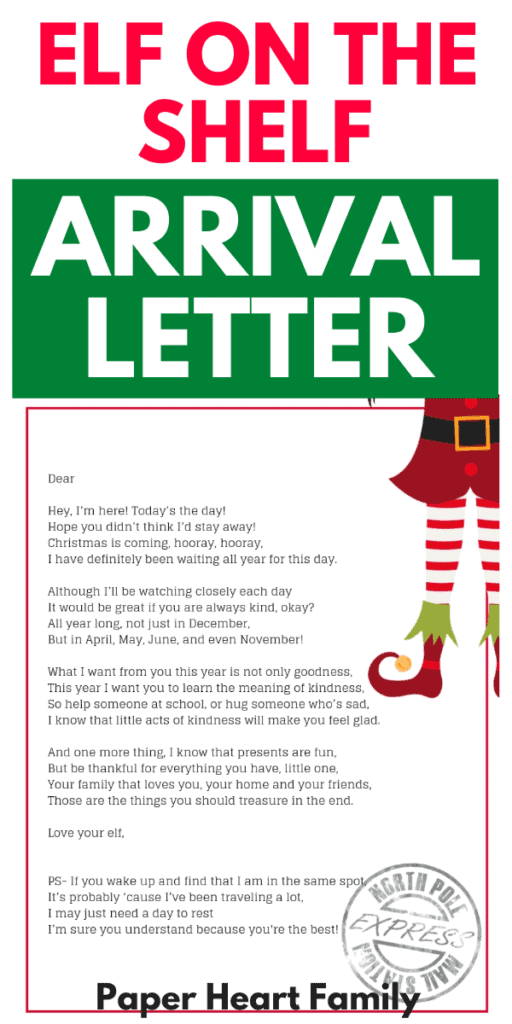 Get your Elf On The Shelf Arrival Letter
6. Elf on the Shelf Name Printables
Picking a name for a new elf is fun, but it can also be really stressful!
These elf name printables are super helpful.
I have a printable for girl elf names and for boy elf names, too!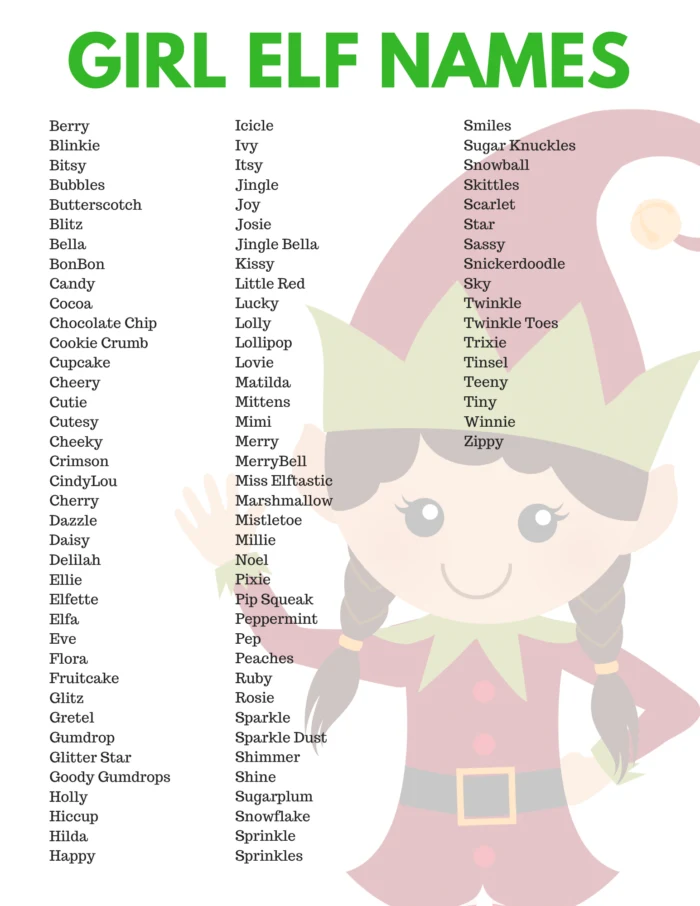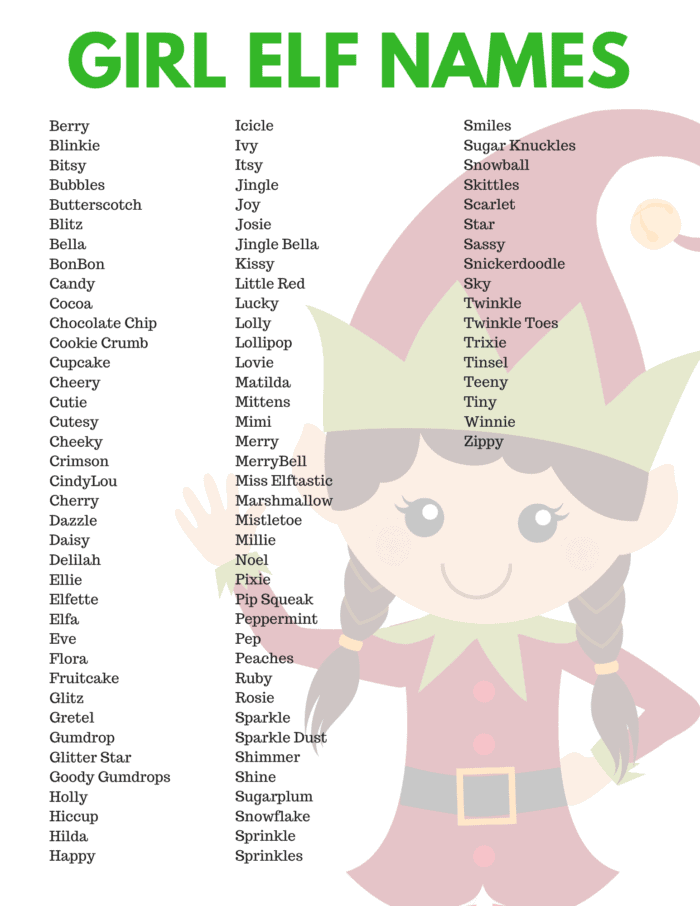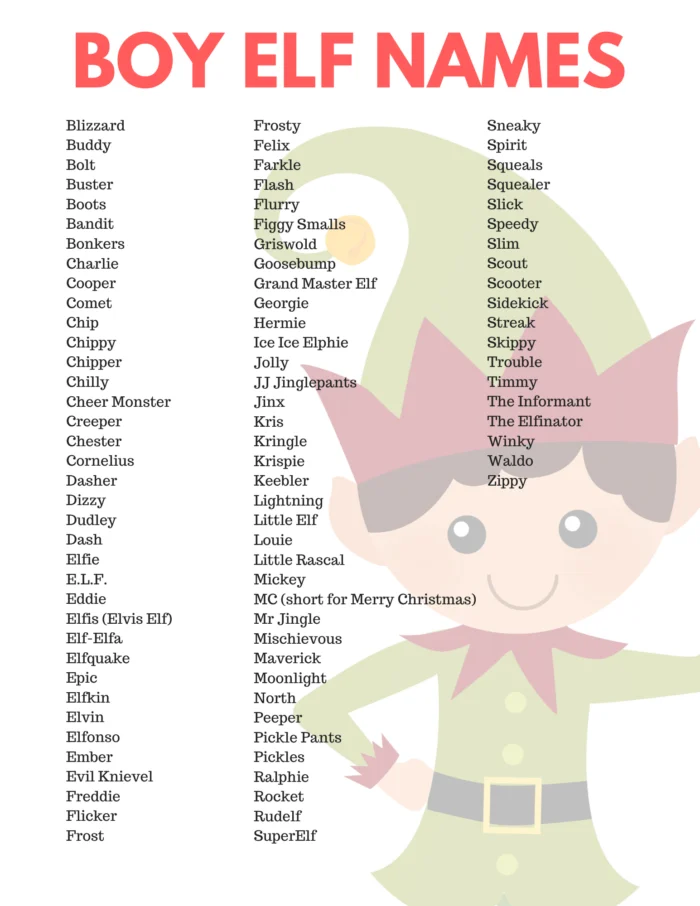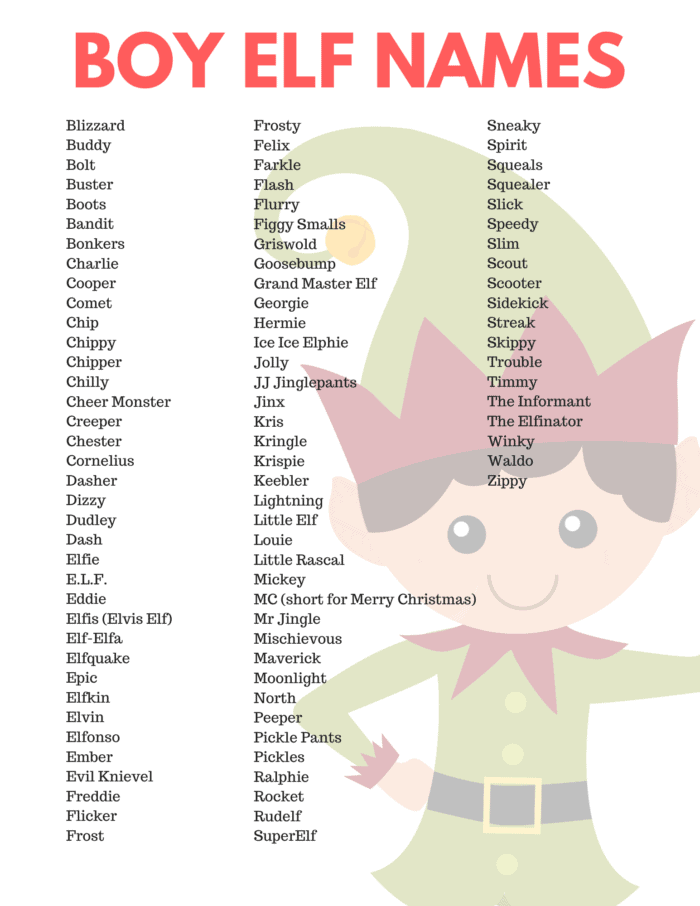 Click to get your Elf on the Shelf Names Printables.
7. Elf on the Shelf Name Game
If your children or family are having difficulty picking a name, don't worry, I got you.
I created the Elf on the Shelf Name Game Printable just for this scenario.
It's a bracket.
If you have younger kids, I would suggest that an adult pick the first 8 names to start with.
Sometimes, hearing a list of 100 names can be really overwhelming for kids (adults, too).
Then, the family votes for their favorite between two names until you are left with the winning name at the end!
Such a simple, great idea for some family fun.
What is your elf's name?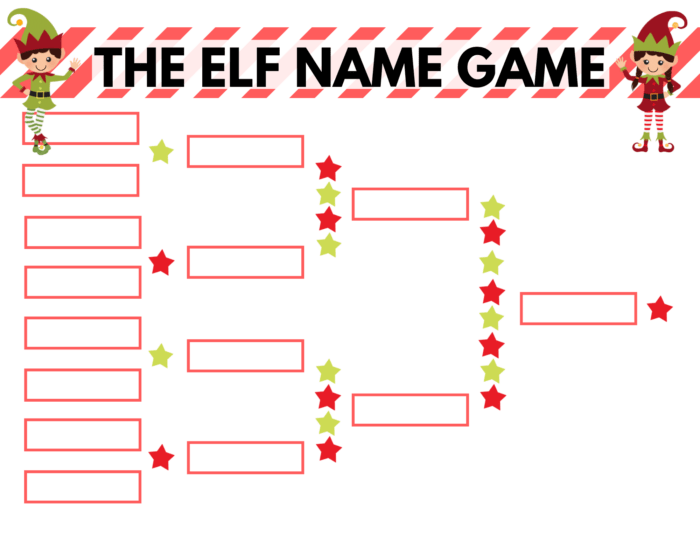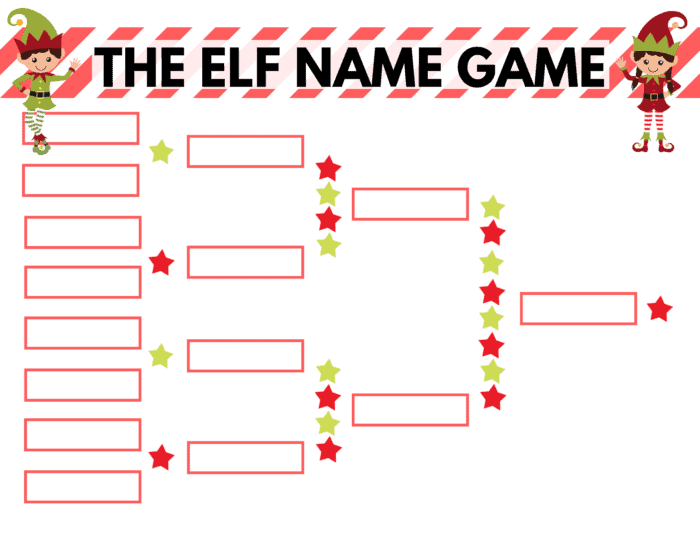 Click to get your Elf on the Shelf Name Game Bracket Printable.
8. Christmas Lunch Box Jokes
I love sending my kids to school with a funny joke tucked into their lunch box.
Christmas jokes are even better!
I guarantee your kids will love getting these Christmas Lunch Box Jokes all throughout the month of December.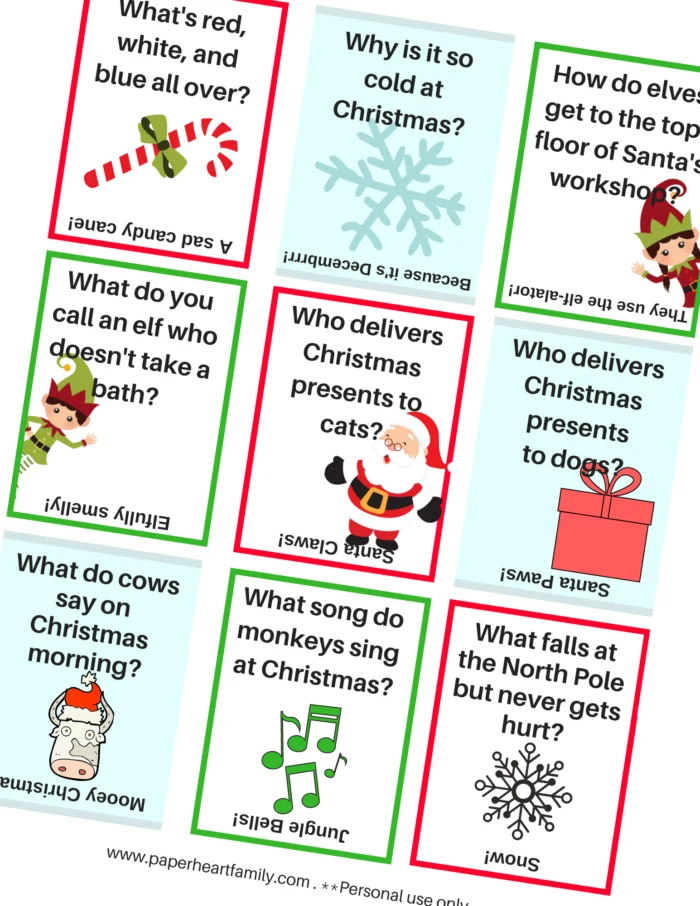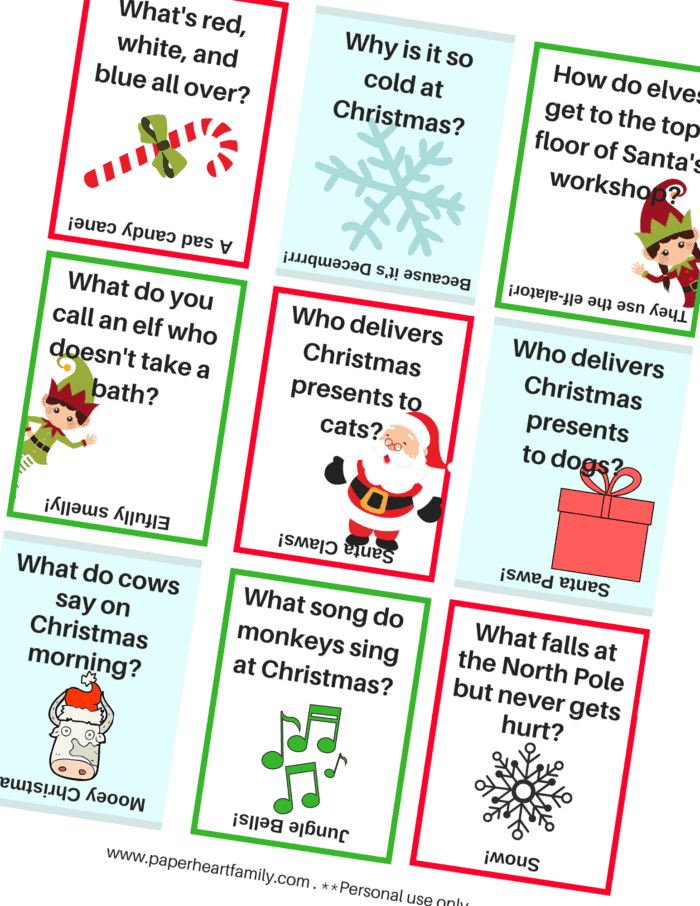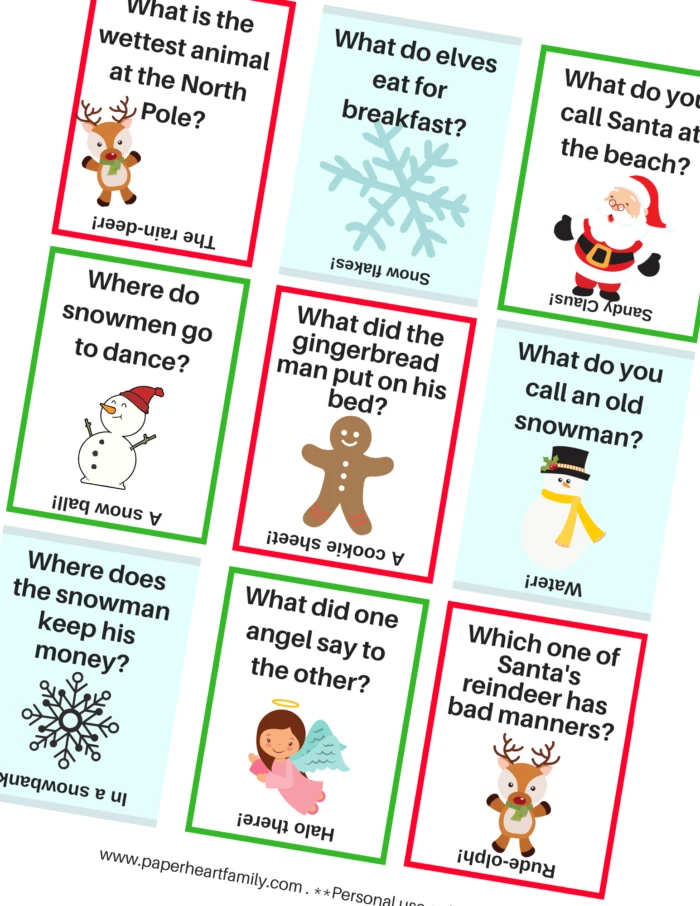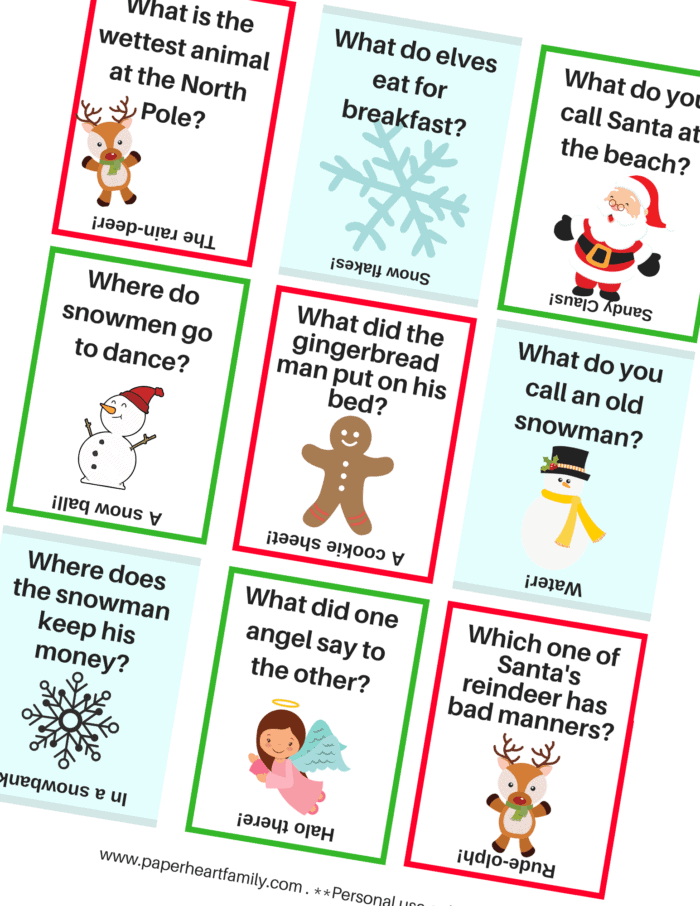 Get your Christmas Lunch Box Jokes Printable Cards:
9. Official Warning Printable
Uh oh.
An elf report card?
The naughty list?
Sometimes the holidays can get really overwhelming and our kids just don't act themselves.
If you would like to use the elf as a behavior aid (you don't have to!), these official warnings can definitely help.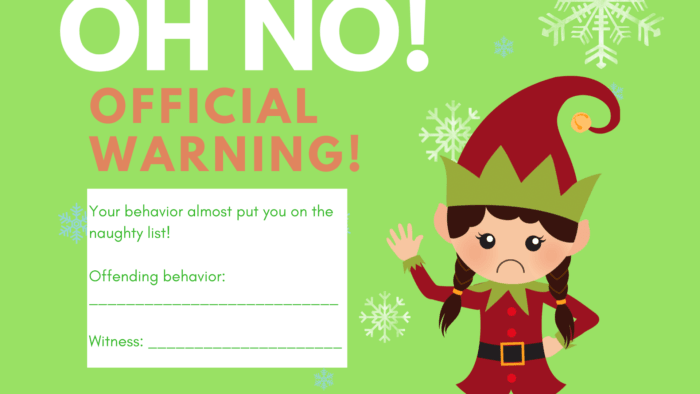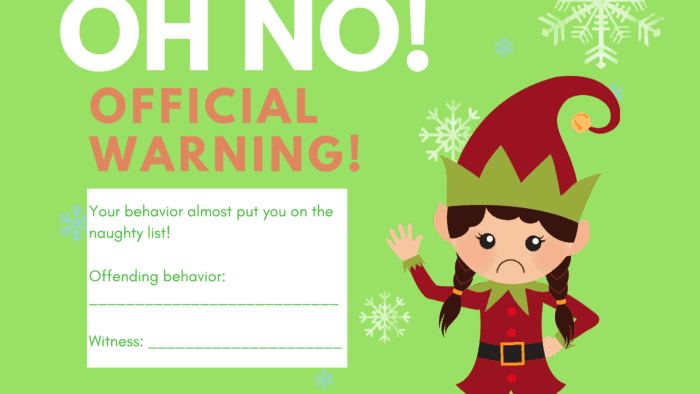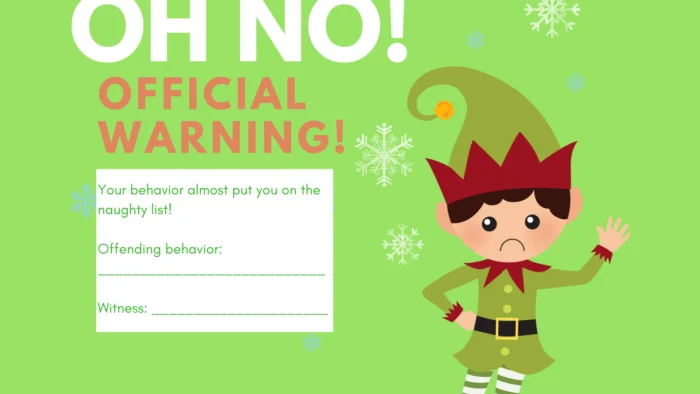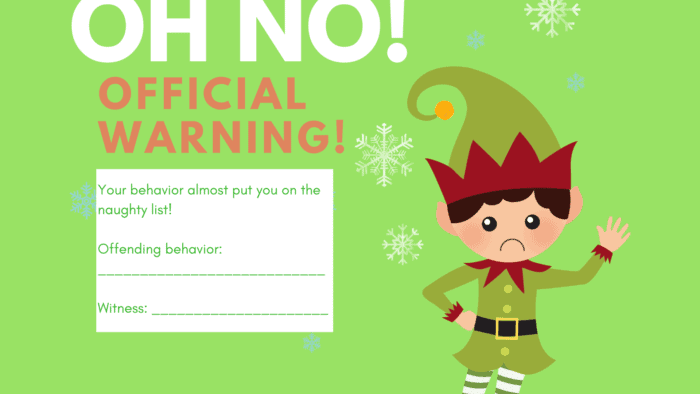 Get your Official Warning Printables:
10. Customizable Printable Letter From Santa
Would you like to give your kids a sweet letter from Santa? Your elf can deliver it!
Here's what it says:
Dear ____________________________,
My goodness, is it getting busy here at the North Pole.
Mrs. Claus has been baking up a storm, the elves have been working non-stop in the toy workshop, Rudolph and the other elves have been resting up for their big fly around the world, and me?
Well, I have been busy checking my list twice, trying to find out who's been naughty and nice!
A little elf told me that you have been nice and kind and helpful, and that you're working really hard in school.
Because of the glowing reports that I've heard, I asked the workshop elves to create something extra special for you.
Just remember that trying your best and BEING your best is important, even if no one is watching!
Have a very merry Christmas (and give your family lots of hugs)!
Merry Christmas!
Santa Claus
PS- Your cookies last year were DELICIOUS! They were so delicious, that Rudolph stole them right out of my pocket. I would love some more!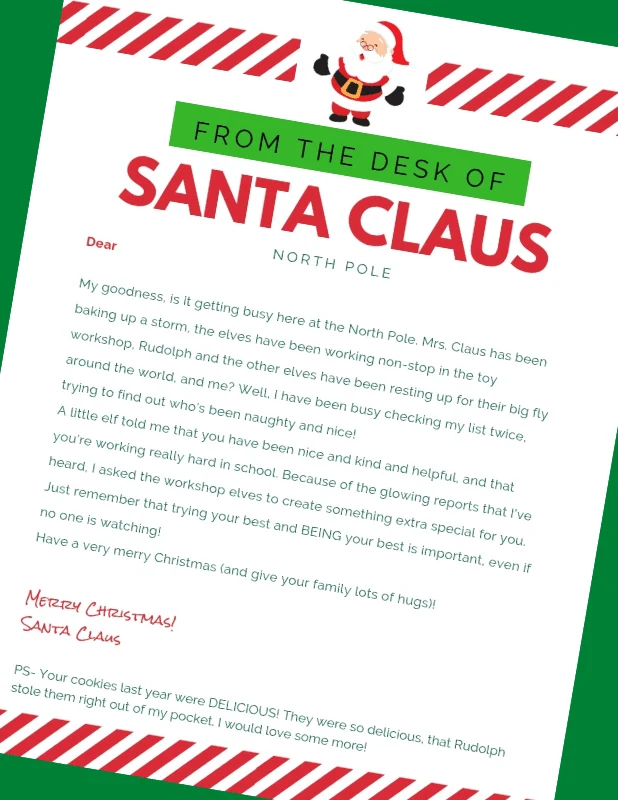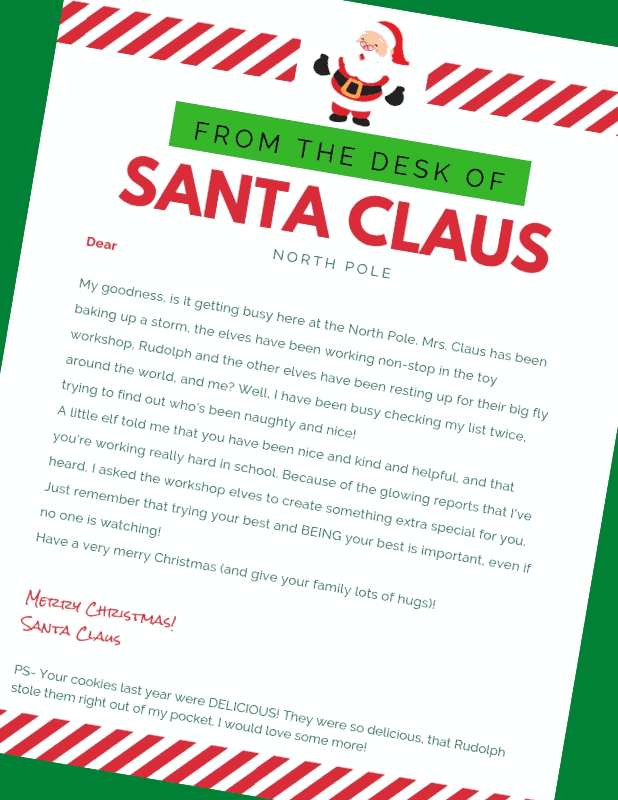 You can edit it to add your child's name and anything else you'd like!
Get your Letter From Santa Printable.
11. Letter To Santa Template
This letter to Santa is perfect for the younger child.
It's also great for older children who have a tough time staring at a blank piece of paper and getting started.
It gives prompts so that you child can write an amazing letter to Santa.
It also prevents your child from asking for 327 things!
Your elf can both bring it and take it to Santa.
It says:
Dear Santa,
I have been very _____________________ this year because I _________________________.
The one thing I would really like this year is ___________________________________.
It would also be nice to receive _________________________.
Love, _____________________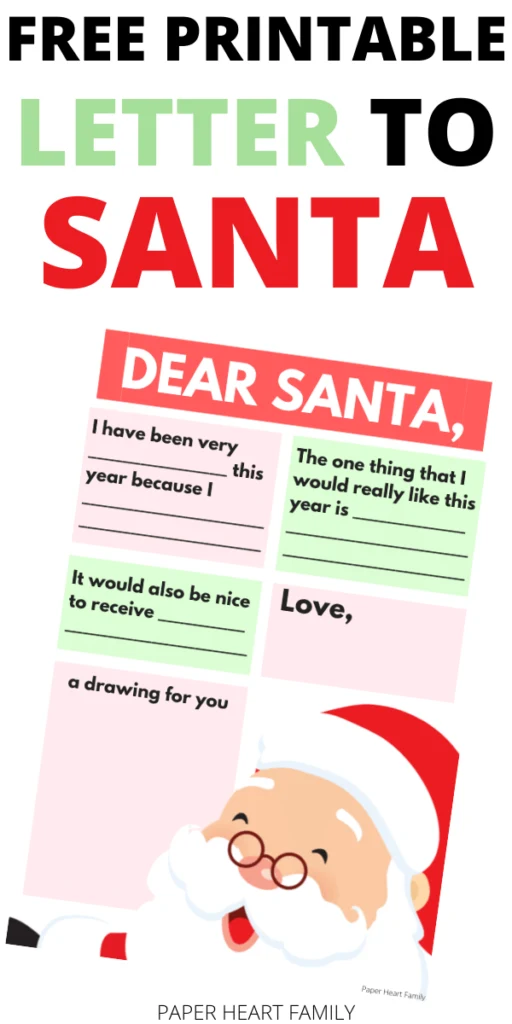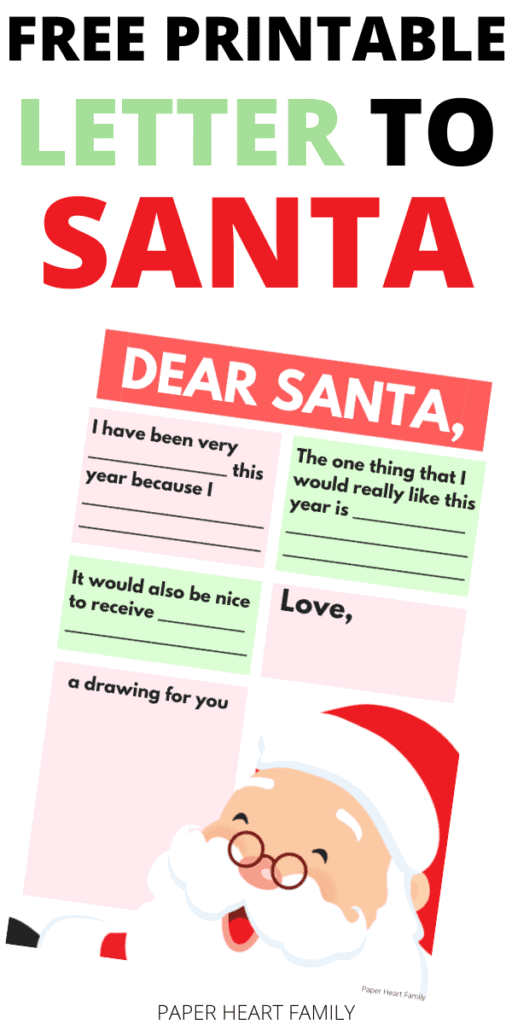 Get your Free Printable Letter To Santa.
12. Elf on the Shelf Scavenger Hunt
I don't know about your kids, but my kids LOVE a good scavenger hunt.
They make them for each other sometimes too, but if the elf can set one up, even better!
This is one of my most favorite fun activities for this time of year.
Instead of setting up a scene with your elf, you can hide the elf and have these clues help you kids find him!
The first clue says:
Today I'm hiding really well, but want to find my spot?
You'll need to read some clues, here's the first one, ready or not!
Your kids will find 6 more clues before the last clue leads them to the elf's hiding place.
Such a cute idea, right?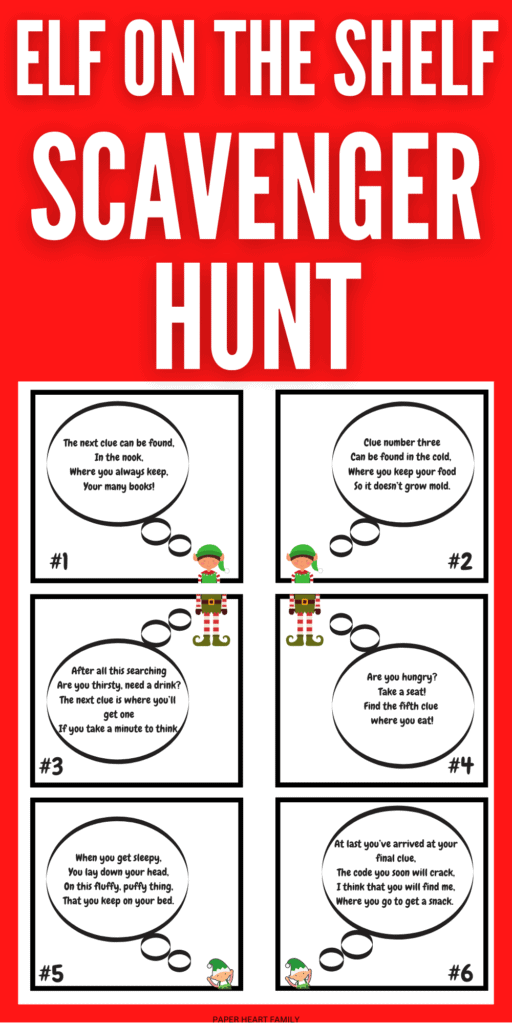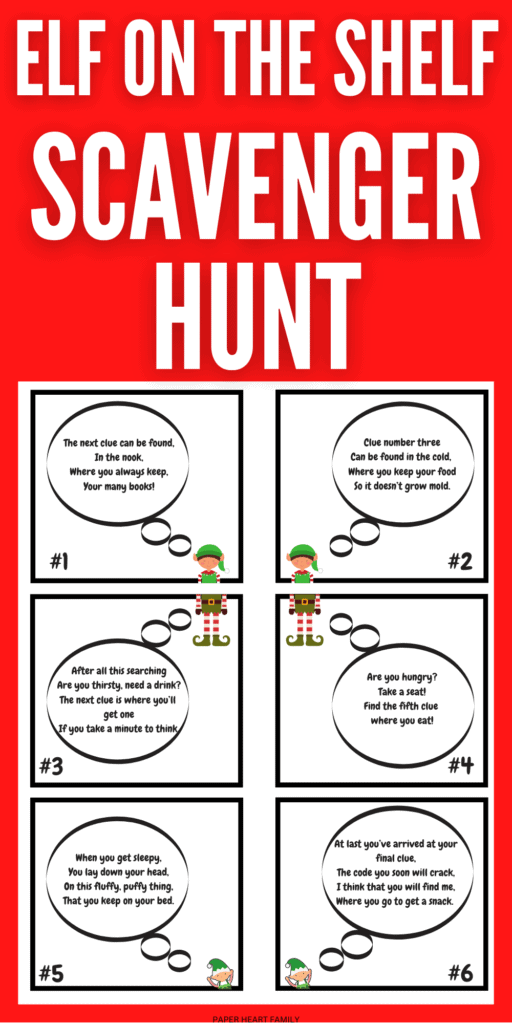 Get your Elf on the Shelf Scavenger Hunt Printables.
13. Nice List Certificate
These are nice Elf on the Shelf notes to give on Christmas Eve or a few days before Christmas.
Don't you love this special note?
It gives some positive reinforcement to your kids for their good behavior and thanks them for being awesome!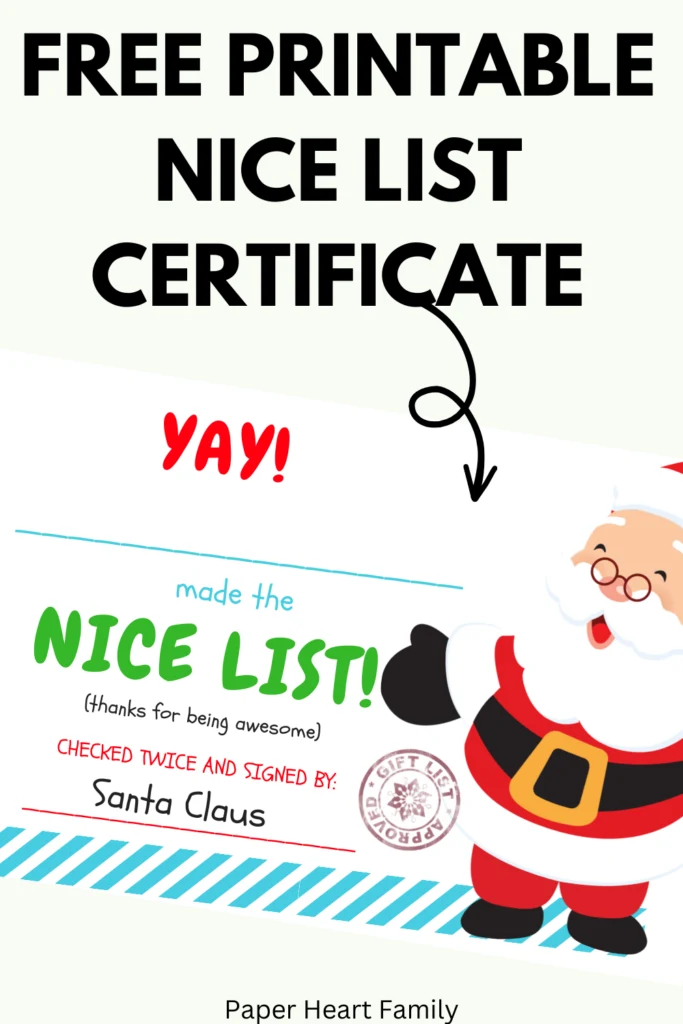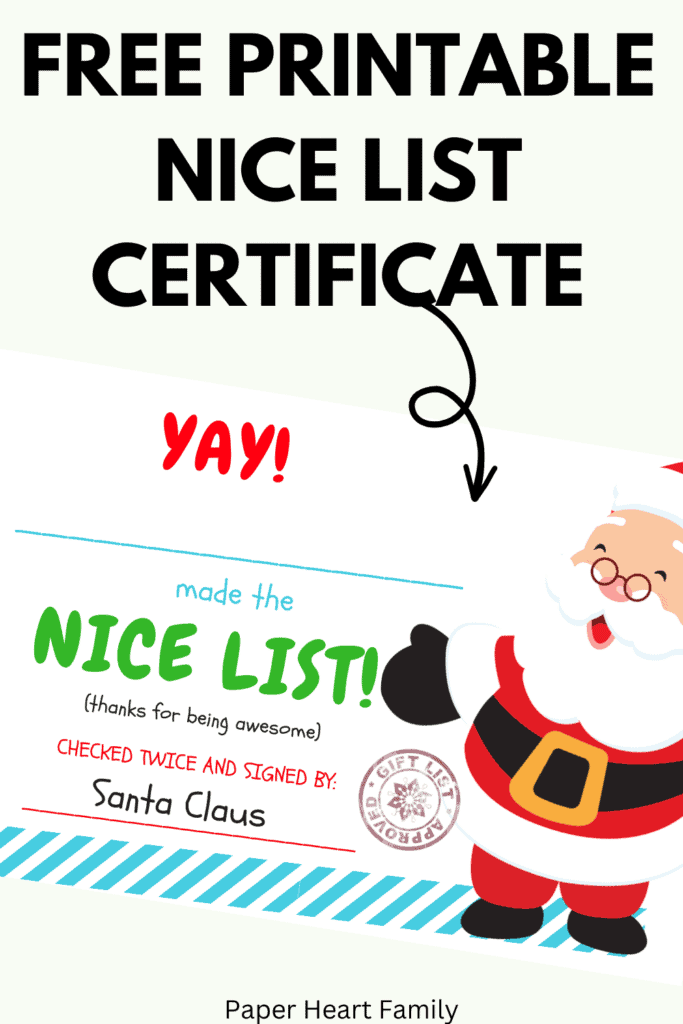 Get your printable nice list certificate.
15. Printable Elf on The Shelf Shipping Label
Have your elf arrive in a box straight from the North Pole!
You could also use this printable label for the Elf on the Shelf to have your elf bring a gift!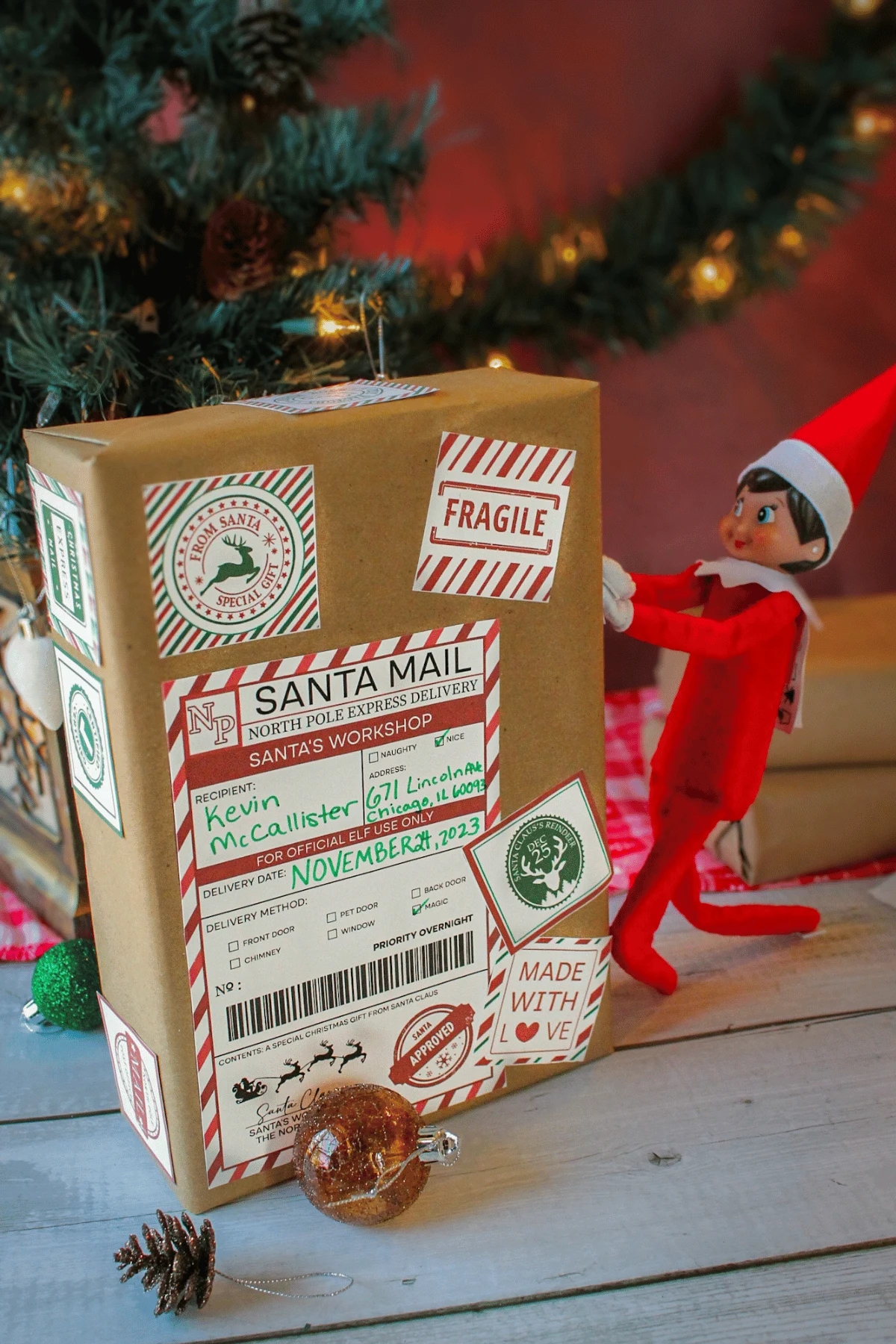 16. Elf on the Shelf Notes
These Elf on the Shelf notes have super cute messages like:
Roses are red, violets are blue, I wish I could stay here forever with you!
Pssst! No fighting!
That thing you did yesterday. It was AMAZING!
I told Santa to put you on the nice list!
And so much more!
We also have a printable Christmas countdown that you can place with your elf as it gets closer to Christmas!
Check out these notes from the elf here.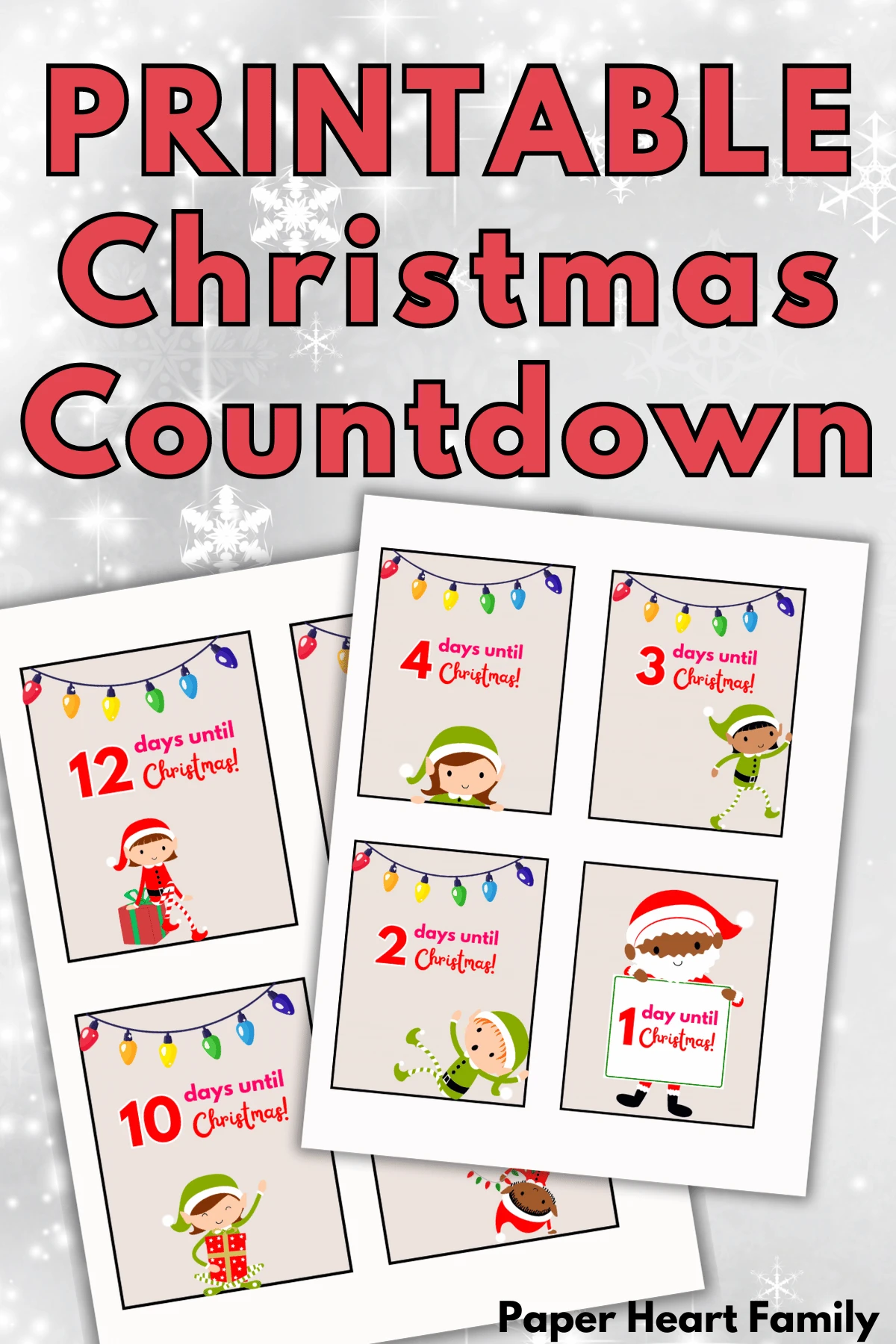 17. Elf On The Shelf Candy Cane Hunt
If your kids love scavenger hunts (like mine do), this candy cane hunt is a must do!
It comes with super fun, funny candy cane tags to attach to the candy canes.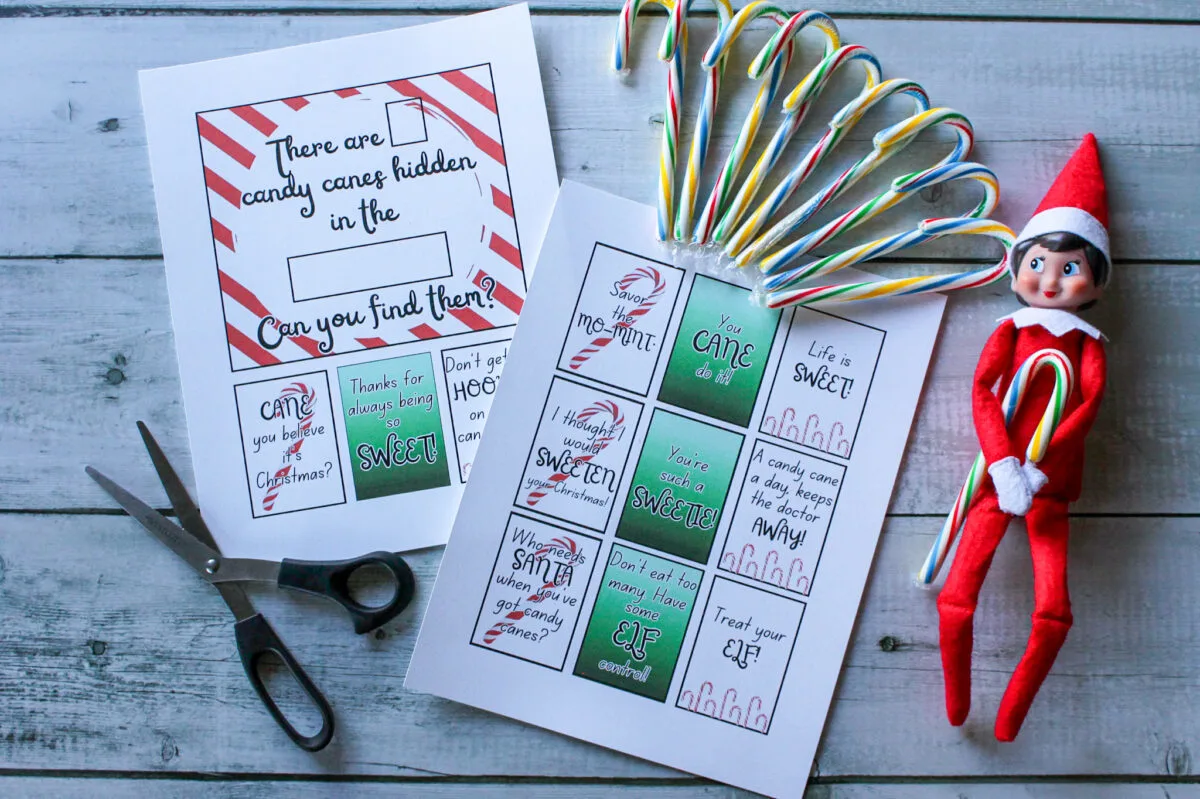 18. Free Printable Elf on the Shelf Goodbye Letter
Saying goodbye to the Elf on the Shelf can be really sad.
This goodbye letter leaves your kids with something to treasure long after the elf is gone.
It says:
Dear ____________________________,
Well here we are, it's really been fun,
but as you know, I've got to run.
When Santa arrives, I'll be a little sad,
but I'll also remember all of the fun we've had.
So remember what I said about being kind all year long,
I know that you will, don't let me be wrong!
Help your parents and do your chores,
(I'm sure they would love if you mopped the floors!)
We will meet again next year when Christmas comes to town,
so don't be sad, turn that frown upside down.
Love each and everyday, be thankful for all,
and while I'm gone, don't grow too tall!
Love your elf, _______________________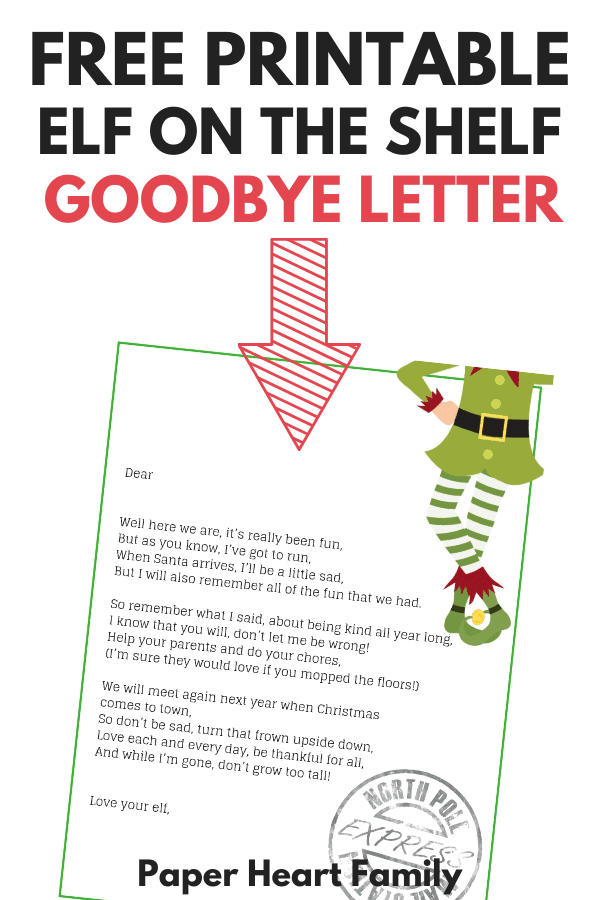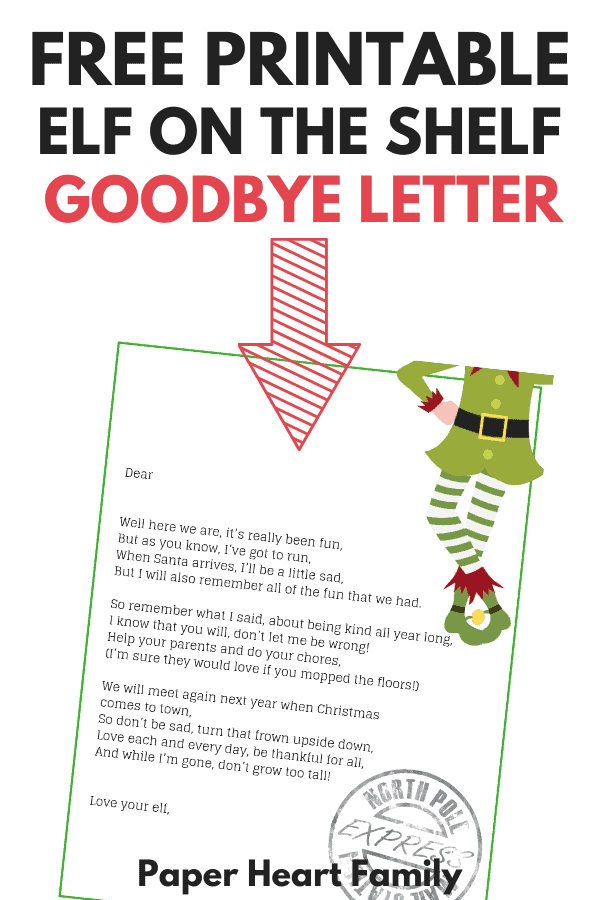 Get your Elf On The Shelf Leaving Letter.
I hope these Elf on the Shelf Printables were everything you needed and more!
I would love to see how you use them.
Feel free to attach a photo to any of the pins above to share the love!
Do you love the Elf on the Shelf tradition? Have any more printable ideas for me?
Related Posts Full of Elf Antics: