It is the holiday season and time again for that scout elf to use its Christmas magic to spend the Christmas holidays with you and your little ones!
This mischievous elf can help spread so much fun and joy during this magical time of the year. We all know that the month of December can be busy and any help with this little elf is appreciated.
To start with, we have easy Elf on the Shelf ideas that will get you started on this fun holiday tradition.
For a little something to help with all of that hard work, put these Elf on the Shelf printables to the test. Using these is a great way to help you with all of the elf antics and fun elf activities.
Elf on the Shelf is such a fun Christmas tradition, but it can be stressful.
Having these notes on hand can take some of the pressure and stress off of you.
To help with the elf on the shelf tradition this year, we have some free printables for your personal use. Not only will they bring laughter to your holiday, but they will help with the countdown as well!
So, help your child think of their elf's name and let the holiday fun begin!
Elf On The Shelf Notes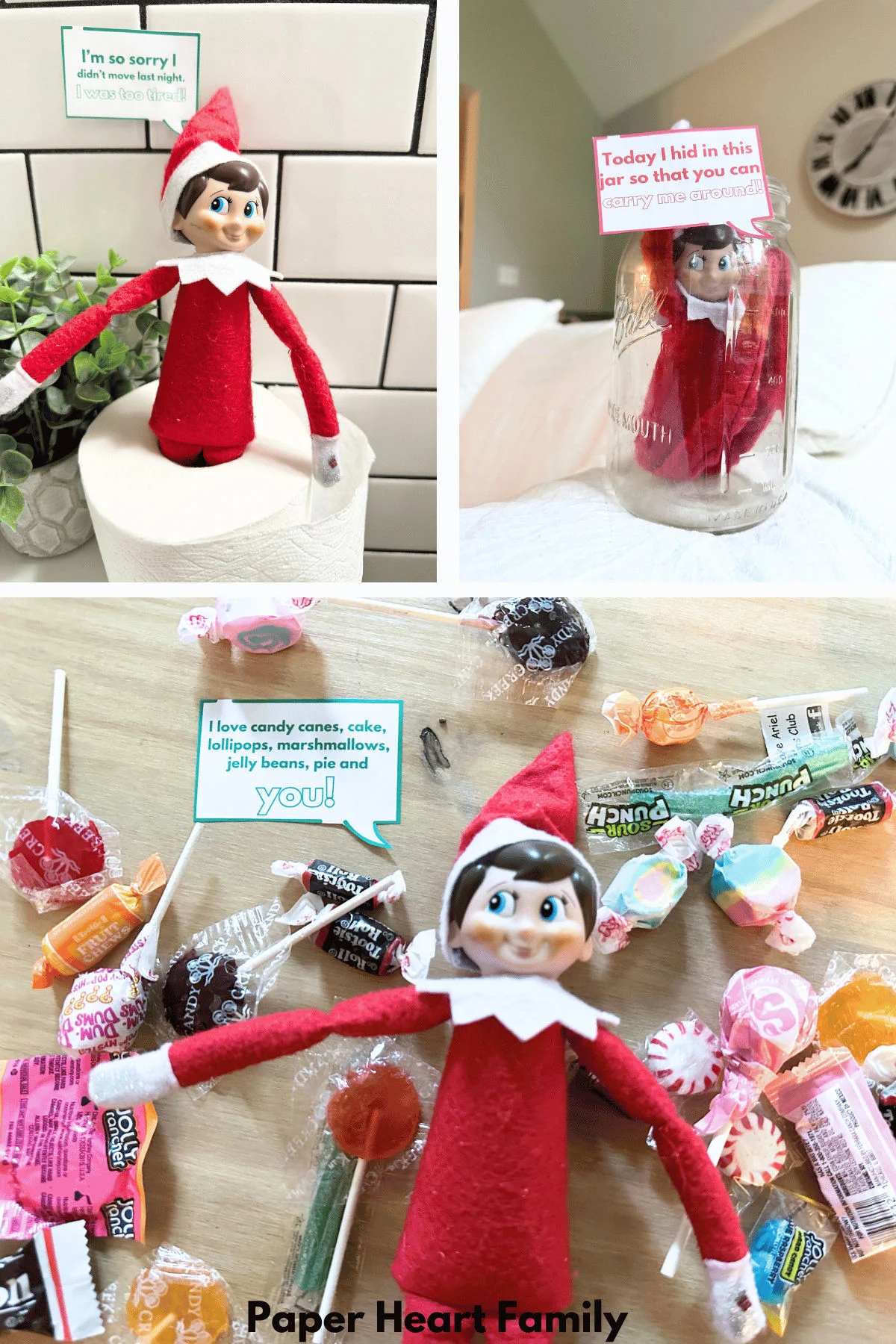 These cute printable elf notes will save you tons of time and are super helpful for those nights that you are in desperate need of a great last-minute idea!
They are a fun way to send a special message from your fun little elf!
1. Could you please clean your room? (It's messier than Santa's Workshop on Christmas Eve!)
2. I brought you a gift!
A great way to treat the kids for good behavior is this Elf on the Shelf scavenger hunt.
3. Friendly reminder: If you touch me, I can't move!
4. Pssst! No fighting!
5. Merry Christmas, ya filthy animal!
6. I'm back!
You can plan your elf's arrival with these fun Elf on the Shelf arrival ideas.
7. I'm so sorry I didn't move last night. I was too tired!
8. What kind of pictures do elves like to take? Elfies!
For some lighthearted fun, you can check out these Christmas jokes that are sure to make everyone laugh!
9. I told Santa to put you on the nice list!
You could pair this note with a Nice List Certificate.
10 Today I hid in this jar so that you can carry me around!
11. Do you have a letter for Santa? I can deliver it!
If you don't yet have one, you could use this adorable Letter to Santa template.
12. Should I grow a moustache?
13. Roses are red, violets are blue, I wish I could stay here forever with you!
14. Can you draw me a picture?
15. That thing you did yesterday. It was Amazing!
16. I love candy canes, cake, lollipops, marshmallows, jelly beans, pie and you!
Elf On The Shelf Christmas Countdown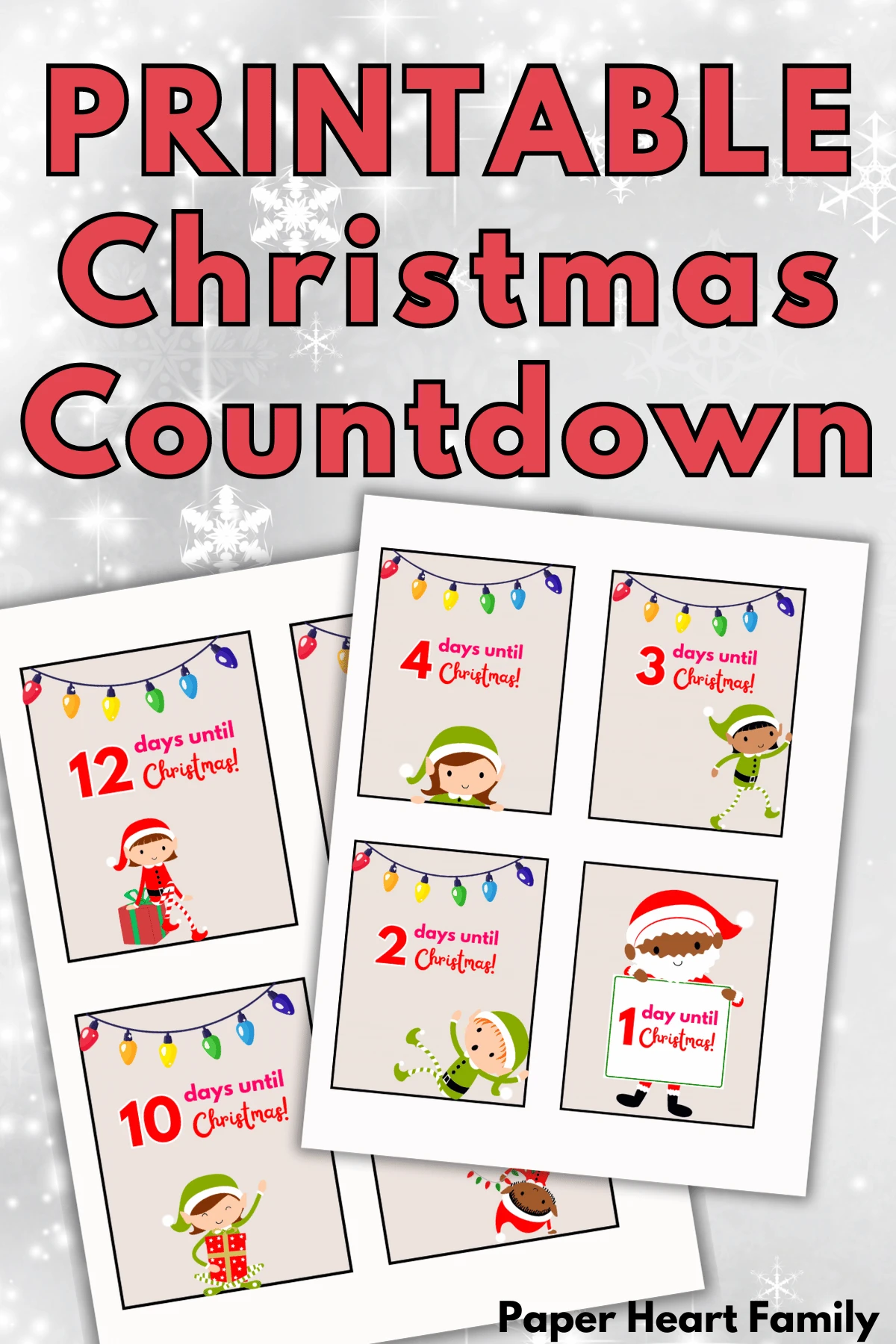 These super cute printable notes will help your little one count down the last twelve days of Christmas!
Each note shows how many days are left until the big holiday and features elves in a variety of funny poses.
They are beautifully colorful to bring the holiday season to your family in style!
How To Use These Elf Notes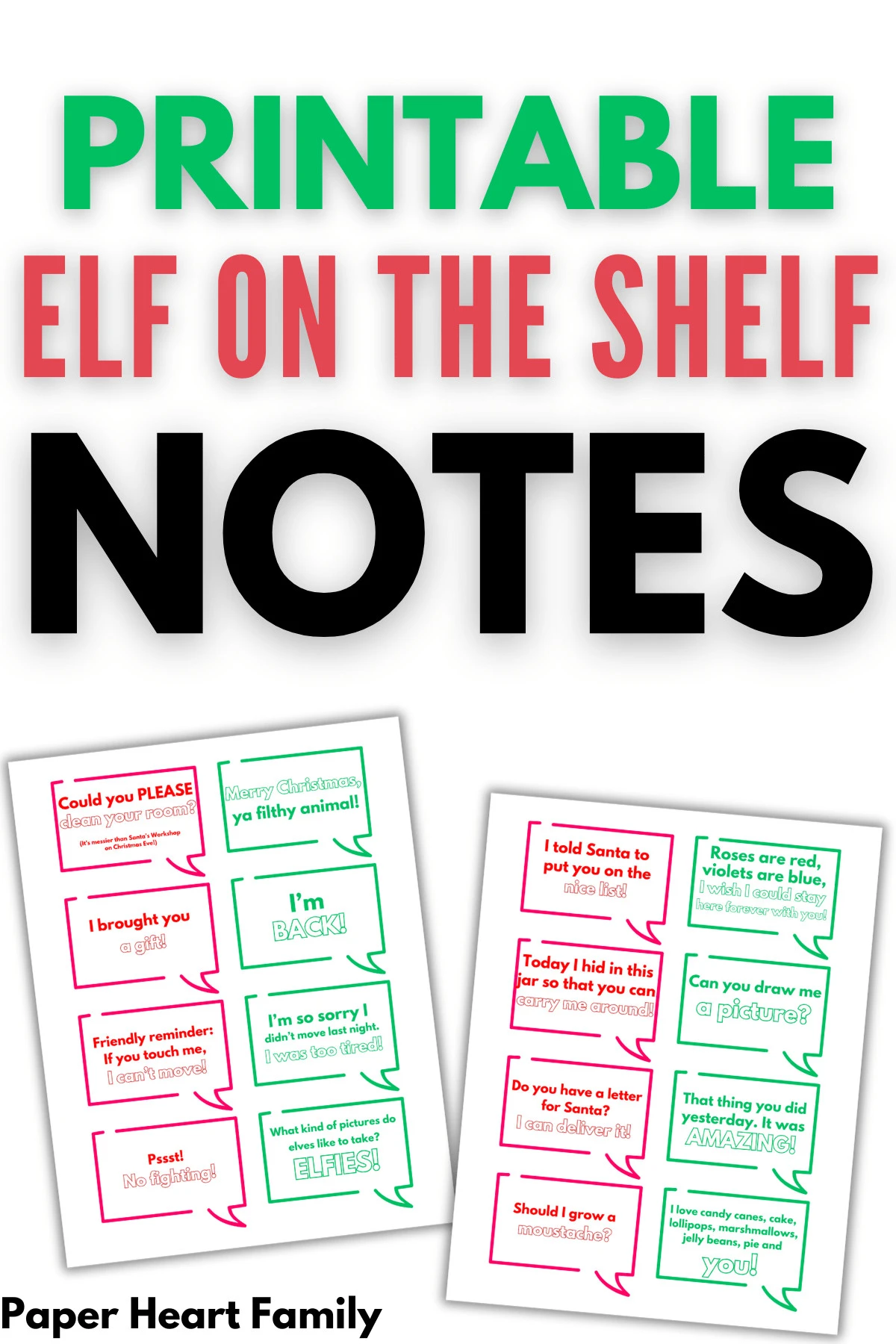 There are variety of ways to use these elf notes. You can use them in combination with your child's elf or on their own.
I like to print them out ahead of time and have them at the ready, especially for those nights when my brain has completely spaced doing any elf decorating for the next day!
If you plan ahead, you can create specific themes around each note.
For example, if you have had a day where it looked like your little ones struggled with not touching the elf, you can have a friendly reminder of what happens if they touch the elf.
You could also use the notes to remind your children about things like writing a letter to Santa and no fighting!
In addition to that, the notes are a great way to convey messages from the elf to your little ones like how well behaved they were or a good reason why the elf didn't move!
Even the best of parents need a break every now and then!
Downloading Your Free Printable
While elf on the shelf can be a lot of work (especially in the evening when you just want to take a break!) it is also such a lovely way to preserve some Christmas magic for kids!
As a many year veteran of this preservation fun, I would advise to have at least a little bit of a plan.
The holiday season can get very busy and can run more smoothly if you have taken some time to get organized.
On the other hand, do not feel bad if your way is to wing it at the last minute. Some of our best and funniest ideas have come from having to wing it!
No matter how you choose to work on the elf on the shelf project, always remember who you are doing this for.
There is nothing quite as beautiful as the sparkle on the smiling faces of your kids when they wake up each morning to their elf and its antics!
Simply subscribe below to access your printable instantly!
Remember that you helped do that and take time to feel the joy that that brings to your heart. And, as always, you've got this!