I'm always on the hunt for an easy craft, especially during the rainy season when indoor activities for kids are a mom's best friend.
I love when I can find a craft that is truly simple and requires materials we already have at home. Also, it's always a bonus when the activity comes in an easy printable format so the prep for me is minimal.
This easy fish craft is so much fun, great for kids of all ages and most importantly, truly easy. Plus, it's a craft that I can do with my child and I can just enjoy spending time with him instead of running around getting supplies ready or cleaning up.
Ocean crafts are so much fun and this cute fish craft will be so much fun for you and your littles!
Printable Fish Craft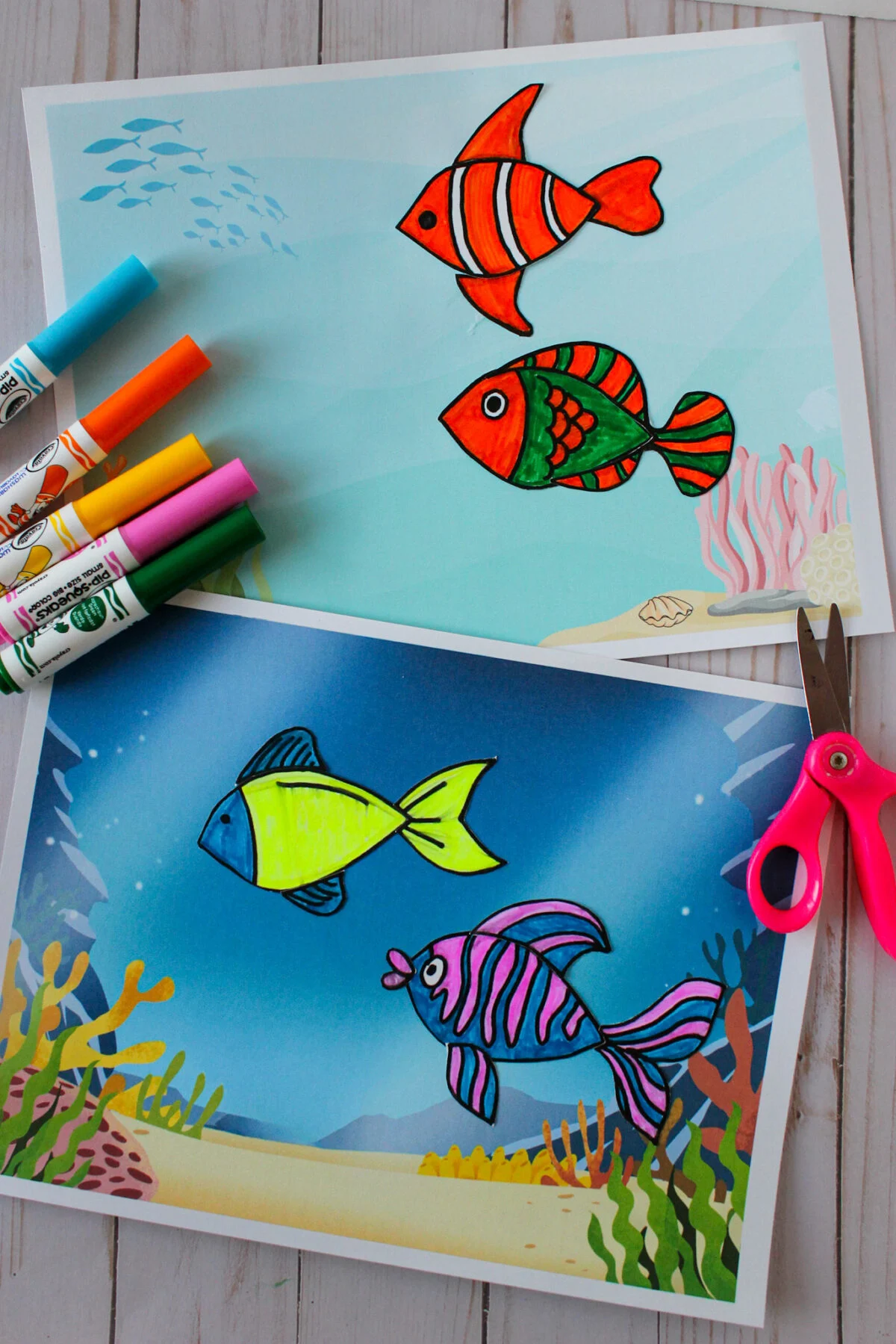 This cute fish craft lets your child color, glue and design their own little fish and then choose the perfect background for their fish. It's a great way for them to get creative in their coloring and practice their fine motor skills with cutting and gluing the fish body and fish fins.
This simple fish craft really is easy and only requires white paper (white cardstock works great) to print the background, scissors, glue stick and a variety of colors for coloring in the fish body and fish fins.
This craft has a lot of room for your child to be creative and one of the ways they can do this is by choosing their own favorite coloring supplies.
My son is very into watercolor painting and for him that worked great! No matter what your child chooses to use to color in the fish, it will be perfect and a beautiful piece of art to decorate with!
Fun Ways To Use This Printable
This cute fish craft comes with two optional ocean backgrounds, one that is a day setting and one with a night setting. It also comes with four different options for a fish body and fish fins.
What I love about this project is that your child gets to pick out their own fish body and fins and can mix and match the body and fins- there is no wrong combination!
Here are some steps that will make this simple craft even easier:
The first thing to do is gather your materials: fish template, scissors, glue stick and your child's favorite coloring supplies
Next, have your child color the fish body and fish fins for each of the fish. I always recommend coloring before you cut out because it makes coloring so much easier for kids and also helps keep pieces all together before the gluing stage.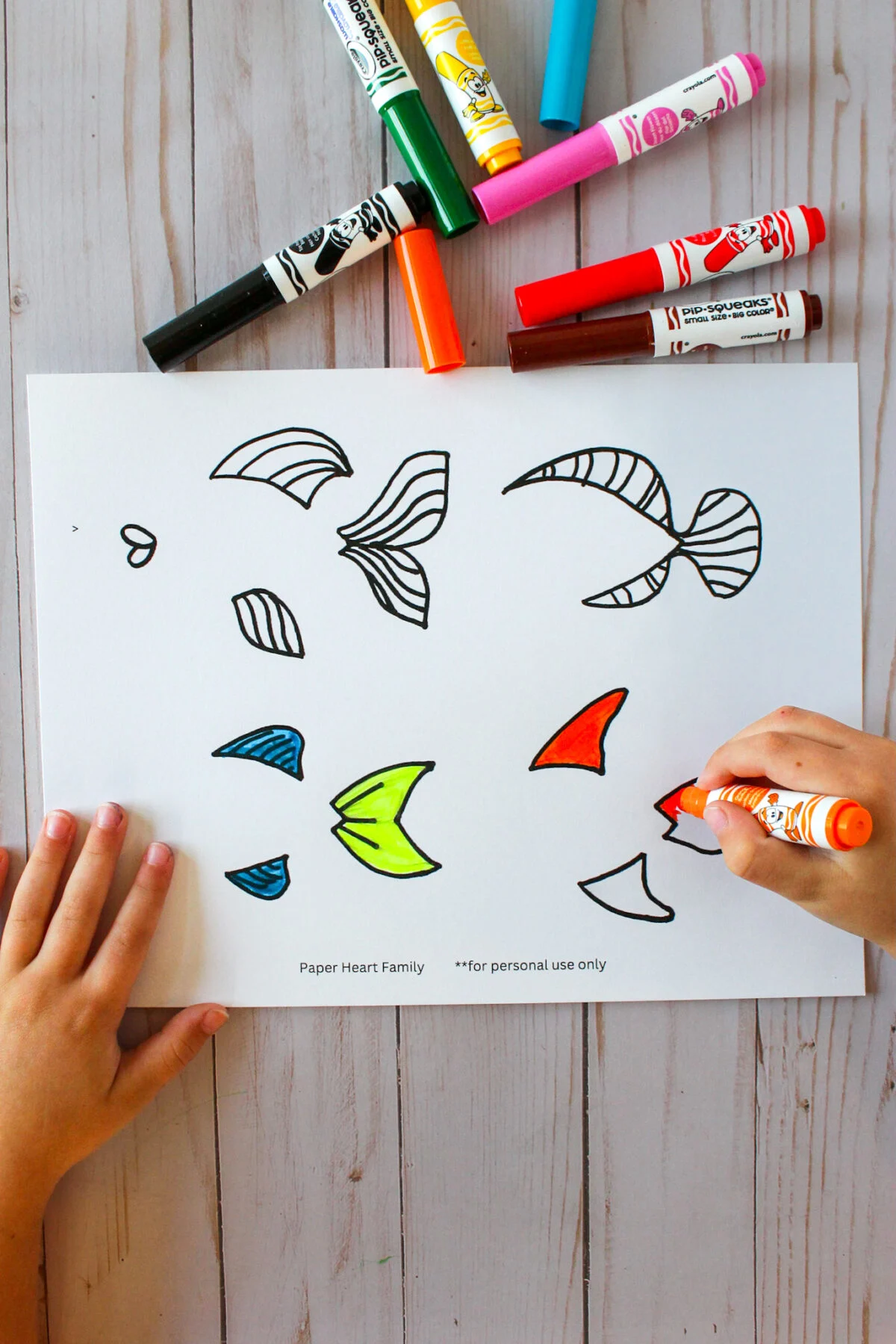 Once all of the fish are colored, cut out the fish body and fish fins. This step is super flexible based on your child's abilities with scissors. I always try to have my child involved in some way during this step and that looks very different depending on what type of cutting is required. These fishes might be a little tricky to cut out for littles who are just learning to cut. A great strategy is to have them cut off some of the white paper around the fish and then you can do the curved cutting of the fish body and fish fins.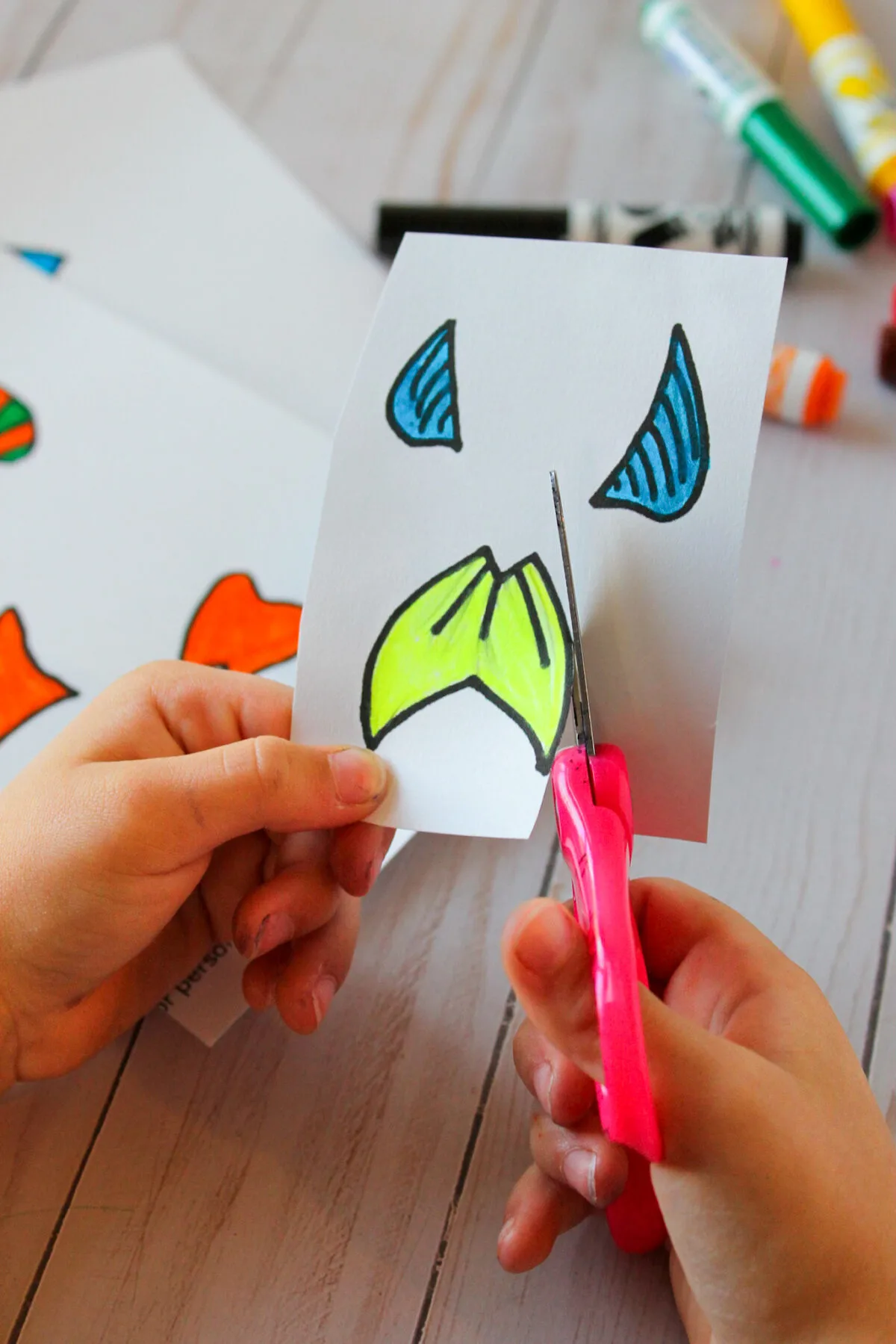 After everything is cut out, lay out all of the pieces of each fish let your child mix and match to create their perfect fish. Each fish should have a fish body, fish fin and tail fin.
Lastly, have your child pick their favorite background and where they want their little fish to go. Once they have decided, get out the glue stick and let the gluing begin! This is also a great step to involve your child and is a great way for them to practice their fine motor skills. A great tip when gluing with littles is to put down a larger piece of paper and then lay down the little piece they need to put glue on. Hold one corner down for them as they run their glue stick across the surface. This helps keep glue off your counter and gives your child practice with a glue stick.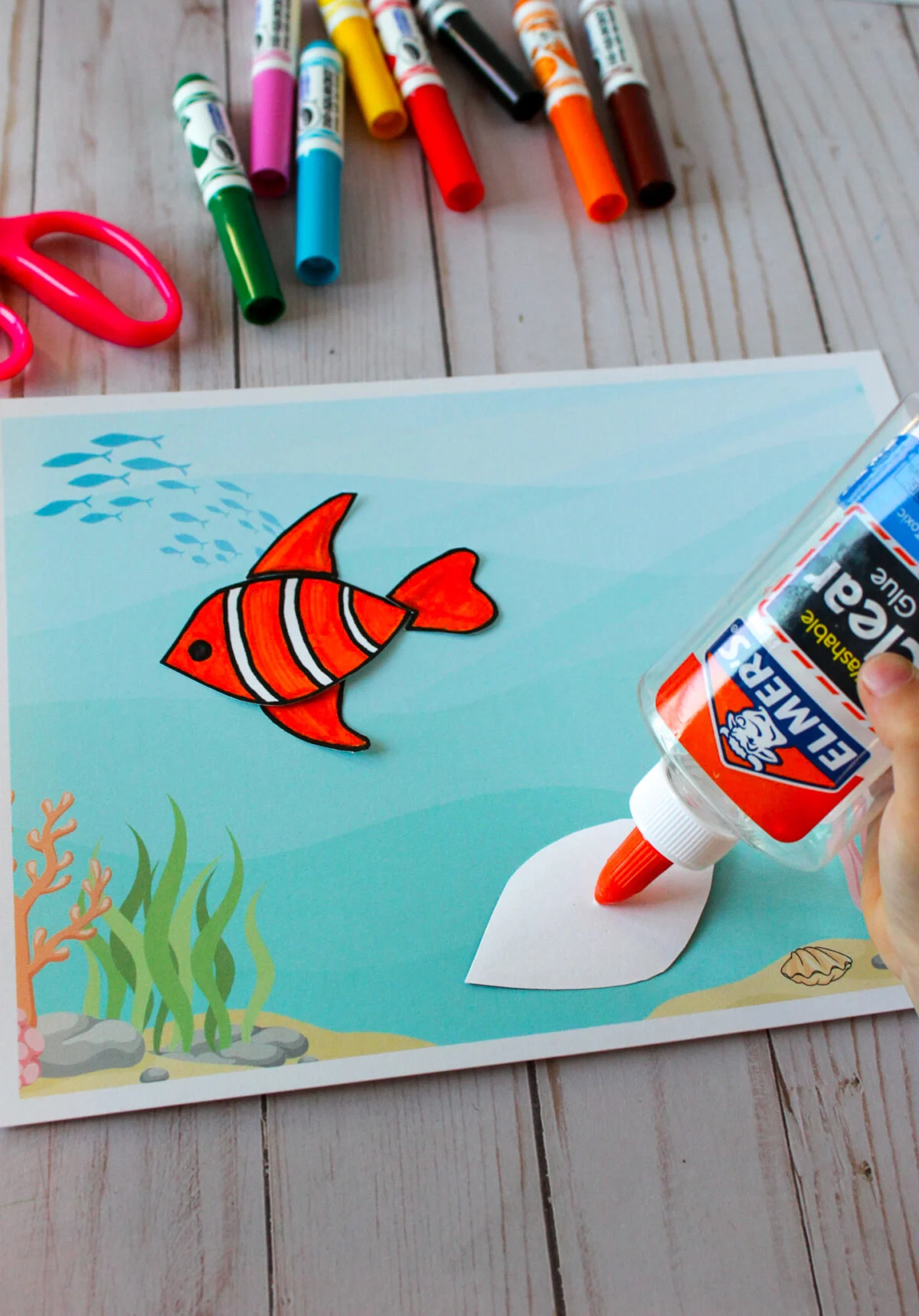 Hang up that beautiful piece of art and enjoy!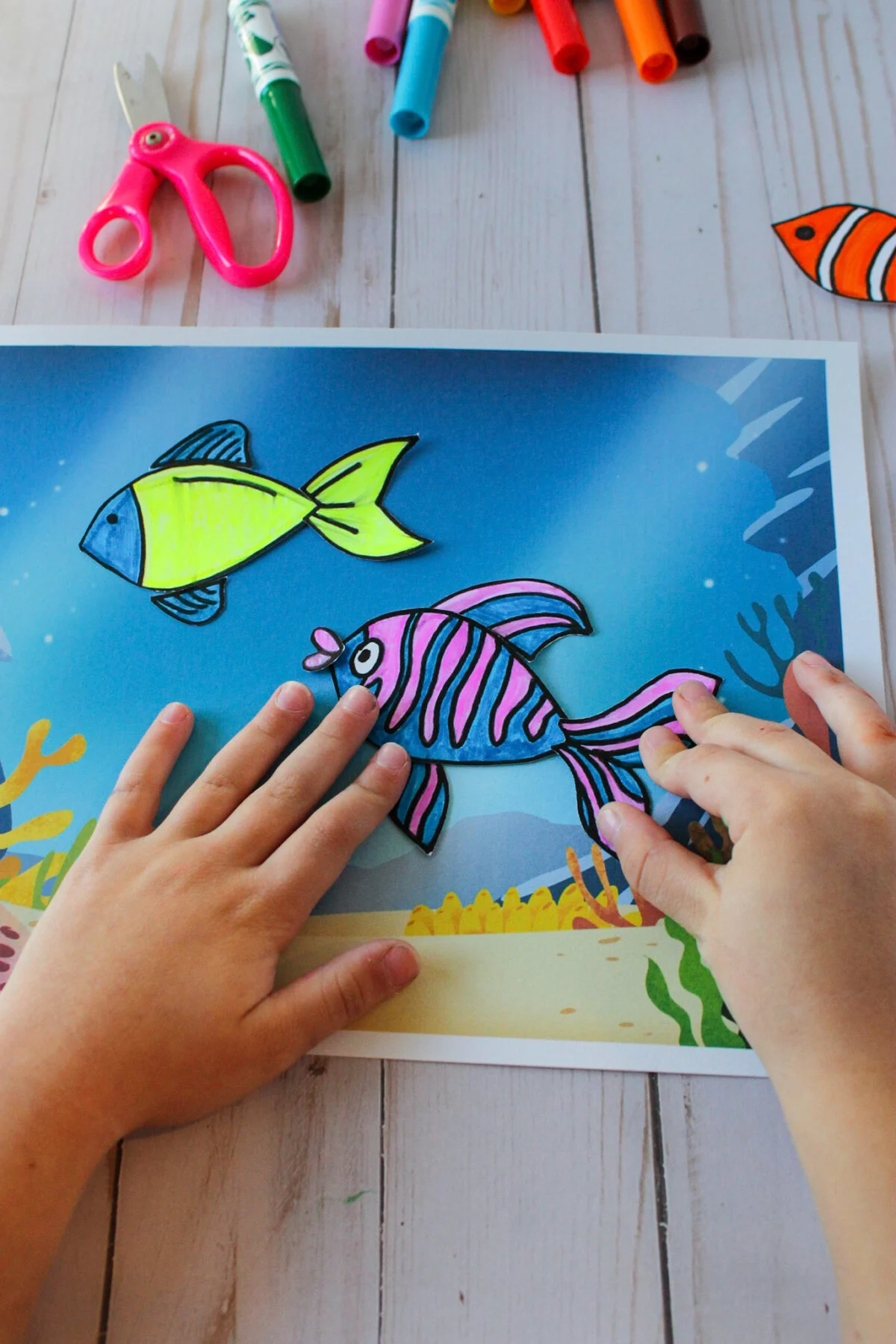 Other fun ideas:
I love a read aloud and craft combo! Read the book The Rainbow Fish and then do this fish craft for a fun themed activity.
We love making puppets and this craft could easily be turned into fish puppets! To make this into a puppet craft, glue the fish body onto popsicle sticks instead of the background paper and let your puppet show begin! (Tip: glue sticks don't work great with popsicle sticks, try liquid glue or hot glue for this project)
Help your child learn about the letter F. Either write a capital and lowercase F or have your child write or trace yours at the top of the fish craft. Talk about what letter fish starts with and what sound the letter F makes. Bonus, keep this craft and use it as part of an alphabet book. Check out more letter crafts for your little one!
If you child loved this fish craft, you can keep the ocean activities going with your child learning to draw a fish using this fun drawing printable for kids.
Do you have a child that is super creative? Maybe instead of using one of the printable backgrounds, they can create their own background on a piece of construction paper. One fun idea is having them draw a fish bowl and filling it up with their own little fish creations!
Make up a story about your fish! My son loves story telling and naming these fish and coming up with a story about them was so much fun to do. It's a great way for them to use their imagination and can be really fun for you too!
My son has loved googly eyes from the day he discovered them and 99% of his art contains at least one googly eye and he finds it hilarious. If your child is in the googly eye camp and loves to make their art a little silly, let them! I do have to say I laugh every time I walk past these adorable little fish with their big goodly eyes and find that my sons own unique style make it so much better than I could ever have come up with.
Downloading Your Fish Craft Printable
Ocean crafts are so much fun and this free fish template will be such a fun craft for you and your child!
To get your free digital download, just subscribe in the box below and your pdf file will open instantly!
The best part about being a subscriber is that you will receive creative activities right to your inbox that your child will love!
Have an animal lover? Make sure you also check out our dinosaur craft printable, butterfly printable and bat printable! Let me know how this craft went in the box below!