When December hits, the countdown for Christmas is on and it always feels like those last few weeks before Christmas break drags on and on.
A fun Christmas tradition for kids is to include these lunch box jokes in their lunch for the whole month of December.
I'm constantly looking for an easy way to make those last weeks of school exciting and these funny Christmas jokes make my kids lunch time way more fun and give me a little laugh each morning too.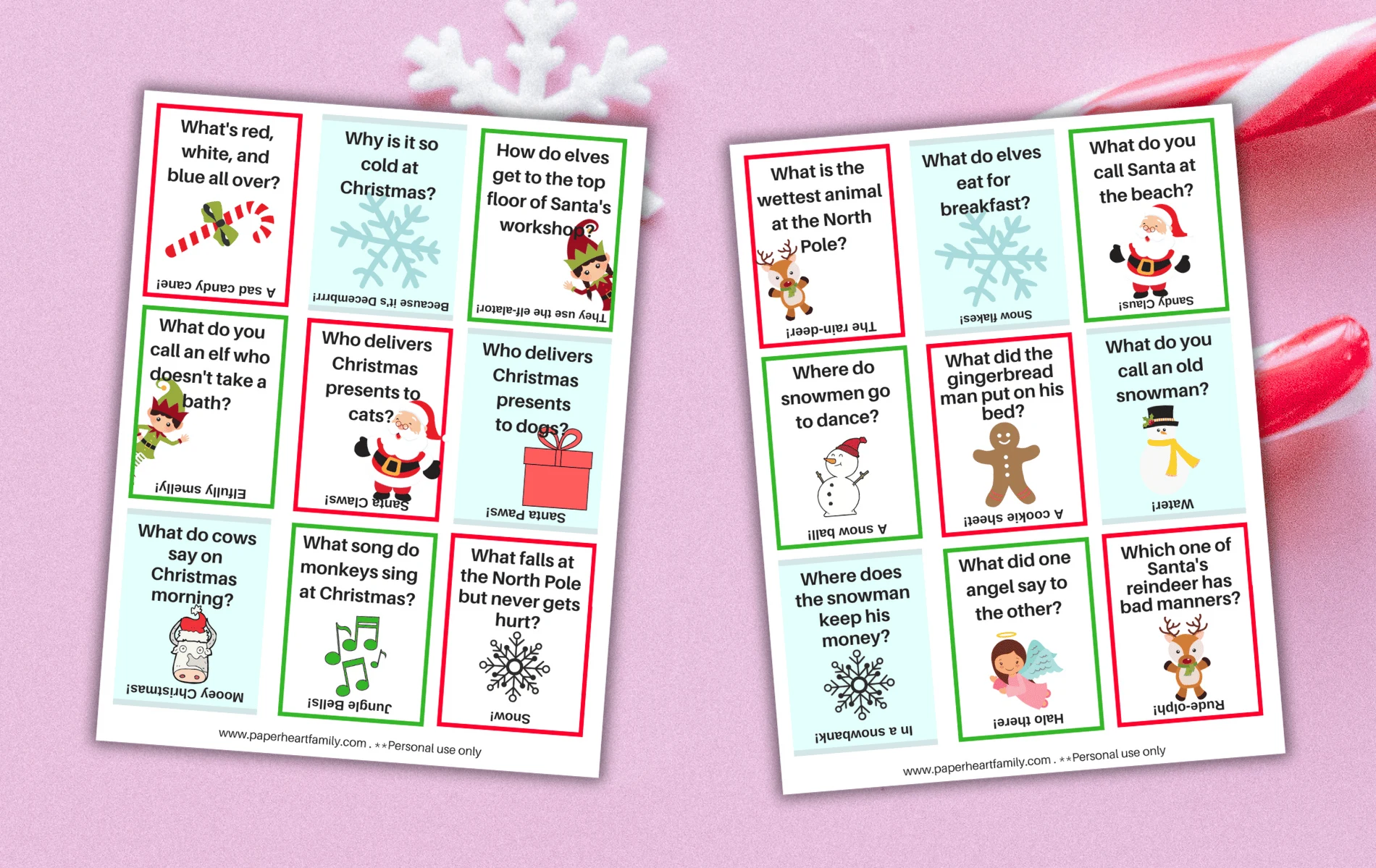 The best part of these printable lunch notes is that they are perfect for kids of all ages and you really can't beat a corny joke like cows saying "Mooey Christmas!"
I also love how special it is for my son to get little notes in his lunch. I know that it's something that he finds exciting and such a little thing can really make a big difference in his day.
Plus I love when he comes home telling me the joke because he finds it so funny! I also know that this time of year can feel really hectic and as a busy mom, sometimes it can feel unmanageable to do extra things on top of what is already needing to be done each morning.
That's why I love these printable lunch notes, it's an easy way to add a little joy to my son's day with funny holiday jokes.
These printable Christmas lunch box jokes will be the perfect addition to your holiday season and I know your kids will love having a special note to enjoy at lunch time.
Christmas Lunch Box Jokes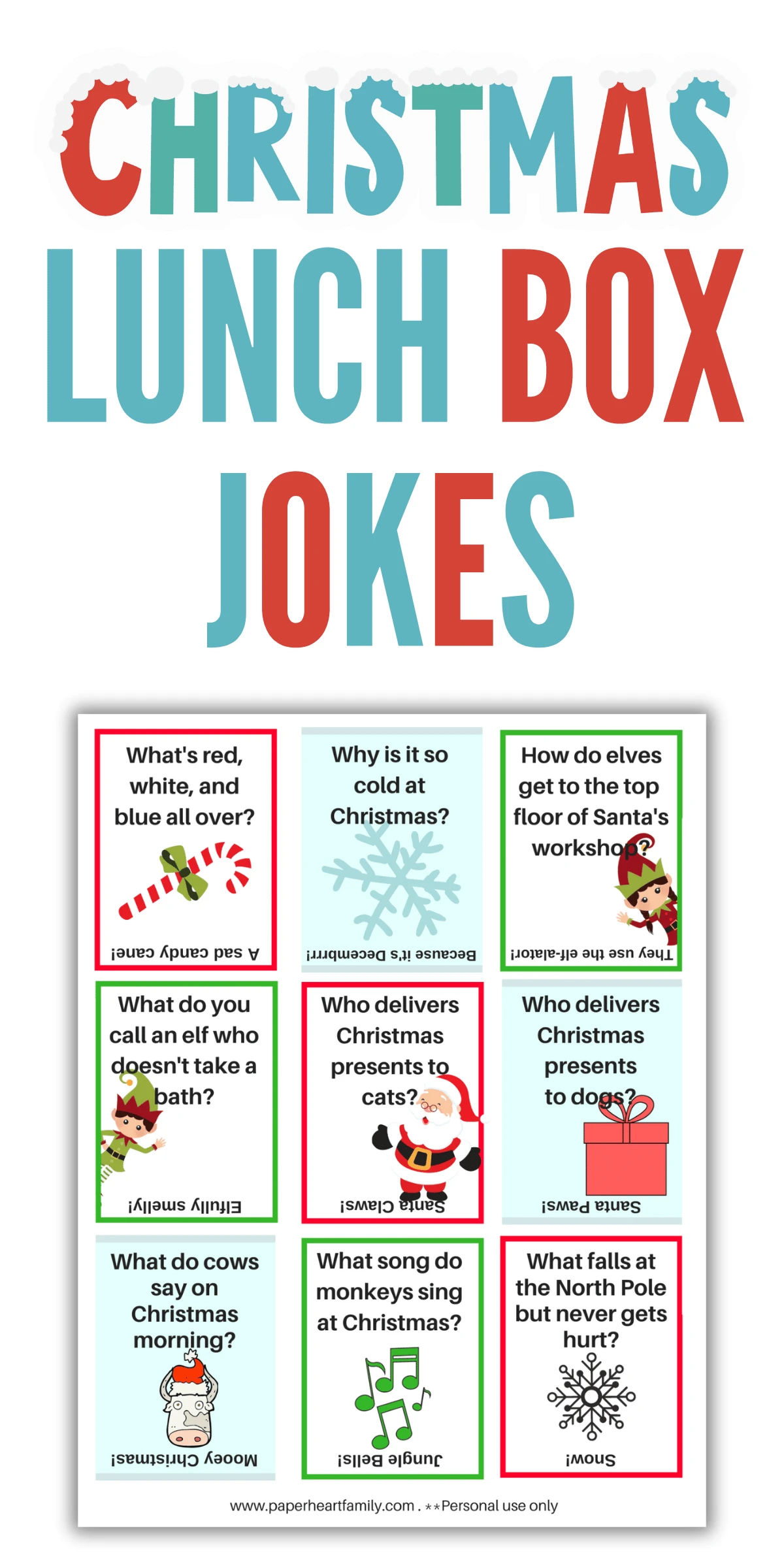 These adorable Christmas lunchbox jokes will keep your little one laughing all December long and is a fun way to count down till winter break. The best part of these printable lunch notes is that all you need is white card stock or computer paper and scissors.
The printable Christmas lunchbox jokes come with eighteen different joke cards that have funny Christmas jokes and pictures of Christmas things like Santa Claus or the Gingerbread man.
The different jokes have the answers to the joke upside down on the bottom. Once you cut up the free printable lunch box jokes, stash them in a kitchen drawer and choose one each morning to tuck into your child's lunch box all holiday season.
Another great way to make these lunch box notes even more special is to add a sweet note on the back of the card. My son is all about jokes and LOVES to tell us them over and over again.
So one of favorite things about these printable Christmas jokes is knowing that I am able to make my son laugh during school days and being able to pick out each fun joke in the morning.
I even found myself laughing each morning as I read through all of the little jokes and chose which one I thought would make my son laugh the hardest that day. It was the perfect way to make the month of December a little more fun and help spice up those last few weeks before Christmas break.
Here are the jokes:
What's red, white and blue all over? A sad candy cane!
Why is it so cold at Christmas? Because it's Decembrrrrrr!
How do elves get to the top floor of Santa's Workshop? They use the elf-avator!
What do you call an elf that doesn't take a bath? Elf-ully smelly!
Who delivers Christmas presents to cats? Santa Claws!
Who delivers Christmas presents to dogs? Santa Paws!
What do cows say on Christmas morning? Mooo-ey Christmas!
What song do monkeys sing at Christmas? Jungle Bells!
What falls at the North Pole but never gets hurt? Snow!
What is the wettest animal at the North Pole? The rain-deer!
What do elves eat for breakfast? Snow flakes!
What do you call Santa at the beach? Sandy Claus!
Where do snowmen go to dance? A snow ball!
What did the gingerbread man put on his bed? A cookie sheet!
What do you call an old snowman? Water!
Where does the snowman keep his money? In a snow bank!
What did one angel say to the other? Halo there!
Which one of Santa's reindeer has bad manners? Rude-olph!
Downloading Your Free Printable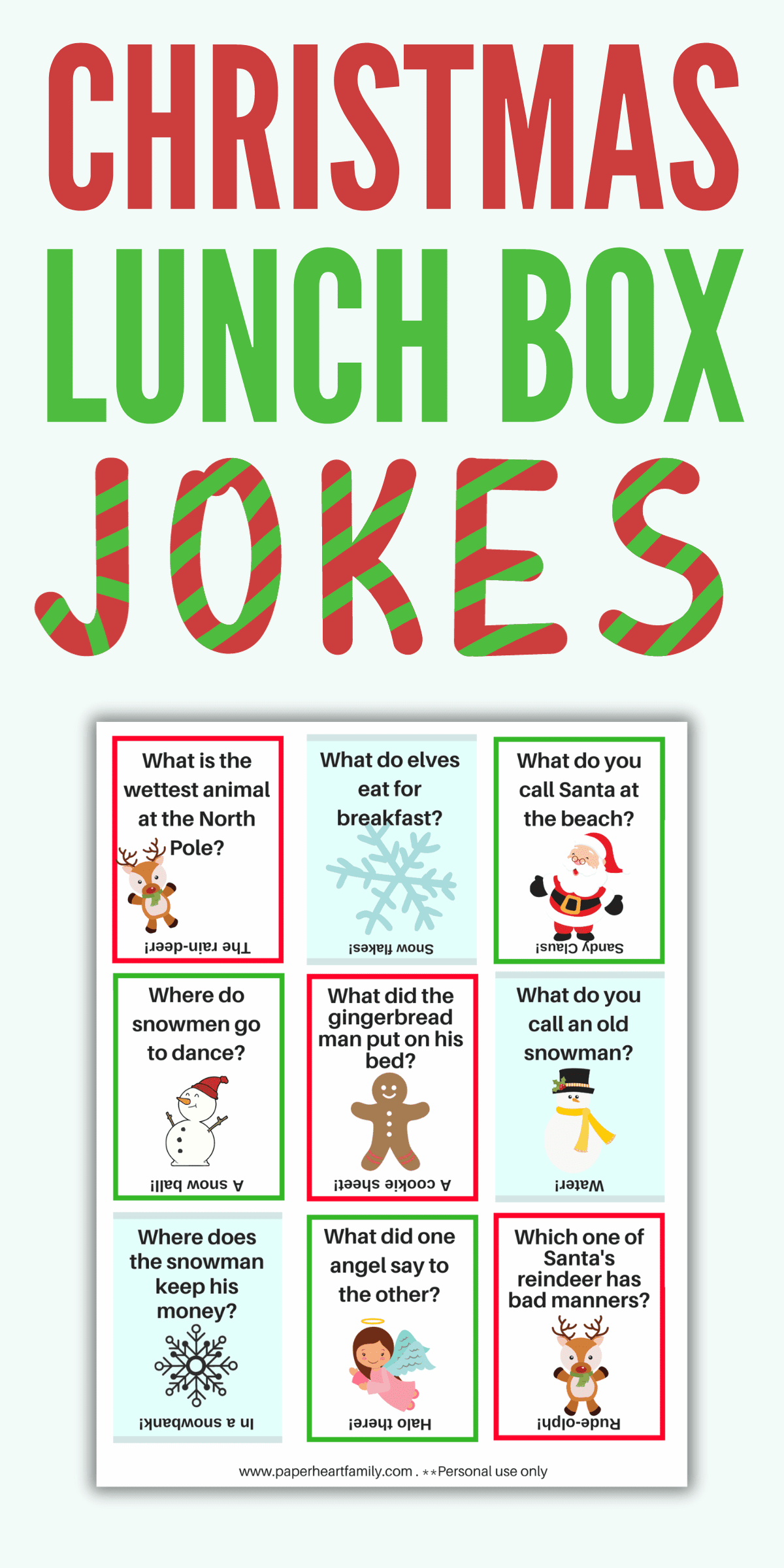 Ready to get make your kids lunches a little more awesome this holiday season? Simply subscribe in the subscription box below with your email address and your digital download will open instantly!
The best part of subscribing is that you will get awesome free printables and activities, just like this one, right to your inbox!
It's an easy way to get some fun ideas and activities and not have to spend hours on Pinterest trying to find something that looks manageable.
Check out more Christmas printables or these easy and fun Christmas coloring cards for more fun this holiday season.
Can't get enough jokes? Check out more jokes for kids and get ready to have a laugh with your little one! Let me know your favorite Christmas jokes in the comment below.
I hope these lunchbox notes keep you and your kid laughing through the last week before Christmas break!