I am one of those strange people who loves when the stores start playing Christmas music right after Halloween!
Please do not judge me- I just say this to convey how this particular season can really bring out all of those warm and cozy feelings and I for one appreciate it!
Having said that, the fact that the holiday season is upon us also presents me with a variety of feelings ranging from pure joy to utter panic!
Every year as I look back on the past holiday, I wonder if there is a better way to help all of our family members experience that special Christmas magic.
I make notes on things that went well on Christmas eve and things that could have been improved for Christmas morning.
After all of the Christmas cards have been lovingly stored and the Christmas lights put away for the next year, I think about all of our fun family traditions.
I think about each family member's reaction to each one and as my son gets older, whether or not to change up what we do to celebrate.
There are certainly things he enjoyed when he was younger, like going to visit Santa Claus that would just embarrass him now and other holiday traditions that he could never go without.
Our whole family has unique Christmas traditions that we look forward to every year.
That being said, I think there is always room for new family Christmas traditions.
It is amazing how many great ideas kids can come up with that can quickly turn into meaningful family traditions.
The holiday season is the perfect time to take stock of your favorite family Christmas traditions and see if you want to incorporate new traditions to add to the good cheer!
Below is a list of our favorite Christmas traditions that will help you celebrate the spirit of the season!
Christmas Traditions For Families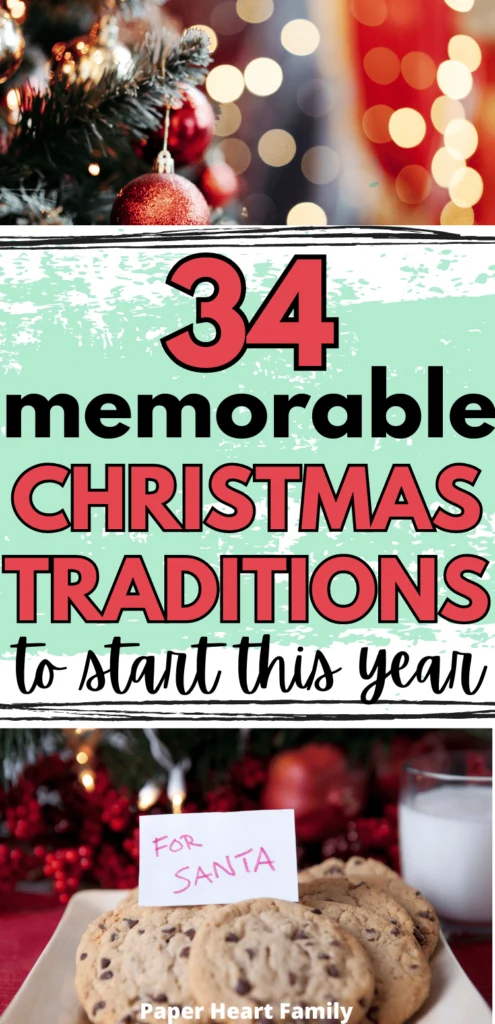 1. Buy A New Ornament
Special ornaments can really bring a sense of the holiday spirit to any occasion.
They give a whole new meaning to your Christmas decorations by giving them a personal story.
With the variety of selections there are for ornaments now, there is so much room for fun ideas to celebrate your unique family.
The sky is really the limit from an ornament that displays a particular year or celebrates a special event that occurred for your family like a marriage or birth of a child.
A new ornament can be a fun way to look back at the past year with joy!
2. Make Paper Snowflakes
This is one of my favorite activities to do while spending quality time with immediate family!
It is such a creative and calm activity that allows everyone to take a break from the hustle and bustle of the holiday season.
These small quiet times with family always feel like a special gift!
3. Attend A Religious Service
Religious services are a perfect opportunity to join in fellowship with others and celebrate the reason for the season.
4. Visit A Christmas Tree Farm
There is something magical about a Christmas tree farm. The beautiful colors and smells alone are already worth the trip.
Even if you don't get a real tree, you can go for some cute photos!
5. Go Caroling
There is nothing better than celebrating the season with some wonderful holiday tunes!
Print out some lyrics and take the family to entertain the neighborhood!
6. Make Gingerbread Houses
I don't know about your kids, but as soon as candy canes are involved, we are good to go!
Building gingerbread houses is such a great family Christmas tradition that pays off in fun and has a delicious end!
Have the kids come up with different themes or colors they would like to use.
They can experiment with how different decorations can change the look of the house.
My son likes to make little elves or people using different types of candies.
His reasoning is that someone should be living in the houses.
Let your kid's imagination run wild on this one!
7. Watch Your Favorite Christmas Movie
Make sure this is put up to a vote!
You could also have several movie watching times so that everyone gets to see their favorite Christmas movie.
While watching, you could also make popcorn necklaces and have a hot chocolate bar with all of the fixings!
8. Go Ice Skating
Bundle up and enjoy this fun and often laugh-inducing outing!
9. Donate To A Local Food Bank
Gather the family for this activity and talk to your children about helping others during this special time of year.
The joy you feel in your heart when you help others is one of the best gifts you can give yourself that can last you through the entire season!
10. Sponsor A Child
Bring some holiday cheer to a child who might otherwise not have the opportunity.
It may not seem like much to you, but to that child, it may make a world of difference. All children should experience some Christmas magic!
11. Welcome The Elf On The Shelf
I started this tradition when my son was three and now it is part of the holiday season EVERY YEAR!
Don't get me wrong, it is so fun!
However, when I remember the elf in the middle of the night and have to drag myself out of bed to move him into a creative situation, it's not so great.
So if you are like me and need some inspiration, her are some Elf on the Shelf ideas that should get you through the middle of the night panic!
12. Write A Letter To Santa
This is a fun way to get the kids in the holiday spirit!
And as an added bonus, you can get some clues as to what your kids would like to receive for Christmas!
For added help, take a look at our printable letter to Santa template.
13. Bake Cookies
Just the smell of cookies baking in the oven is enough to really make you feel cozy!
Get the kids involved in picking out what kind of cookies to bake.
Either start with tried and trusted recipes or branch out and try a recipe that you have never made before.
It is always great to show your kids that you are willing and able to learn new things as well!
14. Have A Family Holiday Read Aloud
Pick out some of your favorite holiday books and get everyone involved in reading!
You could have everyone read one line or paragraph, depending on the length of the story.
If there is a lot of dialog, everyone could read for specific characters and even make up silly voices.
15. Make A Birthday Cake For Jesus
Paired with a reading of the Christmas story, this is a wonderful way to introduce your little ones to the meaning of Christmas.
16. See The Nutcracker
Full of imagination and whimsy, experiencing The Nutcracker is a truly magical way to greet the Christmas season!
It is also such an amazing way to introduce your young children to ballet and the arts in a fun way.
17. Do A Family Secret Santa
Have everyone in the family pull names out of a hat and get a gift for the person they drew.
Some families will even agree on a theme such as silly sweaters, favorite movies, or personalized gifts.
It is always fun to see everyone's interpretation of the theme!
18. Buy Matching Pajamas
Of course, if you are going to buy matching pajamas, it will lead to the inevitable silly photoshoot time!
All of the laughs and quality time spent doing this will be well worth it!
It could also have the end result of being the family picture you put on your Christmas cards this year! Multitasking has never been so fun!
19. Wrap 25 Books
They do not have to be new! You can wrap used or new books and donate them. You can also gift them to your family.
Some of my favorite gifts have been books that used to belong to my grandparents.
Including a story about your own memories of reading a particular book can really add a personal touch that will make this gift even more special!
20. Do 25 Acts Of Kindness
Gather the entire family and create a list before the holiday season begins.
Then each day leading up to Christmas, resolve to complete one of the acts of kindness.
This can be anything from caroling at a retirement home to holding someone's hand.
Your family will be amazed at how much goodwill they will feel in their hearts!
21. Have A Scavenger Hunt For One Present
You could choose one person to create a scavenger hunt for or create a scavenger hunt that everyone can participate in, and the end gift is something for the entire family.
Add fun holiday elements and rhymes for more fun! Younger kids who are not yet at reading age can have fun using pictures as clues.
22. Have Kids Fill A Donation Box
We do this every year before birthdays and especially Christmas.
When we go to donate, we always talk about how other children will love the toys our son has outgrown.
I really appreciate the double duty this activity achieves in clearing out unused toys and teaching my son to think of others.
23. Make Reindeer Food
Why should Santa be the only getting treats while delivering presents on Christmas Eve?
The kids will really enjoy learning about how to care for reindeer and what they eat!
Of you could also have kids make their own recipes for what they think reindeer eat for an extra dollop of fun!
24. Make Presents For Each Other
In these times where we are so saturated with "stuff", this seems like a great way to get back to basics and really think about your family and what is the most important to them.
Making presents takes time, planning and forethought. Creating something makes you think about the person and what they mean to you.
In the end, you have something really special that came from the heart.
25. Visit A Christmas Market
There is a special kind of magic connected to Christmas markets.
The beautiful decorations, the lights, the wonderful smells and of course the sounds of Christmas carols in the air!
With so many different kinds of Christmas crafts and creations at the market, your family will surely be filled with the cozy feeling of the holiday season!
26. Read One Chapter From The Book Of Luke Each Night
Since there are 24 chapters, you will be able to keep up this tradition all the way through Christmas Eve!
27. Host A Cookie Exchange
It is always fun to have a gathering during the holidays! Especially one as yummy as this one!
This is also a wonderful way to share your traditions with others in the form of recipes (if you are willing to part with them, that is!)
You could even have a secret ballot on the favorite cookie of the event and have a cookie trophy for the winner.
So many families have stories that go along with recipes that have been handed down and this occasion would lend itself so well for everyone to share a part of their family history.
28. Eat Dinner On The Floor In Front Of The Twinkling Christmas Tree
Set up a picnic blanket and an easy to eat dinner (no spaghetti please!) and turn off all the lights except for the Christmas tree lights.
You will be in awe of the stillness this one act brings to the atmosphere.
This is also a beautiful time to share favorite stories or memories of holidays past.
Enjoy this time of calm and peace during a season that can often be so busy and overwhelming!
29. Decorate A Santa Cookie Plate
We all know that Santa loves his cookies!
A decorated Santa cookie plate gives this fun tradition just a little bit more sparkle.
There are a lot of options from having your kids draw on a plate, to having them put their handprints on the plate and decorating them as reindeer!
Not feeling up for a permanently decorated plate?
There are plates that work with erasable chalk where your kids can draw or write personal messages to Santa on his travels instead!
30. Visit A Christmas Light Display
One of my favorite parts of the holiday season is seeing all the decorations and light displays everywhere!
It brings a smile to my face to be able to see all of the lights, especially when it is already dark at four in the afternoon!
There are many cities that have special holiday decorations for their downtown areas.
In addition to that, some parks will create a drive through light display complete with music and animation. This is especially good for those frosty nights!
Many neighborhood associations have house decorating contests and provide a map of their finalists and winners.
So warm up some hot cocoa and buckle up for all the fun!
31. Take A Family Photo In Front Of The Tree
Let this be a true representation of your family. What I mean by this is that if your family likes to dress up, have everyone dress in their finest and shine in that way.
If your family loves being in pajamas, take photos that way.
If your family just came inside from a huge snowball fight and everyone is happy and glowing, then capture that moment in front of the tree.
The point being, show your wonderful family in their most natural state and you will have the most beautiful pictures and memories from that!
32. Gift A December 1st Box
The first of December always comes with anticipation and joy!
A fun way to celebrate this is to gift everyone a December 1st box. Feel free to fill it with whatever would bring the recipient joy through the entire month.
You could give new pajamas, a new Christmas book, or an advent calendar.
You can even coordinate to give something to start a new tradition, such as a new game or a new holiday movie to watch as a family.
33. Write Your Own Lyrics To The 12 Days Of Christmas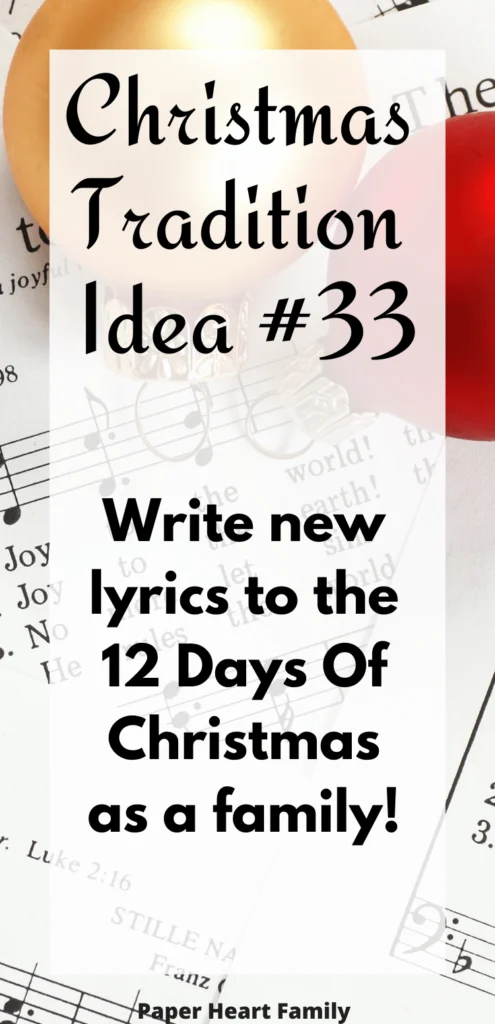 A personalized version of this is such a fun way to celebrate the year!
Let everyone in the family contribute to this new song and practice singing it all season long!
34. Have A "Snowball" Fight With Wrapping Paper After Unwrapping Gifts
Having been the person in charge of clean up after gifts were unwrapped, I am a fan of this idea!
Plus, there is a bonus: everyone can "dunk" wrapping paper right into a big garbage bag when you are done!
35. Attend a local tree lighting
Many towns have at least one tree lighting to welcome the holiday season.
In addition to the big event of lighting the tree at the end, there are usually other fun activities to take part in while you are waiting.
You can most likely find some delicious hot chocolate and cider and other amazing holiday treats.
And there is nothing more spectacular than listening to Christmas carols sung by a local choir!
The tree lighting itself is filled with magic and that quiet calm that we all search for during this time of year.
With so many creative and fun traditions out there, I would advise you to choose the ones that are the most meaningful to you and your family.
In addition to that, choose traditions that leave you and your family with more fun rather that stress.
The Christmas holidays can become very busy and having these moments to enjoy with your family can make all the difference in your experience.
In the end, it is the small moments that make the season truly beautiful!
And as always, you've got this!