Christmas is our family's favorite! It's magical, every day is exciting and the crafting possibilities are endless.
Christmas always seems to be the time I thrive as a crafting mama and I think that is because my son is pumped to do any craft that is Christmas related.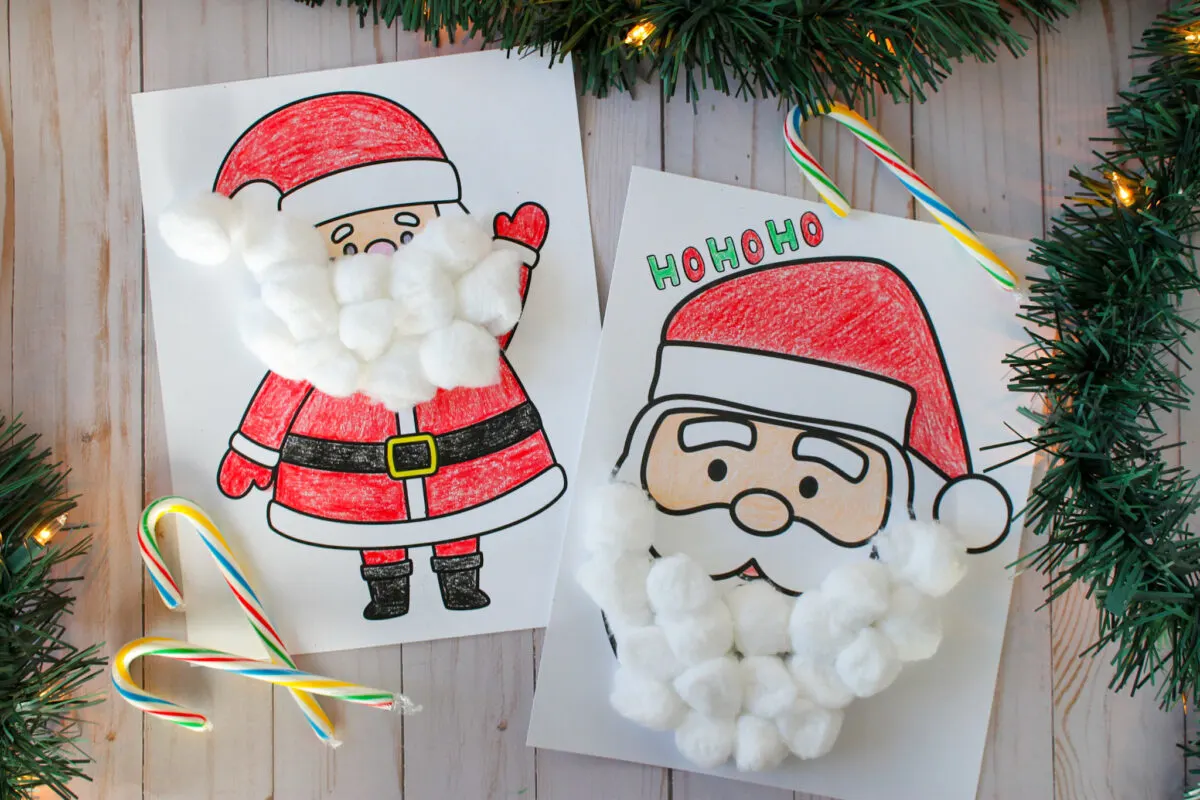 The Christmas season just makes every craft so much more magical and I always feel like I have finally figured out the crafting mom life when we have Christmas music playing, a fire going and my son is happily coloring or crafting away.
This craft can make this happen for you too because it requires minimum prep, minimum supplies and is super easy to do! We also love crafts we can use as Christmas decorations and this Santa craft countdown is hung up and used the entire Christmas season!
This cute santa craft is the perfect family Christmas activity and will make this holiday season so special!
Printable Santa Craft Countdown
This adorable Santa craft is such a great Christmas activity and such a fun way to count down to Christmas morning!
Each morning your little one gets to glue cotton balls on Santa's beard counting down to Christmas.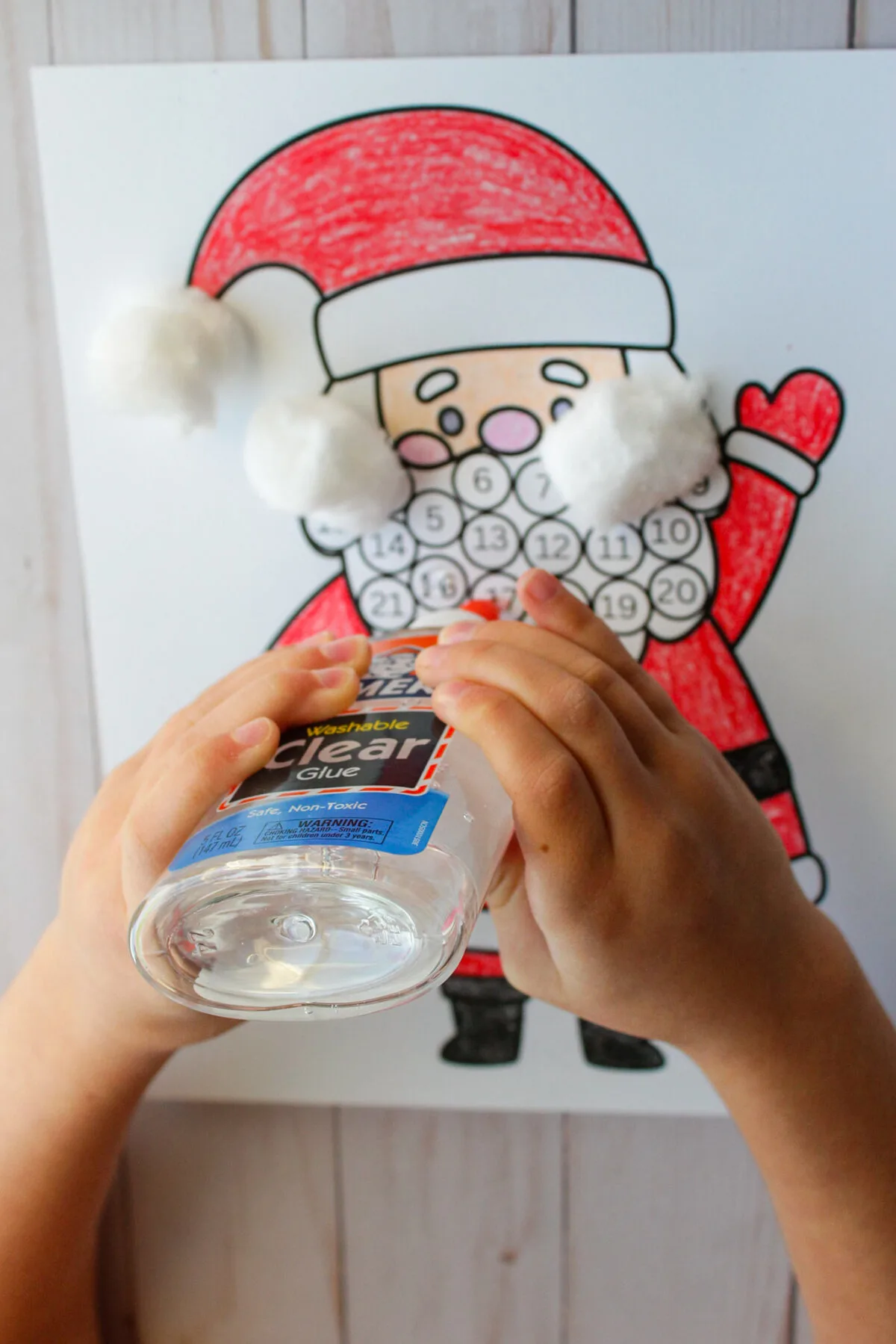 I love that it's an advent calendar, easy Santa craft and can even be used as part of your Christmas decorations!
The best part about this easy craft is that it requires minimum craft materials and is perfect for children of all ages. This fun craft only requires things you most likely have around your house: white cardstock, cotton balls and glue.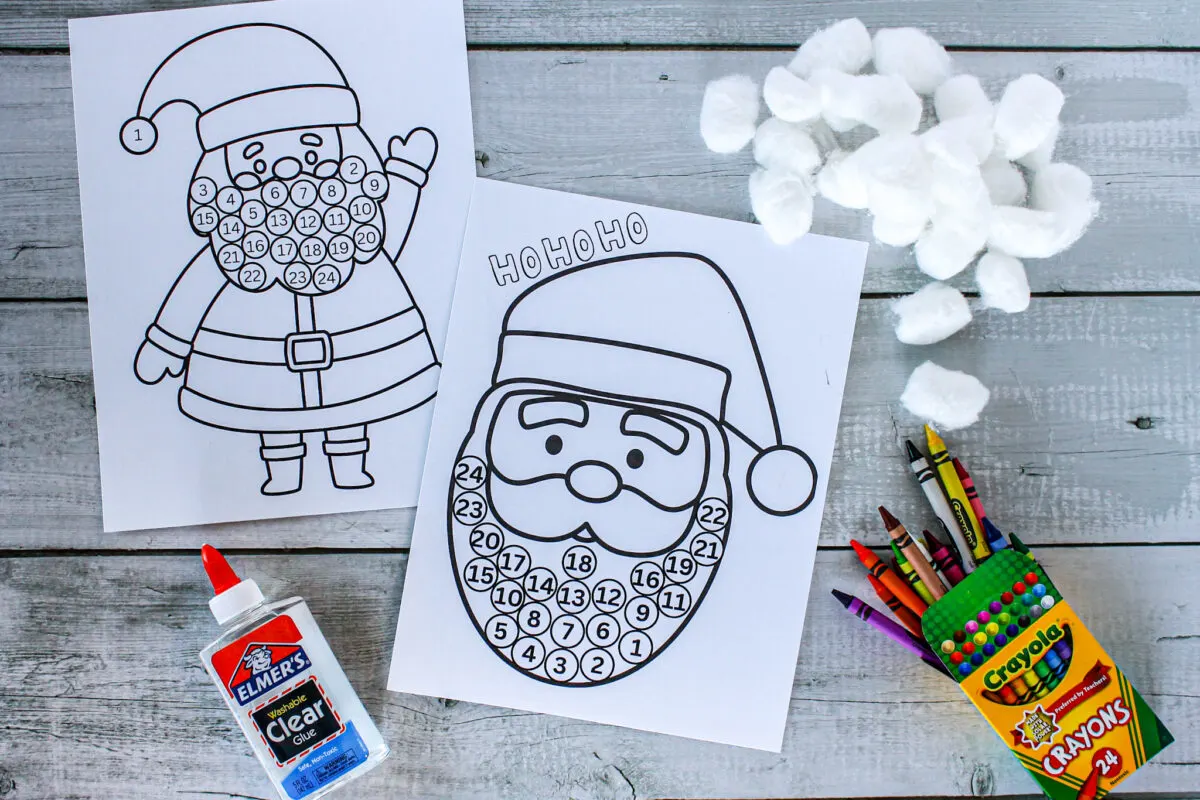 Another great part is that it's a fun way for your child to practice their fine motor skills, counting and number recognition! All you have to do is choose a Santa claus template and get crafting!
Here are some suggestions that might make this cute santa craft even easier:
For best results, use liquid glue (white glue) instead of a glue stick. Cotton balls tend to stick better with liquid glue!
Have a messy little monster like me? Keep the liquid glue mess to a minimum by having your child squeeze the bottle with you or have a small container of liquid glue and let your little one dip a q-tip or small paint brush into the container of glue and then rub it on the circle.
Before starting the countdown, have your child color their Santa. This is a great thing to do the day before the countdown starts or when you decorate for Christmas! They can use color pencils, markers, crayons or even paint- their own version is the best version!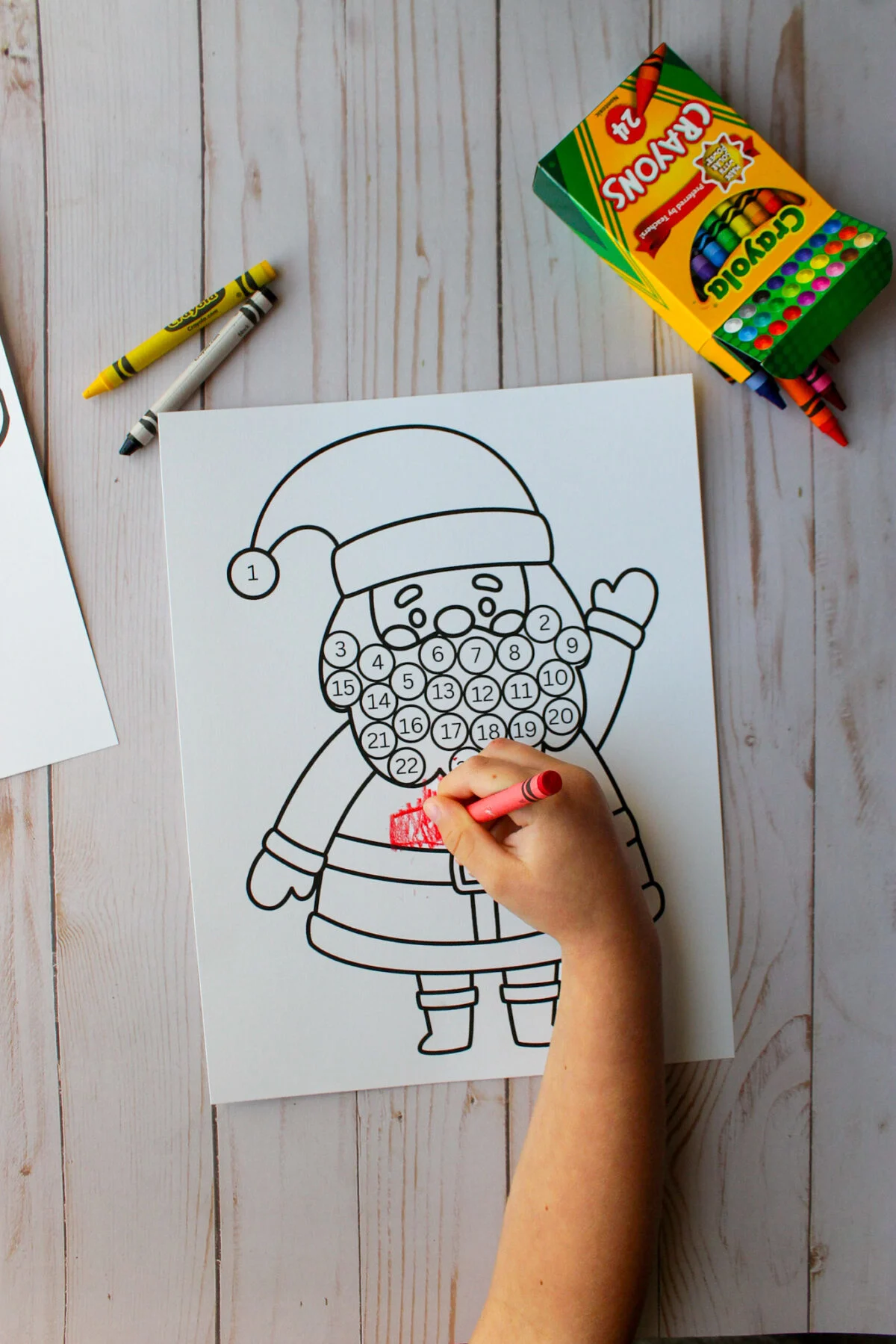 I love crafts that double as christmas decorations! Either cut your Santa out or glue the white paper on construction paper to make this craft a little more fancy.
Have two or more kids and don't want to get them mixed up? (The struggle is real on who's is who's when it comes to toys over here) Have each kid pick a different Santa or if they want the same, have them glue it on to a different color piece of construction paper.
Looking for another Elf on the Shelf idea? Have your cute little Elf bring this adorable Santa craft from the North Pole for your child the day before the countdown starts!
Does your child like a little bedazzle? My little guy loves adding googly eyes to EVERYTHING and this Santa is no exception! Let your kids have fun adding any embellishments they want to this fun craft (glitter is another go-to of ours!)
This printable craft comes with two different options to choose from. Once your child picks their favorite, print it out and get crafting!
Option #1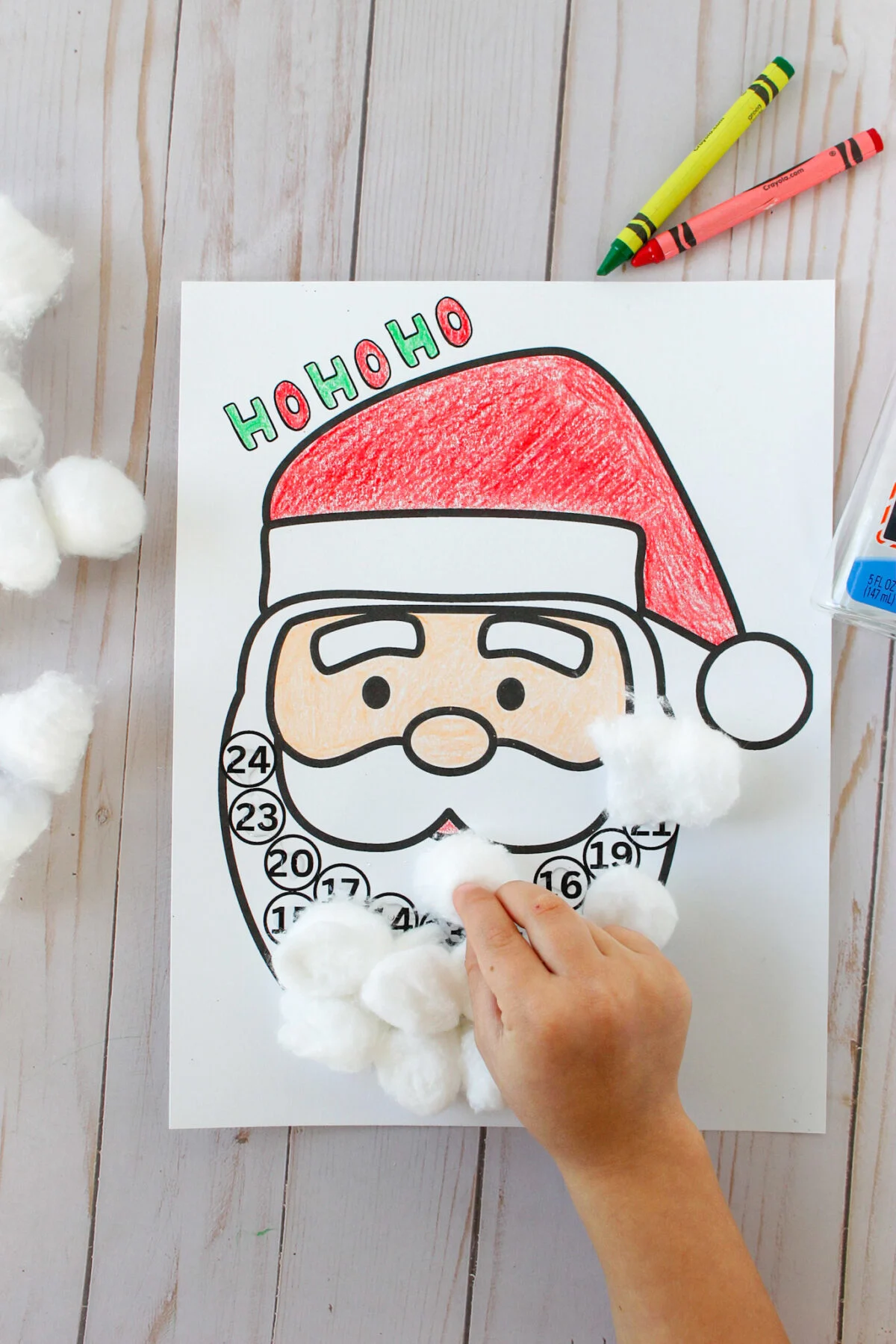 The first option for this adorable Santa craft is just Santa's face with ho ho ho in the corner. The countdown numbers are all inside his beard and your child will count down to Christmas morning by gluing cotton balls on the numbers each day until Santa's beard is full.
Some tips for this option:
Have your child color Santa first before the countdown begins! Let your child use whatever works for them- markers, crayons, paint etc.
A cute idea for this option is to cut out the Santa and glue it on to construction paper (green and red paper would bring so much holiday cheer!)
Have some fun with the Santa hat! Add some cotton balls to the band and the pom pom at the end of the hat to make it even more cute!
Option #2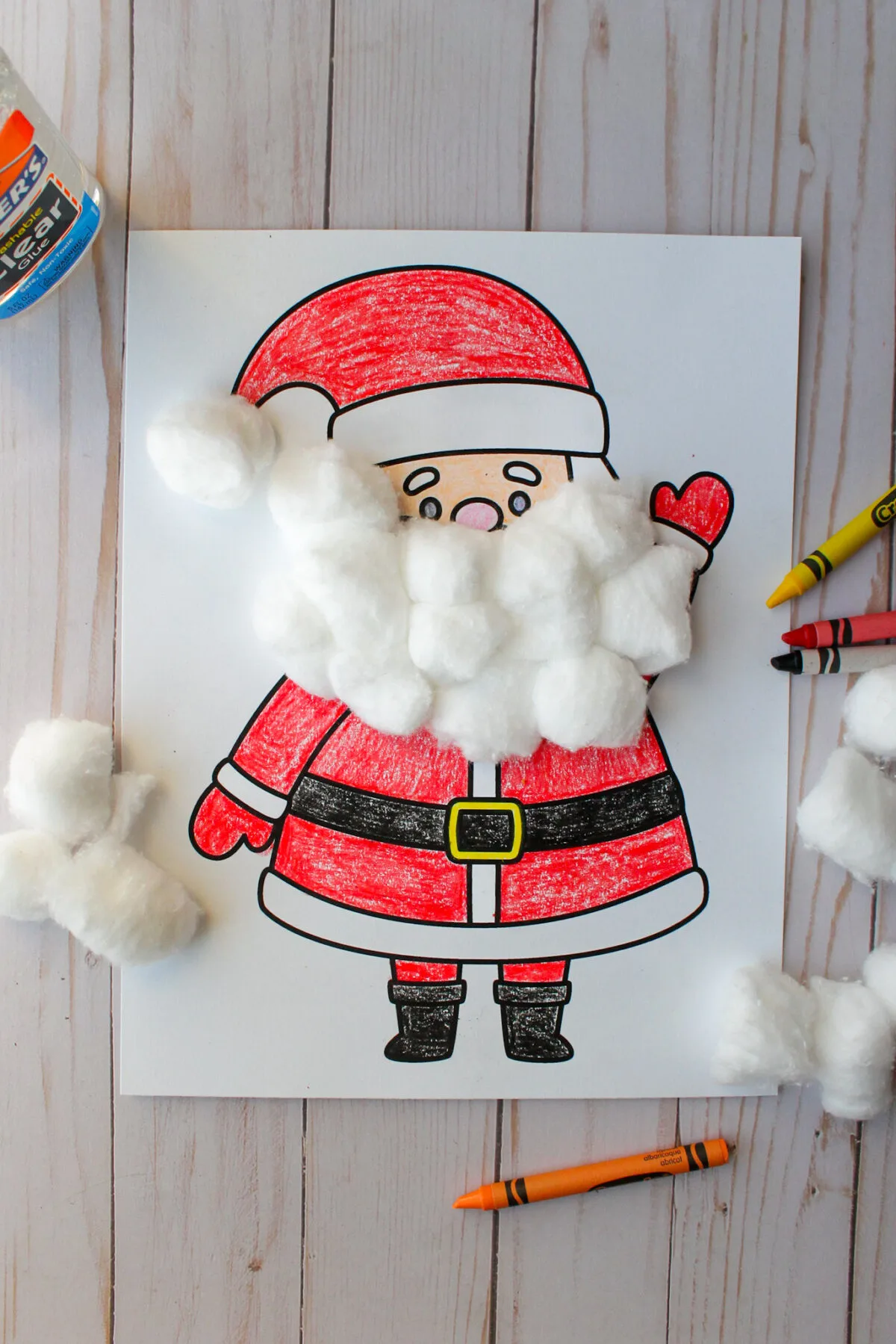 The second option is Santa Claus waving and it is SO cute! The fun part of this one is that the number 1 is on the pom pom on his hat and the rest of the count down is on his beard. I love this one because it gives your child a little more to color.
Some tips for this option:
Same as option 1, have your child color the Santa before the countdown begins. I love this step because it makes the day before the countdown begins the big crafting day and as a busy mom, the simplicity of coloring is wonderful! This would be a great option for big kids because they could really make the Santa their own with coloring.
This would also be super cute cut out and glued on green or red paper (or whatever color your child wants!) I love making crafts into Christmas decorations and this one would be adorable hung up!
Just like option 1, add cotton balls to the band of Santa's hat to make it even more 3D!
Downloading Your Santa Craft Printable
To kick off your holiday season with this adorable Santa craft, all you have to do is subscribe in the subscription box below and your free download will open instantly!
The best part of subscribing is that you will receive free printable crafts and activities right to your inbox! Love this cute Santa craft and want more easy Christmas crafts?
Check out these fun nice list certificates or these super easy printable Christmas cards, turn on your child's favorite Christmas music and get crafting!
Have any more fun ideas or tips for this Santa craft countdown? Share in the comment box below! We love hearing about how your family used our crafts!