When December rolls around and talk of Christmas and Santa Claus starts to enter our home, my son is full of excitement and joy!
Nothing gets him more excited than talking about Santa and dreaming about what might be under that Christmas tree come Christmas morning.
The big conversation about Santa always ends up being around Santa's nice list and if he made the cut and it's so funny to hear his thoughts on what list he will be on.
I also love watching how when December hits, so does his best behavior and I'm sure this is seen in many other homes.
For all those kids sweating if they made Santa's nice list, I have the perfect way to ease their minds- an official Santa's nice list certificate!
What I love about this free Christmas printable is that it is one of those fun family traditions that can be done every year and is a great way to give your child a treasured keepsake.
Anything my son receives from his Christmas elf ends up hanging in his room for the next 6 months and I know an official Santa's nice list certificate would be a prized possession for him and I'm sure for your kids!
Why not also print this letter to Santa so that your child can thank Santa for the reassurance?
Free Printable Santa Nice List Certificate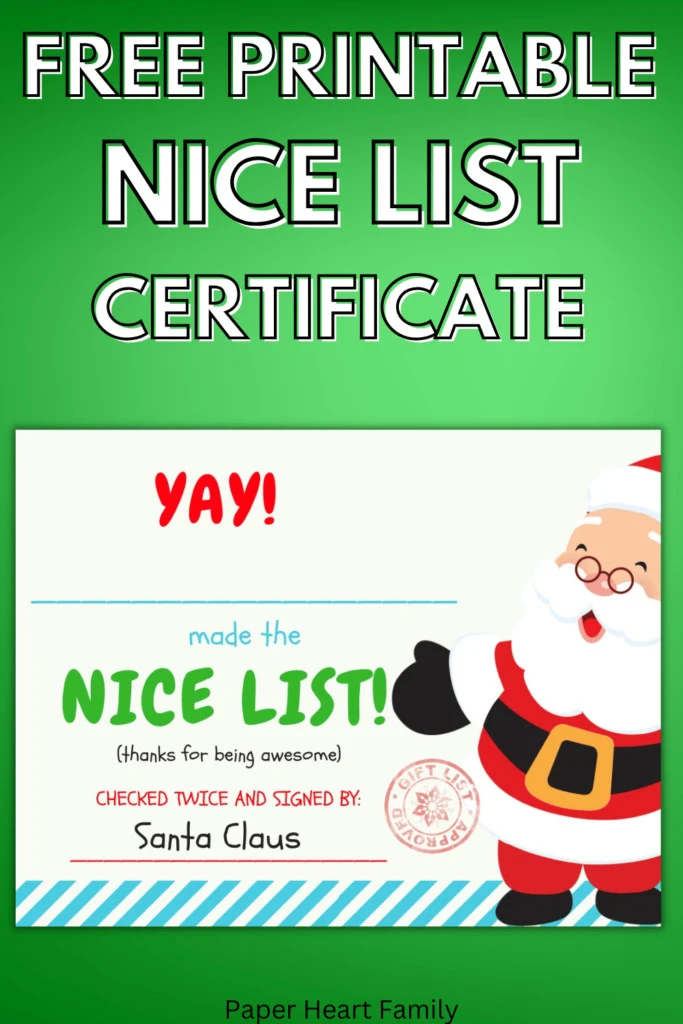 This free printable certificate is an easy way to keep the good behavior coming all December long, plus it's a lasting memory that will bring so much excitement and joy to your kids and is a great addition to your holiday season.
Santa's official nice list certificate has a spot for kids own names and proudly declares that Santa Claus has checked his list twice and that they made it onto Santa's nice list!
The official letter even has a seal of approval and looks like it came straight from the North Pole, it's so much fun and is the perfect way to bring a little extra joy to your kid this holiday season!
Supplies Needed
This free printable Santa's nice list certificate gets even better when we think of supplies, its minimal I promise! The only thing needed for this certificate is a printer/ink, card stock or some type of high quality paper to make the certificate feel official and an optional pen to sign your Childs name.
Other fun supplies you could use:
glitter if your wanting to add a little magic to this Christmas certificate. It will look pretty amazing if you paint glitter on top of the certificate!
back page: this is one of my favorite tricks to making something look a little fancier. Glue your certificate on a larger piece of colored paper (in this case red or green would be great) and give it a little more of a pop!
Laminate: am I the only one that is always looking for something to laminate? I love finding a use for my laminator and this certificate would be the perfect thing! It would help make this treasured keepsake safe and secure for years to come!
Suggestions For Using The Certificate
This official Santa's nice list certificate can be used in so many ways! It's a great addition to all things Santa Claus and is another fun way to get your kid thinking of good behavior all December long!
Here are some fun suggestions on how you can use this certificate this holiday season:
Choose how you will put your child's name.

If you write your child's name on the nice certificate, make sure you use a fun pen and make your writing super special (we don't want them knowing it's your writing!)

Decide when you will give this to your child:
Think of how it will be delivered:

Will it come in a special envelope?
Maybe it has a gold foil seal or if your super fancy, maybe an official seal of Santa Claus!
Maybe you put it in an envelope and seal it with a special Christmas sticker? I'm always a fan of the sticker route.
I love a good Elf on the Shelf day and this certificate would be a fun one! Maybe your elf gets to deliver it and let your child know the good news! Maybe even a reminder to keep up the best behavior!
There are so many ways you can use this nice list certificate and I know however you choose to use it, your child is going to be so excited to officially be on the list and have an official letter from Santa Claus!
Downloading Your Santa Certificate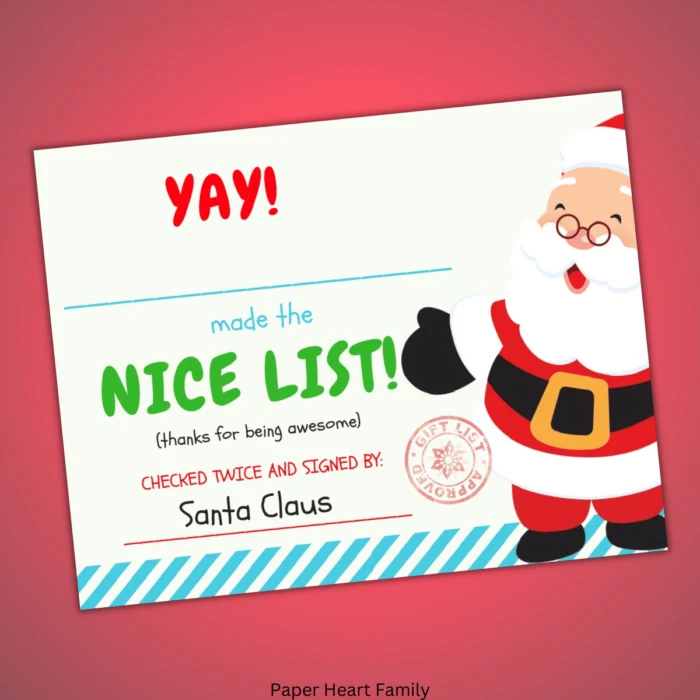 To get your very own free printable Santa's nice list certificate, all you have to do is subscribe in the subscription box below and your instant download will be available right away!
The best part of subscribing is that you will get activities and printable right to your inbox weekly! As always this letter is for personal use only.
Looking for even more Christmas fun? Check out these easy Christmas crafts or this Christmas scavenger hunt for more fun this holiday season!
Looking to start more traditions like this letter? Check out these 34 traditions you can start this year or this Christmas eve traditions you don't want to miss!
I hope you and your child have so much fun enjoying this Santa certificate! I would love to hear how you gave it to your child and any fun things you did or added to make it special!
Of course I would also love to hear in the comments how your child reacted! It's so special knowing how much kids enjoy these fun certificates so please share in the comments below!