In our family, Christmas morning is usually the time for everyone to get their big gift from Santa. For us, this final gift is a Christmas tradition that helps us celebrate the ending of another beautiful holiday season.
While this has always been a good idea and the entire family enjoys this last gift of the season, I thought there might be fun way to change around some of the family tradition surrounding gifts.
It seems like everyone opens their last gift and then the celebratory feeling ends very abruptly. I felt like there was more I could do to help the magic of the season linger for just a little longer.
While I started off thinking about this to make the Christmas season more fun for our son, I soon realized that the little guy was not the only one who might enjoy a more entertaining Christmas activity.
Older kids (to include the adults in our family!) would really have a great time playing a fun game to get to their gifts!
So, what great activity am I talking about, you ask? I am talking about Christmas scavenger hunt clues.
This is a great way to get your whole family into the holiday spirit! There is nothing more fun than searching for clues and guessing what could be at the end of the hunt.
There are so many creative ways to hide clues in different locations to inject a little Christmas treasure hunt into your holiday celebrations.
Ideas For Using This Holiday Scavenger Hunt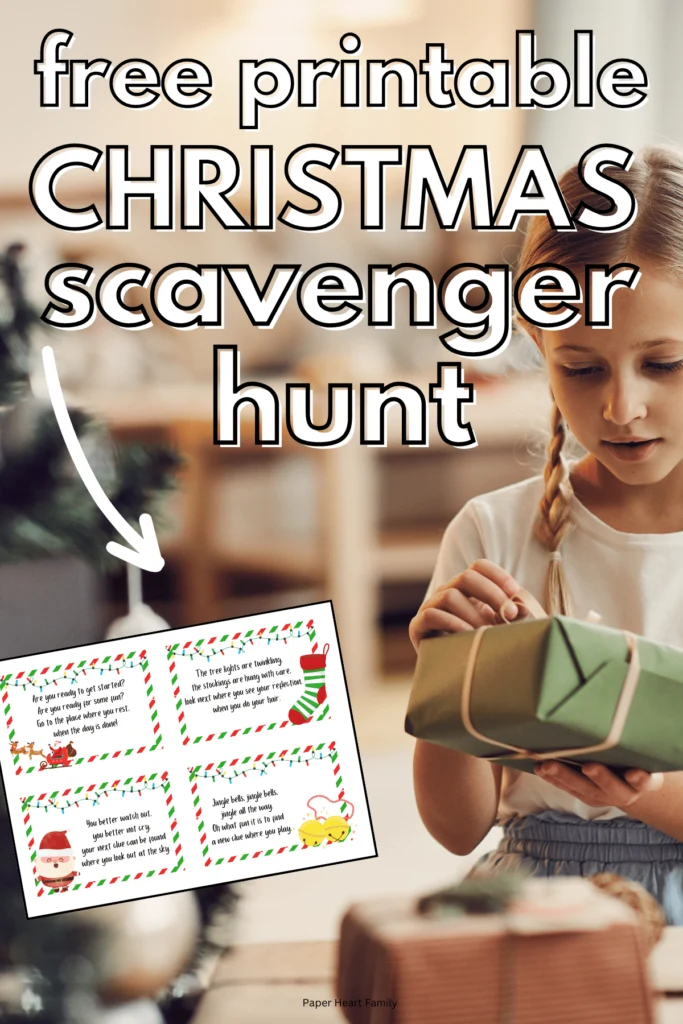 1.Hide all of the clues on the holiday morning to have the younger children search for their final gifts. You could even suggest that the clues came from elves at the north pole!
2.Create Christmas treasure hunt clues for the days of Christmas leading up to the last day. This is a good way to build the anticipation of that final present time.
3.Create a type of treasure map to show the location of each clue. Not only is this visually exciting, it can also be great practice for kids and their map reading skills.
4.This scavenger hunt could be used as an entertaining game at holiday parties. The person who solves all the clues first, wins the holiday prize gift.
5.You can print the scavenger hunt clues on beautiful card stock to make it more special and festive!
6.If you have a gift that comes with several pieces, you could include a piece of the gift with each clue. At the end of the scavenger hunt, the recipient will have all the parts of their gift to put together.
7.For family that lives farther away, you can video conference and take them along with you as you are hunting for clues. This would be very special for grandparents who may not be able to travel to still be involved with their grandchildren.
8.Place a candy cane with each scavenger hunt clue for an extra sweet bonus!
Christmas Present Scavenger Hunt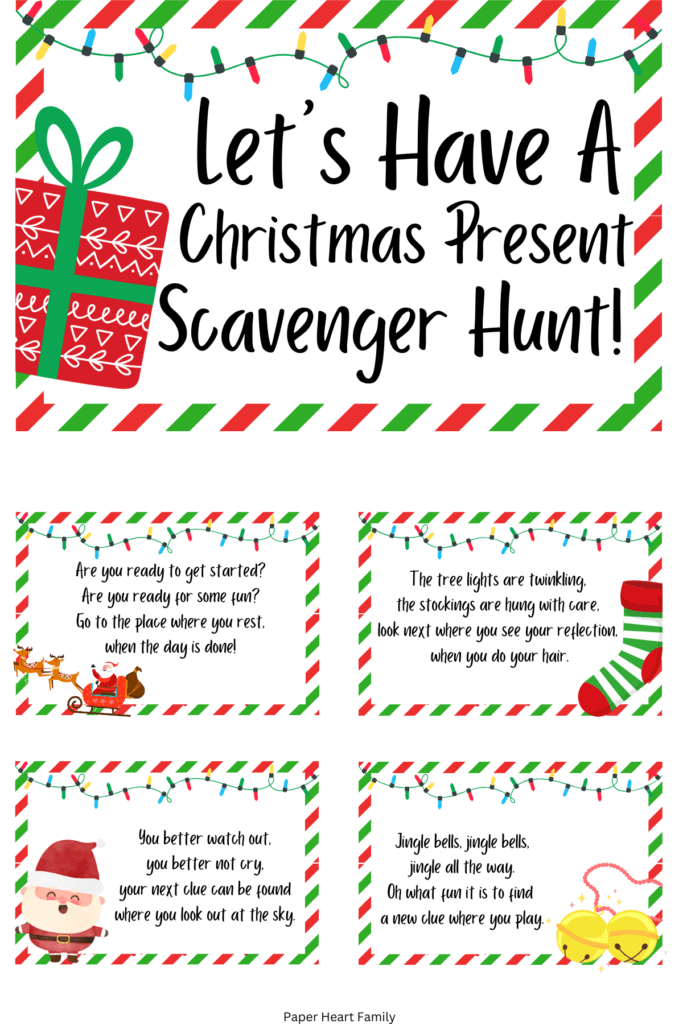 Setting Up The Scavenger Hunt
Having created several scavenger hunts for my son, I will let you in on some of the things to remember when setting up. First, you want to print out all of the clues, which will be located below.
Gather all the clues and anything else you will be including with the clues together in one place. Organization is your very close friend here!
Go through all of your clues and decide where you will place each one. This is the important step: write down where you are placing each clue!
I know it sounds silly, but believe me, it's all fun and games until you misplace a clue or your child cannot find the clue and you do not remember where it is either. While this may be good for laughs, it is not so good for completing the game.
Choose a good time to set up the clues and gift at the end. This can be in the evening when everyone is asleep, or you can have people wait in a designated area while you set up the clues.
Either way, you must remain unseen while setting everything up, or the magic will be lost.
I have a very inquisitive son who is always trying to outsmart me, and while that is entertaining, it has made me have to channel my inner secret agent to still be able to surprise him!
If you have younger children who may struggle with clues, try to place the clues in a way where they can be seen a little bit.
It also works to gently walk them over to where a clue is and say something about how this seems like a good place to find a clue. This will eliminate any feelings of frustration on their part (and honestly for you as well!).
That being said, you know your children and can gauge how easy or difficult the scavenger hunt needs to be in order for everyone to still have fun!
Clue #1
Are you ready to get started?
Are you ready for some fun?
Go to the place where you rest,
when the day is done!
Clue #2
The tree lights are twinkling,
the stockings are hung with care,
look next where you see your reflection,
when you do your hair.
Clue #3
You better watch out,
you better not cry,
your next clue can be found
where you look out at the sky.
Clue #4
Jingle bells, jingle bells,
jingle all the way.
Oh what fun it is to find
a new clue where you play.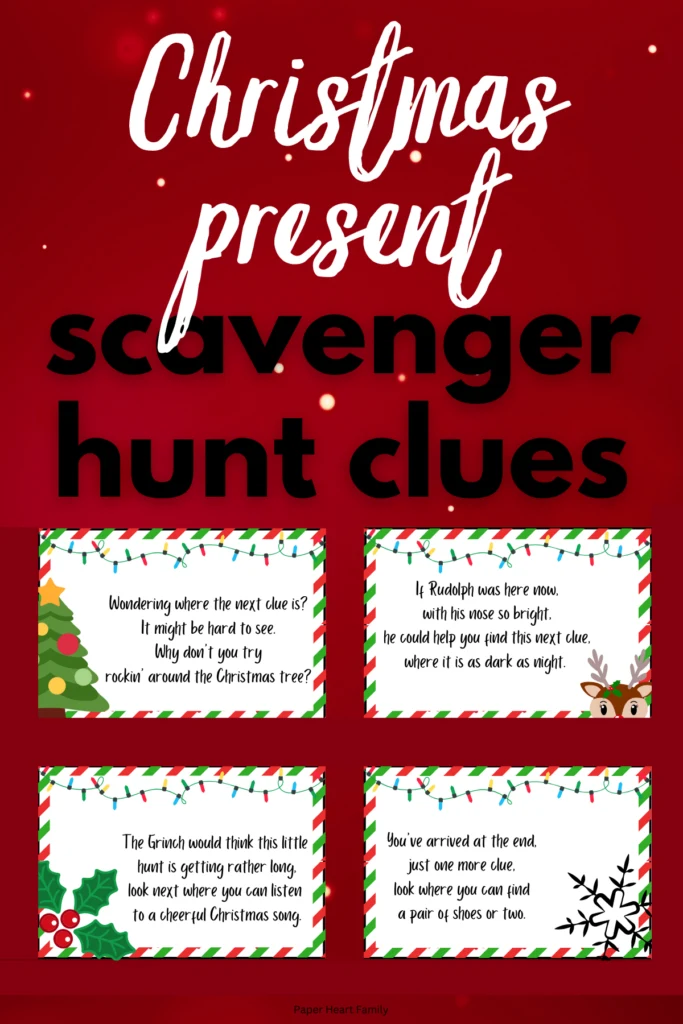 Clue #5
Wondering where the next clue is?
It might be hard to see.
Why don't you try
rockin' around the Christmas tree?
Clue #6
If Rudolph was here now,
with his nose so bright,
he could help you find this next clue,
where it is as dark as night.
Clue #7
Clue #8
Downloading Your Christmas Scavenger Hunt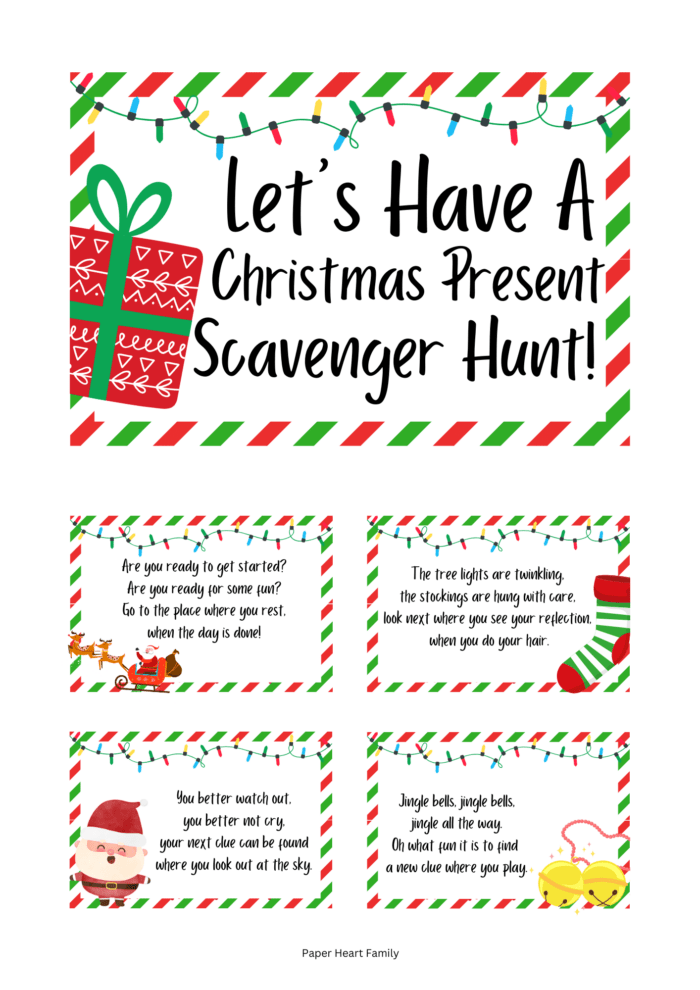 I hope this Christmas scavenger hunt helps bring some fun and magic to you and your family members during this beautiful holiday!
And if your family has an Elf on the Shelf, this elf scavenger hunt is a MUST DO!
Celebrating the season in such a playful way can get family members of all ages in touch with the childlike sense of wonder that can make Christmas time so wonderful!
In addition to that, working together as a team to reach a shared goal is an incredible way to bond with your family as well.
The holidays can get so busy to the point where it can feel like you are just checking things off of your to do list. The fun and joy of what the season represents can often get blurred by all of the hustle and bustle.
Infusing games such as this one into your holiday celebration can help ease some of the stress (good or not good) and remind everyone that time spent with family is one of the most important elements of any celebration!
In order to print your Christmas present scavenger hunt, simply subscribe below.
Enjoy the laughs and fun that can come from this simple game surrounding a Christmas gift, and as always, you've got this!