I know you're going to love this post because, well, Christmas is EXPENSIVE!
Every single person out there (well, okay, not every single person), but the general population needs some free Christmas activities for families to make Christmas special without spending EVEN MORE.
Even though I consider my kids young still, this is the year that they are requesting a LOT of things for Christmas.
And EXPENSIVE things.
I blame CookieSwirlC and LOL Surprise, but anyway.
Of course, my kids won't be getting everything on their ever-expanding Christmas list, but still!
I thought I would have YEARS before my kids wanted big ticket, expensive items.
I loved creating this list, and I will love implementing it too with my kids, because the BEST things that can be given and received at Christmas time are definitely not the things that your children will find under the tree.
Spending time doing some (or all!) of the activities you'll find below with your kids will help you grow closer and enjoy the holiday season.
Your wallet will thank you, too!
This post contains affiliate links.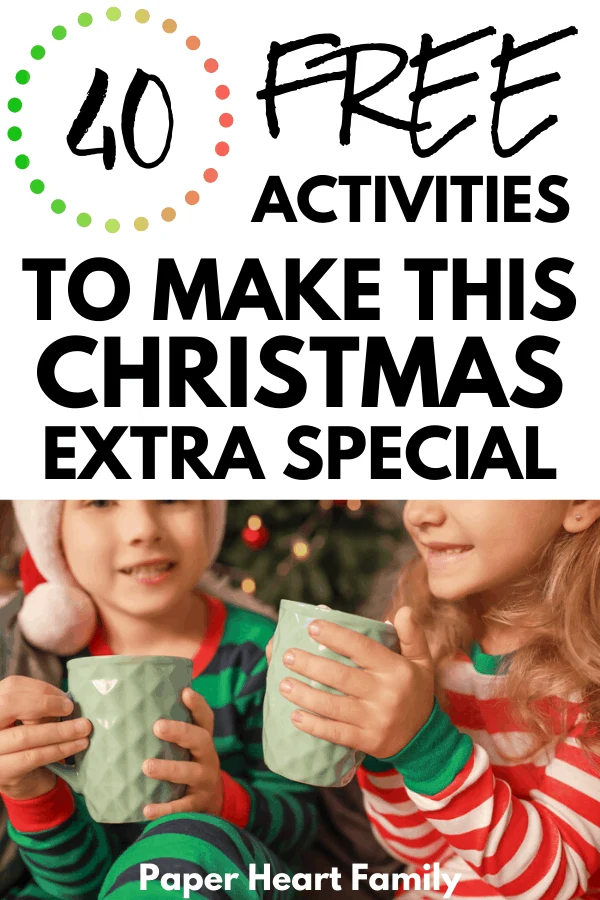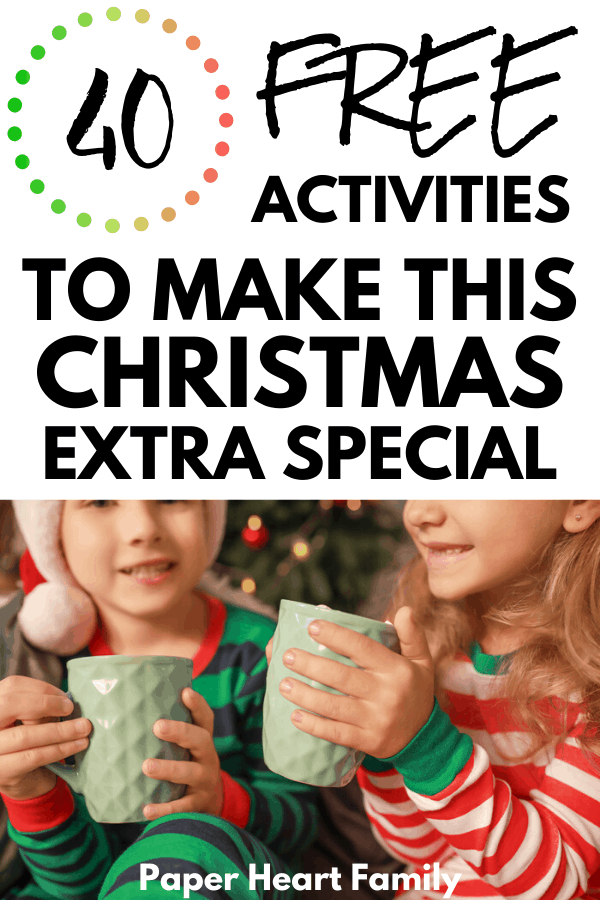 40 Fun And Free Christmas Activities For Families
1. Write a letter to Santa
I love having my kids write Santa a letter because it allows them to really let me (ahem, him) know what they truly want for Christmas.
Prompt your kids to think about the one or two items that they really, really would like to receive from the jolly man himself.
You could even have your kids use a letter to Santa template PDF which only allows for two gift requests.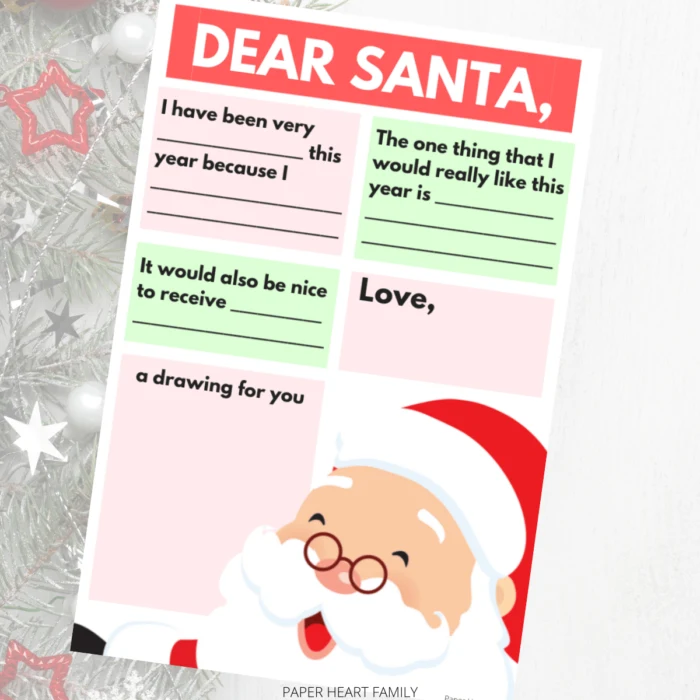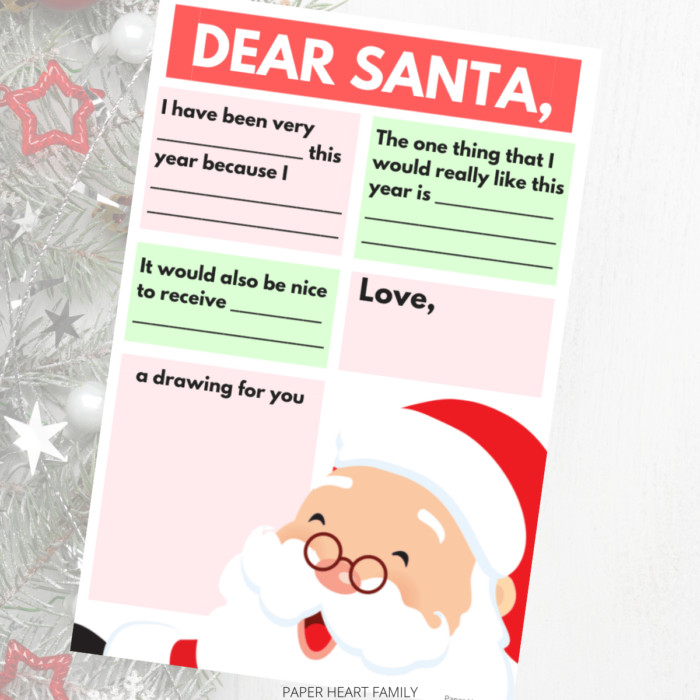 2. Watch a Christmas movie
Watching Christmas movies is serious business in our house.
It really should be a grand occasion and is definitely a favorite family Christmas tradition!
So bust out some gourmet popcorn, hot cocoa and have the whole family get into their coziest jammies.
3. Drive around and look at Christmas lights
Some of my most fond memories of childhood Christmases are simply from driving around and looking at Christmas lights.
Hop in the car and take some roads that you never travel on to get some fresh, new Christmas light displays.
4. Trim the tree
Decorating the Christmas tree is another simply activity that should be given the royal treatment.
Have some Christmas cookies (and again, cocoa!), put on your family's favorite Christmas music and make decorating the Christmas tree a special memory.
5. Make homemade hot cocoa
Hot cocoa is awesome, but homemade hot cocoa is even better. It's super simple if you make a big batch of this 4-ingredient hot chocolate mix.
And if it's really not chilly, but you want a cocoa fix anyway, blend your hot cocoa up with some ice for a to-die-for frozen hot chocolate.
6. Make a homemade ornament
I love a perfectly decorated Christmas tree as much as Joanna Gaines, but the ornaments that my kids have made will win me over anytime.
Making some ornaments together with your kids is a fun activity that they will remember for years to come.
7. Attend a Christmas parade
And if you don't want to venture out in the cold to view a parade live, check one out on TV instead!
8. Would You Rather: Christmas Edition
You're sure to laugh together over your answers to questions such as
Would you rather have elf ears or Rudolph's nose?
Would you rather get a lot of presents for Christmas or go on vacation and get no presents?
Would you rather eat a candy cane sandwich or drink candy cane milk?
Would you rather wear a Santa suit to school or an elf costume?
Would you rather get many small gifts or one big one?
Ask this fun list of Christmas would you rather questions to your entire family.
9. Make paper snowflakes
Paper snowflakes are the perfect Christmas craft because they will work with any decor.
It's one of the few crafts that you won't mind being displayed all throughout your house.
10. Visit Santa
No Christmas is complete without a visit to Saint Nick himself.
It doesn't matter where you see Santa, just that you do!
You should also be able to find a Santa meeting near you that is free.
11. Make homemade Christmas cards
Gather up your craft supplies and get creative!
Have your kids make Christmas cards for their closest family members.
These printable Christmas cards to color are a favorite!
12. Go ice skating
Ice skating allows you and your family to get active even in the cold winter months, and it's a memory that will last a lifetime.
13. Create a Christmas playlist
Spend some time listening to classic and modern Christmas music, and making a playlist of your family favorites that you can play while trimming the tree or baking cookies.
14. Get texts, calls or videos from Santa
Did you know that your child can get a phone call from Santa himself?
Or a text?
Check out my post on how to talk to Santa using the latest technology!
15. Bake Christmas cookies
Now, if you have young children and you're a little high strung (like me!), I suggest that you include drinking wine in your cookie baking festivities.
Your kitchen might look like a flour bomb went off when you're done, and your children might look like they bathed in it, but I guarantee your children will be talking about baking cookies for months to come.
16. Do a random act of Christmas kindness
There's no better time than the holiday season to teach your children about being kind, compassionate and philanthropic.
We love involving our kids in acts of kindness.
17. Call your family and sing Christmas carols
In college, we did singing Christmas grams for families and it was so much fun.
Get your family together, dial a couple relatives and simply sing to them when they answer the phone.
It's guaranteed to bring Christmas cheer to everyone!
18. Tell Christmas jokes
Kids LOVE jokes. I promise. Here try these out.
What did the gingerbread man put on his bed?A cookie sheet!
What do you get when you cross a bell with a skunk?Jingle smells!
Why did the gingerbread man go to the doctor?Because he was feeling crummy!
Check out my post of Christmas jokes for kids for many more!
19. Have your Elf on the Shelf arrive with a special letter
If you have fallen into the Elf on the Shelf trap, you might as well make the best of it.
My Elf on the Shelf arrival letter is SUPER popular, and is the perfect way to kick off the annoying elf season.
You could also have your elf bring this fun elf craft printable!
20. Collect food to give to a local food pantry
It's never too early to teach your kids about the joy of giving, and there is no better time than now.
21. Collect loose change to donate
22. Make a countdown to Christmas
We absolutely adore this super fun Santa craft that also counts down to Christmas.
Easy crafts like this one are what I live for.
This snowman craft is also super simple and fun.
23. Wrap presents together
24. Play Christmas Minute-To-Win-It games
Fun games that need to be completed in under a minute with a Christmas theme?
Bring it on!
Check out these awesome Christmas minute-to-win-it games.
25. Take family pictures in front of the tree
Whatever you do, whatever it takes, just please make sure that you get into the photo too, mama!
26. Have a Christmas scavenger hunt
A scavenger hunt is always a fun time, and it's made even easier with this simple printable.
Simply print, cut, hide and start your scavenger hunt!
27. Make Christmas slime
Tell me you've embraced slime in your house?
Did you know that there are some moms that haven't and that forbid it from their homes?!
I envy those moms.
Sadly, in my house, slime wins.
Christmas slime is maybe even tolerable.
Just add some green or red food coloring or glitter and there you go!
And this adorable Grinch slime would probably win every time.
28. Put a lunchbox joke in your child's lunch box everyday
You could simply write one of the Christmas jokes from above on a post-it each day, or you could get my Christmas lunch box jokes printable.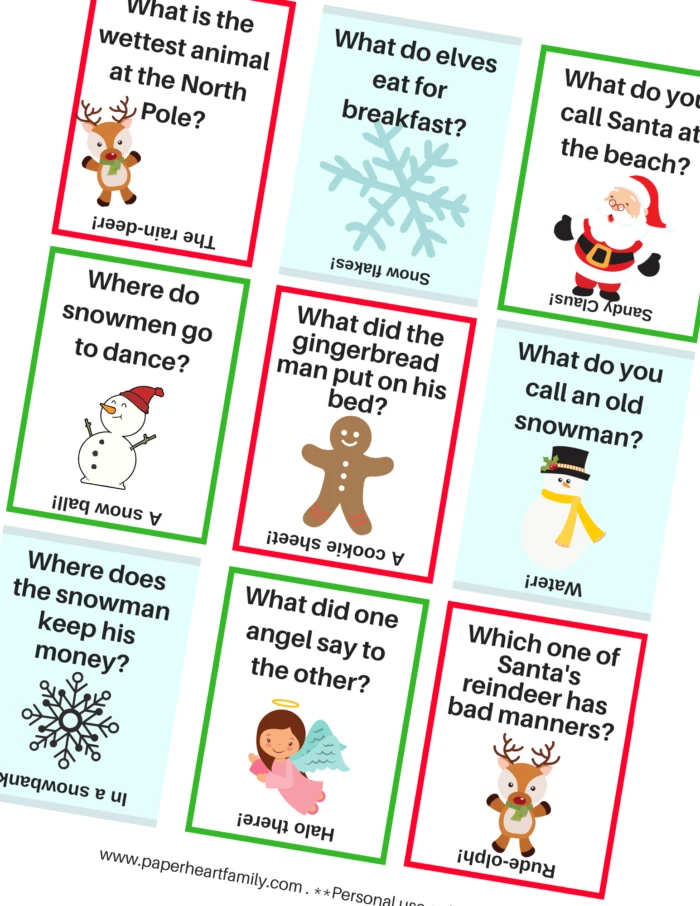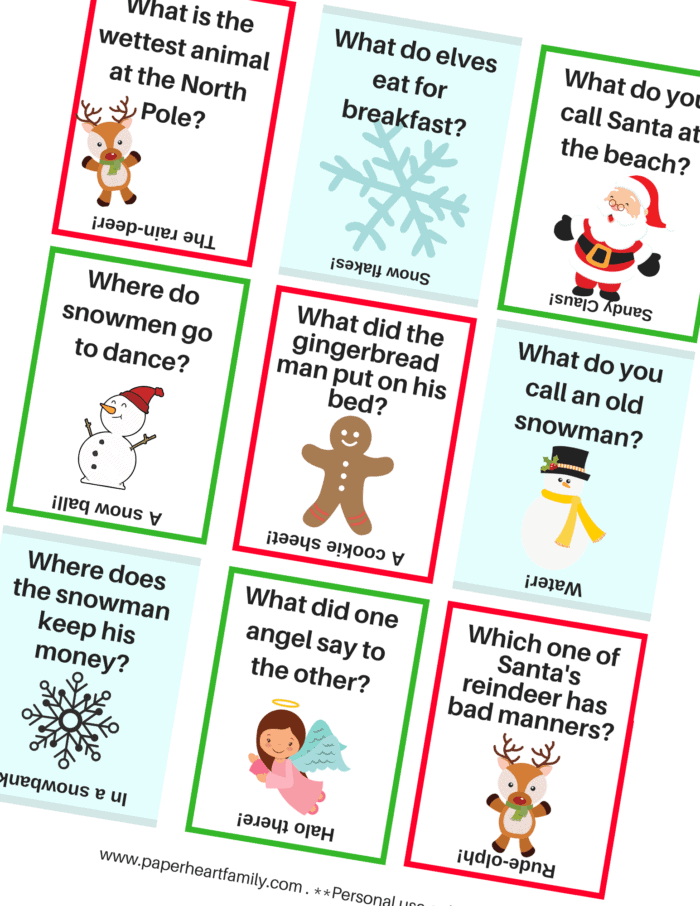 29. Make a Christmas joke teller
Do you remember these joke tellers from when you were a kid?
Such a classic game that you should DEFINITELY introduce to your kids.
30. Do Christmas Mad Libs
There are 13 awesome Christmas mad libs to choose from here!
31. Make Christmas trees out of Play Doh
I adore this idea and will be doing it with ASAP.
Gather some green play doh and beads or gems or whatever you have and check out this Christmas tree play doh kit post for inspiration.
32. Make Christmas tree waffles
Green food coloring and some m & m's and your boring waffles are Christmasified.
Christmas tree waffles will definitely become a tradition!
33. Have a picnic lunch next to the Christmas tree
Grab a blanket and bring your next lunch (or dinner!) next to the Christmas tree.
34. Make wearable reindeer antlers
Aren't these printable reindeer antlers the cutest?!
35. Bring the snow indoors
Some days are simply too cold to play outside in the snow.
Why not bring the snow inside?
We have even been known to fill our bathtub with snow from outside.
What does that mean?
Hours of creative play!
36. Have a sleepover next to the Christmas tree
37. Collect toys that your children no longer play with to donate
38. Have an indoor snowball fight
39. Read a different Christmas book each night