Are you a busy mom in need of Elf on the Shelf ideas this holiday season?
You and every other mom on the planet, right?
This post contains affiliate links.
The Christmas season is undoubtedly the busiest time of the year, and now with the unavoidable popularity of the Elf on the Shelf
, the entire month of December is busier than ever.
Ask any busy mom about their wretched beloved elf, and you're likely to get an eye roll, a look of commiseration or a look of pure disgust.
Why do we keep torturing ourselves year after year with that friendly scout elf?
Because our kids adore him. We adore our kids. Therefore we are stuck with the Elf.
It's magical. It's exciting. It's fun (for them!).
This year, I want you to actually enjoy your elf.
I want you to feel ready to tackle 25 days of elf shenanigans with these awesome Elf on the Shelf ideas.
I want you to KILL IT, Elf on the Shelf style.
This guide is going to give you everything you need in one spot.
Seriously, it would be a great idea for you to pin this for later.
Elf On The Shelf Ideas
Here is what you will find throughout this post.
It's everything you need from start to finish!
How to come up with a plan (which will help you to avoid stressful situations later)
Elf on the Shelf Arrival Ideas
My Elf on the Shelf Arrival Letter
Elf on the Shelf name ideas
Easy Elf on the Shelf Ideas
Funny Elf on the Shelf Ideas
Toddler Elf on the Shelf Ideas
Elf on the Shelf Ideas For 2 Elves
Elf on the Shelf Printable Scavenger Hunt
What to do when you forget to move the elf
Elf on the Shelf Goodbye Letter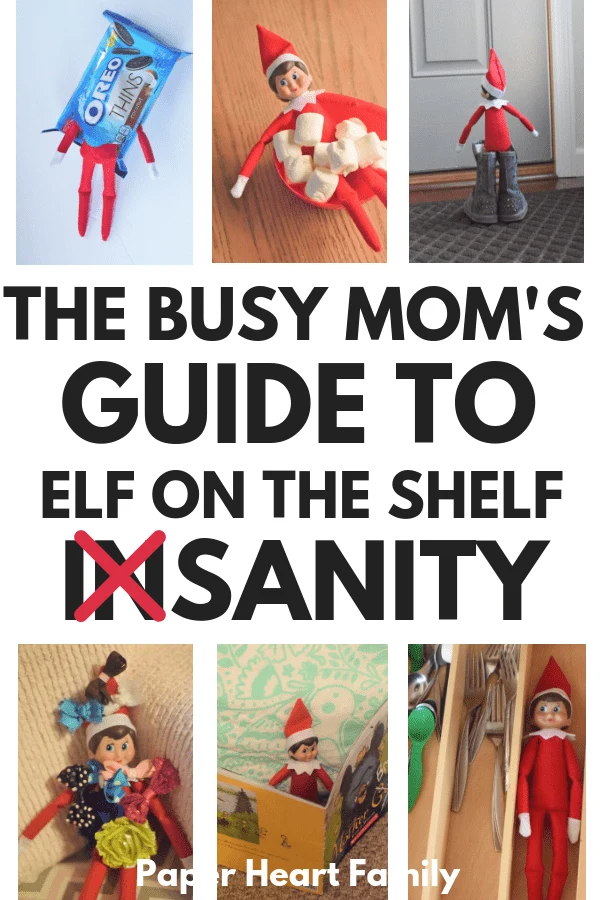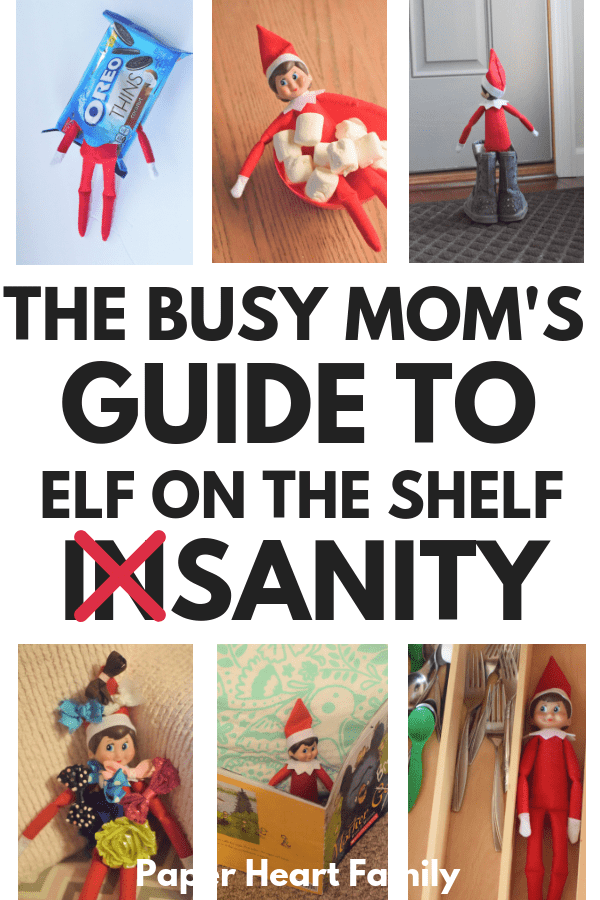 Come Up With A Plan
I highly, HIGHLY suggest getting prepared now.
Even if you're reading this on December 15 and your elf has been performing hijinks for weeks now, it's never to late to sit down and create a plan.
Believe me.
You don't want to be up at midnight searching for and implementing your next Elf on the Shelf idea.
And you most DEFINITELY don't want to realize at 4am in the middle of your peaceful winter's nap that you forgot to move the elf! (Check out my elf arrival letter which makes it okay if this happens!)
So create a Pinterest board, and fill it with all of the ideas that you love.
Or just pin this post, because it's ALL you're gonna need.
Then, if you're printing anything, print it all at once.
Set an alarm on your phone.
That's your reminder!
Seriously, last year, I browsed Pinterest, saw about 274 elf ideas and STILL went to bed without moving her.
Then, surprise!
I woke up in a darn panic in the middle of the night.
Worst. Nightmare.
And check out my Elf On The Shelf Calendar and Planner for the ultimate organization and Elf on the Shelf fun!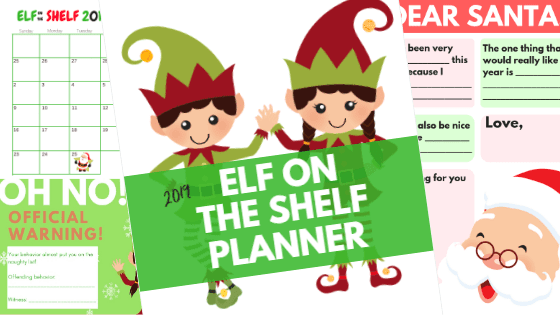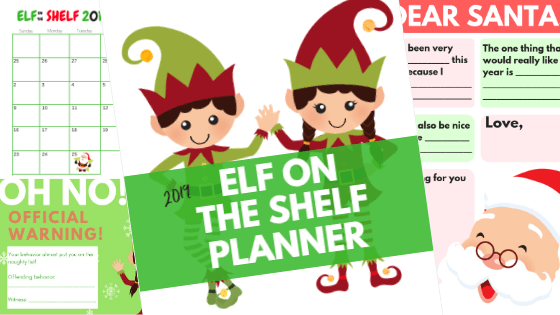 Elf on the Shelf Arrival Ideas
The first day that your elf arrives is probably the most exciting which is why you need some fantastic Elf on the Shelf ideas for arrival.
You definitely don't want your elf just, you know, sitting on a shelf.
Oh the horror!
You need to think of how you can welcome your elf back (or to your home for the first time) in an exciting way.
And honestly, this is day one. The day when you're going to have the most energy to pull off crazy elf shenanigans.
Here are some ideas:
bringing a gift
ziplining into the house
arriving by a toy parade
stuck in the window blinds
with a balloon arch
with luggage
arriving in a package on the porch marked special delivery
Want more?
Check out all of my elf arrival ideas. Most are super simple to implement, but have a big wow factor.
Whatever Elf on the Shelf idea for arrival you choose, make sure to pair it with my Elf on the Shelf welcome back letter.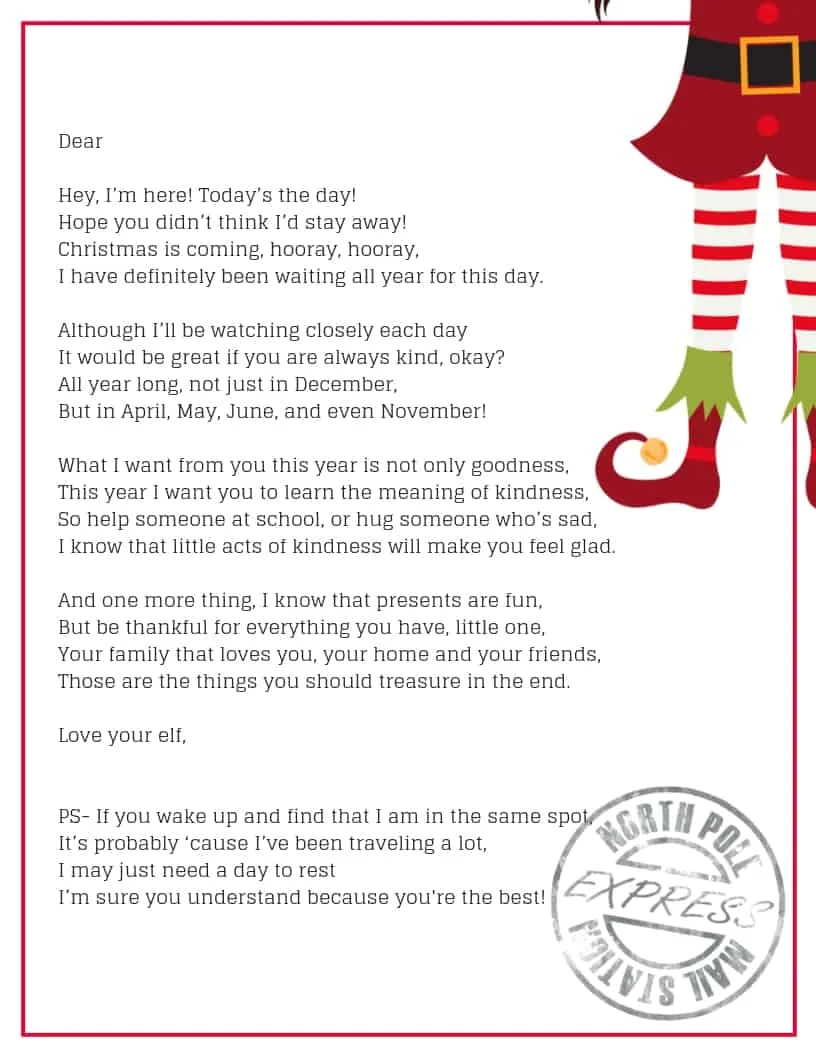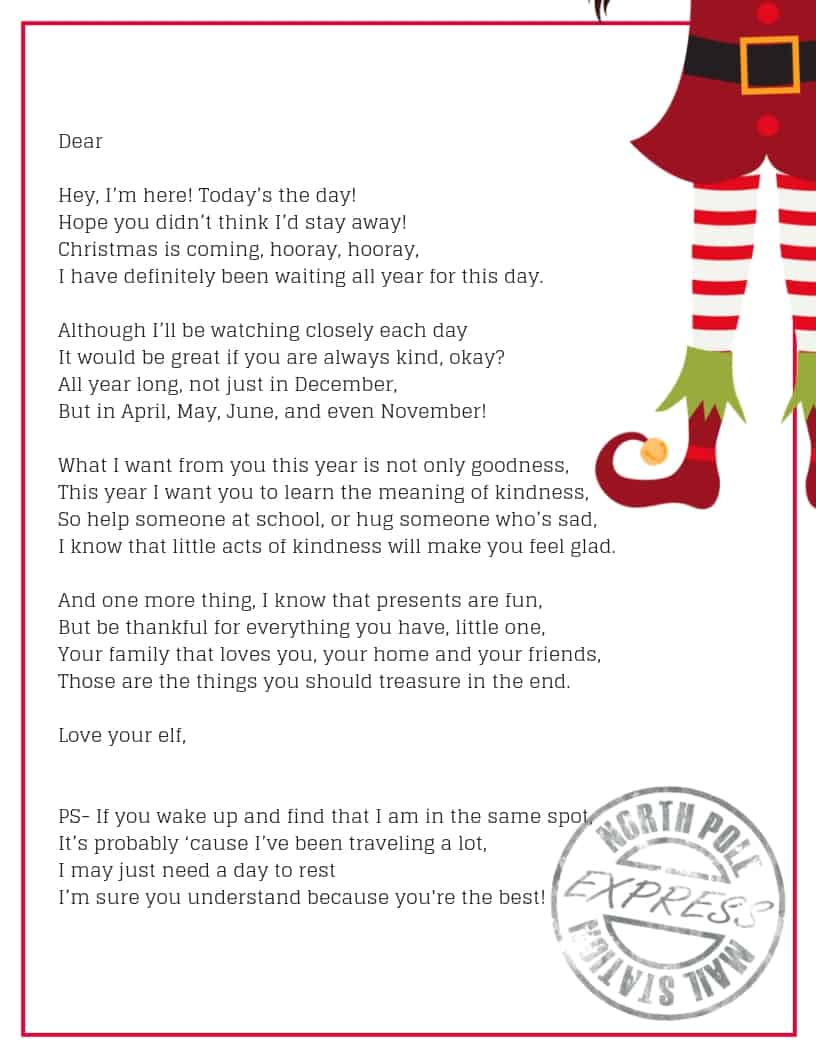 Boy And Girl Elf On The Shelf Name Ideas
Your elf has officially arrived!
You're probably hoping to find the perfect name. (Or hoping that your child doesn't name it something like "Elf".)
You don't want this name-giving process to be stressful (like naming a CHILD), you want it to be fun!
If you need a little help, here are some fun ideas:
Jack Frost
Jingle
Happy
Sparkles
Sweets
Ken D. Cane
Kandy Kay
Kringle
Buddy
Bella
Buster
Cocoa
Elfis
Blizzard
Trixie
Merry
Snowflake
Ralphie
Sugarplum
Chippy
Want to see more?
Check out the 200 best Elf on the Shelf names.
If you want a traditional name for your elf? You got it! Christmas-y? Elf-y? Funny? Ridiculous? This list has all of that and more.
Here's to finding the perfect name!
Easy Elf On The Shelf Ideas
The Christmas season was busy enough, and then the creators of the Elf on the Shelf (a brilliant, ridiculously rich mother/daughter duo) decided to make it even busier for us moms.
Don't fret.
I've got super fun, but super SIMPLE Elf on the Shelf ideas for you.
Because while there are some really elaborate ideas that are totally awesome, do you really want to spend your off-duty, mom-free time doing it?
Didn't think so.
With all of these ideas, you should spend 2 minutes tops posing your elf each night.
Last minute ideas are the best way to keep your sanity during the Elf on the Shelf season.
Here is my list of quick Elf on the Shelf ideas (that are still high impact).
PS- Know how to make this whole elf thing even EASIER? By making your elf bendable! Seriously, those little elves are not very flexible. I know I've spent way too much time in the past trying to position my elf just the right way. Only to have her fall in the middle of the night. Not anymore!
Laying in the silverware tray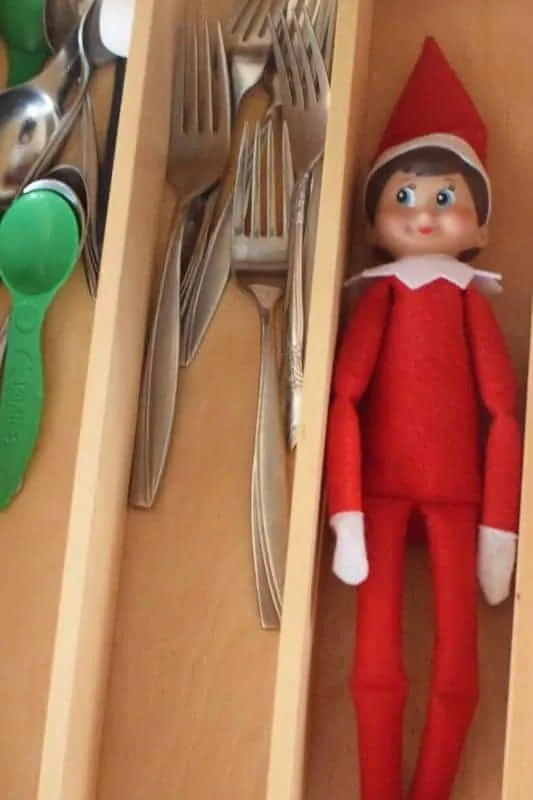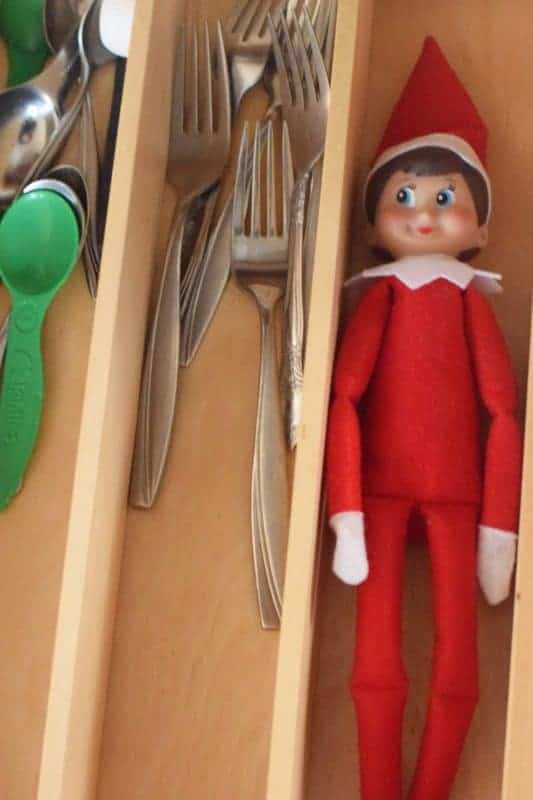 2. Taking a bubble bath in mini marshmallows
3. Head first in cereal box or candy box
Such a quick idea that will leave a big impact!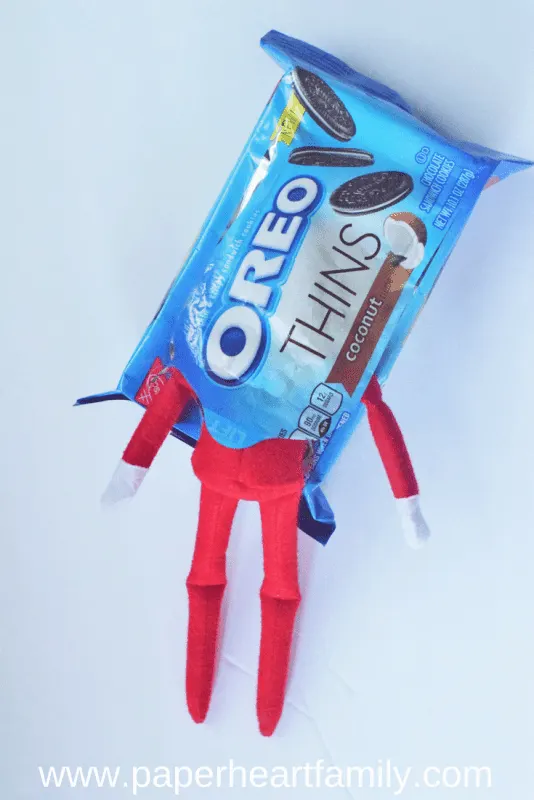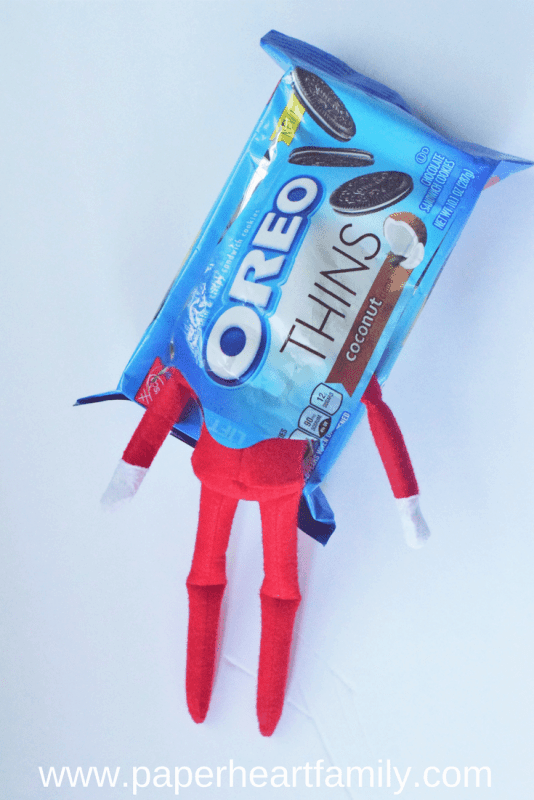 4. Writing kids or Santa a message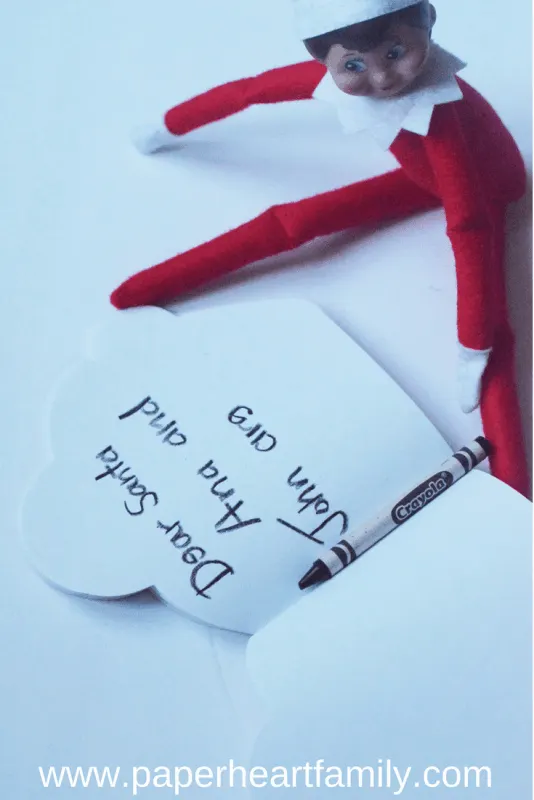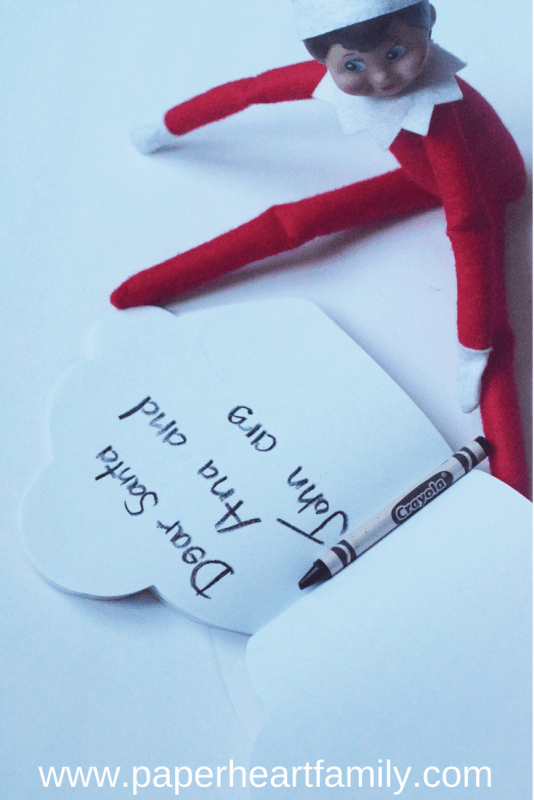 5. Hiding among stuffed animals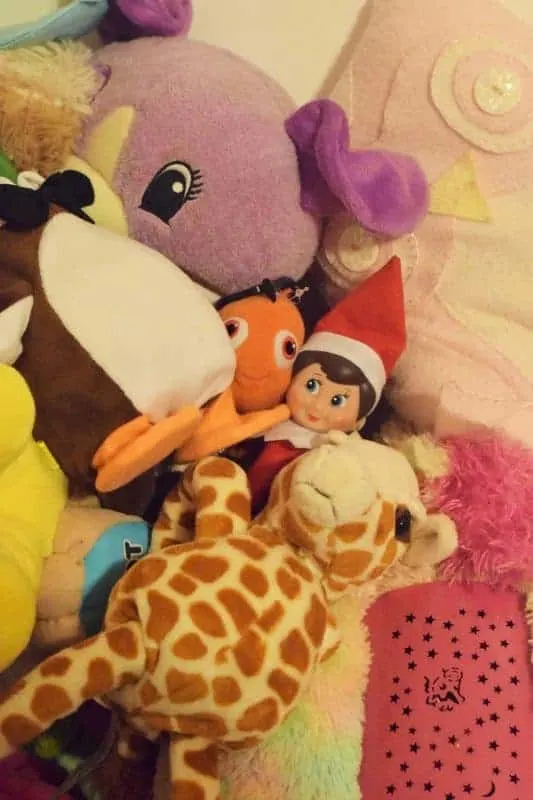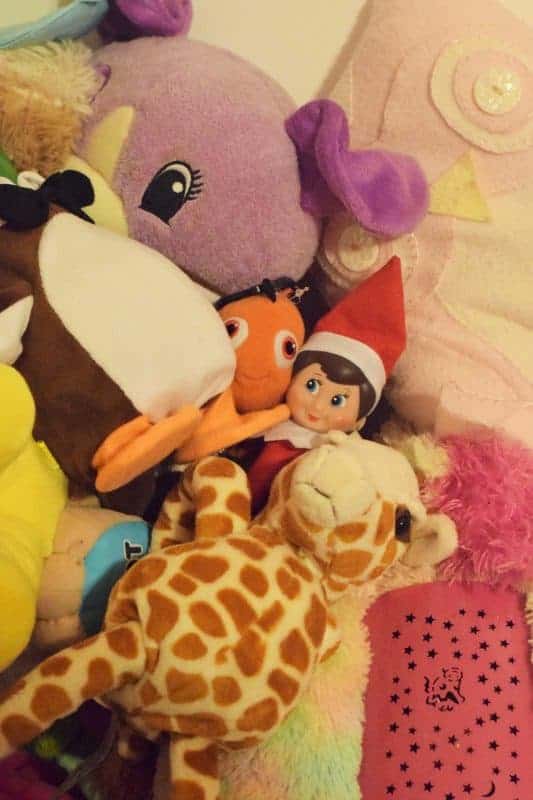 6. Covered in bows or band-aids
7. Wearing your child's boots and heading for the door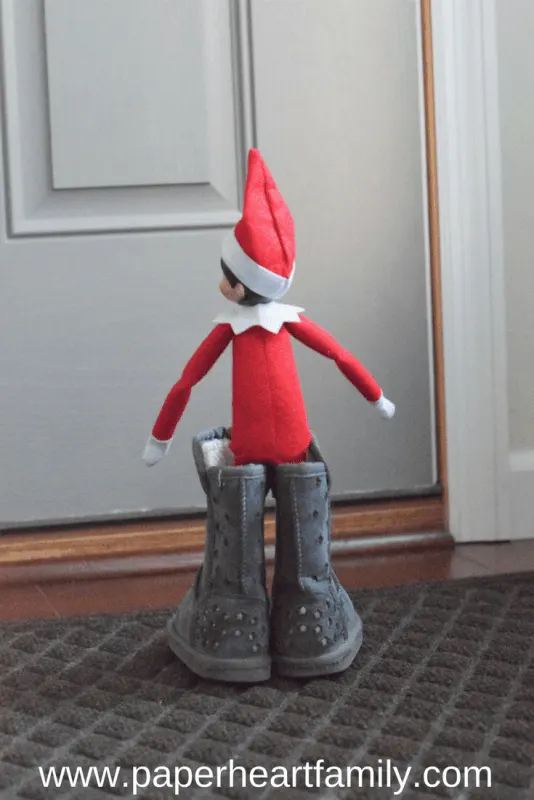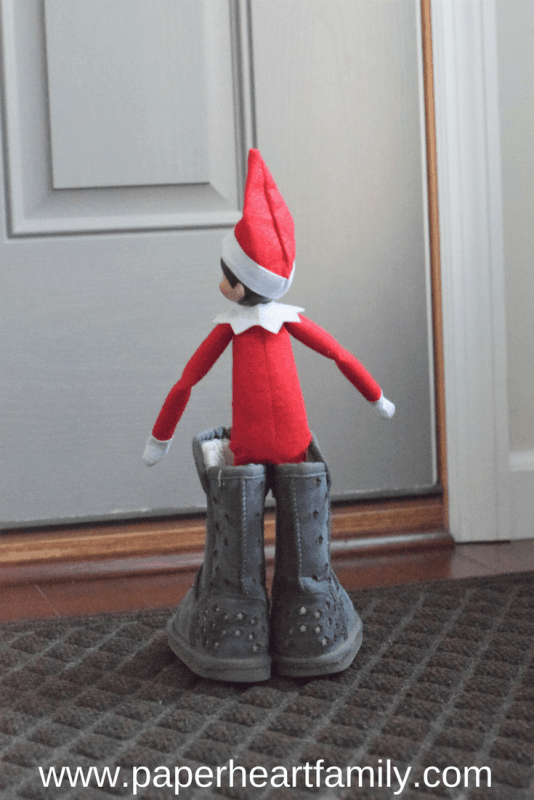 8. Playing a card game
Like the best kid's game ever invented Sleeping Queens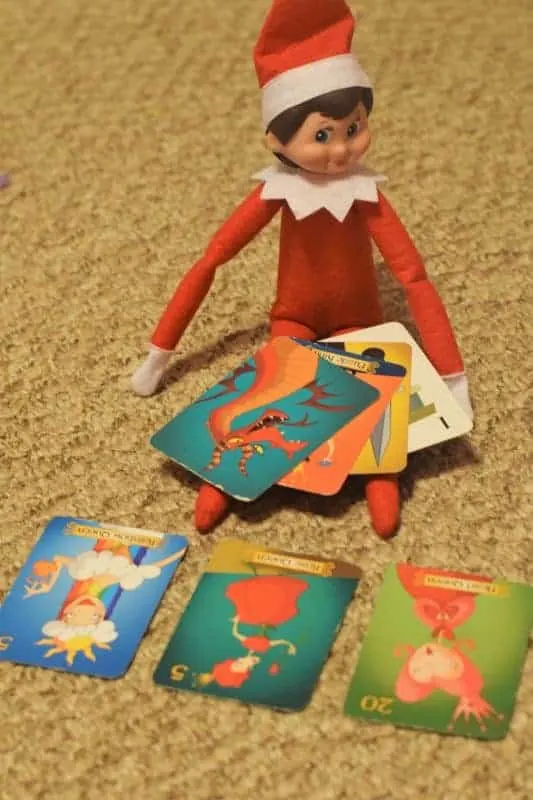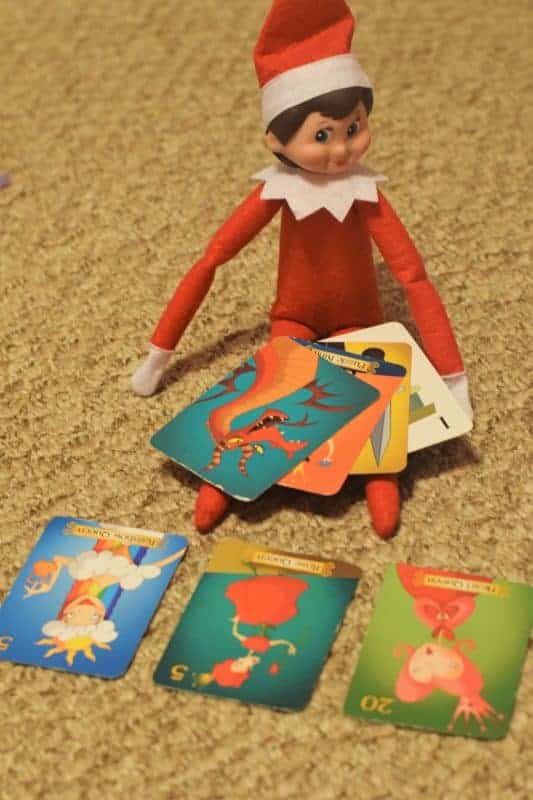 9. Reading a book
(Mother Bruce
is one of our favorites!)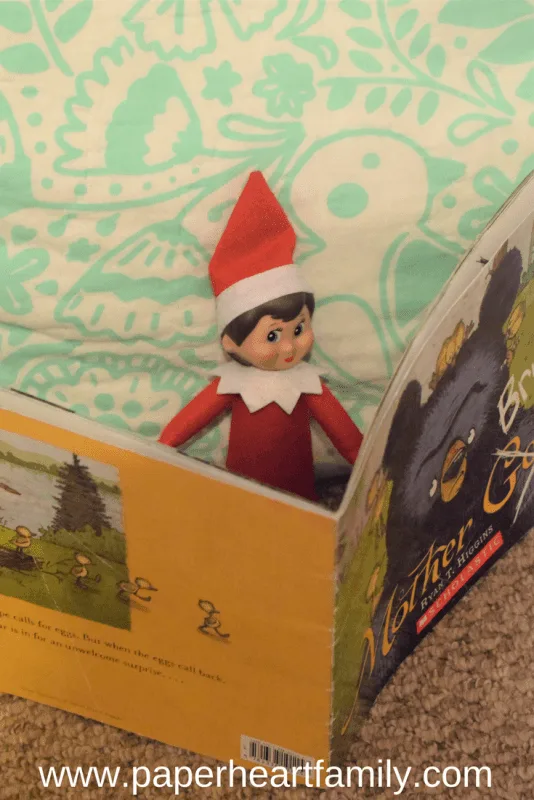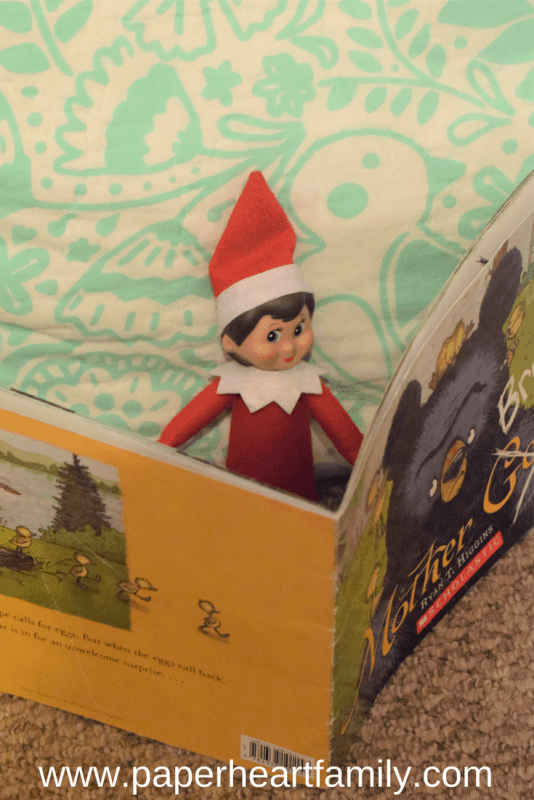 10. Peeking out of a drawer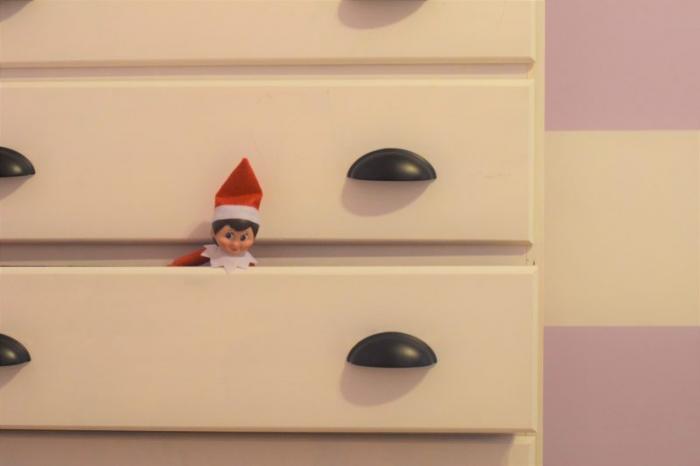 11. Breaking A Piñata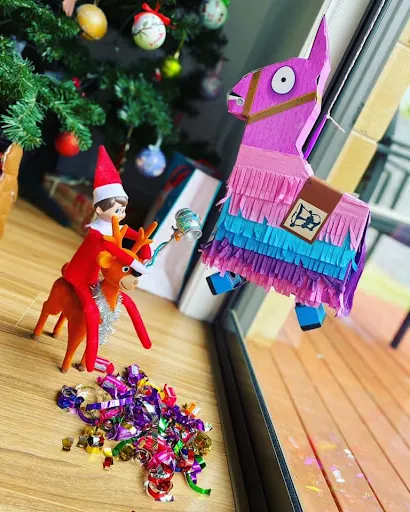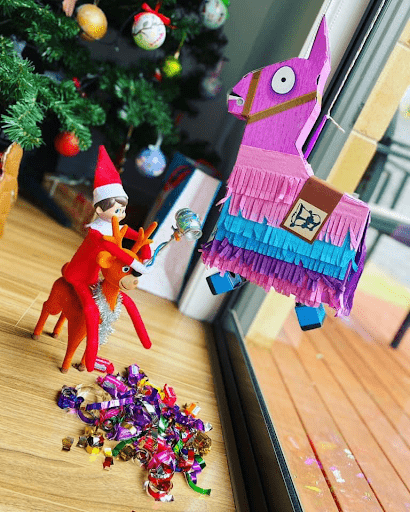 Get the rest of the easy Elf on the Shelf ideas <——– here.
Funny Elf on the Shelf Ideas
And who doesn't want some hilarious Elf on the Shelf ideas once and a while? This list is for those nights when you're feeling a little silly. I'm sure your kids will appreciate the humor!
12. Stuck in the fireplace
It would be really cute if you just cut out a little thought bubble to go with it with the Elf saying "help!"
(I don't have a picture of this yet because I embarrassingly don't know how to open up our gas fireplace and my husband wasn't home)
13. Selling balloons
I used wooden skewers, water balloons and a cute little wooden chalkboard easel.
14. Decorating your child's room with balloons and/or streamers
So fun to wake up to!
15. Making your child's school lunch with weird foods
Just open up the pantry and see what you can find (remember that elves love sweets!)
16. Blowing a bubble with gum
It stuck forever, believe me, I tested it. (I KNOW my gum obsessed kids will love this one)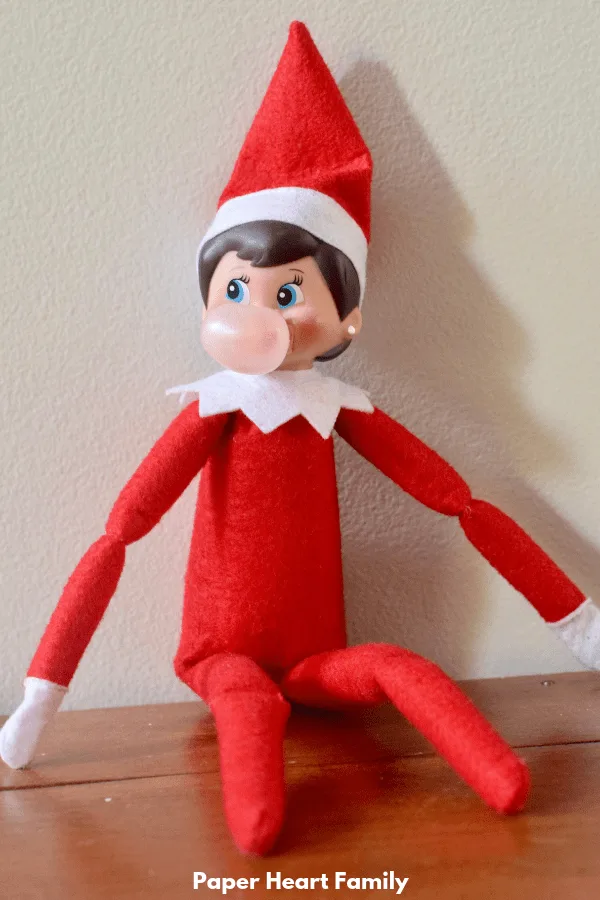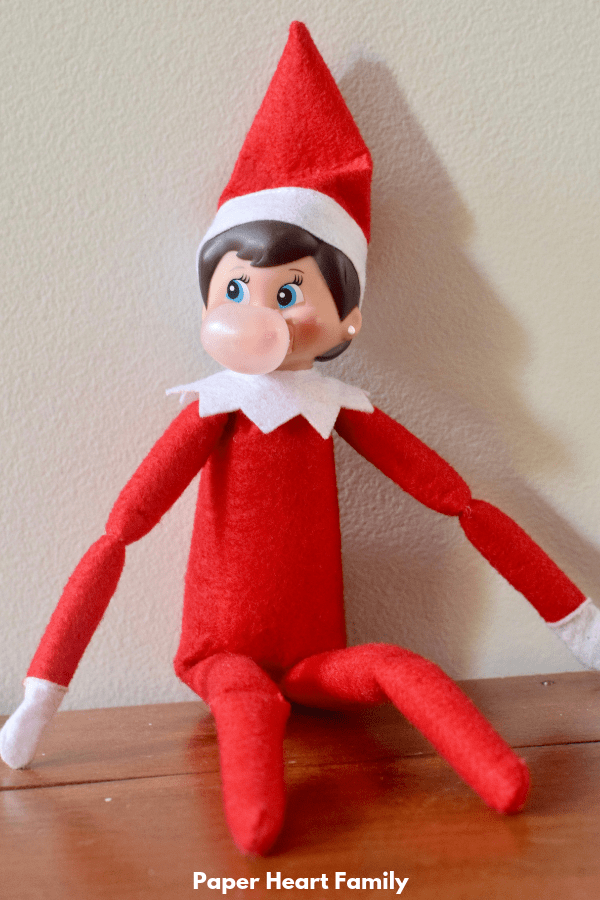 17. Drinking syrup from a straw
This one scares me a little bit because I could totally see my kids doing this.
18. Pooping chocolate chips into the potty
If you're potty training a young child you might want to steer clear of this one.
My mother-in-law did it at her house for my daughter and she was completely freaked out.
She wouldn't use her training potty there for a whole week.
Pssst- You can sneak a bite too.
20. Surrounded by money from your child's piggy bank
Your kids will either love this one or will legitimately think that the elf is trying to steal from them.
Either way, it's funny!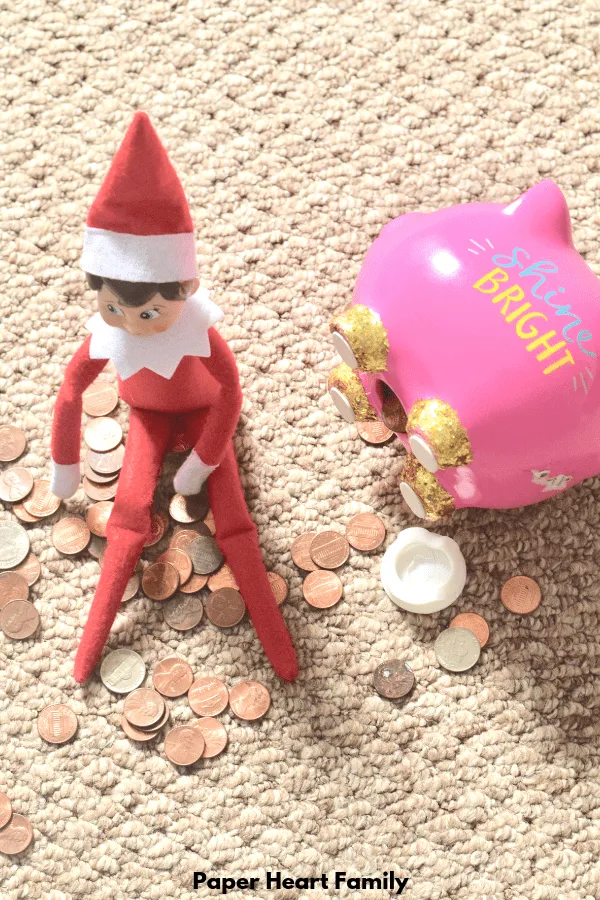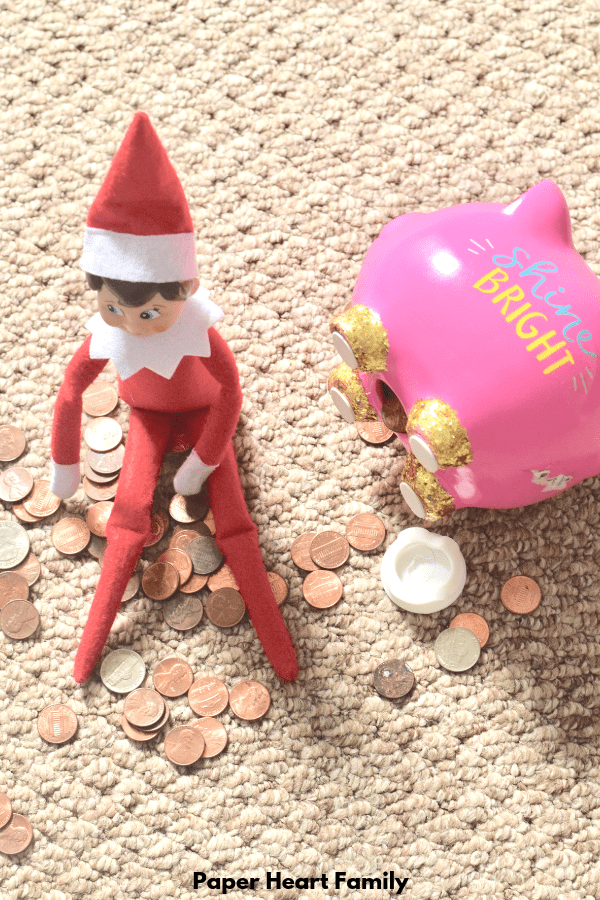 21. Playing ghost with a tissue
Just hole punch a couple holes in a tissue and you're good to go.
22. Drawing on a family photo with dry-erase marker
Find these and all my funny ideas WITH PICTURES here: Funny Elf On The Shelf Ideas
23. The Floor Is Lava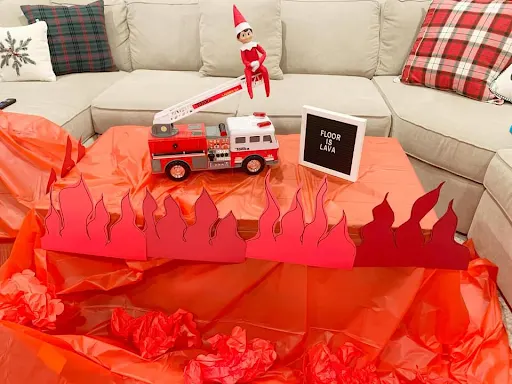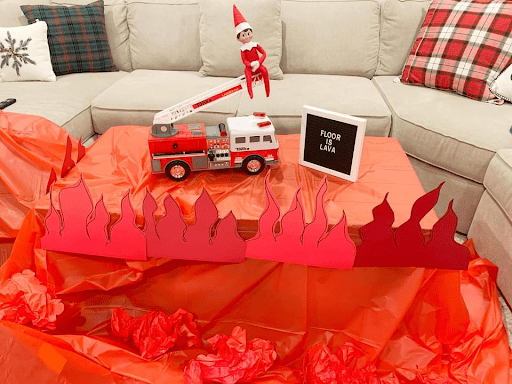 24. Skiing
This one's a little messy, but sometimes it's worth it!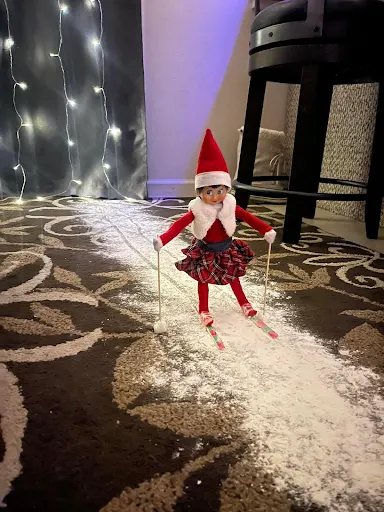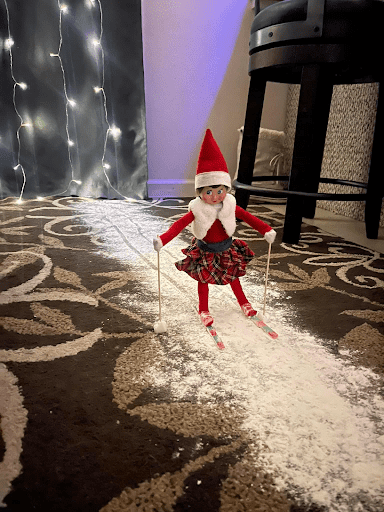 25. Making Mirror Art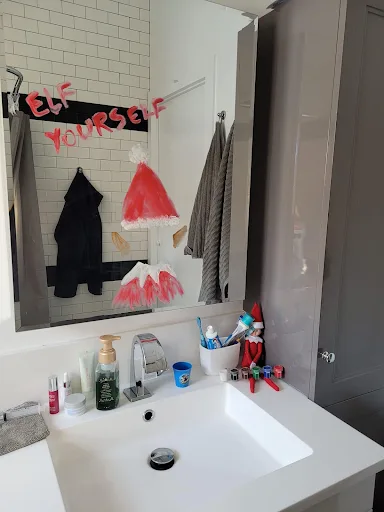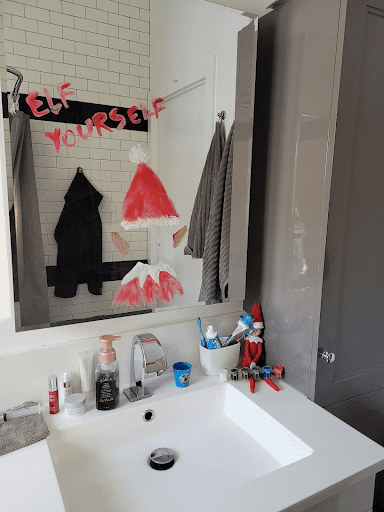 26. Dreaming Of A Winter Wonderland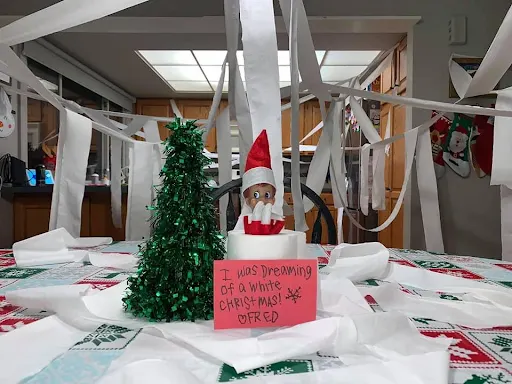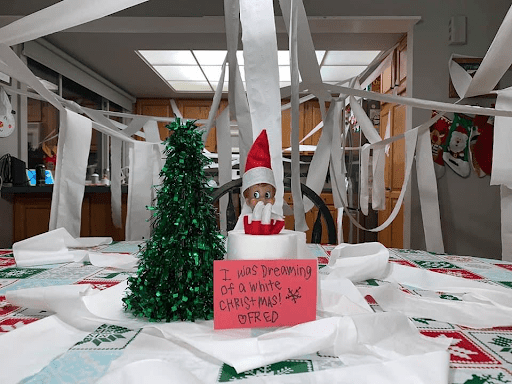 27. With A Special Breakfast Letter
The letter says:
I put magic on Mom and Dad. Ask for ice cream for breakfast, and they will say yes!
Hurry before the magic goes away! Also, I put magic on this paper so they cannot read it!
Haha!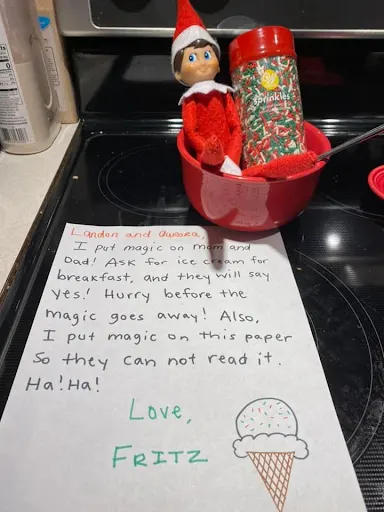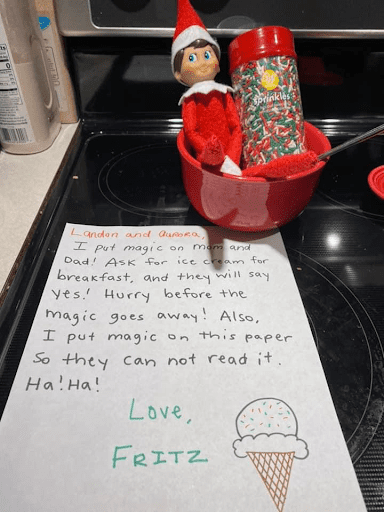 Elf on the Shelf Ideas For Toddlers
Let's say that you have a toddler. I'm going to tell you that Elf on the Shelf ideas for toddlers should NOT be elaborate.
Take advantage of the fact that your toddler is currently amused by the simple things in life.
Believe me, you will have many more Christmases in order to get all of your creative elf energy out.
This year is not the time to burn out from too much elf nonsense.
But get ready!
Your toddler is going to LOVE their new friend!
Here are some ideas.
28. Cardboard Box Fun
Have your elf scribble in a cardboard box and then sit in it (because what toddler doesn't love to do that!)
29. Going Fishing
Have your elf fish for goldfish (every toddler's favorite food!).
If you have the Fishing Game, simply grab one of the fishing poles from the game and stick it into the goldfish bag.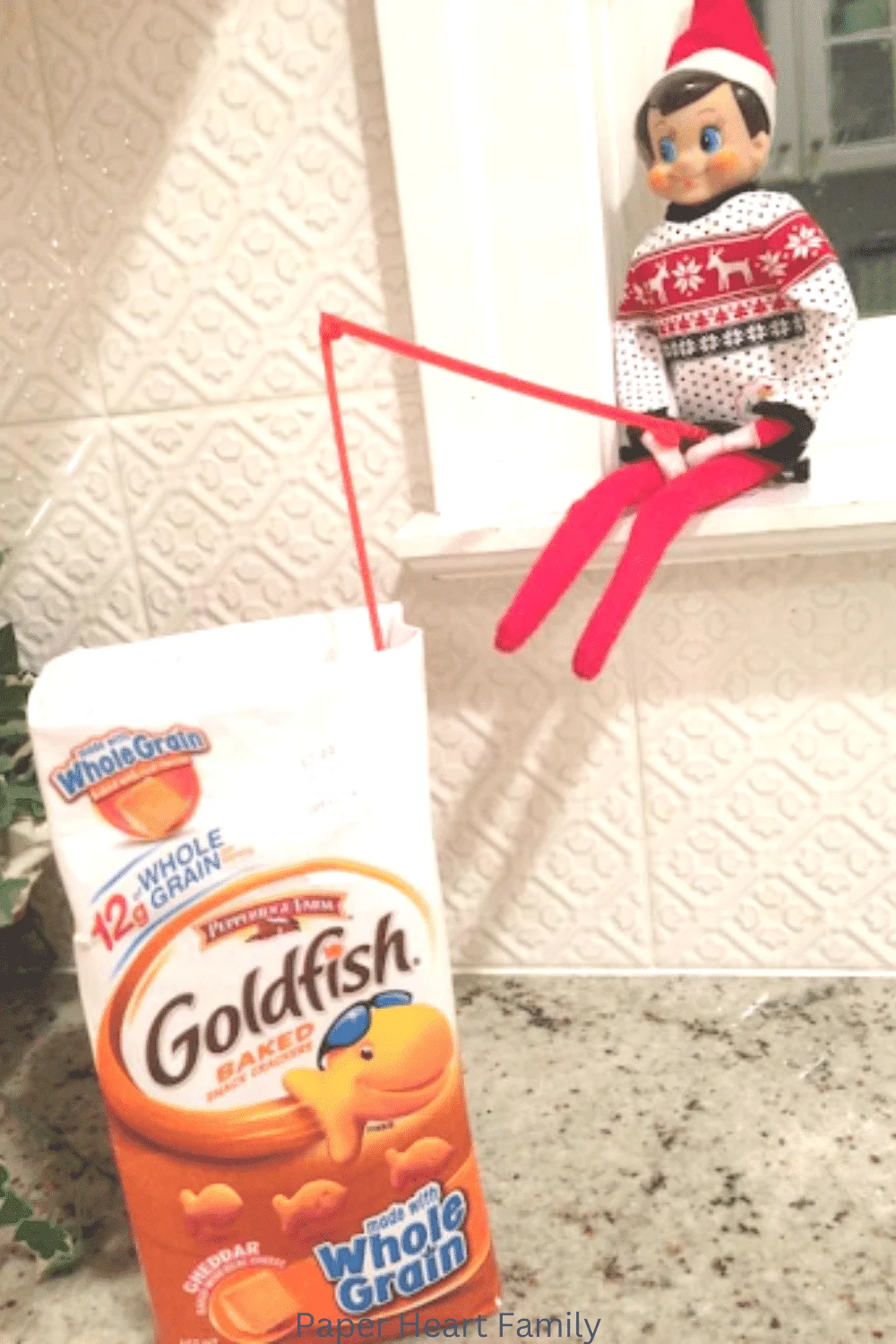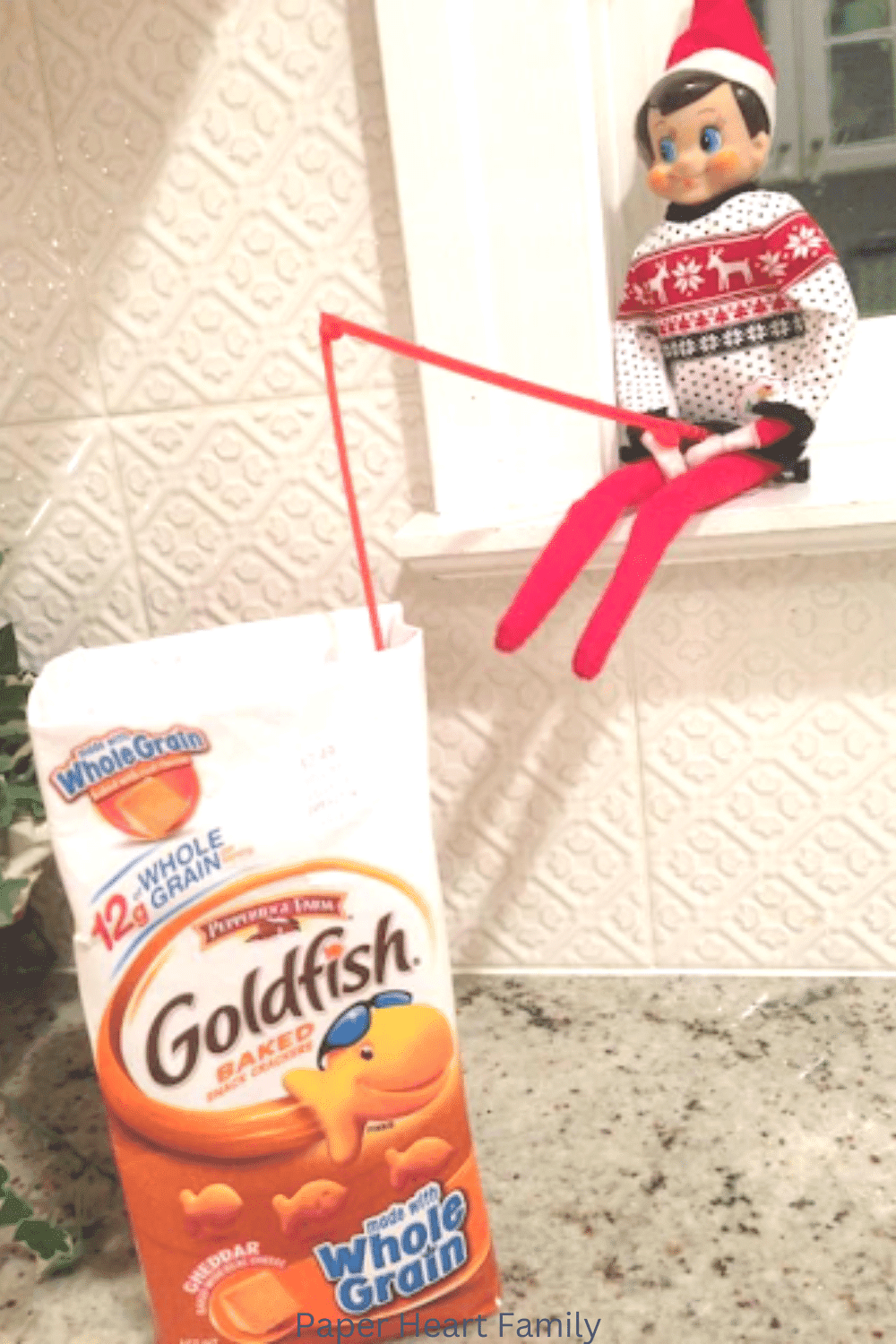 30. The Elf on the Shelf and the Three Bears
Pose your elf reenacting your toddler's favorite book.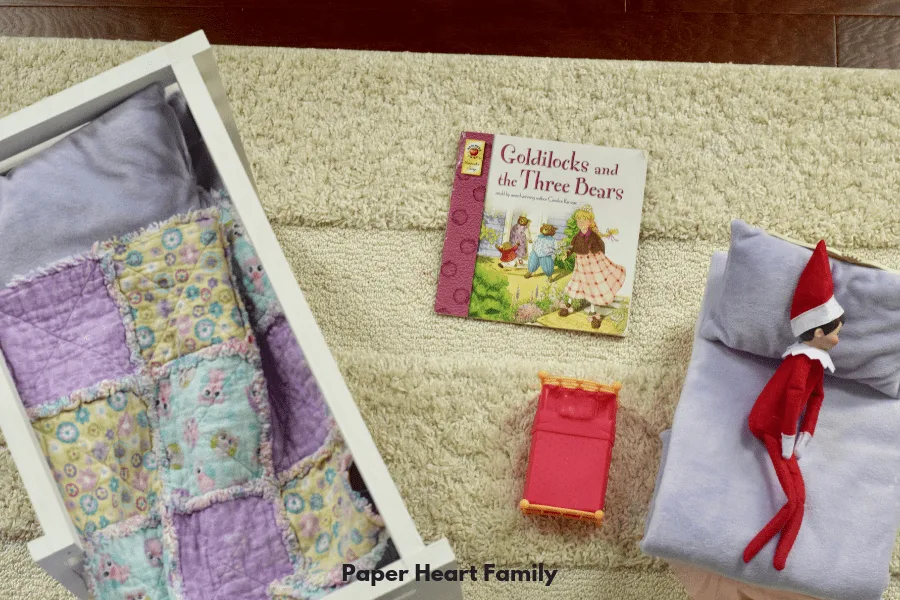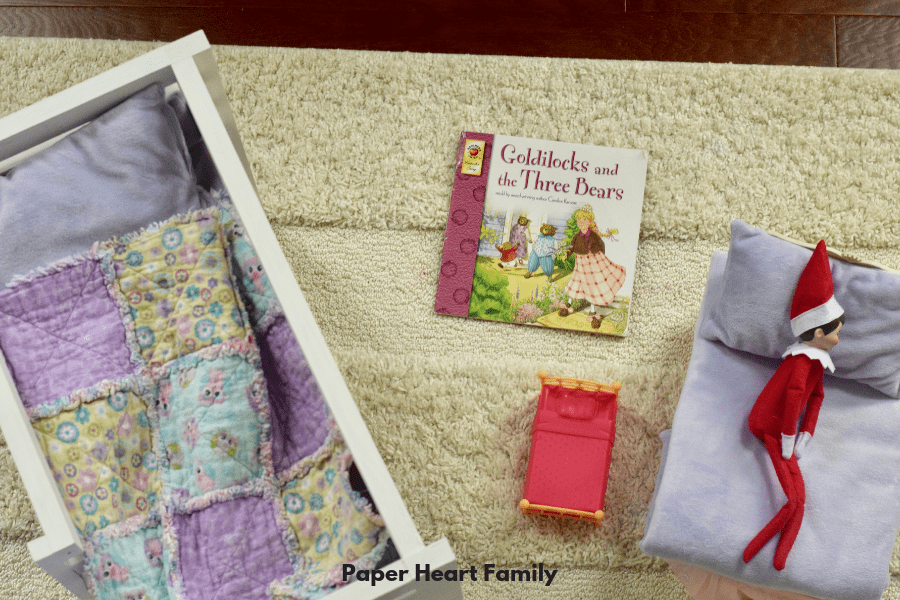 31. Whipped Cream Toothpaste
Have your elf brush his teeth with whipped cream (this is also a great, sneaky way to get in a quick little lesson on oral hygiene!)
32. Sick Elf
Stick a tissue on your elf's nose and surround him with crumpled up tissues (the tissue, AKA the toddler's biggest nemesis).
33. Toilet Paper Fun
Making a mess with toilet paper in the bathroom is quite possibly your toddler's favorite past time- toilet paper hammock, anyone?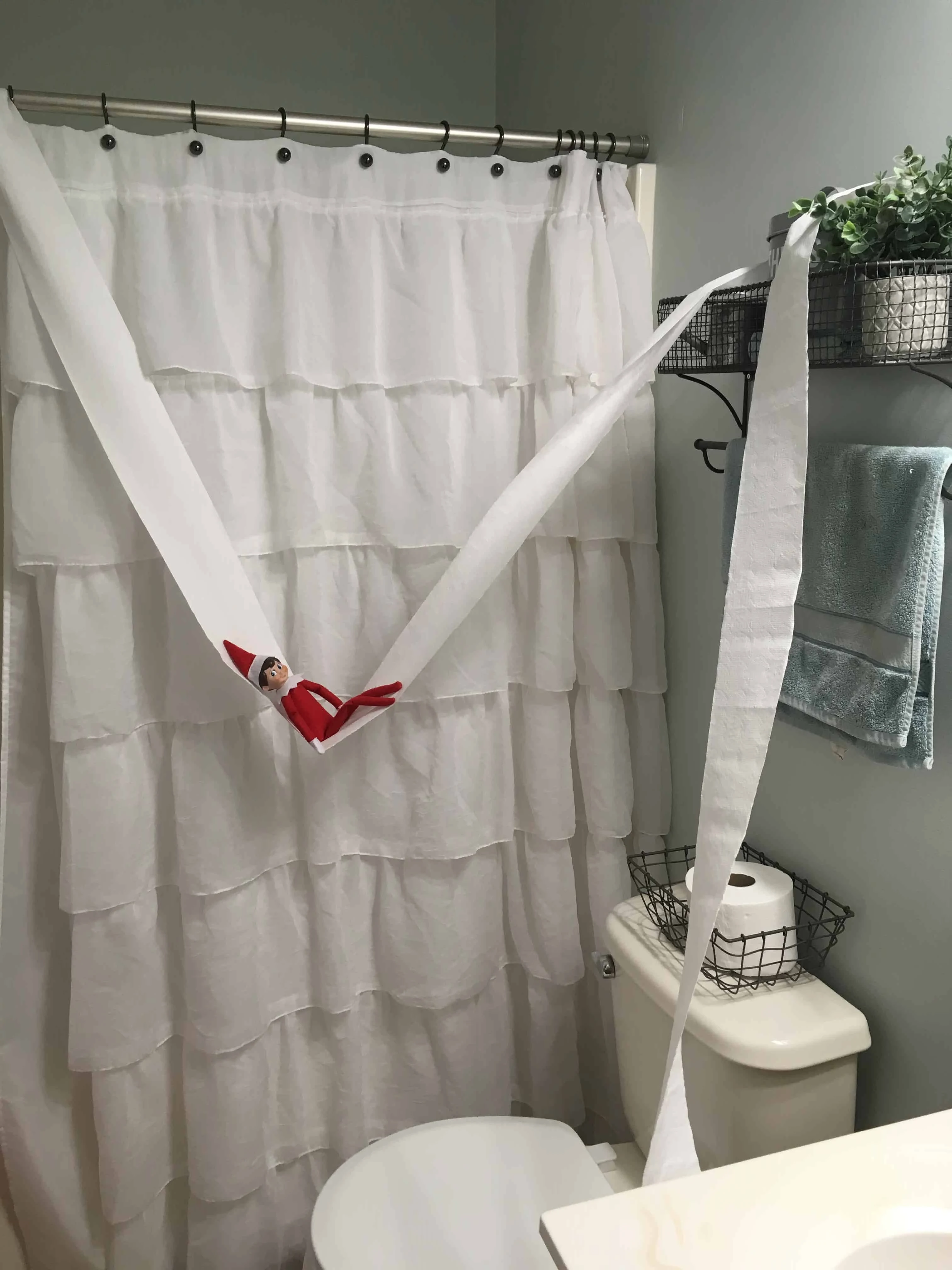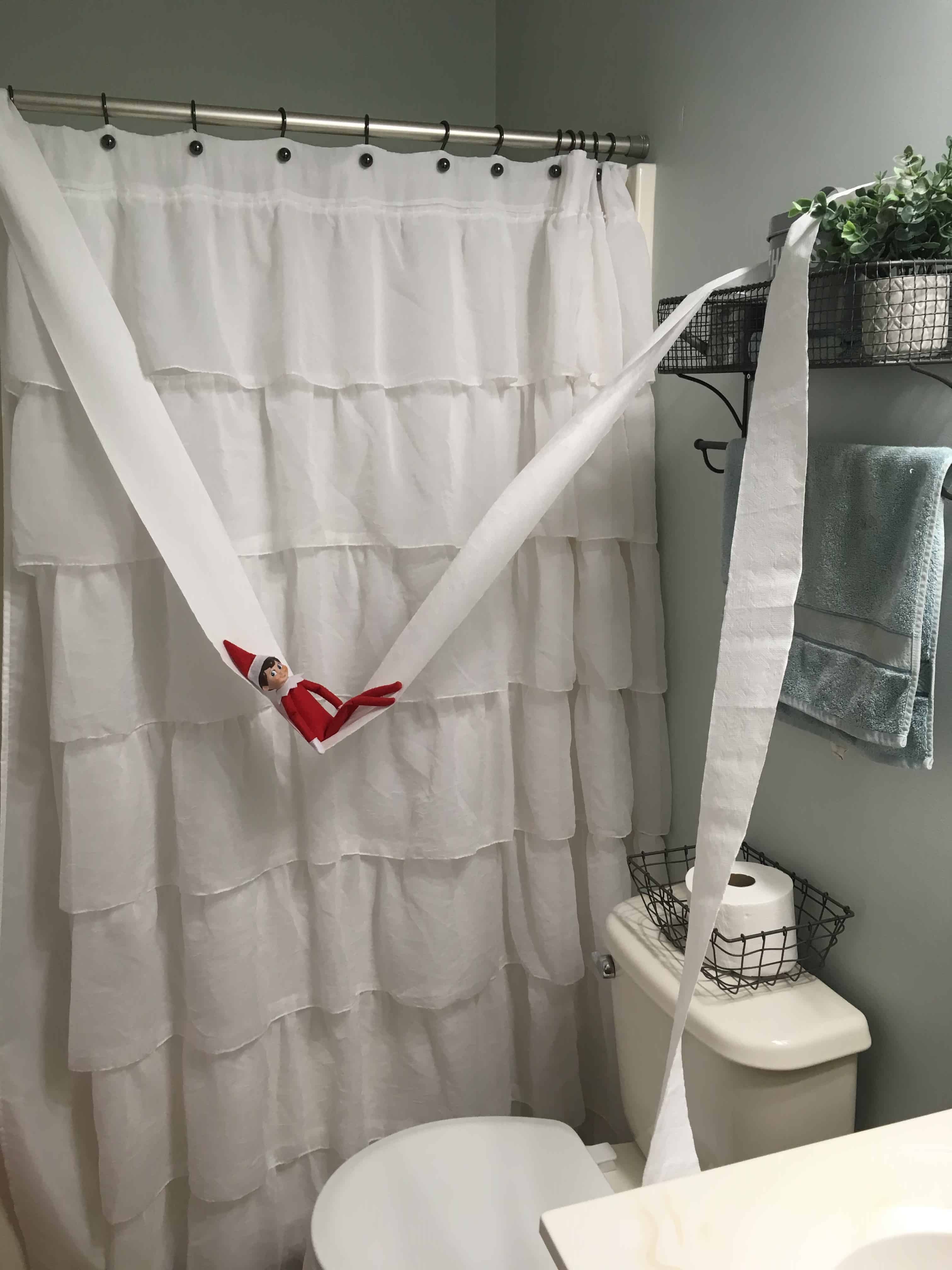 34. Tea Time
Having a tea party with some toy friends will encourage your toddler to engage in some pretend play, too!
35. Baking Mishap
Getting your elf stuck in a whisk is the easiest thing ever, but it's sure to elicit some belly laughs.
36. Piggy Bank Robber
Position your elf reaching into your toddler's piggy bank- if you have a few minutes you could even make a small mask out of black felt for your elf.
37. Play Doh Face
Using Play Doh to "dress up" a doll. This one could get really wild- think fingernails and toe nails, too!
Get all of my toddler ideas (WITH PHOTOS) here: Elf On The Shelf Ideas For 2-3 Year Olds
Elf on the Shelf Ideas For 2 Elves
The beauty of setting up some elf antics with two elves is that you can pretty much do anything.
Adding a new elf into the mix is a fun idea that doesn't take any more effort than one elf.
38. Encouraging Your Kids To Clean Their Rooms
Why not bring your Halloween skeleton back out one more time?
Okay, maybe this set-up won't really encourage your kids to clean their rooms, but it's funny none-the-less!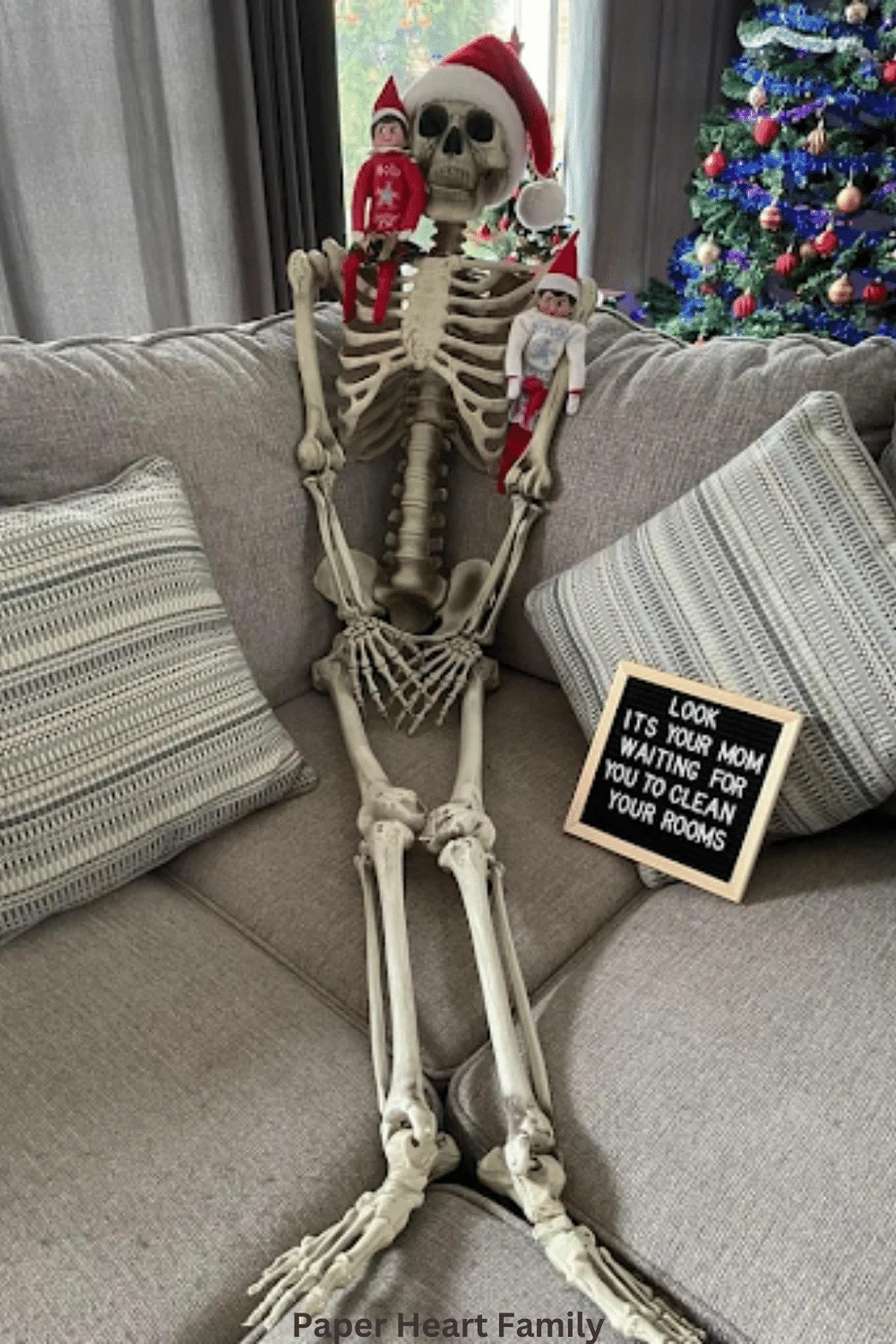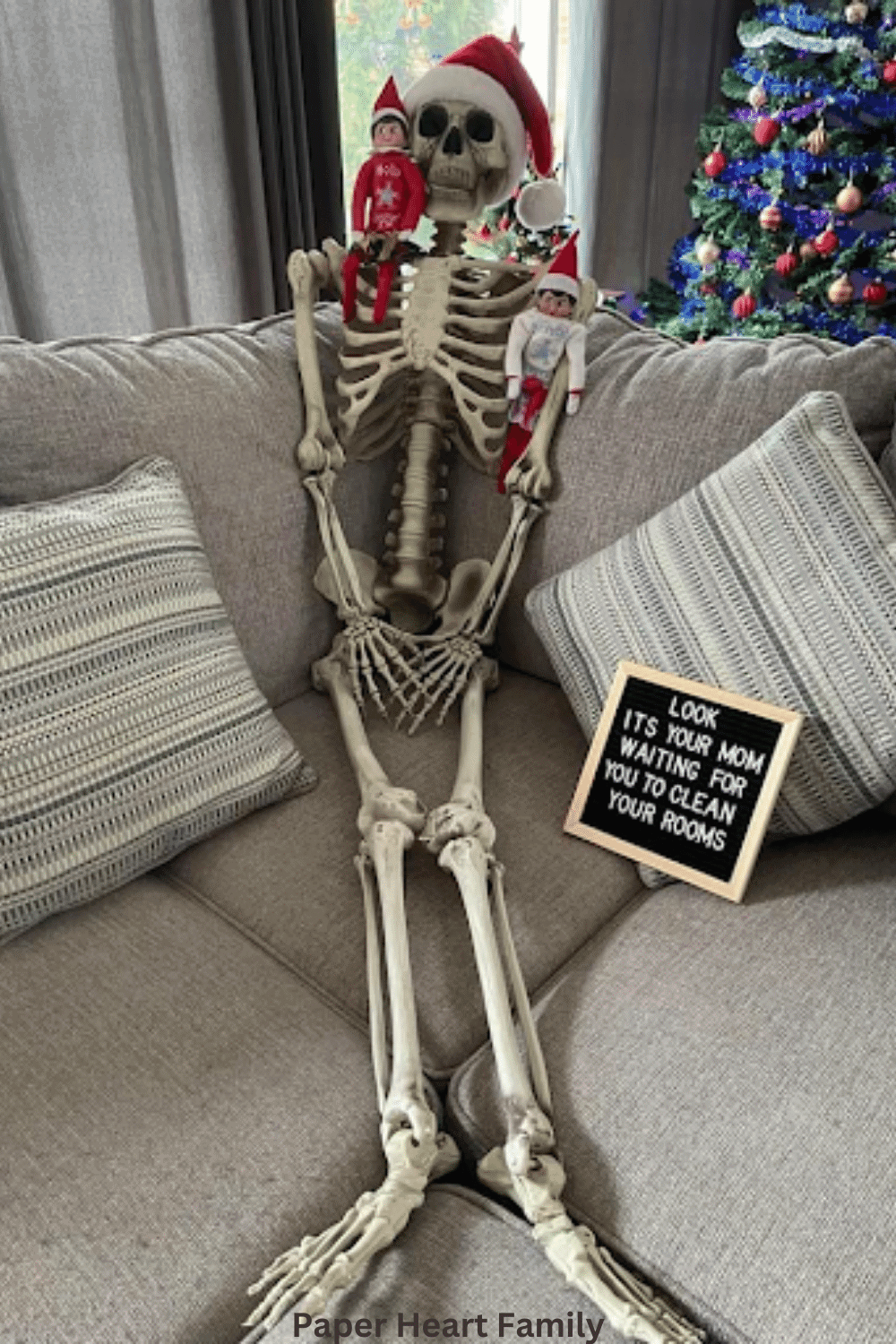 39. The Milk Has Gone Bad
As long as you have a clear gallon of milk, a little string and a sharpie, you're good to go for this great idea!
Such a good one.
40. Having A Sack Race
Break out those extra brown paper bags and create a sack race with your child's small stuffed animals.
This idea is a great way to get some giggles tomorrow morning in your living room.
Who will win the race?
41. Hanging Out In An Igloo
Simply cut a gallon milk jug into the shape you want and cover it in cotton balls.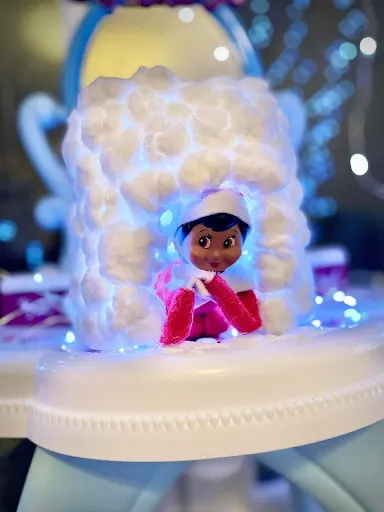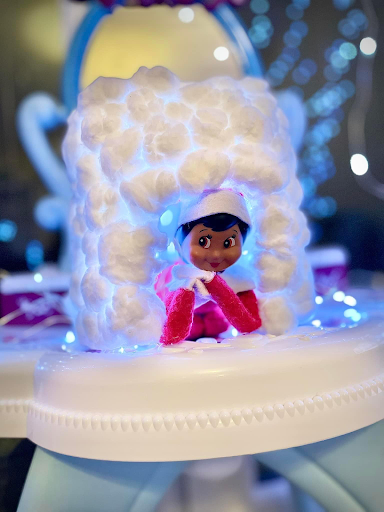 42. Climbing To The Treats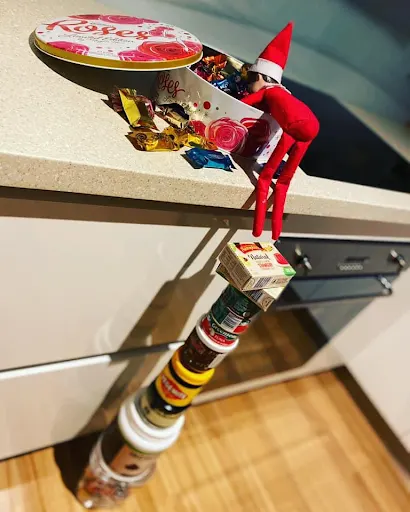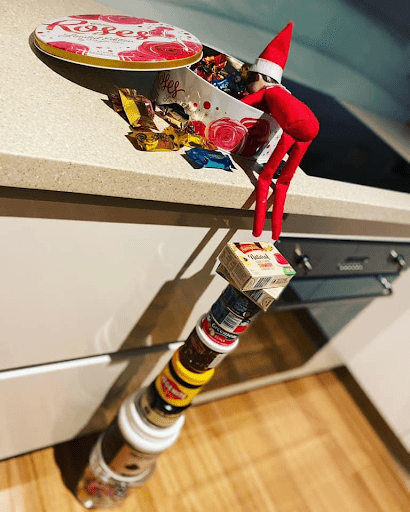 43. Bringing A Candy Cane Hunt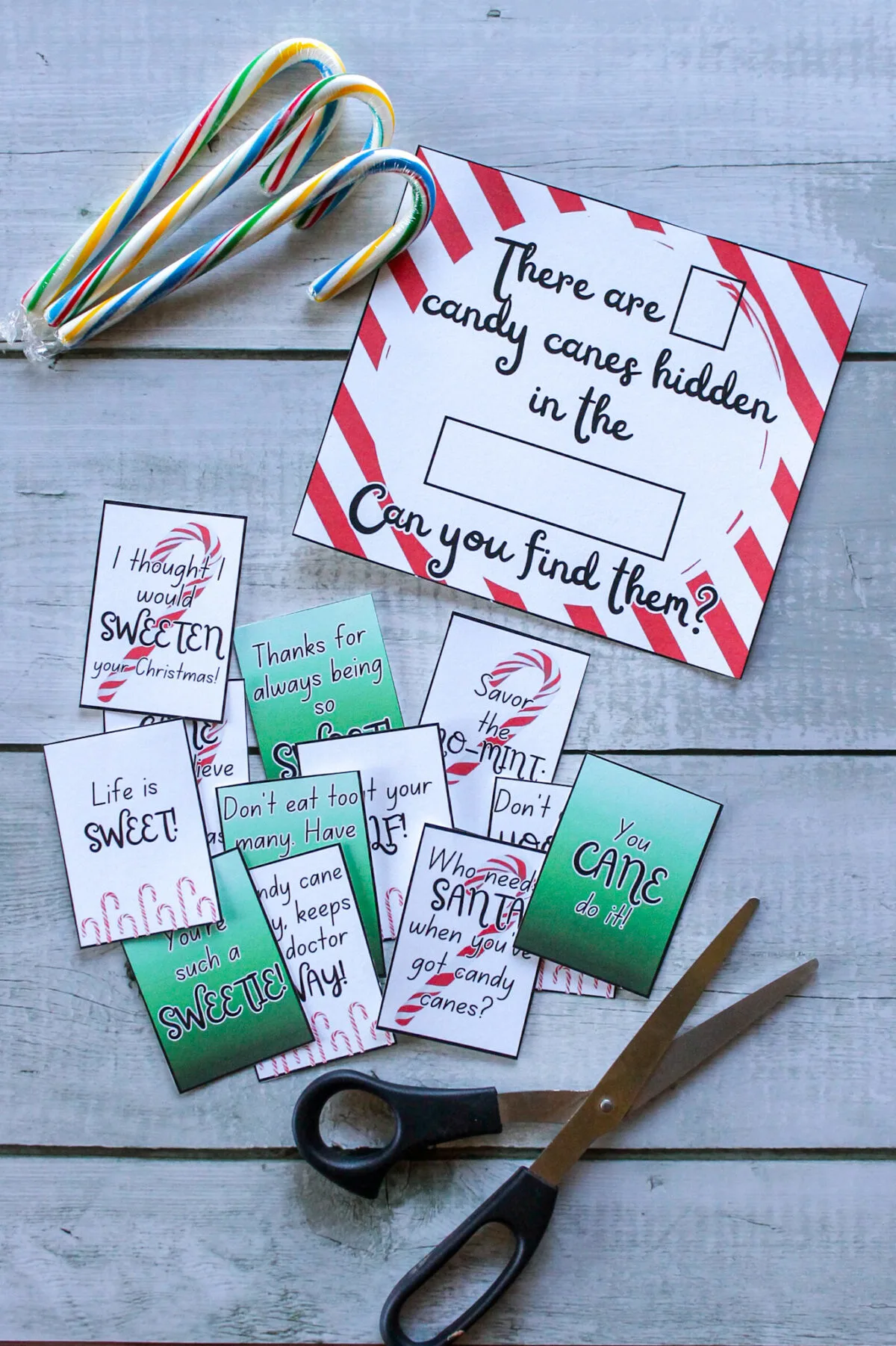 Don't you love this candy cane hunt with candy cane tags?
Check out my Two Elf on the Shelf Ideas!
Elf on the Shelf Scavenger Hunt
Wanna send your kids searching for clue after clue tomorrow morning while you sip your coffee in peace?
Setting up a pre-made scavenger hunt is so much fun.
Get this elf scavenger hunt (free printable). I promise your kids will love it!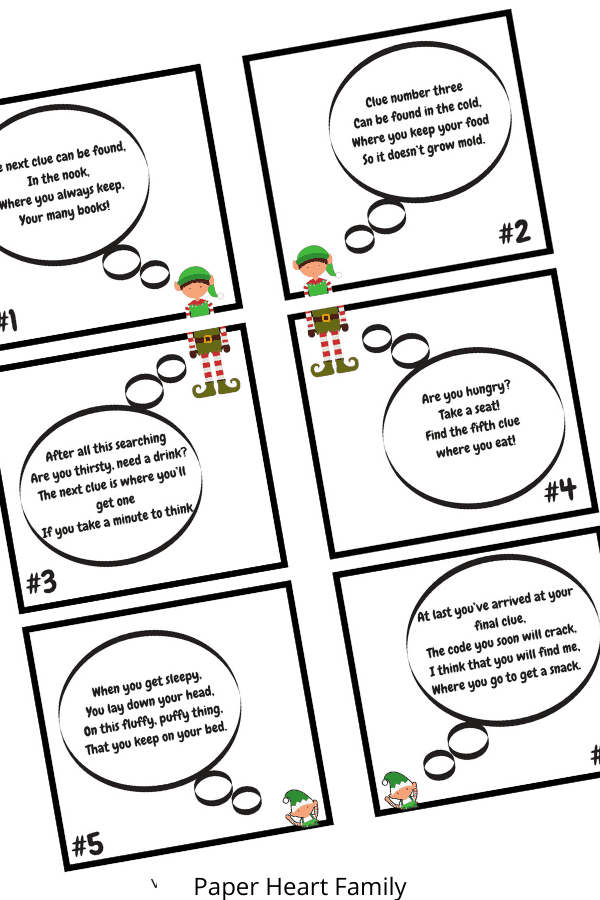 Excuses for the Elf on the Shelf who Didn't Move
If you didn't use my Elf on the Shelf arrival letter which tells your kids that it's okay if the elf doesn't move overnight, then you might need some suggestions.
Keep these excuses in mind.
Excuse #1- Blame it on the younger sibling.
You can always tell your child that you think you saw the toddler touch the elf the day before.
Excuse #2- You forgot to tell him good night and he was waiting up all night for you to let him know that you were going to bed so that he could sneak out.
Excuse #3- He looks tired.
Don't you think he looks tired? I bet he wanted a break. It's a long fly to the North Pole!
Or better yet, read and pin 14 Reasons Your Elf Didn't Move about what to say when your Elf forgets to move.
(Her ideas are way better than mine).
Elf on the Shelf Goodbye Letter
Did you ever hear of the Christmas hangover?
That feeling when you have been waiting and preparing for Christmas Day for an ENTIRE month and it's over in the blink of an eye?
It can be a huge letdown.
It's the same thing with your kids.
But not only is Christmas morning over and all of that excitement, but Jingles has flown back to the North Pole after weeks of daily excitement.
It can be sad for a kid.
Leaving your child with an Elf on the Shelf Goodbye Letter that they can actually hold will help them feel a little less let down.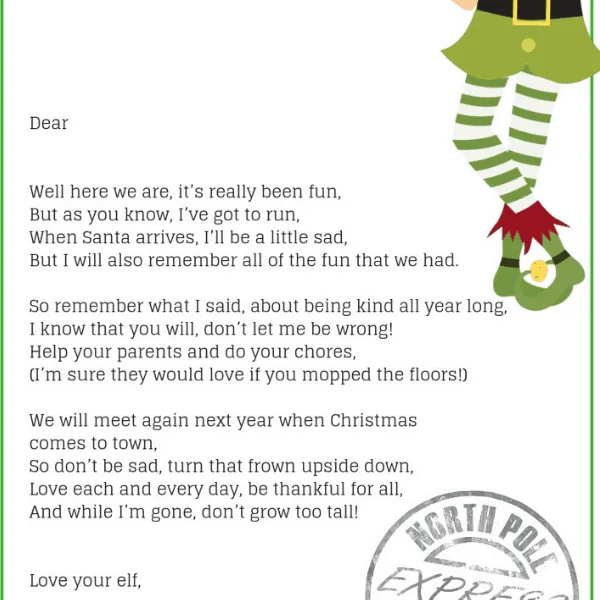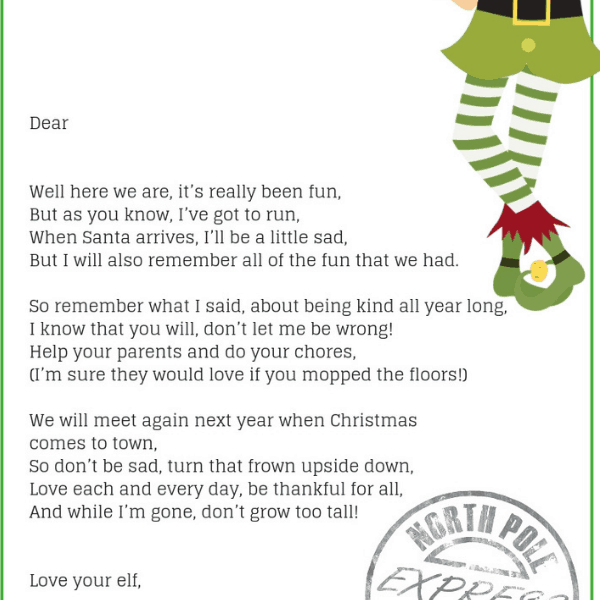 Get your Elf on the Shelf Goodbye letter <——–HERE.
Elf on the Shelf Props, Printables, Pets and Accessories
There are so many awesome Elf on the Shelf accessories. Did you know that you can buy Elf on the Shelf clothes? Even elfpets!
Most importantly, have fun and remember, you're the mom, you are the one in control.
Don't let the Elf on the Shelf steal your Christmas spirit!
So tell me busy mom, do you love or loathe the Elf on the Shelf?
What are your best Elf on the Shelf ideas?