It's that time of year again!
On the lookout for some hilarious Elf on the Shelf ideas?
Maybe your kids are getting older and the run-of-the-mill Elf on the Shelf ideas don't get the same response that they used to.
Or maybe you're just the super fun mom who has tons of Christmas cheer and you want to watch your kids crack up with laughter each morning.
Whatever the reason, I hope you find some inspiration in this post.
I kind of fall in this category, I guess.
But I also don't want to be spending 30 minutes each night setting up an elaborate scene with my buddy from the North Pole, Pony the Elf.
I need something quick this holiday season, but one of my favorite things to do is to make my kids laugh, so funny AND easy ideas are my Christmas jam.
Last year, my kid's thought that the Elf on the Shelf in their winter boots was the funniest, but they're getting older, and I bet this year it won't be as easy to get those giggling fits out of them.
These are the ideas that I'm going to be trying out this year.
Well, some of them.
Because i know that there are going to be some nights when I'm just tired and overwhelmed with Christmas to-dos and need a little help.
These are the days that I will need to use one of my simple Elf on the Shelf ideas.
Be sure to check out my printable Elf on the Shelf Calendar, which includes a funny poses calendar, along with lots of other things to make your Elf on the Shelf experience so much fun this year.
I hope these ideas make for a month of December full of laughter and fun!
I also hope these creative ideas get you to Christmas Eve or Christmas day with your sanity in tact!
This post contains affiliate links.
Funny Elf On The Shelf Ideas
1. Stuck In The Fireplace
It would be a really cute idea if you just cut out a little thought bubble to go with it with the Elf saying "help!" (I don't have a picture of this yet because I embarrassingly don't know how to open up our gas fireplace and my husband wasn't home)
2. Selling Balloons
I used wooden skewers, water balloons and a cute little wooden chalkboard easel.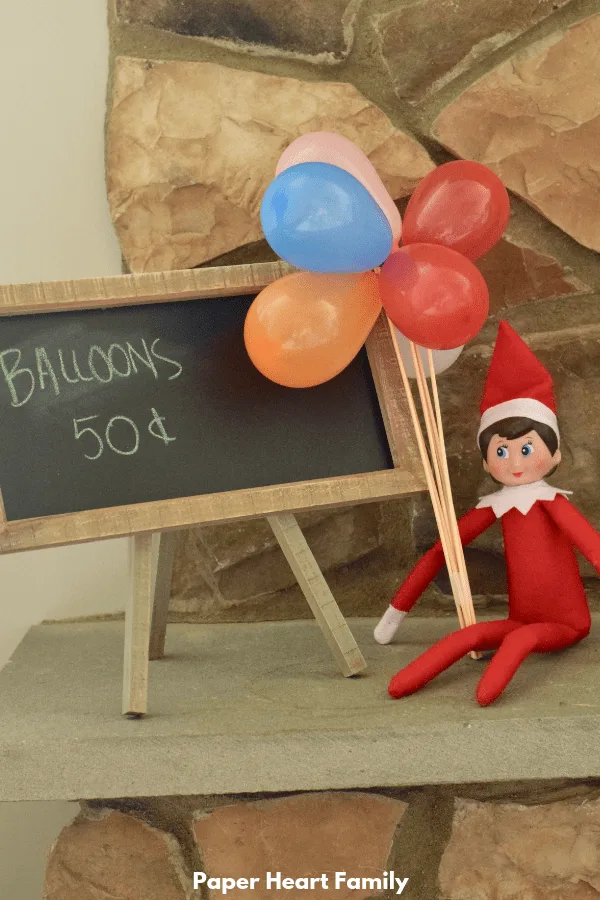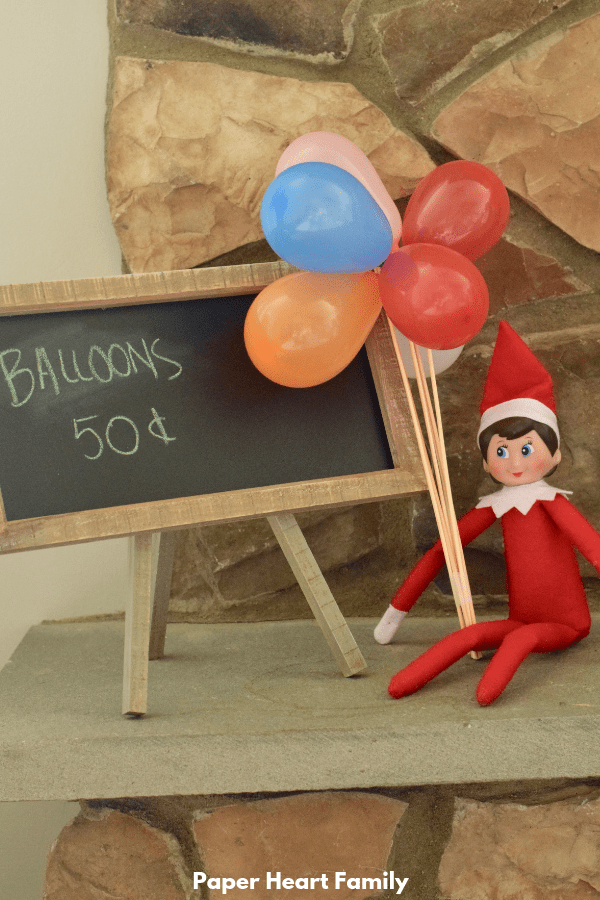 3. Decorating your child's room with balloons and/or streamers
So fun to wake up to!
4. Making your child's school lunch with weird foods
Just open up the pantry and see what you can find (remember that elves love sweets!)
5. Blowing a bubble with gum
It stuck forever, believe me, I tested it.
I KNOW my gum obsessed kids will love this one.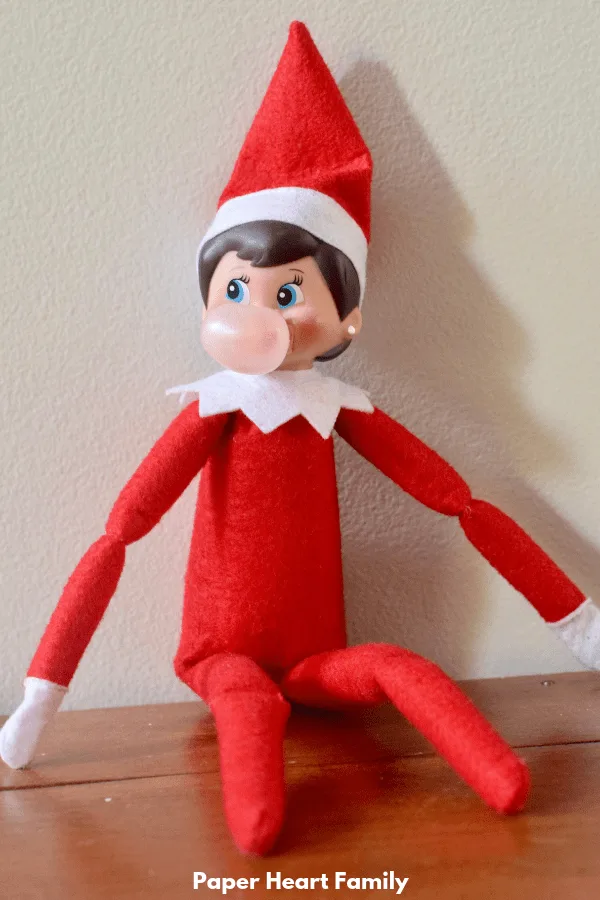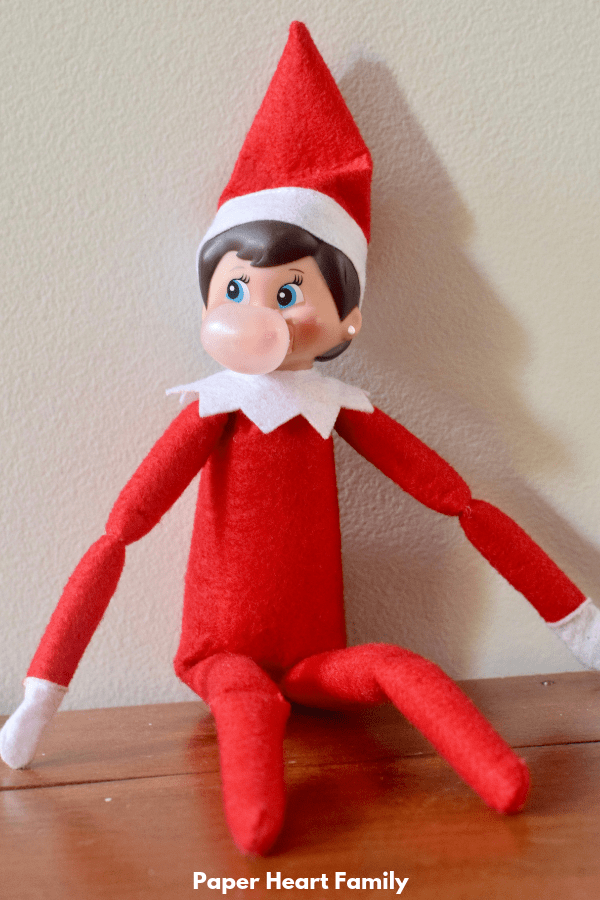 6. Drinking syrup from a straw
This one scares me a little bit because I could totally see my kids doing this!
7. Brushing a doll's hair
8. Pooping chocolate into the potty
If you have kids that are potty training, you might want to steer clear of this one.
My mother-in-law did it at her house for my daughter and she was completely freaked out.
She wouldn't use her training potty there for a whole week.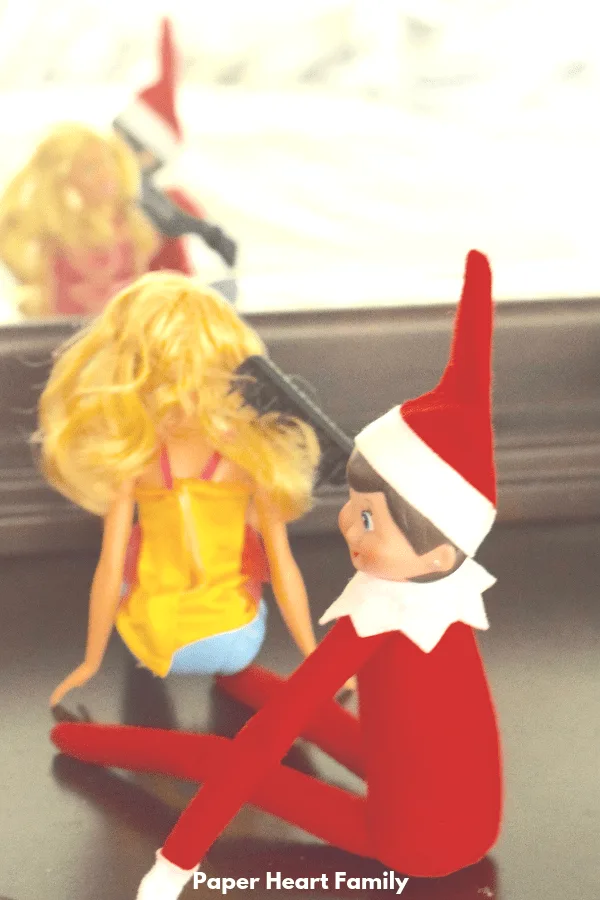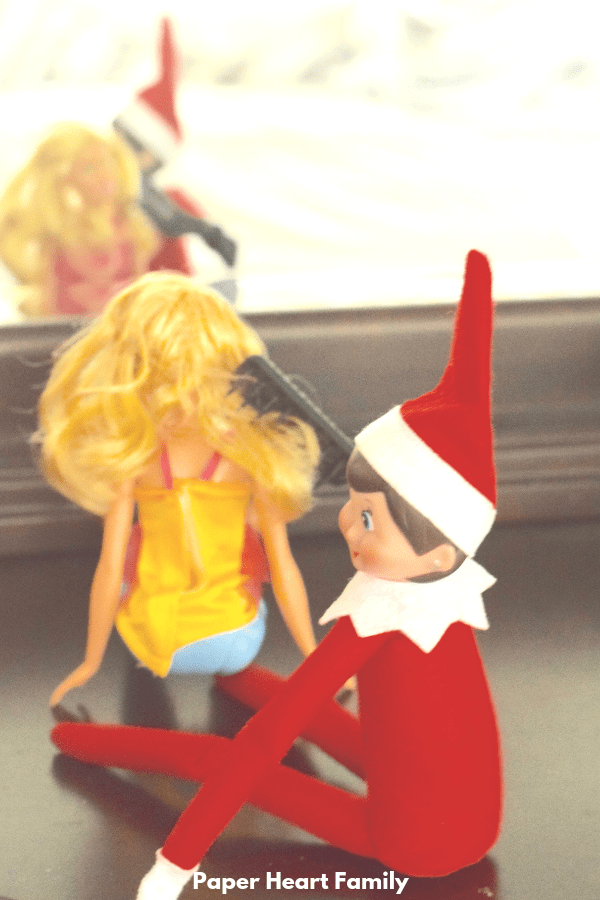 Pssst- You can sneak a bite too.
10. Teaching toys how to be an elf
Use your creativity- the elf can teach whatever you want on your child's easel!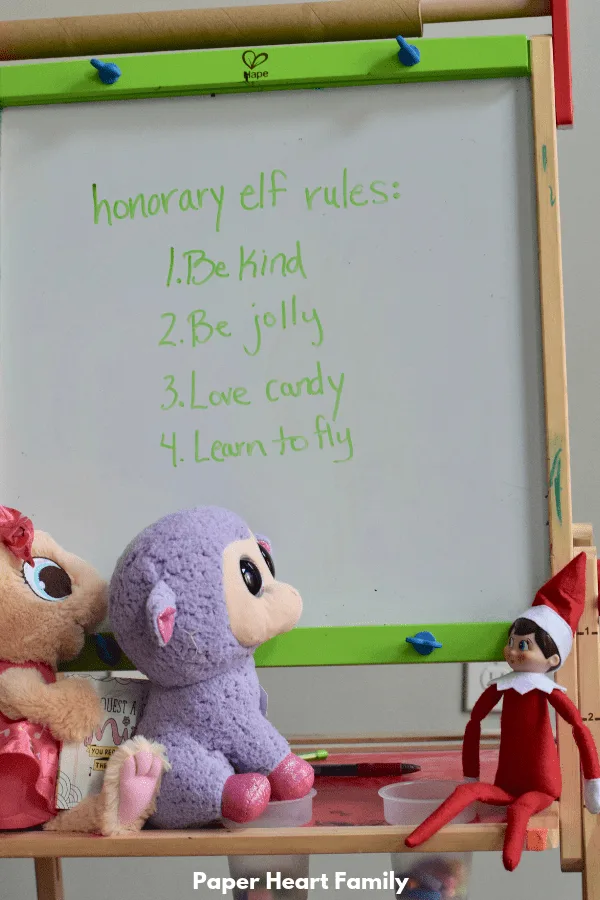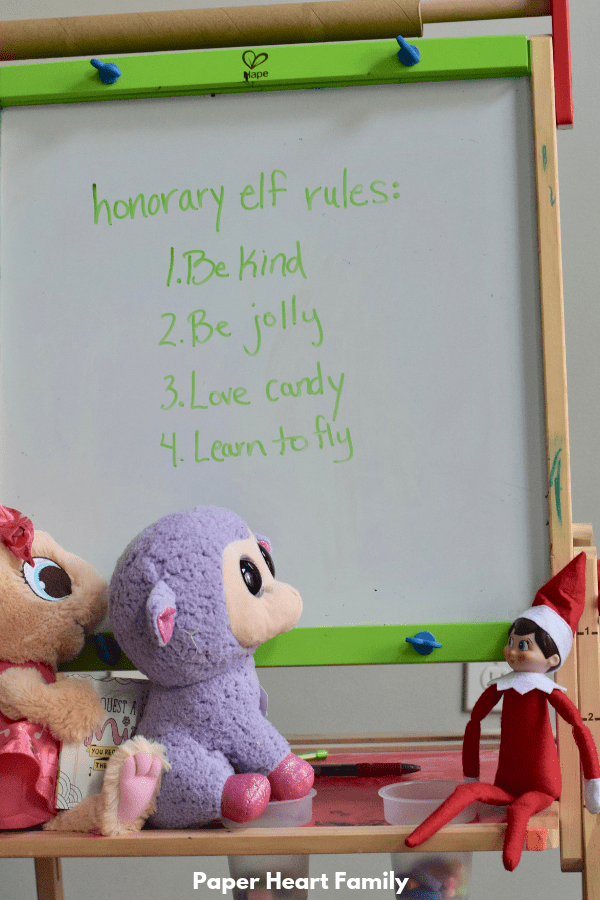 11. Locked out of the house and stuck to the window
12. Surrounded by money from your child's piggy bank
Your kids will either love this one or will legitimately think that the elf is trying to steal from them.
Either way, it's funny!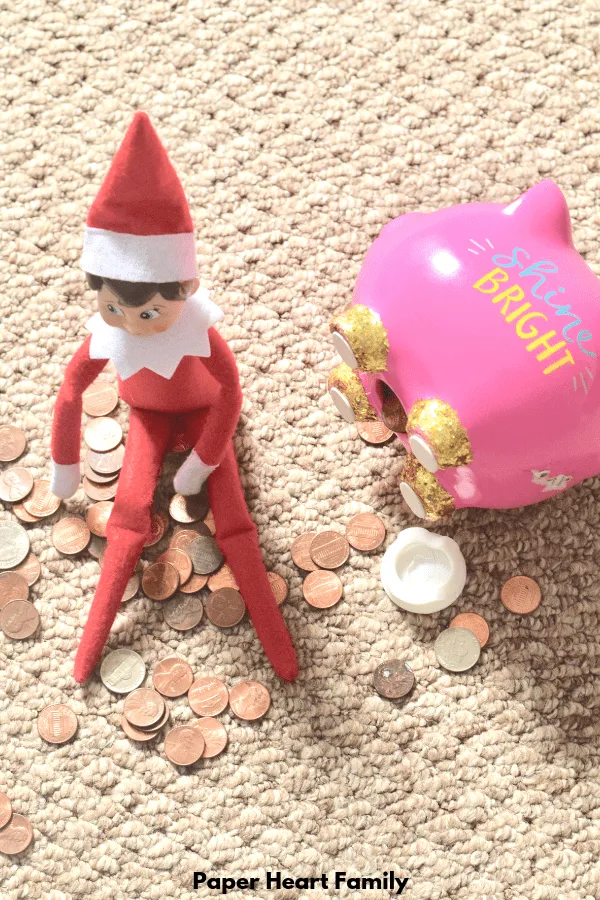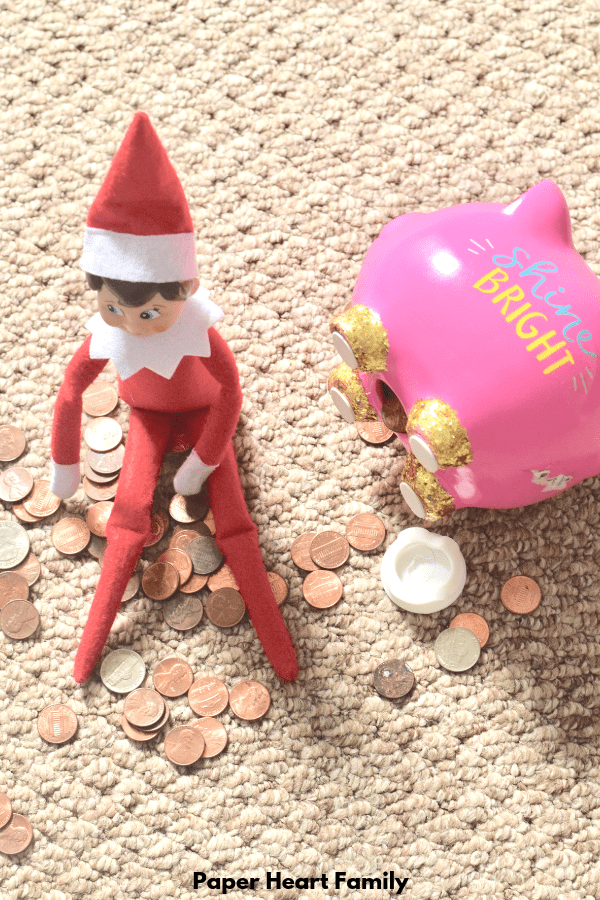 13. Eating breakfast inspired by Buddy the Elf
Spaghetti, sprinkles, maple syrup, chocolate syrup, m&ms and chocolate frosted pop tarts.
Get creative!
14. Putting makeup on just like mommy does
15. Playing Twister
You can use dot markers to make a quick twister board.
16. Adding a drawn self portrait to a family photo
He'll make a cute addition to any family!
Your elf can also draw funny faces onto the picture frame glass with a dry-erase marker.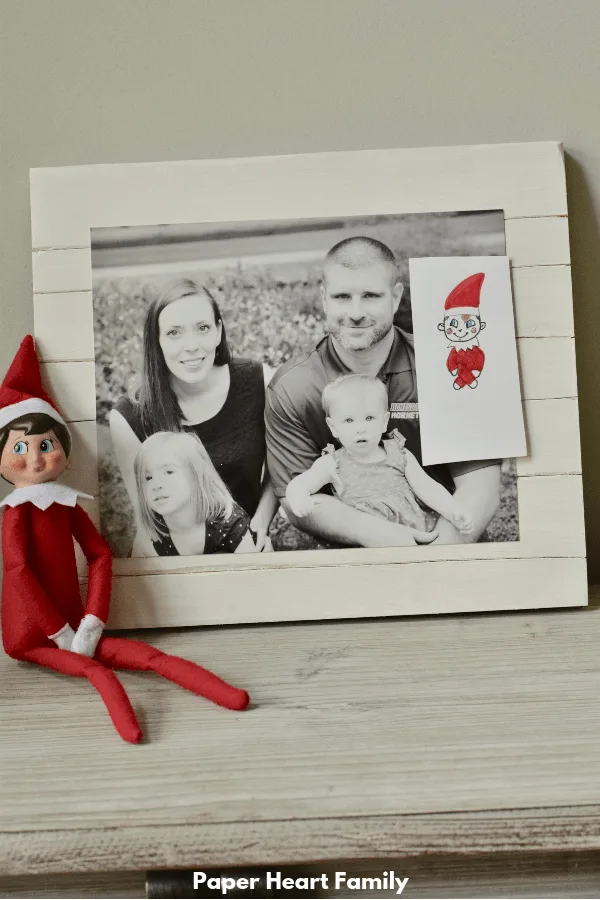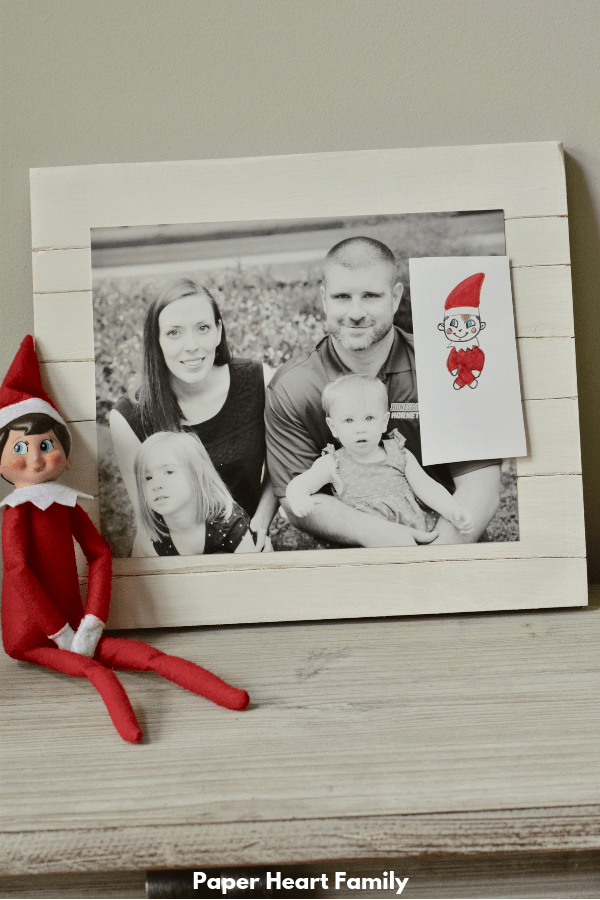 17. In a waffle ice cream cone with sprinkles
18. Tangled in Christmas lights
Just make sure to use the cool-to-the-touch lights.
19. Playing ghost with a tissue
Just hole punch a couple holes in a tissue and you're good to go.
Yes it's the Christmas season, but we can through a little Halloween into the mix, too.
20. Laying on a towel wearing sunglasses
Don't you love these glittery star sunglasses that I got for my daughter's Sing themed birthday party?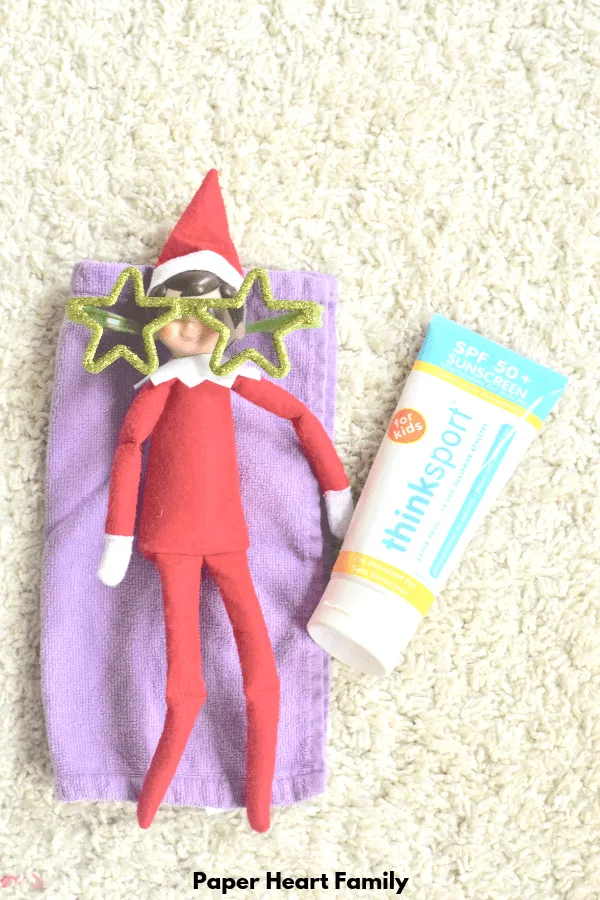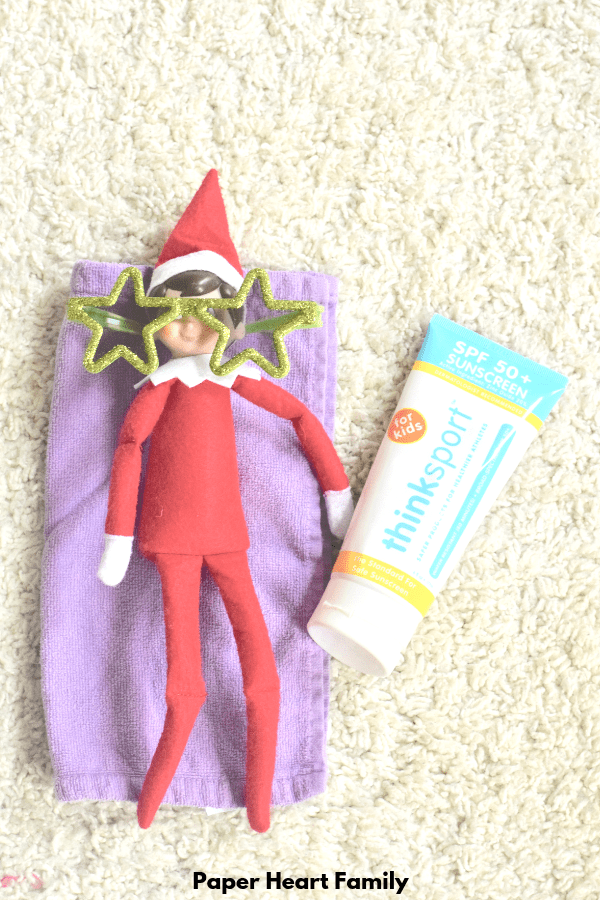 21. Walking on the ceiling
Also, did you know it's super easy to make your elf bendable? Click here: making your elf bendable!
22. Dressing up like Santa with a marshmallow beard
SO EASY!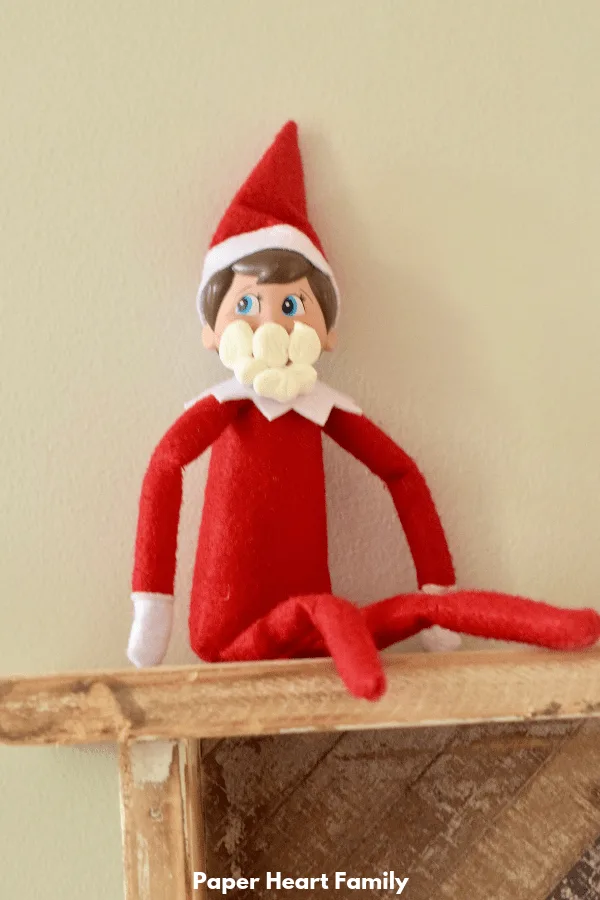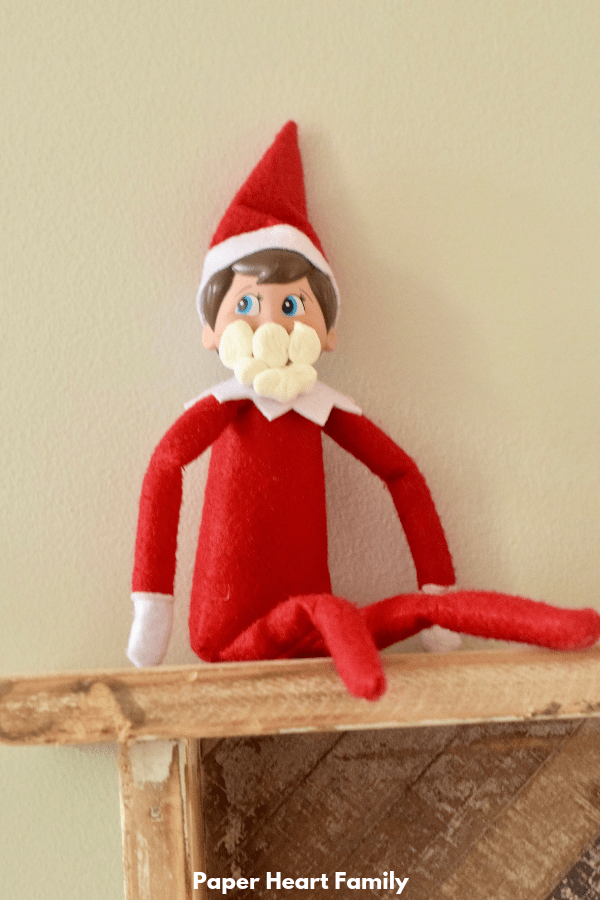 23. Taking an Orbee bubble bath
Are you brave enough to do this one?
You can do just a small bath or go all out and fill the entire bathtub.
Your kids could go IN it.
How fun would that be?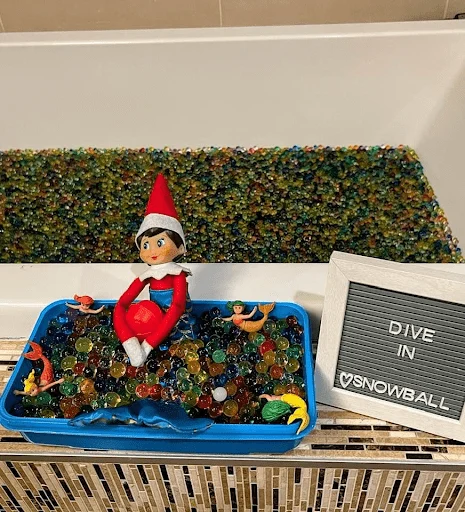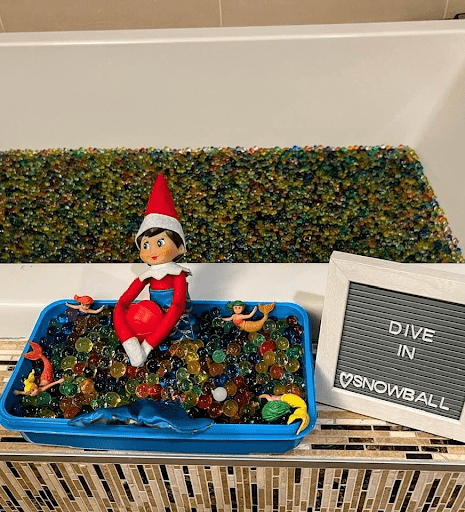 24. Home Alone and on the lookout
Kevin, AKA your elf, had lots of adventure last night trying to protect the house from Harry and Marv!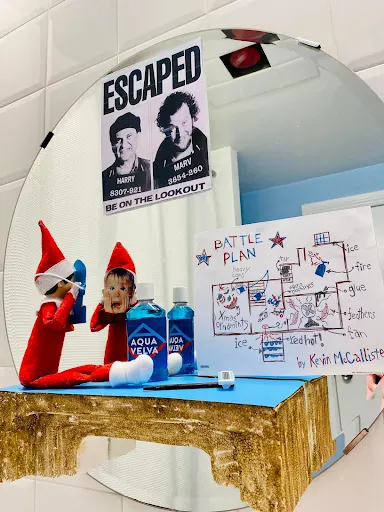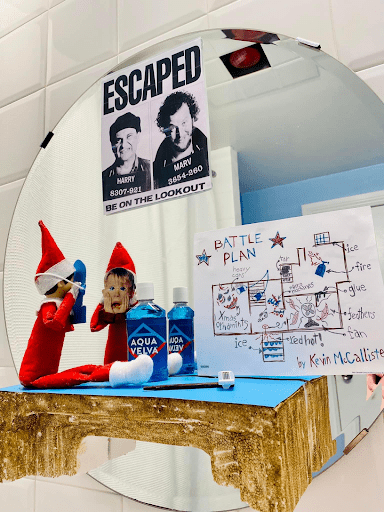 25. Brushing his teeth with Nutella
If you have a Nutella-obsessed child, this is a must do!
Target has little mini-Nutellas, too.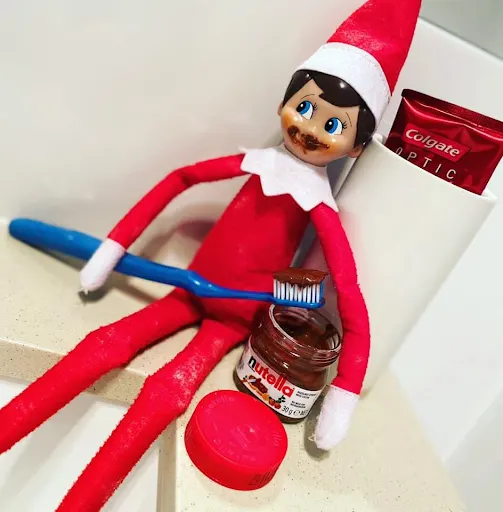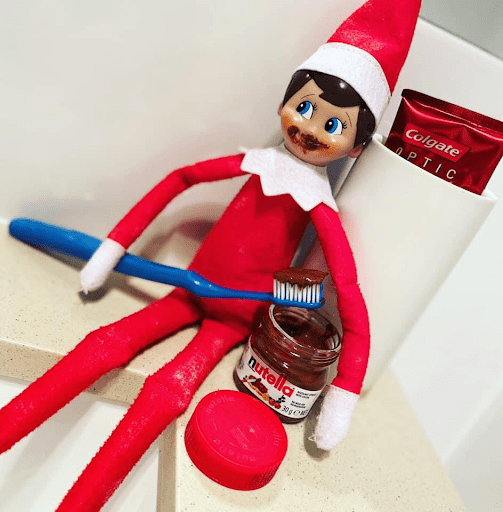 26. Grating Up Some Carrots
I mean come on, this is such a fun idea!
Wait until you see your kids' faces the next day!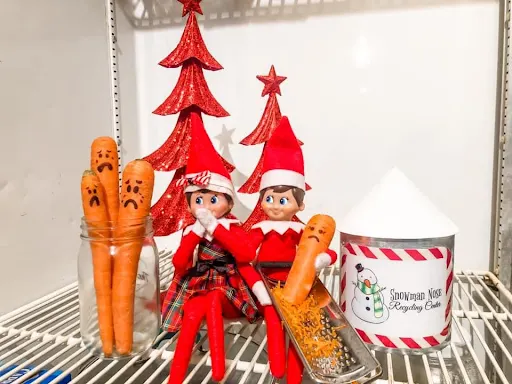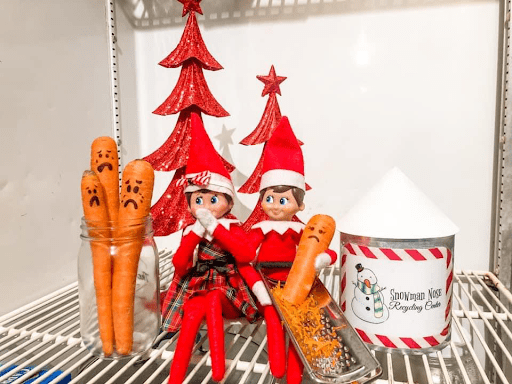 27. Leading a choir of singing soda cans
This is a great idea if you have a musical child in your home.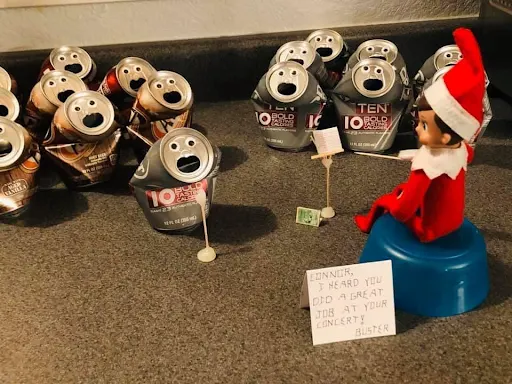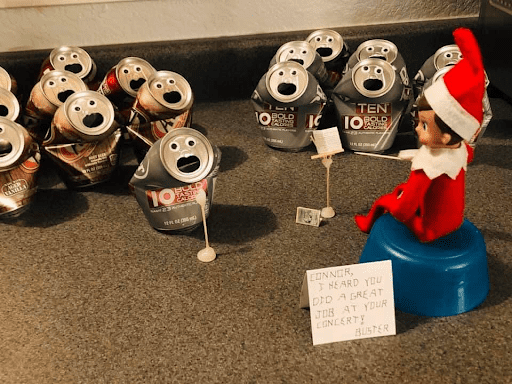 28. Eating dog treats
That naughty elf! At least everyone in the house will get a good laugh at his expense!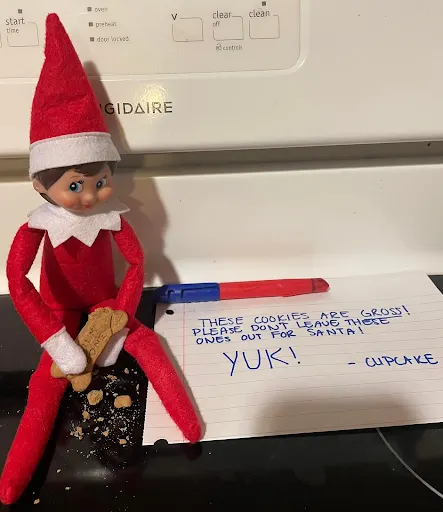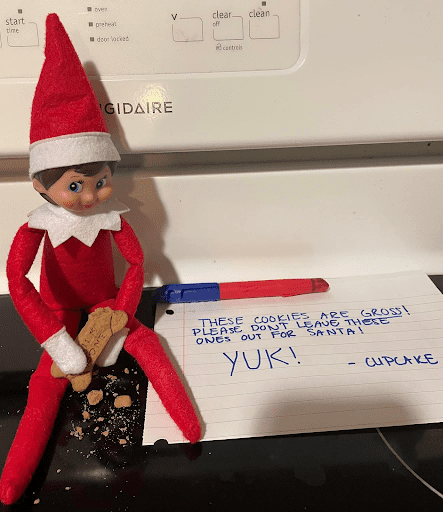 29. Caught by Spiderman
Looks like your elf made a new friend! Actually, maybe not.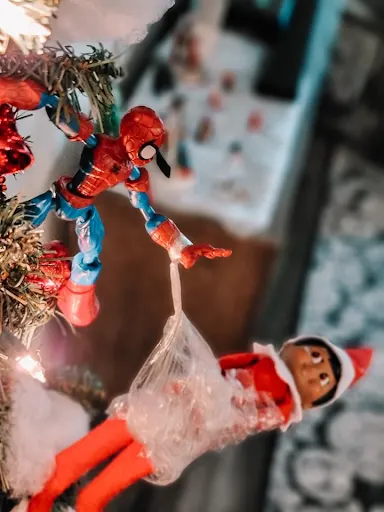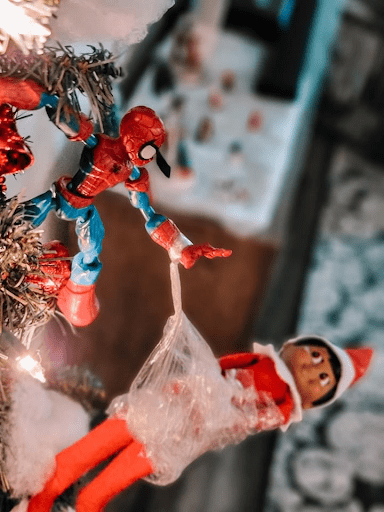 30. Ziplining from the light fixture to the Christmas tree
Ziplining ideas NEVER get old.
You could have the elves hanging from candy canes to if you'd like.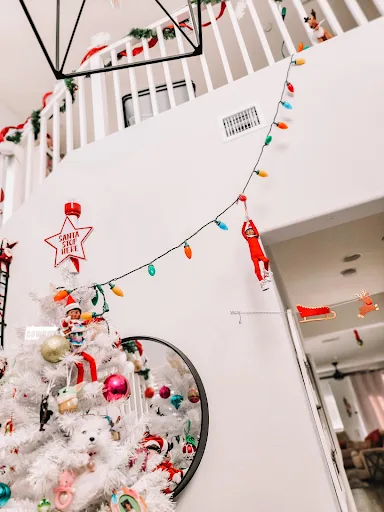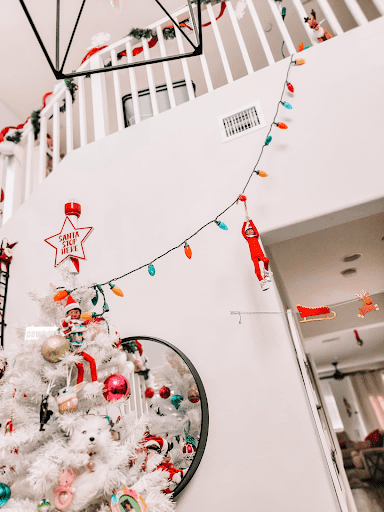 31. Sick Elf
Surround your elf with an empty tissue box and a bunch of crumpled up tissues.
Get some green slime if you have it and put some slime into each tissue.
It's so gross and so fun!
32. Wrapping the toilet
If you're feeling ambitious, why not use wrapping paper in order to wrap something up.
The toilet, perhaps?
Santa Claus isn't bringing Christmas presents this year, kids.
He's bringing a toilet!
Which of these funny elf ideas are your favorite? Do you love the Elf on the Shelf tradition?
Related Posts: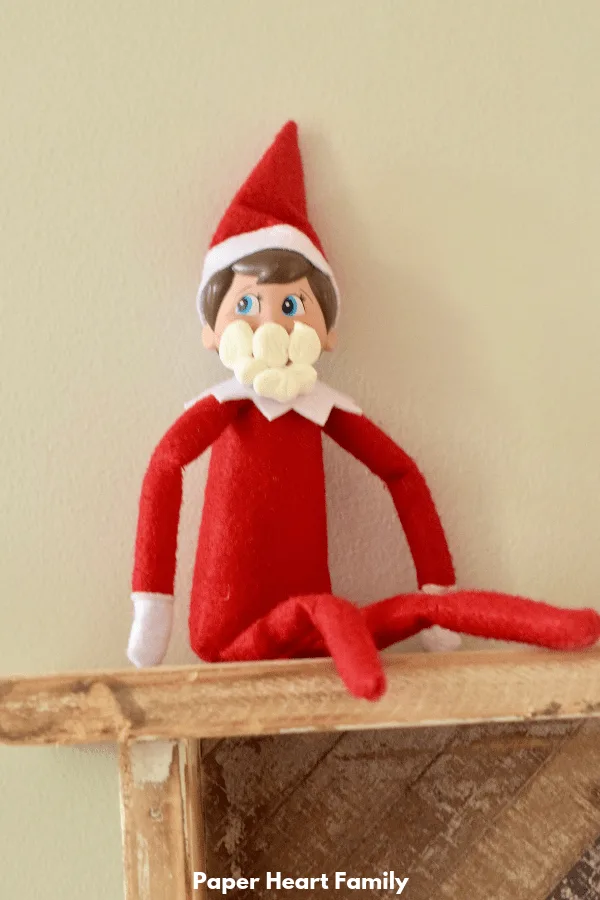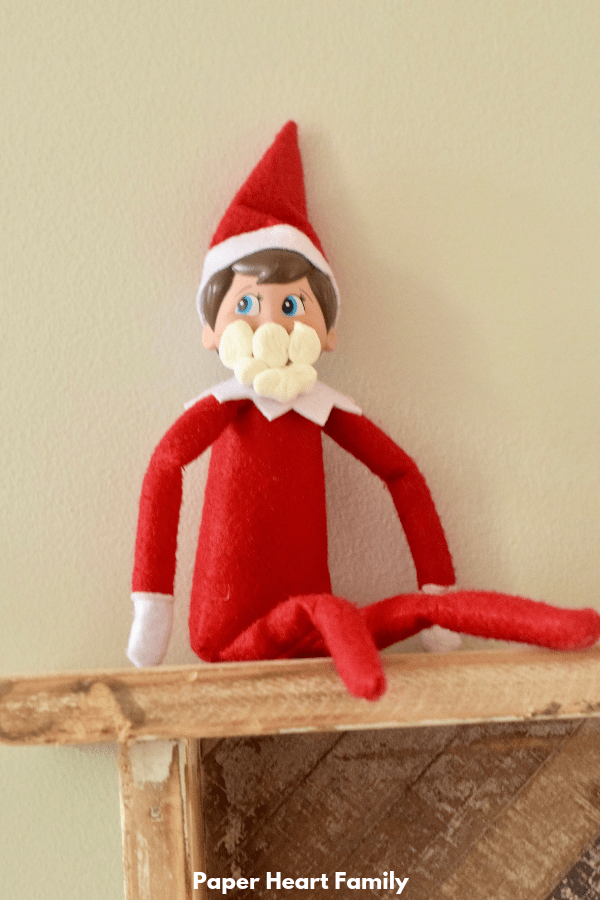 What hilarious Elf on the Shelf ideas will you be doing this year?