Do you ever feel like the Elf on the Shelf is draining your Christmas spirit?
I have written MANY Elf on the Shelf blog posts, but that doesn't mean that I don't get tired of her sometimes. My husband believes that I am the "Elf on the Shelf expert" and that I have ALL the Elf on the Shelf ideas and that therefore, he is exempt from Elf on the Shelf nightly posing participation.
Ba Humbug.
But in all honesty, I AM a pretty amazing Elf on the Shelf genius, so before you go, you should really check out some more of my posts. (Don't worry, these posts will open in a new tab so that you can easily come back to this post!):
The Complete Guide To The Elf On The Shelf
Elf On The Shelf Arrival Letter
Elf On The Shelf Ideas For Toddlers
Quick And Easy Elf On The Shelf Ideas
Elf On The Shelf Departure Letter
Printing this Elf on the Shelf Scavenger hunt printable RIGHT NOW and stowing it away for that night that your creativity cannot be found is a great idea.
And who doesn't love a scavenger hunt?! I know my kids loved it last year, and I know YOUR kids will love it this year.
It's completely free. No need to sign up for my weekly newsletter (I'm a "bad" blogger and gave up on that a long time ago.) Simply click the link at the end of this blog post and BAM, instant download right at your fingertips.
It's the season of giving, and this is my elf scavenger hunt gift to you, tired mama!
This post contains affiliate links.
Elf On The Shelf Scavenger Hunt Printable
Your instant download will come with two pages of scavenger hunt fun. The first page contains the prompt to start the scavenger hunt and the note that you will leave with your elf at the end of the scavenger hunt.
Make sure that you place the first note prompt, along with the first clue, somewhere that your kids will see it right away. Maybe where they eat breakfast, for example.
You should also absolutely check out how to quickly and easily make your elf bendable, because then you can easily position him (it will save you a lot of frustration EVERY DAY).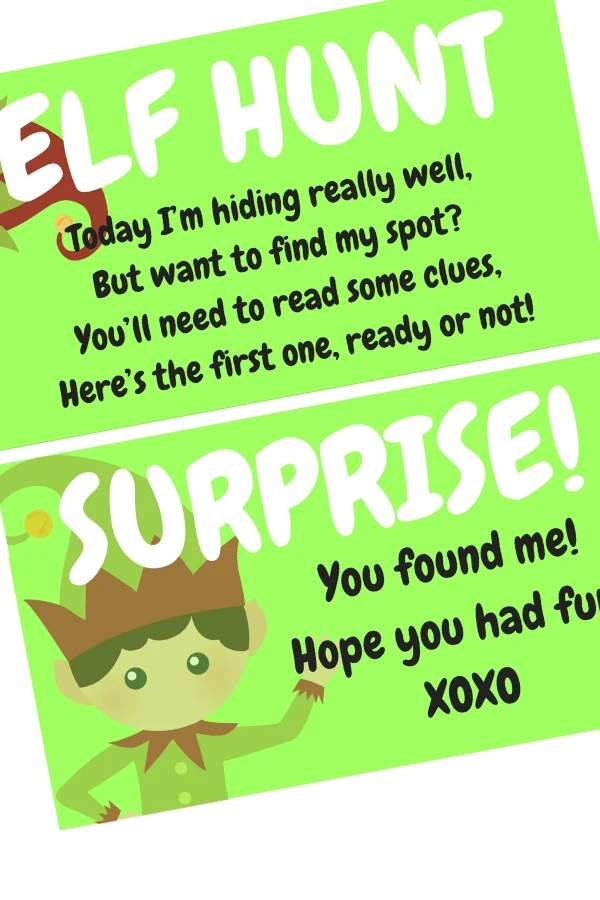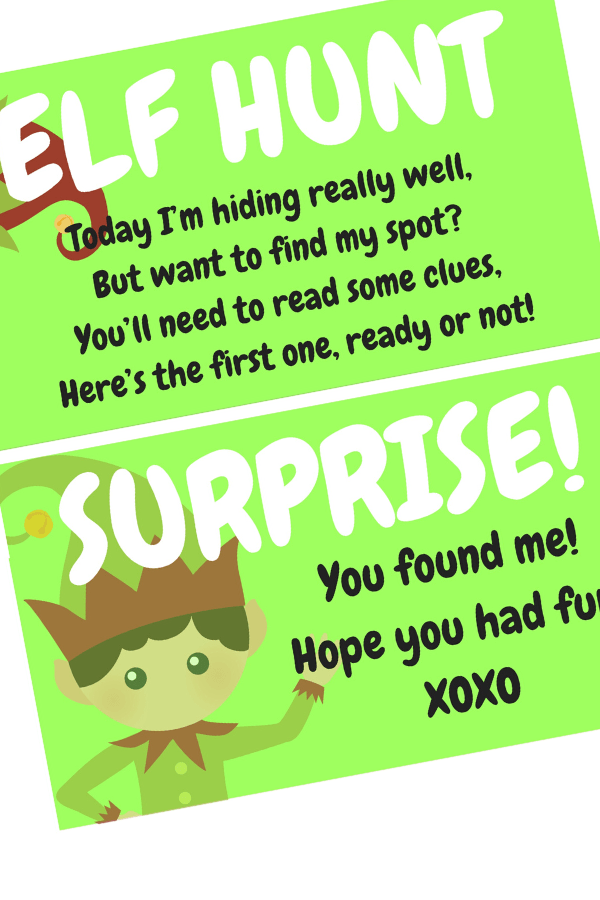 The second page contains 6 riddles that you will hide around the house. I thought 6 was not too much, and not too little. They will keep your kids busy in the morning!
Elf on the Shelf Scavenger Hunt Riddles
Riddle #1: The next clue can be found in the nook, where you always keep your many books!
Where to hide it: In one of the places that you store your child's books. (If your house is like mine, this could be MANY different places).
Riddle #2: Clue number three can be found in the cold, where you keep your food so it doesn't grow mold.
Where to hide it: Either in the refrigerator or the freezer. Brrrrrr!
Riddle #3: After all this searching, are you thirsty, need a drink? The next clue is where you'll get one, if you take a minute to think!
Where to hide it: In the drawer or cabinet that contains your kid's cups.
Riddle #4: Are you hungry? Take a seat! Find the fifth clue where you eat!
Where to hide it: For younger kids, you can place the clue on the chair where your child typically sits. For older children, you can tape the clue to the underside of the chair.
Riddle #5: When you get sleepy, you lay down your head. On this fluffy, puffy thing that you keep on your bed.
Where to hide it: You can place this clue either under your child's pillow or inside the pillow case for a little more of a challenge.
Riddle #6: At last you've arrived at your final clue, the code you soon will crack. I think that you will find me where you go to get a snack.
Where to hide it: In the pantry or the place where you keep your child's favorite snacks.
In the pantry, you will hide your Elf on the Shelf along with the note that says "SURPRISE!"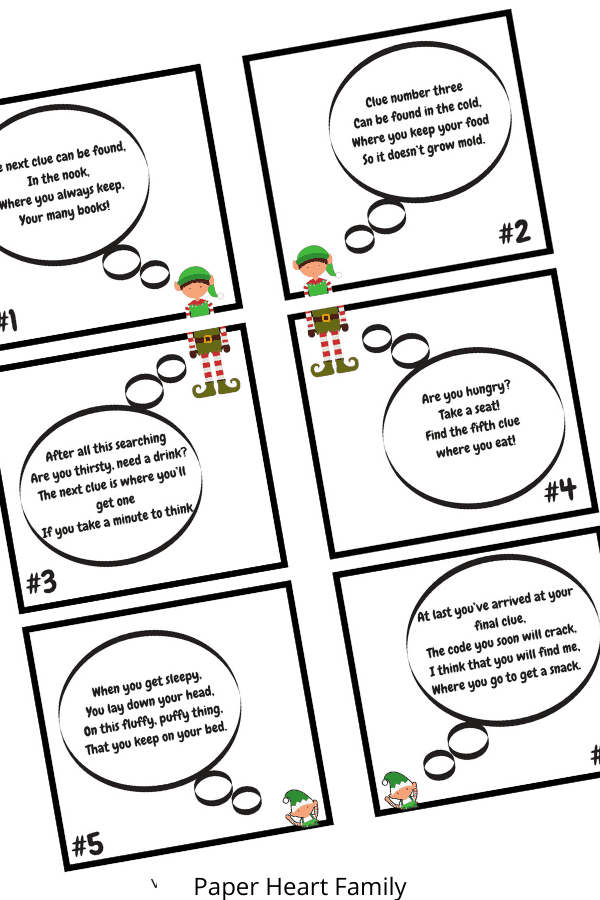 I truly hope that your child or children have so much fun in the morning with this scavenger hunt!
Also, be sure to check out ALL of my Elf on the Shelf Printables!
Happy Elfing!!