Have you added a second elf to your annual Elf on the Shelf festivities?
If you have a new elf, I've got you covered with some new ideas that you haven't seen before.
The great thing is, you can do pretty much anything with two elves that you could do with one.
My two elves almost always stay together.
It's just easier that way.
Double the elves doesn't mean double trouble.
Just beware, adding a second elf into the mix is just the beginning.
Soon, you'll be adding pets, too.
But in all seriousness.
Remember not to make this too stressful.
If done the right way, it can be so much fun.
If elaborate set-ups are making you stress out, stick to a more simple idea!
Your kids will still love waking up the next morning to find their elf friends.
I like to balance some of the creative elf ideas found below with last minute elf ideas and quick ideas.
Having your elf antics be more simple, or having your elf simply find a new spot to sit each day is still special and fun.
So that I don't burn myself out early in the season.
The best part is that little kids don't really care.
So without further ado, let's check out some creative ideas with this fun tradition!
This post may contain affiliate links.
Elf on the Shelf Ideas for 2 Elves
1.Have Your Elves Help Decorate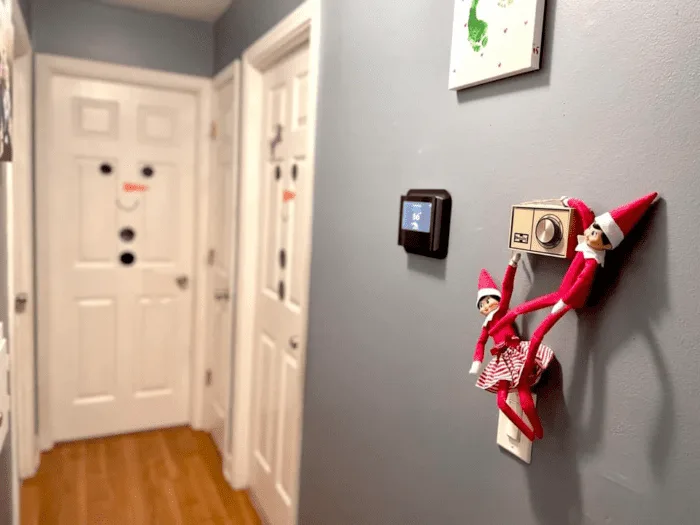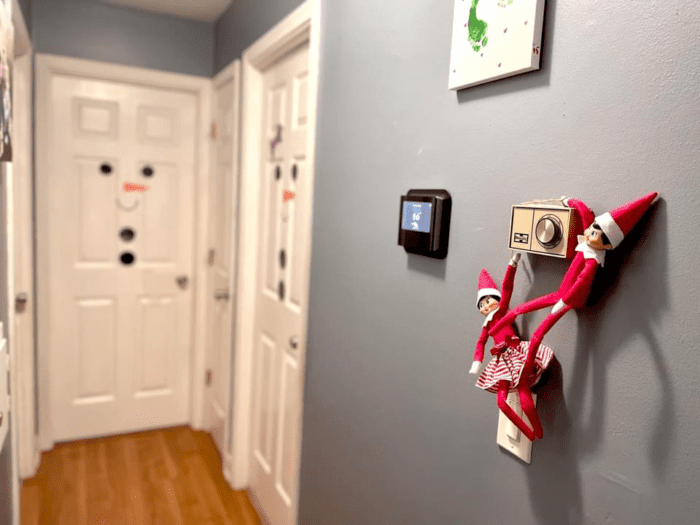 Your elves can make simple and adorable snowmen for your hallway doors.
All you need is some scissors and some black and orange construction paper or card stock.
Prop your elves somewhere nearby so that your children know the elves did it.
2.Hiding Candy Canes
Have your two elves sitting by two empty candy cane boxes.
Hide all 24 candy canes around the house for your kids to find.
This one will take a while, so it's best to do it on the weekend or a day off of school.
3.Making Snow Angels
Your elves can make snow angels to commemorate the holiday season.
You can use flour (which is super messy, so be warned).
You could also use sprinkles or mini marshmallows instead.
4.Refrigerator Googly Eyes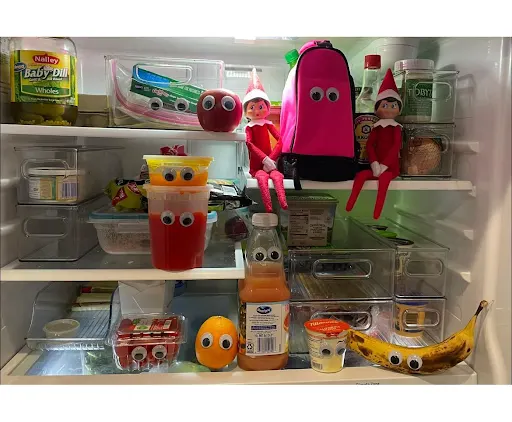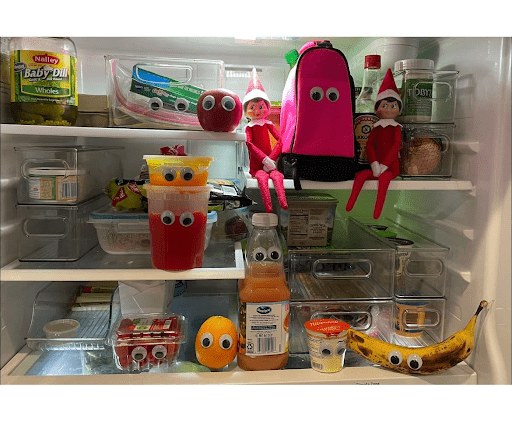 Isn't this just the cutest?
Okay, it's definitely not for everyone.
And if you're not into the whole "be good because the elves are watching so you can make it onto the nice list" thing, it's still a cute idea that your kids would love.
And if your house is anything like mine, you've already got plenty of googly eyes laying around.
5.Rolling In A Toilet Paper Roll
This is one of the really easy ideas but it's also such a great one.
My kids still remember this as one of their favorites from a few years ago.
Simply stuff your elves into two different toilet paper rolls (full ones) and roll them down the stairs or down the hallway.
6.Putting Up Christmas Lights
There can never be too many Christmas lights, especially in a kid's mind.
Your elves can use this fun idea to put up more Christmas lights (even in your kids' rooms if they are heavy sleepers).
They could even be rappelling from the lights or hanging upside down from them for more fun.
7.Bringing "Elf Yourself" Setups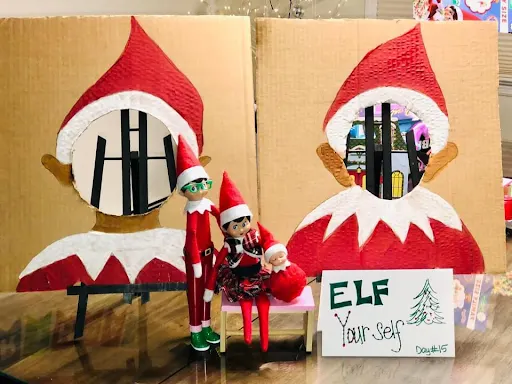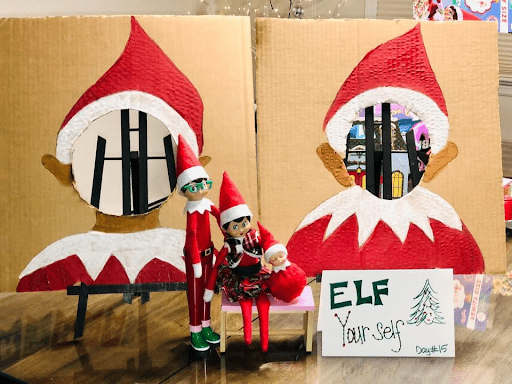 One thing that my kids love doing, whenever we go somewhere, is sticking their heads in those silly cutouts.
If you have time and some big cardboard boxes (of course you do, it's the Christmas season), you can create a couple of these amazing elf cutouts.
Then you can literally save them for other years, bring them out for parties, etc.
They will definitely be worth the effort.
8.Playing Board Games
One year, I had my elves leave out about 10 different board games that they had played throughout the night.
They were set up at the game that is my kids' favorite.
You could of course just stick with one board game, but the more the merrier!
9.Bringing A Small Gift
It's always fun to have the elves bring little gifts that you were going to be giving before Christmas anyway.
Your elves could bring advent calendars, gingerbread house kits, Christmas pajamas or any of my free printables:
9.Who Needs Silverware When You Can Eat Candy All Day?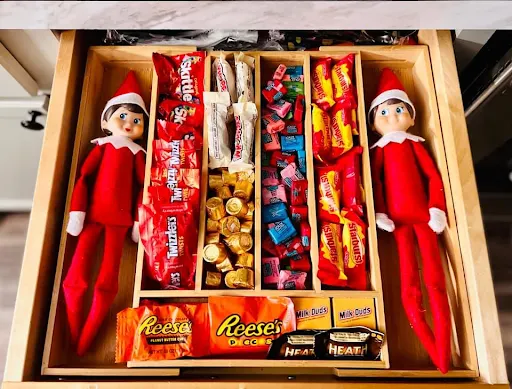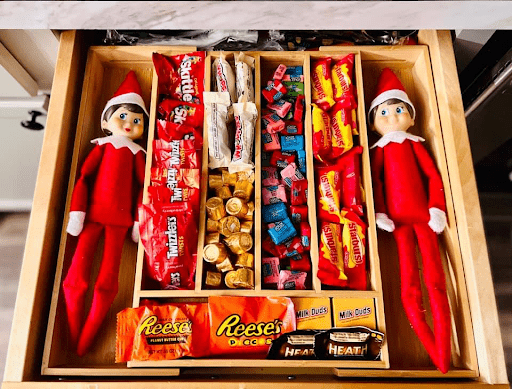 Those darn elves, always messing up our homes.
I guarantee this will be a fun surprise when your kids go to get their silverware in order to eat breakfast in the morning and find the elves new hiding places.
Make sure to leave the actual silverware somewhere accessible, or use this as an opportunity to use plastic for a day.
10.The Milk Has Gone Bad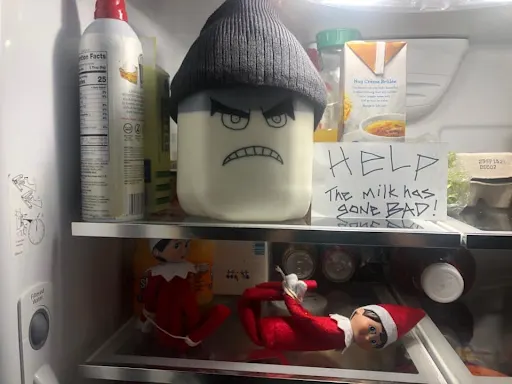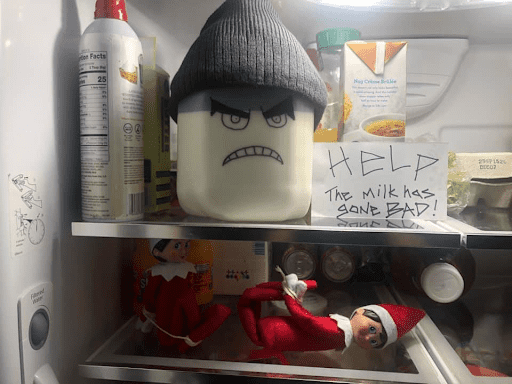 As long as you have a clear gallon of milk, a little string and a sharpie, you're good to go for this great idea!
Such a good one.
11.Having A Sack Race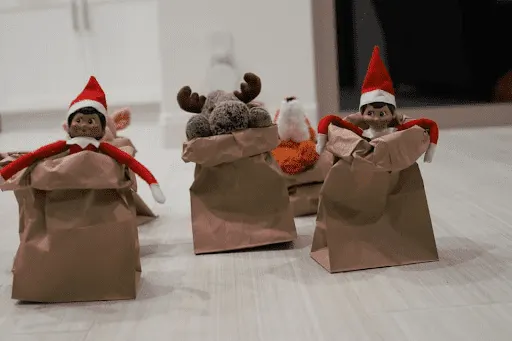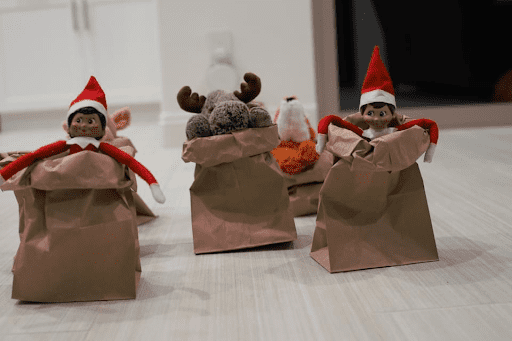 Break out those extra brown paper bags and create a sack race with your child's small stuffed animals.
This idea is a great way to get some giggles tomorrow morning in your living room.
Who will win the race?
12.Dreaming of the Beach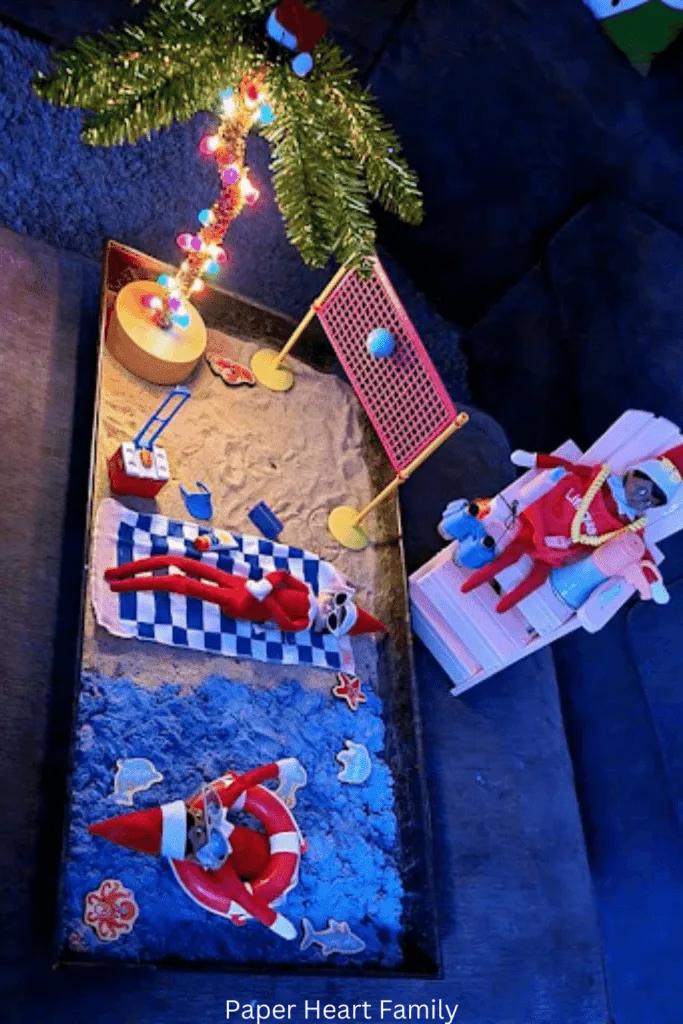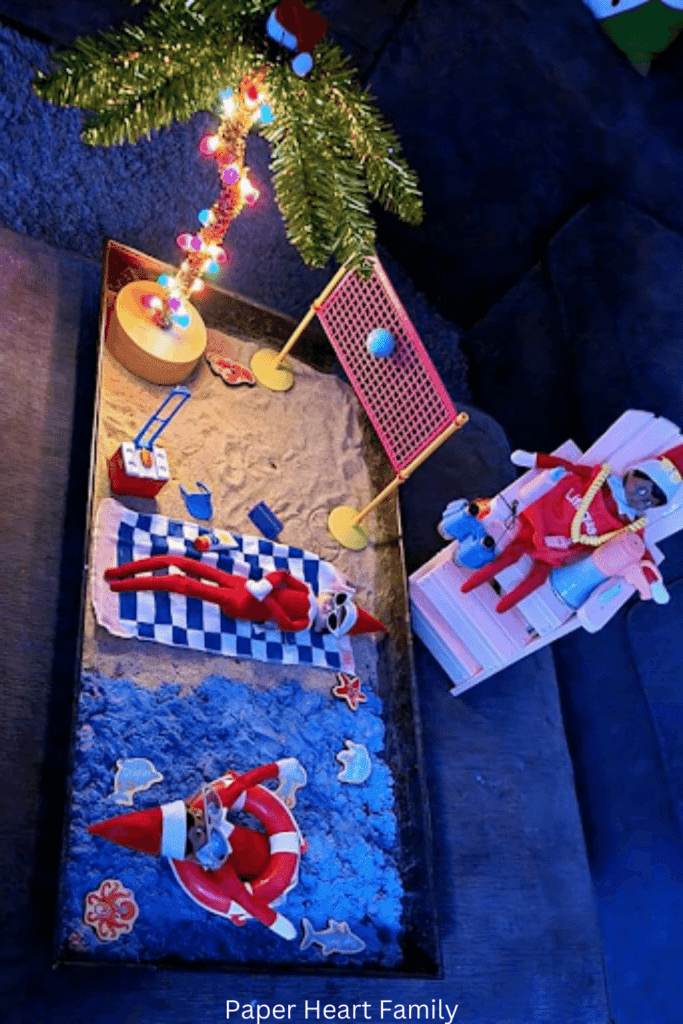 Even elves straight the North Pole can crave a little warmth and beach relaxation!
13.Merry Christmas, Ya Filthy Animal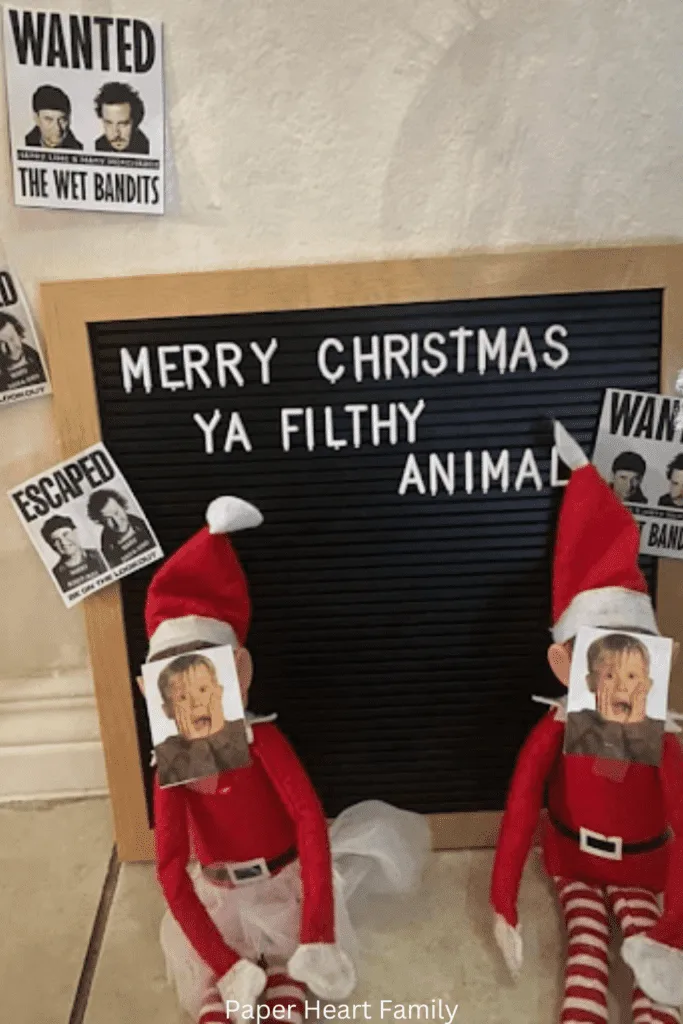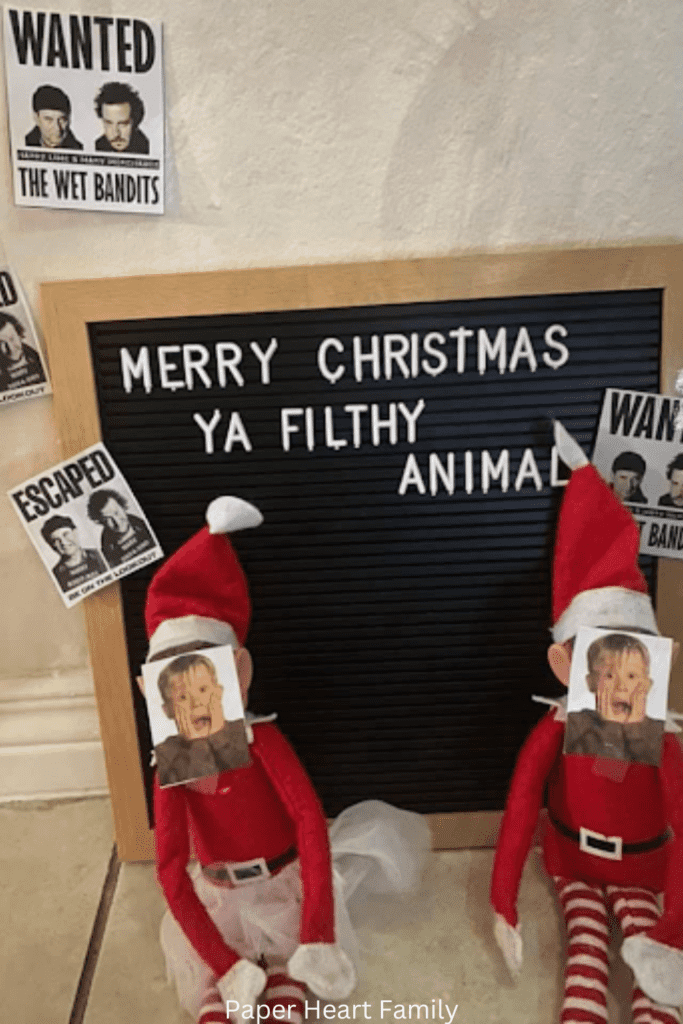 This would be so fun to do the day after watching Home Alone.
Don't you think?
14. Toasty Elves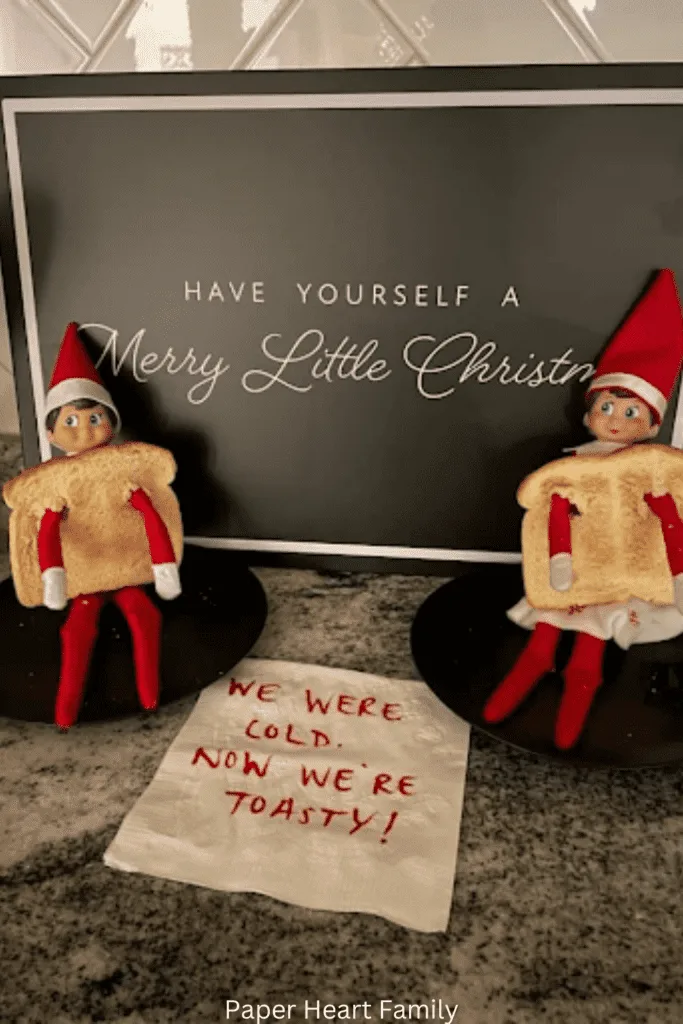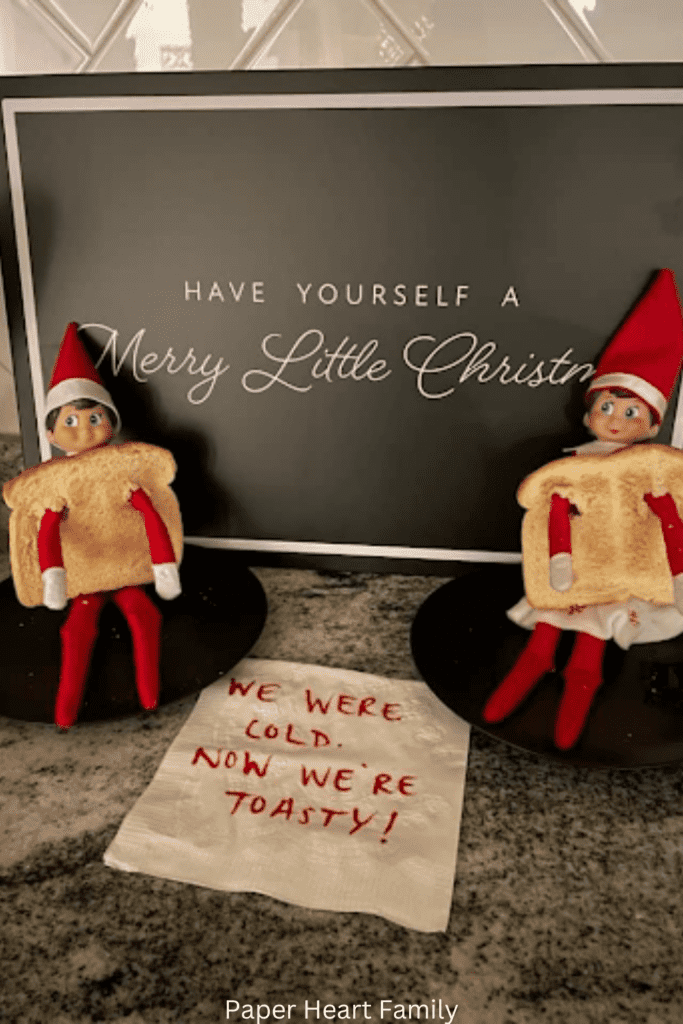 This is one of those that won't take a lot of energy on your part but it will definitely get a great reaction in the morning!
15. Stuck In The Mixer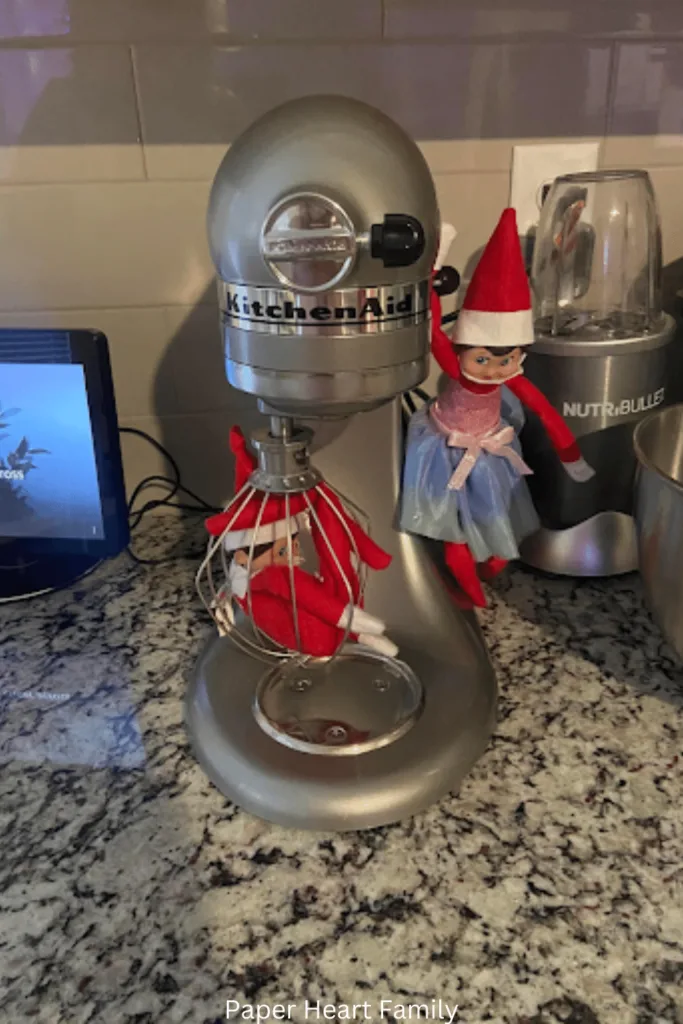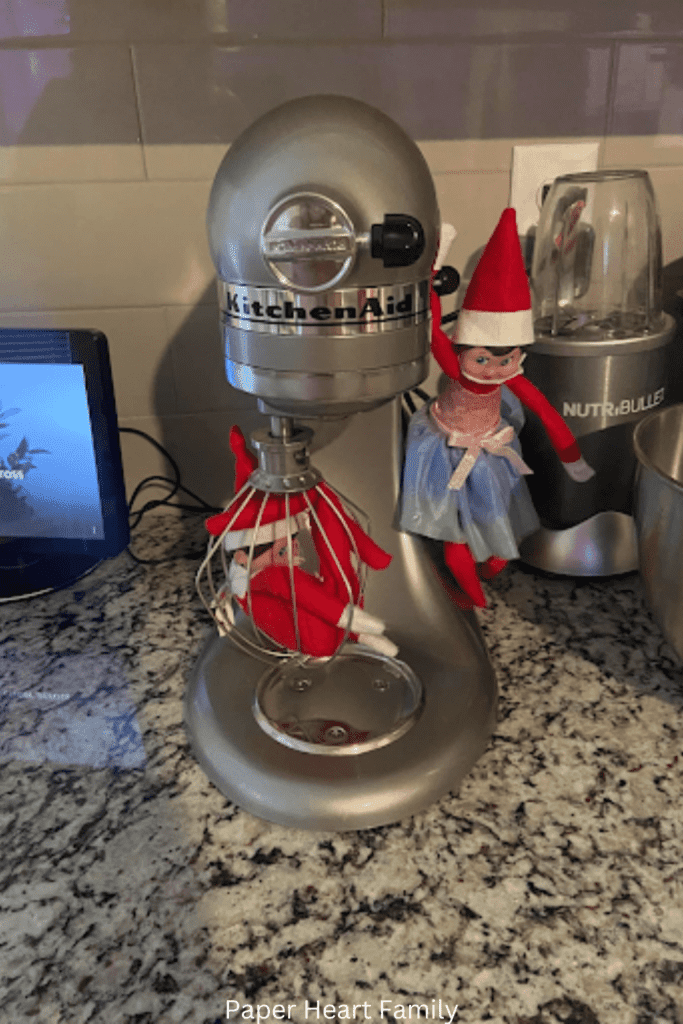 A little elf mischief is always fun, right?
If you've got a mixer, stuff one in there and pose the other elf as the instigator.
16. Being Frozen By Elsa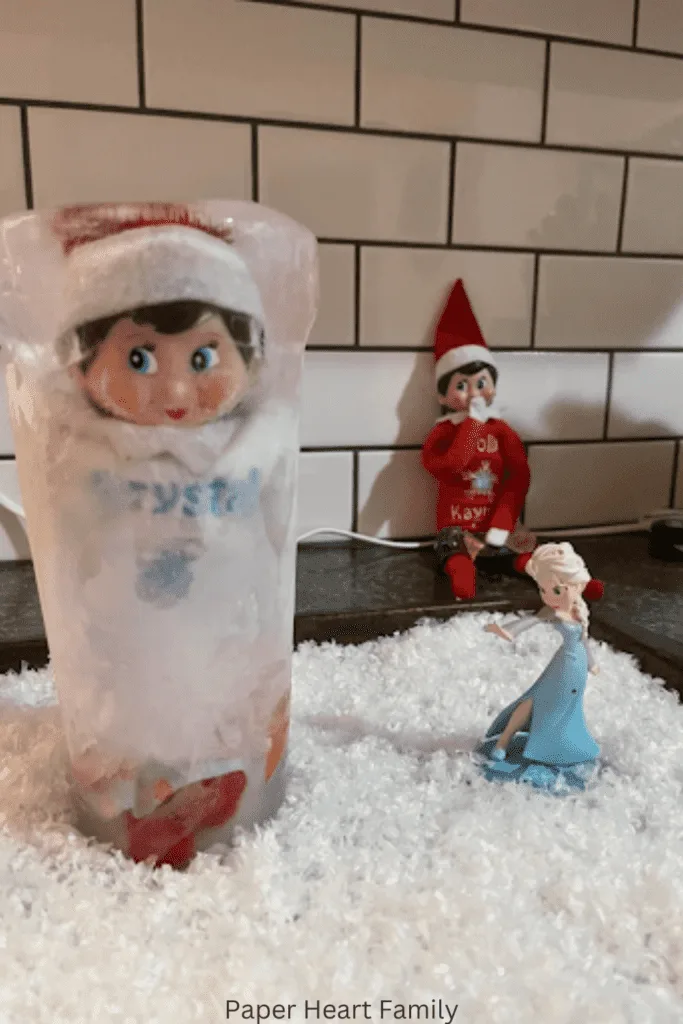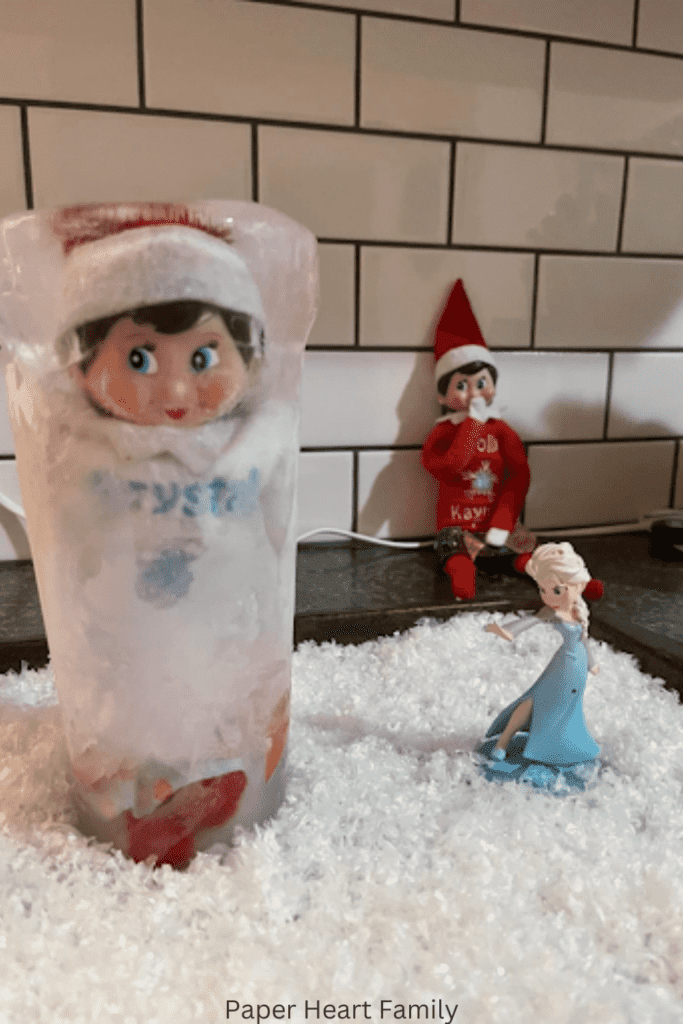 And yes, your elf will dry out… eventually.
17. Encouraging Your Kids To Clean Their Rooms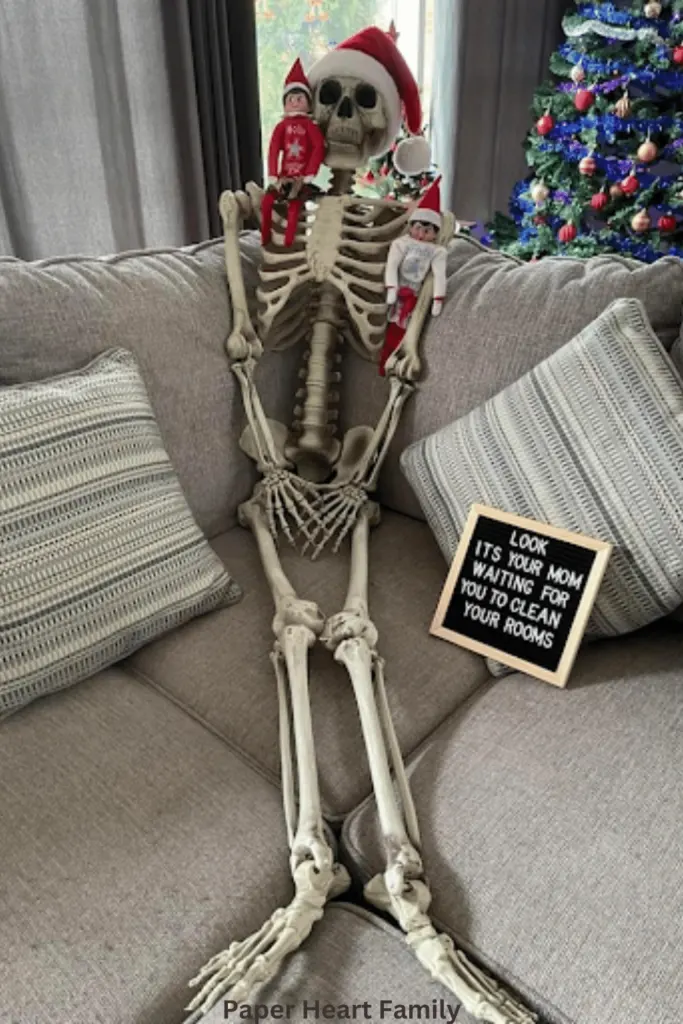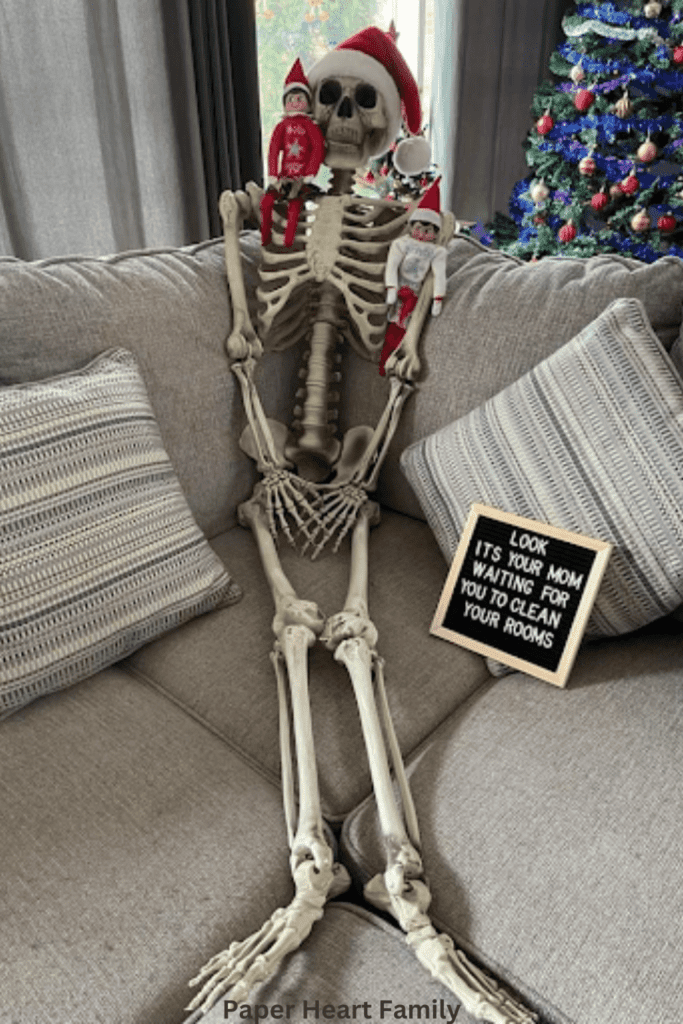 Why not bring your Halloween skeleton back out one more time?
Okay, maybe this set-up won't really encourage your kids to clean their rooms, but it's funny none-the-less!
18. Sharing A Pair Of Fun Glasses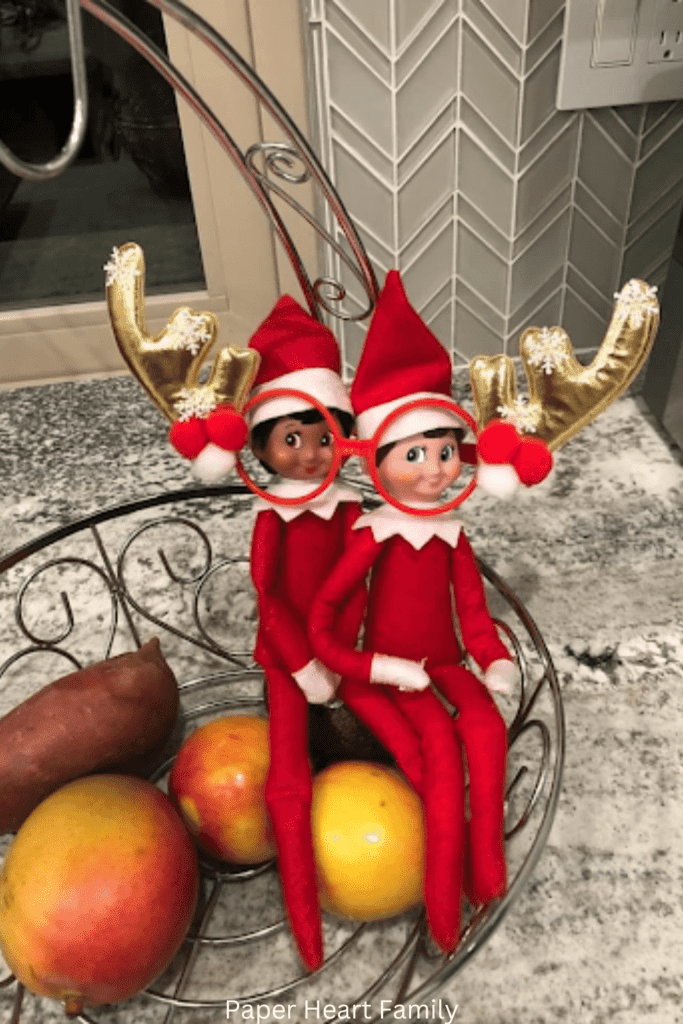 I love this fun ideas that are done in two seconds!
The best part is that it doesn't SEEM like an idea that you threw together in two seconds.
What's your favorite Elf on the Shelf ideas for two elves?
Feel free to email me your photos at [email protected].
I would love to see them!
Check out my related posts for lots of elf inspiration: