So you got a new Elf on the Shelf, huh? Now you definitely need an Elf on the Shelf name, an elf name printable to go with it and these awesome Elf on the Shelf ideas.
It's an exciting time! And naming an Elf can be tons of fun. There are so many options! And while it is nice for the kids to name the Elf, if you give your child total free reign to name the Elf on the Shelf whatever they please, you might be stuck with sometime preposterous. Our Elf is named Star Pony. Yeah.
Why not make naming your Elf on the Shelf a game? Check out my Elf on the Shelf Planning Calendar, which contains a printable Elf on the Shelf name bracket game. Get the whole family together for the event!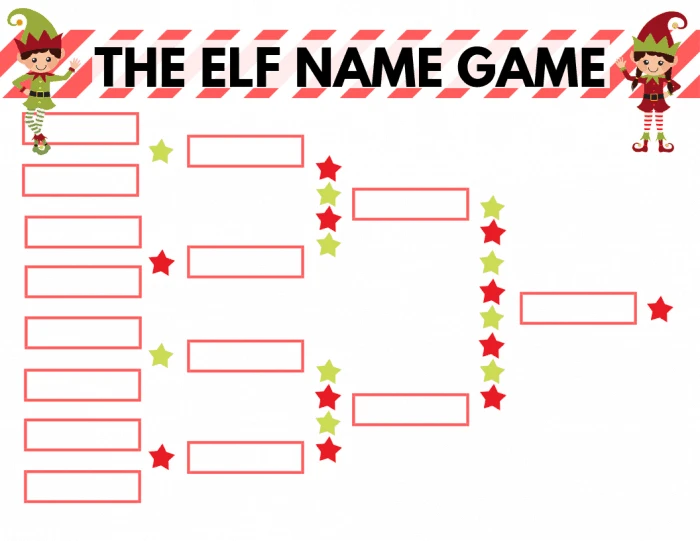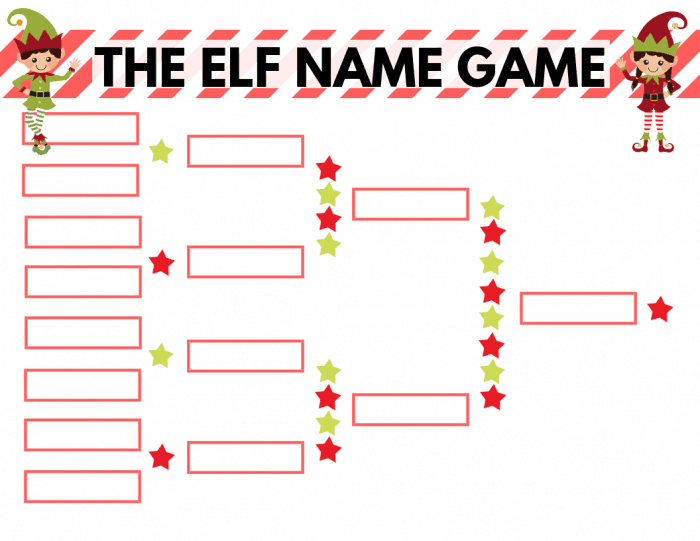 Unfortunately, I gave my daughter the freedom to, without direction, name our Elf. If I had had an incredible list like this one, I could have given suggestions for her to choose from. Because kids aren't the best at naming things.
This list has it all. The very BEST Elf on the Shelf names for you little holiday visitor. There are traditional elf name ideas, unique elf on the shelf names, boy elf names, girl elf names, Christmas-y names, Elf-y names, funny elf names, mischievous elf names, and completely silly and ridiculous names. (Some names can be used for both boy and girl elves, so make sure to read both lists!)
Here's to finding the perfect names for the Elf on the Shelf.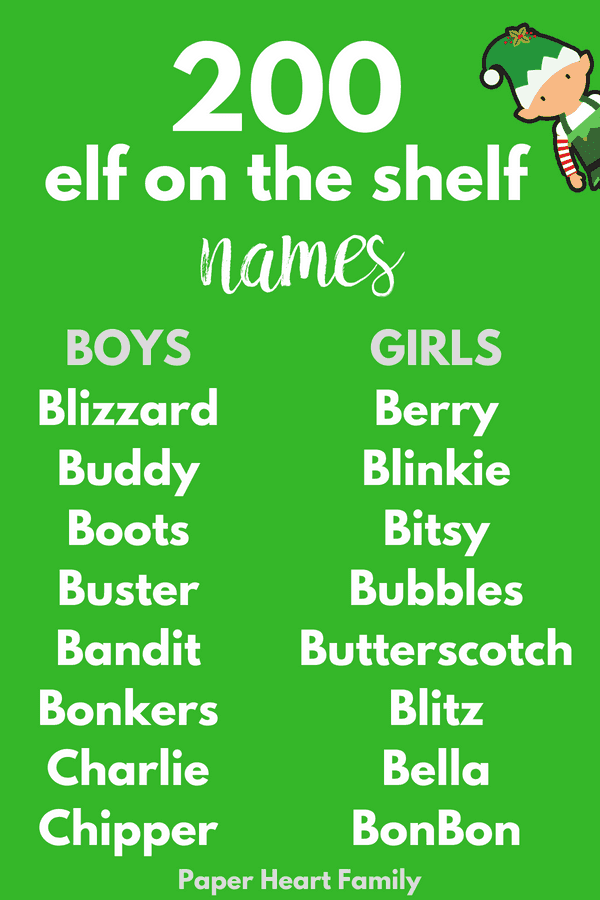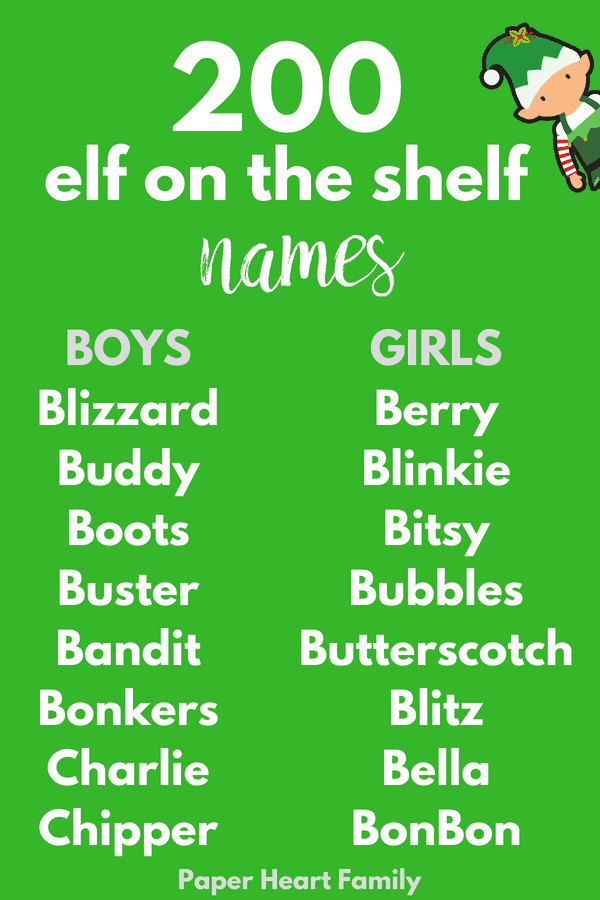 P.S. If your elf hasn't arrived yet, check out this free printable Elf on the Shelf Introduction Letter.
Boy Elf on the Shelf Names List
Elf on the Shelf names- boy edition.
Blizzard
Buddy
Bolt
Buster
Boots
Bandit
Bonkers
Charlie
Cooper
Comet
Chip
Chippy
Chipper
Chilly
Cheer Monster
Creeper
Chester
Cornelius
Dasher
Dizzy
Dudley
Dash
Elfie
E.L.F.
Eddie
Elfis (Elvis Elf)
Elf-Elfa
Elfquake
Epic
Elfkin
Elvin
Elfonso
Ember
Evil Knievel
Freddie
Flicker
Frost
Frosty
Felix
Farkle
Flash
Flurry
Figgy Smalls
Griswold
Goosebump
Grand Master Elf
Georgie
Hermie
Ice Ice Elphie
Jolly
JJ Jinglepants
Jinx
Kris
Kringle
Krispie
Keebler
Lightning
Little Elf
Louie
Little Rascal
Mickey
MC (short for Merry Christmas)
Mr Jingle
Mischievous
Maverick
Moonlight
North
Peeper
Pickle Pants
Pickles
Ralphie
Rocket
Rudelf
SuperElf
Sneaky
Spirit
Squeals
Squealer
Slick
Speedy
Slim
Scout
Scooter
Sidekick
Streak
Skippy
Trouble
Timmy
The Informant
The Elfinator
Winky
Waldo
Zippy
Girl Elf on the Shelf Names List
These Elf on the Shelf girl names are adorable, and very Christmas-y!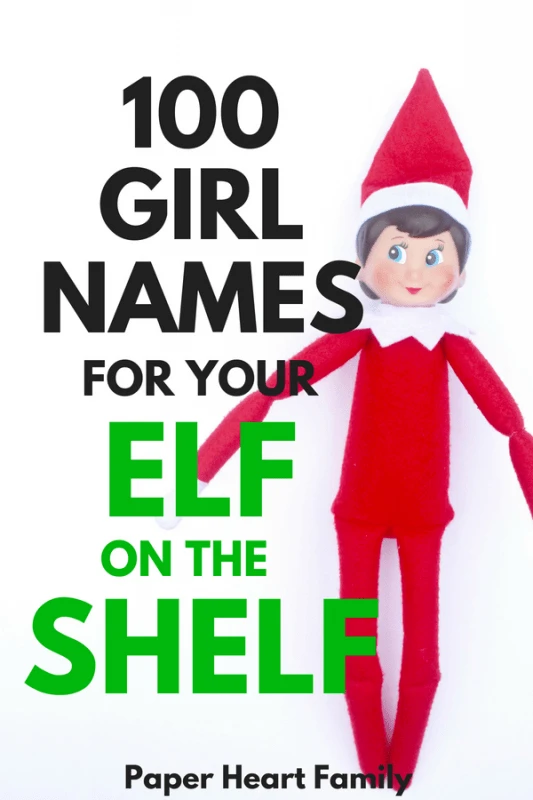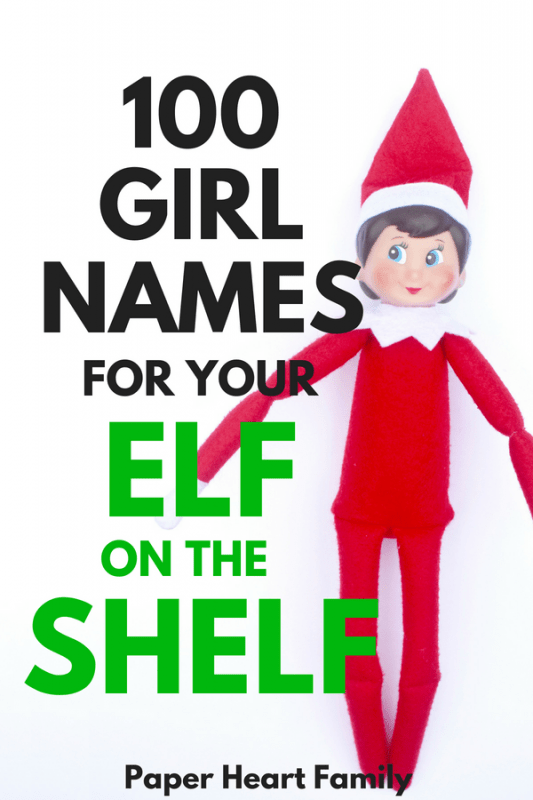 Berry
Blinkie
Bitsy
Bubbles
Butterscotch
Blitz
Bella
BonBon
Candy
Cocoa
Chocolate Chip
Cookie Crumb
Cupcake
Cheery
Cutie
Cutesy
Cheeky
Crimson
CindyLou
Cherry
Dazzle
Daisy
Delilah
Ellie
Elfette
Elfa
Eve
Flora
Fruitcake
Glitz
Gretel
Gumdrop
Glitter Star
Goody Gumdrops
Holly
Hiccup
Hilda
Happy
Icicle
Ivy
Itsy
Jingle
Joy
Josie
Jingle Bella
Kissy
Little Red
Lucky
Lolly
Lollipop
Lovie
Matilda
Mittens
Mimi
Merry
MerryBell
Miss Elftastic
Marshmallow
Mistletoe
Millie
Noel
Pixie
Pip Squeak
Peppermint
Pep
Peaches
Ruby
Rosie
Sparkle
Sparkle Dust
Shimmer
Shine
Sugarplum
Snowflake
Sprinkle
Sprinkles
Smiles
Sugar Knuckles
Snowball
Skittles
Scarlet
Star
Sassy
Snickerdoodle
Sky
Twinkle
Twinkle Toes
Trixie
Tinsel
Teeny
Tiny
Winnie
Zippy
Make sure to subscribe to get your Elf names printable instantly!
So did you pick a cute Elf on the Shelf name? I'd love to know what it is in the comments!
Check out how to make your kid's Christmas even more magical with ways to talk to Santa.