Christmas time really is one of the most magical times of the year and one of my favorite times to do crafts with my son! There are so many fun Christmas crafts out there and I am always looking for one that is low prep, easy to do and most importantly fun!
These free printable Christmas cards check all those boxes and are really the perfect craft for the entire family!
They are also a great way to keep the classic tradition of sending out Christmas cards during the holiday season and your family and friends will love these even more because they are your child's very own creation.
My son loves making his own cards and gets so excited when he gets to put a stamp on the envelope and mail them to his family. Making his own Christmas cards is such a special and fun way to celebrate the holiday season and I bet your own kids would love it just as much!
Printable Christmas Cards To Color
This pdf file for free printable Christmas cards comes with 7 different card designs options! This would be such a fun Christmas activity to do with the whole family or for a holiday party and each person could pick the card they want to color.
The best part of this craft is that all it requires is white card stock and a printer and materials to color.
Also, with 7 different options, the hardest part of this craft is choosing which one to color!
Option #1
The first option is adorable and has a cute set of Christmas lights hanging over the greeting "Have a Bright Christmas". This one would be so much fun to color and you could even extend the Christmas lights inside of the card and draw your own!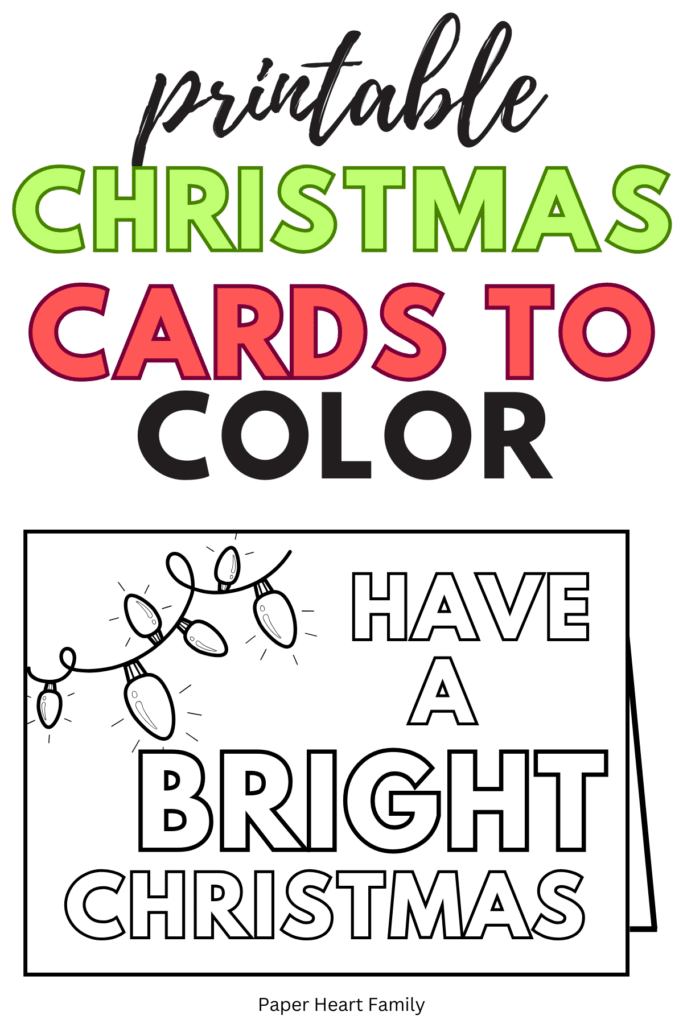 Option #2
The second option is a funny reindeer joke that everyone will love!
This card option may be my favorite because jokes are VERY popular in my house right now and my kid loves being able to tell one that gets us all laughing! Plus, this one has an adorable reindeer to color and will give your kid a good laugh!
Option #3
This third option is a classic "Merry Christmas" card and is a fun one to color! The white background gives you a ton of options to get creative and the little snow hat on the "M" is the perfect touch!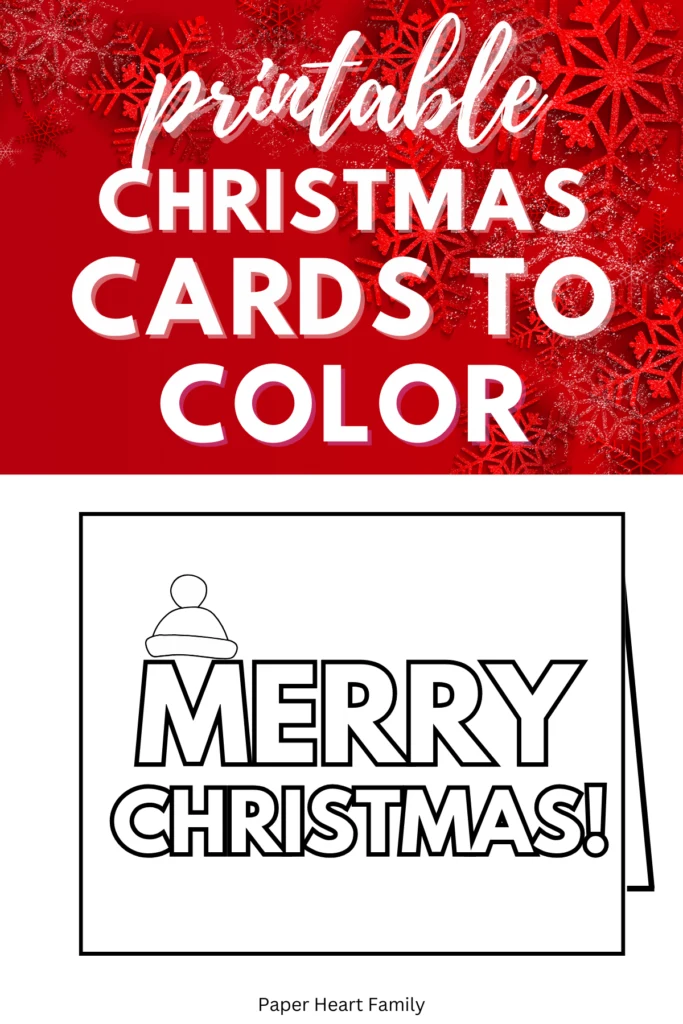 Option #4
This fourth option gives you another "Merry Christmas" option but with a whole lot of Christmas cheer and sparkle.
This one has two different fonts with stars and snowflakes all around it. It would be a great card to add a little glitter to and will bring so much holiday spirit to the receiver!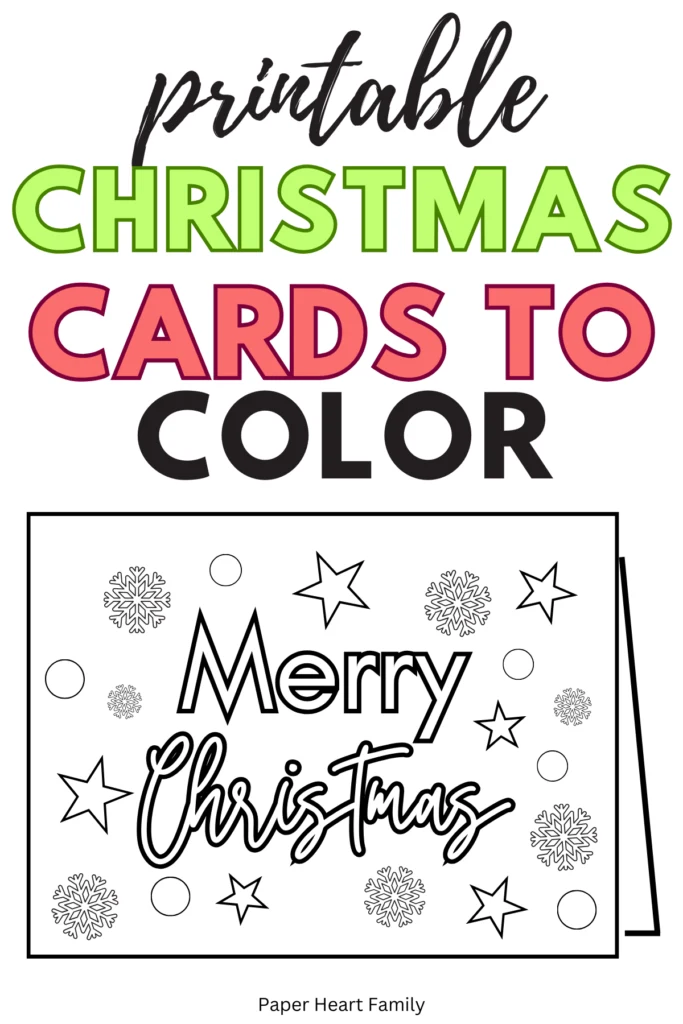 Option #5
Option five brings you a classic Christmas song "All I Want for Christmas is You" with adorable presents.
My son loves when letters are on pictures and thinks it makes them extra special and I agree! This will be a coloring favorite!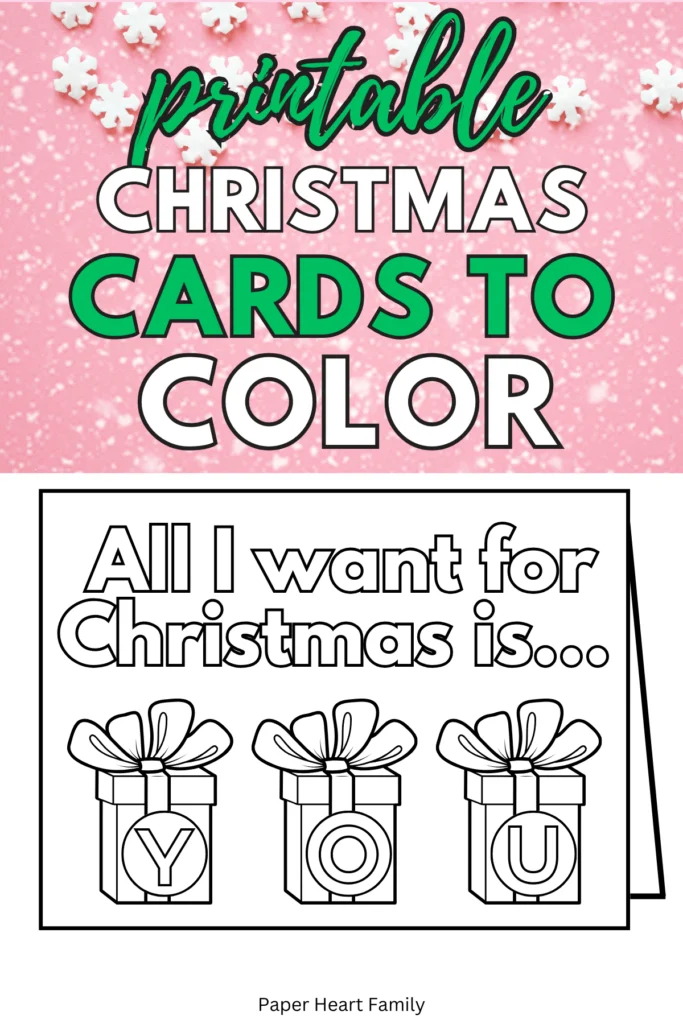 Option #6
Option 6 is a "Ho Ho Ho" holiday favorite for sure! Having ornaments for "o"s makes this the cutest card and the different designs on each ornament makes it so much fun to color!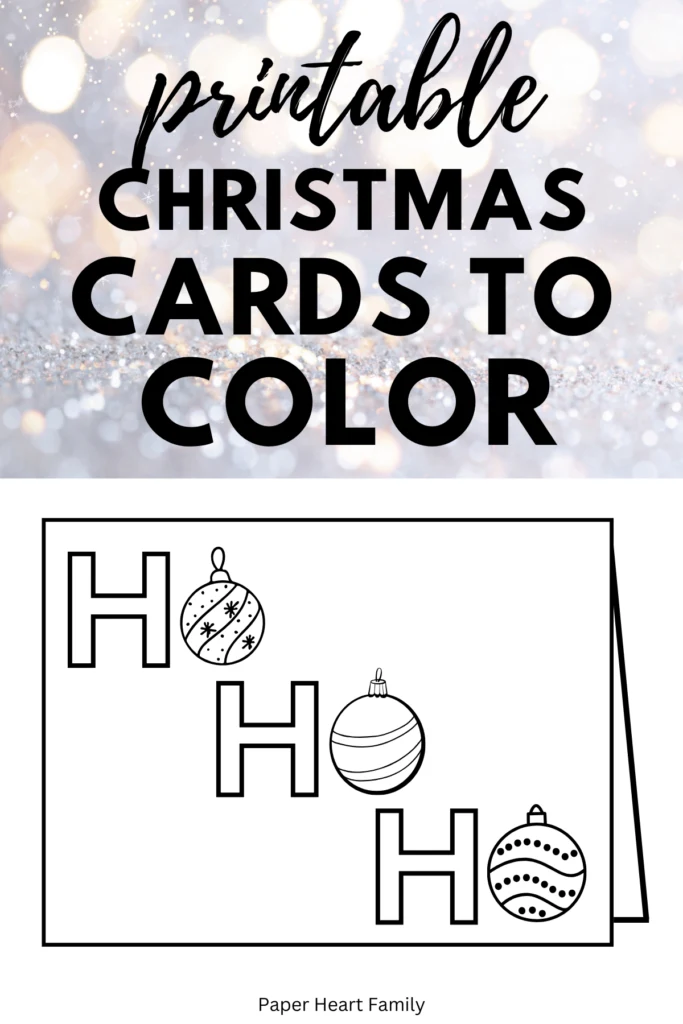 Option #7
The last option will most likely be a favorite for your kids! It's full of all the best Christmas sweets like candy canes, gingerbread cookies, lollipops and cookies!
It's so cute and really is the sweetest Christmas card of them all!
This would be the perfect card to color and send with baked goods or a candy cane to neighbors, family or friends!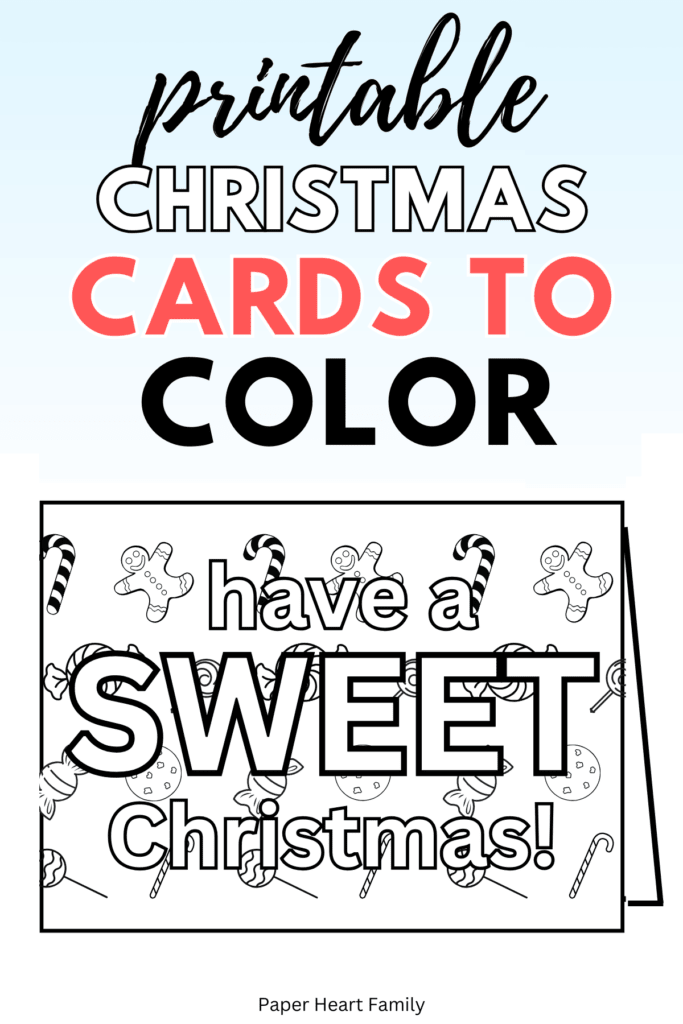 How To Assemble Your Free Printable Cards
Step #1 Print out your free Christmas cards on printer paper (white card stock works great!)
Step #2 Decide which print you want to color first and get coloring! You could use markers, colored pencils, crayons or even watercolor! You could also add fun embellishments like glitter or pom poms to really make these extra special!
Step #3 This is a single-fold design and super easy to assemble! After coloring (it's easier for kids to color on a flat piece of paper) match the two corners together and fold at the crease. This step might be a little tricky for younger kids and sometimes even older kids.
Step #4 Have your child write a message or draw a picture in the inside and give out to all your family and friends!
Options To Write Inside
After your child designs their front, they get to open it up and have fun decorating the inside of the card! There are so many options for this part and your child can do whatever feels good for them (or is age appropriate). To help get your little one started, here are some ideas!
1. They could write a message. Some ideas for messages:
Season's greetings!
Happy Holidays!
Merry Christmas!
We wish you a Merry Christmas!
Hope you have a great Christmas!
Ho Ho Ho, Merry Christmas!
Have yourself a Merry Christmas!
May your Christmas be merry and bright!
2. They could draw a picture. Some ideas for pictures:
A Christmas tree
Santa
A reindeer
An ornament
A present
A snowflake
A snow globe
The North Pole
Christmas lights
A stocking
3. Another easy option- Christmas stickers!
When my son was younger and not quite at the coloring stage, he use to decorate cards with stickers. This was such an easy way for him to decorate his card and he loved looking at each sticker and deciding where it should go.
Your Free Card Printable
These free Christmas card printable are super easy to download! All you have to do is subscribe in the box below and and your digital download will open instantly!
Once you subscribe you will get more awesome free printables just like this one!
Just a reminder, these free Christmas cards are for personal use or classroom use only.
For other Christmas activities, check out my Letter to Santa template and my list of Christmas activities that are super easy and fun!
Which Christmas card template did your child pick? Let me know in the comments below! Have fun coloring!