Christmas Eve traditions vary so much among families. We each bring different customs from our childhood homes. Then the traditions change again when we have our own children.
I know that while some of our traditions have definitely stayed the same, we have also changed some things to fit our family and to match what is fun for us.
My husband and I remember being kids and feeling like Christmas Eve day was the absolute longest day of the year.
Meanwhile, the adults did not seem very concerned about the fact that we were going crazy!
When we had our son, we decided that we would start Christmas Eve at lunchtime and give our little one plenty of time to play with and enjoy his new toys.
Then in the evening, we drive around our neighborhood and enjoy all of the beautiful lights! It feels serene and calming and like a perfect end to our Christmas Eve.
It is also very helpful during bedtime when our son is actually tired instead of being hyped up from food and new toys and all of that excitement!
To be sure, every family must do what works for them and so far, this has worked for us. The great thing is that you can always plan for something different from year to year.
If you are looking to change up some of your Christmas traditions, we have a list of suggestions to get you started.
Remember that this is fun family time and enjoy!
Christmas Eve Traditions For Families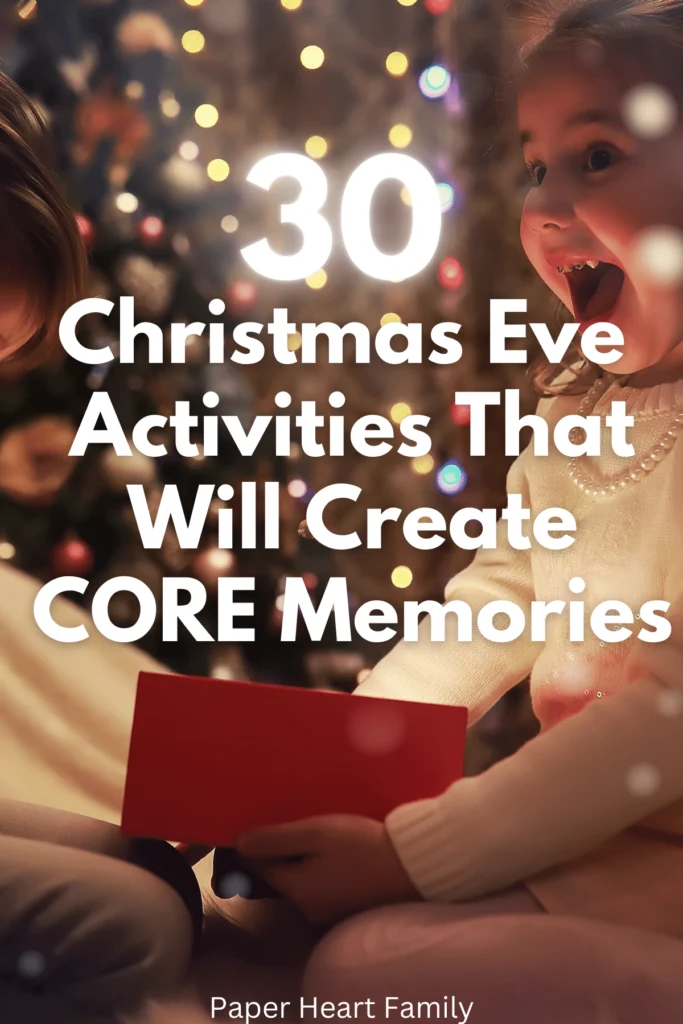 1. Decorate The Santa Plate
A great way to get kids excited about Christmas morning is to decorate a plate of goodies for Santa Claus during the evening before!
There are actually plates that come with a chalkboard finish and kids can draw fun things and write special messages to Santa to accompany some homemade cookies.
2. Make And Sprinkle Some Reindeer Food
Let your kids get creative with this one and let them have fun mixing different types of food together. You could also have them learn about what reindeer eat and try to make cool, reindeer friendly cookies!
3. Say Goodbye To The Elf On The Shelf
While admittedly, the elf going back to the North Pole can be a relief for us parents, it is a bit of a sad time for our kids. We have found that a wonderful way to send off our elf is to let our son hug him to say goodbye.
If you do not know, kids are not allowed to hold the elf while he or she is visiting, so this is a very special exception.
Our son thanks his elf for a great holiday season and talks about all the Christmas fun they will have next year!
He also receives this elf goodbye letter, which makes saying goodby a little easier.
4. Open One Present Each
Have each family member pick out one special gift to open on this beautiful evening. You could even have certain gifts that are specifically for Christmas Eve.
This is one of my favorite free Christmas activities.
5. Watch A Christmas Movie
One of my favorite Christmas Eve traditions is to cuddle up with my own family and watch a holiday movie. You could even pull out sleeping bags for everyone and have a movie marathon!
6. Read T'was The Night Before Christmas
Such a wonderful story to get the evening started right! Be prepared for your kids to get super excited about any noises from the rooftop for the rest of the evening!
7. Follow Santa On The SantaTracker
A fun family tradition we have is following the Santa tracker on Christmas Eve. Some tracker websites even include games and stories to keep the whole family entertained while they wait for the man in the big red suit!
8. Search The Night Sky
Bundle up the family and enjoy the beauty of the winter constellations. Little ones will have a blast trying to spot Santa and his reindeer in the sky as well!
9. Bake A Cake For Jesus
Baking a birthday cake is a wonderful way to open the door to telling your kids about the Christmas story. You could tell them the story yourself or find a recording of it to listen to while you bake and decorate.
10. Read The Christmas Story From The Bible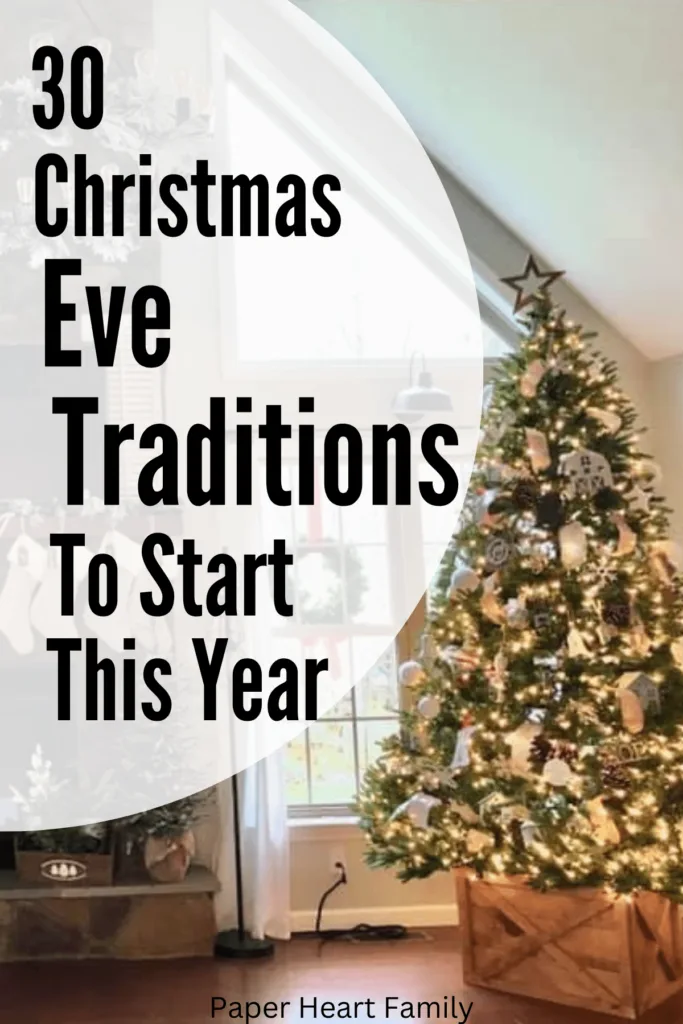 You could also follow up the birthday cake baking by cuddling together afterwards and reading the Christmas story directly from the source. Make sure to let your kids ask questions if they have any.
11. Get Takeout
While there are many families out there that love the traditional Christmas eve dinner, maybe it is time to give everyone a break and have someone else cook for a change!
Just make sure the place where you want to get takeout from is open! Chinese is a go-to!
12. Have A Jolabokaflod "Book Flood"
Also known as the Yule book flood, this tradition comes from Iceland and stands for the annual release of new books in the months before Christmas. The books are purchased specially to give as gifts on Christmas eve.
This tradition makes books the most popular Christmas gift in Iceland. So load up on the books, cuddle up with some hot cocoa or tea and dig into a new story with your family!
13. Drive Around Looking At Lights
Our family loves to do this every year on Christmas Eve! Most families are at home and the roads are less busy.
We find a radio station that plays holiday tunes, or we make a playlist for the car and enjoy the beautiful light decorations on homes and throughout our town.
There are a few neighborhoods that will actually work together to coordinate lights and have a food donation bin for sightseers to help those in need.
We can enjoy the lights and do something kind for others in one trip!
Another kind thing would be to leave rating cards in the mailboxes of your favorite homes! We have some below to help you get started.
Click here to get your Christmas Light Rating Cards.
14. Take A Family Photo In Front Of The Tree At Night
With twinkling lights and loved ornaments, the Christmas tree can be such a lovely representation of your family!
Gather everyone together, whether in your finest clothes or comfortable pajamas to commemorate your special time together with a family portrait.
15. Do Christmas Karaoke
Warm up some hot cocoa and get every family member involved in singing Christmas carols and other festive Christmas music! If you have family members that would prefer to not sing, let them be the supportive (and laughing) audience!
16. Make A Unique Hot Chocolate
Starting this activity may take a little research and shopping beforehand. You could also create a base hot chocolate and then have everyone add in different ingredients to find out new and interesting flavors.
In addition to this, your family could learn about the origins and history of hot chocolate and see how it has changed from the time of its inception.
17. Gather Toys For Santa To Take For Other Children
The holiday season should be about giving, and what better way to teach your children about this than having them gather toys for other kids.
Whether this is in the form of donating toys they do not play with anymore, or finding toys for kids at the store, the idea is to show love and generosity.
You can gather all the toys and let your kids know that Santa can always use help with toys for all of the kids out there.
18. Write A Letter To Santa
Since Santa will be stopping by anyway, he would most likely appreciate a lovely note along with his cookies.
Perhaps a thank you or well wishes on his long journey, or even an amazing piece of artwork for him to see on his travels!
If your child is younger and needs some help this letter to Santa template is perfect.
19. Gift Some New Christmas PJs
A wonderful small gift of Christmas pajamas is a fun way to help your family prepare for the big day! You could coordinate the entire family with matching pajamas as a silly bonus!
20. Leave Snacks For Santa And His Reindeer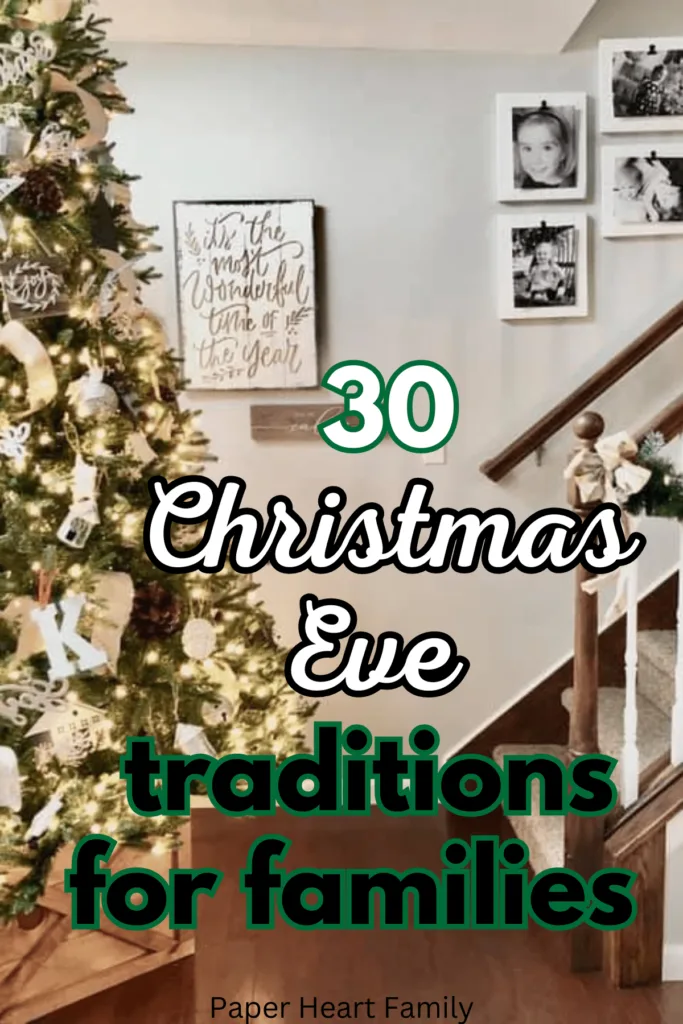 With such a long evening of travel, this would be such a kind activity that is sure to be greatly appreciated!
21. Write Letters To Each Other
This is a perfect time to get older kids involved in the Christmas spirit.
Everyone writes letters about what is in their hearts or about their favorite Christmas stories or really any topic and then you can start a fun tradition of reading the letters on Christmas morning!
Younger children can also take part in the holiday spirit by drawing pictures of their most fun holiday memories.
22. Eat Dinner By Candlelight
Christmas Eve dinner by candlelight brings an element of calm and peace to an otherwise loud and busy time.
Pair this with your favorite Christmas songs in the background and a yule log burning in the fireplace and you have set a beautiful new family tradition!
23. Communicate With Santa
Choose one of these 10 ways to talk to Santa, either through video, text, phone or email.
24. Place Stockings At The Foot Of The Beds
25. Attend Christmas Eve Service
A church service can be such a lovely way to spend your Christmas eve night. Midnight mass and seeing a beautiful nativity scene can really bring the reason for the season to the forefront of everyone's minds.
26. Watch The Santa's Reindeer Live Cam
Watch as the reindeer gear up for a long night. You might even catch a glimpse of Santa feeding them!
27. Take An Evening Walk In The Snow
It is always so amazing to me how quiet everything is when it is covered in snow! Bundle up the family and enjoy the winter wonderland and perhaps catch some holiday lights along the way.
28. Have A Family Snowball Fight
Get teams together and face off in a snowball fight. Or if you prefer, build a special Christmas Eve snowperson together!
29. Play Board Games By A Cozy Fireplace
Get the fireplace going so that everyone stays warm and pull out old and new boardgames. The family can play one game all together, or have several groups playing different games.
Kids can try out new games they have never tried before and you can also get an idea of games that may be ready for donation!
30. Have A Family Craft Night
Pull out all of the supplies you have for crafting and let everyone's imaginations run wild or choose one of these easy Christmas crafts.
Find a place to write the year each project was created, and you can always look back on your fun creations over the years!
With so many ideas for activities to do on Christmas Eve, you will not be at a loss for things to do. It is always a good idea to get input from your family members to find out what they really enjoy and what they would like to do.
You never know when someone's suggestion may become your family's new favorite tradition! When everyone is involved in the decision-making process, they feel like they are taking ownership of the fun!
Always make sure that the traditions stay fun and do not end up as something to just check off on a list. The point is to spend quality time with family doing something that is fun for everyone.
These moments together are so special and can help create some amazing memories for everyone. Take this to heart and remember it when you are in the moment! And, as always, you've got this!