Hey, mamas!
Trying to get ready for Valentine's Day?
Whether or not you are a fan of Valentine's Day, I can bet your kids are.
What kid doesn't like giving little gifts to all of their classmates?
I know my kids LOVE Valentine's Day, and it's because of this fun Valentine tradition that they love this holiday so much.
I'm always looking for fun, unique ways to help my kids celebrate the holidays.
And what kid doesn't love a good Tic Tac Toe game?
Think about it?
Have you ever played Tic Tac Toe with your child?
My 7 year old could play over and over again.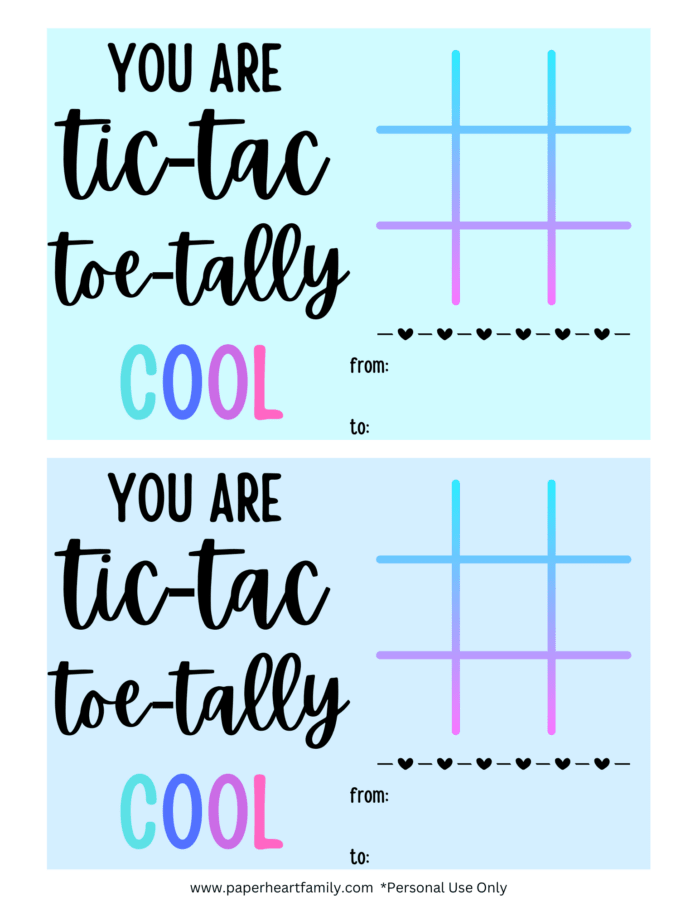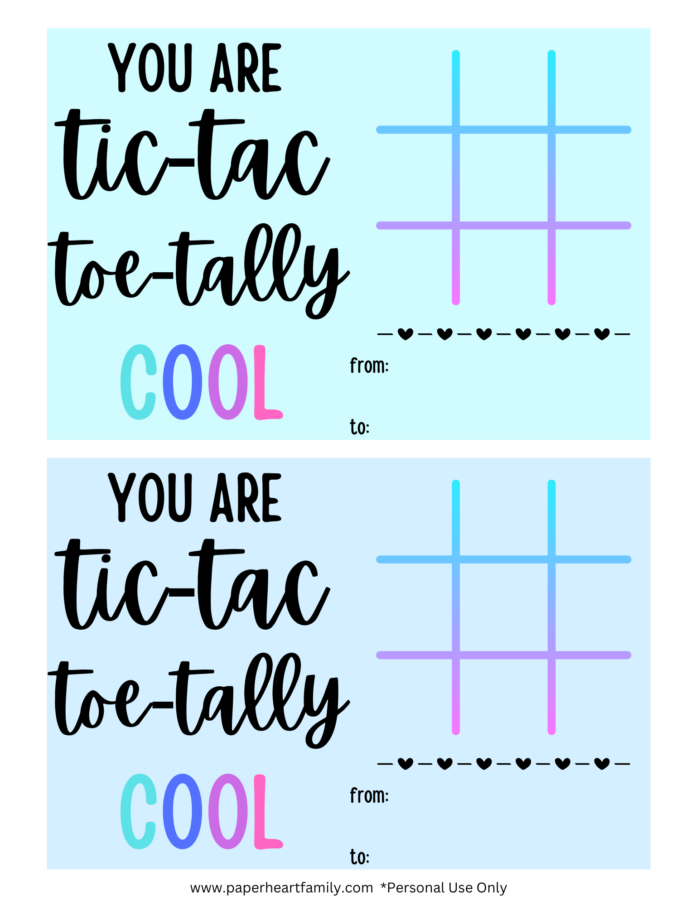 It's the best game for waiting in a doctor's office or at a restaurant.
So why not share your child's love of Tic Tac Toe with their entire class?
It's a great game for kids because the rules are simple and its a quick game (there's not chance that they're going to lose focus during a short game of Tic Tac Toe).
This Valentine's Day Tic Tac Toe printable would be so fun to give out this February 14th.
I love it because you can include candy if you'd like, but you don't have to.
It's totally up to you.
Including candy is nice, because then the tic tac toe board can be reused over and over and over again!
I also love it because it's not just printable Valentine cards, it's an activity, too!
This post contains affiliate links.
Free Printable Tic Tac Toe Valentines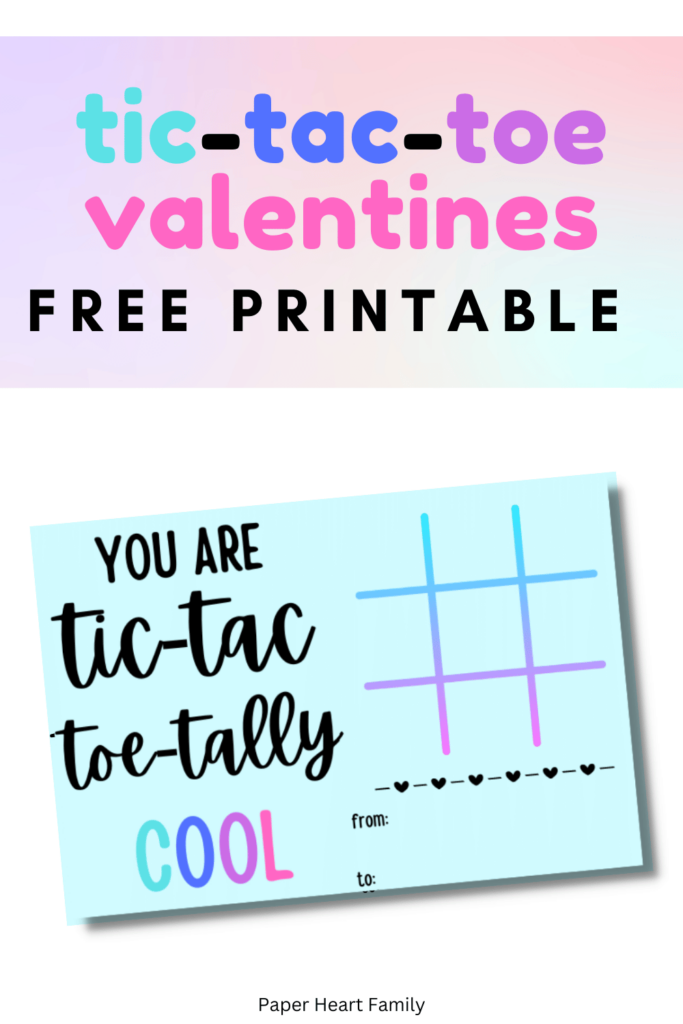 Here's what you will get:
Once you click the link at the bottom of this post, your PDF will download instantly.
Just make sure to follow my terms of use: This printable is for personal use or classroom use only!
The printable comes in four different colors: mint green, light blue, coral and light purple.
Perfect for a classroom full of kids!
The printables also contain the quote: You are Tic-Tac-Toe-Tally Cool.
Supplies Needed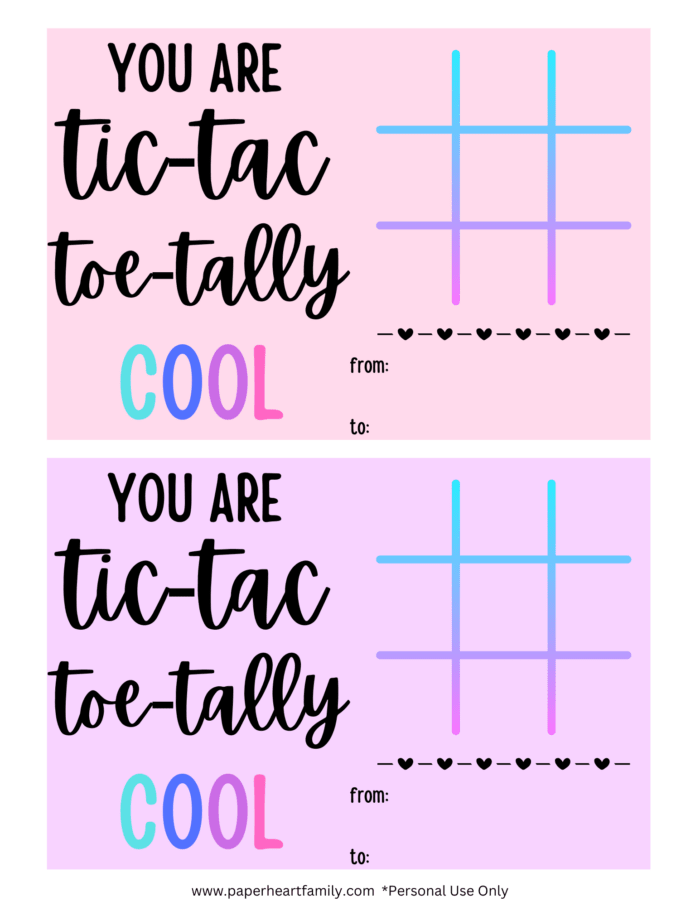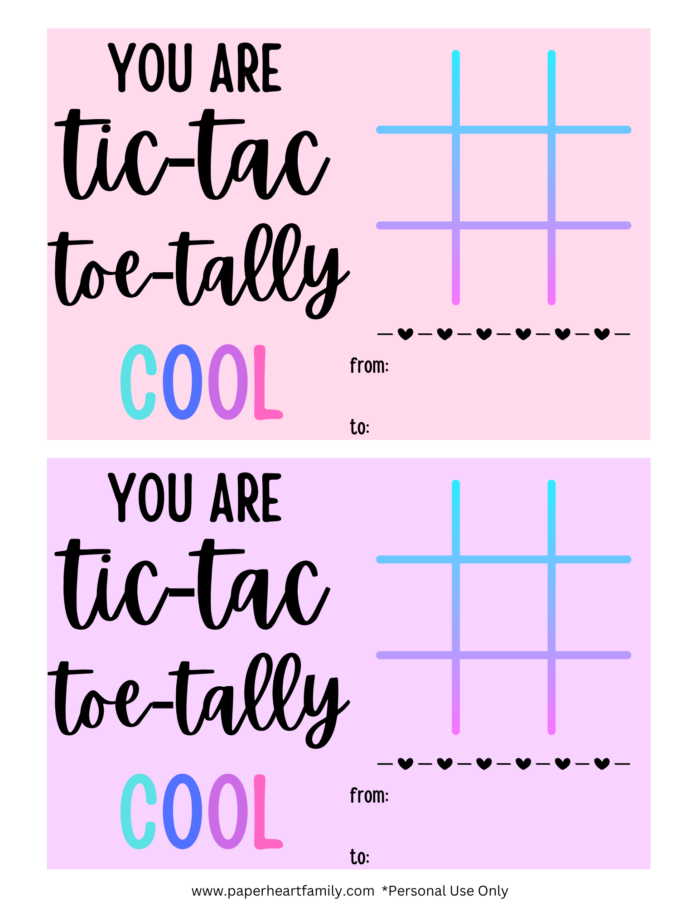 White cardstock-

Printing these printable cards on card stock is important because it's going to make them more sturdy.
It's also going to make them look much more professional.

A printer

If you don't have a printer, your local office supply store should be able to print them for you at an affordable cost.

Scissors

If you don't have a paper cutter yet (but find yourself making a lot of straight cuts), I HIGHLY recommend buying this affordable paper cutter.
I use it for so many things for work and home.
Also, when you are cutting your Tic Tac Toe cards out, I highly recommend trimming off all of the white outer edges.
It makes the end product look much cleaner and less DIY.

Candy- If you are going to include candy with this printable, here are some ideas for sweet treats to use as game pieces:

Tic Tacs
Hershey Kisses
Smarties
Sweet Tarts
Chocolate coins
M&Ms
Candy Hearts
Skittles

If you are going the non-candy valentine route, you could simply have your child hand out the classroom valentines as is, or you could include:

crayons
a fun pen
pencil
X and O shaped pretzels (Utz usually makes these around Valentine's Day)

Clear bags or cellophane bags (if you are including candy or a non-candy gift along with the tic tac toe valentine card)
How to assemble: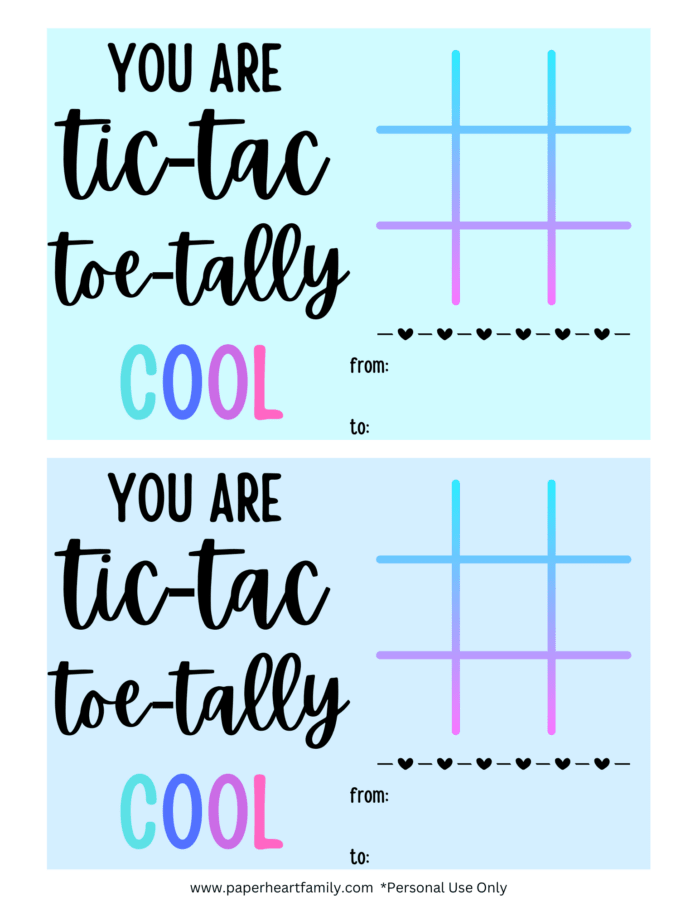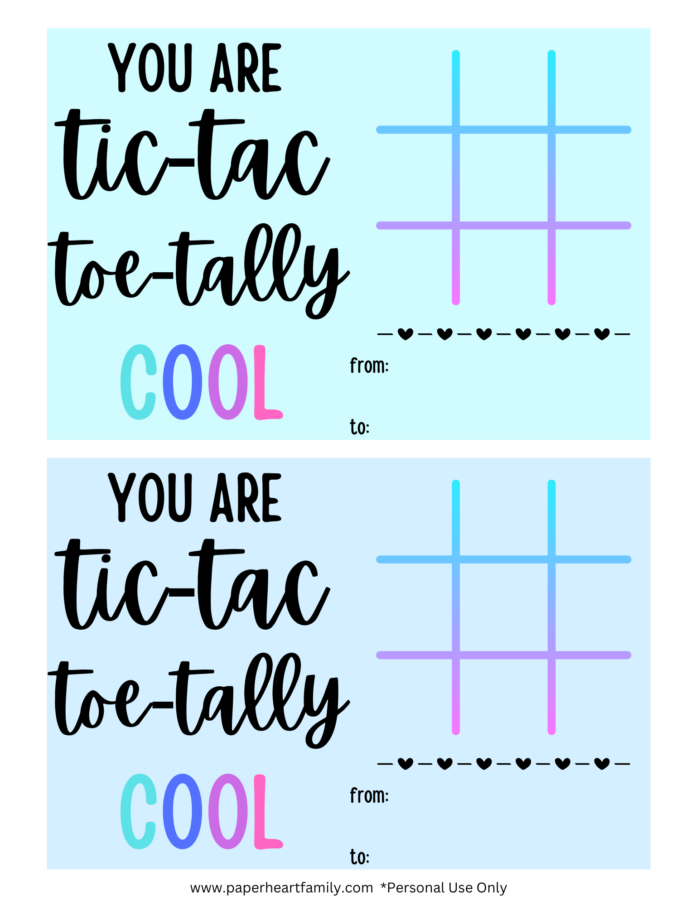 Download the free PDF file that you will find at the end of this post (you will receive this instantly- no need to enter an email address and wait for it to come in your email!)
Print the PDF on bright white cardstock.

There are two cards on each page, so just divide the amount that you need by two.

Cut out your valentine cards, making sure to cut off all of the white border.
Have your child fill out their name and the name of their classmates.
Put each card into a clear cellophane bag.
Insert some sort of fun treat: any candy or non-candy items of your choice.

Of course this is completely optional, but so much fun.

Tie the bag shut with a cute Valentine-themed ribbon or something simple like twine.
Admire your crafty work!
While you're printing, you should definitely consider downloading my Valentine's Lunch Box Notes.
And if you're not completely sold on the Tic Tac Toe Valentines, I have other cute options!
If you do end up using this cute printable, be sure to tag me on Instagram @paperheartfamily so that I can see how they turned out!
Also, feel free to email me at [email protected] if you are needing any assistance with the assembly of your new printables!
Valentine's Tic Tac Toe Printable
Happy Valentine's Day!
Important note: Printables are for Personal Use and Classroom Use Only, and the PDF may not be sold, distributed, or posted on other websites. If you wish to share this project, you may along with a dofollow link back to this post.
How do you play tic tac toe?
The game board consists of a 3×3 grid. The first player will place an "X" (or a piece of candy in their chosen color) in any space on the board.
Next, the second player will place an "O" in any other available space on the board.
The goal is to have three "X's" or "O's" in a row. These can be either vertical, horizontal or diagonal.
The first player to get three "X's" or "O's" in a row wins!