Inside: Looking for printable emoji valentine cards for your kids to take to school? I've got two super cute options for you, and when paired with these adorable emoji keychains they are valentines that will give your kids all the feels! Check out the emoji cards and cute backpack cards, or you can mix and match!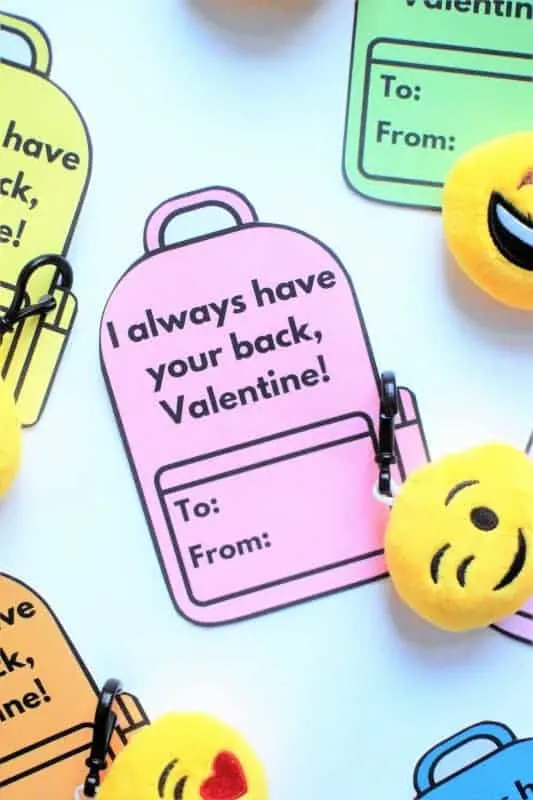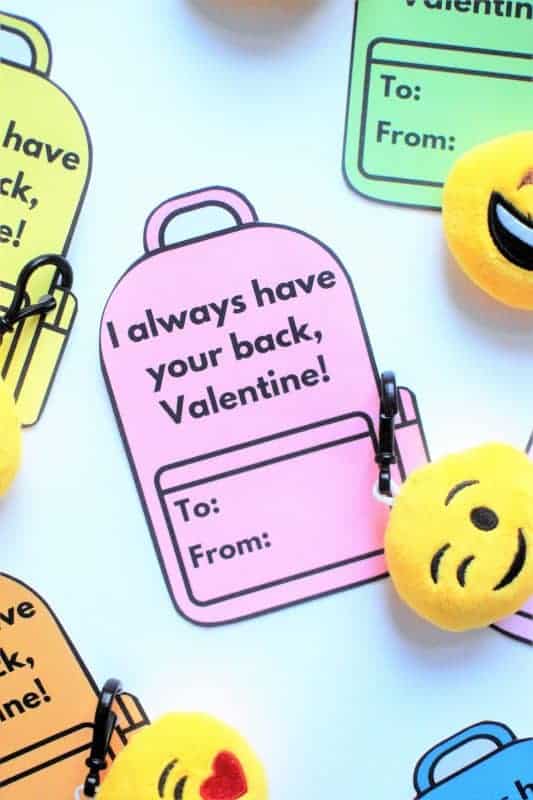 Isn't Valentine's Day so much fun with kids?
I definitely remember it being fun when I was a kid. Going home to sift through your paper bag of valentines from your classmates. I guess my Valentines from the 80's and 90's must have been New Kids on the Block, Teenage Mutant Ninja Turtles, Care Bears, Rainbow Brite…
There weren't however, any emoji valentines back in the day, but anyway.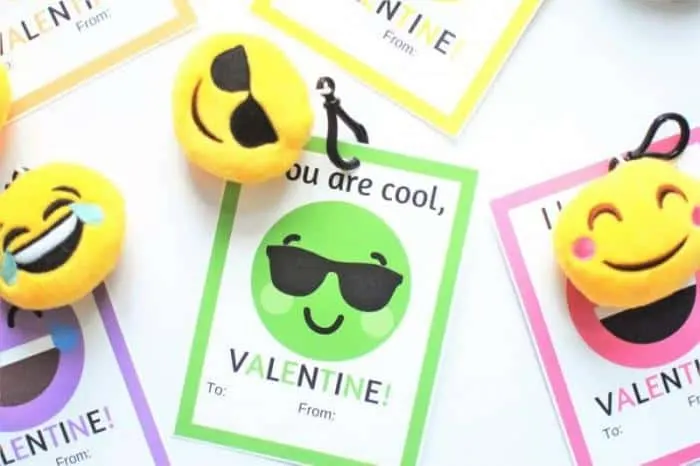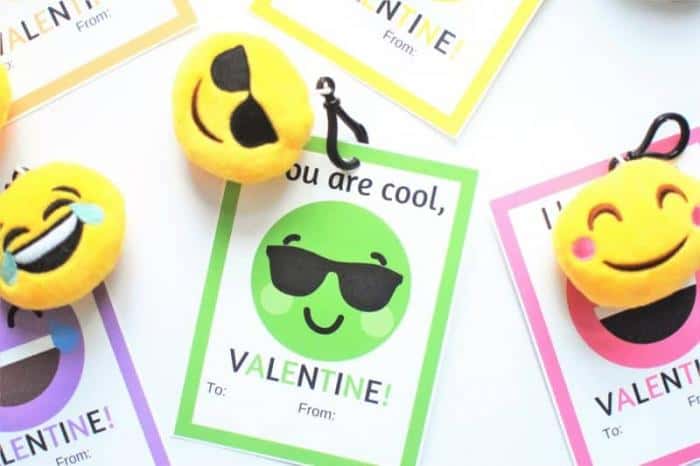 My daughter loved giving out her Valentines last year to her classmates. Kids are inherently giving.
She is constantly coming home from school with little trinkets from her friends. Erasers, pencils, drawings.
I knew that a simple card wasn't going to cut it. My daughter would want to give out something, because that's what kids do.
I knew I wanted to make Valentines for the kids in her class that met the following criteria:
1. They had to be non-candy Valentines for kids. Kids get candy for every imaginable occasion. I mean seriously, it's January and my kids still have candy in their Halloween pumpkins in my cabinet (I ate all the good stuff already).
It's also against the school's wellness policy (even though I know half of the Valentines that she will bring home will contain candy).
2. It couldn't be junk. No mom needs more junky toys. Think party favors, kid's meal toys (thank goodness cereal no longer comes with a toy!) and grandma's dollar store gifts.
3. It had to be inexpensive.
4. It had to be gender neutral.
These fit the bill! So do these other trendy printable valentine cards for kids including narwhals, unicorns, Star Wars, squishies, sharks, slime and more.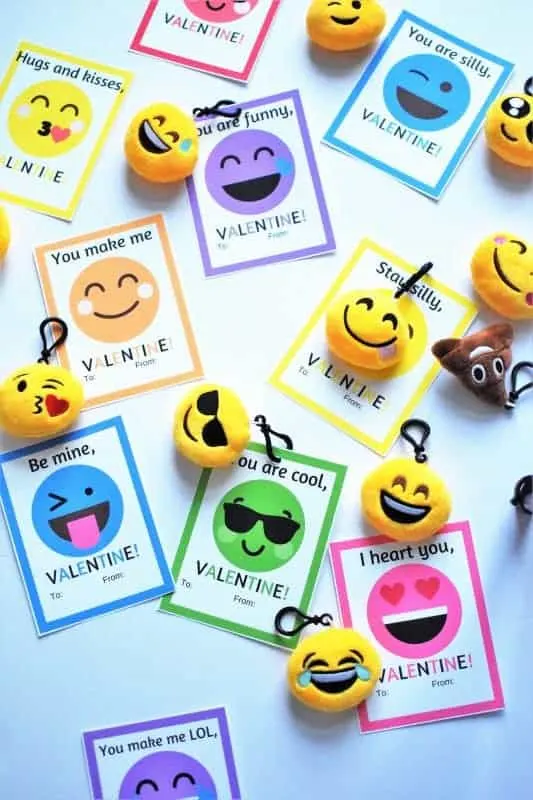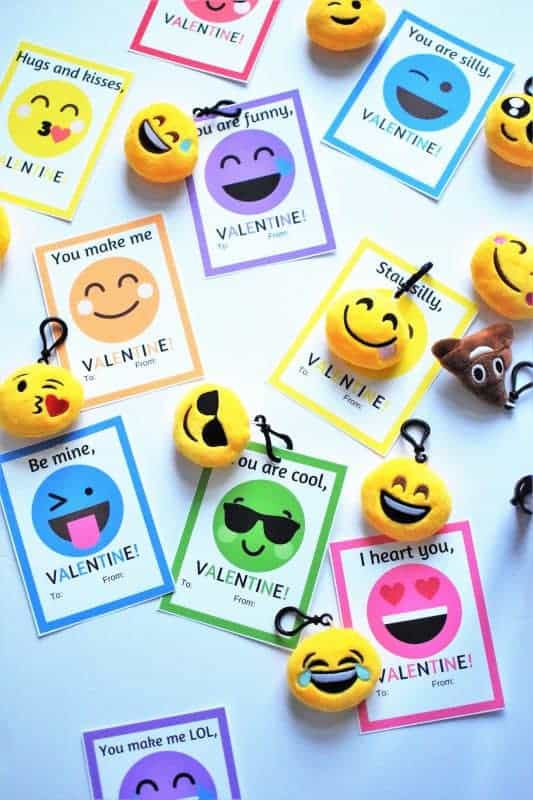 This post contains affiliate links.
Printable Emoji Valentine Cards
Enter the emoji valentine's day card. Kids are obsessed with emojis. And frankly so are adults.
When is the last time you sent a text? Did it include an emoji? Thought so.
These keychains are totally cool. My daughter's kindergarten class is gonna be feeling pretty special sporting their coordinating emoji keychains on their backpacks.
You could of course simply use the printable valentine cards also. And I couldn't decide which card to design, so I designed two for you to choose from!
These are the exact keychains
that I used, but there are many other sets
to choose from.
Download the printable emoji valentine cards here:


"I Always Have Your Back" Valentine Cards
Don't forget to subscribe for access to all of my fun printables!
Other Valentine Ideas
And you can check out my Valentine Lunch Box Notes so that every day of February can be special for your child.
Happy Valentine's Day!