Squishies! They're squishy, they're irresistible, they're adorable! For these reasons and more, my squishy valentine cards will be a HUGE hit with your child and all the children in your child's class this year.
Happy soon-to-be Valentine's Day! Do you love it or loathe it?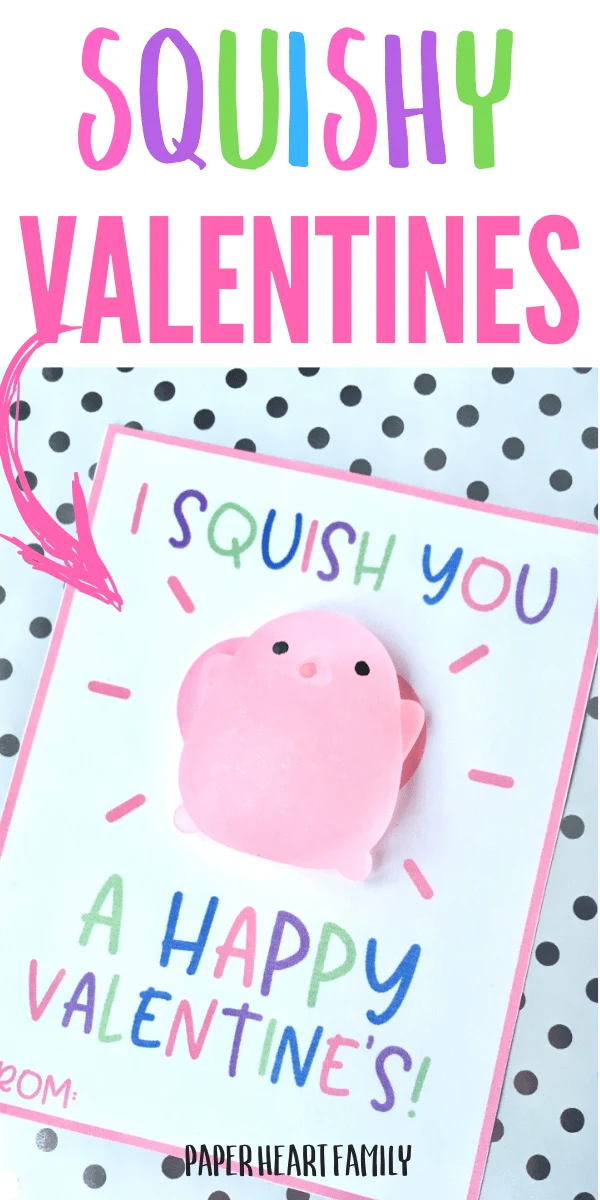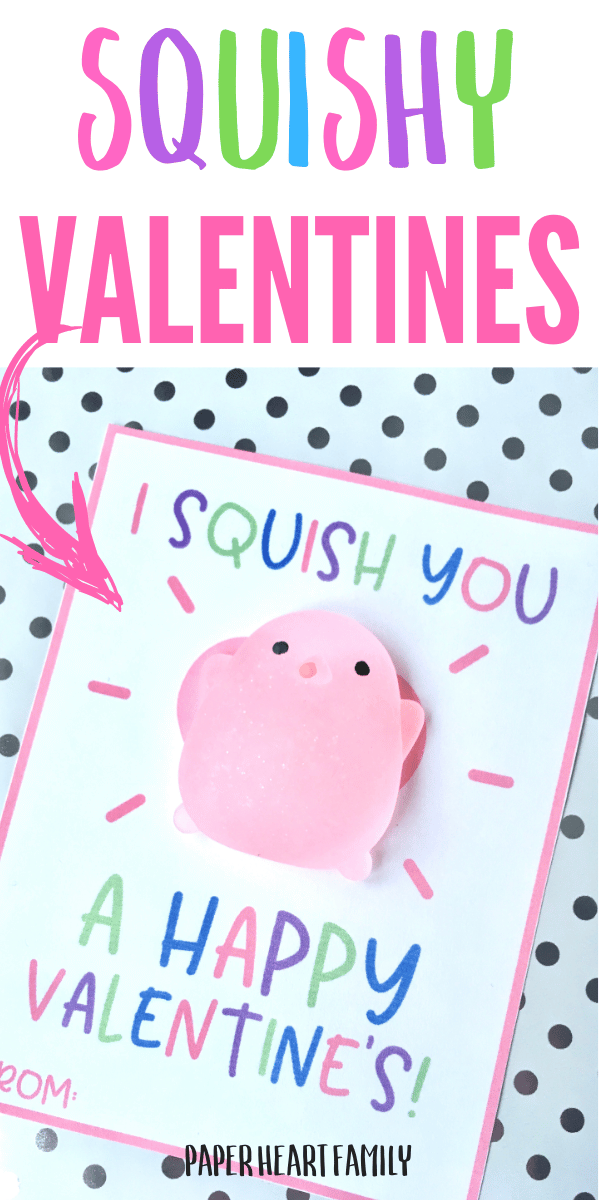 I don't mind Valentine's Day, but it IS kind of just another thing that makes me even busier than I already am.
That's why I LOVE LOVE LOVE printable Valentine cards for kids. I don't have to remember to pick up some Valentines at the store. I can just print them out from home. How easy is that?
And I ordered the Squishies from Amazon, too. So there you go, no need to make a special trip to get Valentines for your kid's class.
I was inspired to make these Squishy Valentines because well, there's kind of a Squishies craze going on right now. My kids love them. Even my middle school students love them.
I compiled a list of Trendy Printable Valentine Cards for Kids and I knew that the list wouldn't be complete without some Valentine Squishies.
I also wanted something that was inexpensive and candy-free.
What are Squishies?
So wait. What are Squishies? Squishies are like updated, adorable little stress release balls. They are made out of super soft foam and are designed to be squeezed.
You may hear them being called "kawaii squishies" (kawaii is the Japanese word for cute). They come in all different shapes and sizes, and commonly feature animals or food.
Where To Buy Squishies
You can likely buy Squishies anywhere, but for these Squishy Valentines I recommend purchasing from Amazon because you can buy them in bulk for a really great price. (Whenever I have seen them in a brick-and-mortar store, they have been sold individually.)
The glitter Squishies that I received are SO cute. There was a huge variety. I can't even choose the cutest. What do you think? The penguin? Sun? Koala? Squirrel?
I seriously can't decide.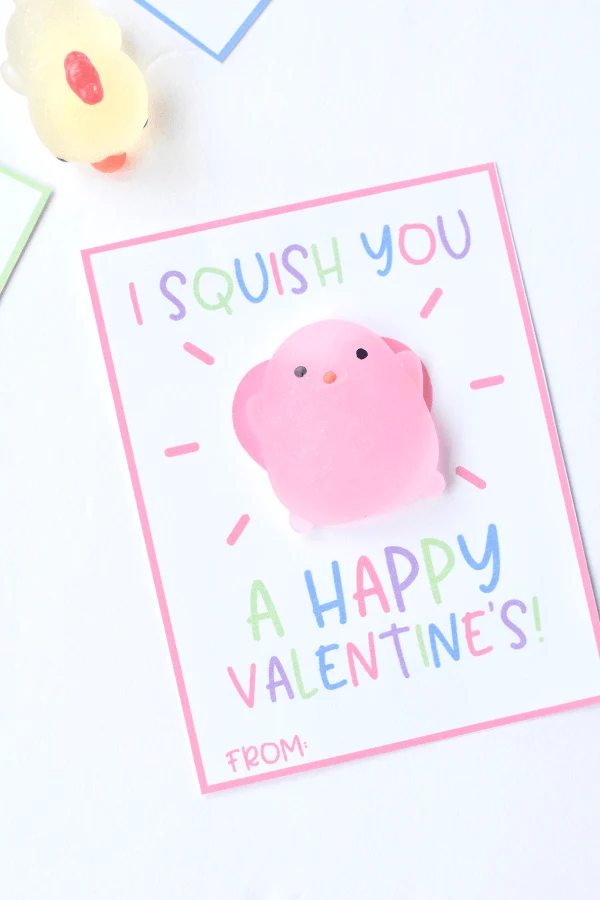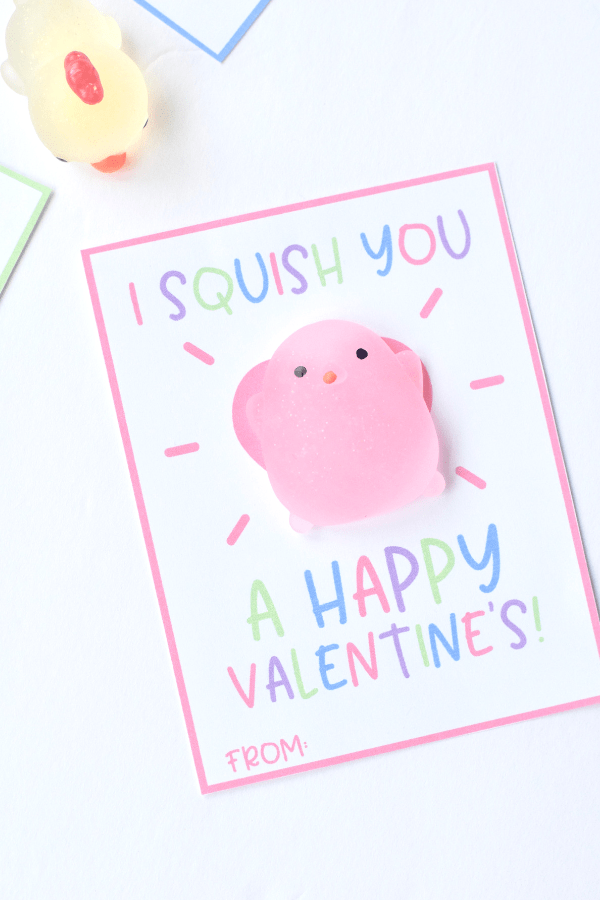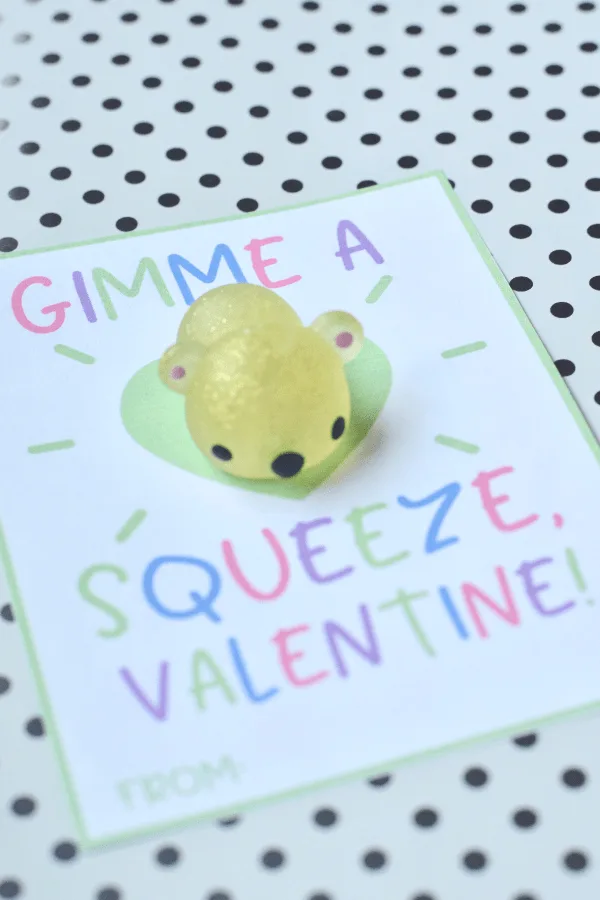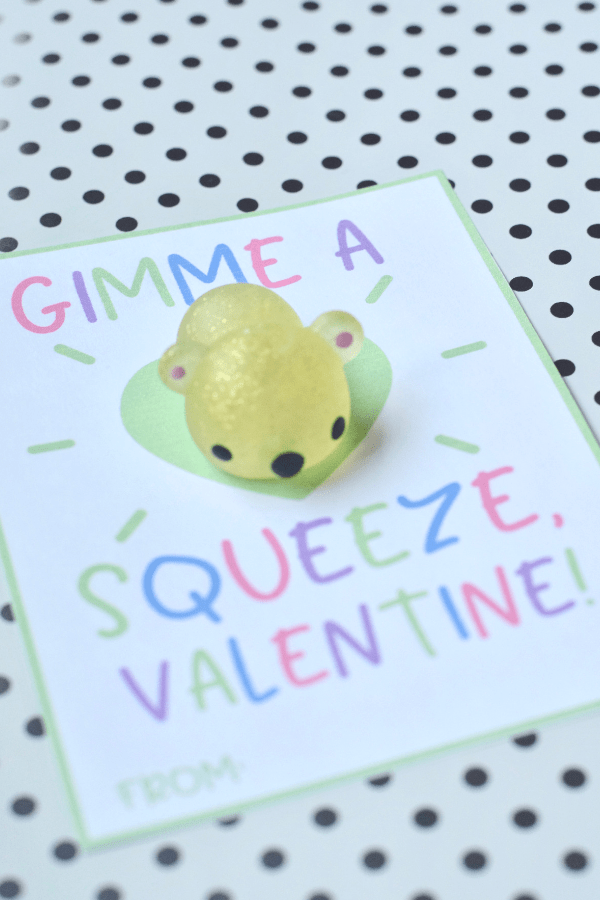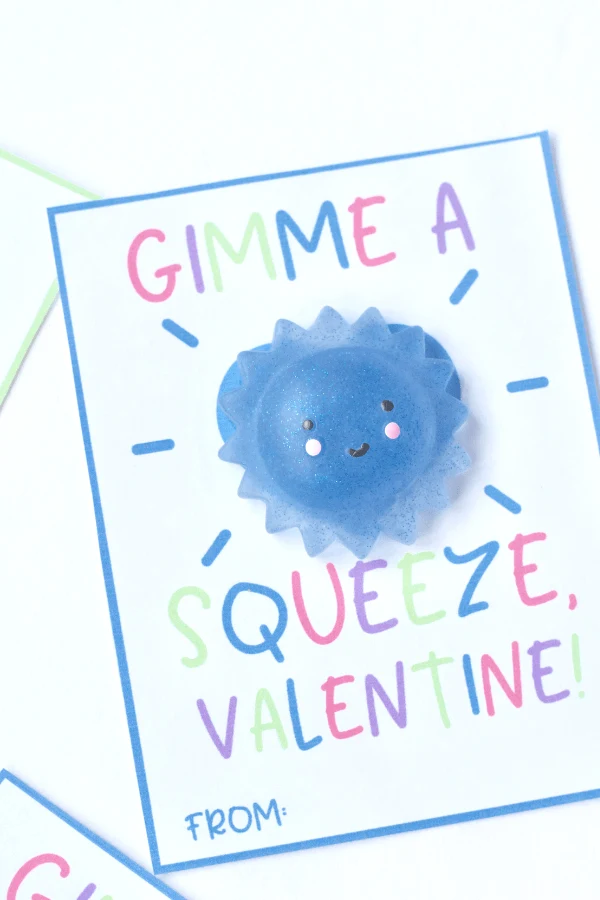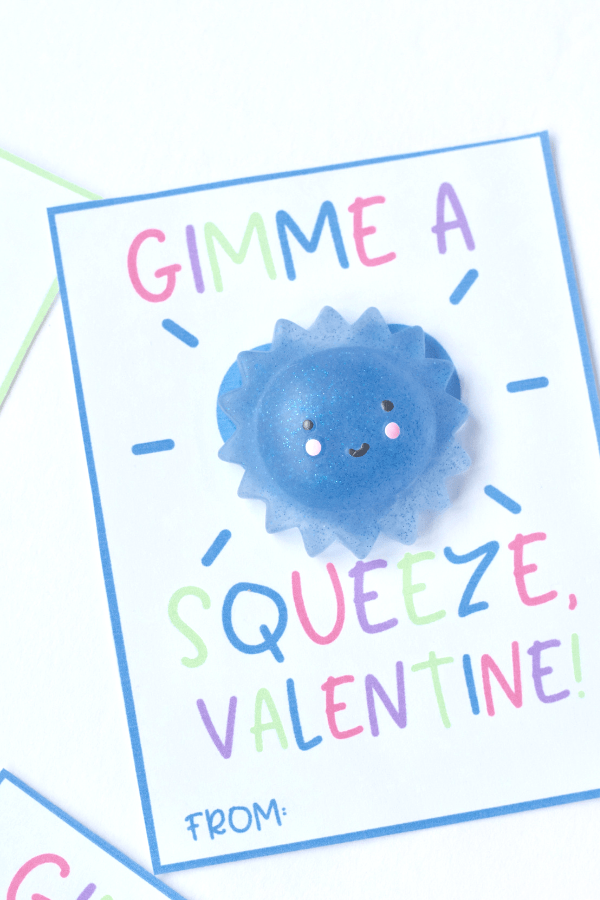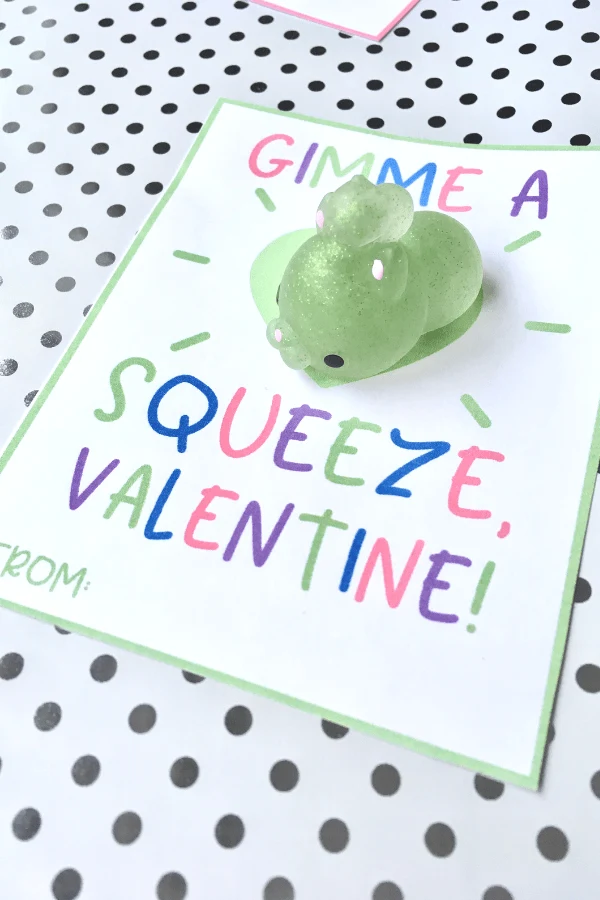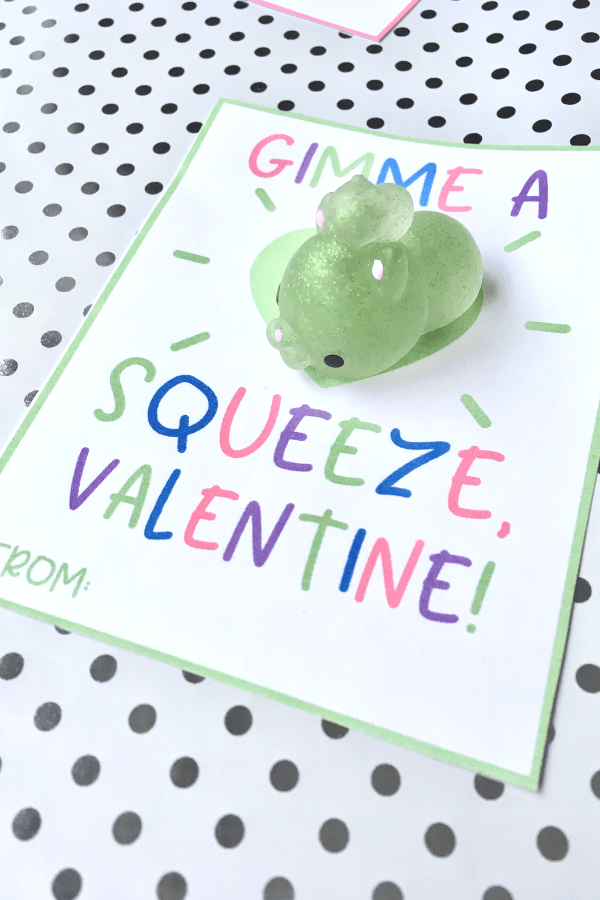 How To Make A Squishy Valentine Card Printable
So you've decided to use my Squishy Valentine cards for your kid's Valentines this year? Great!
Here's what you need to do:
Click below to gain instant access to your Valentines.
Purchase Squishies- I used the glitter Squishies, but there are MANY different varieties to choose from that you can check out here.
Print on heavy cardstock.
Cut out your Valentine cards using scissors or a paper cutter.
Adhere your Squishies to the card with a glue dot.
There you have it! Super fun, super cute and super easy.
And before you commit, you NEED to check out my Pop It Valentines Printable!
Still unsure? Check out my Emoji Valentine Cards and my Valentine lunch box notes.
Your child will LOVE giving out these Squishy Valentine Cards this year.