If you are considering breastfeeding or have already started, having a nipple cream on hand at all times is priority number ONE. I've compiled this list of the best organic nipple creams to help you find the perfect option for you and a safe cream for your baby.
Step number one of breastfeeding is coming to understand that breastfeeding IS going to hurt. It's not going to be the worst pain you've ever experienced in your life, but knowing that is going to be helpful later, because you definitely don't want to go into it expecting no pain.
Related: Best New Mom Breastfeeding Tips
You might have even heard that breastfeeding shouldn't hurt. I have nursed two very different babies (one who had a perfect latch) and I can tell you that it still hurt. However, it won't hurt forever and having a quality nipple cream from day one and applying it constantly is one way that you can get breastfeeding pain relief.
After my first child was born, I used Lansinoh Lanolin. It was given to me at the hospital, but I never really loved it. It was a little sticky, greasy and thick, and it stained my bra, sheets and clothes. Not the look I was going for. Because of its thickness, it was hard to apply and therefore hurt my nipples even more. It was also difficult to remove from my fingers. It doesn't sink in to your skin like the organic nipple creams in this post. I always had to have a paper towel nearby so that I could wipe it off.
It also left my baby's face greasy and Lanolin is a synthetic product, something that made me nervous about my baby ingesting it.
Once I switched over to a USDA certified organic nipple cream, me and my nipples were much happier. Besides, natural ingredients are always better!
Nipple Cream Tips
Buy Extra
I recommend buying at least three separate nipple cream containers. This way you can have one in your bedroom for nighttime feedings, one in the living room for daytime and one in the car or diaper bag for feeds on the go!
Use It From Day One In The Hospital
Make sure that you buy a quality organic nipple cream before delivering, and to take it with you to the hospital so that you can use it from the very first latch. It will make a huge difference. It's one of the most important products you will use in the early days.
Use It Even After The Pain Is Gone
Also make sure to continue using it throughout your breastfeeding journey, even after you think that your nipples have adjusted. Will breastfeeding get easier?
Yes! But when I stopped using my organic nipple cream after a few weeks because I was pain free, it was a BIG mistake. I started experiencing pain once again, but after a day or two of using my nipple butter I was back to normal.
Use It For Other Things As Well
No matter what organic cream to end up buying, know that you can use it for things like dry lips and diaper rash as well. You can also use it as a pump lubricant if your going to be pumping frequently.
This post contains affiliate links.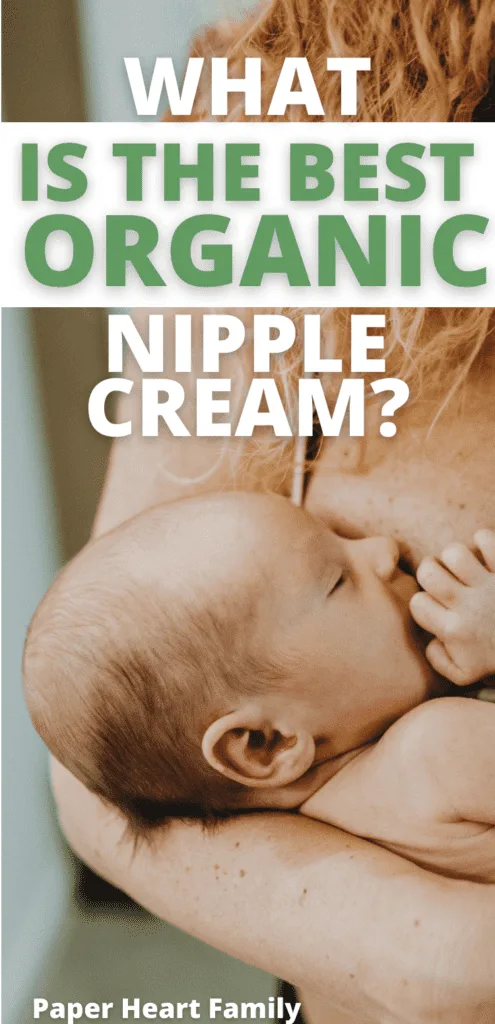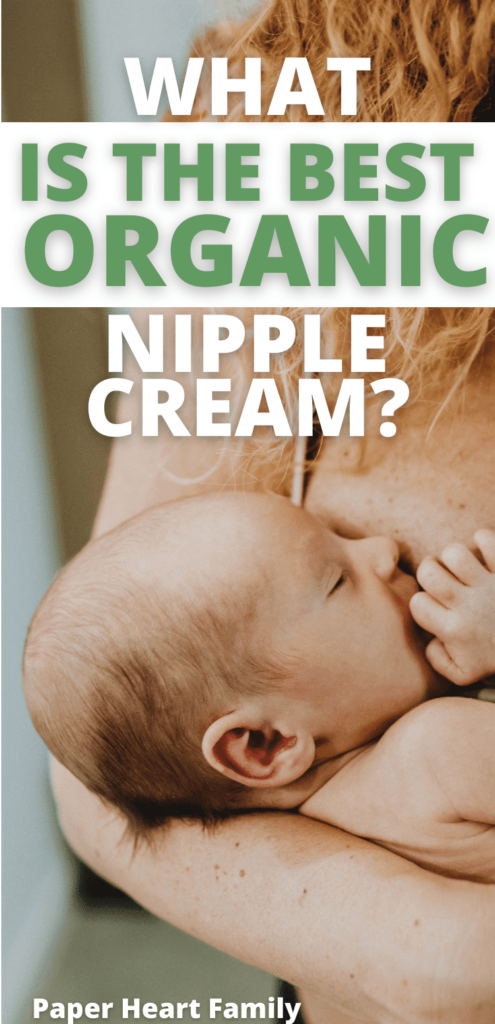 Best Organic Nipple Creams
You can read on and learn more about the best organic nipple creams. They are all highly rated, safe, effective options.
Make sure to check out our favorite natural nipple cream at the end of this post!
1. Earth Mama Organic Nipple Butter
When I was pregnant with my second child, I decided to research and choose something that I would love. This is what I ended up buying and I loved it. I liked that Earth Mama's butter wasn't sticky, didn't stain, was easy to apply, smelled good and contained ingredients that I could feel good about. I 100% feel that it made my nipples recover much quicker and get to the point where nursing wasn't painful.
It's a really good nipple cream.
I used Lansinoh lanolin with my first, but it was sticky and I much preferred Earth Mama Organics.
What you might want to know:
This nipple butter might be a little grainy, which is due to temperature fluctuations. The graininess melts away really easily if you soften it in your hands before applying. You could also place it into a bowl of warm water to get it to melt nicely together. You should only have to do this once! The consistency otherwise is like the consistency of coconut oil.
Many moms swear by using Earth Mama nipple butter as a diaper cream also and when you're finished using it for nursing, you can absolutely use it as a moisturizing lip balm.
Earth Mama Organic Nipple Butter Ingredient List: organic olive oil, organic cocoa seed butter, organic shea butter, candelilla wax, mango butter, organic calendula flower extract
Check Price
2. Motherlove Nipple Cream
As with other creams on this list, this is not only helpful for soothing nipples but is also great for diaper rash, baby acne, cradle cap and baby's chapped cheeks.
What you should know:
It has the consistency of chapstick, is very easy to apply and smells slightly of olive oil.
Many moms who started out using Lanolin transitioned to Motherlove and had quick relief. Some moms even say that this is the only thing that not only prevented nipple chapping and cracking, but that helped to heal any cracking, wounds or scabbing.
Motherlove has a satisfaction guarantee and will 100% refund your money if you are not satisfied.
It contains only 5 ingredients.
Motherlove Nipple Cream ingredients: organic extra virgin olive oil, organic beeswax, organic shea butter, organic marshmallow root, and organic calendula flower.
Check Price
3. Bamboobies Boob Ease Nipple Balm
Boob Ease Nipple Balm (don't you LOVE the name?) is formulated to soothe an burning sensations, to protect and to moisturize dry, painful, cracked nipples. It has a natural, earthy scent. As the company says, "we've got your front".
What you should know:
Moms rave about how this nipple balm, like the others above, helped them much more than the Lanolin they received at the hospital.
Their packaging and tagline are amazing.
Bamboobies organic nipple balm was created "with love from one leaky mama to another" in the basement of Kerry, a mother of 3.
It contains only 5 ingredients (all others on this list contain more than 5 ingredients except for Motherlove Nipple Cream).
Boob Ease Nipple Balm ingredients: extra virgin olive oil, beeswax, shea butter, marshmallow root, and calendula flower.

4. Era Organics Mommy Balm
What sets Era Organics apart from the competition? Era Organics contains anti-inflammatory ingredients to treat pain and irritation.
Many moms have found it to be extremely soothing and many moms found that it instantly provided some pain relief after switching from Lanolin.
What you should know:
It has a wax-like consistency.
Era Organics Mommy Balm is also backed by a 60-day money back guarantee, making this a risk-free purchase.
Era Organics Mommy Balm ingredients: Organic Sunflower Oil, Organic Cocoa Butter, Organic Beeswax, Organic Apricot Oil, Organic Vegetable Glycerin, Organic Arrowroot Powder, Organic Evening Primrose Oil, Organic Chamomile Extract, Organic Calendula Oil, Organic Rosemary Extract, Non-GMO Mixed Tocopherols
5. Weleda Nipple Balm
Weleda Nipple Balm is formulated by a group of midwives and pharmacists. The company also supports the protection of orangutans at risk for extinction through every purchase made on Amazon.
What you should know:
Moms claim that this balm is very soothing and some moms even say it has a cooling effect.
It is fragrance-free.
It contains Lanolin, which can cause an allergic reaction for some.
Weleda Nipple Balm is one of the pricier options.
Weleda Nipple Balm Ingredients: Lanolin, Helianthus Annuus (Sunflower) Seed Oil, Olea Europaea (Olive) Fruit Oil, Calendula Officinalis Extract, Cera Alba (Beeswax), Lanolin Alcohol, Tocopherol**. **ingredient of raw material Lanolin.
6. Lansinoh Organic Nipple Balm
Lansinoh is a very well-known, well respected brand. They are committed to becoming "climate neutral" by the year 2030! If this is important to you, then Lansinoh Organic Nipple Balm could be the right choice.
What you should know:
The balm contains no smell or taste.
It is dermatologist tested and hypoallergenic, therefore a great option for anyone with sensitive skin.
It's not oily and leaves no residue on your bra or clothes. It soaks in quickly!
Lansinoh's organic version is far superior and not thick and sticky like the original.
Lansinoh Organic Nipple Balm Ingredients: Sunflower Seed Oil, Olive Oil, Beeswax, Coconut Oil, Shea Butter, Calendula Flower Extract, and Argan Kernel Oil.
Check Price
7. Tiny Human Supply Co. Habit Forming Nipple Balm
Tiny Human Supply Co. claims that their nipple balm is "addictive relief for hard-working nipples". What breastfeeding mom wouldn't love the sound of that?
What you should know:
Their marketing is hilarious: "You've sacrificed for 9 months, labored for who-knows how long and now it's your nipples turn to feel abused. Freaking fantastic."
It's made in the USA by a small business that pays fair wages.
It's creamy, lightweight and very soothing.
Tiny Human Supply Co Nipple Crack Ingredients: coconut oil, sunflower seed oil, beeswax, olive fruit oil, shea butter, aloe leaf juice and calendula flower oil
8. Organic Coconut Oil
Some moms have found success simply using organic coconut oil. I tried it and found that I needed something a little thicker and substantial, but it is an inexpensive alternative that you could try.
Tip: If you find yourself somewhere without your organic nipple cream, simply squeeze some breast milk out and apply it to your nipples. I honestly never felt that it worked as well as the cream, but it's still better than nothing in a pinch!
What do we at Paper Heart Family suggest? This is our pick for the very BEST organic nipple cream based on price, non-stickiness, smell, ingredients and function.
What Are Our Favorite Nipple Creams?
We have three that you just can't go wrong with. Earth Mama Organics Nipple Butter, Motherlove Nipple Cream and Lansinoh Organic Nipple Balm are the best on the market. They are all well-loved and extremely effective. They have the highest reviews of any creams on the market (4.7-4.8 stars on Amazon out of thousands of ratings). You can't go wrong with any of them!
My suggestion is to get one of each (one for your bag, one for your bedroom and another for your living room. Then you can decide which you like best.
Frequently Asked Questions
Why do you need a nipple cream?
Every single breastfeeding mom needs a nipple cream. Without it, you're simply not going to make it. You will suffer dry, cracked, painful and potentially bleeding nipples due to having your baby constantly latched. Using a nipple cream and getting your baby to latch correctly are the two most important things.
Check out why baby wants to breastfeed constantly.
Any of the above nipple creams will help to reduce inflammation, moisturize and heal sores or cracking.
It should be used proactively to get the best results. If you wait until you are already experiencing pain or already have cracked skin around your nipple, it's going to be much harder to treat and will take much longer to heal. Take it with you in your hospital bag and apply it after each and every nursing session. Without fail.
What is safe to use on nipples when breastfeeding?
Unfortunately, just because something is on the market does NOT always mean that it is safe.
There have been instances where nipple creams were pulled from the shelves due to potential risks to your baby. In the cited case, a dangerous preservative was an ingredient in the cream. By going with an organic nipple cream, you are avoiding petroleum-based creams and alcohol-based creams.
A quick Google search will tell you that Lanolin is safe, no unsafe, no safe, no unsafe! How frustrating. Lanolin is a fatty substance that is natural to sheep's wool. I however, am just not okay with conflicting information when it comes to my baby. The Lansinoh Lanolin tube itself instructs you to remove the lanolin before nursing. Remember how I told you that it's really sticky and hard to remove? Having to remove it (whether necessary or not) is not something that you or your nipples are going to like.
The questionable aspect of lanolin is that after shearing, a sheep's wool is soaked in pesticides to remove parasites. Then the lanolin is removed. According to Lansinoh's website however, the lanolin has been refined in order to remove pesticides.
Do you need to wash your hands before use to prevent bacterial growth in the container?
It is very difficult for bacteria to grow in these nipple creams since they do not contain water.
Do organic nipple creams need to be washed off before nursing baby?
All nipple creams on this list are organic and all-natural. They are completely safe for baby and do not need to be washed off before nursing. Thank goodness because your nipples need as little non-baby contact as possible!
What do the ingredients do?
Chamomile- soothes inflammation and relieves itchy skin
Cocoa Butter- moisturizes and has anti-inflammatory properties
Calendula Oil- has antiseptic, antifungal, antibacterial and anti-inflammatory properties
Apricot Oil- anti-inflammatory and antibacterial
Sunflower Seed Oil- moisturizes and restores damaged skin
Shea Butter- softens skin and has anti-inflammatory and healing properties
Candelilla Wax- conditions and provides nutrients to the skin
Marshmallow Root- intense hydrating and softening properties
Beeswax- seals in moisture without clogging pores and is anti-inflammatory and antibacterial
When should I start using nipple cream when breastfeeding?
Organic nipple cream should be one of the things that you pack in your hospital bag. It's so important to use it each and every feeding from the very first feeding. Using it from day one will help you stay ahead of any major nipple pain.