Coming up with a good breastfeeding diet plan is important. I mean yes, you could eat whatever you want, but there are some good reasons to follow a healthy breastfeeding diet.
First of all, you probably want to get back to your pre-pregnancy weight as soon as humanly possible. I've never heard a new mom claim that she loves her postpartum bod, have you?
And more importantly, your baby is gaining nutrients from your breast milk. And whenever you eat something, your baby experiences those flavors as well.
Crazy, right?
It's a good way to think about it. Do you want your baby's main flavors to be Cheetos and Oreos, or do you want your baby to become accustomed to the flavors of healthy, wholesome foods?
I think I know your answer.
The nice thing about breastfeeding is that now your diet isn't really restricted, like it was when you were pregnant.
(Find out what what you shouldn't eat when breastfeeding, especially if your baby has any issues such as acid reflux, excessive gas, or colic.)
Most foods are breastfeeding friendly foods.
But what are the BEST foods to eat when breastfeeding? (source) Here is a sample diet for breastfeeding moms.
This post contains affiliate links.
Top 10 Foods For Breastfeeding Mothers
Okay, actually I couldn't narrow it down to 10 (even though I REALLY wanted to because who wants to read a "Top 12" list?). So here are the top TWELVE best foods to eat while breastfeeding that you would consume frequently in the ideal breastfeeding diet.
Healthy Whole Grains, such as brown rice and oatmeal
Healthy whole grains are great for breastfeeding moms because they will give your sleep-deprived self some much needed energy and will keep you fuller for longer (which is SUPER important when you're breastfeeding). Oatmeal is also great for increasing your milk supply.
Salmon
Salmon is rich is so many great nutrients for breastfeeding such as DHA (which is important for baby's development), vitamin D and B12 and omega-3s. Vitamin D and Omega-3s can even decrease the probability that you will suffer from postpartum depression.
Eggs
Leafy Greens
Leafy greens such as spinach are perfect because they are extremely good for you and are extremely LOW in calories. Try to fit in some leafy greens at every meal to give your baby lots of nutrients and to help yourself lose the baby weight.
Avocado
Avocado is high in healthy fats which can aid in your baby's brain health.
Sweet Potato
Sweet potato contains a huge amount of Vitamin A, which is extremely important for your baby's vision and bone growth, among other things.
Legumes and Beans
Think chickpeas in your salad, hummus with some raw veggies or 7-layer dip. Beans are simply an amazing food, and have many anti-cancer properties as well.
Nuts and Seeds
Nuts and seeds will help you maintain that pregnancy glow as they are great for your skin. They are also a great source of calcium, which is super important for breastfeeding moms. Our breast milk is very high in calcium, and if there's not enough calcium left in OUR bodies after it is prioritized to our milk, then our bones and teeth could be negatively affected.
Dates
Dates are DELICIOUS and a great way to have a sweet snack that's actually healthy. Dates can also increase prolactin, which is the hormone that produces breast milk.
Fruits and Vegetables
Yogurt
Yogurt is high in protein and calcium.
Breastfeeding Meal Plan Samples
Okay, so knowing the best foods to eat is great, right? But let's take it a step further and give you some specific ideas that could carry you through the week.
Sounds easy, right?
Here you'll find the following 7-day breastfeeding diet plans:
For weight loss

For a gassy baby

For colicky babies

For increasing your milk supply
Breastfeeding Diet Plan For Weight Loss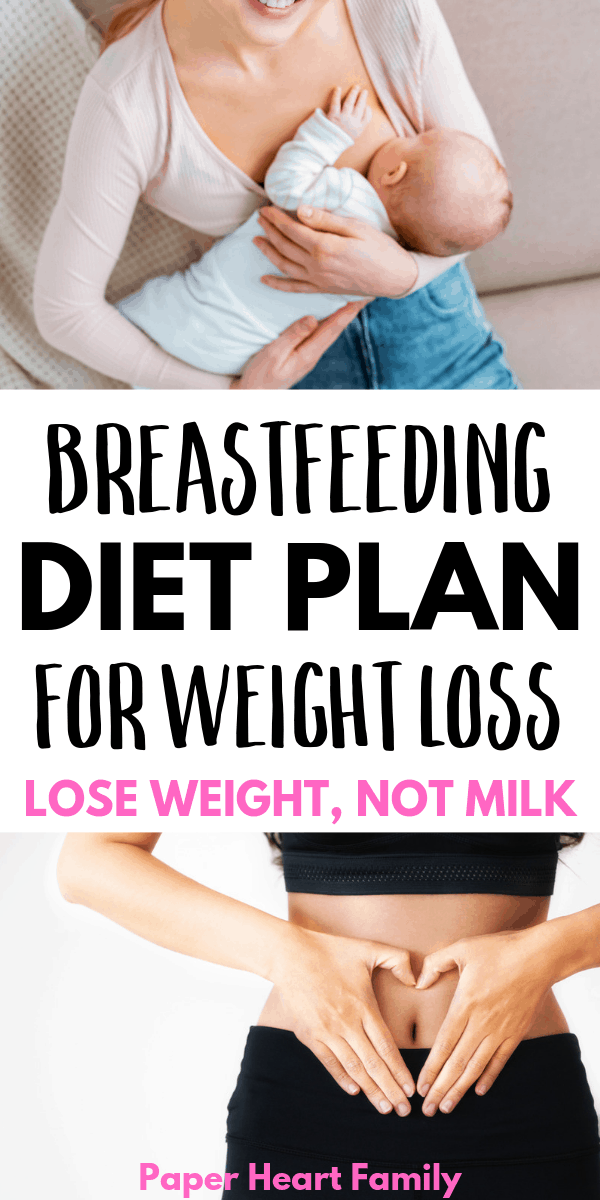 Trying to avoid eating ALL THE THINGS while you're breastfeeding is difficult because you're always ravenous. These healthy meal ideas are not only healthy, but filling as well.
And realize that breastfeeding burns LOADS of calories, so you might just find that you lose the baby weight effortlessly.
If you're not losing weight easily, learn how to fix diastasis recti before working out.
This is a great diet for breastfeeding mothers to lose weight.
Breakfast Ideas
Green smoothie (mix 2 cups fresh spinach, 1 cup almond milk, 1 scoop of protein powder (this one is my favorite) and ice

Scrambled eggs with spinach

Steel Cut Oats

Berry Granola Yogurt Parfait
Lunch Ideas
Spinach salad with chickpeas and salmon or grilled chicken

Tuna sandwich

Protein shake

Turkey burger

Veggie wrap

Chicken Quesadilla With Guacamole and Salsa
Dinner Ideas
Salmon, sweet potato and a vegetable

Vegetable Stir Fry Over Brown Rice
Snack Ideas
Carrot sticks and avocado or hummus

Trail mix

Dates

Fruit

Yogurt

Roasted chickpeas

Protein bar

Almonds
Breastfeeding Diet Plan For Gassy Or Colicky Baby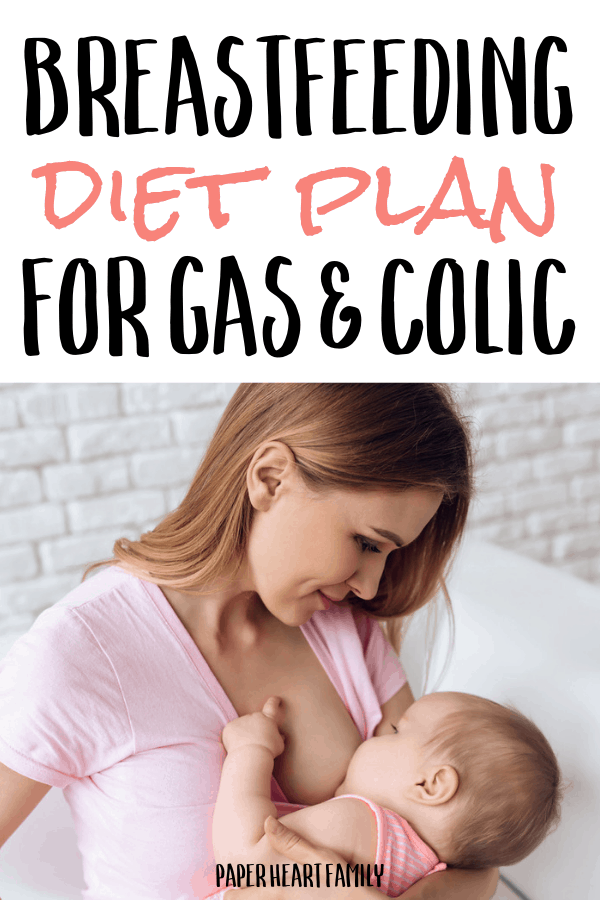 This breastfeeding meal plan for gassy babies is for those babies who are extremely bothered by gas. I know it's possible because I had one of these babies. Screaming in the middle of the night because of terrible gas pains is no walk in the park for your or your baby.
If you haven't pin-pointed the cause of your baby's gas yet, you should avoid certain foods that might bring on gas or colicky behavior. Knowing what foods to avoid while breastfeeding a gassy baby (dairy most frequently) can help your baby tremendously.
You might also want to check out the symptoms of MSPI in babies. Both of my babies were intolerant to any trace of milk or soy found in my breast milk, and cutting them from my diet changed my babies gas and fussiness completely.
Breakfast Ideas
Lunch Ideas
Spinach salad with chickpeas and salmon or grilled chicken

Tuna sandwich

Protein shake (with almond milk instead of cow's milk)

Turkey burger

Chicken salad wrap

Chicken Quesadilla With Guacamole and Salsa
Dinner Ideas
Salmon, sweet potato and a non-gassy vegetable (such as cucumber, green beans or bell pepper)

Chicken and Bell Pepper Stir Fry Over Brown Rice

20 Minute Honey Garlic Shrimp Over Brown Rice with a Side Salad
Snack Ideas
Carrot sticks and avocado or hummus

Dates

Fruit

Roasted chickpeas

Protein bar
Breastfeeding Meal Plan To Increase Supply
If you're trying to increase your milk supply, you can definitely follow one the meal plans above. Just make sure to put an extra focus on the following foods and follow these tips on increasing your milk supply.
Here are the foods to focus on in order to increase breast milk:
Oats

Fennel

Spinach

Garlic

Carrots

Lots of water!

Asparagus

Brown rice

Salmon

Sweet potato

Almonds