If you are like me, your house is full of toys and you are already dreading another birthday or holiday that might bring MORE toys into your house!
This last birthday we decided to try something different and asked our family and friends to gift our son experiences instead of toys and you know what? It was AWESOME!! (Full disclosure: We did let him pick out one toy he wanted from us so he still got to open a toy on his birthday)
We ended up having experiences, gift cards and season passes gifted to us and we have been using them the last 6 months and it has been such a fun way to celebrate over and over again!
Each time we use one of the experiences we remind our son who gave it to him and make sure to let the person know we were enjoying the activity they gave us.
What are experience gifts?
Experience gifts are just that- providing an experience for someone instead of giving them a physical item. It basically is like giving them a memory for a gift!
These are the best gifts because it provides a unique experience and creates the best memories.
Why give an experience gift?
Experience gifts are unique and can be tailored to fit your child's interest. This is my favorite part- you get to bring something they love to life.
My son is very into trains and when he was gifted his first ever train ride he was beyond excited! The anticipation leading up to the day was priceless and the entire train ride was pure bliss for him.
Months later, he still talks about how much he loved it and wants to do it again. This is the greatest benefit to experience gifts: core memories are made!
Other benefits to experience gifts:
– trying something new
– time away from screens
– spending quality time together doing something they love or are interested in
Best Experience Gifts For Kids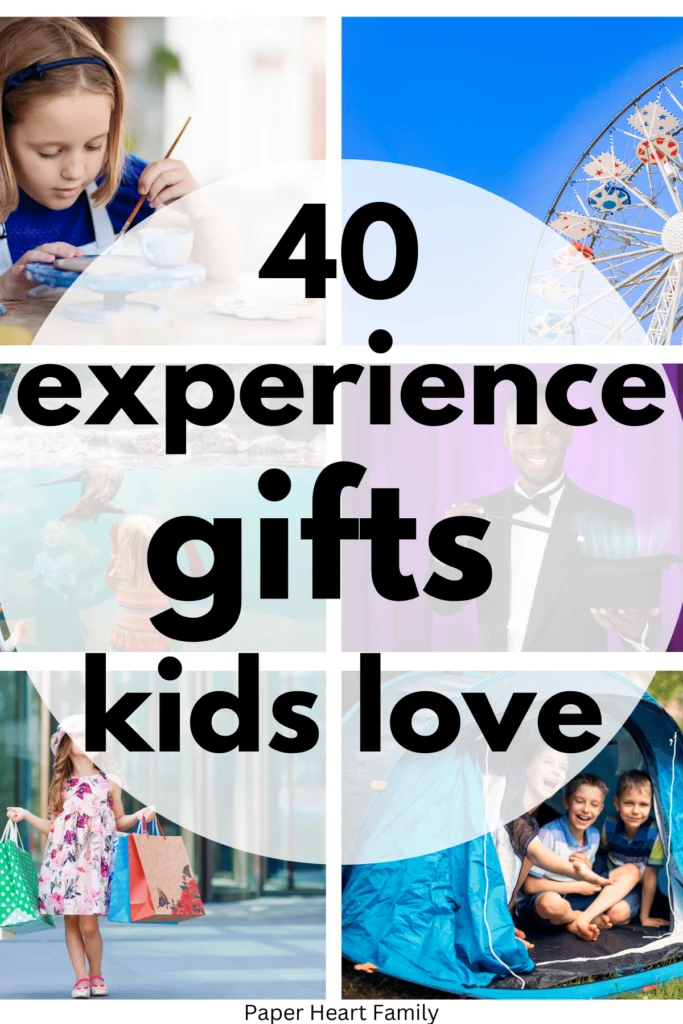 1. A Season Pass
This is one of my favorite experience gifts because it keeps giving! A season pass allows you to visit the same place multiple times throughout a season or year and the whole family can enjoy it!
We have received these many times for a family gift and my son LOVES our zoo and aquarium pass!
A great way to find a good season pass near you is to do a quick search to see what kinds of place are nearby.
Some great passes to look for:
– trampoline park
– aquarium
– museum memberships (air and space, natural history etc.)
– children's museum (hands on places for kids to explore)
– water park
– apple orchard
– rock climbing center
– science center
– amusement park
– zoo
– skiing/tubing/snowboarding
– season tickets to a sporting event (minor league baseball in the summer is one of our favorites!)
2. A Cooking Or Baking Class
This experience is a win win for you and your child! This will give your child a chance to explore cooking and it might just get them interested in helping with cooking and baking in your own kitchen!
Helping out in the kitchen and with cooking makes it more likely for children to try new foods than when food is just on their plate. I love this trick with my own picky eater!
3. A Subscription Box
I am a sucker for subscription boxes, even if they are for my child. It's like a fun surprise delivered right to your doorstep!
There are so many options when it comes to subscription boxes and nowadays there is a subscription box for any interest!
My son has loved the subscription boxes that came with crafts and books around a theme. It's a great thing for the entire family to enjoy!
Some different types of subscription boxes to consider:
– crafts
– books
– coding projects
– science or S.T.E.A.M
– play kits
– baking/cooking
-magazine subscriptions
4. A Trip To An Indoor Water Park
Water parks are always a win for kids! An indoor water park is even better because you can go anytime of the year and they are delightful during the winter months- especially winter break!
This is a great idea for a experience gift because it's another one that the whole family can enjoy!
5. A Trial
My son is constantly telling me all the things he wants to try!
One week it's dance class and the next week he wants to be a ninja and by the third week he is all about soccer.
This is why I LOVE trial classes! It allows your child to try new things but doesn't make you commit to anything serious.
No one enjoys being the mom in the middle of soccer season, gently reminding their preschooler that they in fact did love soccer a week ago and that they are going to go to practice.
This is why getting a trial to a class for an experience gift is awesome!
Some trials to consider:
– martial arts
– gymnastics
– dance
– soccer
6. Swimming Lessons
My niece was just gifted swimming lessons for her birthday in May and I thought it was the best idea!
Swim lessons are such an important summer safety activity that's also so much fun for kids!
The great thing about swim lessons is that many places have indoor pools and do lessons year round so it's a great gift for any time of the year!
7. Music or Singing Lessons
I love giving my child a chance to try new things and find where his passion is.
Giving music or singing lessons is a great way to either expose a child to a new experience, or continue to grow their love for music or singing.
8. Camp Stay
A great gift idea for older kids is a camp stay! This can be an overnight camp or day camp.
Either way, going to a camp is a memory they will have forever!
You can find a camp for different interests, as well as the good old fashioned summer camp many of us remember.
9. Horseback Riding Lessons
My first time riding a horse was terrifying and awesome. Horses are beautiful animals and getting the opportunity to be around them and learn to ride them is one of those unique experiences you remember forever.
10. Art Classes
Art classes can be the perfect gift for the entire family! My son and I have done an art class together and it was so fun to see his patience and seriousness when it came to art.
He was also quite impressed with my coloring! It gives you and your child a great opportunity to bond and spend quality time together.
You could gift some printable drawing prompts, too!
11. Tickets To The Movies
Movies are a great gift idea of kids of all ages! My son's first time to the movie theater was so memorable.
He couldn't believe the screen was so big and sat there in awe the entire movie!
Some ideas to make this gift special:
-gift a movie gift card that pays for a ticket and a special treat at the concessions
-read a book that is coming to theaters together and then see the movie
-invite the entire family to make this a fun day for everyone
-look at the theaters "special events" section: they often will have throwbacks and those are super fun!
12. Concert Tickets
Concerts are so much fun and you can find something for kids of all ages!
We recently went to a Paw Patrol Live concert and watching my son count down the days to the show was so much fun!
13. Tickets To The Theater
Going to the theater is such a great experience gift because it's something you might not do often and exposes kids to acting, music and sometimes even dancing!
It's a great way to spend some quality time together and it can be so fun getting dressed up for a special event!
If your child is like mine, he might even wear his special cape!
14. Tickets To A Sports Game
Sports games are so fun for the entire family and might even get your child into a new sport!
15. A Trip To The Local Fair Or Festival
Summer months are usually full of fairs and festivals! These activities provide so much entertainment for the entire family and are such a great gift because they can fill up a full day!
We love going to festivals and some of our favorites have been a tulip festival and a kite festival.
Check out your local area for fairs and festivals and mark your calendars early- some require tickets in advance.
16. A Shopping Spree
Taking a kid shopping is one of my absolute favorite things to do!
When my son got money from his birthday we let him go to Target to pick out something he wanted.
Watching him walk up and down the aisles really considering what he wanted was so much fun to watch and it was so interesting to see how he spent his $13.
Taking a kid to pick out their own presents lets them get something they really wanted and provides you quality time.
17. Tickets To An Escape Room
Escape rooms are SO much fun!
This is such a great experience for older kids and gives them a fun challenge.
18. A Camping Trip
The best gifts are ones full of adventure and a camping trip is just this!
Bring a fun game, your child's favorite food and get ready for a great getaway full of memories.
19. A Favorite Restaurant Gift Card
Older kids would very much appreciate a gift certificate to their favorite restaurant!
20. A Library Card And Planned Trips To The Library
Taking a child to get their first library card is so exciting! When they realize they get to borrow books (and often many of them) it's like a whole new world opening up!
Make a plan to visit often and check your library's schedule for special events or story time.
21. A Train Ride
If you have a kid that loves trains, this a is a MUST! My son is a Thomas the Train kid and when we gifted him a steam train ride, he was SO pumped.
The entire ride we wandered through the train and the experience was so much fun for our entire family.
22. A Trip To The Spa
Older kids would love a trip to the spa!
This would be such a fun bonding experience and a great opportunity to spend some time with your older kids and hear more about their life.
23. Surfing Lessons
Can a gift get any cooler? Surf lessons would be so much fun and such a unique experience.
Bonus if they get to take them in a really cool place like Hawaii.
24. Museum Passes
Museum passes are one of those experiences that just keep on giving.
Most museum passes have a reciprocal membership program and you may be able to get into other museums for free.
Children museums are our favorite and give us a great weekend activity!
25. Aquarium Tickets
Aquariums are always a great time.
Sharks, octopuses and seals- how can you ask for more? This is a winning gift for children of all ages and a great activity for the whole family!
26. A Visit To The Planetarium
A planetarium is a great experience gift for all, but especially a space loving kid.
Let them experience the stars, moon and other planets in a fun way!
27. Skating (Roller Or Ice)
Skating is such a fun past time and the best thing about this experience is you can get out there with them.
28. Golf Passes
A gift certificate to a golf course is such a fun idea for your golf loving kid.
It's also a great way to introduce your child to a new sport.
They can do the putting green, driving range or even get out there for a round of golf. Make sure to bring good snacks and an added bonus would be getting a golf cart!
29. A Pool Membership
This is the gift that keeps on giving all year long. Both outdoor and indoor pools provides hours of fun and gives the entire family a fun experience.
30. Inflatable Movie Screen For Outdoor At-Home Movie Nights
This is one of our favorite things to do in the summer and we recently started letting our son stay up late enough to watch a movie and he loved it!
It's such a special experience getting to stay up late, having a snack and watching a movie under the stars.
I think these are the types of memories kids have forever- I know I will!
31. Circus Tickets Or Tickets To A Magic Show
Animals or magic- you really can't go wrong here. Check your local area for upcoming shows!
32. Snack Subscription
My son loves snacks and one of his favorite things to do (and maybe I enjoy this just as much) is buying new snacks at the grocery store to try.
A snack subscription would be so much fun to try and having food delivered to your door is an added bonus.
One of our favorite snack subscription boxes is Universal Yums because they send you a box of snacks from a different country every month!
33. Helicopter Ride
Want to be the coolest gift giver ever? Get a helicopter ride experience! Can I come too!?
34. Sky-Diving
This is up there with the helicopter ride. For the daredevil in your life; sky-diving!
For older children that are not quite ready to jump out of a moving plane, try indoor sky-diving. Just as fun but less dangerous!
35. Hot Air Balloon Ride
36. Wildlife Encounter
These are amazing! Find out what your child's favorite animal is and see if your local zoo or wildlife sanctuary has a animal encounter.
37. White Water Rafting, Kayaking Or Tubing
Anything water related is a WIN for an experience gift.
38. Improv Classes
39. Visit To A Local Farm
Farms are so much fun and many of them have a ton of activities for families.
Check out your local farms and see what activities they offer for different seasons.
40. Family Gift
Family gifts are the best. The benefit of a family gift is it usually is super memorable and gives you a chance to spend quality time with the ones you love while also doing something super fun!
There you have it! An epic list of experiences you can give your chid, or anyone. I hope you find some inspiration with this list and try gifting an experience the next time a birthday or holiday rolls around!
What was your favorite gift experiences? Let us know in the comments below!