The Halloween season is one of my favorite times of the year and I love finding activities and games for my family that has a Halloween twist on it.
These Halloween Mad Libs do just that! It combines the classic Mad Libs game that we all love and adds a halloween twist that is perfect for all the ghoulish goblins in your life.
Plus, its a great way to get your whole family laughing!
This printable comes with three different Mad Libs that combine all your favorite things about Halloween with the perfect amount of spooky.
Free Printable Halloween Mad Libs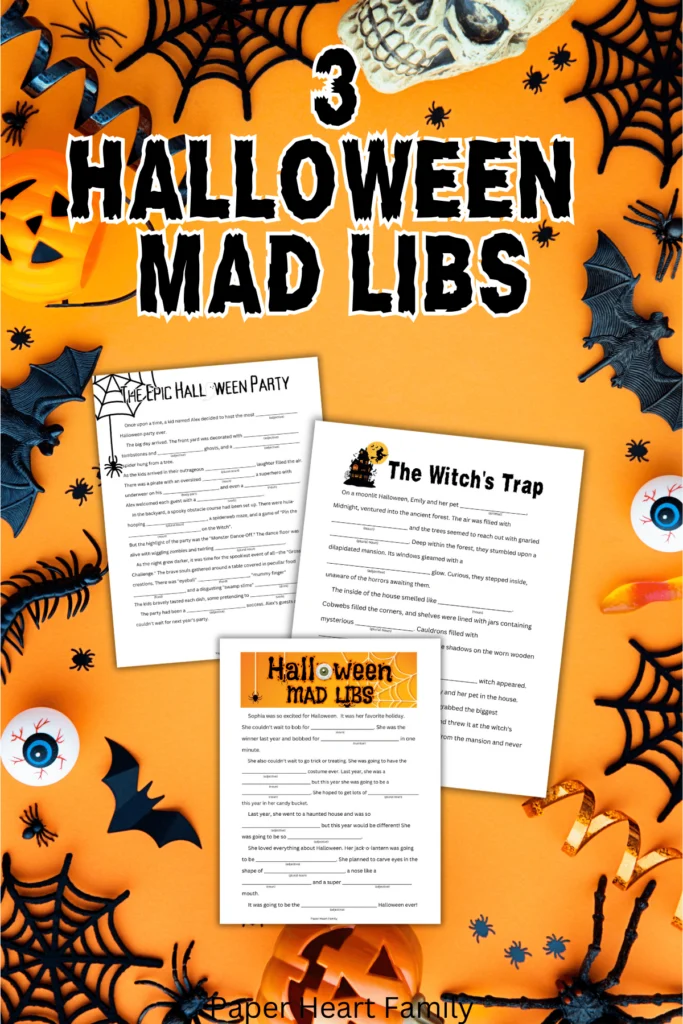 Mad Libs are those fun blank stories with missing words that you fill in.
They are maybe considered the world's greatest word game because they combine different parts of speech to make hilarious stories!
They are a great way for kids to practice using vocabulary words while working work with different parts of speech and a great way for kids to make up stories.
My kid is always begging us for a made up story and these are the best for that! They not only give him a made up story, but he gets to help make it up.
If you need a quick refresher here is how they work: for each missing word, you must fill in a word that fits the descriptor, often a part of speech like adjective or noun. For example the game may have a blank line and it may say it needs a verb so you could put a word like "run". The key part of Mad Libs is not reading any of the story until you have filled in all the blank spaces. Your first step is going through each blank space and filling in missing words. After all the words are filled in, you get to read the story out loud and have a good laugh at the silliness!
This printable contains three different Halloween Mad Libs and are great to use with kids of all ages.
These Mad Libs ask for adjectives, plural nouns and verbs. The rest of the words you have to fill in are things like "a food" or "animal". This makes these Mad Libs the perfect printable for the whole family.
Here are some tips when doing this with younger kids
– When filling in the missing words give your younger child a choice between two words and let them pick. If your older child is stuck, this is also a great strategy! For the missing words that ask for things like "an animal" give your younger child a chance to see if they can come up with their own word.
Some ideas to make this even more fun:
After you do all three Mad Libs, staple them together to make a halloween book! My kid LOVED having this all Halloween season to read over and over!
Print multiple copies of these and do them over and over to hear different versions of the story!
If you have older kids who can do this independently, its fun to have each person do their own and then have everyone share their version of the story.
1. The Epic Halloween Party
Ready to join the most epic Halloween party? This Mad Libs is for you! It's filled with creepy Halloween food, great costumes and just the right amount of spooky.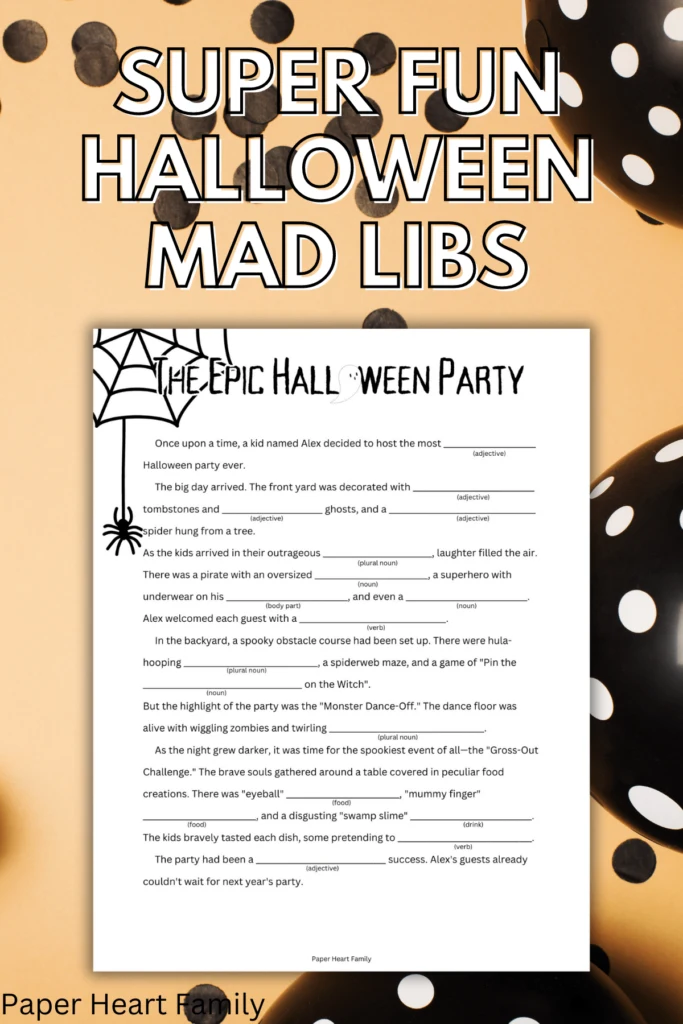 2. The Witch's Trap
Looking for a little more spooky? This Mad Libs is for you! It's filled with a creepy forest, spooky shadows and a witch!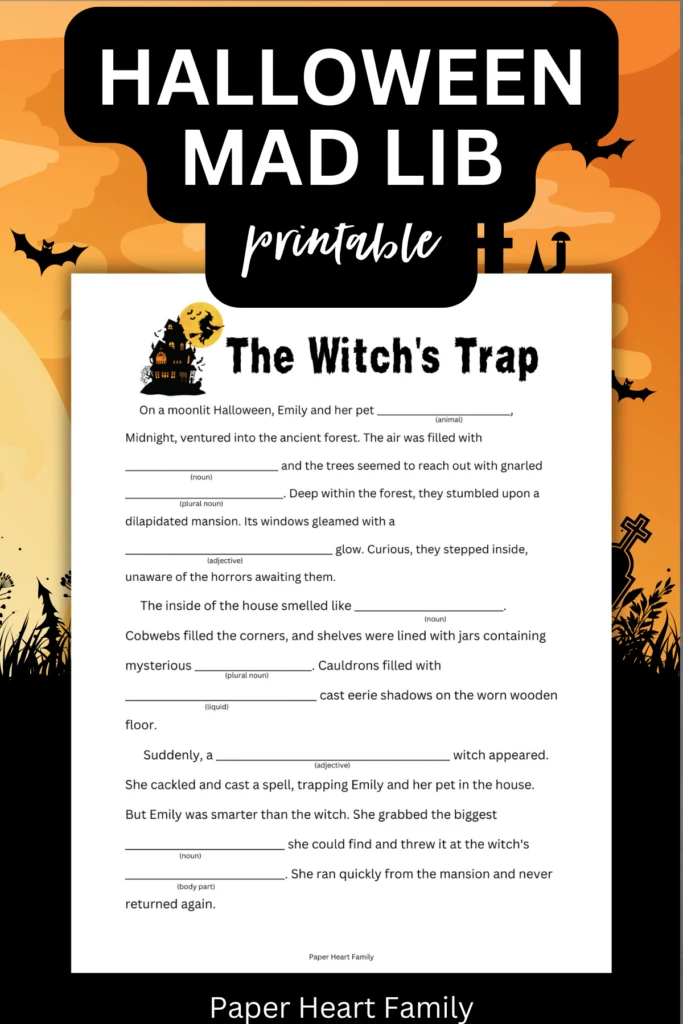 3. Obsessed With Halloween
Are you also obsessed with Halloween?
This story is about all the best parts of Halloween including bobbing for apples, trick or treating, haunted houses and carving jack-o-lanterns.
This is the perfect story to get you and your family into the Halloween season!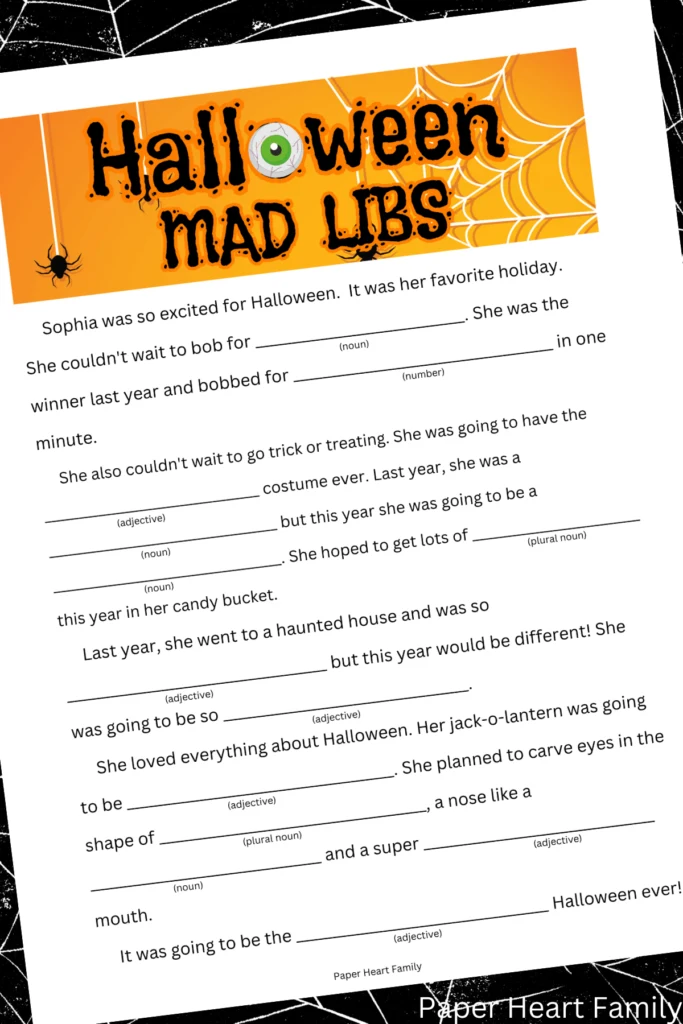 Get Your Free Printable
To download your own Mad Libs game, simply subscribe in the box below and your Halloween Mad Libs will open instantly.
While you've got the printer going, you might want to print this Halloween Guess Who game and Halloween Scattergories game too!
Once downloaded and subscribed, you will be a member of my email list where I send out emails with resources and activities for you and your children to enjoy! I hope you and your family enjoy this fun halloween season and this Mad Libs game!
Feel free to leave one of your Mad Libs stories in the comments below. They are so fun to read!