If you're in the market for a diaper disposal system you're probably considering a few of the biggest names in the industry, Ubbi and Diaper-Genie. These two companies are similar in a few ways, but they do have a lot of differences you may want to consider before making a purchase.
I've owned both of these diaper pails for more than a year. I originally purchased an Ubbi for my firstborn's nursery and later purchased a Diaper Genie Complete for the toddler room. The bottom line is that both of them are still working for me and doing their job pretty well. If you're interested in seeing more of my baby gear reviews you can click here to read more!
There's a reason that both of these brands are selling huge numbers of products every year, they're some of the best diaper pails out there. With that being said I personally think there's one clear winner between the two. Let's take a look at some of the best things about each one and some other things that sort of….stink.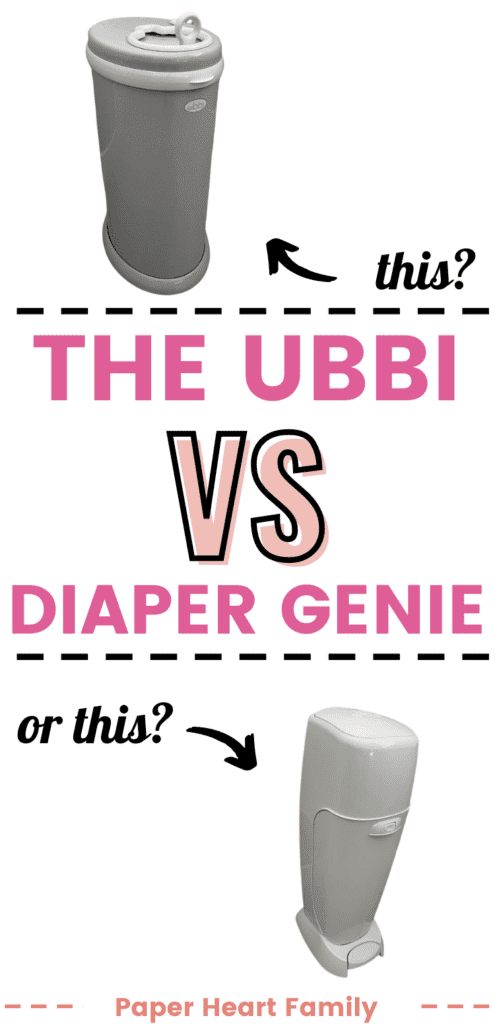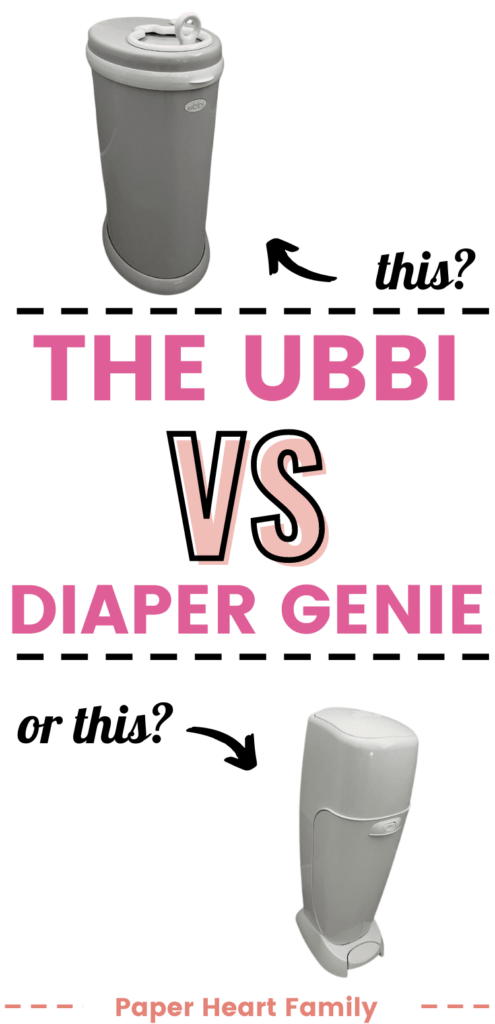 Types of Diaper Genie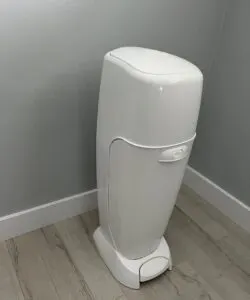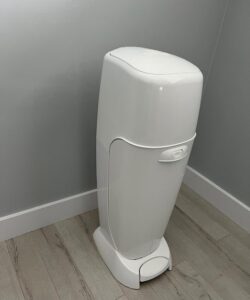 Pictured: Diaper Genie Complete
Currently there are two types of Diaper Genie on the market, the Diaper Genie Complete, which I have in my home, and the Diaper Genie Expressions. Both Diaper Genies use some sort of 'clamp' system to keep the diapers in the base of your container separate from the newest addition you're putting in there in an effort to minimize smell. But I can only personally recommend the Diaper Genie Complete, since it's the one I own and also because it's got built in antimicrobial properties which really cut down on the smell according to user reviews.
The Diaper Genie has come a long way since it's debut in the 90's. It's been very popular in the diaper world since it revolutionized disposable diaper containment and odor reduction. It also does a good job of making sure you never have to touch waste once you've discarded it. The Diaper Genie is used with rings of trash bags that are 7 layers of plastic.
Diaper Genie Expressions advertises that it can hold up to 50 newborn diapers. It also has a Push-N-Lock double secure odor locking system. You can push the button on the top of the pail to toss out a dirty diaper and the clamps inside help cut off the open chamber from the rest of the diapers down below. The push button top is nice and easy to access when you only have one hand to maneuver with. Playtex also sells three fabric sleeves separately in pink, blue, and gray to help match your nursery decor. The Diaper Genie Expressions does not come with built in antimicrobial properties to my knowledge and I've heard that it's less effective at locking in smells than the Diaper Genie Complete or the Ubbi.
Diaper Genie Complete is a taller diaper pail with a thinner profile. This makes it handy in a small nursery space but it holds less waste than the Diaper Genie Expressions or the Ubbi. They advertise on their website that each ring of garbage bags can hold up to 270 newborn diapers but that is because the garbage bag is a continuous ring. Once the inside of your canister is full you will take out the trash and keep using the same ring of diaper bags/liners for more than one garbage change. It's sneaky advertising. This diaper pail doesn't hold 270 newborn diapers at one time, it's probably closer to 30 in my personal experience. I definitely have to change this diaper pail more often than I change my Ubbi out. The Diaper Genie Complete has a foot pedal which means in theory you don't have to bend over to toss out your diaper. The problem is, if your diaper pail is a little too full you'll find yourself fiddling with the internal mechanism of this diaper pail, pulling down more plastic bag and rearranging the diapers piling up to make more room inside.
Types of Ubbi Diaper Pails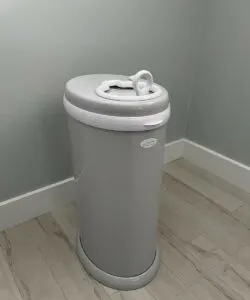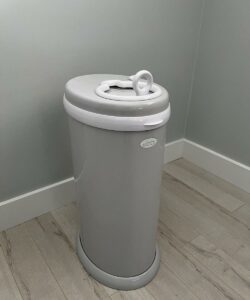 There is only one Ubbi diaper pail on the market at the moment but it comes in a wide variety of colors and even some patterns too. The Ubbi diaper pail came out in 2011 and was the first steel constructed diaper pail on the market. The company now offers a large variety of baby products as well as pet products.
The Ubbi is a stainless steel container with a plastic top and rubber seal to help keep in the stink. Unlike plastic, steel isn't porous so it really helps minimize smells in the nursery. The Ubbi advertises they can hold up to 50 newborn size diapers and I've found that to be true in my own personal usage. It's quite a large interior which is handy if you don't enjoy taking out the trash.
Ubbi sells their own diaper refill bags but you can use just about any type of trash bag you want in there. This is a major bonus over the Diaper Genie that we'll circle back to in the trash bag section coming up.
Price:
You can buy a Diaper Genie Complete for just under $50 or a Diaper Genie Expressions for just under $30. This seems like a steal of a deal compared to the Ubbi, which retails for closer to $70-$100 depending on where you get it from and what color style you like.
Type of Trash Bags:
You might originally think: ok, I'm on a tight budget, why would I spend so much money on an Ubbi? But in the long run you're going to save a lot of extra money on the trash bags. There is a trade off for the super low price tag you get with a Diaper Genie. For less money you can buy the can but you'll be stuck buying their special bags that fit the internal mechanisms. The trash bag rings for Diaper genie are considerably more expensive than regular garbage bags.
The Ubbi diaper pail can use any type of bag you like. I've had the best experience using regular kitchen trash bags that have a bit of give to them like 'force flex' bags, just to make sure they never rip. A smarter solution might be just to empty the pail more often so it doesn't get too heavy and overloaded… but life is busy as a mom and I'm only human.
It costs more to purchase refill cartridges for your Diaper Genie than it does to purchase the regular trash bags you can use in an Ubbi. In addition to the initial price of the Diaper Genie, you will have to spend $90 or more for refills over the next two to three years. You can get three rings of Diaper Genie bags for about $18 which is quite expensive. You're better off buying a 'one year supply' of diaper genie bags from Amazon for $50. Playtex advertises that this package has 8 rings of bags inside which should last you for about 2160 diaper changes. I've purchased the exact same box before and although I don't think we quite made it a full year we probably got pretty close. It's nice not having to buy bags all the time and of course when you're buying in bulk, you're going to get a better deal.
When you're thinking about what size of trash bags you will need for an Ubbi, a standard kitchen garbage can holds approximately 13 gallons, or about 50 liters. The size of the trash bag should be similar to the size of the trash can, and it should fit in it perfectly. Regular trash bags are a great way to prevent odors in your garbage can. Many of these bags come with an odor-fighting treatment and are designed to resist rips and tears. These bags also help prevent odors from escaping and they can also withstand the weight of heavy, full diapers.
13 gallon flex bags from Costco will get you about 200 bags for less than $30. Even if you're changing your diaper bag twice a week because it's heavily used for more than one kid, this one box of garbage bags is going to last you almost two years.
Another garbage bag option is the Hefty 13-gallon Ultra Strong kitchen trash bags. They're sold in 50-count packs, and you can buy several at a discount. These bags are biodegradable and offer a one-year shelf life. These bags feature Triple Action Technology to conform to pointy objects without breaking. The Hefty bags can handle 30 to 50 pounds of trash.
Yes, in theory you could use plastic shopping bags in the diaper pail to save some extra money but I really don't recommend it. If your super cheap bag breaks, think about the mess you're left with to clean up. No thanks. Check the thickness of the bag before you start using it. If the trash bag is too thin, it's prone to puncturing, leaving behind a mess. Instead, go for a thicker bag.
Smell Containment:
I've never had a problem with either diaper pail stinking up my nursery. Smell containment is hands down one of the most important features a diaper pail can have. The last thing you want is your baby's nursery having that old diaper smell in the room constantly.
I've had the Ubbi diaper pail for 3 years and it stinks when you open up the sliding door to throw in another diaper but there's never been a problem with the nursery smelling bad between changes. I've had the Playtex Diaper Genie Complete for about a year and a half and it's got a mechanism inside called "double air-tite clamps" that help reduce any kind of the smell of dirty diapers you might expect from opening the lid. Basically when you step on the foot pedal to ditch a diaper, the lid opens and the clamps open up a chamber to drop in the soiled diaper while cutting off access to the rest of the pail like a trap door. Then, when you release the foot pedal the clamps open at the bottom allowing the diaper to drop down. It's really quite effective; I'm impressed that it works as well as it does for smell reduction and containment.
The Diaper Genie has built in antimicrobials in its container and it comes with an activated carbon filter pouch in the lid that you could replace as needed. I think the addition of antimicrobial elements to the plastic container has really increased their scent containing ability. There have been quite a few reports of earlier models of the Diaper Genie having major issues keeping smells from stinky diapers in, but I haven't experienced the same problem.
The Ubbi diaper pail is made of stainless steel, which naturally does a better job at containing bad smells than plastic does. It also has a rubber seal at the top of the lid to help make a firm seal when the sliding lid is closed in place, which really helps with odor control.
Taking Out The Trash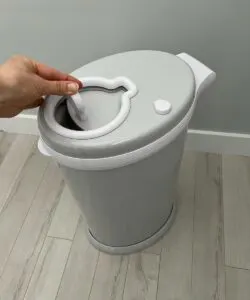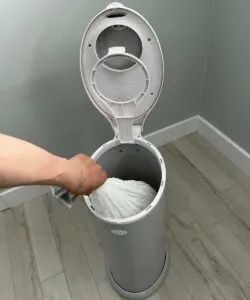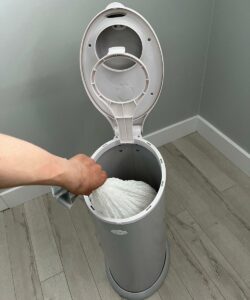 Top: Ubbi
Bottom: Diaper Genie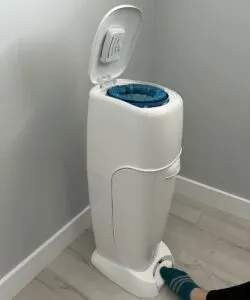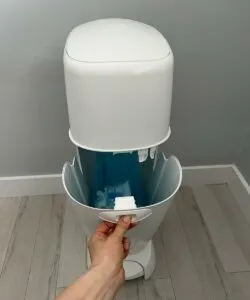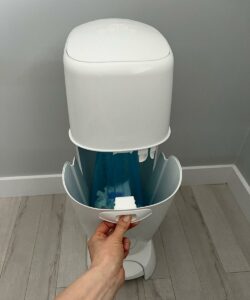 While the Diaper Genie is easier to use, the Ubbi's disadvantage is it requires more work to open the lid. The Diaper Genie Complete features hands-free disposal (it uses a foot pedal to open and close its lid) while the Ubbi requires you to use your hands to slide open the lid. One of your hands is likely full of a dirty diaper and you may need the other hand to steady your baby on a change table. My solution has been to keep one eye or hand (depending on how wiggly my baby is) on the baby and use the other hand to hold a dirty diaper with my pinky operating the sliding latch on the Ubbi. It's a good thing the sliding mechanism in the lid of the Ubbi is high quality and easily operated.
Diaper Genie has a safety blade inside where you pull the top of the garbage bag through to cut it. Then you're left with an open ring of bag to tie again for the next round of trash and a diaper bag with an open top you probably want to also tie in a knot when you're taking it away.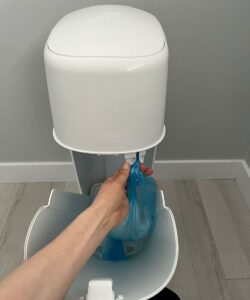 Pictured: Diaper Genie Bag Cutter
The Ubbi functions like a normal trash can. Open the top, grab the bag, tie it shut, lift it out and throw another clean fresh bag in there. It's a good idea to make sure you're careful taking out the full bag from either of these systems. Plastic bags can rip if they're overfilled.
Child-Proof Lock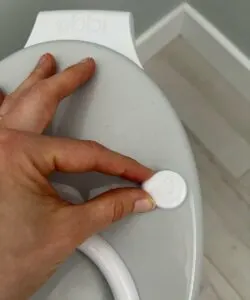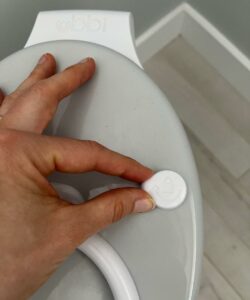 The Ubbi has a childproof lock, while the Diaper Genie doesn't. If you want to lock the lid, you'll be safer with the Ubbi. The Ubbi's childproof lock requires some force in order to unlock the door. This makes it a more secure option for parents who are concerned about an older sibling or eventually their baby turning into a toddler with sneaky little fingers. Toddlers are super curious and they get into just about everything, including garbage.
The Look
If you're buying a Diaper Genie Expressions, you can customize the color of the pail to match the decor of your nursery. They separately sell three different fabric sleeves to go on top of your diaper pail to change the plain white color to gray, pink, or blue.
The Diaper Genie Complete comes in 5 muted colors of gray, white, pink, green and blue. There's no added sleeve involved with the Diaper Genie Complete; it's just colored plastic, which gives it a similar look to the colored exterior of the Ubbi pail.
The Ubbi pail is extremely slim, which means that it does not attract unwanted attention. It is also capable of holding more diapers compared to a lot of other comparable models. The Ubbi pail does not resemble a standard trash can, which is nice because it looks better in your nursery than an average garbage container does and it will not attract attention. The Ubbi company has come out with a huge variety of colors and patterns that the diaper pail comes in over the years, wild stuff from bright red to rose gold. Currently it looks like they've limited the selection you can purchase to 12 options like: taupe, sage, marble, ivory, gray, etc.
Cloth Diapers
Besides being a great choice for parents using disposable diapers, Ubbi has a number of benefits for cloth diapering parents as well. This diaper pail is designed to be kid-friendly with its child safety lock and is also environmentally friendly. Instead of using a plastic trash bag, cloth diapering parents can use a large cloth wet bag.
It's definitely worth mentioning that cloth diapering is not the intended purpose of an Ubbi diaper pail and the company does not recommend washing the pail out. I would imagine they recommend using a dry wipe on the outside of the pail simply because they are concerned it might rust if water or other chemicals are used in cleaning it. On the Ubbi website it says the pail can be used in tandem with a liner for reusable diapers and gives some tips about how to prevent condensation on the inside of the bin because it could lead to rust.
The Ubbi pail can hold fifteen to eighteen cloth diapers depending on their size (newborn vs older child). As you can see, the Ubbi pail is both convenient and environmentally friendly. The Diaper Genie is not recommended to use as a cloth diaper disposal system.
Recap:
At the end of the day there are a few reasons why you may prefer to go with the Playtex Diaper Genie but in my opinion, the Ubbi seems to have it beat in most categories. There are many considerations. If you really love the foot pedal you might want to purchase the Diaper Genie. If you're a big fan of their trash ring system you might like their products better too. I definitely see value in those two features. For me, between the two of these popular diaper pails there is one clear pick. The amount of diapers the Ubbi can hold, the steel body that traps in smells, and the fact that it has a child lock and I can use any standard garbage bag with it makes it my top pick. It's a high quality, simple design that's going to last a long time.
Ubbi:
Made of odor blocking steel

Sliding top door to drop in diapers

Can be used with cloth diapers

Built primarily for disposable diapers

Can use any 13 gallon trash bag you want

Holds up to 50 newborn diapers at a time

More expensive diaper pail

Less expensive trash liners

Has a child-proof lock
Click here to purchase the Ubbi.
Diaper Genie Complete:
Made of plastic with built in antimicrobial

Foot pedal to operate top

Cannot be used with cloth diapers

Built solely for disposable diapers

Must use Diaper Genie bag rings

Holds around 30 newborn diapers at a time (each bag refill can hold 270 total)

Less expensive diaper pail

More expensive trash liners
Click here to purchase the Diaper Genie Complete.
Related:
9 Easy Ways To Save Money On Diapers
Author Bio:
Isabelle is a mom and writer living in Alberta, Canada. She has two awesome kids and a Masters Degree in Modern Languages and Cultural Studies. Follow along with her blog Mamasbuzz.com if you want to know: what's the buzz about kids books, party themes, nursery decor, baby gear and more!