Looking for a super cute Valentine's scavenger hunt for kids?
We do scavenger hunts big time in our house.
My 7 year old just made one for her older sister yesterday, actually.
But she wanted my help.
And sadly our printer was out of ink, or else I DEFINITELY would have printed one out for her.
Coming up with cute rhymes on the spot is not the easiest task.
I love these specific Valentine's Day scavenger hunt clues because there is a mix of simple and more challenging clues.
This activity is the perfect way to provide a fun surprise fo younger kids or older kids, too!
Read on for how to set up this fun activity for February 14th or any day in the month of February!
It could be completed by kids of all ages.
This post might contain affiliate links.
Printable Valentine's Scavenger Hunt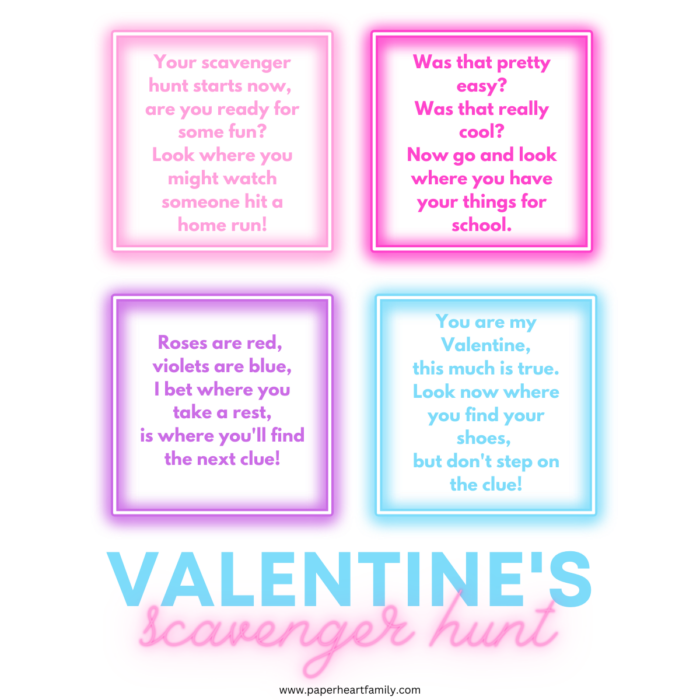 This Valentine scavenger hunt is super versatile.
Here are three options. You can:
Simply hide the clues for a fun Valentine activity.
Hide the clues and include a Valentine treat or small toy at the end.
Include small gifts or treats along with each clue, with a bigger gift or treat at the end of the treasure hunt.
Setting Up Your Scavenger Hunt
1. Assemble All Required Materials
You will print out your clue cards from a PDF file at the end of this post.
Printing on card stock is definitely going to give you a more professional looking end product, but for something like this, it's not necessary.
Cut out each of the cards neatly. If you have a paper cutter, this step will go quickly.
2. Place The Title Card "Valentine's Scavenger Hunt" And The First Clue Somewhere Where Your Kids Will Find It
The first clue says:
Your scavenger hunt starts now,
Are you ready for some fun?
Look where you might watch
someone hit a home run!
3. Hide The Second Clue
The second clue says:
Was that pretty easy?
Was that really cool?
Now go and look
where you have your things for school.
Where to hide the second clue:
This clue should be hidden near the TV.
4. Hide The Third Clue
The third clue says:
Roses are red,
violets are blue,
I bet where you take a rest
is where you'll find the next clue.
Where to hide the third clue:
This clue can be hidden in your child's backpack or somewhere close by.
5. Hide The Fourth Clue
The fourth clue says:
You are my Valentine,
this much is true.
Look now where you find your shoes,
but don't step on the clue!
Where to hide the fourth clue:
This clue can be hidden under your child's pillow, under the blankets, under the bed or somewhere in her bedroom.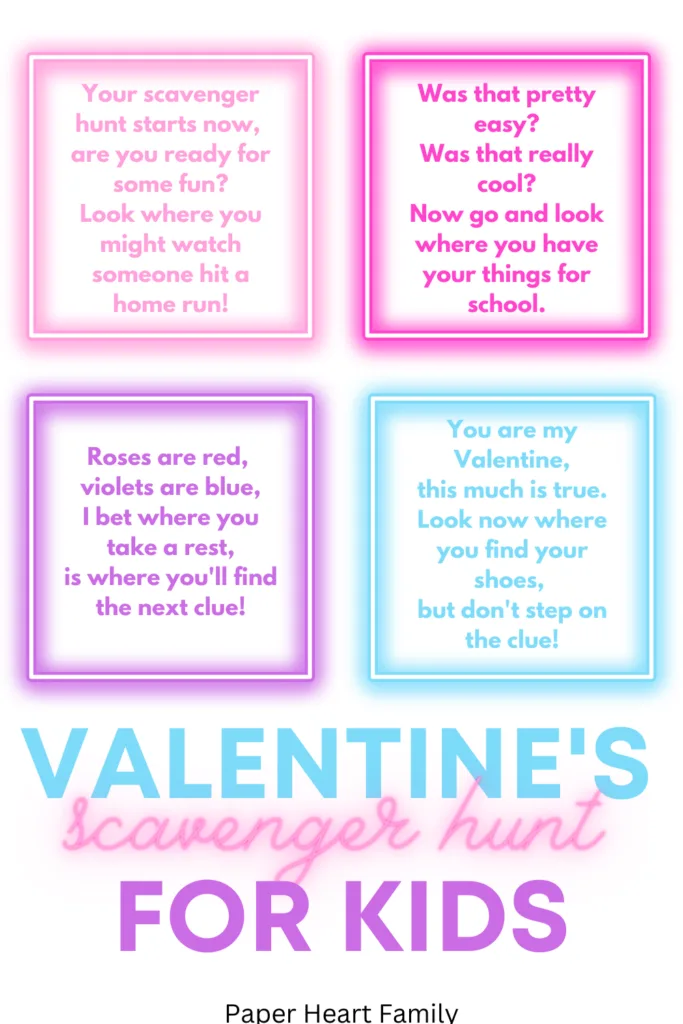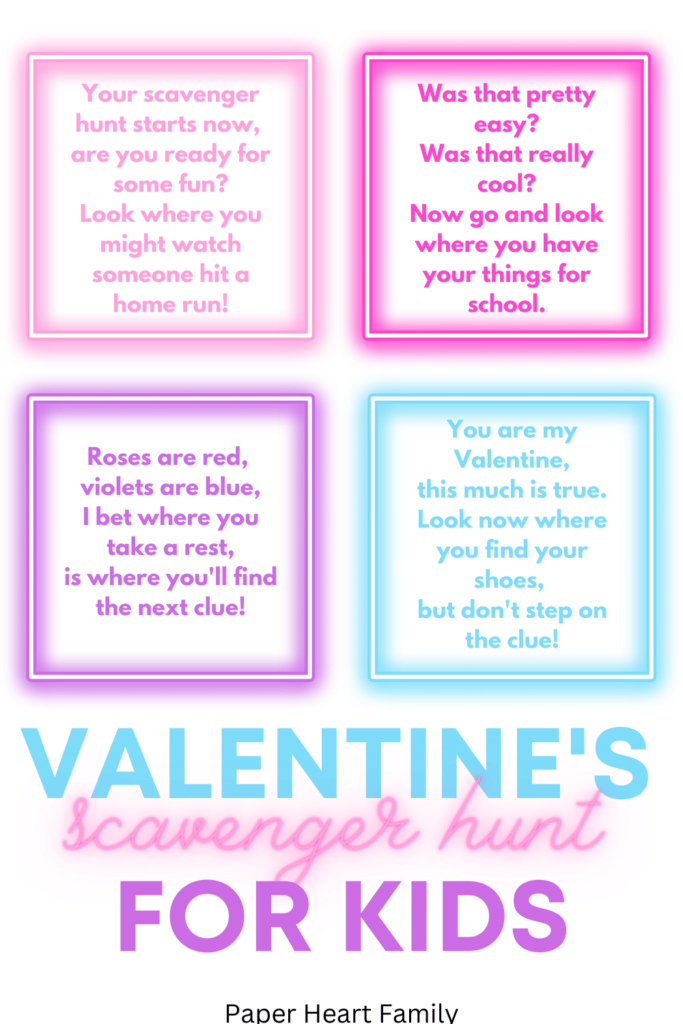 6. Hide The Fifth Clue
The fifth clue says:
I hope your day is full of love,
and lots of fun, too.
look where you get clean,
in order to continue.
Where to hide the fifth clue:
This one is easy!
Hide the clue inside one of your child's shoes.
7. Hide The Sixth Clue
The sixth clue says:
Valentine, Valentine,
your future's looking bright,
you might want to look next
where you go to write!
Where to hide the sixth clue:
This clue can be hidden in the typical place that your child does homework.
If your child has a desk, that would be the perfect hiding place.
8. Hide The Seventh Clue
The seventh clue says:
We're almost to the end,
but love will always last.
Find a fun treat
where you have your treasures stashed!
Where to hid the seventh clue:
Does your child have a collection of rocks?
Erasers?
Notebooks?
Leaves?
I bet your child collects something!
Place this clue near your child's treasures.
9. Hide The Last Clue
The eighth and final clue says:
Happy Valentine's Day!
Your fun scavenger hunt is complete.
So have a great day
and be lovable and sweet.
Ready to start your Valentine's scavenger hunt?
Happy Valentine's Day!