Preparing for a new baby is exciting, overwhelming and can be very costly if you're not careful.
Here's a little myth-breaking truth bomb for you though!
Baby's don't have to be expensive. There are simple things you can do if you're wondering how to save big on baby.
One particular thing that can be a big money pit if you're not careful…. Diapers!
Here are a few of my favorite ways to save money on diapers.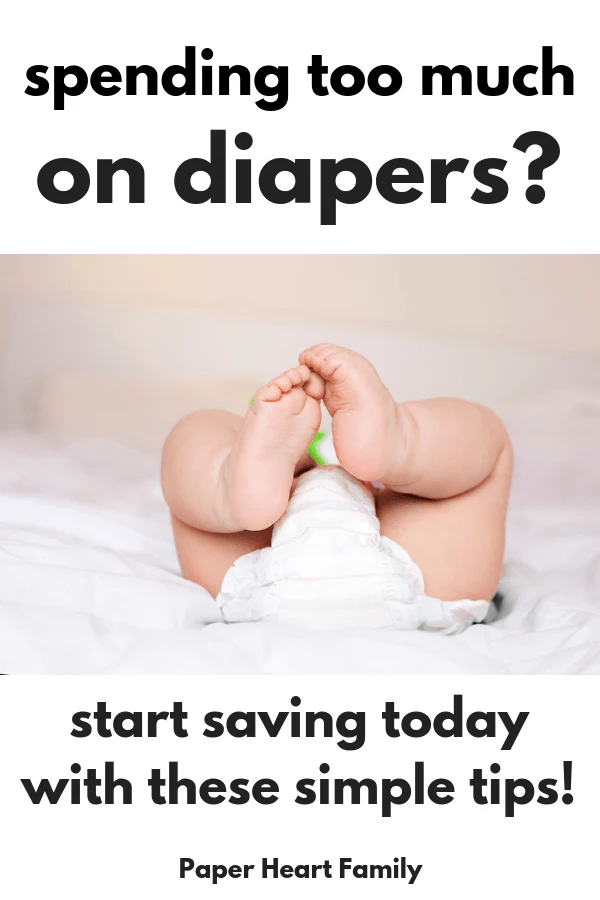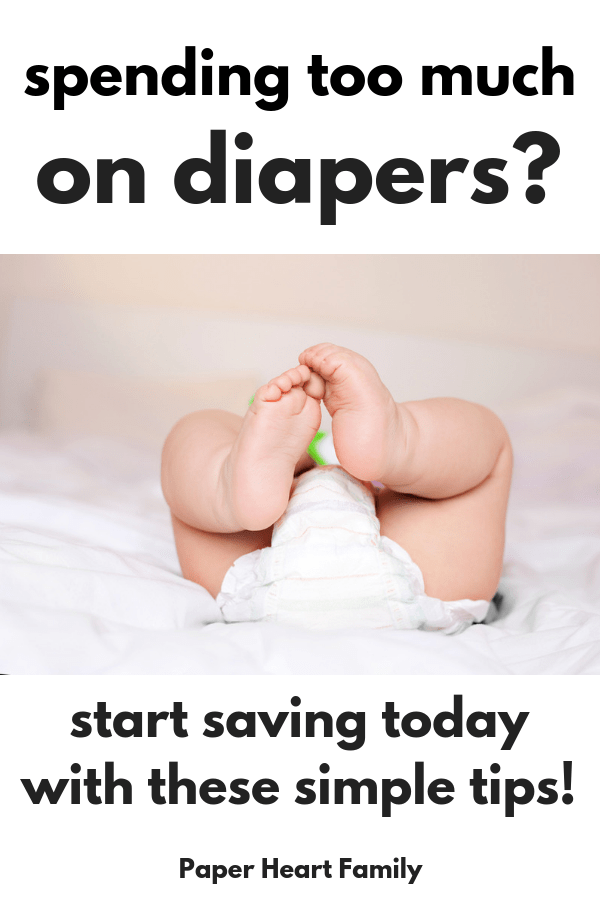 1. Find Free Diapers Samples Where Ever You Can
You can find quite a few places to get free baby samples, including things like formula and yes, diapers!
I like contacting the companies directly to ask if they have any deals going on. Sometimes if you ask if they give free diaper samples, they'll send you some!
You can also find a few places online that will give you "free" samples. But sometimes they require you to pay shipping, which may or may not be a good deal.
You can find out specific ways to get free samples from each of the big companies here:
2. Sign up for Diaper Rewards Programs
Wondering how to get diaper coupons? You can save big and receive diaper coupons by signing up for each big company's "rewards" program. If you hate extra emails in your inbox, you can always set up a second account just for these promotional offers.
That way you can go search that inbox when you're ready to look through some of the deals. The only downside is if the deals are time sensitive, you may not catch them in time.
The big programs to sign up for are:
Huggies Rewards
The Huggies rewards program will give you "points" for performing certain tasks. Basically, you create an account, log in, and go to the dashboard. Then click on the "task" to see what they want you to do.
Sometimes it's a quick survey, or to watch a few ad videos. You can also scan the bar codes of previously purchased diaper packages, and earn points that way too.
You then redeem the points for free diapers!
It takes time but can be worth it if you are looking to save a few bucks.
Pampers Rewards
The Pampers Rewards program is actually very similar to The Huggies Program. I recommend signing up for both!
3. Figure out How Much Each Diaper Is Costing You
This is one of those things I kick myself for not figuring out sooner.
Do you know how much you spend per diaper?
Diapers can range greatly from anywhere between 15 cents and 40 cents. This is a huge difference. I personally, never spend more than 19 cents per diaper.
Now, this ranges greatly from brand to brand, where you buy your diapers and what size you are getting.
But generally, if you're spending more than 20 cents per diaper, you are overpaying!
Once you have your cap price per diaper, you'll easily be able to figure out if you're getting a good price on your baby diapers at the store or when ordering them online.
4. Shop for Diapers on Amazon
The cheapest diapers online can be found on Amazon. Again, I never pay over 19 cents a diaper personally, and I always order the same package. You can almost always find a good Amazon diapers deal.
Right now my baby is a size 4, and these are the best deal I've found. The price goes anywhere between 15 cents and 19 cents.
If you read the reviews, you'll see some people complain that these are not the "normal" Huggies and they don't like them. But I'll be honest, I'm not very picky with my diapers.
These do the job, my kids don't complain and we haven't had any problems, and between my two toddlers, I've been buying these diapers for over a year now.
5. Sign Up For A Subscription
If you decide you DO want to order diapers from Amazon, you can save even more if you set up a subscription.
I'm usually against subscriptions because I always forget to cancel them if we don't use that product anymore. But in the case of diapers, I know I won't be changing my mind.
You can save an extra 5% with a subscription.
6. Sign Up For Amazon Family
For an even more added boost, you can sign up for Amazon Family and get 20% off of your Amazon subscriptions.
The only catch with getting the 20% off is that you'll need to have 5 subscriptions a month total. This is great if you have 5 products you love and know you'll use monthly.
This is not a good deal if you are just going to end up spending more money on things you don't need though. I usually like to use my subscription for things that I buy each and every month already (toiletries, household items, etc).
If you do purchase as a subscription, you can always cancel it right your order.
7. Try Cloth Diapers
When I first started with cloth diapers, the information I found was very overwhelming. It seemed there was a whole science to them that I just couldn't figure out.
It's honestly not that complicated at all though!
What I do is use a combo of cloth and disposable. I actually found really affordable cloth diapers I really like. They are super affordable and they worked well for us.
I couldn't deal with the idea of spending $20 on a single diaper. In total I bought four sets, two with my first baby and I added two more sets when I had two babies in diapers.
The biggest problem I had was that my baby would wake up through the night more because of a wet diaper. So I use disposables for nighttime, and cloth for day.
I also only use disposable when we are going out and about, just so I don't have to deal with wet cloth diapers in my diaper bag.
Another note: I always washed my cloth diapers as I would a normal load of laundry and I didn't do anything special to take care of them. Eventually, they did start to leak after 3 years of regular use.
I still feel like it saved me loads of money on baby diapers though!
If you do decide to use cloth diapers, make sure to use only natural diaper rash cream. Other creams can ruin your cloth diapers.
8. Never Pay Full Price For Diapers
Repeat after me:
"I will NEVER buy diapers without a coupon."
Seriously. There are always diaper coupons available. At least for the name brands. Store brands are hit or miss.
But if you're buying Huggies, Pampers or Luvs, there is always a coupon somewhere. So check your inbox from the rewards programs above, or check the store app on your phone.
Because if you spend just 5 minutes looking for a diaper coupon, you can almost always find one.
9. Try the Cheaper Store Brand Diapers
It's a total waste of money to buy a cheap product that doesn't work. But this doesn't always translate in the diaper world.
In fact, some of the best (and surprisingly cutest!) diapers I've ever tried where the cheaper store brand ones.
For instance, I loved the Target Up and Up brand diapers. They have almost a papery feel, similar to those organic, natural diapers. They are also chlorine free and more environmentally friendly.
It's a win-win, but this only applies if the price per diaper is cheaper than where you can get it elsewhere.
Final Thought
If you take just one thing away from this, the most important part is knowing your max price per diaper. If you know you'll only spend "x" amount per diaper, you'll always know a good deal when you find one.
Then you can snatch up diapers for much cheaper. And always have a coupon! Happy hunting!
If you're serious about saving money, these money affirmations that work instantly can help!
Related:
This was a guest post from Stormy of Pregnant Mama Baby Life. She is passionate about pregnancy and babies, and loves a good deal when she finds one.