In my family, we LOVE playing board games.
My toddler loves playing games also, but it's sometimes hard to find games that work for her.
That's why I decided to find the best board games for toddlers.
While some of these toddler board games are only going to be engaging for toddlers, there are others on this list that older siblings will love also.
And yet others that are perfect family games for a successful game night with toddlers.
This list comes from my family's own experience.
You won't find any board games for toddlers on this list that are too difficult for your toddler.
This list of board games for 2-5 year olds is perfect and won't frustrate your child.
I know you know that it can be hard to hold your toddler's attention for more than 5 seconds.
Related: How To Keep A Toddler Entertained
Even games like Candy Land can be frustrating. Not to mention BORING.
I know that my 3 year old struggles with moving around a game board because she gets confused with the direction that she should be going.
Other times, she forgets to stop counting at 3, 4, 5 spaces and just keeps going.
These games are designed for toddlers, but are often engaging for the entire family.
Enjoy!
Board Games For Toddlers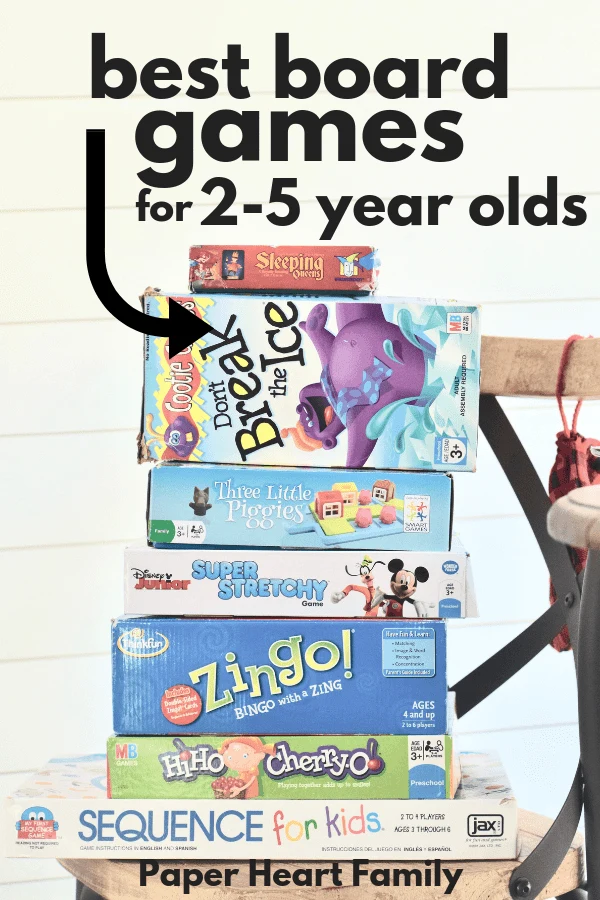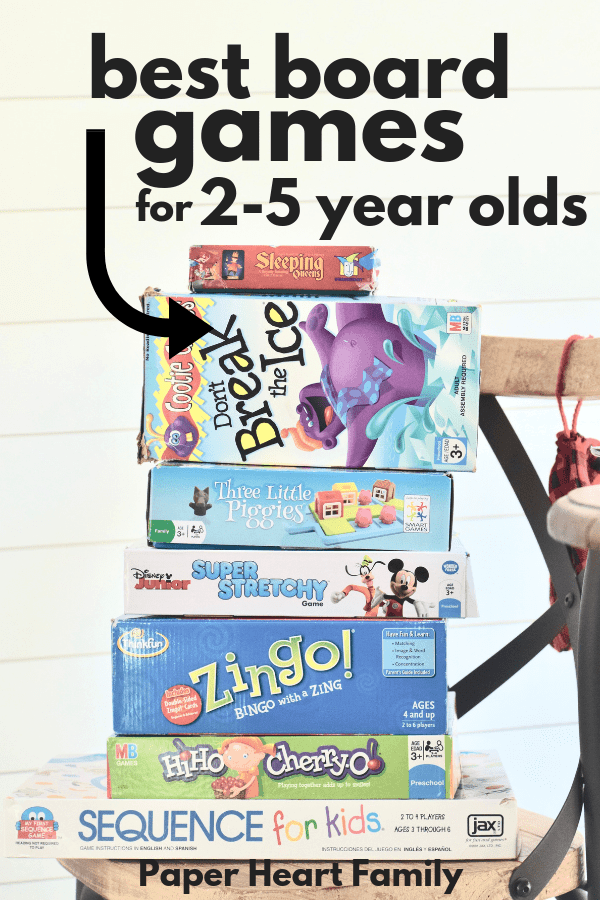 Best Board Games For 2 Year Olds
1. ThinkFun Roll and Play
One of the easiest board games for toddlers as well as one of the most educational games for 2 year olds at home is ThinkFun's Roll And Play
Age- 18 months+
Cost- Over 10 dollars
How to play- This is the simplest of games out there and it has AMAZING reviews, but it introduces your toddler to turn taking in a non-competitive game format.
Your child simply roles the large fabric die and picks a card of the same color.
Your child then needs to do whatever the card says (commands that teach motions, counting, colors, body parts, actions and animal sounds).
It's also a great travel game as all of the cards tuck into the fabric die.
Fun for mom and dad?
Not in a typical game kind of way, but it IS a great way to interact and have fun with your young toddler.
Cons- Older siblings may not be interested in this game.
ThinkFun Move And Groove Dance game is another very similar option.
2. Twister Shapes
Age- 3+, possibly 2 year olds also
Cost- Over 10 dollars
How To Play- Twister Shapes is a toddler version of Twister.
Your child doesn't have to know his left from his right and there is no reading required.
You just spin the spinner and your toddler can see which shape in which color to find!
This is a game that has some lasting power.
My 6 year old still enjoys playing it along with her sister, and my 3 year old was OBSESSED with it at the age of 2.
I also love that this keeps my toddler active, along with these other activities to tire out a toddler.
Cons- The game is really meant to be played one player at a time.
I simply have my other child pick the cards so that she doesn't lose interest.
3. Yeti In My Spaghetti
Age- The box says 4+, but I'd say 2+
Cost- Under 10 dollars
How to play- Yeti In My Spaghetti is another super basic game that can be played in minutes, but that kids of all ages can play (even the really young ones).
It's basically a version of Kerplunk (for the 90's mamas).
Think of it like Don't Break The Ice but without the ridiculously difficult set-up (that only mommy can do).
Plastic spaghetti is laid across a bowl and the Yeti is placed on top.
Players take turns pulling a spaghetti noodle, while trying not to knock the Yeti into the bowl (GREAT for developing fine motor skills).
If you're looking for the best family games for 2 year olds, this one might be your best option.
4. Don't Step In It
Age- the box says 4+, but I don't see why a toddler much younger couldn't play. I say 2+.
Cost- Over 10 dollars
It's a fact.
Kids.
Love.
Poop.
Who knows why, but the creators of Don't Step In It are capitalizing on this fact.
This is a super simple game that uses play doh as poop.
According to the Amazon description, it's "blindfolded, poop-dodging fun".
I think that about sums it up!
How to play- Play doh is shaped into "poo" using the shaper included in the game.
The spinner determines how many pieces of poop are placed on the play mat.
Players must walk blindfolded, and the winner is the player who steps in the least amount of poop.
5. Hiss
Age- 4+ (although I believe 2 and 3 year olds could handle this game)
Cost- Over 10 dollars
How to play- The goal of Hiss is to match up the color on your card to an existing snake and grow your snake or add the head and tail to a snake and then collect it in your snake pit.
This game helps with color recognition, taking turns, and winning/losing.
The player who forms the most snakes (with a head, tail and at least one body piece) wins.
Another plus is that this game is made in the USA.
6. Don't Break The Ice
Age- The box says 3+, but older 2 year olds could definitely enjoy this one.
Cost- Over 10 dollars
You likely know Don't Break The Ice well, possibly from your own childhood.

My kids love it.
Me… not so much.
The set-up takes forever, and then the actual game is over really quickly.
However, I'm leaving it on the list because it's definitely a game that young toddlers will enjoy, and it teaches your child about cause and effect.
Buy this one with caution.
Best Board Games For 3-4 Year Olds
7. Daniel Tiger's Neighborhood Welcome To Main Street Game
Age- 3+
Cost- Over 10 dollars
How to play: In Daniel Tiger's Welcome To Main Street Game, you move around the board, trying to collect an item for your backpack from each building in the neighborhood.
At times, you must "gift" an item to an opponent.
What I like about this game is that your child can move in any direction of her choice.
One of my toddler's biggest problems when playing a board game is knowing which direction to go (it's often not obvious) and this avoids this problem.
It also introduces your child to strategy, because she has to pick the direction in which she wants to go, it reinforces manners, and it's a sturdy, high quality game.
It also practices recognizing and counting 1-3.
Cons- Some people have mentioned having trouble getting the spinner to spin.
8. Pop Up Pirate
Age- The box says 4+, I would say 3+, maybe younger.
Cost- Over 10 dollars
How to play: With Pop Up Pirate, players take turns inserting a sword into the pirate's barrel, while trying not to be the one to make the pirate pop up (it's very similar to the classic Crocodile Dentist).
Cons- Sensitive toddlers might be too scared of making the pirate pop up to play.
9. The Ladybug Game
Age- 3+
Cost- Over 10 dollars
How to play- The Ladybug Game (created by a 1st grader!) is similar to Candy Land but a little more engaging for mom and dad.
Players move around the board going forward or backward and collecting aphids, which are needed in order to win the game.
10. Eric Carle's Let's Feed The Very Hungry Caterpillar Game
Age- 3+
Cost- Over 10 dollars
Players move around the game board and collect pieces to a butterfly puzzle.
The first player to complete the butterfly puzzle wins.
This game is perfect for teaching counting, numbers, colors, fine motor skills and introducing your toddler to strategy.
11. Koala Capers
Age- 3+
Cost- Under 10 dollars (I think this one is a GREAT value for what is included).
How to play- In order to play Koala Capers, players roll the two dice (one die contains a color, the other contains an article of clothing).
Player must find the clothing card of that color and place it on the Koala.
Rolling an underwear die means the player must put all of their outfits back.
The first player to 5 outfits first wins.
It also includes an advanced memory game play option for when your toddler gets older.
This game is CUTE, and though we don't have it yet, my toddler will be receiving it for Christmas.
UPDATE- This game is just as cute as I expected, and it has been played with a ton by both of my kids.
It's pretty fun for adults, too.
And it has variations to keep it interesting and so that it will grow with your child.
12. Zingo
Age- 4+
Cost- Over 10 dollars
How to play- Zingo is Bingo, but WAY better.
Players use the included "Zinger device" to dispense 2 chips at a time.
Players must match up those chips to their game boards.
This one is a fun one for moms and dads, too.
There are also different levels of difficulty that you can use as your child gets older.
My kids also love refilling the Zinger (which you do by inserting the chips into the plastic device. It kind of sucks them back in. It's pretty fun!).
13. Sequence For Kids
Age- 3+
Cost- Over 10 dollars
How to play- In Sequence, players play a card from their hand, and place their chip on the corresponding character on the board.
Dragon cards can be used to remove an opponent's chip while unicorn cards are wild.
The first player with 4 chips in a row wins.
This game encourages development of logical thinking skills.
Cons- My 3 year old enjoys this game, but still doesn't quite get the concept of 4 in a row vertically, horizontally, diagonally, etc.
She does enjoy playing it with an adult however, and it's nice that the whole family can play and actually enjoy it.
Card Games For 3 Year Olds
Not necessarily BOARD games for toddlers, but close enough!
14. Dr Seuss I Can Do That
Age- 3+
Cost- Under 10 dollars
How To Play- The Dr. Seuss I Can Do That Game comes with a deck of cards and a foam fish.
Players place the cards face down and choose three cards (one of each color).
One set of cards tells players where to go (to a door, window, the fridge, bathtub, etc).

Another set of cards tells players what to do (hop, crawl, tiptoe, spin, etc).

The third set of cards tells players where to place the fish (under their arm, on their head, in between their elbows, etc).
The player who can complete the most tasks wins.
This game is always guaranteed to elicit lots of laughs, and it's great for promoting coordination (some of the tasks are easy while others are challenging but not impossible).
My 3 and 6 year olds also can play it together without my help, which is HUGE.
Cons- There are only 45 cards in the set, which doesn't provide for a ton of variety.
Young toddlers aren't going to mind the repetition (because you will still likely come up with different pairings, but older siblings might tire of this game a little quicker).
15. Sleeping Queens
Age- The box says 8+ HOWEVER we started playing Sleeping Queens with my oldest when she was 4 and she LOVED it.
My current 3 year old also enjoys the game, but can't yet play by herself.
My suggestion would be 4+.

Cost- under 10 dollars
How To Play- The object of this card game is to collect 5 queens.
Meanwhile, your opponent is trying to steal your queens (with a knight card) or sleep your queen (with sleeping potion).
You can block these actions with a dragon card or a wand card.
My 3 year old gets overly excited over the knight cards.
There are also a couple added twists.
If you choose the Rose Queen, you get to pick a second queen, and dog and cat queens can't coexist, so you have to return one if you have both.
If I were to choose my family's overall favorite game or I had to suggest just one game to you, this one is it.
My husband and I are just as in love with it as our kids are.
It's a FANTASTIC game, and it was created by a 6 year old.
Pretty cool, huh?
Cons- I can't think of any. Again, we LOVE this game.
Watch this video to see the game in action:
16. War
Age- 3+
Cost- All you need is a deck of cards!
My 3 year old really, really loves playing War and I love what it teaches her.
She's practicing number recognition without even realizing it.
It also helps your toddler to learn how certain numbers are bigger, while others are smaller.
I'm always amazed by how well my 3 year old knows this (8 is higher than 5, 2 is lower than 9, etc).
She picked it up really quickly thanks to playing this game.
17. UNO
Age- The box says 7+. WHAT?! My 3 year old loves it and needs very little assistance.
Cost- SUPER CHEAP.
Have you ever thought about playing UNO with your toddler? Why not!
It's the perfect game for toddlers.
Yes, your toddler will likely need assistance with specialty cards at first (wild, reverse, draw two, skip) but will easily be able to choose a card that matches in color or number.
Best Toddler Memory Game
18. Shopping List Game
Age- 3+
Cost- Over 10 dollars
How to play- This grocery shopping board game is a more interesting take on the game Memory.
Players do not need to make matches, but do need to collect items on their shopping list.
Players must remember where an item that they need is (that was turned over by a different player).
19. Classic Memory
Toddlers love playing the game of Memory.
And it's SO good for their growing minds!
If you don't have the game already, check out gameschooling where you can find fun printable memory games with different themes, such as money, pirate and planet.
Best Peaceable Kingdom Games
Peaceable Kingdom games are some of the best cooperative board games for toddlers and this one in particular is one of the best games for child development.
20. Feed The Woozle
Age 3+ (but would likely work with 2 year olds also)
Price- Over 10 dollars
How to play: Kids role the die to determine how many yucky foods (like chocolate covered flies, feathery tacos, cheesy slippers) they need to Feed The Woozle.
Food tokens are taken to the Woozle on a large spoon, then the spinner determines how they will carry them to the Woozle: march, hula dance, bunny hop, go crazy, etc.
It also comes with different levels of difficulty that can be used with older siblings (they can do it blindfolded).
Fun for mom and dad?
I think this is a great game for parents who like to get silly with their kids.
This game is great for fine motor skills, basic counting, balance and body awareness.
Con- It doesn't teach a whole lot and some moms believe that there's not much replay value.
Independent Games For Toddlers
21. Let's Go Fishing
Age- The box on Let's Go Fishing says 3+, but my daughter got it when she was 2 and it was an instant hit.
Cost- SUPER CHEAP!!!
You know this game, right?
The fish spin around, opening and closing their mouths, while players need to try to catch the fish with their poles.
For mom, it's quite boring and annoying (LOUD), but the beauty of this game is that your toddler can play it independently (or with a sibling) and it really is great for developing your toddler's fine motor skills.
22. Little Red Riding Hood Game
Age- 4+
Cost- Over 10 dollars
How to play- The Little Red Riding Hood Game comes with 48 challenges at 4 different levels that tell your child where to place Little Red Riding Hood and where to place grandma's house.
The object is then to connect a path using the plastic game pieces from Red Riding Hood to grandma's.
We own the very similar Three Little Pigs game, made by the same company. (I don't think they make it anymore).
I think this is one of the best board games for toddlers because it's unlike anything else that I've ever seen.
It gives my kids challenges that they have to solve, and it allows them to work up to the more difficult puzzles.
It also is meant to be an independent game, so you don't have to worry about your children competing.
My kids love it when they "beat a level".
I hope you enjoyed these toddler games. What are your f
amily's favorite board games for toddlers?
Related: