Kids love water. If you need a minute to yourself, fill up a bucket with some water or turn on a faucet and pull up a stool and you're golden. Or you could check out the best water toys for kids list that I have for you here.
As a kid, some of my best memories deal with water. I remember swimming in the stream at our family cabin and swimming in the pond behind our property.
There's just something about water.
I also remember going to my grandmother's house. She didn't have very many toys, so she always gave me an old fashioned egg beater and set me up with a bucket of bubbly water. Instant water toy. That was all I needed.
This post contains affiliate links.
And who remembers this water toy? Come on, children of the 90's! It was called something different though, wasn't it? Someone please tell me in the comments because mom brain.
Water toys really are the best. They are fun, memorable and many times educational. This list contains the best outdoor water toys for toddlers and older kids, too.
These are some favorite indoor water toys and outdoor water toys that kids love.
This post contains affiliate links.
The Best Water Toys For Kids
Indoor Water Play and Water Toys
Spray bottle
My toddler LOVES playing with a spray bottle. There are so many different things your child could do with it. Mix in some food coloring and make art or play Spray Tag.
We did It's Always Autumn's Tissue Paper Art. It was so easy and a huge success with both my kids.
Bucket of water (and a rag!)
Whenever I steam the hardwood floors, I give the girls a bucket and rags and they clean the floor right along with me. It never gets old.
This is such a brilliant DIY activity that you can do at home. Create a castle out of ice cubes or sand castle molds.
Baby doll bathtub
My 2 year old loves her baby dolls, so I bought her this doll tub for Christmas. She loves washing her dollies. It actually sprays water, and even my 2 year old has no trouble pumping it so that it will spray.
My kids have this and it gets played with frequently. When I was a kid, I used my trash can from my room as my Barbie's pool. Yeah, seriously. This one is a little more upscale.
We have (and love!) this bath toy. It works so well and never seems to get old with my kids. If your kids like having the faucet on all the time, then you NEED this toy. It's also a go-to gift of mine for younger kids.
My daughter is obsessed with fish. This is a great bath toy to foster a love of fishing (if you're into that kind of thing). It comes with a fish that moves to simulate the actual fishing experience.
Backyard Water Toys For Kids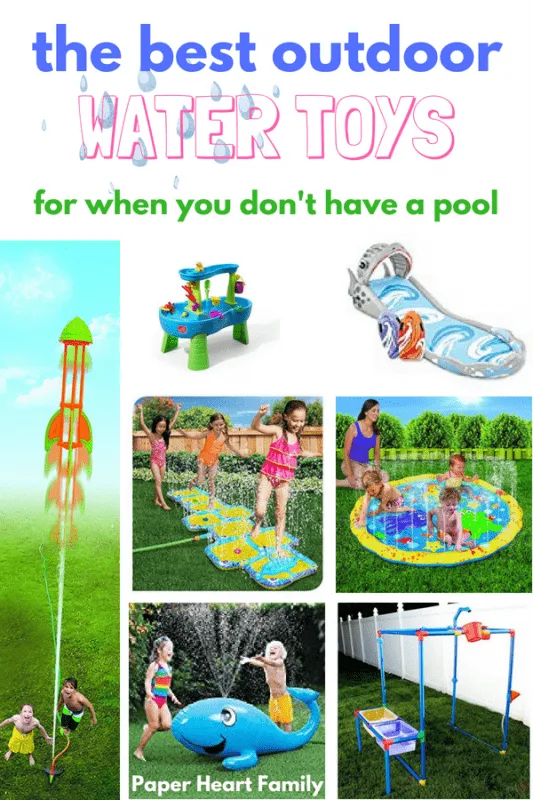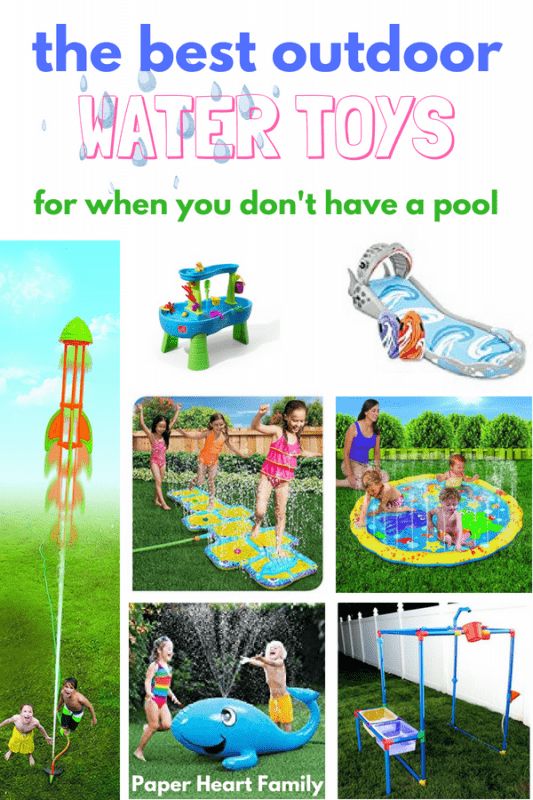 Water table for Toddlers
How cool does the Step2 water table look? With an interactive waterfall and many moving parts, it's sure to entertain.
Stomp Rocket
I've never met a kid who didn't love the Stomp Rocket. When I saw the water version, I knew it would be an instant success. This is so much fun for everyone in the family.
Swimming Pool for Kids
Every kid needs a pool, right? We have this one and it's perfect for the little ones, complete with a ball toss, two sprinklers and an inflatable slide.
I've seen a lot of DIY versions of this on Pinterest, but if you're not into DIY or don't have the time, this is an inexpensive and pretty awesome alternative.
DIY Splash Pad
All you need is a tarp and some pool noodles to make an awesome splash pad for your own backyard!
Inflatable Water Slide
Easy Fill Balloons
If you've ever (tried to) fil traditional water balloons, you'll understand why these are brilliant. Fill 100 balloons instantly or spend an hour cursing about how you should have bought this.
Once you get these balloons, you need these water balloon games to go with them!
Hopscotch is great for kid's balance and coordination, and this water hopscotch game with have them practicing over and over.
Cheap water sprayers
These can be found at the dollar store. They're way better than water guns in my opinion, and they are easier for little hands to control.
Splash Mat
The splash mat is perfect to keep the little ones cool this summer. It's also way easier to maintain than a kiddie pool!
How cute is this whale sprinkler? I could see this being a cute addition to a kiddie pool.
Hose
Everyone has a hose laying around, and believe me, handing it over to your kids could provide for hours of entertainment. They can "wash" the cars, water the flowers, jump over the spray, etc.
This is the simplest activity, but kids love it because they get to transfer water from container to container, and get wet all at the same time!
Looking for free outdoor activities for kids? Check out these unique, cheap summer activities.
What are your kid's favorite water toys?
Don't forget to pin it for later!