Are you just starting to figure out how to eat when eliminating dairy and soy for your baby? I remember feeling completely lost and overwhelmed (and maybe like I wanted to cry because no cheese?!).
Parenting a newborn is hard enough, and now you have to deal with another huge change.
See all of my tips on breastfeeding the MSPI baby.
The good news is, this MSPI diet foot list will help you to know what to avoid and what store-bought dairy and soy free breastfeeding snacks you can actually eat. Because again, you're in the newborn fog, your baby is probably not a very happy camper due to all the milk protein that's hurting her poor belly, and you probably don't have much time to be cooking everything from scratch.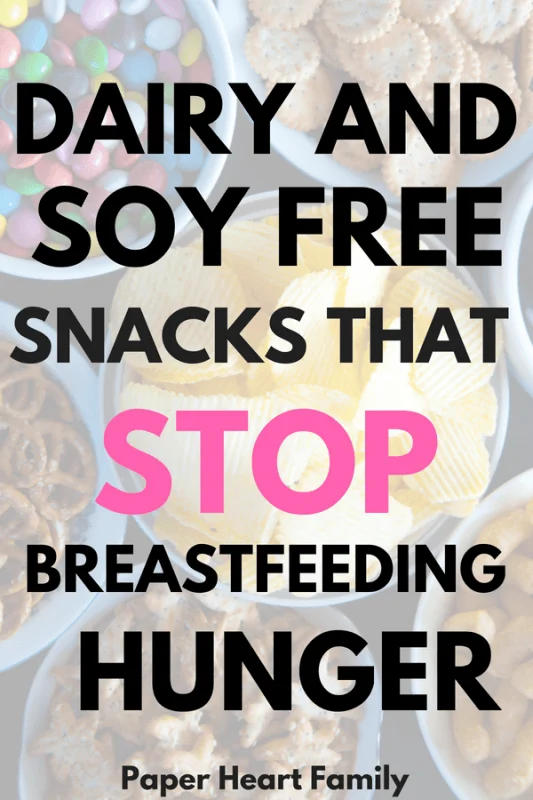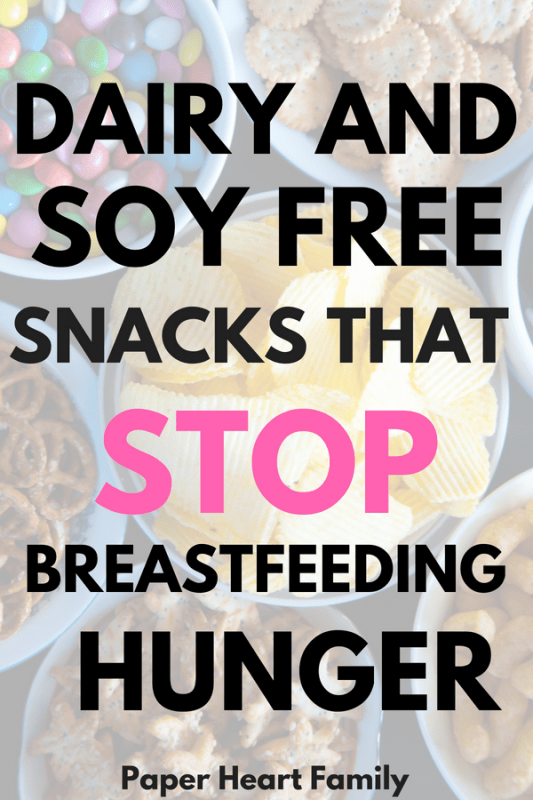 I was in your shoes. With both of my kids. I KNOW how you're feeling. Lost and frustrated and ridden with mom guilt over something that you have no control over. Also, you're super tired and HUNGRY.
I remember feeling hungry all the time, and I absolutely dreaded a trip to the grocery store. It pretty much made me hyperventilate. And cry. But then, once I had a long list of foods that I could actually eat, it became SO much easier.
This list is going to help save you time and stress (and tears!), I promise. And even though you'll still probably feel hungry ALL the time, (because what breastfeeding mom doesn't?) you'll at least have a ton of yummy snacks that are safe to eat.
This post contains affiliate links.
What About Soybean Oil And Soy Lecithin?
In the following lists, you will see that I have noted products that contain either soy lecithin or soybean oil. These ingredients are found in so many prepackaged foods.
So you need to avoid them. Right?
Not usually. Most babies can handle both soybean oil and soy lecithin because they are emulsifiers, not proteins. However, be aware that some babies do react to them (source).
*list updated February 27, 2019
MSPI Diet Food List Favorites
There are some foods that you absolutely need to have in your home at all times if you are eliminating dairy and soy from your diet.
Check out my dairy free diet for breastfeeding tips too, for help with what to make for breakfast, lunch and dinner!
1. Earth Balance Butter– You're probably thinking that there's no way that a butter substitute could actually taste like butter, right? Luckily you're wrong! This stuff is seriously amazing and you need it in your life right now.
2. So Delicious Milks, Creamers, Yogurts And More– The So Delicious brand is just that. Everything that they make is amazing, such as coconut milk ice cream, coffee creamer, whipped topping, yogurt, etc. You know, everything that you thought you were gonna be missing out on.
You could also make your own almond milk yogurt.
3. Raw Fruits, Vegetables and Nuts– Whole Foods, mama!
4. Lara Bars– While not all the Lara Bar varieties are free of dairy and soy, most are such as Apple Pie, Banana Bread, Blueberry Muffin, Carrot Cake, Cashew Cookie, Cherry
Pie, Chocolate Coconut Chew, Coconut Cream Pie, Gingerbread, Key Lime Pie, Lemon Bar, Peanut Butter and Jelly, Peanut Butter Cookie, Pecan Pie, Pumpkin Pie, and Snickerdoodle.
5. Oreos (original flavor and possibly others)- I write "and possibly others" because I can't keep up with the ever changing Oreo flavors! Seriously, Swedish Fish? Waffles and Syrup? Bleck.
Anyway, no, this is not a joke. Oreos are must definitely a must have, especially if you crave sweets. Don't think it's possible to eat an entire box of Oreos in one nursing session? Not that I ever did *ahem* but imjustthinkingthatitspossible. Maybe?
6. Coconut Oil– Coconut Oil is an amazing butter alternative for baking. And while you're at it, slap some into your post-pregnancy hair as it's believed to help prevent hair loss!
7. Dairy-Free Chocolate– As women, we can practically survive on chocolate, right? Enjoy life chocolate is a NECESSITY. They have lots of other chocolatey products too.
Dairy and Soy Free Snacks and Store-Bought Products
*Remember to always double check ingredients, as they can change at any time.
Panko (most brands are safe)
Steel cut oats
Kashi Chewy Nut Butter Bars- Salted Caramel Pecan
Newman's Own olive oil and vinegar dressing (soybean oil)
Applegate Organics oven roasted turkey breast, honey ham, smoked chicken breast, black forest ham, etc
Applegate Farms Turkey Bacon
Swanson 100% Fat Free Chicken Broth
Swanson Organic Chicken Broth
Sorbet (most brands)
Ortega Taco Seasoning Packet
Old El Paso taco shells
Hershey's baking cocoa
Hershey's chocolate syrup
MSPI Snacks
Avocado (healthy fats)
Wholly Guacamole
Nuts- almonds, cashews, walnuts, pistachios, peanuts, etc (healthy fats)
Raisins
Roasted Chickpeas
Marshmallows
Salsa
JIF Natural Peanut Butter (healthy fats)
Most fruit snacks
Most gummy bears
Hard Boiled Eggs (or fried/scrambled with Earth Balance butter)
Hummus (may contain soybean oil)
Fruit
Vegetables
Tuna
Trail Mix
Dried Fruit
Twizzlers
PopTarts- Fruit Varieties (contain soybean oil and soy lecithin)
Nutter Butters (contain soybean oil and soy lecithin)
Enjoy Life Brand (cookies, chocolate chips, etc)
Potato Chips, Pretzels and Popcorn
Most plain potato chips (may contain soybean oil)
Pringles Original (contains soybean oil)
Stacy's pita chips- non cheese varieties
Pretzels- most varieties such as Snyders of Hanover, Utz and Rold Gold
Act II Kettle Corn Popcorn
Orville Redenbacher's Natural simply salted popcorn
Frozen Section
Kashi Frozen Meal- Black Bean Mango Bowl, Fire Roasted Quinoa Bowl, Chimichurri Quinoa Bowl
Feel Good Foods Frozen Meals (all Feel Good Foods products are dairy free, check for soy)
Amy's Frozen Roasted Vegetable Pizza and many other Amy's products
Perdue Simply Smart Chicken Nuggets, Chicken Tenders, etc.
Alexia Organic Yukon Select French Fries
Ore-ida French Fries- some varieties (contain soybean oil)
Crackers
Kashi Whole Wheat Biscuits- Dark Cocoa Karma
Honey Maid Graham Crackers (contain soybean oil and soy lecithin)
Annie's Bunny Grahams
Wheat Thins Original (contain soybean oil)
Nabisco Saltine Crackers (contain soybean oil
Alternative milks
Almond Breeze milk
Hemp milk
So Delicious coconut milk
Breakfast cereals and more
Post Raisin Bran
Post Grape Nut Flakes (contain soybean oil)
Cheerios: multigrain, fruity, honey nut, apple cinnamon, frosted, oat cluster, chocolate
Kid
Chex: rice, corn, honey nut, wheat
Rice Krispies
Life (cinnamon, honey graham and original)
Cascadian Farms Organic Cinnamon Raisin Granola
Bare Naked V'nilla Almond Granola
Plain Instant Quaker Oatmeal
Kashi Organic Strawberry Fields Cereal
Bisquick HeartSmart Pancake and Baking Mix
Pasta and Sauces
Barilla Chunky Traditional, Marinara, Meat Sauce, Roasted Garlic, Sweet Peppers, Tomato and Basil, Traditional, Tuscan Herb
Francesco Rinaldi ("Sweet and Tasty Tomato", "Tomato and Basil" and "Marinara" only)
Healthy Harvest pasta (and most other pastas)
Breads
Udi's Plain Bagels, Soft White Bread, Blueberry Muffins, Pizza Crust, Cinnamon Rolls, etc.
Sara Lee Plain and Cinnamon Raisin Bagels (contain soy lecithin)
OroWheat 100% whole wheat bread and hamburger buns (contain soybean oil)
Mission whole-wheat tortillas
Pepperidge Farm plain bagels
Most french and italian breads sold in the bakery section
Pillsbury Crescent Rolls Original (contain soybean oil)
Cake Mixes and Frosting
Duncan Hines Classic White Cake Mix (contains soy lecithin)
Duncan Hines Classic Vanilla Frosting (contains soybean oil)
Duncan Hines Chewy Fudge Brownie Mix
Now that you know what snacks you can eat on an MSPI diet, check out this Beginner's Guide to MSPI to learn even more.
Pin it for later!