If your feeling overwhelmed with all of the changes that come with a dairy free breastfeeding diet, rest assured.
It's not as difficult as it seems, if you have the right resources.
My first recommendation is to sign-up for my 7-day dairy and soy free meal plan. I remember being where you are and I think this plan will help you to figure out what in the WORLD to eat.
I started my first round of dairy free breastfeeding 6 years ago when my first baby was born. Back then, it was a LOT harder than it is now. There just weren't as many resources out there then!
Related: my complete resource on breastfeeding and milk protein allergy.
I have written a lot about dealing with the baby with a milk allergy (also known as MSPI). Both of my children has a Milk and Soy Protein Intolerance.
My Dairy Free Breastfeeding Complete Guide covers it all, from what to eat, recipes, how to introduce solids and reintroduce dairy and more. If you're just starting out, this resource will save you a ton of time and aggravation (and hunger!).
I'm glad that I didn't give up on breastfeeding, because breast milk truly is the best for babies with a milk allergy.
Why Go Dairy And Soy Free?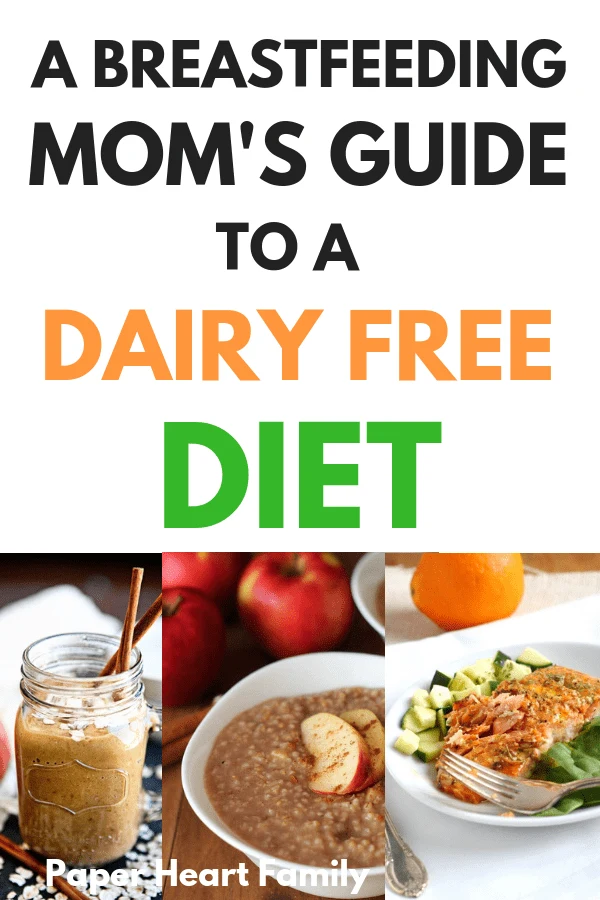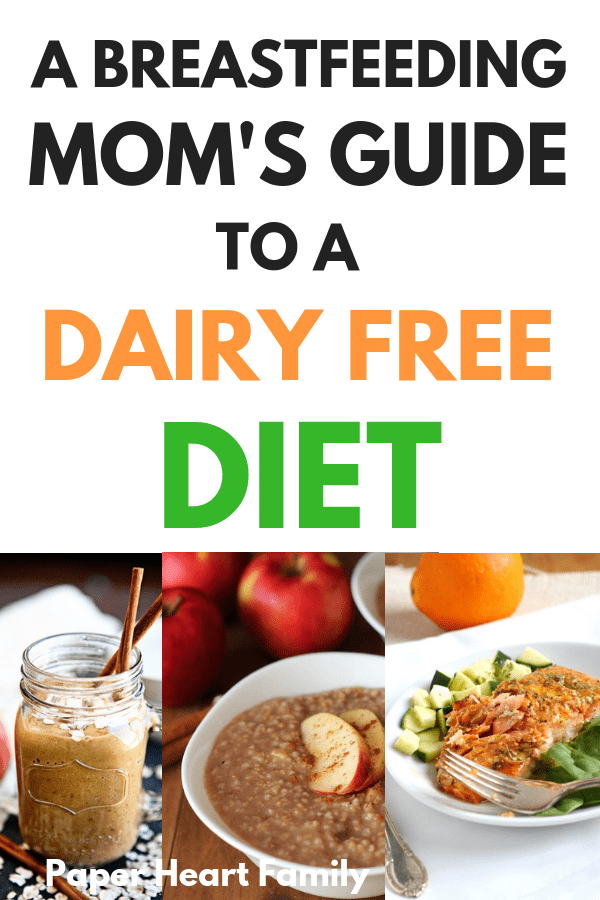 If your baby is exhibiting milk allergy symptoms, especially if your baby has blood in stool, you might have to eliminate dairy (and possibly soy) from your diet.
It's possible that up to 50% of babies who are intolerant to the milk protein also cannot handle the soy protein.
While you do have the option to switch to a amino acid-based formula, those formulas are crazy expensive. Don't believe me? Just check out the prices.
If you're not sure whether or not you want to take the plunge and go dairy free, just remember that it is temporary. I was dairy and soy free with both of my babies for about 9 months.
You know what else I did for 9 months? Carried a child in my uterus. Going dairy and soy free was definitely easier than that (though not as enjoyable).
If you are just starting out, check out my beginner's guide: MSPI in babies.
How Strict Do You Have To Be When Following A Dairy Free Breastfeeding Diet?
When you think of dairy, the main offenders come to mind I'm sure. Milk, butter, ice cream and cheese. What many people don't know (or don't realize) is that dairy is hidden in a TON of the foods that we eat.
When you are breastfeeding a baby with a milk allergy, even the slightest bit of dairy will likely bother your baby. You will have to be very strict with your diet.
Hidden Dairy And Soy You Need To Avoid
In order to avoid all of this dairy and soy, you will need to become very adept at reading labels.
The following should be avoided.
Dairy and Soy Free Recipes For Nursing Moms
The best thing that you can do when following a dairy and soy free diet while breastfeeding is to eat whole foods. You will want to avoid prepackaged foods as much as possible, because most will contain hidden dairy or soy.
The great thing about this diet is that:
Who doesn't love that, right?
I was careful about choosing these MSPI recipes for you. You can find quite a few recipes on the Internet that are Paleo or Whole30, which will likely be safe for you to eat.
However, I wanted to go a little farther and find recipes that:
Are quick to prepare because I know you have very little time (get all the baby snuggles in that you can)
Are high in nutrition recommended for new moms
These recipes fit the criteria. Oh, and they're delicious as well.
Related: MSPI Safe Snacks
Dairy And Soy Free Breakfast Recipes
While there is some very good dairy free chocolate out there, you don't even need it for this indulgent, chocolate-y breakfast recipe.
Good for you ingredient: oats which can increase your supply.
These can be thrown together in minutes and don't need to be baked!
Good for you ingredient: oats which can increase your supply.
You had me at pumpkin chai! For this recipe, simply make sure to use Enjoy Life chocolate chips.
Good for you ingredient: oats for the win again!
I make a big batch of this each Sunday and then have something quick and healthy to eat each busy morning of the week. It's completely customizable and so delicious.
Pumpkin pie in a glass. You can't beat that.
Good for you ingredient: You guess it. Oats!
These look decadent and almost like dessert for dinner. They taste like it too, but they're actually really healthy.
Good for you ingredient: Oats. Again.
If you've never tried a green smoothie, do NOT be frightened. If you find the right recipe, green smoothies can be amazing. This one is no exception, you just need a good protein powder. This protein powder is my favorite.
Good for you ingredient: Spinach, which is a superfood for breastfeeding moms AND can increase supply.
Apples, raisins and cinnamon? YUM!
Dairy And Soy Free Dinner Recipes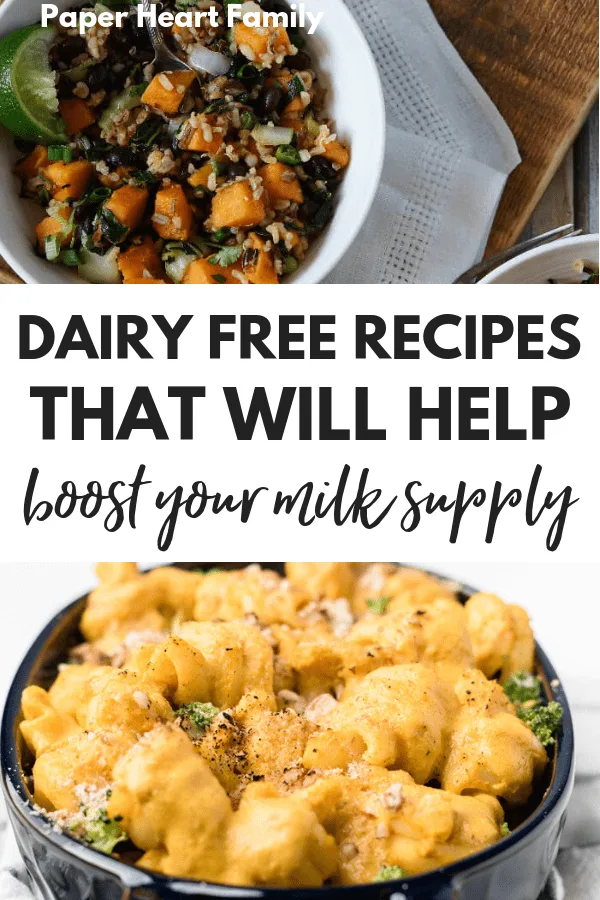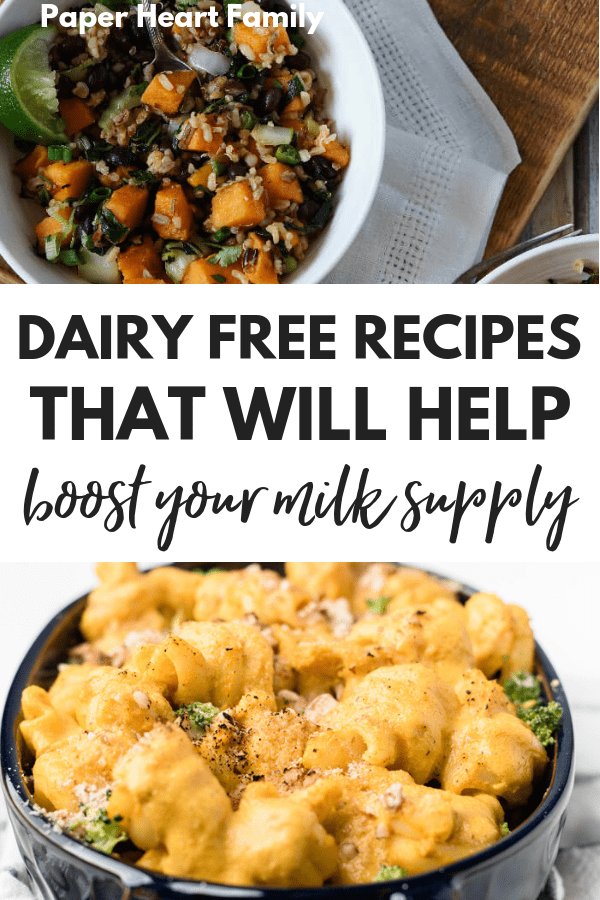 Salmon is a super healthy food for breastfeeding moms, and this recipe contains only a few ingredients, making this meal come together very quickly.
A really warm, delicious and quick soup to whip up when you need a comforting meal.
Full of so many ingredients perfect for breastfeeding moms, such as sweet potatoes, black beans and brown rice.
So many good-for-you vegetables in this one bowl meal that is comfort food without the fattening ingredients.
Dairy free Mac and Cheese without the creepy fake cheese that never fooled me.
See this post for more simple and delicious dairy free soy free recipes.
Craving some dessert? Check out these soy and dairy free desserts.
What is your favorite recipe on a dairy free breastfeeding diet?