If you are just starting your dairy free breastfeeding journey, I feel your pain. I remember being right where you are. You have an MSPI baby (also known as a milk allergy in babies), you have no idea what to eat and your body needs fuel in order to produce breast milk.
That's a lot of pressure!
One trip to the local grocery store is enough to make you want to lie down in the middle of the aisle and have a temper tantrum, total toddler style.
In the coming months, you are going to become educated (as well as the people around you) on just how much hidden dairy and soy are in the products that we consume.
If you're feeling like a complete deer in the headlights and like you're NEVER GOING TO BE ABLE TO EAT AGAIN (it's okay, dramatic behavior is warranted at the moment), be sure to get my 7-day meal plan! It will help you to get started and to realize that this diet isn't that bad.
The thought of not eating CHEESE for months at a time probably sounds like a prison sentence. But your baby (and your wallet!) is counting on you to push through, learn a new way of eating, and make it work. At least that's what kept me going.
With my first baby in 2012, there wasn't a ton of information and resources for dealing with Milk and Soy Protein Intolerance (MSPI). Unfortunately, there still isn't a lot, but there are more products available for those avoiding common allergens.
This is my beginner's guide to dealing with MSPI but make sure you check out the end of this post for my Complete Guide on Breastfeeding a Baby with MSPI. It contains all of the information that you'll ever need!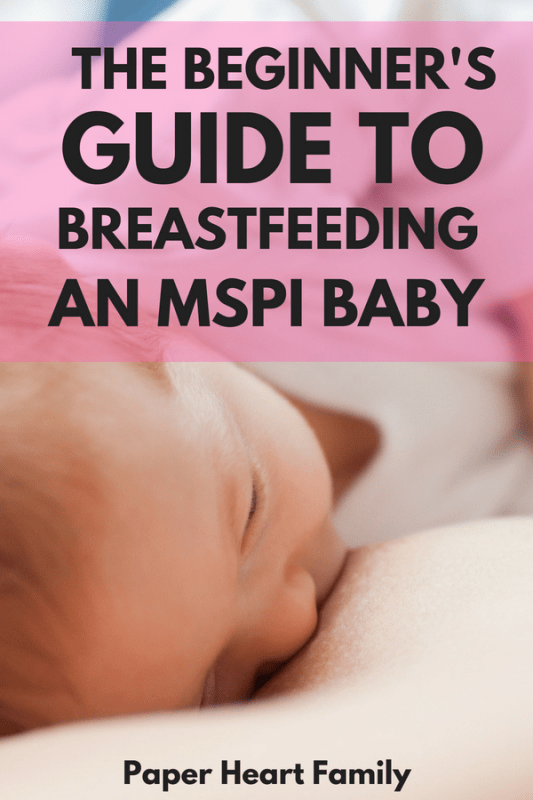 What is MSPI and its Similarities to Breast Milk Oversupply
MSPI is your baby's temporary inability to properly digest dairy (from cow's milk) and soy proteins that are found in breast milk or formula. It is different from being lactose intolerant, which means that the body cannot break down the lactose (a sugar) found in cow's milk.
Lactose intolerance is permanent, while MSPI is a temporary issue.
What completely, 100% sucks about MSPI is that it's difficult to diagnose. Getting your baby's stool tested is the most common way to identify MSPI, but blood in stool could mean sensitivities to other foods as well.
Related: Causes Of Blood In Breastfed Baby Stool
If your believe that your baby has MSPI, you should rule out a breast milk oversupply first.
The symptoms of breast milk oversupply are very similar to those of MSPI:
excessive gas
mucus in the stool
green stools
However, if your baby has any of these other symptoms like blood in stool, frequent spitting up, lack of weight gain, or ezcema, then congratulations (sarcasm), you're likely dealing with MSPI.
What You Need To Know About The MSPI Baby
I have been through the MSPI breastfeeding experience with both of my children. I can tell you that there is A LOT of misinformation out there, and that you need to be informed.
My Pediatrician was not very knowledgeable, and neither was the Pediatric Gastroenterologist that I went to, who told me that maybe my baby's excessive gas was from crying to much because I went to her in the middle of the night (insert major eye roll).
I'm telling you, I know more about this intolerance than they did.
So while you're in the beginning stages of dealing with MSPI, here's what you need to know:
It can take a LONG time for dairy to leave your system and baby's.
If you research online, you'll see ranges from 2-8 weeks. I can tell you from experience (and from speaking to many other moms) that it most definitely can take longer than 2 weeks.
It took 6 very long weeks for my first baby to have a blood-free diaper. Many of her other systems started to subside after a few days, however.
Probiotics and Baby Colic Drops with Save your Sanity
Probiotics are awesome for MSPI babies because they help to replace the good bacteria in the body that was overtaken by bad bacteria.
And if your baby is gassier than Taco Bell patron, baby colic drops will save your life. Seriously. They are amazing.
For a probiotic, I love Culturelle infant drops because they are top 8 allergen free (just in case your baby has any other sensitivies). It definitely worked well for my babies, and we still use a probiotic, especially when my kids receive antibiotics.
And my most favorite MSPI product of ALL TIME? Colic Calm. Colic Calm is messy, but my first child would have been absolutely miserable without it. Immediately upon giving it to her, I would literally HEAR the gas bubbles moving through her little body, and then she would pass it. And the angels would sing. In all honesty though, try it! It worked so much better than other gas drops.
Dairy and Soy are Hidden Everywhere
Of course you have to watch what you eat (and we'll get to that), but you also have to check the label of your vitamins, pain relievers, medications, and those of your baby too!
The following are safe for you and baby:
Nature Made Prenatal (does contain soybean oil and soy lecithin which is fine for most MSPI babies)
How to Follow an MSPI Diet without Starving
When looking for recipes, the following labels are helpful:
Vegan (no dairy)

Whole30 (no dairy)

MSPI-friendly

Paleo (no dairy)

Kosher Pareve
Also, remember that you need to avoid hidden dairy and soy too (except for soy lecithin and soybean oil, which should be tolerated).
MSPI Diet Must Haves
Dark chocolate: dark chocolate is typically dairy free!
Oreos: I think 50% of my diet consisted of Oreos when I went through this. I can't stand to look at them now, but they sure helped me through!
Coconut Oil- Coconut oil is not only delicious but it is a great butter alternative for baking.
Earth Balance butter- While there truly isn't a good cheese alternative, you will not even believe that this is not butter. It is SO GOOD.
Italian and French breads found in the bakery section- most are dairy and soy free.
Soy Free and Dairy Free Breastfeeding Snacks
These are some of my favorites:
Enjoy Life brand chocolate and cookies
So Delicious yogurts, coffee creamers, whipped topping, etc.
Sorbet
Guacamole
Lara Bars
Hummus
Fruits and veggies
Plain potato chips
Learn more about dairy and soy free snacks.
Favorite Quick and Easy MSPI Recipes
In my Complete Guide to Breastfeeding the Baby with MSPI, I have compiled over 100 recipes that you can prep in under 15 minutes. They are all delicious, but this is just a sampling of some of my favorites.
I still make these pancakes for my kids each and every weekend. They come together quickly, especially if you quadruple the dry ingredients and keep them in the pantry.
Rotisserie Chicken and Rice Soup
This is unbelievable easy and so delicious. It takes about 30 minutes from start to finish, but tastes like you've been cooking all day. We like it better than traditional Chicken Noodle Soup in my house.
Spicy Sausage, Kale and Whole Wheat Orecchiette Soup
Another soup that is super quick, and that won't have you missing creamy soups at all.
I adore this salad, and i love it because it's so versatile. Simply grill whatever veggies you have on hand and mix them with a balsamic vinaigrette and your choice of pasta.
This is perfect for the day when you desperately want something creamy and comforting.
These are the BEST crab cakes ever. With only six ingredients they come together super fast and without all the extra ingredients, the crab is the star in this recipe.
Think that mashed potatoes can't be the same without milk and butter? Think again!
Coconut Oil Chocolate Chip Cookies
The coconut oil in these cookies makes them really crispy and brown on the outside and ooey and gooey on the inside. Excuse me while I go make some.
For more recipes, check out my dairy free breastfeeding diet recipes. or these dairy and soy free desserts for breastfeeding moms.
The truth is, there is a lot that you need to learn, recipes you need to find, etc.
In this guide, you will learn:
what you need to know about vaccinations

ingredients that you need to avoid

how to easily adapt your favorite recipes

how to increase your supply while avoiding dairy and soy

how to eat out

what store-bought snacks and frozen meals are safe (it has over 100 safe snacks)

what to cook- it has a list of over 100 meals that you can make quickly and easily (15 minute prep or less!)

how to introduce solids to your baby

how to reintroduce dairy into your diet

how to introduce dairy into your baby's diet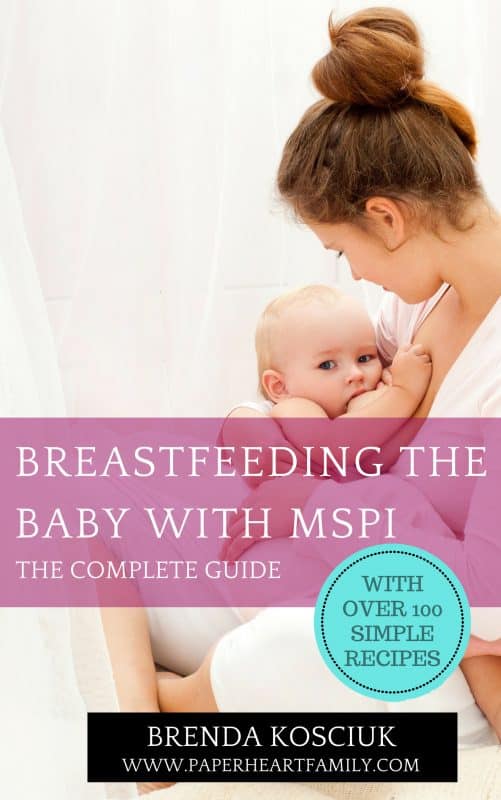 Don't waste your precious time trying to find all of this information on your own. Get everything that you need all in one eBook, and spend your time with your baby instead!
[purchase_link id="3739″ style="button" color="gray" text="Get Your Ebook Instantly!"]