Looking for Easter egg fillers for toddlers that AREN'T candy? ME TOO.
Why is it that every single holiday has to bring with it tons of candy? Mounds and mounds of candy!
Your toddler might not know much about candy yet. Let's keep it that way, shall we?
Honestly, you don't have to fill your Easter egg hunt eggs with ANYTHING. Your toddler is too young to realize that anything needs to go in there.
Also, your toddler will simply LOVE finding the eggs, and opening them (even if nothing's inside).
However, if you're wondering what to put in Easter eggs for toddlers, then I've got the perfect little toys and trinkets for you.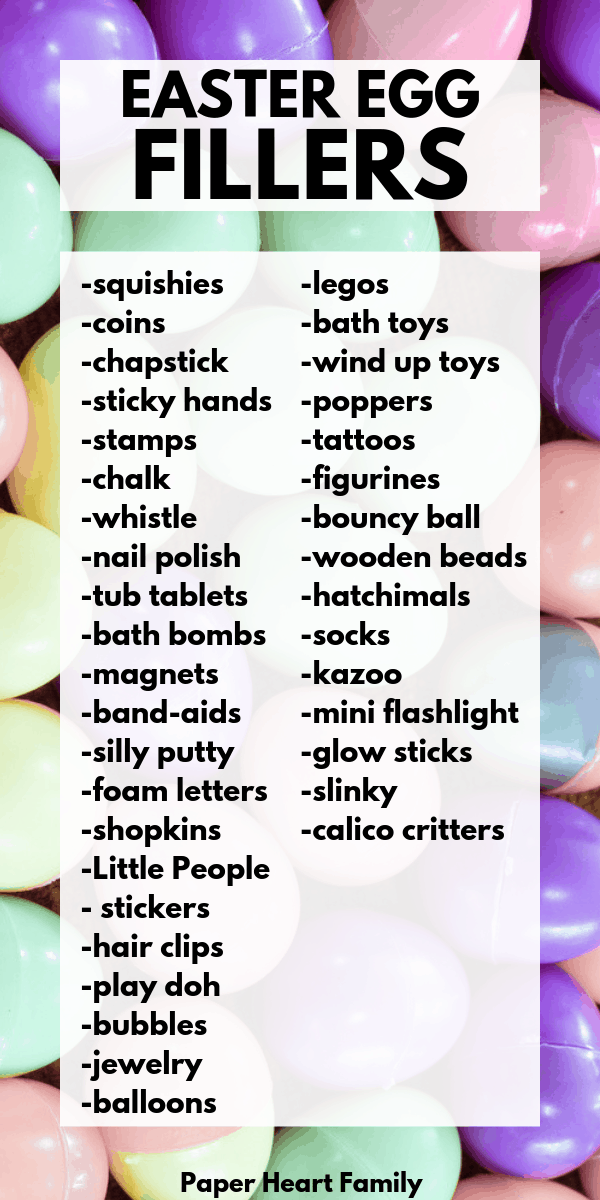 **Please know that some of these small toys may pose a choking hazard for younger toddlers or toddlers who love to put things in their mouths.
**Also realize that some of these toys require jumbo plastic Easter eggs. It might be a good idea to get some.
I have over 50 ideas for Easter egg fillers for toddlers coming up. However, if you're super busy and you just don't have time for that, these variety packs are for you!
Easter Egg Fillers For Toddlers
Like stress balls, but WAY cuter. And squishier.
Like Squishies, but of your toddler's favorite characters. You can check them out here, but DO NOT BUY THEM. You can find them much cheaper elsewhere.
3. Money
Coins will delight your toddler, even if she doesn't fully understand the value of money yet.
4. Chapstick
8. Non Candy Snacks
Think things like raisins, goldfish, animal crackers, pretzels, cereal, teddy grahams, and yogurt melts.
9. Chalk
10. Whistles
11. Nail polish
I love Piggy Paint and Ella And Mila nail polish for my toddler.
16. Bath Bombs
Because you know, toddlers in 2019 are WAY cooler than toddlers of the '80's and do things like "take tubbies with bath bombs".
18. Magnets
19. Band-Aids
I think filling ALL of your eggs solely with Band-Aids would make for one happy toddler.
20. Silly Putty
21. Foam Letters
Great for toddlers learning letter recognition!
From the makers of Shopkins, these are adorable collectible babies that come with matching pets.
24. Little People Figurines
25. Stickers
28. Mini Bubbles
29. Play Jewelry
30. Balloons
31. Legos
32. Bath Squirt Toys
33. Wind up toys
34. Light Up Rings
35. Poppers
Toddlers will LOVE these, but can't control them on their own. Warning: YOU will be the one popping them.
36. Temporary Tattoos
37. Pull Back Race Cars And Vehicles
38. Mini Paw Patrol Figurines
What toddler ISN'T Paw Patrol obsessed?
39. Bouncy Ball
40. Whoopie Cushion
EASILY will be the favorite Easter basket filler.
41. Mini Animal Figurines
42. Wooden Beads And String
44. Mini Construction Vehicles
47. Cute Socks
49. Kazoo
50. Mini flashlight
52. Mini Slinky

What are your favorite Easter egg fillers for toddlers?