Looking for Easter egg fillers for toddlers that AREN'T candy? ME TOO.
I try to avoid sugar overload, especially in the toddler stage when we still have control over such things.
And if you're having a neighborhood egg hunt, you can avoid offending any parents of children with food allergies.
Why is it that every single holiday has to bring with it tons of candy? Mounds and mounds of candy!
Your toddler might not know much about candy yet. Let's keep it that way, shall we?
Forget about jelly beans.
To be honest, you don't have to fill your Easter egg hunt plastic eggs with ANYTHING. Your toddler is too young to realize that anything needs to go in there.
Also, your toddler will simply LOVE finding the eggs, and opening them (even if nothing's inside).
However, if you're wondering what to put in Easter eggs for toddlers or if you want the Easter bunny to bring some special eggs, then I've got some great ideas.
Because this is probably the age that gets the most excited about an Easter egg hunt. An Easter egg hunt for toddlers is SO fun.
Read on for the perfect little toys and trinkets for you.
PS- Older kids will love most of these fillers and toys, too.
This post contains affiliate links.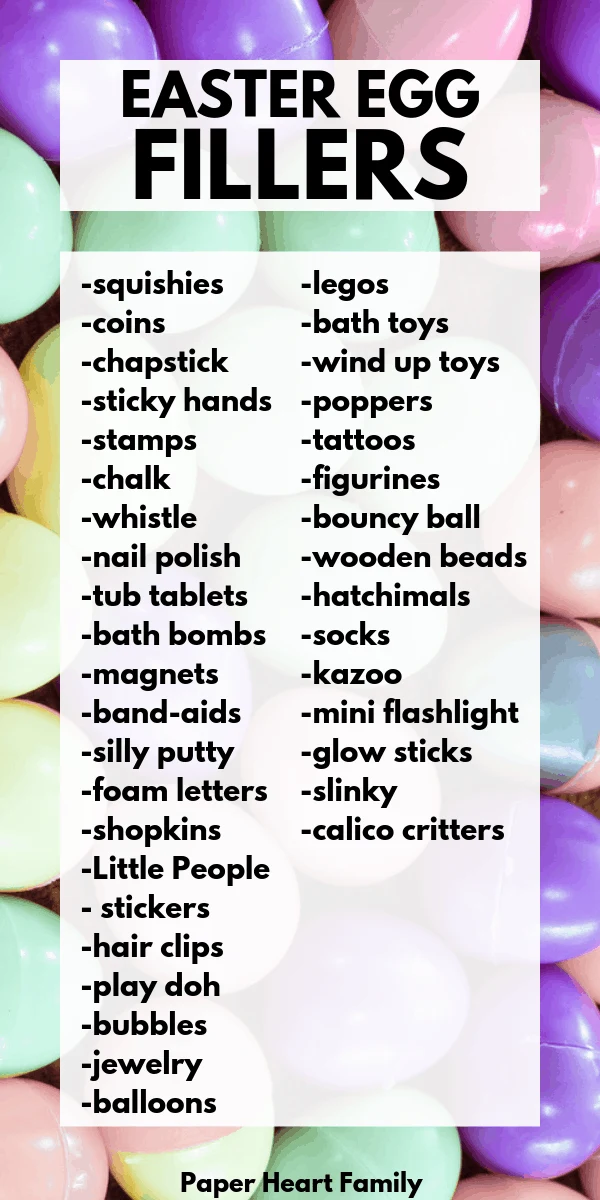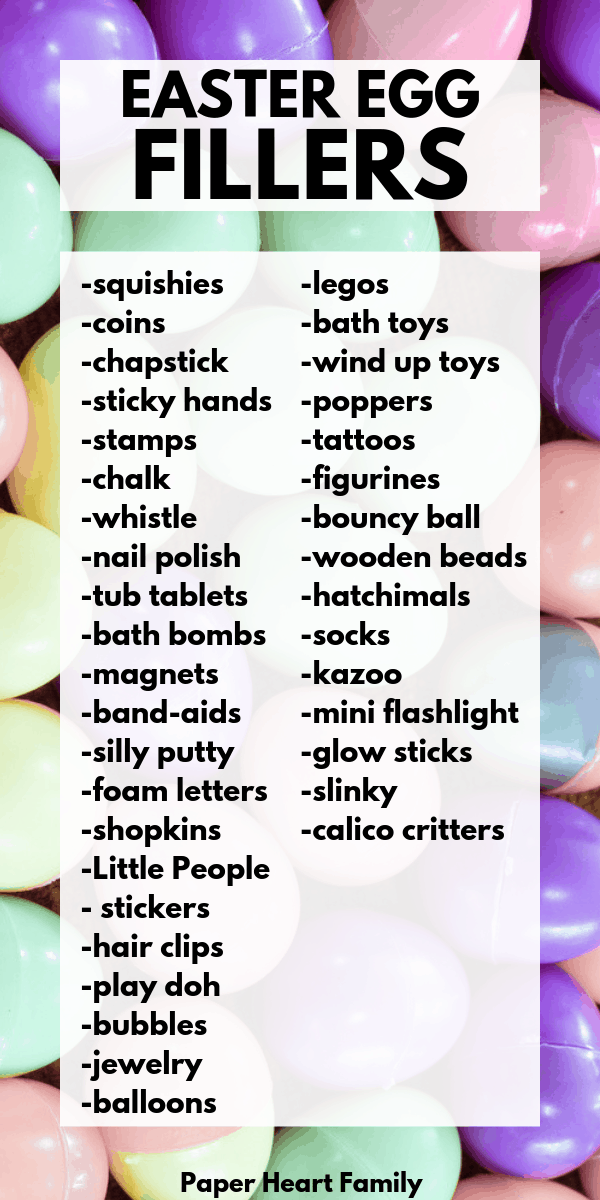 **Please know that some of these small toys contain small parts and may pose a choking hazard for a young toddler or toddlers who love to put things in their mouths.
**Also realize that some of these toys require larger eggs. It might be a good idea to get some.
I have over 50 ideas for Easter egg fillers for toddlers coming up. However, if you're super busy and you just don't have time for that, these variety packs are for you!
The eggs come pre-filled!
Toddler Easter Egg Stuffers
These non-candy Easter egg fillers should amuse the toddler in your life!
1. Squishies
Like stress balls, but WAY cuter. And squishier.
2. Smash'ems
Like Squishies, but of your toddler's favorite characters. You can check them out here, but DO NOT BUY THEM. You can find them much cheaper elsewhere.
3. Money
Coins or dollar bills will delight your toddler, even if she doesn't fully understand the value of money yet. But I'd stick with coins. Your toddler will be just as happy.
4. Chapstick
5. Sticky Hand Toys
6. Easter-themed stamps

7. Raisins
8. Goldfish
9. Animal crackers
10. Pretzels
11. Cereal
12. Teddy Grahams
13. Yogurt melts
14. Fruit Snacks
15. Mini Fruit Roll-Ups
16. Sensory play items
17. Fruit By The Foot
19. Chalk
20. Whistles
21. Nail polish
I love Piggy Paint and Ella And Mila nail polish for my toddler.
23. Bath Bombs
Because you know, toddlers in 2019 are WAY cooler than toddlers of the '80's and do things like take tubbies with bath bombs.
Way cooler than I ever was.
24. Magnets
25. A golden ticket (especially if your toddler is familiar with Charlie and the Chocolate Factory)
26. Band-Aids
I think filling ALL of your eggs solely with Band-Aids would make for one happy toddler. Seriously, take this idea and run with it.
27.Movie tickets
29. Mini Slinkies
30. Fidget toys
31. Parachute men
32. Silly Putty
33. Foam Letters
Great for toddlers learning letter recognition!
34. Friendship bracelets
35. Punch balloons
36. Stickers
37. Hair Clips, hair bows or hair ties (perfect for a little girl)
38. Mini Play Doh
39. Mini Bubbles
40. Color Bath Drops
41. Bow tie
42. Play Jewelry
43. Un-inflated Balloons
44. Legos (I love the idea of placing one in each egg and then boom, you have another activity for later!)
45. Alphabet magnets
46. Hot wheels
47. . Bath Squirt Toys
48. Wind up toys
49. Light Up Rings
50. Poppers
Toddlers will LOVE these, but can't control them on their own. Be forewarned: YOU will be the one popping them.
51. Temporary Tattoos
52. Bouncy Balls
53. Dollar store items (just raid the Dollar Store. Any small items will do!)
54. Whoopie Cushion
EASILY will be the favorite Easter basket filler.
55. Mini Animal Figurines (a little bunny would be perfect! Any mini items are sure to be a hit)
56. Puzzle pieces (that you can assemble later, all from the same puzzle)
57. Wooden Beads And String
58. Cute Socks
59. Kazoo
60. Mini flashlight
61. Glow Sticks
Small Toddler Toys For Easter Eggs
63. Finger Puppets
65. Mini Construction Vehicles
66. Matchbox cars
67. Mini Slinky
68. Small stuffed toys
69. Twozies
From the makers of Shopkins, these are adorable collectible babies that come with matching pets.
70. Shopkins
71. Little People Toys
72. Pull Back Race Cars And Vehicles
73. Calico Critters

74. Mini Paw Patrol Figurines
What toddler ISN'T Paw Patrol obsessed?
75. Mini Thomas and Friends Trains
I hope your toddler has so much fun Easter egg hunting! Check out my related links below for fun Easter egg hunt ideas that are PERFECT for toddlers.
What are you going to put inside your toddler's Easter eggs?
Related: